It's the most wonderful time, of the year!
I am SO EXCITED yall have been asking if I'm doing these again this year, and I'm happy to oblige, as always! The first one I tackled was the TEEN/TWEEN guide because those are the ages of my girls, Bella and Lilly, and I figured they are the demo I know best! But I have now done a FOR HIM guide seen HERE, and an Amazon BEAUTY guide you can find HERE!
Let's talk how these work! I basically scour the Internet, take screen shots, poll people, ask my friends/kids/family, etc. for months to compile gifts that I think people you love will want this holiday season. After I get ideas, I start reading reviews to find the best option for yall! Example, there are LOTS of trampolines for sale, but I take the time to research brands, read reviews, look at customers' pictures, compare prices, and so on. I genuinely try to bring you content and products that I can stand behind so yall are pleased with your purchases.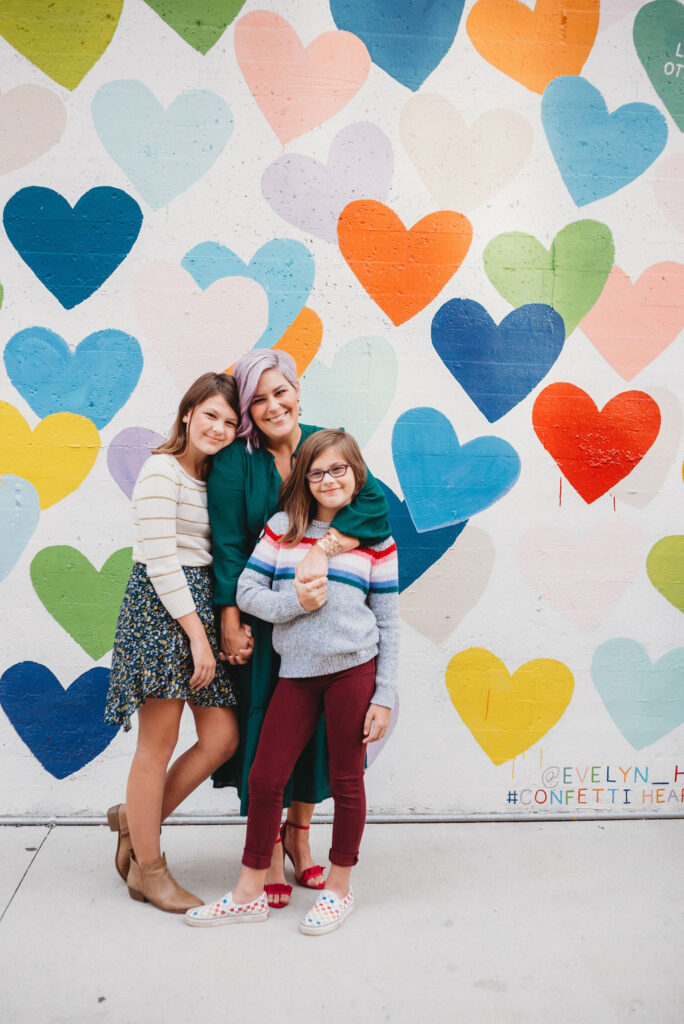 2020 has been TOUGH, to say the least. I know every penny you spend has been hard-earned, and well thought out. I don't take it lightly that yall trust my opinions, and choose to shop through me for the people you love the most! I'm honored, and in saying all of that, let's go over some housekeeping!
FAQs about shopping my guides:
-Easiest way to shop?
I always think it's easiest to shop on the computer through my blog posts! All links are in there, along with my reasons for why the product is great! And we don't have to contend we apps (like Amazon) stripping the cookies!
-Do you make commissions? How do I make sure you make commission?
Yes! Anything with a link will enable me to make a small commission, at no added cost to you at all! To ensure I get them, don't switch browsers (example, opening this on your phone, adding things to your cart, and then checking out on your computer). Either shop on the phone OR the computer, and check out as quickly as possible, as some links "time out."
-I like what you linked from Nordstrom, but I want to get something else from there? Can I use your link to still order those other items?
YES!!! Whether you buy anything I link or not, shopping the stores "through" my links, still helps me out! So buy whatever from wherever, and know I'm super appreciative! I have a variety of stores in these guides, so you may find a place you planned on shopping from anyway!
-Can I share these guides?!
ABSOLUTELY, YES! Please do! The best way to say "I appreciate this" is to share it on your social media platforms! Even if you don't buy a thing, it's soooooo helpful to share it (and it's free)! 😉
I'm warn you, this is going to be LONG. But hear me out. I find that so many gifts, especially in this age range, are gender neutral. From hoodies to shoes, sports equipment to electronics, anime to board games, I have it all! And I think any tween/teen would be happy with most of this list! It's a smidge heavier on "girl" things, simply because I have two daughters (almost 12 and 14 years old), but if there's a tween/teen boy on your list, there's plenty for him too!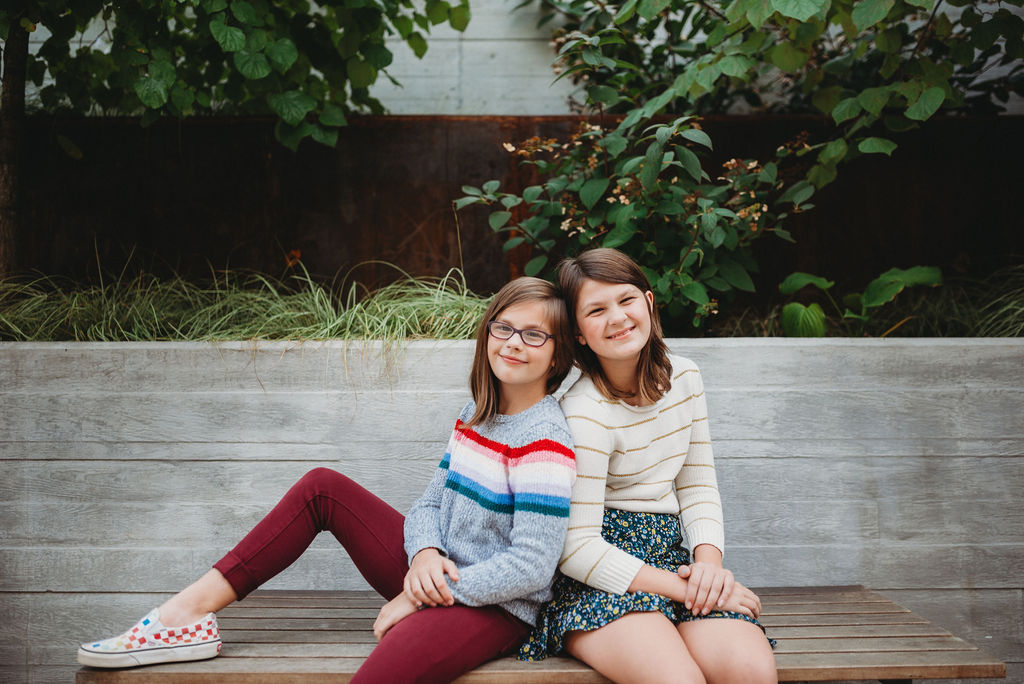 OKAY, YALL READY TO GET STARTED?!
Up first, are my anime-themed picks!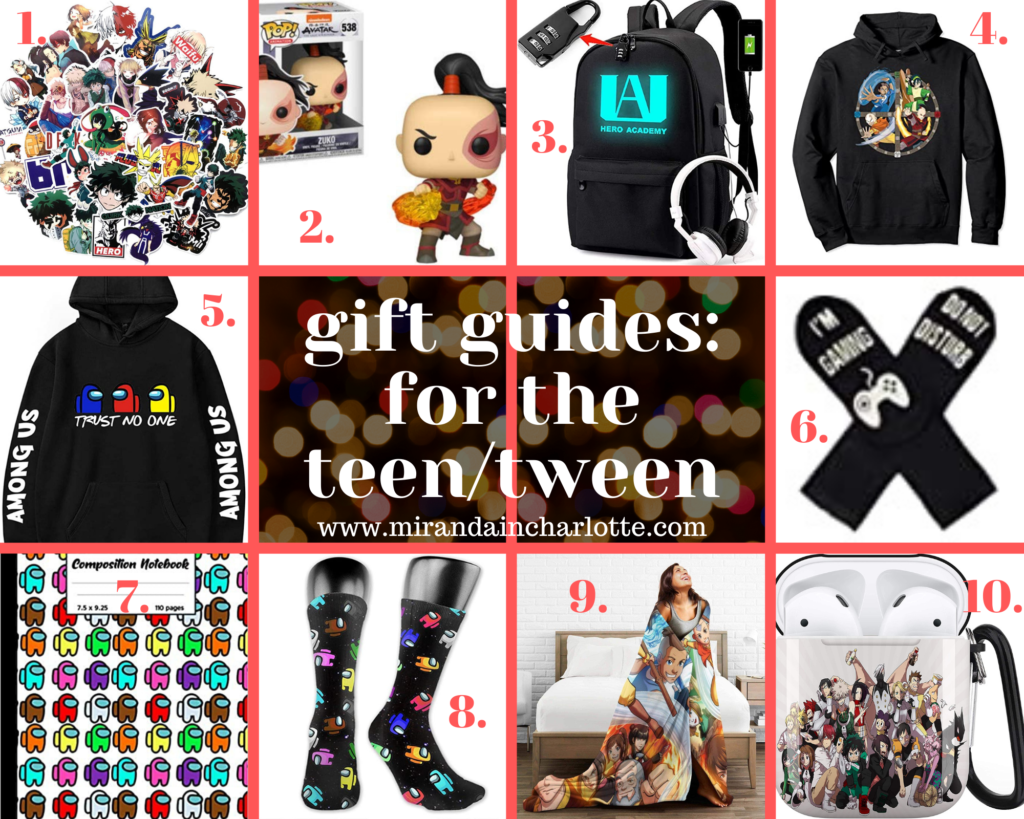 1. My Hero Academia stickers (for water bottles, laptop, skateboard) 2. Avatar Zuko pop figure (any Avatar pop figure is great) 3. My Hero Academia UA backpack (glows in the dark, locks, and has a USB charger) 4. Avatar hoodie (so many options) 5. Among Us hoodie (lots of options) 6. Gaming socks (great stocking stuffer) 7. Among Us composition notebook (use for school) 8. Among Us socks 9. Avatar blanket (so many designs) 10. My Hero Academia air pod case
Anime is ALL THE RAGE right now in this demographic! You've probably heard them talk about Avatar, My Hero Acadamia, The Legend of Korra, and most recently, Among Us. (I even heard Lilly's teacher playing Among Us with her class recently)! And stickers, hoodies, pop figures, backpacks, socks, electronics, etc. are FOOLPROOF gift ideas I've been told!
Next are the electronic picks!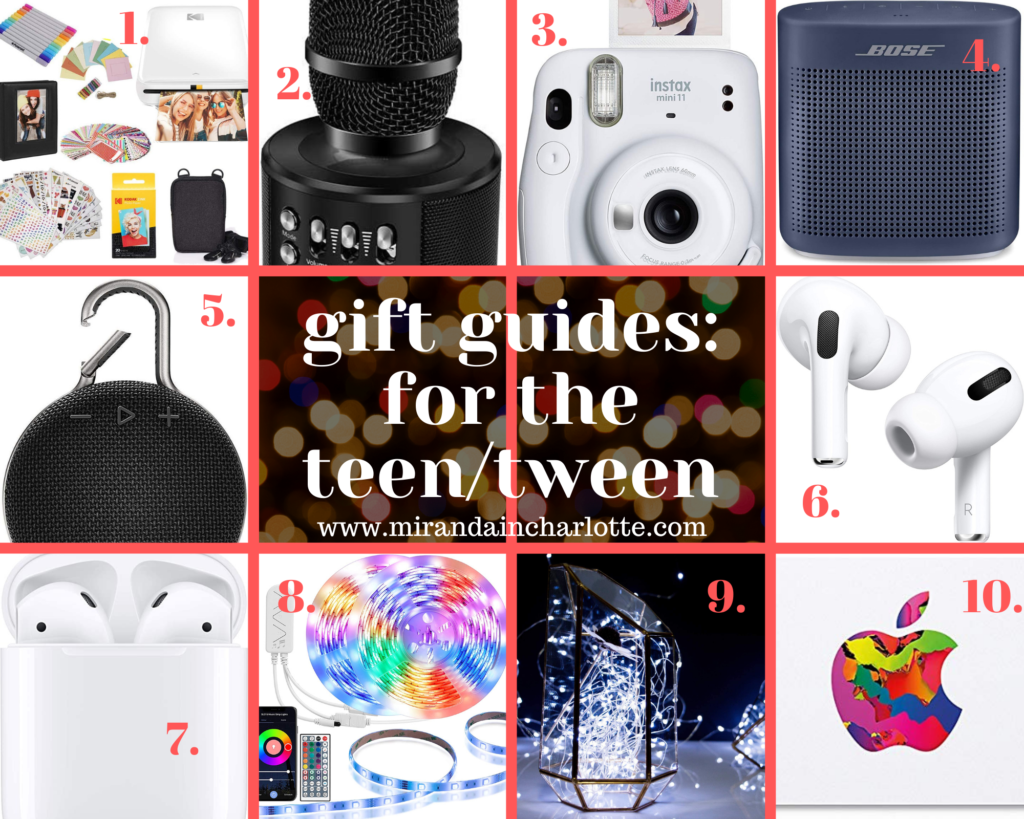 Kodak handheld portable printer and accessories

(print from a cell phone anywhere) 2.

Karaoke microphone

(link it to an app on the phone) 3.

Fuji 11

(polaroids FTW) 4.

BOSE speaker

(awesome sound quality) 5.

JBL speakers

(waterproof and clip anywhere) 6.

Air Pods pro

(newest model of wireless buds) 7.

Air Pods wired

(but stil wireless) 8.

LED colorful lights

(remote controlled) 9.

LED fairy lights

(lots of colors) 10.

iTunes gift card

(for gaming, accessories, etc.)
Admittedly, I'm sure most kids just want a new computer or phone etc, but that's not happening here LOL! Some more affordable options are air pods, speakers, cameras and printers, a microphone to sing karaoke, and the always popular iTunes gift card!
Ready for the games?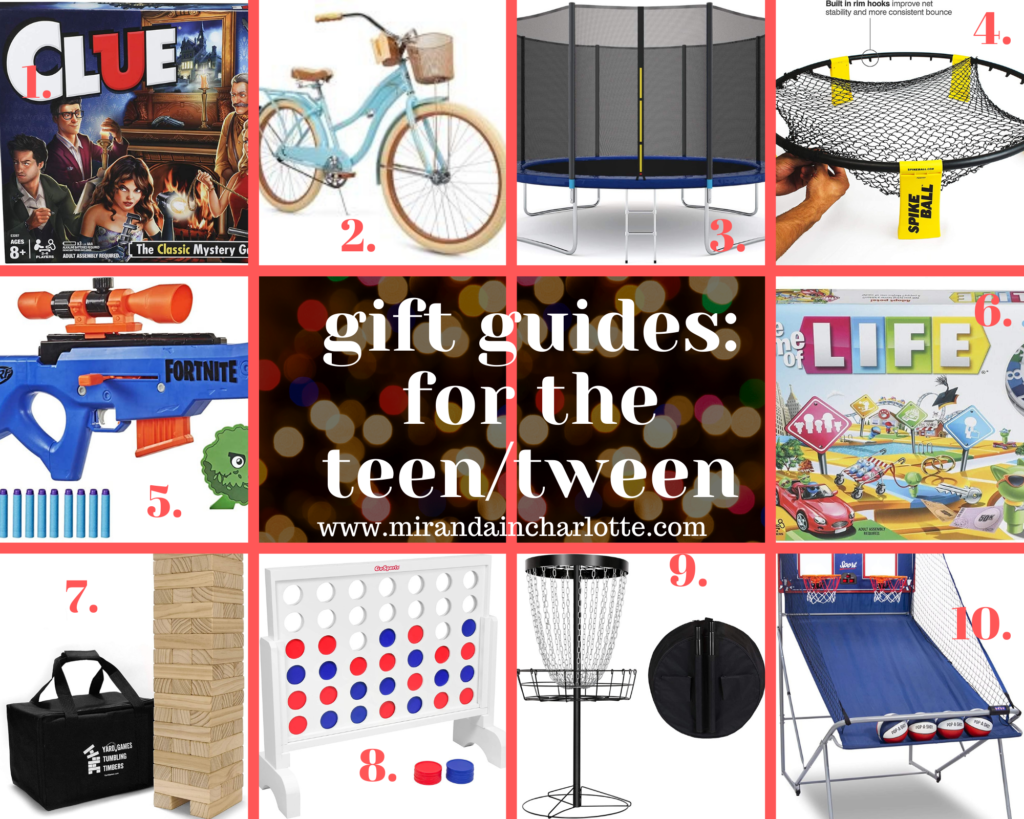 Clue

(my oldest and her friends love this game) 2.

Bikes

(always a hit) 3.

Trampoline

(this had the best reviews) 4.

Spike Ball

(fun new-ish game) 5.

Nerf guns

(everyone still loves to have a Nerf fight around here) 6.

Life

(so much fun) 7.

Giant Jenga

(comes with a carrying bag) 8.

Giant Connect Four

(all games are more fun BIG) 9.

Disc golf

(able to practice at home) 10.

Basketball arcade game

(keeps score, plays music, etc.)
Now more than ever, with so many of our kids stuck at home, it's vital to get them outside, up and moving, and their brains as sharp as we can. Thus me including giant games, a few kinds of sports, and things that make their blood pump a little! Pro tip: there is a bike shortage, so double check the delivery times before you order!
Time for a little beauty!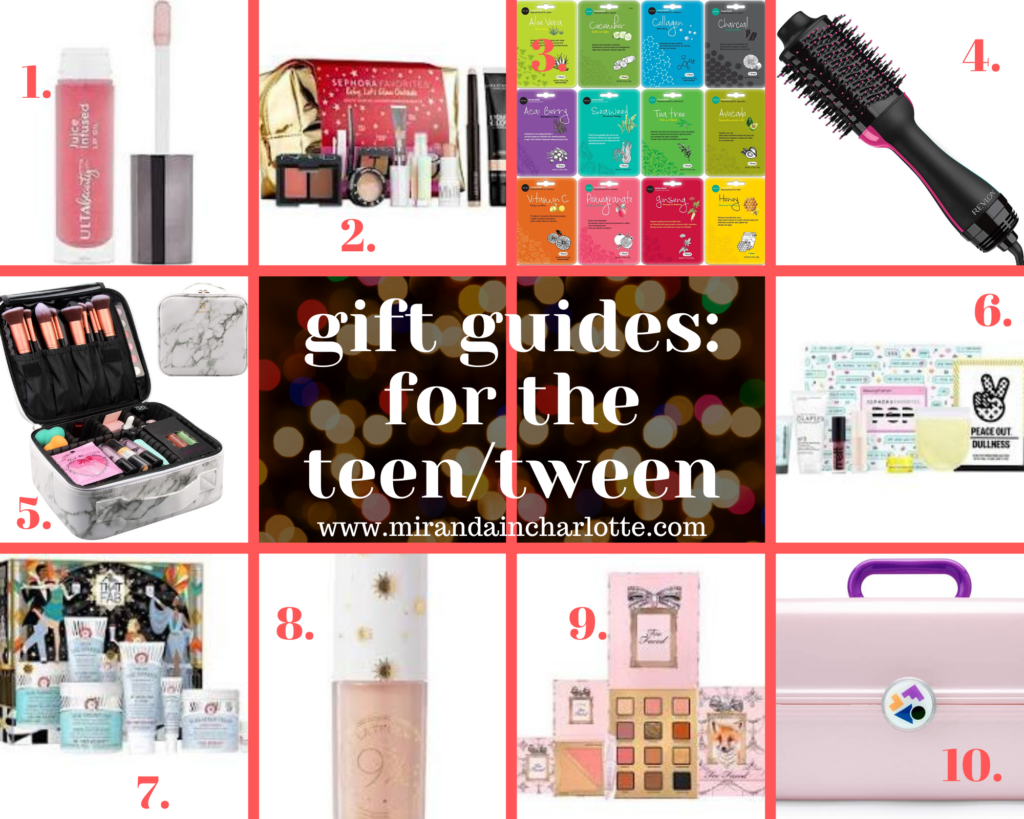 Ulta Sweet Rose lip gloss

(a Tik Tok hit) 2.

Sephora Let's glow outside

(6 makeup items) 3.

12 face masks

(great stocking stuffer) 4.

Revlon blow dryer/hair brush

(quickly becoming a cult classic) 5.

Makeup case

(I own this and LOVE it) 6.

Sephora Pop set

(6 faves including Olaplex) 7.

Sephora First Aid

(5 piece skincare items) 8.

Ulta Harry Potter 9 3/4 peach gloss

(for the Potter head in your life) 9.

Too Faced makeup set

(beautiful colors for a teen) 10.

Caboodle

(yep, they're baaaaack)
I'm admittedly not a huge beauty person, but I researched a ton and found some items that are great for this age group! Neither of my minis wear much makeup, so I tried to find gift sets more focused on skincare, pampering, etc. And then they'll need a place to keep all of these things, thus the case and Caboodle (I can't believe they're a thing again)!
Who runs the world? GIRLS!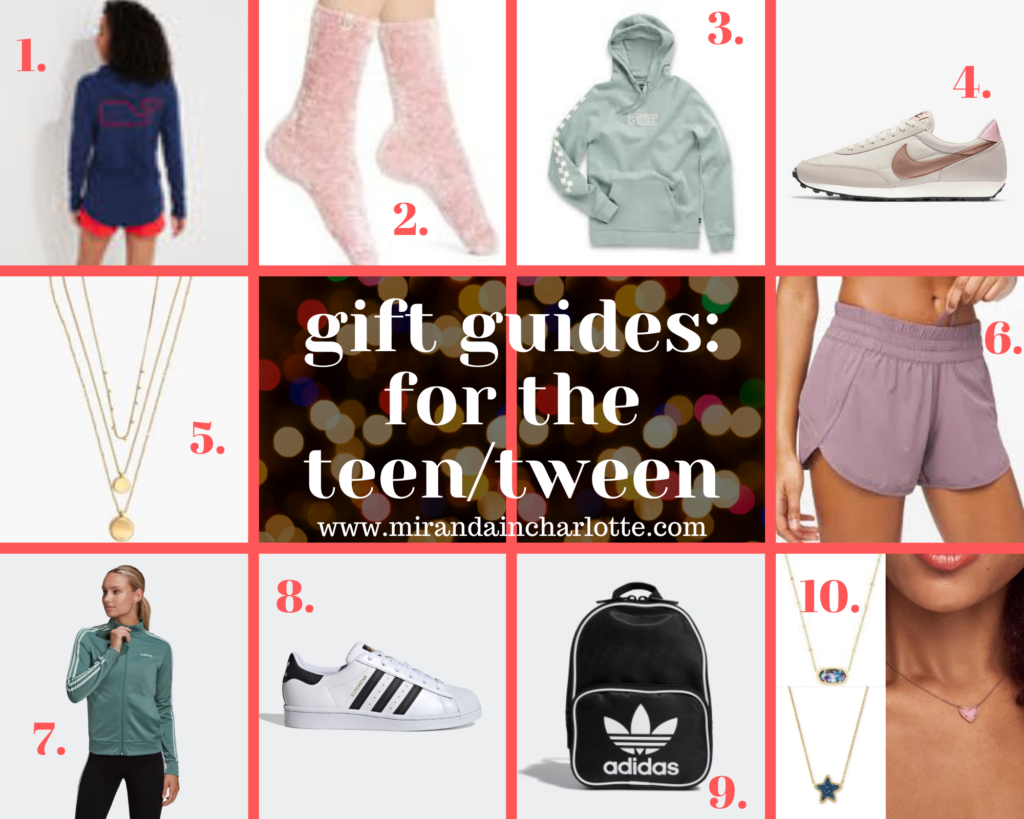 Vineyard Vines

(long-sleeve hoodie) 2.

UGG socks

(cozy and durable) 3.

Vans Versa hoodie

(lots of colors) 4.

Nike Daybreak sneakers

(retro styles are in right now) 5.

Madewell necklaces

(teens are loving a dainty look/tiny layering necklaces) 6.

Lululemon

(tracker shorts 4 inch inseam) 7.

Adidas track jacket

(see other colors) 8.

Adidas shoes

(classic Superstar style) 9.

Adidas mini backpack

(other colors available) 10. Kendra Scott necklaces (

tie dye

,

star

, and

heart

styles are all popular)
Here are the clothes/items that are specifically geared towards the girls in cut/style, and I went with womens' sizes since my girls are/practically as tall as me! But just double check the sizing for whomever you're shopping for…most places have great sizing charts these days! And lots of the places I linked have XXS for the tweens/teens still straddling the fence of kids' and womens' sizes (what happened to juniors?)! I was told repeatedly in my polls that hoodies, mini backpacks, cozy socks, and dainty necklaces are VERY popular right now!
Now for the fellas!!!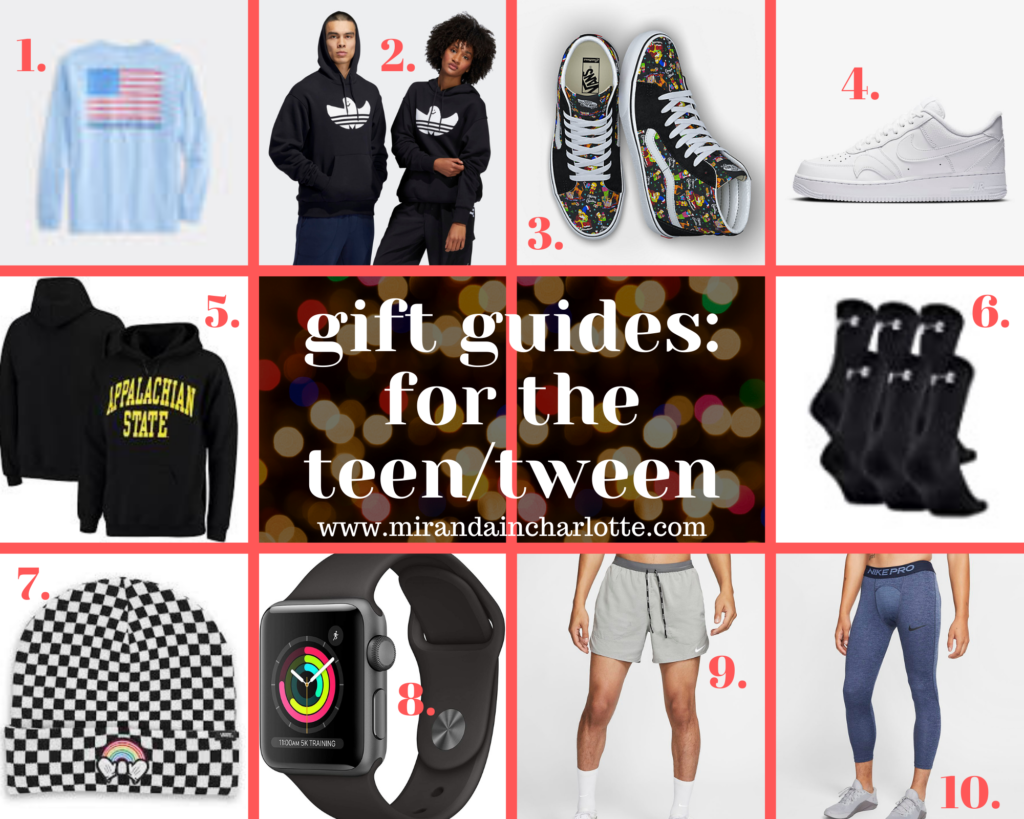 Vineyard Vines long-sleeve shirt

(lots of options) 2.

Adidas hoodie

(Schmoo design unisex)I 3.

VANS high-tops

(The Simpsons collection unisex) 4.

Nike Air Force 1

(sneakers) 5.

College hoodie

(this link has just about every alma mater) 6.

Under Armor socks

(perfect length) 7.

VANS beanie

(unisex) 8.

Apple Watch 3

(so much more affordable than the current one) 9.

Nike shorts

(seems like boys are liking the shorter length) 10.

Nike compression pants

(3/4 length is more popular than full I'm told)
There are a few items that I've noted as "unisex," but I'm telling you, nearly everything in this entire gift guide is meant to be good for everyone! But if you have a guy on your list, he'll be thrilled with these options, I'm sure of it!
Lastly: the random stuff that didn't quite have a category!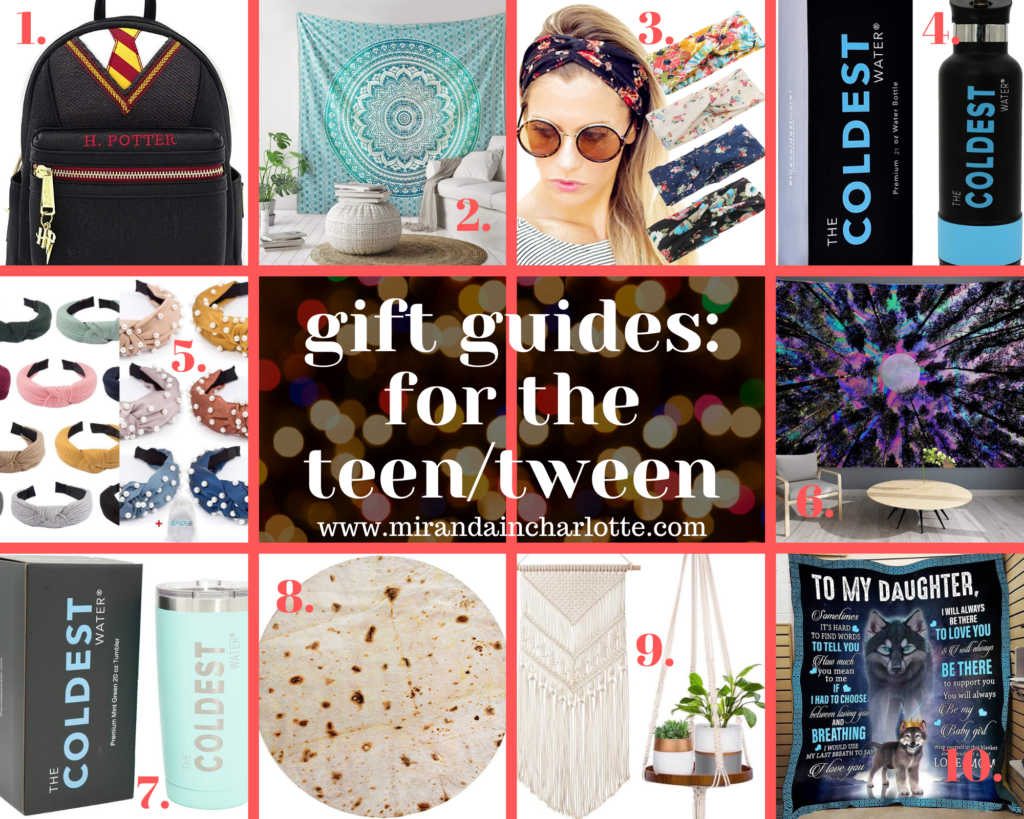 Harry Potter backpack

(mini backpacks are all the rage) 2.

Tapestry

(great for bedroom decor) 3.

Head wraps

(somewhat turban style) 4.

Coldest water bottle

(apparently HydroFlasks are out and Coldest are in) 5. Headbands (

knotted style

and

pearl style

) 6.

Tapestry

(would be cool in a college dorm too) 7.

Coldest tumbler

(use for hot or cold) 8.

Blanket

(when wrapped, they look like burritos) 9. Macrame items (

wall hanging

and

plant holder

) 10. Blanket (wolf pics/odd sayings about your child lol)
Oh, and I can't believe I forgot this one thing…both of our girls are asking for Snuggies, but THESE look even better! And I know a few teens who already have these from Amazon and LOVE THEM!
OKAY, THAT'S IT! I think any teen/tween would be thrilled to get this stuff, whether it's decor, practical items, keeps them warm, the cutest headbands for a steal, and even a Potter backpack!
So there we have it folks! The first gift guide of 2020 is DONE, and I hope that it gives you ideas, makes your life easier, narrows down what you were already thinking, and so much more! A few things I didn't include were arts and crafts, and other hobby type items, even though they're a huge part of our house! Mostly because I feel like we all know if our kiddos are into those things, whereas I tried to include things maybe they aren't always mentioning?! I don't know…these are so hard LOL! They are such a labor of love for me to do, and I'd say this one alone probably took 20 hours start to finish! That's why when you shop my links, it's a great way of saying "I appreciate you, girlfriend!" 😉 And a friendly reminder that if you're shopping on Apple anyway (say for a laptop), go through my itunes gift card link to get there! Vineyard Vines shopping? Go through the VV links! Amazon? You can buy anything on Amazon through my random finds, and so on! THANK YOU!
More guides coming, so don't fret!
Feel free to share with anyone who you think needs it!
AND PRETTY PLEASE, PIN THIS IMAGE BELOW TO YOUR PINTEREST: