The only thing better than regular tacos, is sugar tacos!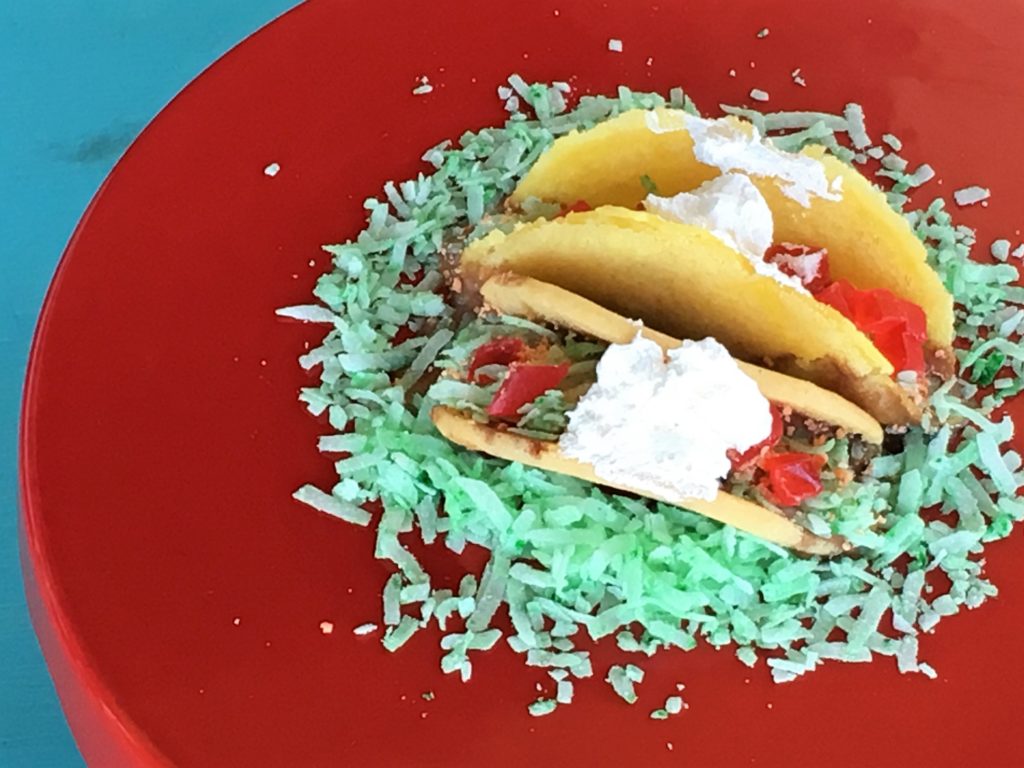 If you're looking for a fun dessert for a Cinco de Mayo dinner or party, look no further than these sugar cookie tacos! This isn't the hardest dessert I've showed yall, but I'm not gonna lie and say it's the easiest either! The toppings are a piece of cake, err, cookie, but the taco shells are a little tricky! Follow my tips and tricks though, and you'll be just fine!
Ingredients:
Sugar cookie dough (I used refrigerated Pillsbury)
Chocolate ice cream (or chocolate buttercream)
Coconut (shredded)
Green food dye
Orange chocolate candy melts (or white chocolate chips with orange food dye)
Swedish fish (or strawberries)
Cool whip
The great thing about this dessert is you can make everything ahead of time, and then assemble them right before serving…that way the ice cream doesn't melt!
Let's start with the taco toppings! The video shows you how to make the green shredded lettuce, the orange shredded cheese, and diced tomatoes. A few notes: You can use gel or liquid food dye for the lettuce! For the cheese, if you don't buy orange chocolate candy melts, use white chocolate chips with food dye (you may need a bit of vegetable oil if it gets too thick). With the tomatoes, I think Swedish fish look more authentic, but strawberries are fine too! Cool whip makes the perfect dollop of sour cream!
Once you have the toppings made, you can set them aside for a while…even days!
Now, the hardest part of this dessert is the taco shells. I'm not gonna lie to you because I love you. You have options though! I did the shells two ways: I dyed the sugar cookie dough with a bit of yellow food dye (just kneaded it in), and popped it back in the fridge to chill again. I wanted it to look like a corn tortilla shell!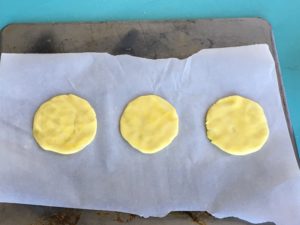 But this step can certainly be skipped, and you can bake the dough just as it comes in the ivory color, because then it will look like a flour tortilla too! You'll see in my pics that one is the yellow tortilla, and one is the plain tortilla…either is fine! The trick is press the cookies very thin before baking…this is not the time for a thick and chewy cookies (even though they're my fave)!
Bake at 325 until the edges barely start to turn golden! Once you pull them out of the oven, press them down to flatten them, and then it's time to work fast to shape them! Oh, and they were 3 1/2 inches after baking! Follow the instructions on the video:
The trick is to have multiple "shaping" systems set up! You can see my very high-end solo cup/tart shaper, and batman cup/spatula contraptions! LOL! I only baked three cookies at a time, and it is a process for sure, but you can be shaping 3, while baking three, and then continue to rotate til you're done! I trimmed the edges of the cookies with a cup to make them perfectly round. And the reason you keep them on the parchment is so they don't fall apart when draped over the rod!
Once the shells are all done, you can put them aside til you're ready to fill!
I used chocolate ice cream to be my "meat" for my tacos, but you have to work extremely fast because it will melt (as you'll see in the this video)! If you are wanting to have these desserts on display the whole time, just use chocolate icing/buttercream! The look will be the same, but a lot less mess, and you can have everything done ahead of time! Pipe it in the same way I did the ice cream, using a ziploc bag!
And this is the perfect time to get the kids involved! Make a "taco bar" full of the toppings, and have them add what they want and like! And find other kinds of toppings that you like on your tacos…black licorice could make a great black olive!!!
That's it! The cutest tacos you ever did see!