It is SHOCKING to me that anyone wants to know what I do to my skin, because I couldn't care less about my skin, and I figured it showed LOL! I don't wear makeup often, but when I do, I sleep in it. I hardly ever wash my face, and just use water in the shower. If I have stubborn mascara, I use the Irish Spring or Dial soap bar to remove it. I don't use anything on my face consistently, and yet I never break out (and never really did even as a teen). I've had two facials (that my besties bought for me as gifts) and both estheticians were shocked by my lack of skincare, and said "whatever you're doing is working," so I think I may just have lucky skin! LOL!
It's certainly not perfect by any means, but it's perfectly fine *by me*!
All this to say, you certainly haven't come to the right place if you're looking for someone who thoroughly researches skincare, products, the next hottest gadget for your face, etc.! BUT, I get the questions over and over again about what I use, and they're things that I think help, or at least don't hurt, so here ya go! Most of them I found out about from someone on IG, I got in a swag bag, or discovered somehow on my own. And the best part: if you totaled up everything I have listed here, you're looking at around $125 (and we're not talking one time use stuff)!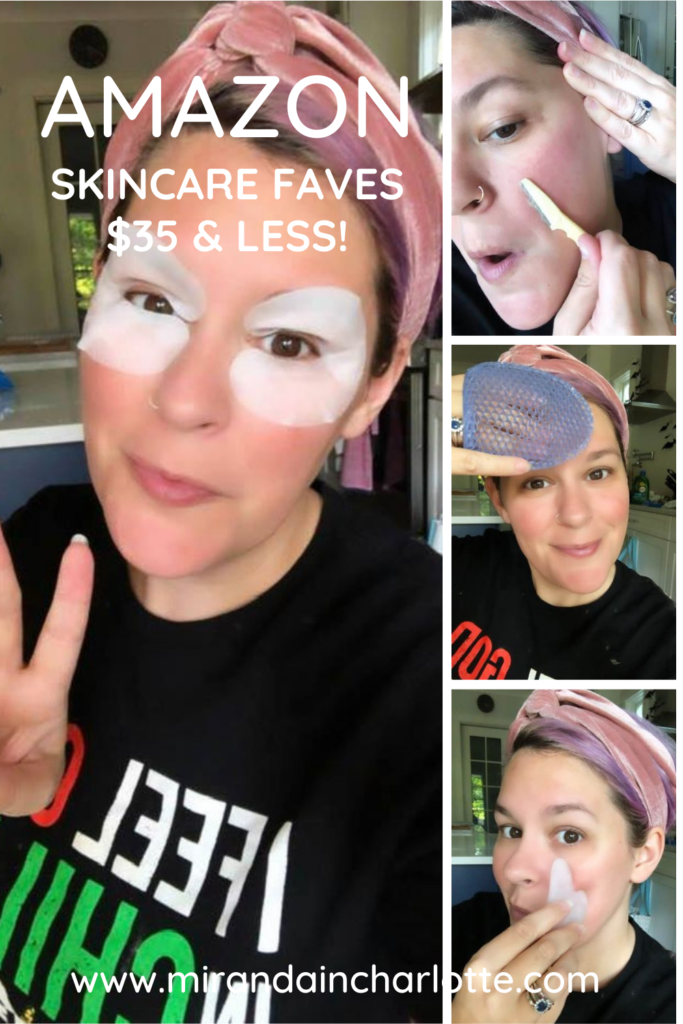 It's also probably worth noting that I've never had injectables of any kind anywhere, or really anything done to my face, in general. I pluck my own eyebrows, don't have lash extensions, no surgery, and the "harshest" facial I've had is a hydra facial (which is super gentle), and it was years ago. Nothing against any of that stuff…I've just never done any of it, despite lots of things being offered complimentary to me. And yall KNOW the injector would sneeze right when putting botox in my forehead and accidentally stab my eye, rendering me blind. (Listen, IT COULD HAPPEN, and it would happen to me of all people).
I turn 40 next year, and am proud of how far my skin has brought me!
So let's kind of go in order here, as if I was having some sort of "spa day" (which I've never done), but tried for these pics. 🙂 Oh, and as always, I have to mention that when you shop my affiliate links, I receive a small commission, with no added cost to you! This isn't a sponsored post (or it would say so at the very top), and all opinions are my own, including the info about my bikini area down below #punintended 😉
SO LET'S GET STARTED!!!
I heard multiple people talk about the Revision skincare line, and I figured it was time to buy a "grown-up" face wash, (or a face wash at all) 🙂 I also heard that if I was going to buy any one thing from this line, it should be the brightening face wash, so that's what I grabbed! If I used it more consistently, I'm sure I'd see great results, but again, it's not something I use often. You can see the reviews on the link though to see why it's a cult classic…741 reviews and 4 1/2 stars!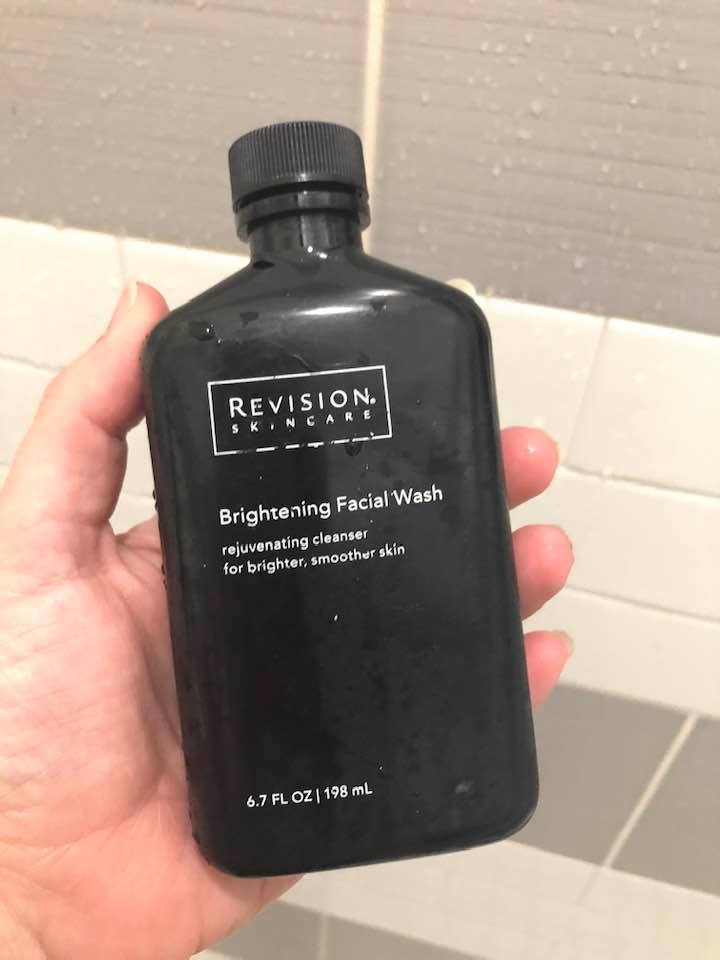 2. But THIS RIGHT HERE is the product I have most consistently used for YEARS. I saw Madi Nelson talk about these on IG, and I think she said they are found in a fancy hotel, so she wanted to find them to use at home. I was totally sucked in to the story, ordered them, and I can't say enough good things! There is a rougher side for the body (I use with my bar soap), and a gentler side for the face (I use with the face wash above). I'm convinced it's the best exfoliator you'll ever use, and especially awesome before self-tanning! Pro tip: Get the three pack and not have your kids steal yours 😉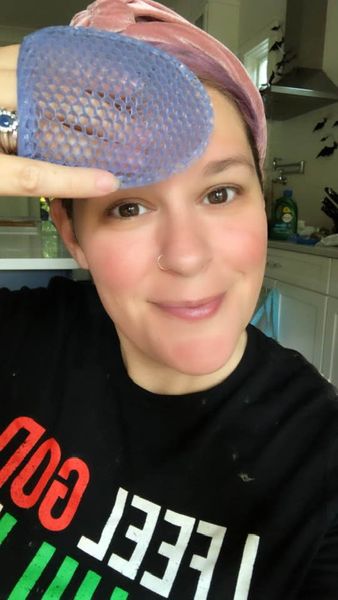 Once my face was clean, I dermaplaned it at home with a Tinkle razor! I've been using these for maybe two years, and they're a game changer! And I watched an esthetician, Skin by Blair, talk about them/dermaplaning on her IG, and want to pass along some info. Shaving hair (anywhere on your body) doesn't cause it to come back in darker or thicker…that's a myth. She described it as this: when hair is cut, and starts to grow back, it first comes in at an angle, which makes it appear darker and/or thicker. But once it straightens out, it's the same as it always is, and will be! Thus, if you shave/dermaplane hair off of your face, you're not going to suddenly grow a mustache that rivals Burt Reynolds. If that was the case, every dude would have a dark, thick beard from all of their shaving. I posted an IGTV, showing how I use these HERE!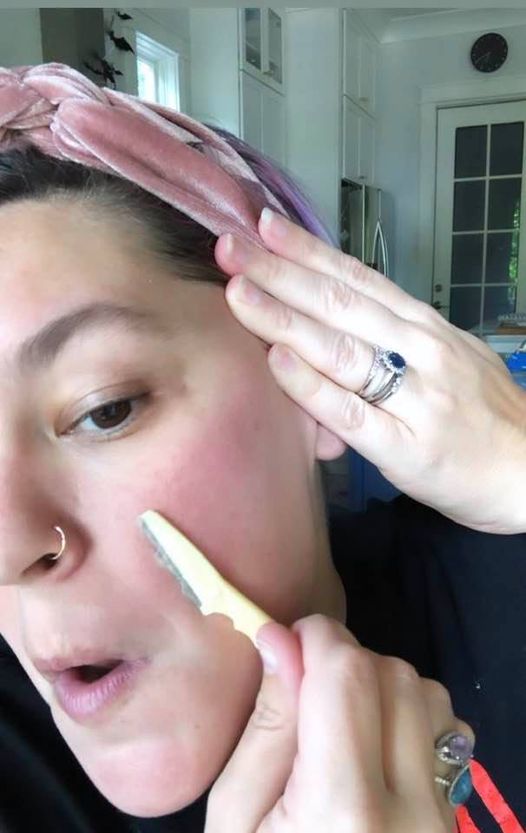 After I'm done tinkling (haha #yaymaturity), I put this Neutrogena oil on my face. I got this in a swag bag about a year ago, and have used it a couple times a week. It's an oil, but it absorbs quickly, and doesn't leave my face feeling greasy. It also has retinol in there….I don't know what that really means, but I hear it on commercials a lot LOL!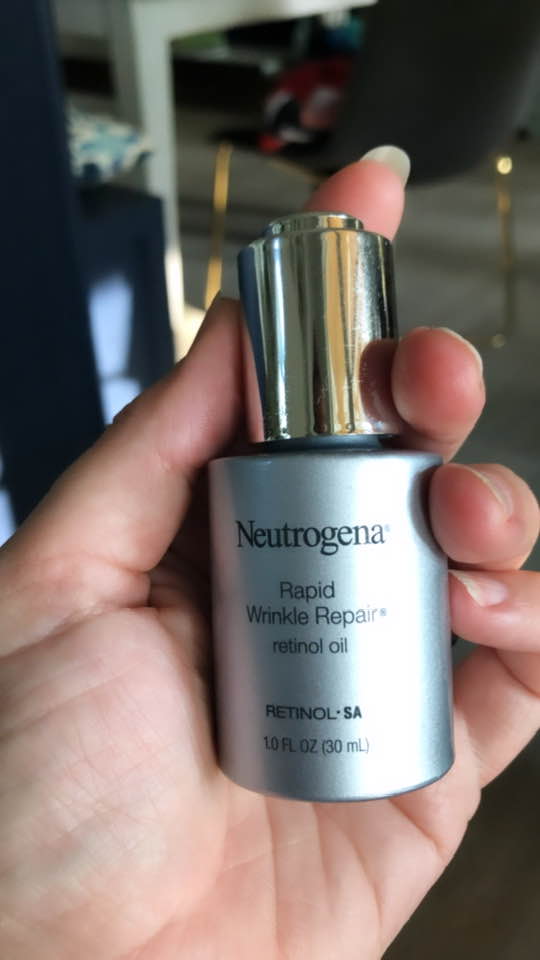 Before the oil absorbs all the way, I get my rose quartz gua sha massage tool, and start rubbing it on my face. Just follow the natural outline of your cheeks, jaw, chin, even eyebrows. It helps increase blood flow, and promote collagen production. I keep it in the fridge and the cold quartz on my face is AMAZING, especially if I'm stuffy, as it improves lymphatic drainage too! It's a MUST.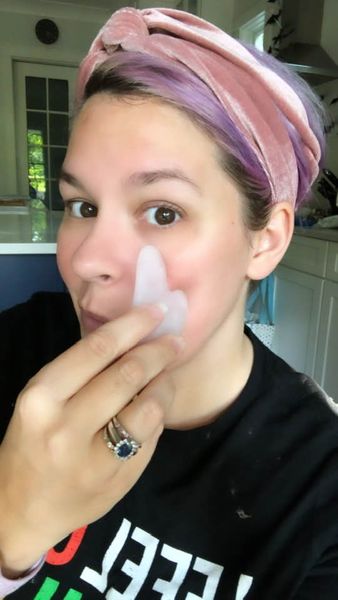 I also saw these on IG, and I believe they have quite the reputation on the interwebs! I mean, you get 60 for $3, so why NOT try them?! These eye patches are made with green tea and Vitamin E, and I keep mine in the fridge! Most people put them under their eyes, but I like to go the extra mile and put them above as well. Plus, it frightens everyone around me when I do so #winning 😉 Pro tip: they come in a zippered pouch, but I put mine inside of a ziploc in addition to keep them extra sealed!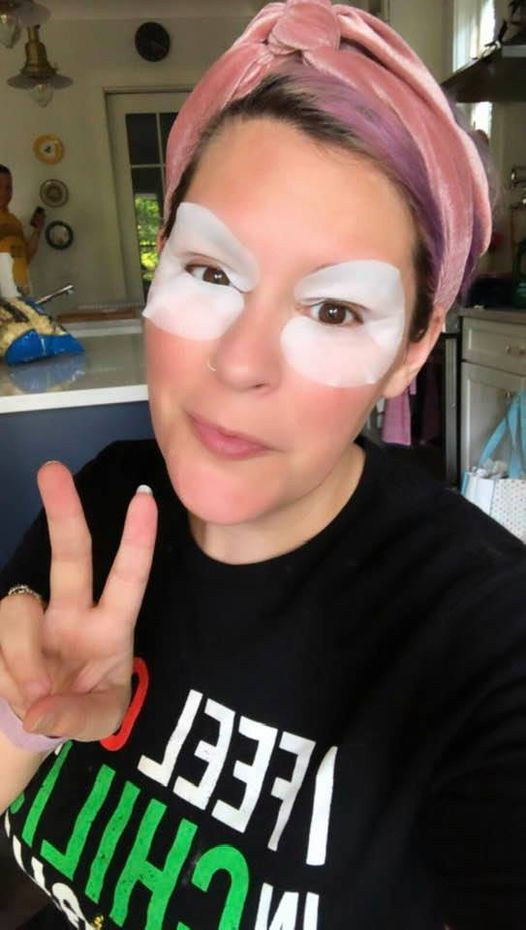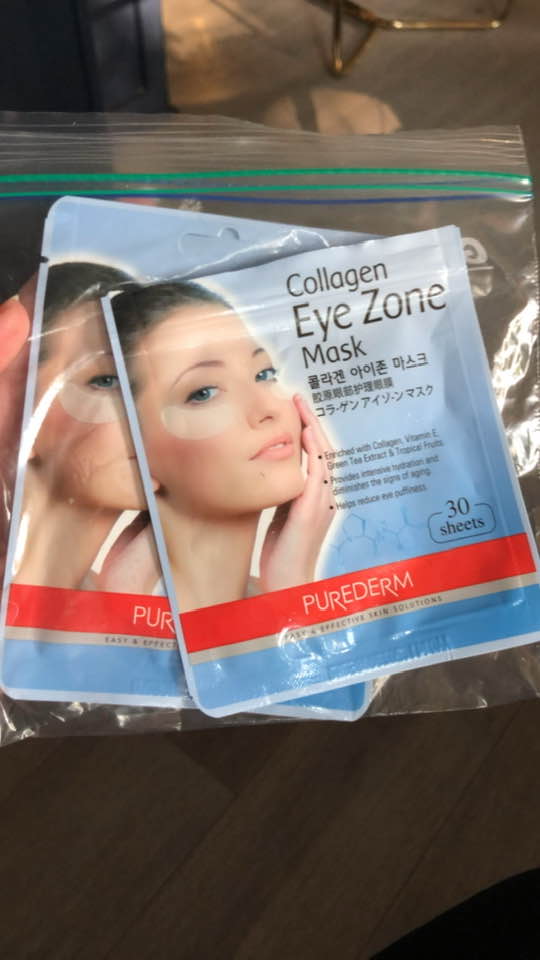 I don't do masks often, but I have used this stuff multiple times, and it is REALLY great! It starts to slightly tingle, so you know it's working! You can use water or apple cider vinegar to mix with it, and slather it on your face!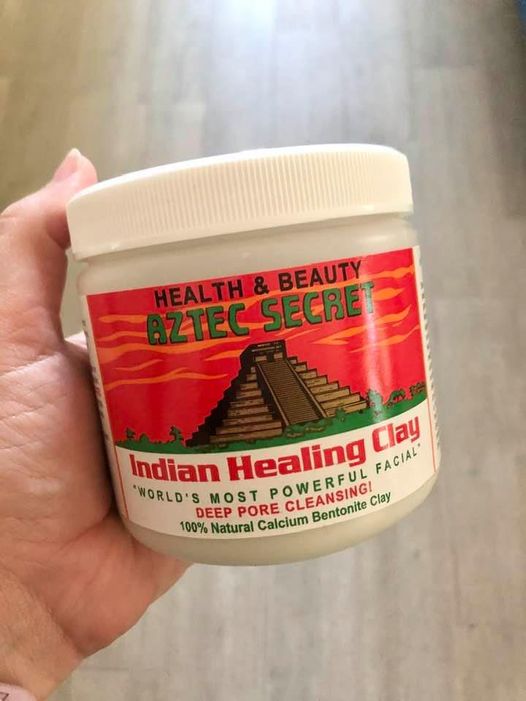 That's it for the face stuff! I told you the list was bare bones. I don't use a serum, a cream, a light thingy, or anything else. Just sometimes wash and put oil on it, shave and rub it every month or so, and put on a patch when I can remember (are we still talking about my face? LOL)!
But maybe less is more, and I'm a believer if it isn't broke, don't fix it?! The last thing I will mention, since it does have to do with skin, is this little bikini trimmer! If you need to trim things up, this is fantastic! Also, if you tend to get razor burn when you shave your bikini area, try this instead! It won't get as smooth as a shave/wax, but you won't be in pain/covered in bumps either. If you don't like it, use it to trim your husband's/kids'/pixie cut neck hair!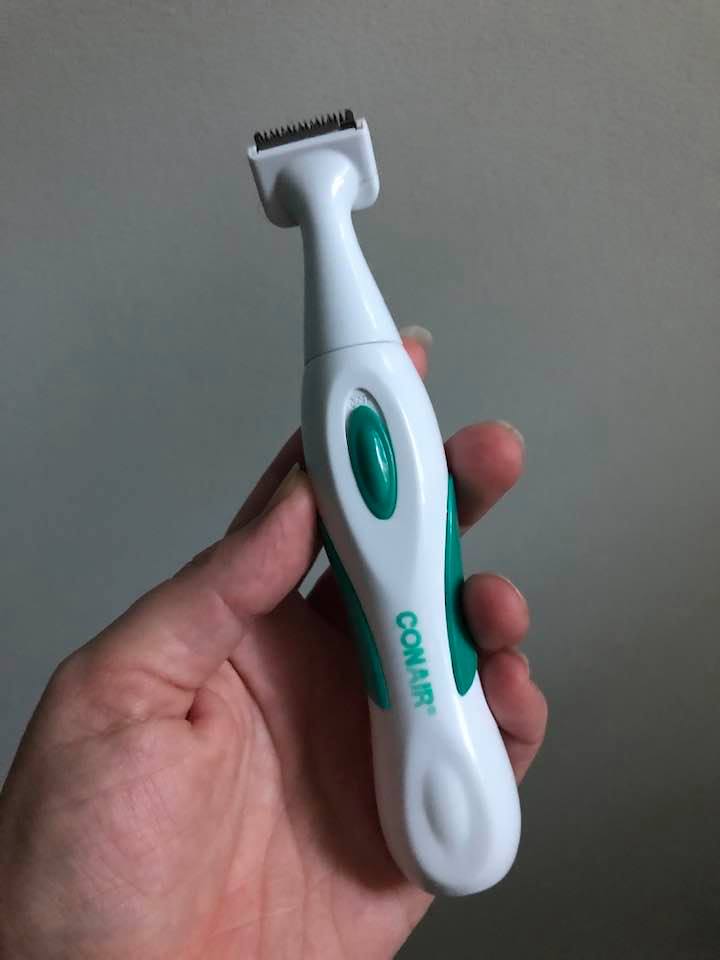 Bonus item! Before I get asked about the headband….here are some cute ones! 6 pack for $9ish!
I hope yall found this somewhat helpful!!! I totally don't claim to be anywhere close to an expert, OBVI, but these are things that do work for me, and I know if I love them, yall might to?! Let me know if the comments what your favorite skincare item is! xo
You can pin this image for later reference! THIS ONE…