Guess who's back? Back again? Miranda's back. Tell a friend!
No, seriously, tell a friend about this post by sharing it…don't worry I'll remind you share again at the end! I'm a giver like that 🙂
Yall absolutely BLEW me away with your support of my bathing suit blog post, and I cannot tell you the amount of women who ordered suits, got them in, and felt AMAZING in them! That's all I wanted…was to see your confidence SOAR, even if it had beens YEARS since you put on a bathing suit! If you want to check out that post, click HERE!
After I did the bathing suit try-on, I got asked to do a few different try-ons, but by far, the dresses led the pack! And your wish is my command! I scoured Amazon's top picks, read countless reviews, looked at hundreds of womens' selfies, checked the fine print, and decided on the six I was going to order! I wanted a variety of lengths, styles, and them to have lots of print/color options for yall!
And as always, when you shop my Amazon affiliate links, I get a very small commission, but it as at NO extra cost to you! When you do shop the links, it's imperative to note that when you're on a mobile device (cell/ipad), if you check out through the Amazon app, it strips my special link, and I do not get credit! Which is absolutely fine, but I like to make people aware, because so many want to help me get the pennies, but don't know the back-end stuff (and neither did I before I did this was my job)! 🙂 If you're on a computer/laptop, you are good to go without any worry!
So let's this the dress party started!
Here are my stats:
5'2″ (on a very good day)
38D
Size 10/12 in pants
Medium or Large in tops (depending on the manufacturer)
9 in shoes (I'm also shocked by my shoe size considering my height)
I made little notes about fit and order details along the way too, so be sure to read them to determine if they'll be good for you or not! I also did a video try-on session on my Instastories, and you'll want to head HERE to see them moving on my body. The highlight bubble is named "summer dresses" and you should also follow me while you're over there!
Wearing a Large in Navy
Love: The white fabric top isn't see-through, you can wear a regular bra, tons of color options (go check out the 4th of July one), you can tie up the bottom
This dress couldn't be more comfortable, and is so versatile! In the summer, wear it tied up. In the cooler months, untie it, throw a jean jacket over it, and a cute hat! You can dress it up or down, and it's bump friendly for sure with all of this extra fabric! And the other options are just as great so tap the pic to see them!
Wearing a Large in 01 white
Love: Everything! Soft silk fabric, flattering, wear a real bra, wasn't see-through, midi-length, short sleeves
I can't love this dress more, and wore it to a baby shower today and got so many compliments! The pattern is fun, the cut is flattering, and I love the added belt and slight V-neck! This dress might be my favorite in this haul! And you HAVE to go see the price!!
Wearing a Large in 035 Red
Love: the colors are gorgeous, adjustable straps, pockets, sooooo comfortable, insane amount of color/pattern options
I love this dress for a few specific reasons! Because I'm so short, if a size large dress doesn't have adjustable straps, I tend to feel like the top hangs too low or gapes at the armpits. This style and pattern (not all of the options do when you go through the link so read the details) is perfect though because of the straps! The buttons aren't functional so maybe skip nursing in this, but it's super bump-friendly!
Wearing a Large in Yellow
Love: color and pattern are vibrant, hits the right height on the leg, tie belt, ruffle sleeves, higher v-neck, lots of color options
This is the only dress I'll return because of sizing, as I ordered the large, and feel like it's too tight, so if you're in between sizes, definitely go up! Besides that, this dress is beautiful, and gives me all of those retro vibes, and legit perfect for ANY occasion! Go check out the other colors too…I struggled to pick which one to order!

Wearing a Large in 012 White
Love: fun and bold pattern, insanely comfortable, ruched elastic top, adjustable straps
I LOVE A BOLD PRINT! If you looked at my closet of dresses, you'd see that too! I love this dress (and you need to go check out all of the other options), mostly because of the ruched top. For us bustier girls, it allows us to breathe! For smaller chested girls, it won't gape! And because it's so stretchy, I'd say it's nursing-friendly!
Wearing a Large in Red
Love: rich color, lightweight but not see-through, sleeves, gorgeous print
Yall, I just CAN'T quit a boho maxi dress, and never have! I will always come back to this style because it's flattering AF 🙂 The fact that you can do the Anjelina Jolie leg pose doesn't hurt either! This dress also comes in TONS of other colors and patterns so make sure you tap the pic to get to those options! Especially if you've been eyeing THE Amazon dress I've posted about a few times! They have those fabrics but in this style!!! Go see!
There yall go! I hope you found something you loved in this haul! Just be sure to read all of the details when it comes to the different colors and patterns of the dresses. Example, a red dress in one style might have buttons, and the green dress in the same style may not have buttons! The pictures always show the truth, but you have to click on each picture to see!
OHHHHHHH! And here's something I just found out, and want to pass it along. If you buy something from Amazon and want to return it, it's FREE. And you don' have to box it up or have a label! DID YOU KNOW THIS?! It's as simple as going to "your order" page, hitting "return items," and then you'll select UPS dropoff, and they'll email you a code. You go to your UPS, and walk in with the clothes and hand them over for them to take care of from there! They'll ask for that code in the email (which they'll scan), and you'll walk back out of the door! It truly is risk-free shopping…free to get to you and free to get back if it doesn't work out!
and As always, sharing is caring!
And I know yall hear that A LOT from me, but there is NOTHING more rewarding for a blogger, than to have people share their posts! Just for this one post, I've done the researching, paying for the clothes, filming the try-on (again found HERE), uploading the pics, finding the links, typing the post, making the graphics, typing up the newsletter, sharing it to social media, uploading to Pinterest, scheduling posts, and so much more behind-the-scenes stuff!
I love that I get to do it, and I'm sure it looks easy…I'm just sharing clothes, right?! But knowing people found this helpful, and felt compelled to share it, is the ultimate way to say, THANKS BLOGGING FRIEND OF MINE! So just know that if you do, I'm forever grateful, and you're my favorite 😉
And what else makes you my favorite? When you PIN this graphic…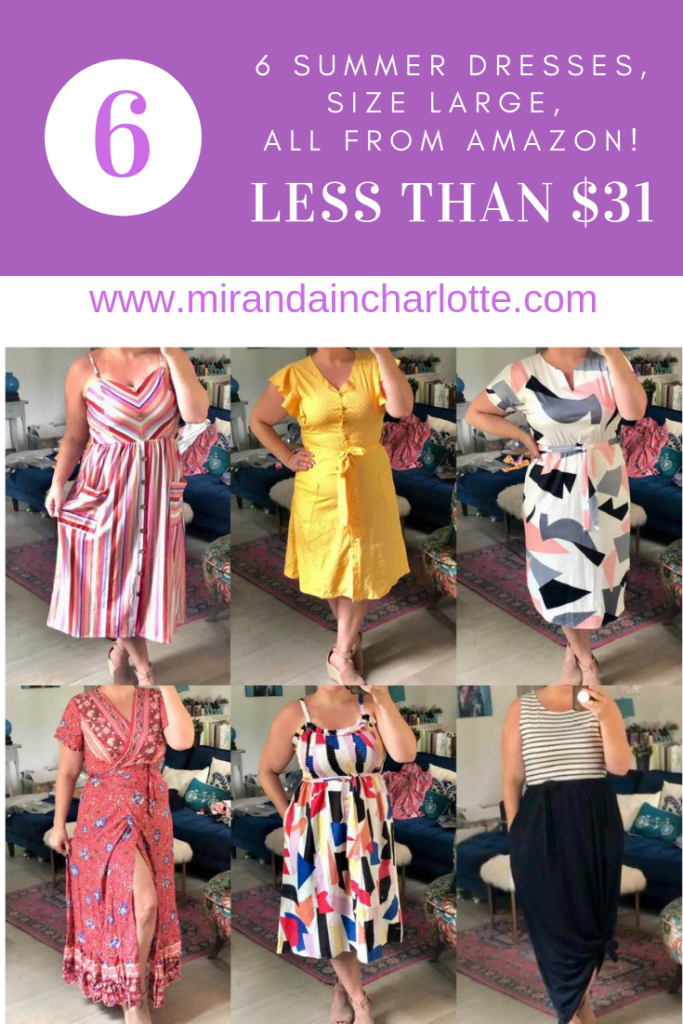 Last, but not least, I'm giving away a $25 gift card to Amazon, so you can have a little spending money! Just leave a comment on this post telling me which dress was your favorite, and I'll pick a winner at random!