I've been blogging for a little more than two years, and yet this is the first try-on session I've done! I figured, WHY NOT HAVE BAPTISM BY FIRE, and do a bathing suit one first?! I mean, once you've seen THIS MUCH of my body, the try-on sessions can only get easier from here, right?! RIGHT?!!!
HOLD ME, FRIENDS
But I gotta say, it wasn't nearly as bad as I thought it would be. Sure, I haven't posted it to the Internet yet, and currently those videos and pictures are sitting safely on my phone.
BUT THEY'RE THERE, AND THEY'RE ABOUT TO BE HERE!

So without further ado, I present to you my one piece bathing suit options for women who may look like me! I love seeing women of all shapes and sizes wearing whatever they feel comfortable in, whether that's a bikini, a one piece, a tankini, a rash guard and shorts, and everything in between! Frankly, I'm just happy that after buying all of these options, and wondering if even ONE would work, that I truly loved ALL of them on MY body?! Shooketh I tell ya!

*Affiliate links are used in this post*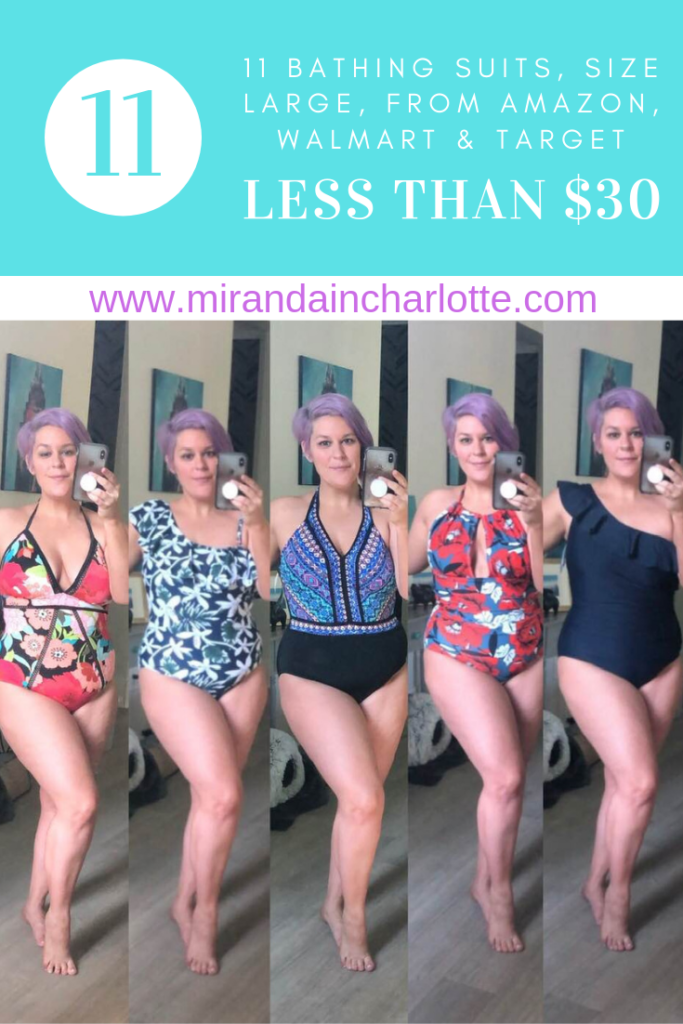 Also, is it just me, or do I look like a can can dance lineup in that graphic, or what?!! 🙂
Here are my stats:
5'2″ (on a very good day)
38D
Size 10/12 in pants
Medium or Large in tops (depending on the manufacturer)
9 in shoes (I'm also shocked by my shoe size considering my height)
From Amazon to Target, I've rounded up the best suits on a budget, and I truly think that you'll find them to be of the utmost quality! 10 out of 11 of these suits were less than $30, and they certainly didn't feel cheap AT ALL! I made little notes about fit along the way too, so be sure to read them to determine if they'll be good for you or not!
I also did a video try-on session on my Instastories, and you'll want to head HERE to see them moving on my body, and to see the backs of them on a real person (versus the pics in the links/on a model). THE highlight bubble is named "1 piece suits," and you should also follow me over there because, simply put, I'm a good time LOL!
Oh, and forgive the lighting…it took me forever to try them on and film, and the sun changed as I went along! LOL! There has been absolutely no photoshopping done on any of the pictures, but I did edit the lighting slightly, just because of the sunlight changing. Because believe me, if I was going to edit, you'd see zero cellulite, I'd cinch in my waist, blur my stomach, and so much more! But at the end of the day, this is just what I look like, and I'm going to embrace these curves, while working on them 😉
Let's start with the Amazon finds (all $27-$30):
Ruffle one shoulder floral one piece!
Wearing a Large
Love: Gorgeous colors, cups in bra, adjustable strap, ruffle detail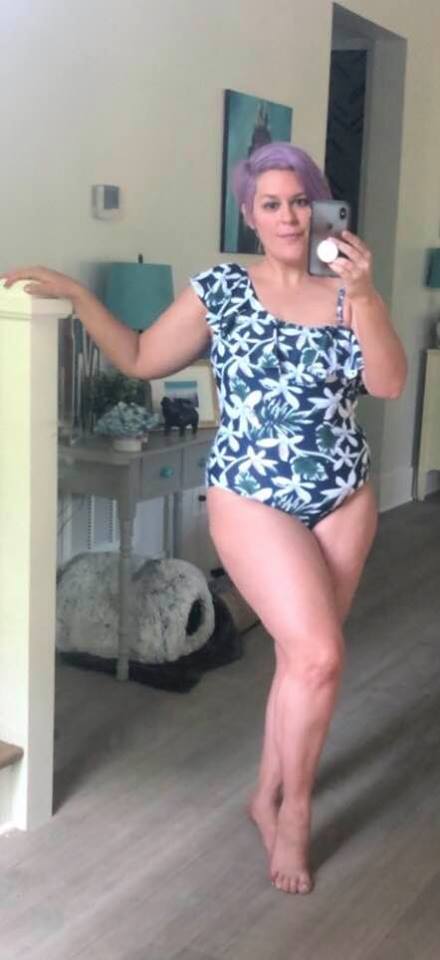 I have seen a few asymmetrical one shoulder swimsuits floating around, and I love them, but the added strap on the other shoulder makes me feel like this suit is super family-time friendly!
Blue and red poppy keyhole one piece!
Wearing a Large
Love: This gorgeous print (and they have 17 more!), tummy control, ruching, halter ties tight!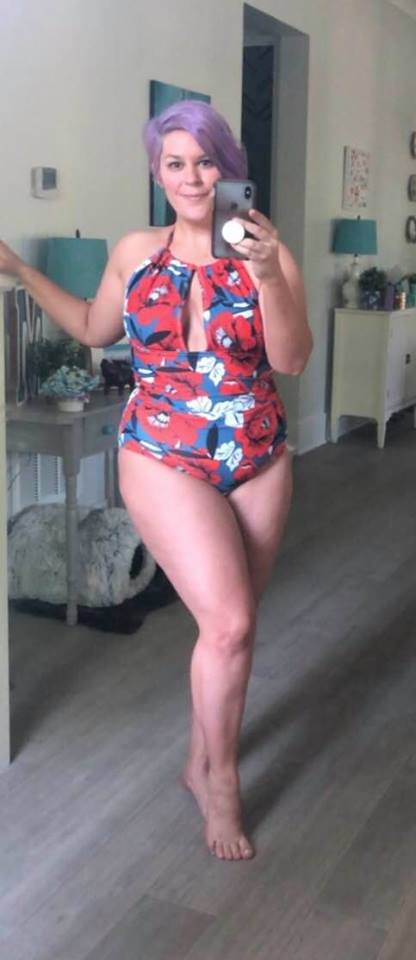 I absolutely LOVED this print the second I saw it, and think it's super flattering! You can also tie the top up two ways, which is so fun….and you MUST go check out the other prints and colors for this suit! This suit looks amazing on every body type too!
Ruched Purple Vintage One Piece!
Wearing a size Large
Love: The neckline, pads in the bra, adjustable straps, and the tummy control, available in 10 colors/patterns!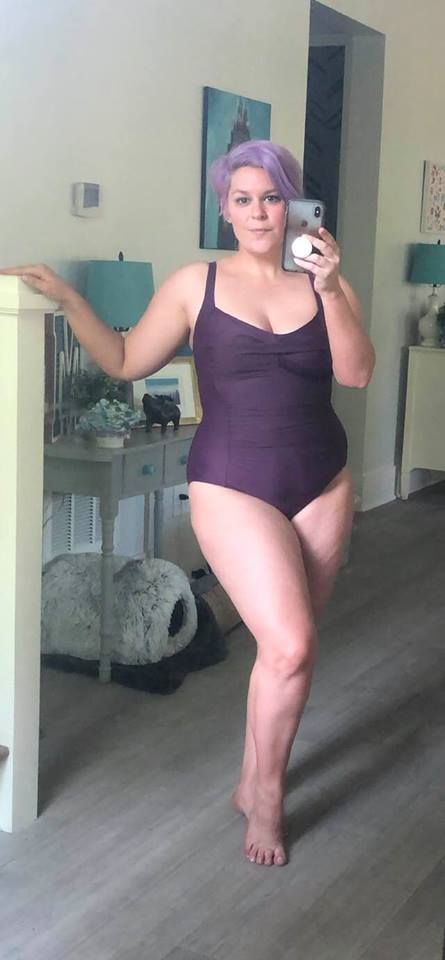 I knew I'd love this bathing suit the second I put it on…it sucks you in without being uncomfortable! And I LOVE this neckline, as it feels very retro without aging the suit at all! Go check out the other options and I cannot WAIT for one of them to come back in my size, the black sides with the blue flowers in the middle!
Halter black and floral one piece!
Wearing a Large
Love: The pattern, the black bottom, padded bra, halter top ties as tight as you want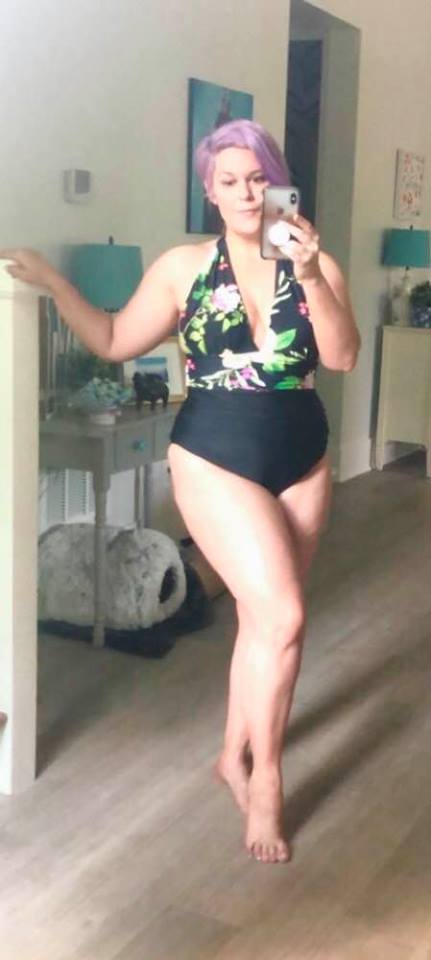 This bathing suit by Cupshe is TOO CUTE!!! However, it is for lounging with girlfriends, a couple's trip, etc., as there is a decent amount of exposure on the side and upper back! I wouldn't be able to run around in this one, but I think it's a great suit and incredibly flattering!
Ruffled Navy One shoulder one piece!
Wearing a Large/12
Love: Tummy control, ruching, pads in the bra, available in 10 colors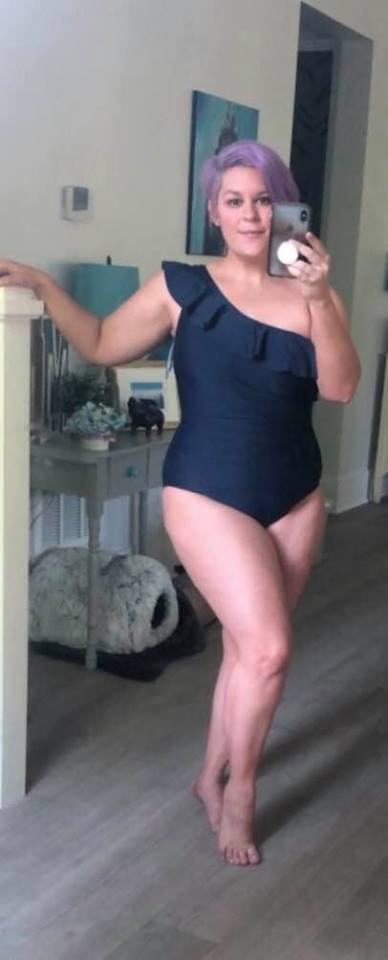 This swimsuit holds you in completely without being uncomfortable at all! I love the one shoulder look, and don't feel like the other boob is going to fall out #winning! They have the most gorgeous colors in this one, and although it says to sIze up, I think if you're short, it's TTS, and if you're tall, size up!
Last, but not least, the Target finds!
Ribbed tie-front cut out one piece!
Wearing a 38D
Love: vertical ribbed material, underwire lifts the chest, feels secure

This might be the first time anyone has ever seen my stomach on the Internet (since I've had kids that is), and I was kind of shaking when I filmed it in my stories. But my ten-year-old, Lilly, was in the dressing room with me when I tried this on, and she was super encouraging to me, and that was enough to bring it home! I want her to always feel confident in her skin, and that starts with how I model me, in mine. This suit doesn't have a ton of booty coverage, so be aware that you're showing off a good bit of skin front AND back 😉 This suit is also $50 (20% off cartwheel app, and 5% with red card took it down to $38), so I'm not sure if I'm keeping it, but I do like it, more than I thought I would!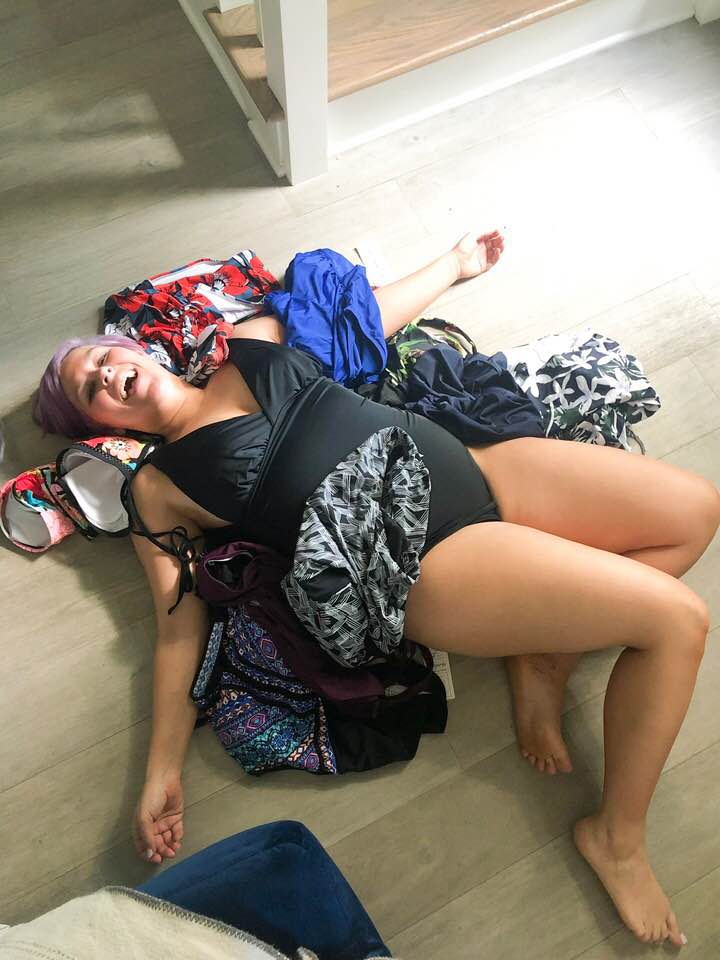 So there you have it friends!!! This try-on was incredibly vulnerable for me to post, and I'd appreciate any likes, comments, shares, pins, etc. to let me know you appreciate it! And just know that by shopping through my links, you help me continue to bring yall content to this page, and I'm super grateful! This post took me FOREVER to put together, but I love doing this sort of stuff, and if there's anything else you'd like to see me try-on, let me know!
Speaking of pinning, if you are on Pinterest, PRETTY PLEASE PIN THIS IMAGE! And give me a follow over there too if you'd like!
Now, it wouldn't be a great post if I didn't give something away! I used GloBody's self-tanner to tan what I've thus far not been able to tone 😉 And Lort knows I'm tryin!!!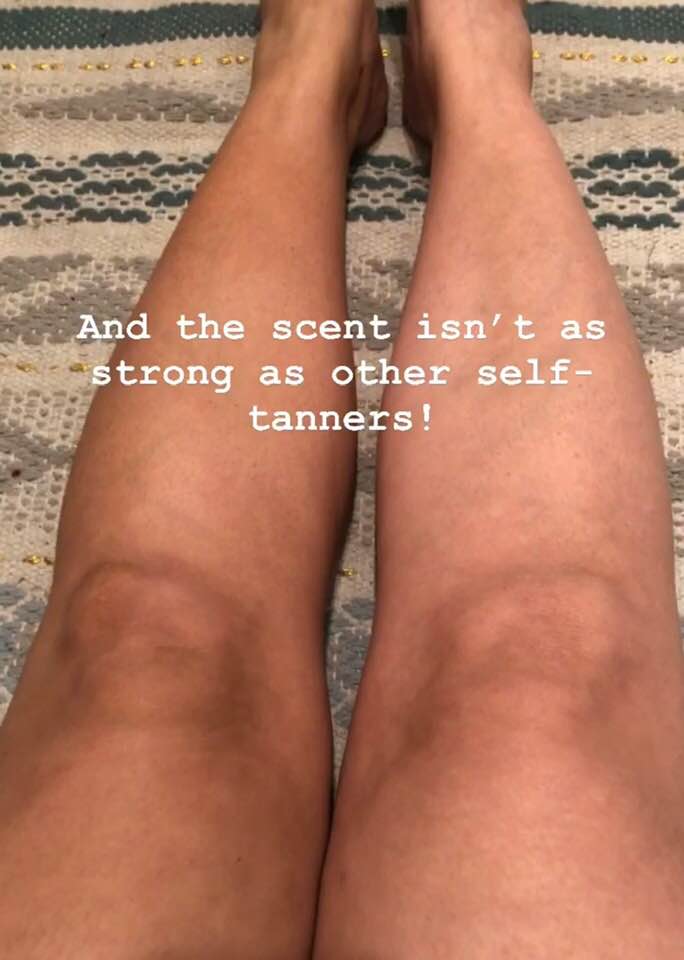 Above is a pic of my legs, where you can see the left one has the tanner applied, and the right one where you can still see my more pink undertone. This stuff is AMAZING, and they also have a mist for your face!
They've given me a 10% off code for yall to use: MirandaGlo on their website,