Spoiler alert: I didn't lose 30 pounds, although that would've been HASHTAG AMAZING, so if that disappoints you, I'm sorry. Feel free to stop reading. Kidding. Please stay, and see what it DID do! AND there's a giveaway at the end!
To start, I had done yoga a handful of times before, and it just wasn't my thing. Because it was FAR TOO QUIET! And I'm not sure how long you've followed me, but I'm not a quiet person. I love to chat, laugh out loud, and be gregarious! I've always gravitated towards Zumba, group boot camp classes, dancing, etc. when it comes to working out!
Basically, the noisier, the better!
But two months ago, when my friend, Jen, mentioned in a text that she was about to head to yoga, I instinctively asked "want me to come with you?" Little did I know how much that class would mean to both of us. You see, Jen's husband, Chris, had passed away from cancer 6 months prior`, and yoga was their thing to do together. She hadn't been back since he died, until that day. And she mentioned that in the text after I offered to join her, so naturally I said, "I'll be there, and we'll cry together."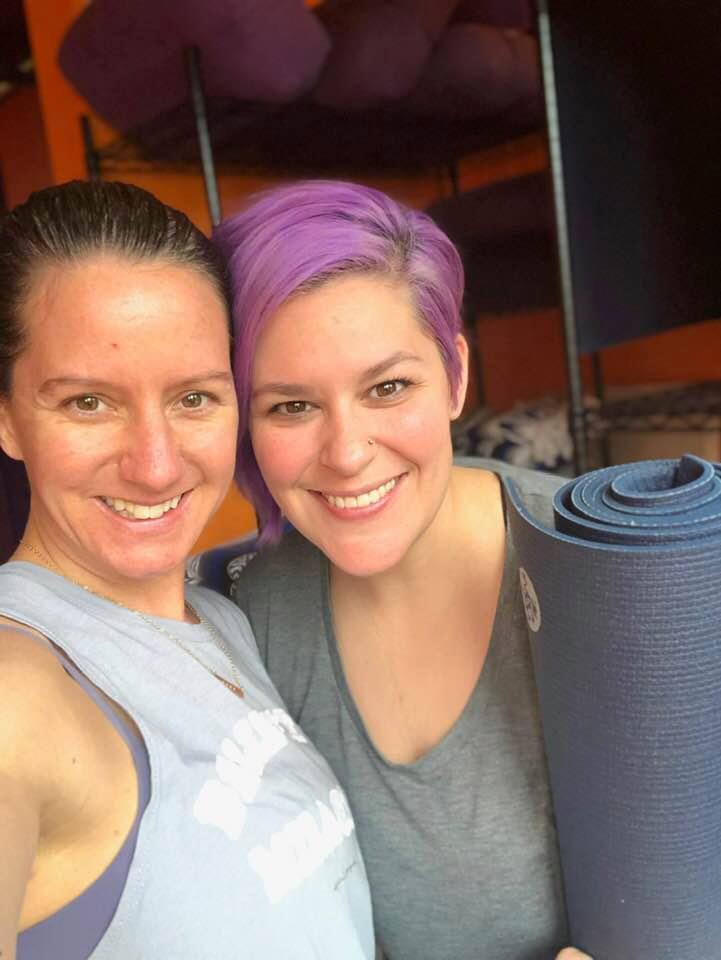 I showed up with no mat, no towel, no water bottle, nothing. I don't quite know what I was thinking, except that it was more about the showing up, than the stuff anyway (isn't that always true in life though?). Daniel, who manages Yoga One, checked us in and explained that a drop-in class is $18, OR I could get the first month unlimited for $35. That seemed like a no-brainer, especially since I wanted to continue to come with Jen if she needed me to, whether I became a yogi or not 😉 We got me the things I needed (they have everything for rent if you don't have it), and we took our spots in the room.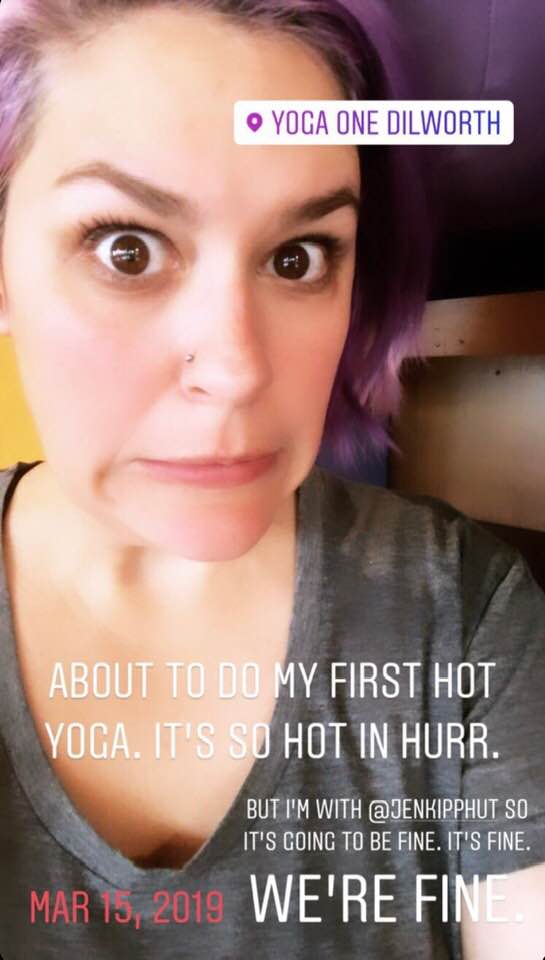 First thing I noticed when I walked the room, it was hotter than hell. Jen said, "Oh, I didn't mention it's hot yoga?!" We both had a much needed giggle. "Um. Nope! But I'm fine" I said nervously. I had never done hot yoga, and was already wondering if I was going to stick out like a sore thumb, but Yoga One NEVER makes anyone feel that way. I got through the class, and was happily relieved when during shavasana, our teacher brought us a cold lavender-soaked towel to put on my face. I have never loved a person more in that moment.
It also helped hide the tears I was shedding because I could tell Jen was sobbing. I grabbed her hand and we just laid there and cried. And it was during that moment, I decided I needed to do yoga every day. I don't know if it was the endorphins, the emotions, the lavender, or what, but I just knew I needed to give myself a challenge. The old me would've said "attending two classes pays for the membership itself (and that's true)," but the new me was all 'GIRL, you know your ass needs to come daily or you will find every excuse not to.'
Challenges like this, for whatever reason, keep me super accountable.
So Jen and I finished the class, and I told her, "I think I'm going to get every dime out of that first-month special, and come every day!" She was tickled! Have a mentioned that she's also my trainer? So anything that supports my fitness journey, makes her a happy camper!
And I'm gonna tell yall, yoga is HARD. I don't know what you think it is. But it's not relaxation and stretching and sitting criss-cross applesauce, chanting "OMMMMMM." I mean, those things are a part of it lol, but for the most part, it's a challenge! Mentally, physically, emotionally, and then just when you think you have a pose looking good, the teacher says "lift higher if you can," or "lean back more," or "close your eyes now" or "we're gonna hold this for a while." That's the thing about yoga…there's always a place to grow, to expand, to challenge yourself more.
Look at me sounding like such a yogi!
But seriously, I showed up every day that first week, fitting it in to my schedule wherever I could! Yoga One has classes all day long at both locations (Dilworth is near Food Lion and Central is near Bistro la Bon)…before work/the kids are up, during the day, after work/school, etc. And I wasn't convinced yet that I liked it…I was showing up because I promised myself I would. And I like having worked out, even if I don't particularly like working out.
I was so proud of the sweat though!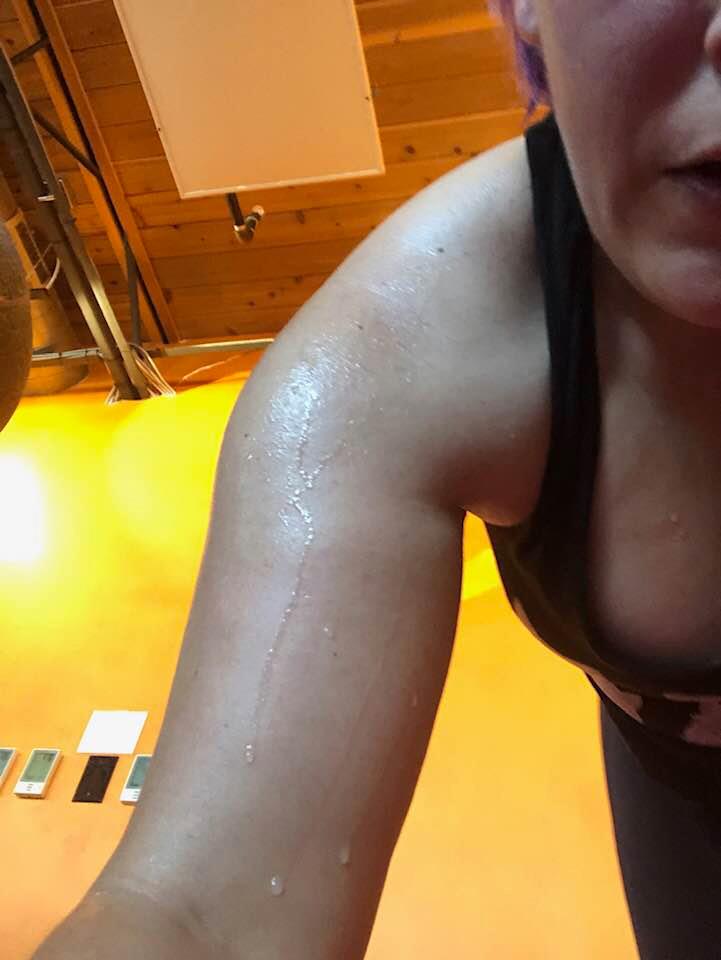 On day 3, I did this handstand, because it's basically a right of passage 🙂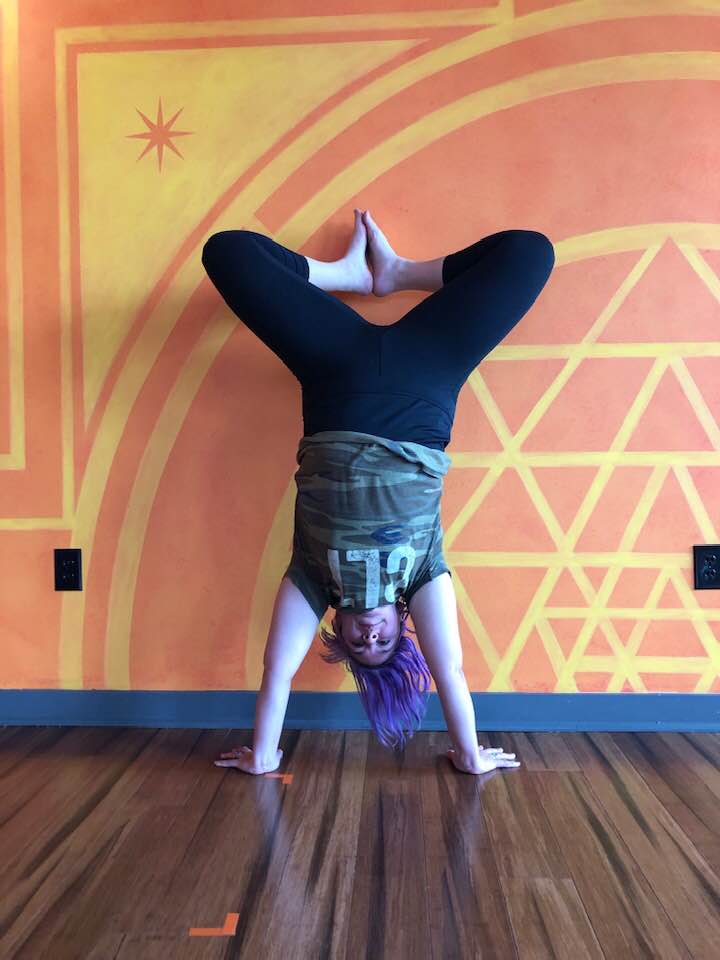 I finally realized that I was going to need real yoga equipment. So headed to Marshalls, and got a mat cover, new sports bras, and pants that weren't see-through 😉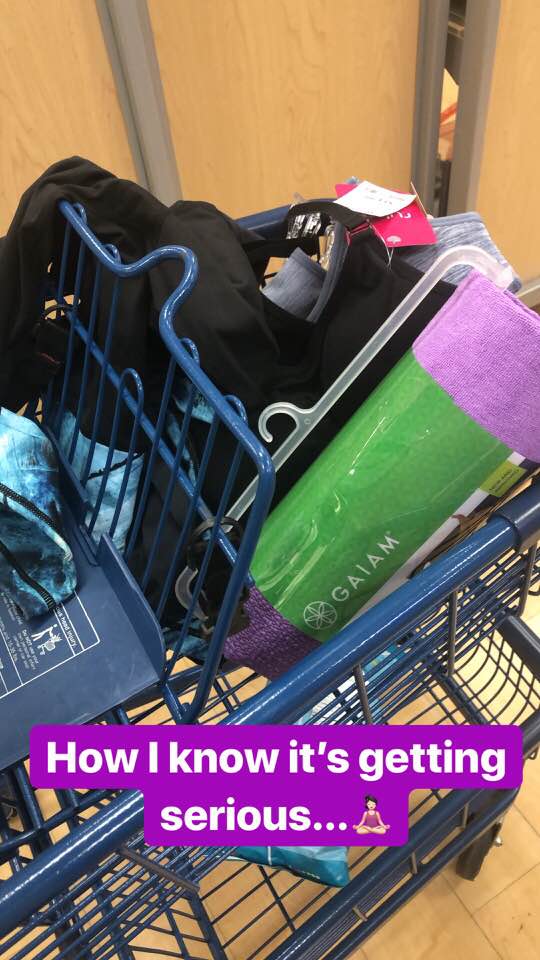 On day 5, I decided I'd to see if I could still do a headstand…once a gymnast, always a gymnast! 😉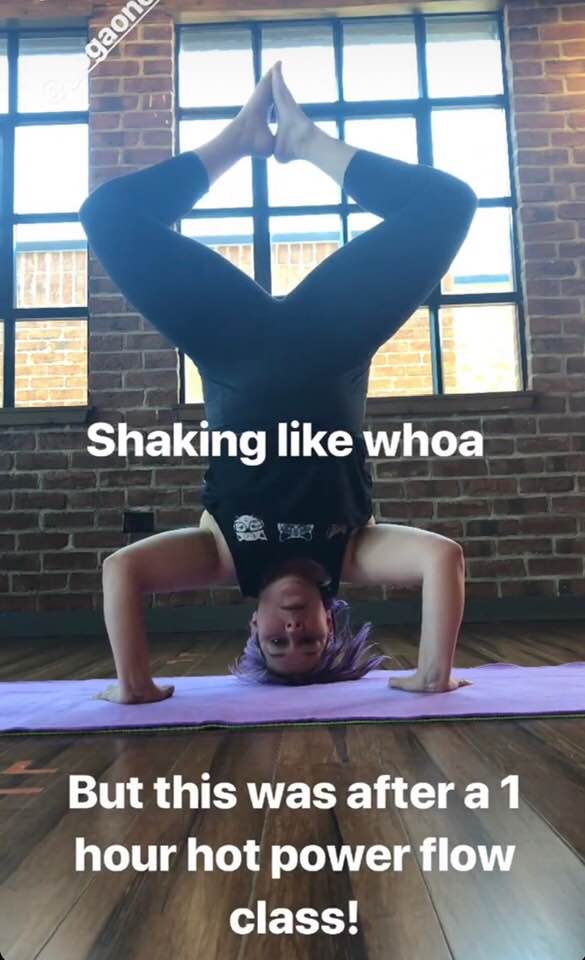 By week two, I was starting to want to show up to yoga, and if something was getting in the way of my usual time, I was slightly annoyed. It was always made better by friends showing up and joining me!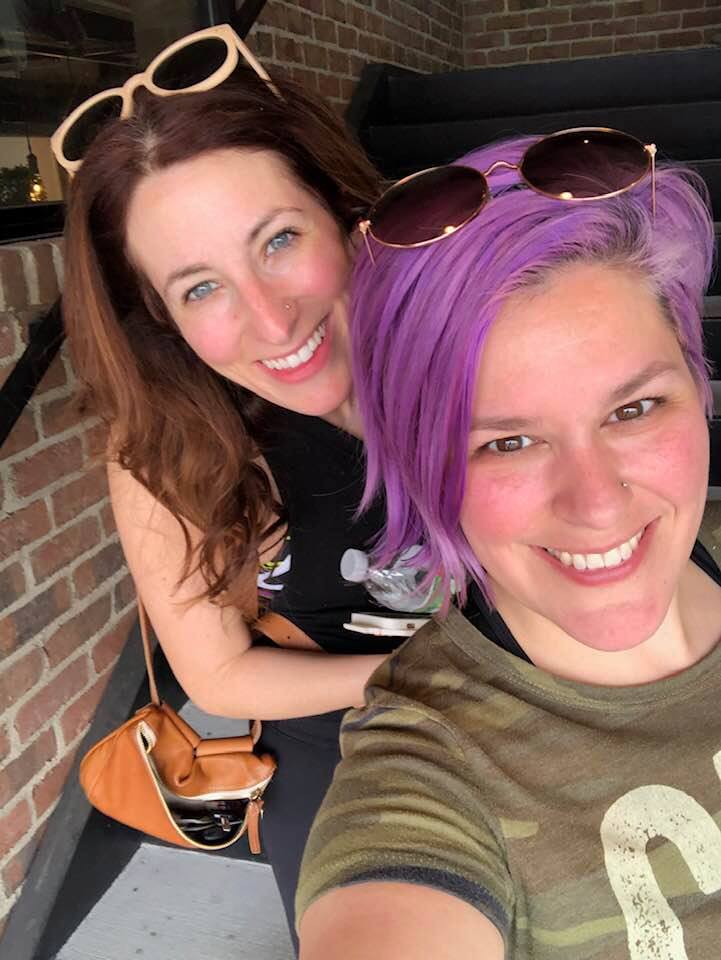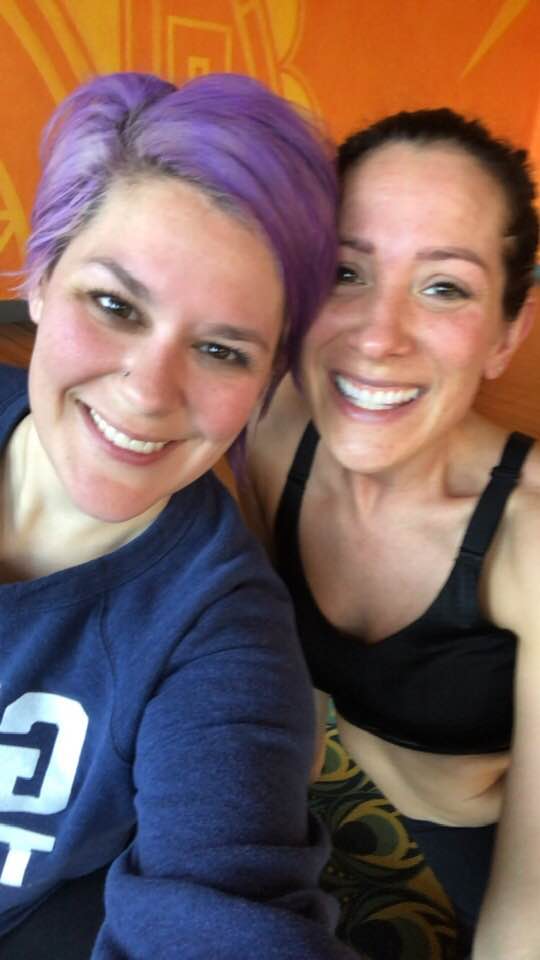 They even have family yoga, and Bella was able to join me! I loved getting to show her this place that was quickly becoming like a second home to me!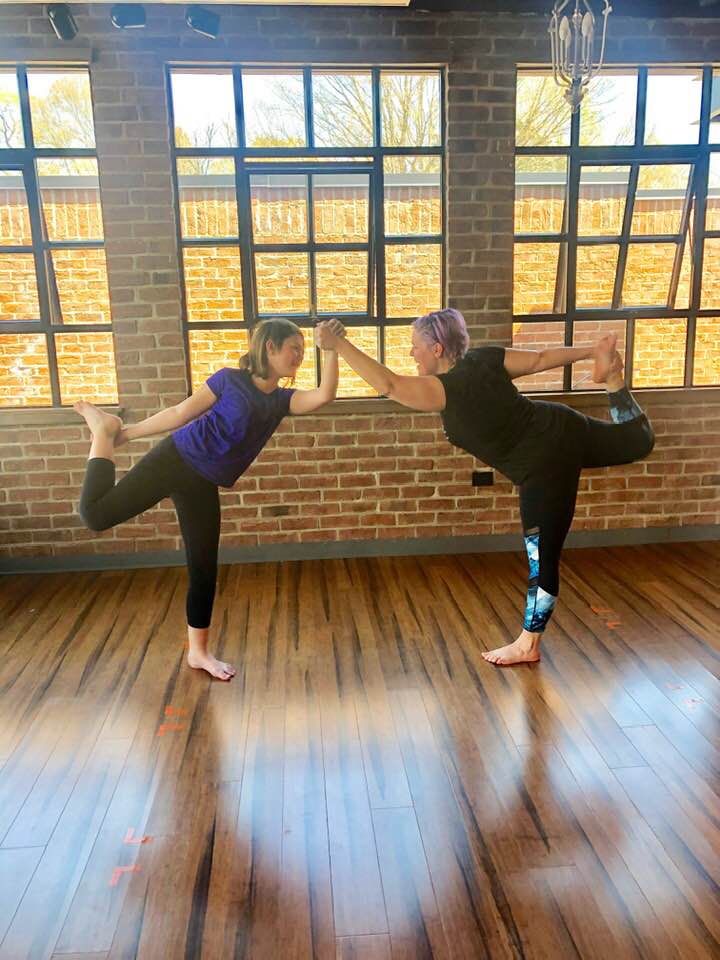 There were a few days in the 30 where I was emceeing a blogging conference all day and into the night. I got home at around 11pm, and found a yoga class on youtube and did it.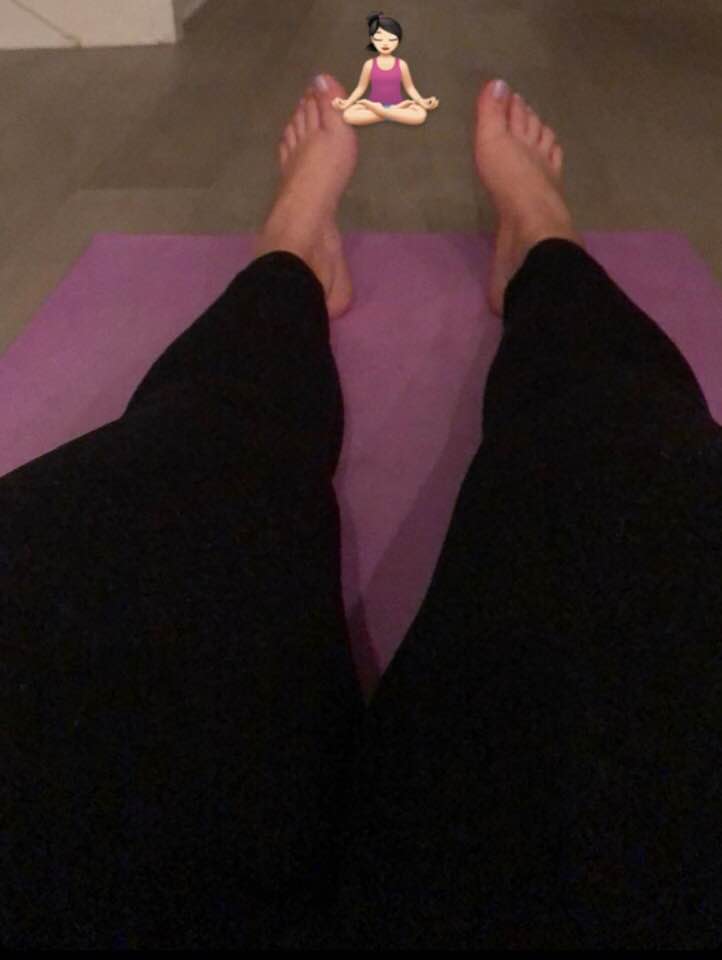 By week three, when they say habits are being made, I started to get the hang of the poses, started to feel more flexible, starting to notice tiny muscles were forming and I was certainly getting stronger. I still couldn't get through the ab section of the class without cheating, but I was trying!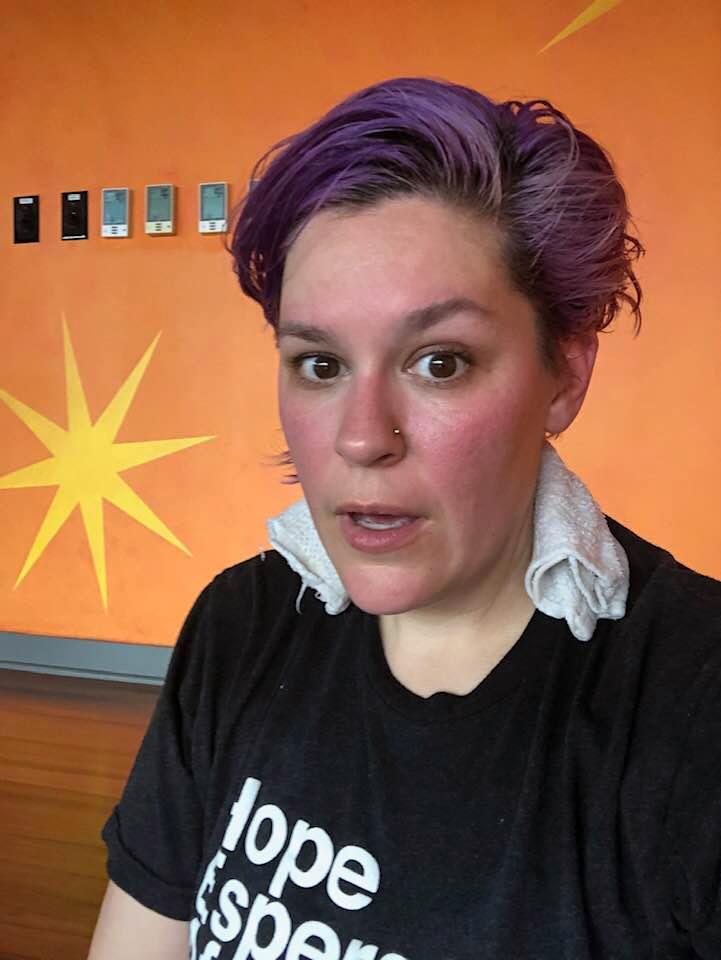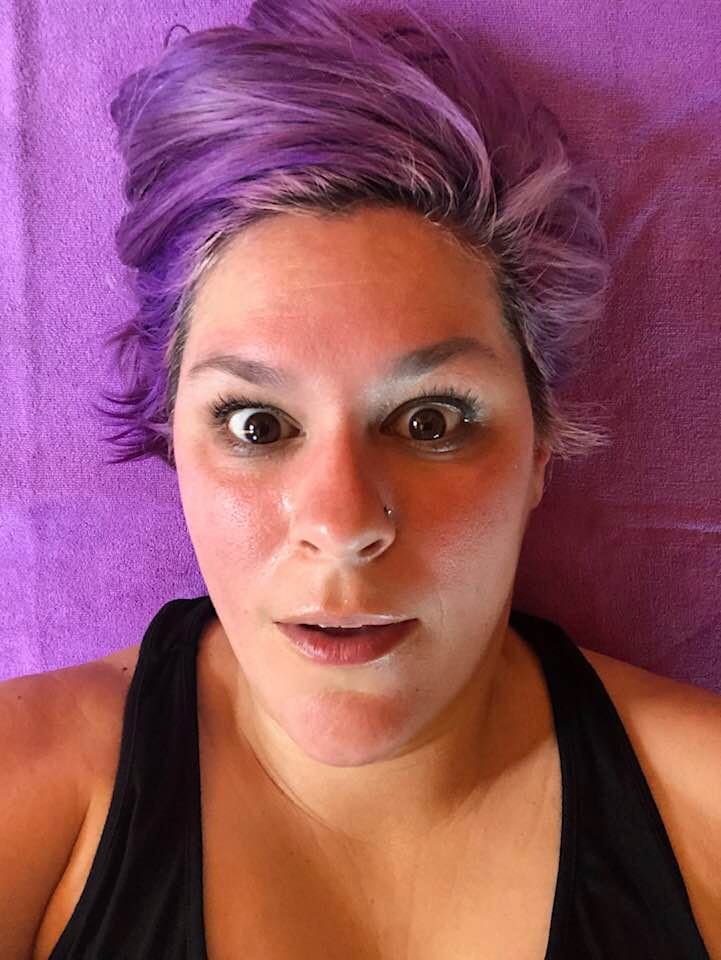 By week four, I realized time was flying by! I couldn't believe I had found a way to fit in a class every day, and I started to realize that the former me was really good at making excuses about my workout time. I even started thinking 'what if I extended my challenge to 60 days??!' But I also thought, 'you have to WANT to show up Miranda, and without a self-imposed "challenge," will you?!'
My friend, Jamie, even made me this water bottle to celebrate me being so dedicated!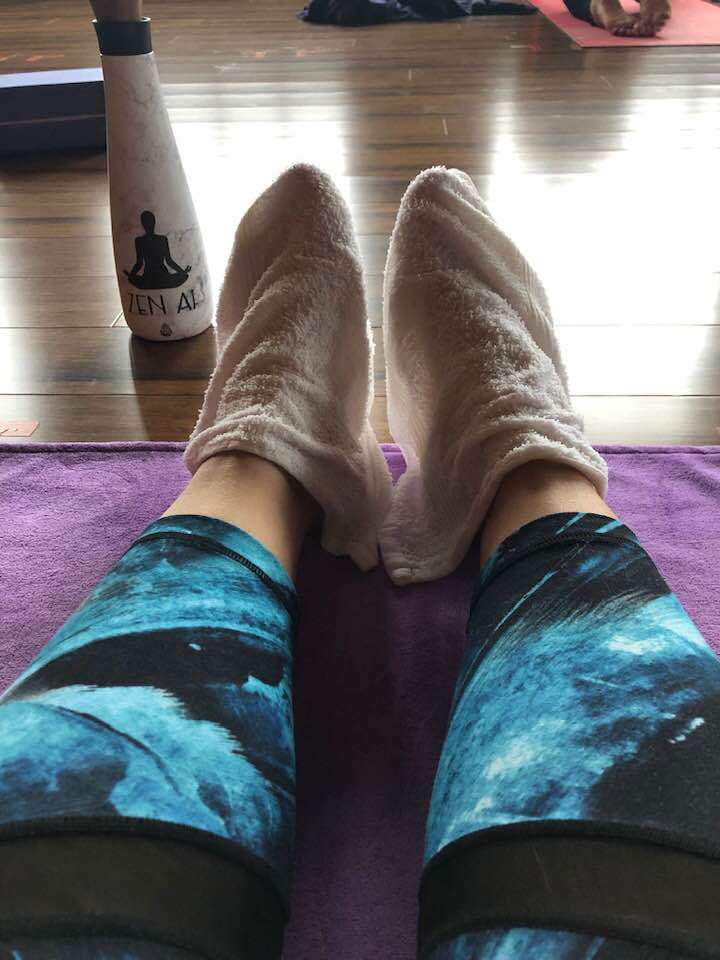 I was so excited to do my 30th day with two friends joining me for an hour and a half long class, and took a pic (as always) to commemorate the occasion!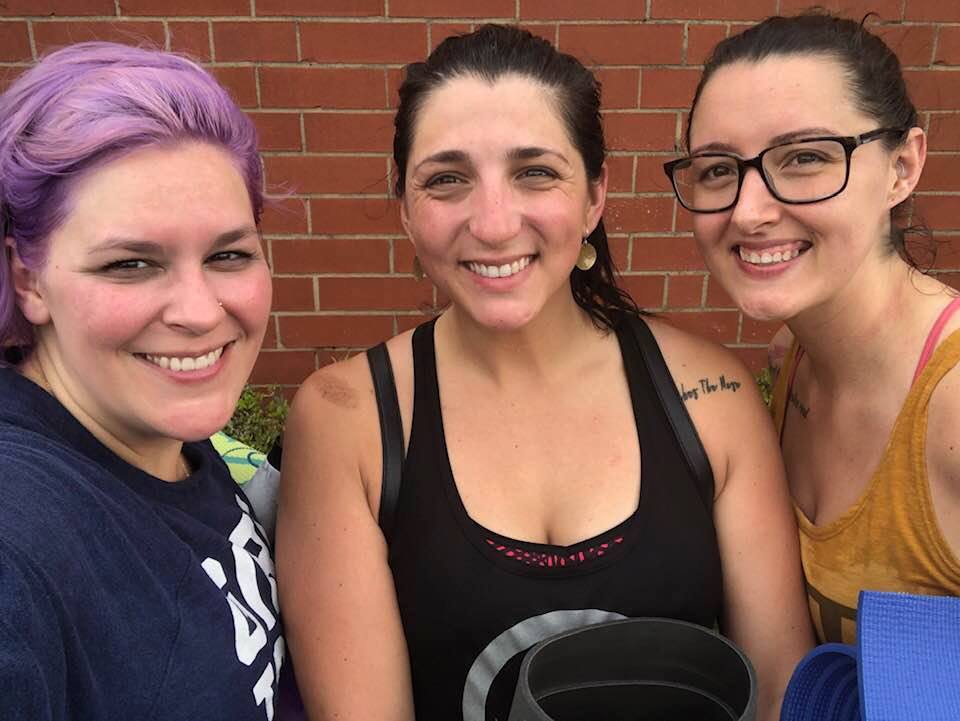 Everybody wants to know, "did you lose weight?!" On day 3, I did a handstand pose against the wall, and I did the same pose on day 30. I do see changes in my body…arm muscles trying to peek through, more extension in the arms, better posture, more flexibility, etc. I didn't weight myself so I truly don't know if I lost weight, but I don't think it matters.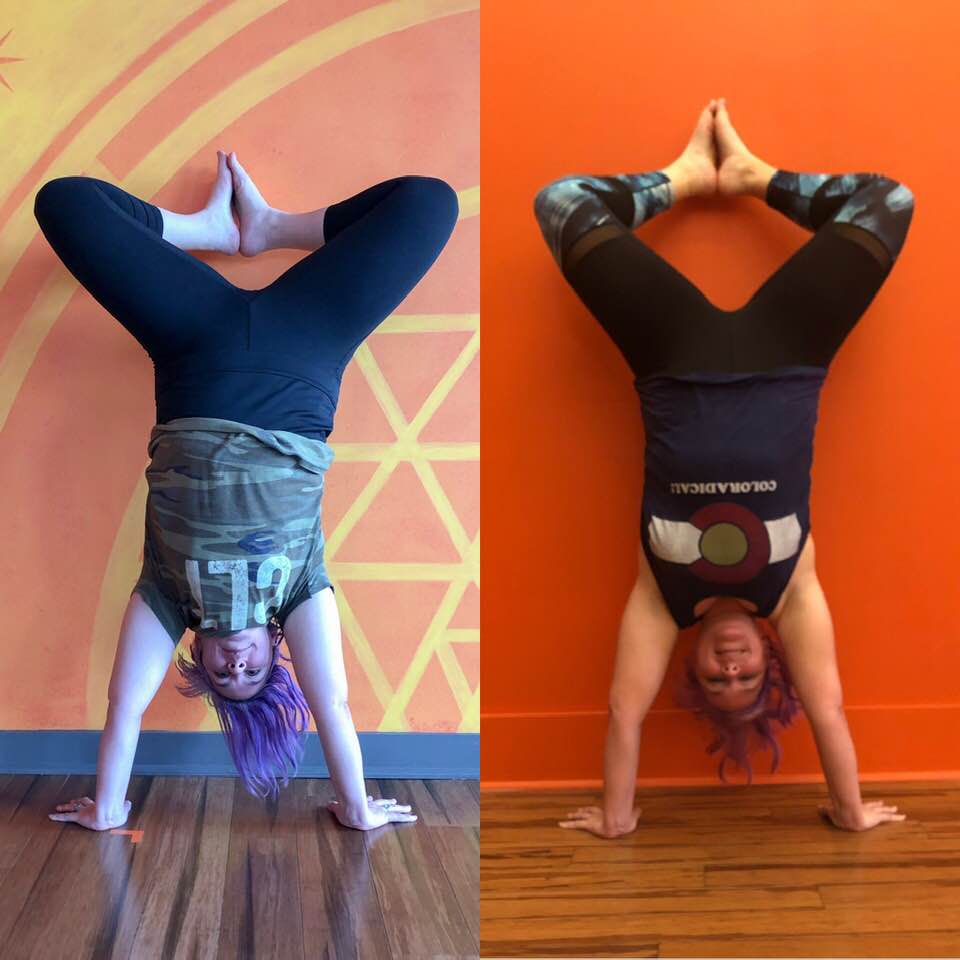 What yoga did for me more than anything else…
It forced me to disconnect for an hour, and sit in the quiet of my thoughts and my breath. It's no secret that I am extremely connected…on my phone constantly, recording stories, at events, emceeing, having meetings, etc. I get very little quiet time. And believe it or not, I LOVE TO BE ALONE, and I love to be quiet. Yoga gave me the chance to do those things. Although I was in a class with others, I was extremely focused on my practice, my thoughts, myself, and I needed that for sure.
Shavasana is the five minutes at the end of class where you take rest. Yoga One gives you a cold towel to put on your face, and it makes the 55 minutes beforehand worth it 😉 On day one, I couldn't stop thinking during this rest time. Thinking about what I needed to do when I left, whether we were out of milk or not, what I should've said to a friend who upset me, etc. On day 30, I can truly say that my mind allowed rest during that time. At times I realized I was so relaxed, I worried I'd fall asleep.
Go figure!!! I've avoided yoga all along because it's "too quiet," and it turns out that yoga is exactly what I needed. I can't wait to see what this practice continues to do for me and within me. I know that it's extremely dependent upon the studio you attend, and Jen couldn't have introduced me to a better place. They have power, slow, with music, without, hot, room temp, family, express, deep stretch, meditation, pre-natal, and basically any other kind of class you want! I've had at least 15 of their instructors at this point, and I haven't found one I didn't love!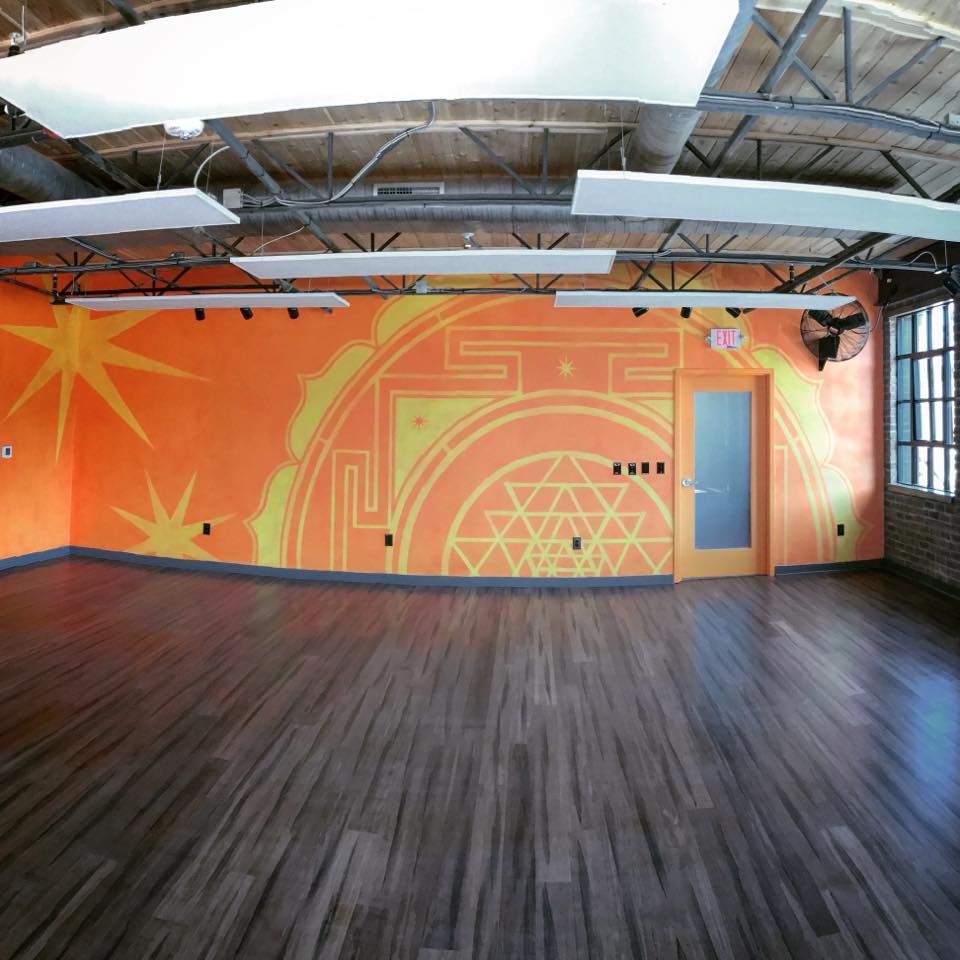 Another example of why this will always be my studio….one of our local colleges went through a tragic school shooting where a gunman murdered two, and injured many. Yoga One immediately said, "if you're a student or administrator at UNCC, come do yoga for free for a month. Find solace, safety, and community in this studio, and don't worry about paying, we've got you."
That's the kind of studio I want to say I attend
And Daniel, wants YOU to see what makes Yoga One special too!!! That's why he's agreed to give two of my peeps a free membership for one month!!!! YUP! One person is going to win a month unlimited, AND you're going to pick which friend you want to give a membership to as well!!! Accountability never hurts, and this way, you can have a partner with you to encourage you like I did in Jen, and she did in me!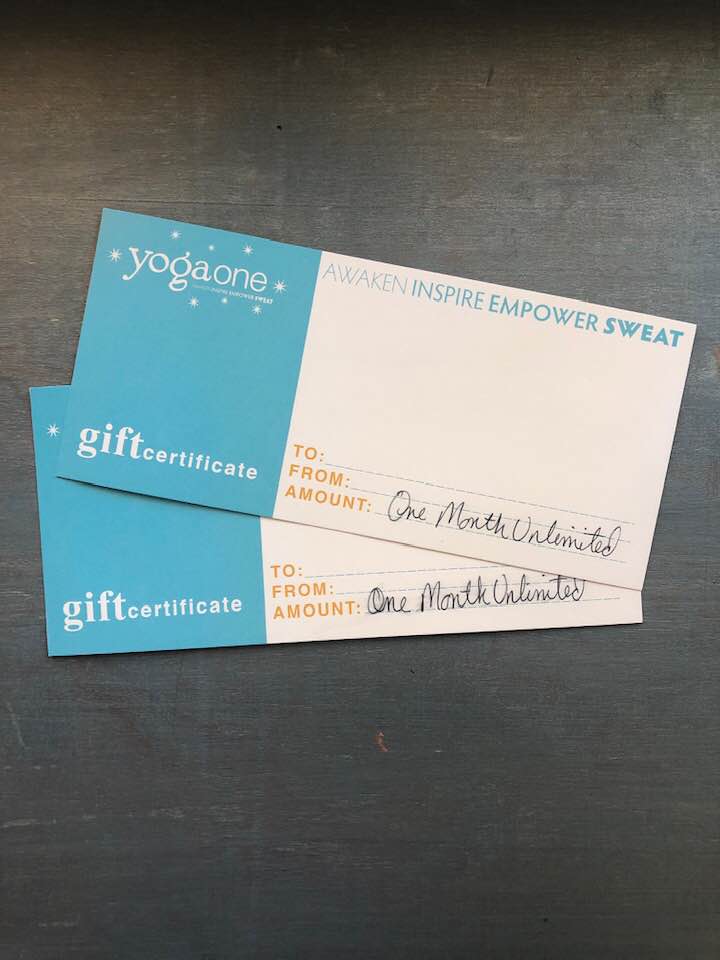 How you enter: leave a comment on this blog post saying whether you've done yoga or not, and if you haven't, why not? And if you're reading this on facebook, follow Yoga One's FB page, and you can share this post to get you an extra entry. If you're on Instagram, head over there and see how to enter on that platform (you'll see the giveaway post that's about yoga)! Tagging friends in comments on Instagram will get you additional entries too!
And Daniel was kind enough to give me a THIRD gift certificate, and I've decided that I'm going to give that to a person who was so encouraging during my 30 in 30! So that person will be notified tonight that she is the winner! If for some reason she doesn't want it, I will keep going down the list of other peeps who supported me so much through this whole thing! It always pays off to be kind in the DMs 😉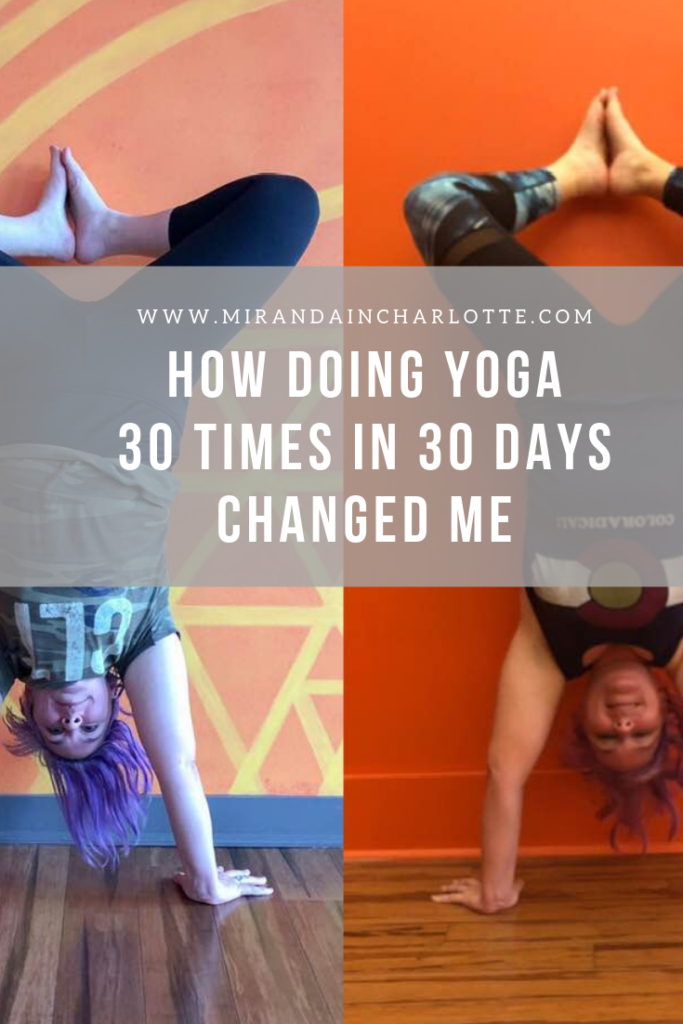 Oh, and to stay hydrated during all of the hot yoga, get this! It's a water bottle, that holds a gallon of water!!!
I get a small commission from Amazon at no cost to you if you buy the water bottle
Happy International Yoga Day and Summer Solstice, friends!!!