What is the average amount of time it should take one to blog about her child's birthday after it's taken place?! Asking for a friend 😉 If you say "five months," then that is the correct answer, apparently to me 😉 But honestly, I just can't get it together any faster than that these days it seems. Maybe that should've been my New Year's resolution, instead of being sober? Hmmmm. Maybe next year folks!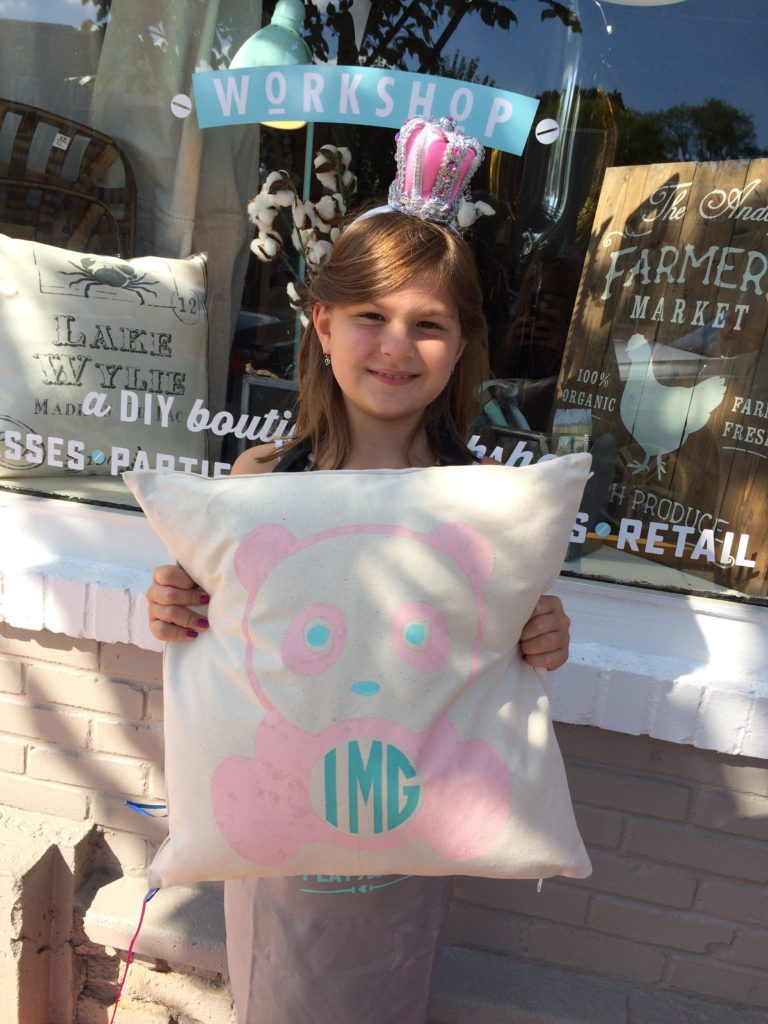 Anyways, enough about me; back to Bella! Yall, turning TEN is a BIG DEAL! "DOUBLE DIGITS MOM!!!" So Bella wanted to do a somewhat big birthday party, and I obliged. She went back and forth about what she wanted to do, but her love of art won in the end, and we had it at Anders Ruff Workshop!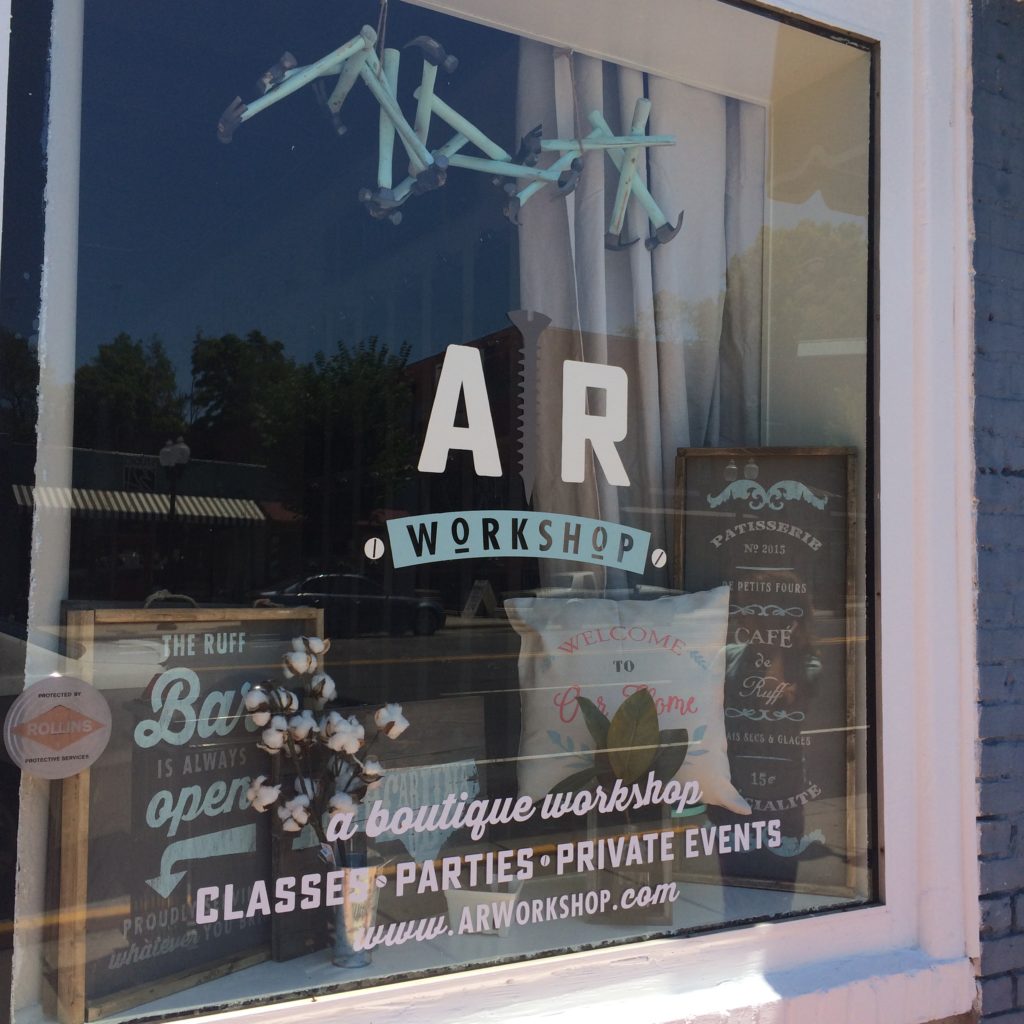 For those who don't know what this adorable place is, for starters, it's located in downtown Pineville close to where my old cakery was! It's on Main St, next to Kiki's Cottage, near Global Restaurant, and is quite possibly the cutest place you've ever seen! AND it just so happens to be owned by one of my very dear friends, Maureen, who I met through the party circuit. No, we weren't holding glow sticks at raves together; I'm talking about the invitations and cake kind of party. 🙂 Maureen and her business partner, Adria, started AndersRuff Custom Design, and I would make the cakes for their elaborate parties, photo shoots, their kids' birthdays, etc. Here are just a handful of the many we did together!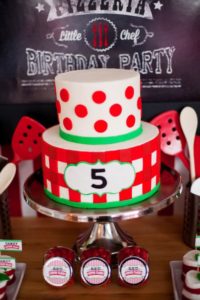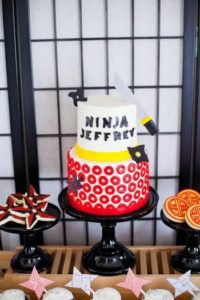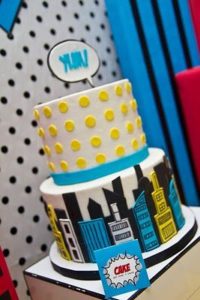 When Maureen moved to Milwaukee, she started another new business, a brick and mortar store devoted to creating art using wood and paint! When she moved back down here, she found the perfect spot in Pineville and set up Anders Ruff Workshop! They host classes often, but you can also book them for private parties, which is exactly what we did for Bella's birthday!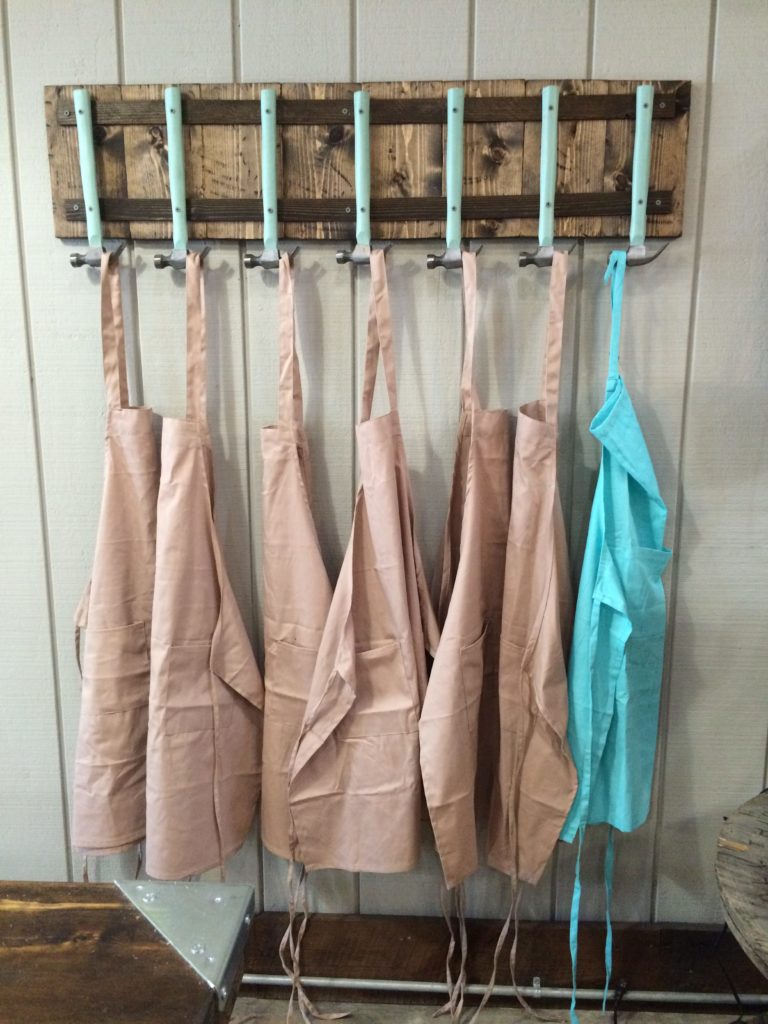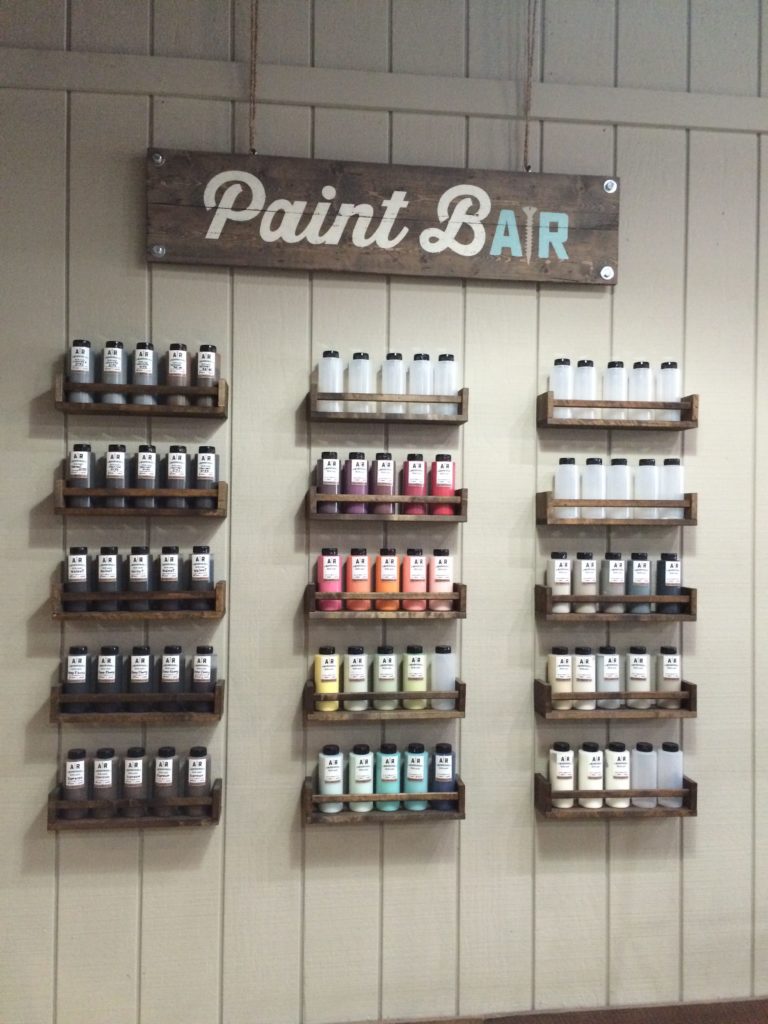 Bella invited her friends…some from preschool, our old neighborhood, her old school, her current school, and family! Bella stays friends with everyone she meets, so I had to edit the list quite a bit because it could've gotten out of hand! We picked a kid friendly project of pillows with each friend's favorite animal, and their monograms, on it! Maureen even found a hedgehog and a donkey for the girls who asked for them 🙂 Yes, a hedgehog!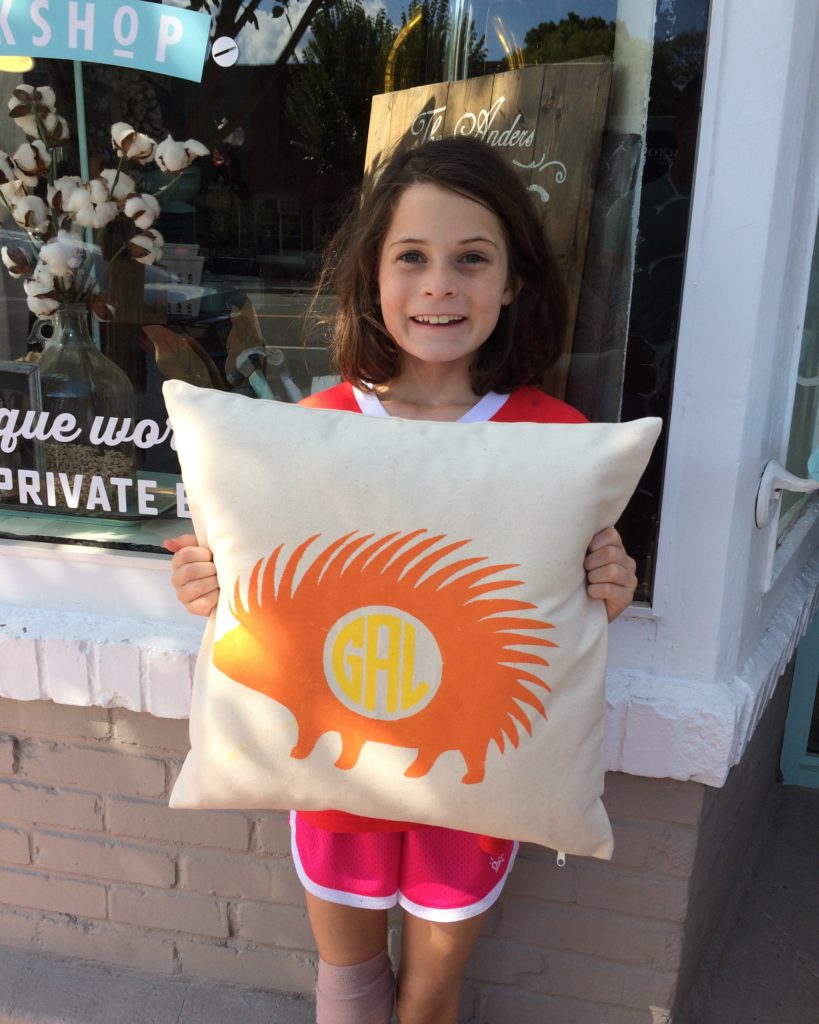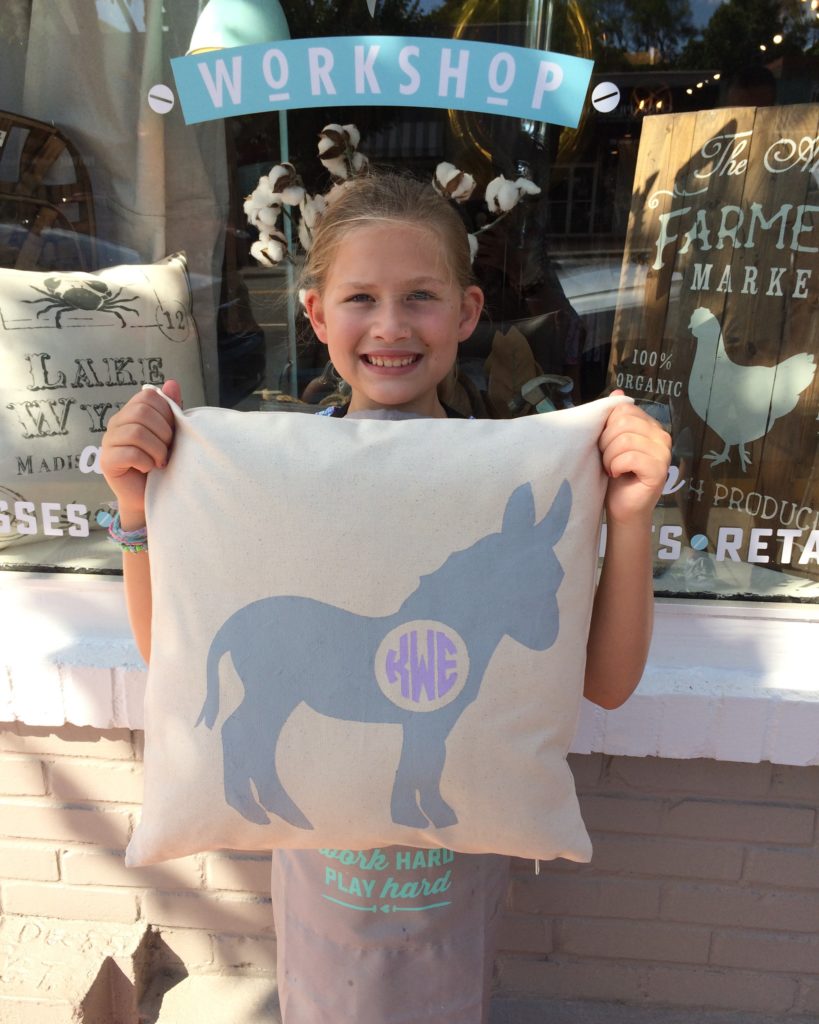 So how it worked, is the girls picked their animal and let me know their monograms, so the stencil was made ahead of time and ready to go when we got there! Then, when we arrived, they picked the paint colors they wanted to use on their projects, and went from there! The instructors really made it so easy for each girl to do a great job on her pillow, and brought out each of their personalities too! It's a success in my opinion when each girl leaves happy and with a proud smile on their faces!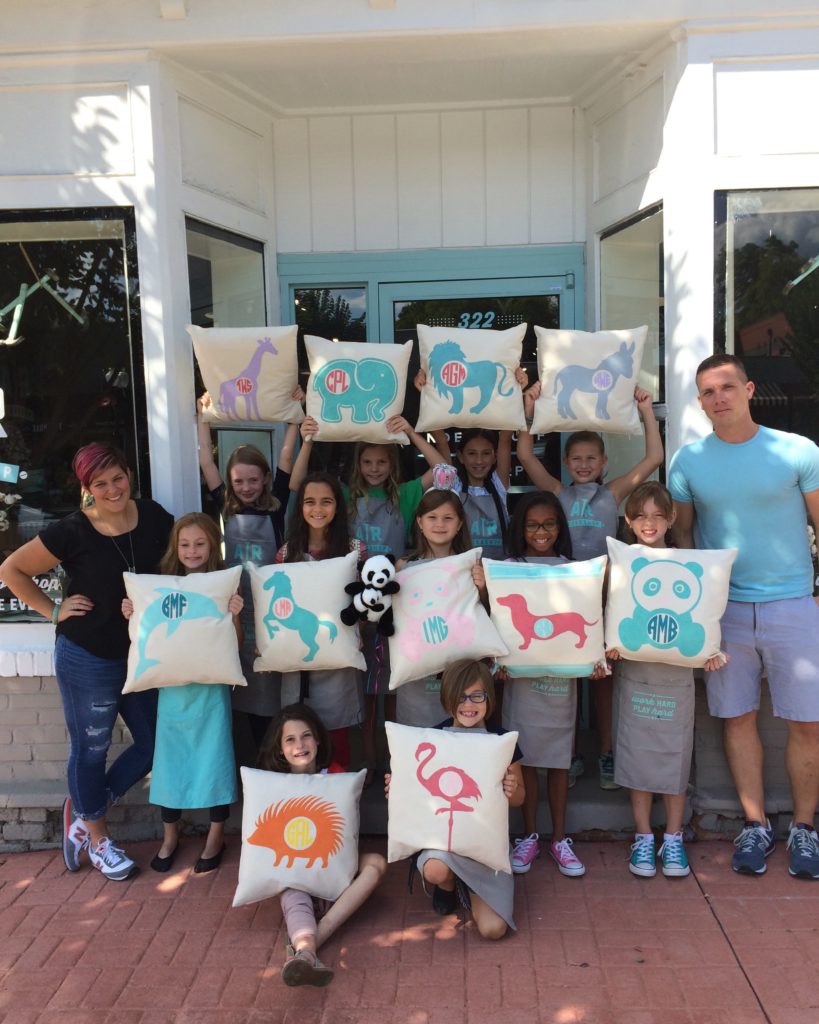 Check out each girl with her project: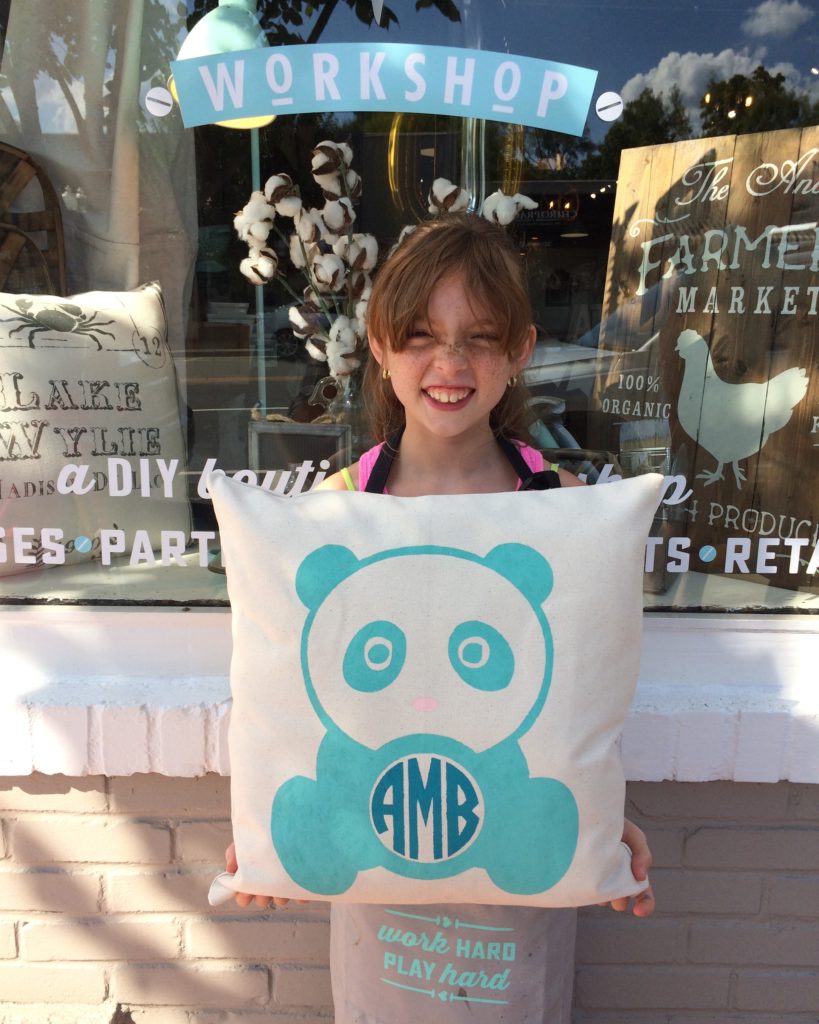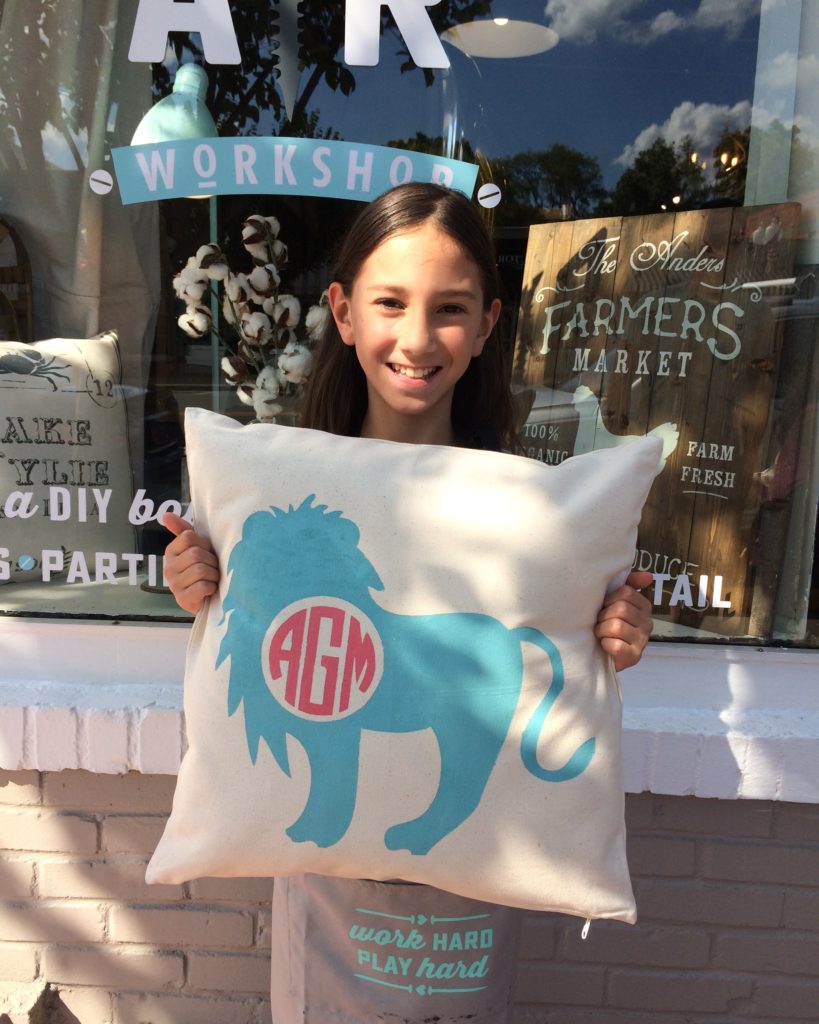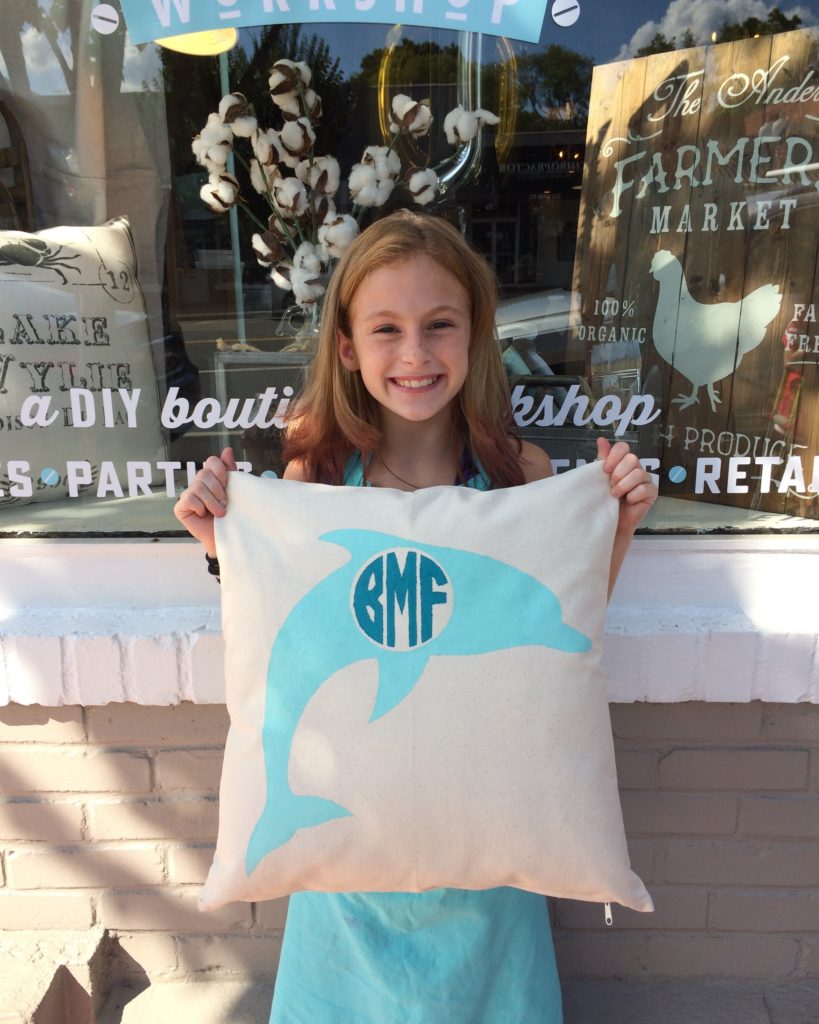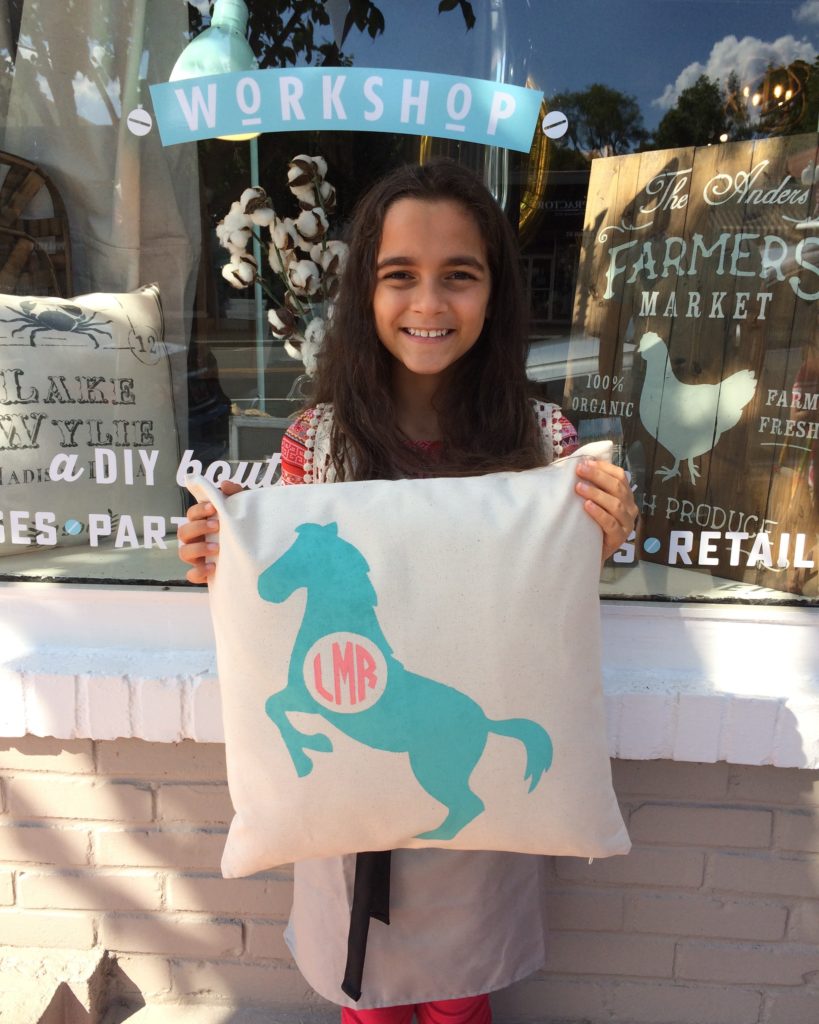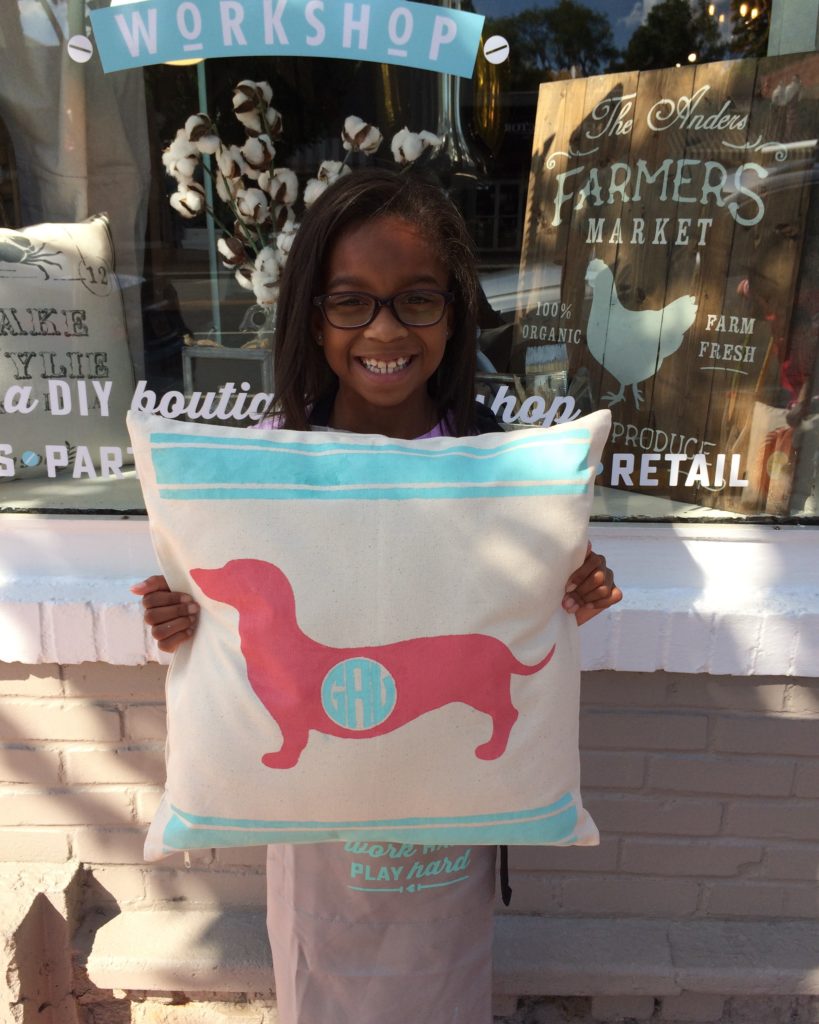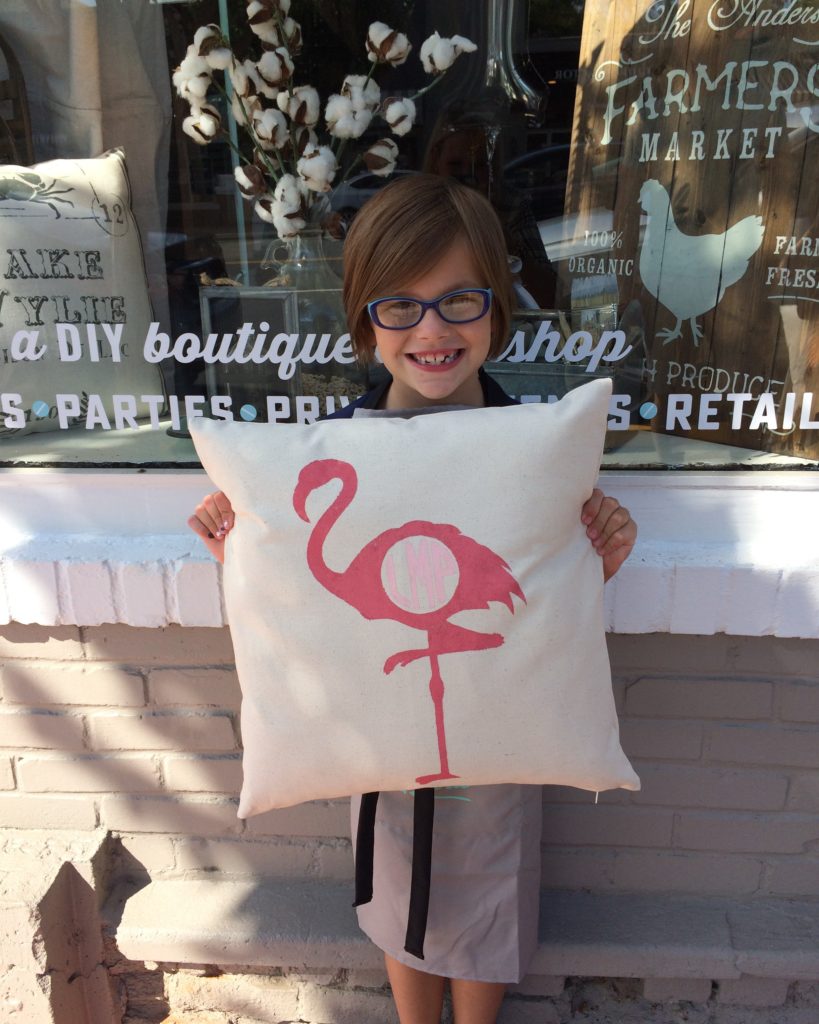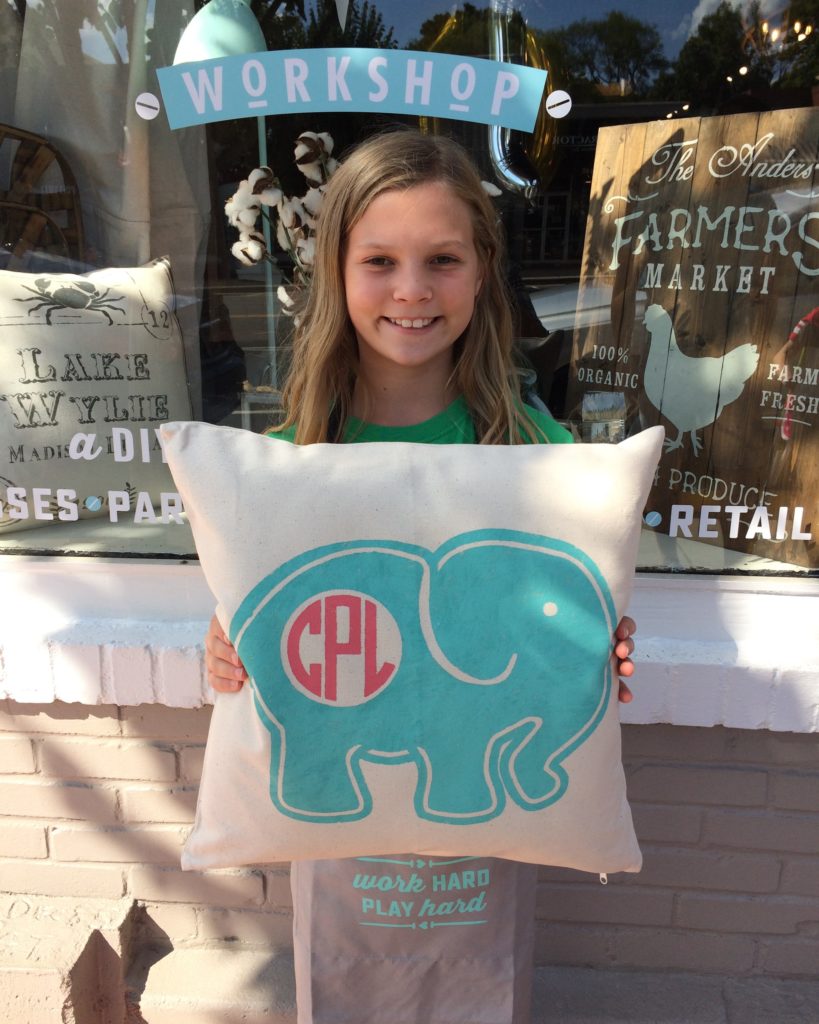 Look at them!!! And not only did they love the craft project, but there's an awesome hang out area with a couch and some chairs, a bar (for lemonade in this case), and even a little retail area of the shop to buy home decor!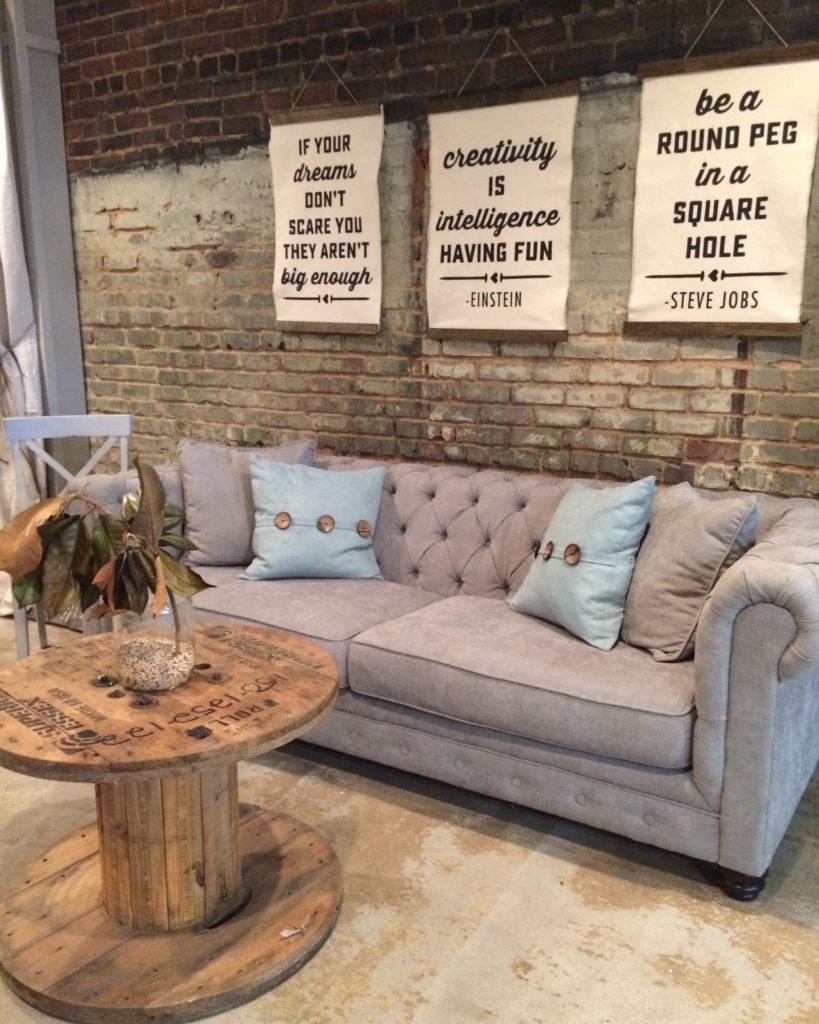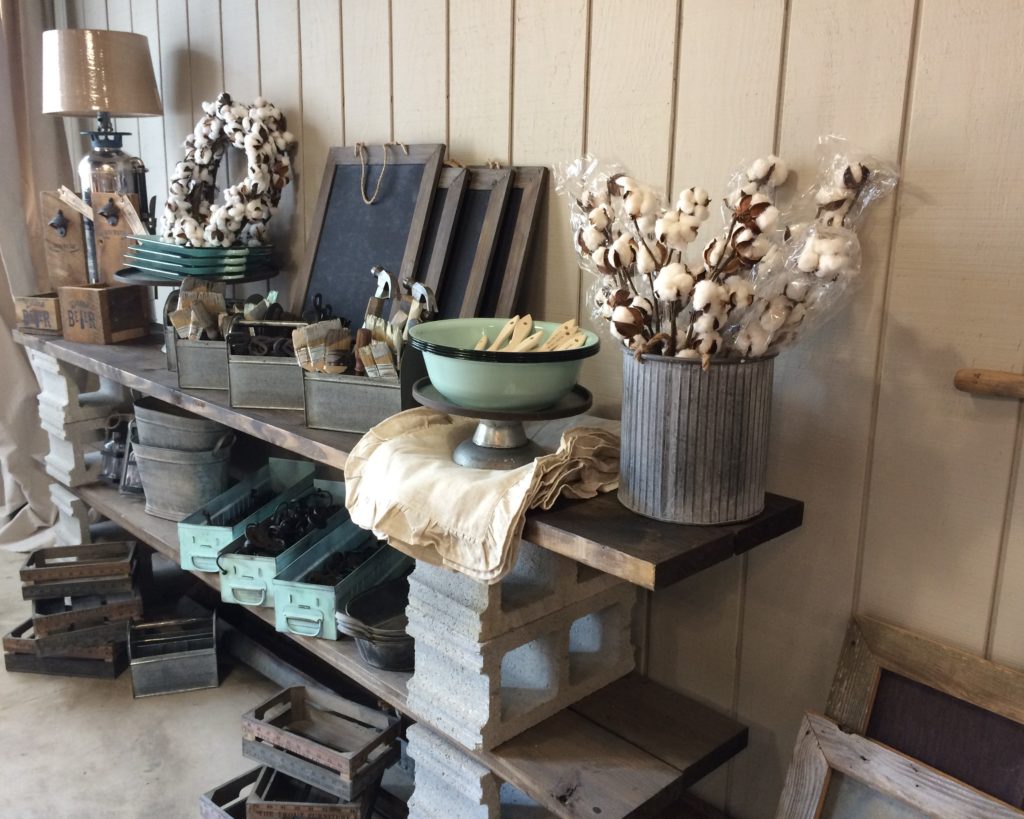 I can't recommend this place enough for a birthday party, no matter the age! I've also been to a Christmas party there where I made this sign…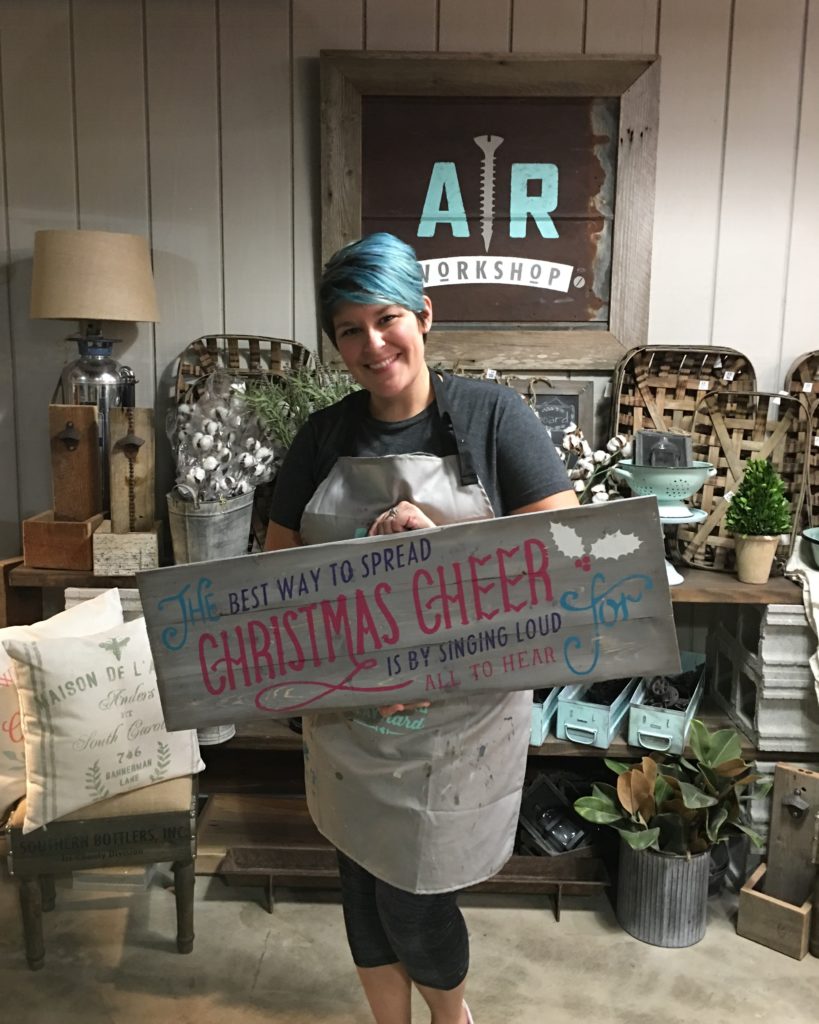 I love this one of my logo: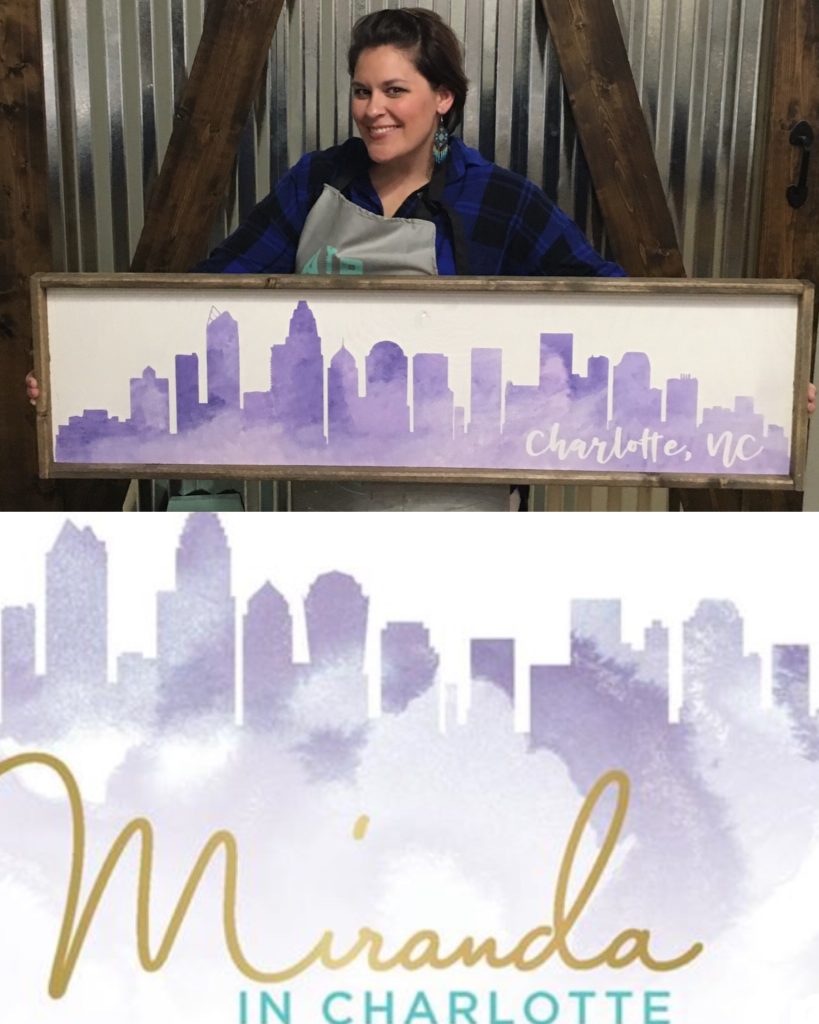 And of course my United States of America sign!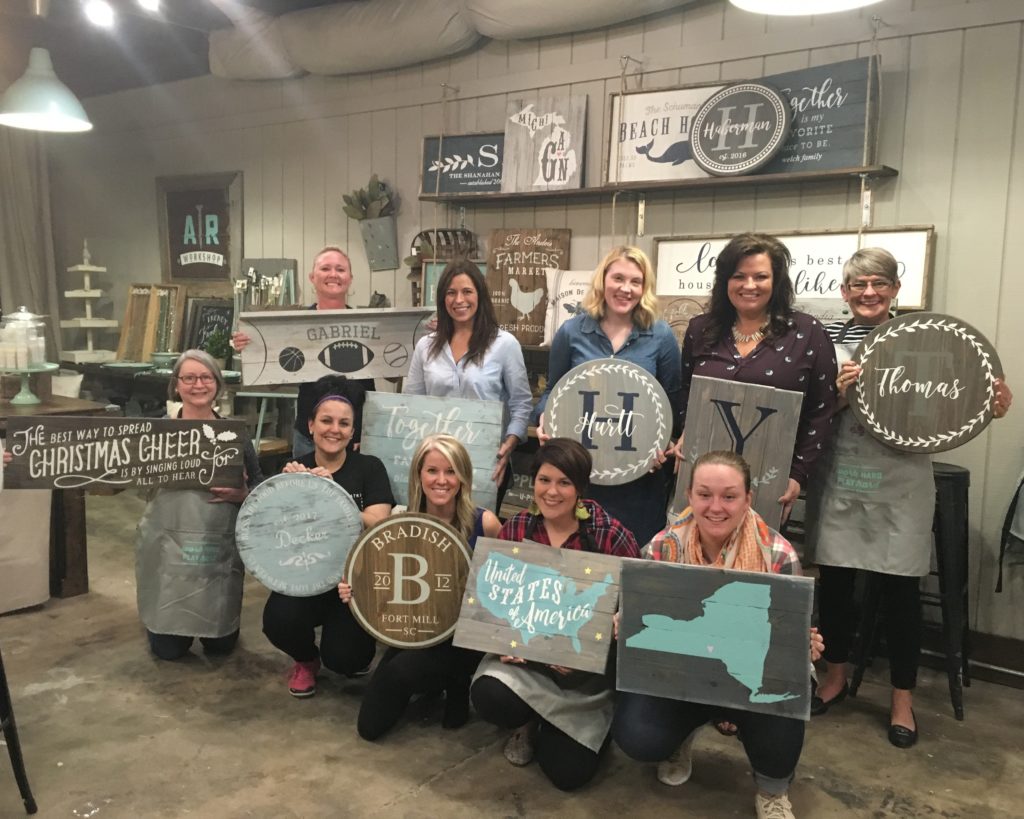 If you'd like more info, here is the Pineville location, but Maureen has franchised and now has MANY locations around the US. To see the list of locations, click HERE!
INFO:
Anders Ruff Workshop
322 Main St
Pineville, NC 28134
803-642-2232
And now to introduce their COMMERCIAL:
AR Workshop® – A Boutique DIY Workshop

Anders Ruff Workshop #videodebut – Take a look inside our Boutique DIY Workshops where you can come create custom decor from raw materials in a lounge style environment! Wood signs, centerpiece boxes, canvas pillows & more! It's the PERFECT place for your next #girlsnightout #datenight or family activity. Host a private party, corporate or team building event, bridal shower, bachelorette party, baby shower or birthday party at a workshop location near you! https://www.arworkshop.com/workshop-locations/

Posted by Anders Ruff Workshop on Tuesday, September 12, 2017