Sharing an oldie, but goody, on the blog today!
I wrote this post years ago, but TIna sent me a throw back pic from 8 years ago today, so figured I'd share it again!
You guys. HUGE ANNOUNCEMENT. I'm back on Pinterest. LOL! Well, let me clarify. I've never left Pinterest; I simply fail to pin things for like, yearrrrrrs. But now that I'm a professional blogger (go with it), I know I need to be on it more. Most of the things that I talk about on my blog, lend themselves to pinning. And in my newfound time on Pinterest, I have realized that ONE of my pins has gotten pinned MORE THAN probably all of the other pins I've posted, COMBINED. Wanna see which one it is??!!!!! Great! Keep reading 😉
Speaking of pins…pin this graphic for future reference!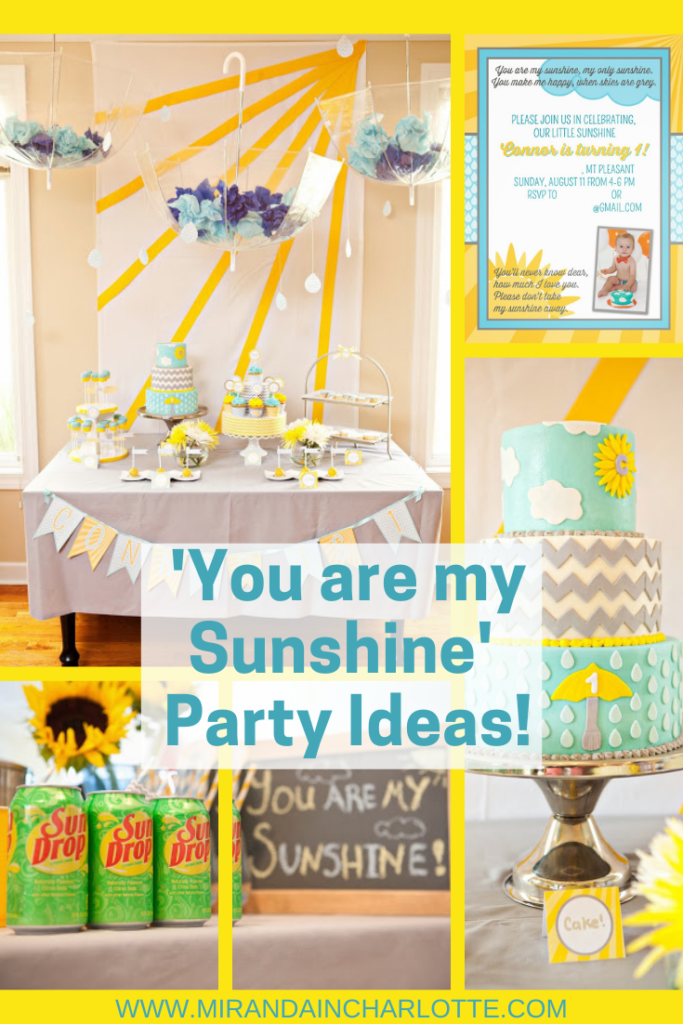 The funniest thing is, it wasn't a cake (I was at the time a professional caker). It wasn't anything I did for my business (although we had been featured lots of places). It wasn't even for my OWN kid (even though I threw them badass parties along the way too)!
So I guess I'll start here (four years ago, mind you)…
My college bestie, Tina, who lives in Charleston, has a precious little boy, name Connor, and he was turning one!  She asked if I could recommend someone down there to make a cake, and I said, "why don't I just come down there for the party, and bring the cake?!  I don't think I have any other cakes that weekend!"  She was so excited, and so was I…I hadn't seen them since Connor was just born, so it was a gift to be able to be a part of this big day!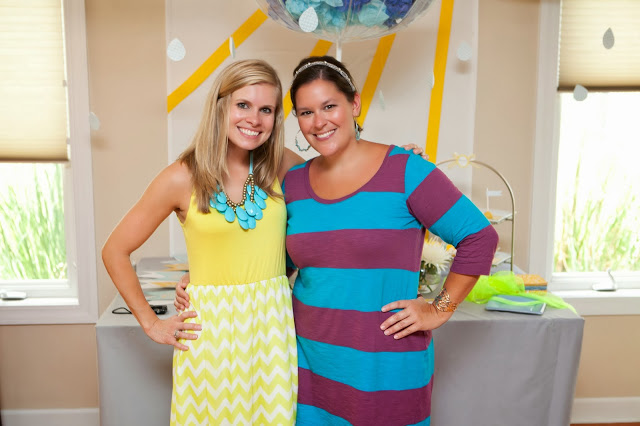 Tina and I started bouncing around theme ideas, and we kept coming back to the fact that Tina's hubby, Justin, is a meteorologist.  And I was OBSESSED with the idea of having a 'weather' themed party of some sort.  And when I have an idea, I have to follow through with it (which gets very exhausting for all involved).  But we still wanted it to be cute, young, and fun…enter 'You are my sunshine!'  It was perfect, and I got busy with design.  After many emails and pictures and phone calls and texts, Tina and I finalized every detail together.
After the theme was decided, I ordered printables right away.  Listen to me people…I highly suggest you order printables for any party you throw.  They tie everything together, are affordable, and are just plain cute. I asked my friend, Rachel, at RV Parties to get busy on design, and oh yeah, she was about to give birth to her third boy!  I told her I understood if it was bad timing, and she insisted it was "perfect" timing, because she would have down time in the hospital?!!! Yall, she emailed me the final proofs 3 hours after giving birth.  Yes, she is a ROCKSTAR. And yes, I do kind of get what she means about down time in the hospital…nurses on call, a chef (I use that loosely, although I do LOVE some hospital food), everyone tells you to lie down, and you have a nursery for the baby with built in expert help.  Oh, and no other kids to chase! Rachel, Tina and I are so appreciative for your hard work on everything for this party.
In my opinion, everything starts with the invitation…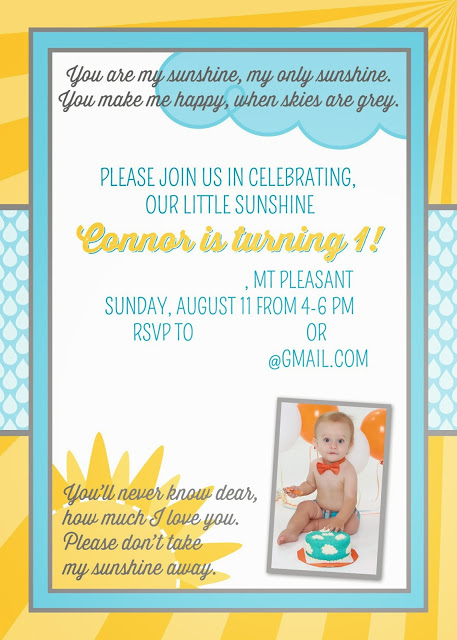 I'm so excited to share the party pictures, taken by Tumbleston Photography …ENJOY!
So here she is; the picture that's been pinned more than 10,500 times, and exists on more than 12,000 boards!!! I gotta admit, I thought the umbrellas were genius, but I truly had no idea people would love them that much too?!!! (update: I accidentally deleted this pin, and all of the saves that came along with it…I'm still mad at myself for it)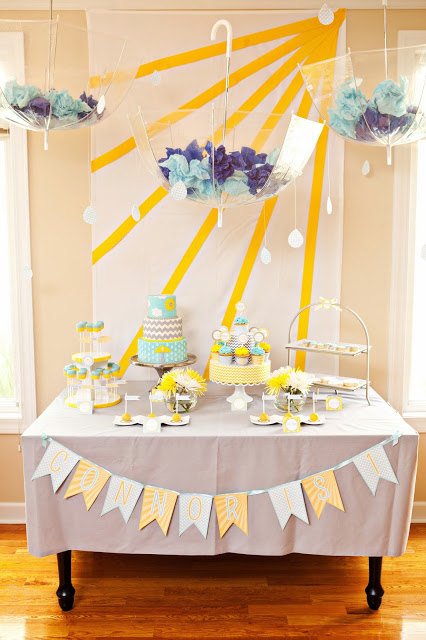 I knew I wanted to hang umbrellas upside down, and when I saw these old-school, clear ones, I was giddy!  We put some tissue paper inside to mock rain, and add dimension.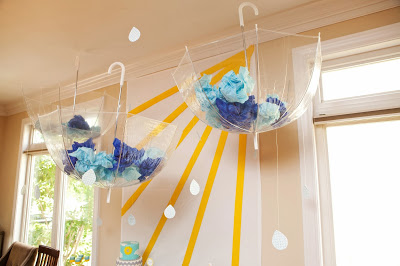 I glued rain drops, tied with fishing wire, to the umbrellas, and put some into the ceiling with thumb tacks.  The backdrop was made with a sheet and some thick yellow ribbon…voila…we have rays of sun! Gotta admit that I wish I would've used a blue sheet with the yellow rays, but hindsight is 20/20. Grey fabric covers the table, and a pennant banner drapes across the front.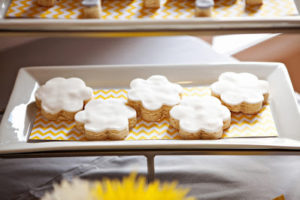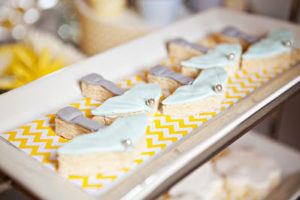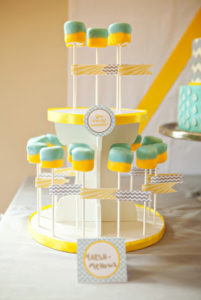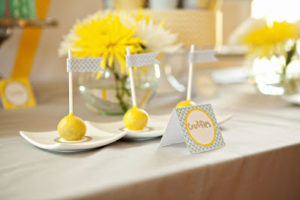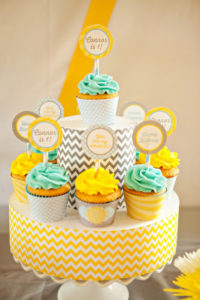 Cookies were shaped like clouds (made with a flower cutter), and umbrellas.  Printed paper lined the serving tray.  Marshmallows were dipped in chocolate and two-toned.  Cruffle pops were placed on top of round printables, with flags on the lollipop sticks for added cuteness.  And the cupcake display was styrofoam rounds, wrapped in printed, chevron paper. All of the printed stuff comes with the package you buy ONCE!
I'm really mad at myself because I forgot to put the rice krispie treats, that were shaped like tear drops, on the final table.  Even though I had an extra empty plate, and an extra food tag, AND had made them myself, I *still* didn't notice that they weren't on the friggin' table…sigh. But here they are from my Instagram feed, to prove I did truly make them 😉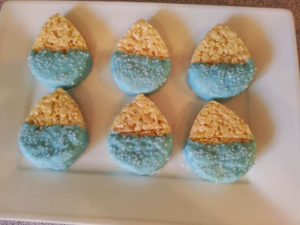 Ready for a close-up of the cake?!!!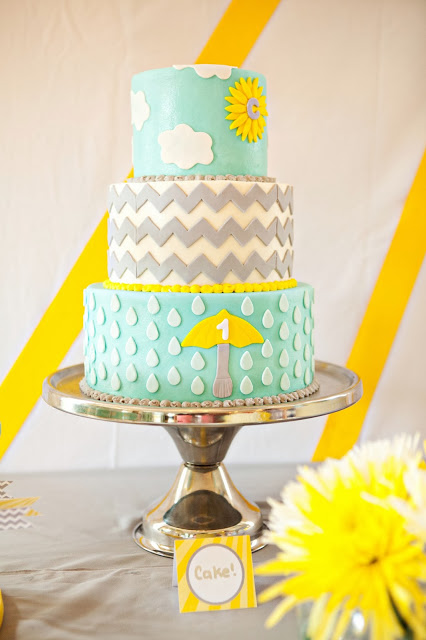 The printables really helped me with the design…I loved the repeating, staggered tear drop pattern, and well as the chevron.  A few clouds in the sky, and a sun with a C for Connor, completed the look!
Now, for the take home table!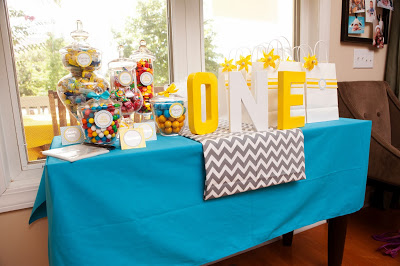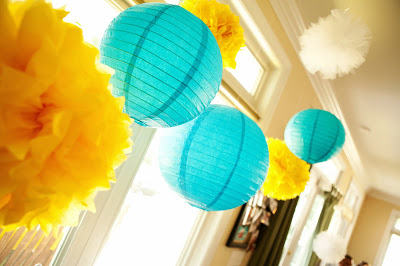 Poms, puffs, and latterns, in our color scheme hung above it using fishing wire, and thumb tacks!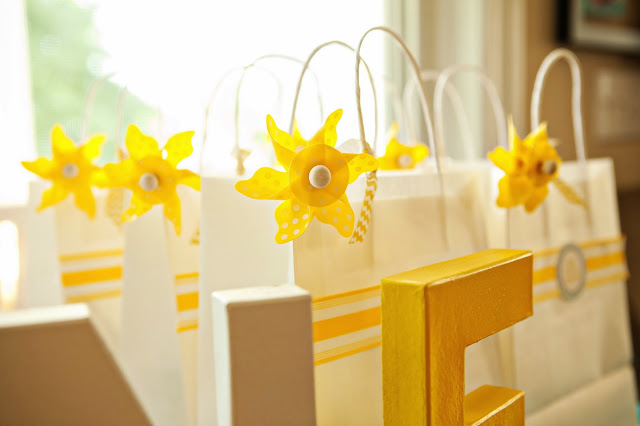 I love a white goodie bag that I can dress up myself.  Some coordinating ribbon hot glued on the front, and a printable in the middle…DONE!  Michaels sells 13/$6, so it's a good deal! I love that Tina purchased these pinwheels that looked like the sun…I propped them out of the top for added decor.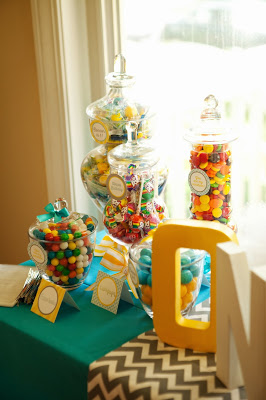 Fill your own candy bags! Printables and ribbon personalize clear jars! Justin spray painted the O-N-E, and I love it on top of the fun fabric.
The presents table was covered in fabric, and had pictures of Connor through the 12 months. Tina used ribbons and clothespins to hang them…so cute!  This was at the beginning of the party…Connor hit the jackpot with his gifts 🙂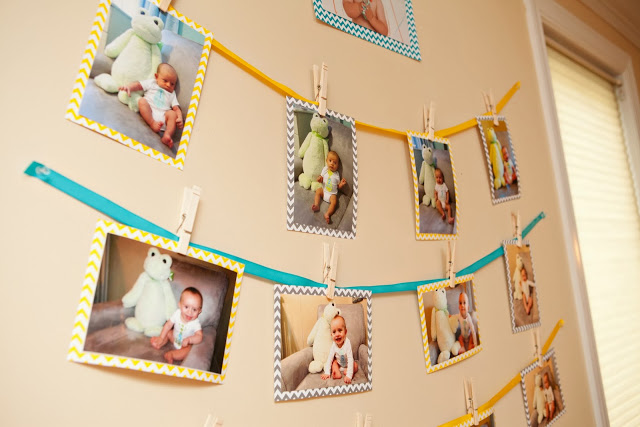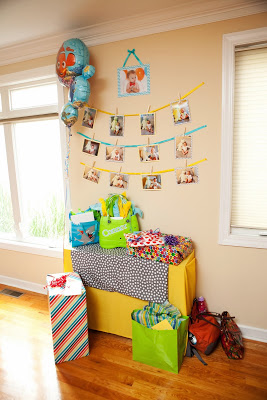 I wanted a unique photo booth idea for the party, and again was inspired by the birthday boy's daddy!  Enter, the green screen!!!  We draped green fabric on the wall, and had random pieces of velcro on it. Then we had big rain drops, suns, and clouds that the kids could move around however they wanted to create their own weather patterns!  A coat rack just happened to be hung next to it and had a suit jacket, tie, and umbrella on it.  Plus, we had a basket of microphones, silly glasses, and more props to use as well, in a basket on the floor.  "And now, for a check on the weather, we go to Bella…!" 🙂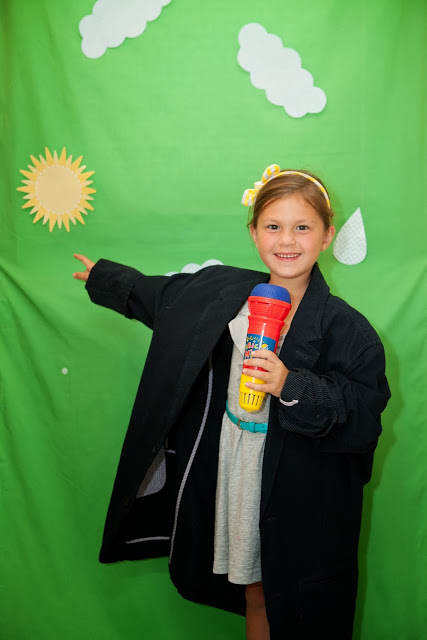 Tina had BBQ catered for the party (YUM!), and a drink station set up on the counter…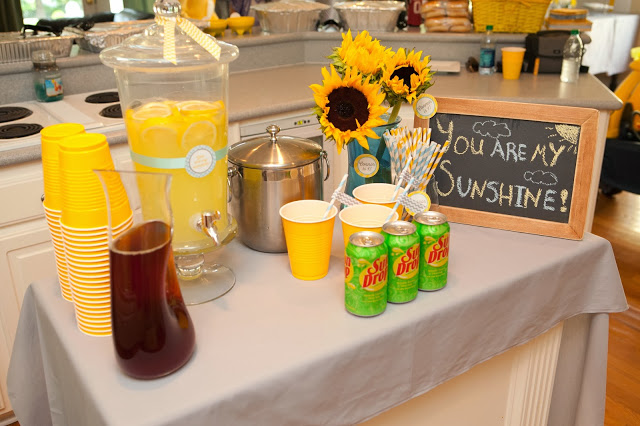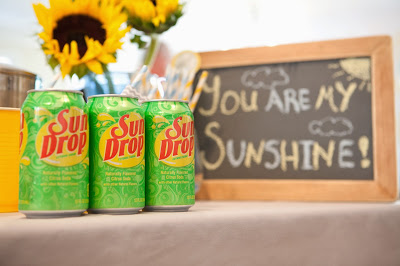 Yes, we are adorable with the Sun Drop 😉  It was just too perfect for our theme!  And I love that Tina had fresh flowers throughout the decor…SUNflowers were such a great touch!
After we finished our food, it was time for CAKE, specifically the smash cake!  I simply removed the top tier of the cake, and that became Connor's!  He wasn't sure what to do at first…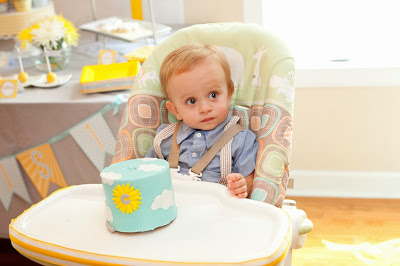 But here's the trick to getting them to eat the cake…move it as close to their face as possible..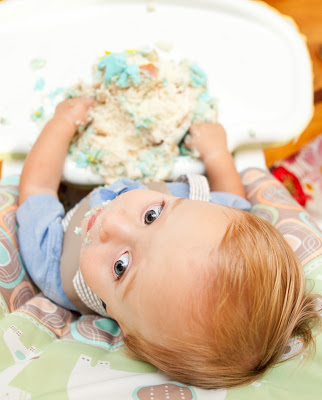 He got the hang of it 🙂
Some action shots of the par-tay!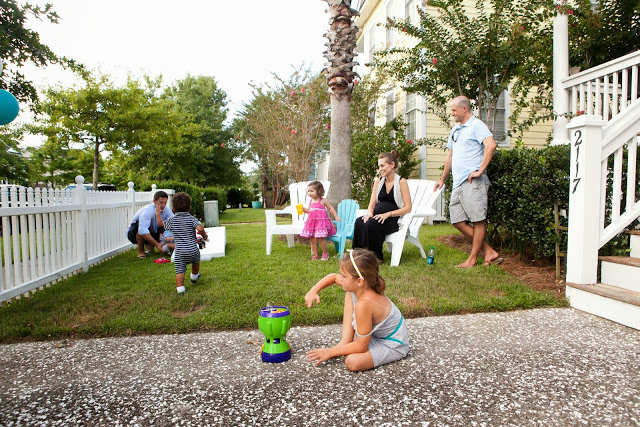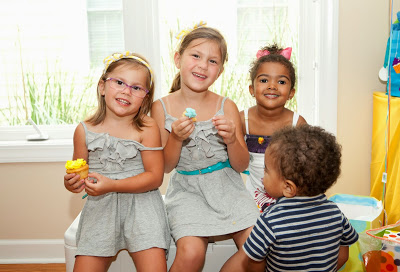 Yes, my girls' outfits match the color scheme, and no, they never get sick of mommy's cupcakes 😉
Tina and Justin, thank you for letting me be a part of such a special day in your little weatherman's life…I had a blast, and can't wait to see what we do for his 2nd!!!!  JUST KIDDING Justin! 😉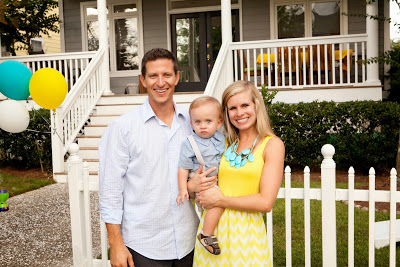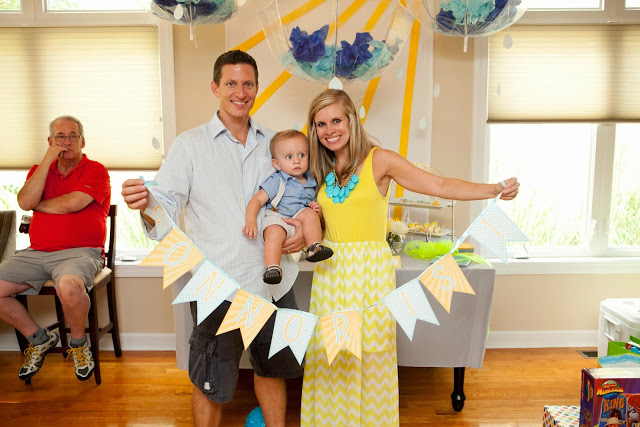 Some of my #protips for decorating on a budget…
~Use fabric!!!  It makes all of the difference in the world, and although I can sew, I didn't for this party.  Just an iron on the turned up edges will do the trick!  Solid fabric is CHEAP…buy the majority of yards in solid fabric, and dress it up with the patterned fabric. You'll see on the take home table…solid teal to cover and chevron for a pop! I buy a lot of fabric at Joann's because you can use the 40% off coupon!
~Go the printable route with invites and decorations!  You purchase the package ONCE, and then print as MUCH as you want, and need!  So much more cost effective than an invitation suite that costs per print.
~Look around the house…use glass jars that you already have, and dress them up with ribbon to coordinate with your theme. We didn't have to buy anything for the photo booth…Tina had everything already!
~Use less expensive desserts…rice krispie treats, cupcakes, sugar cookies and chocolate-dipped marshmallows are cheap in the grand scheme of desserts, and all are easily made at home.
~You don't have to get a multi-tiered cake, but if you do get at least a two-tier, you can give the top tier to your 1 year old to smash, and the bottom tier(s) to your guest! Although I hear, some grocery stores do give a complimentary smash cake, so ask around!
Some links to items I used for the party!
Side note: I make a small commission on affiliate links, but it's no added cost to you to purchase things through the links!
And don't forget to follow me on Pinterest! I'd love to get to 1,000 (update: let's get me to 2K)!