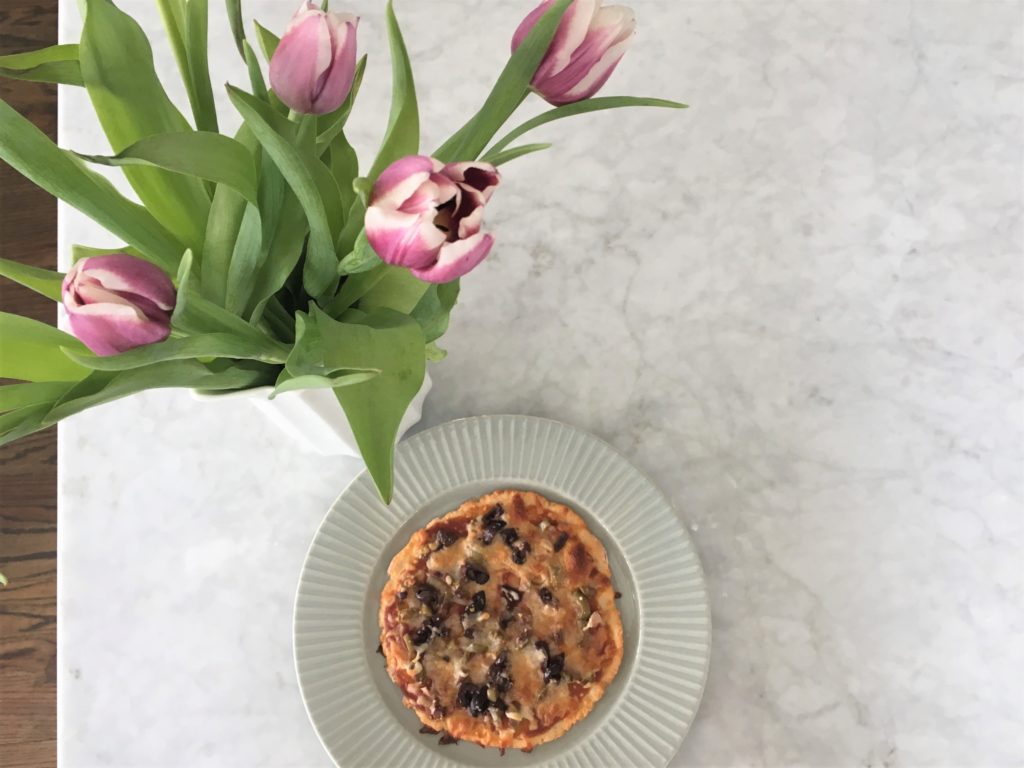 Springtime means amazing weather, cookouts, Easter, time with friends and family, and so much more! But it also means that summer is right around the corner, or AKA, the countdown to bathing suit season…ugh! Have you ever heard the saying "summer bodies are made in the winter"? Well, mine is made year-round, but I feel the pressure to undo the mess I have created, in the Spring 😉
So it's time to get serious people. I'm not trying to get into a string bikini or anything insane like that. I simply want to fit into the medium-sized bathing suit that I bought last year on clearance as my #goals suit 😉 And because of that, I decided to do something I did successfully years ago…and then quit #shocker. I joined Weight Watchers online! Their app is incredible, and I hope the program will be as great for me as it was last time! I get super nervous when I "announce" my diet plans to anyone because of the judgement that inevitably happens. Sooooo, please keep all critiques to yourself, and all cheering loud and plentiful! 😉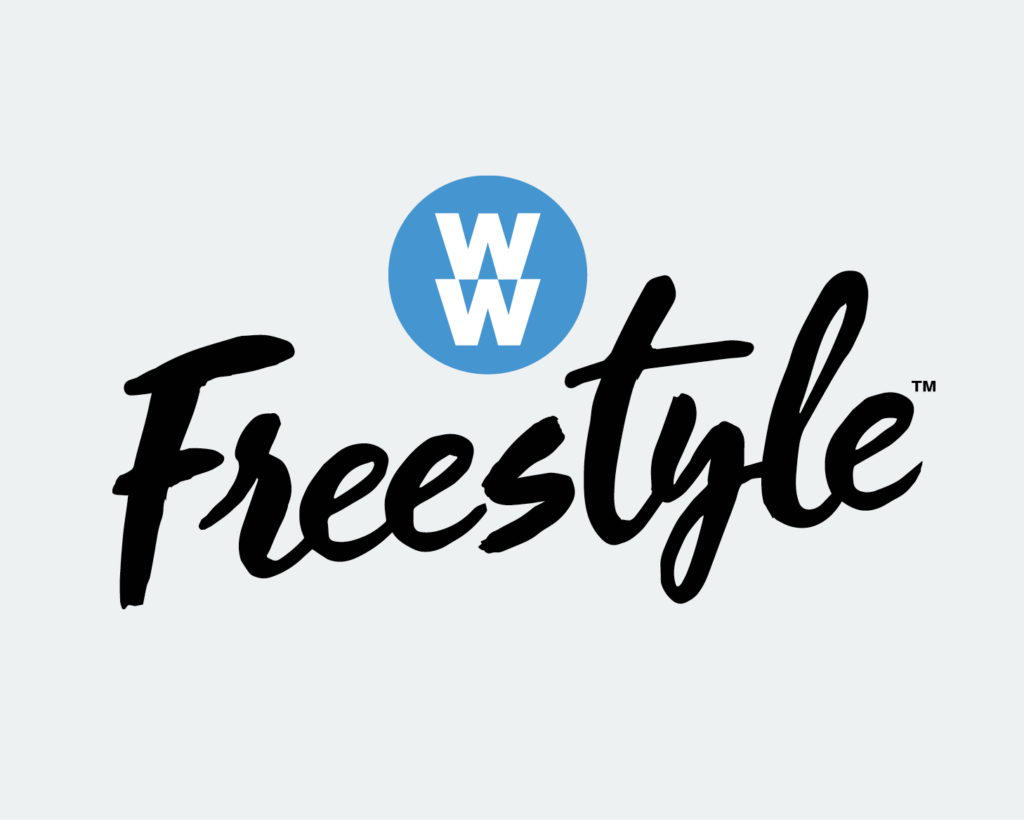 In saying that, I've been researching and trying recipes the last few weeks to see what will be doable, and what won't work. This is HANDS DOWN one of the BEST recipes I've learned from other WW girls that I follow online. It's pretty well known as the 'two ingredient dough,' and the usage possibilities are endless! The dough can be used for bagels, pretzels, pizza crust, bread sticks, biscuits, rolls, etc…basically, any of your favorite carbs 😉
And this isn't like when other people said "I promise this __________ (fill in the blank) tastes like the real thing!" and then it totally still tasted like cauliflower pretending to be bread. This dough rises/tastes/acts/shapes like dough…because it IS dough! 🙂
And as much I love the recipe as an everything bagel, I love love LOVE it as a pizza crust! Now, if you've been following me for any amount of time, you should already know what my favorite pizza topping is! I think I've mentioned them in no less than three blog posts LOL! Anyone, anyone?!!!
OLIVES!!!
I know they can be a polarizing food, but I look at it this way…if you don't like them, the more for me! I love almost ANY kind of Pearl olive, so much so, that I get them in my stocking at Christmas! It would be hard for me to choose between green or kalamata, so I don't, and I put both on my pizza! If you listen closely, the heavens open up, the angels sing, and all is right with my world. But when you're on Weight Watchers, you know that pizza can be a point buster.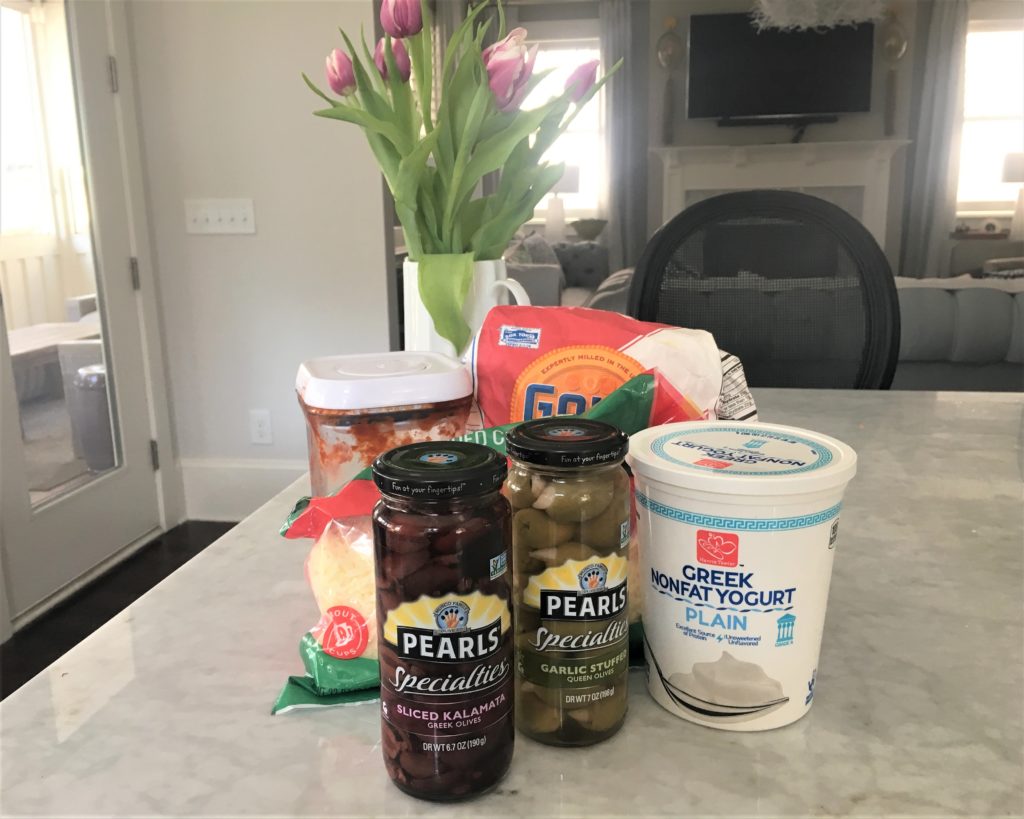 Enter the two ingredient dough!
It's simply self-rising flour and non fat plain greek yogurt…in equal amounts! Couldn't be ANY easier to remember the recipe, and you'll make it over regular pizza dough for the rest of your days, I guarantee it! Each personal pizza is made with 1/4 cup of the flour and yogurt, mixed together, kneaded 15 seconds or so, and then rolled out pretty thin! So do the math with me friends…if you want 4 pizzas, you'll use 1 cup of each! #mathisfun #nerdalert
***If you want to use another kind of flour, keep in mind that self-rising already has the baking powder AND salt added to it, so you'll have to add those if you want to experiment with another flour type. For every cup of flour and yogurt, you'll need 2 tsp of baking powder and 3/4 teaspoon of salt***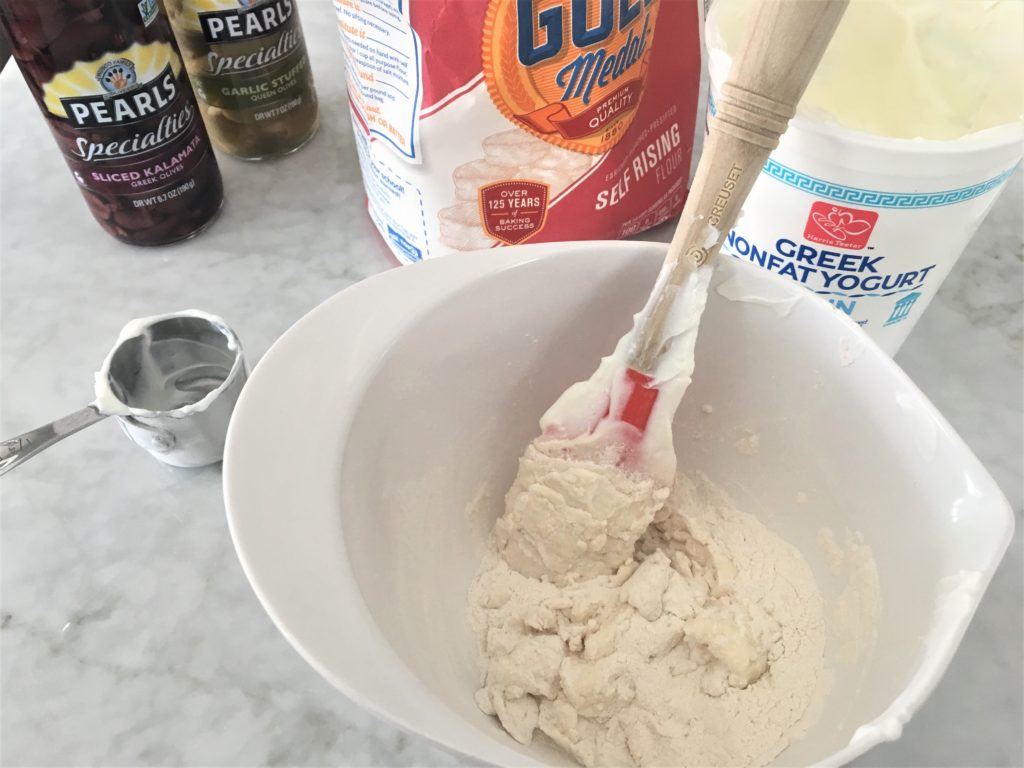 I poke it with forks before I bake it at 375 for 10 minutes.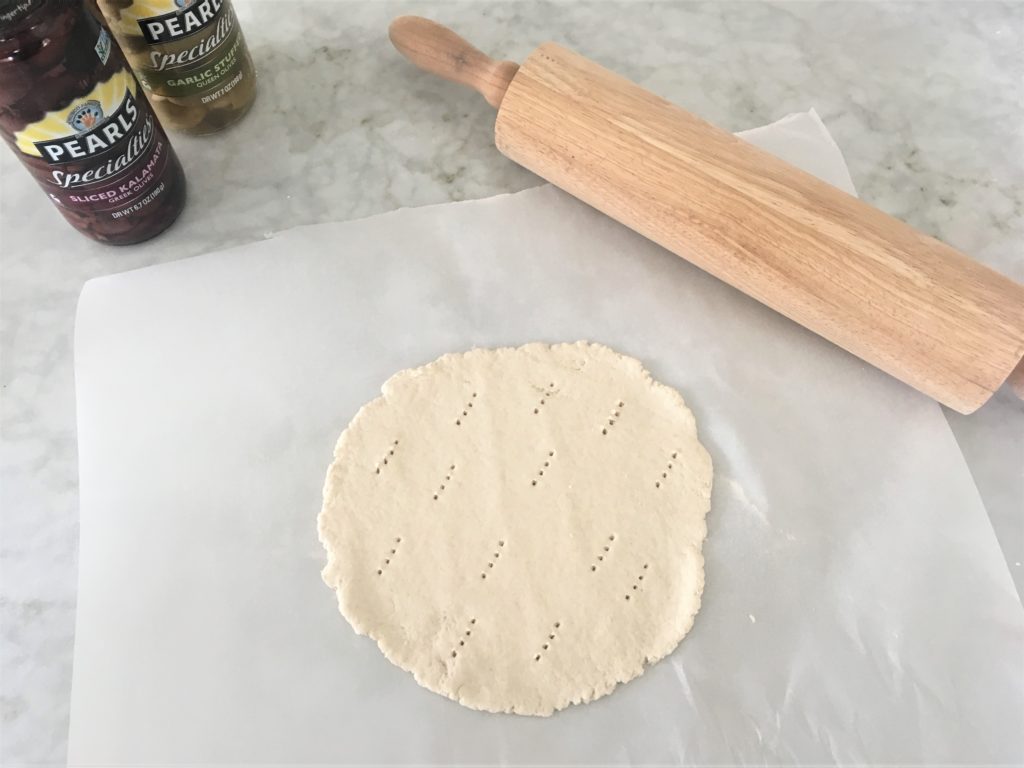 Then, take it out of the oven, and put 1T of pizza sauce on it and half of the1/4 cup of fat free mozzarella cheese!
Now for the stars of the show…the Pearl olives! I get the garlic-stuffed green olives because I LOVE the taste of garlic on the pizza anyways, and it's one less ingredient to remember to buy! Then I take the sliced kalamata and chop them up too (them already being pitted and sliced saves me time)! And I used one serving of each (10 half slices of the kalamata and 2 of the green).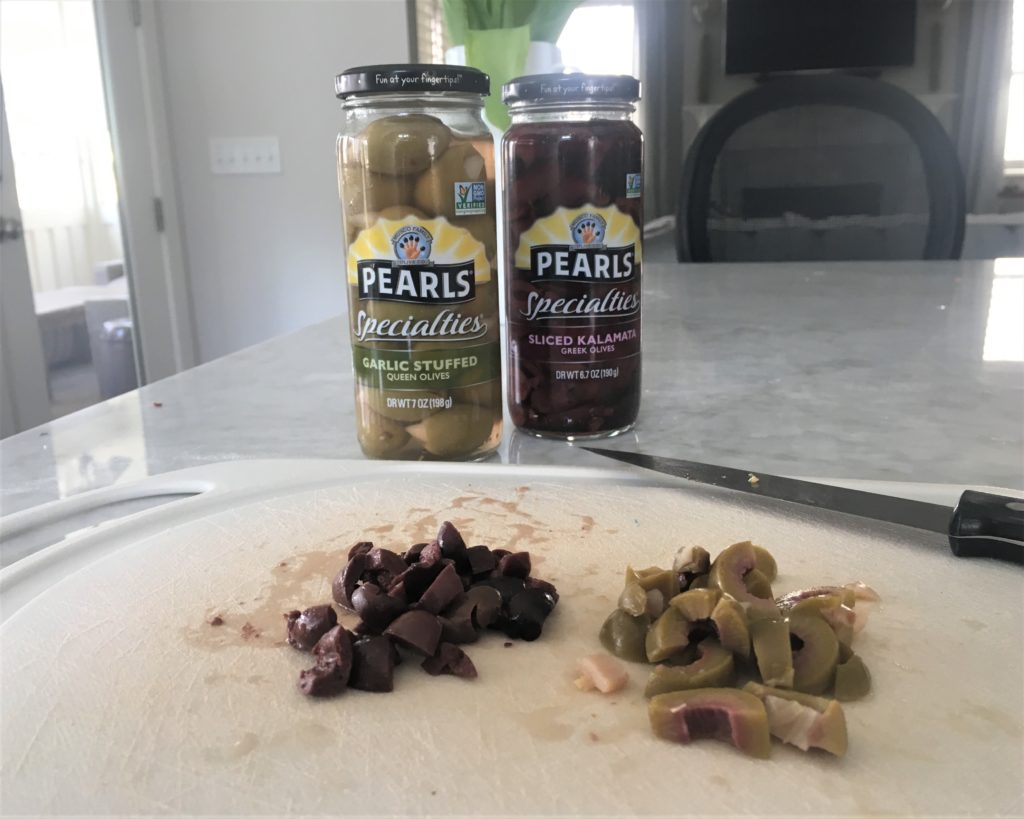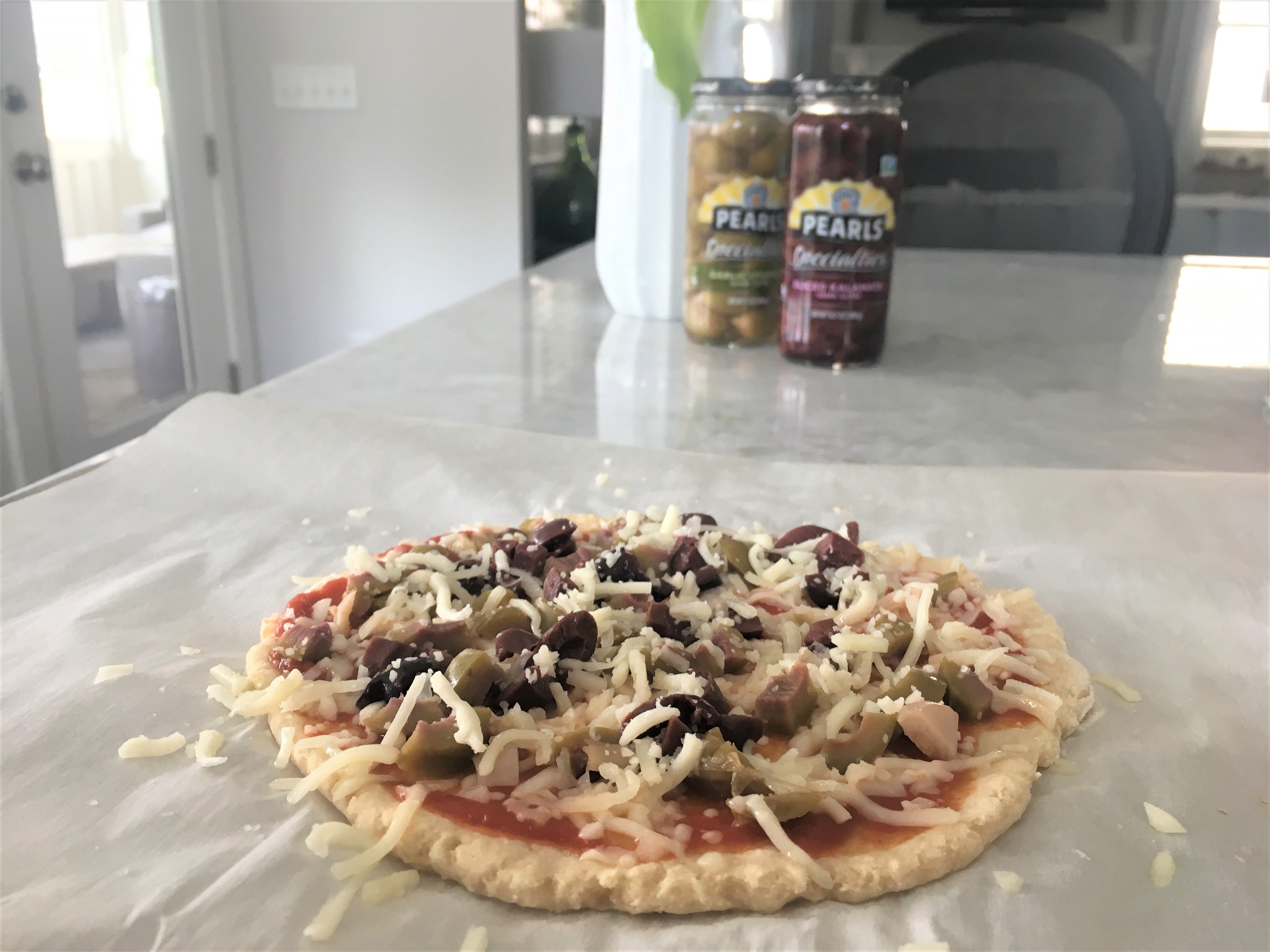 Top with the rest of the cheese, and pop in the oven for 10 more minutes! I'll even turn the broil on for the last few minutes to make it bubbly and brown (my fave)!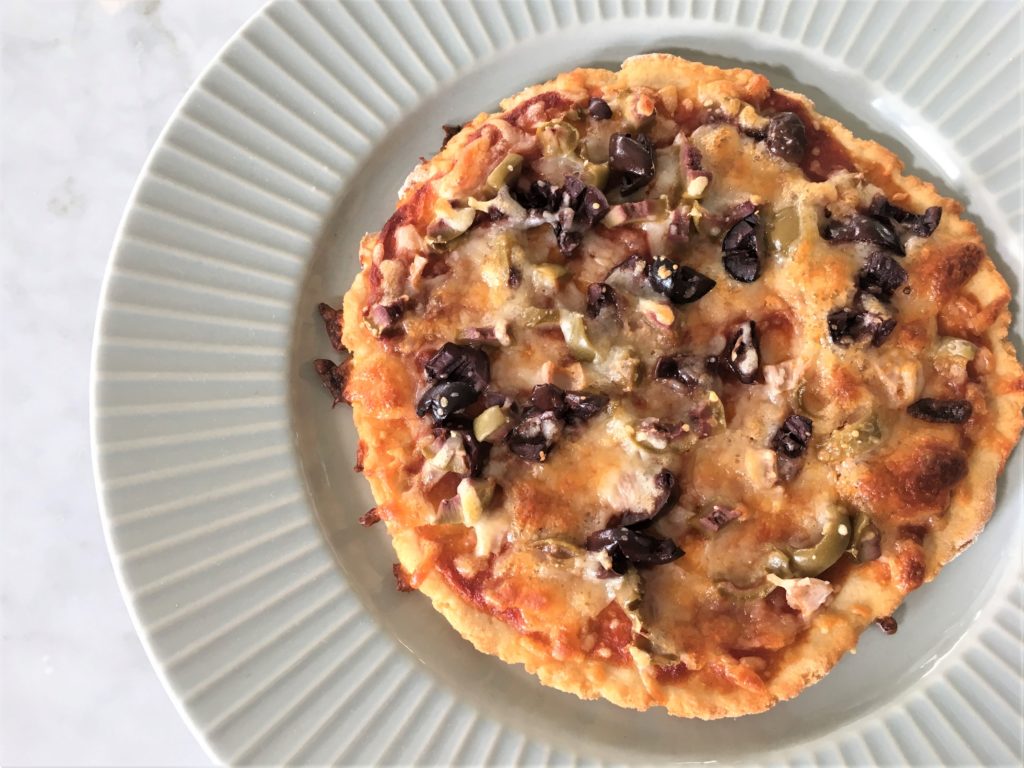 That's it! The dough itself is 3 points, and then you can figure out the rest of the points based on what you put on your pizza! The WW app has made it so simple because you can use the scanner on each products' bar code, and it will tell you the servings' points! If you made the exact pizza I did, you'd be looking at 6 points total! But wait, there's more! (Keep scrolling)
DON'T FORGET TO PIN IT!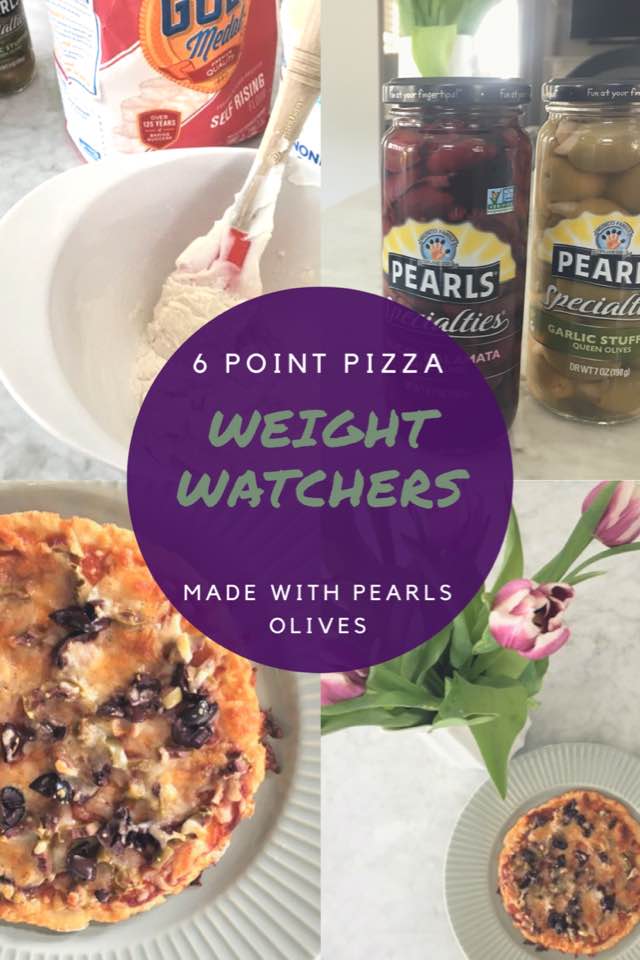 Not only is the pizza amazing on its own, but since it's all about Spring, here are some fun ideas:
Host an backyard pizza picnic! It would be awesome to pre-bake a ton of these personal pizza doughs, and then have a party, with every topping you could think of, and have people make their own! You could throw them on the grill instead of the oven, and they'd taste just as amazing, AND your kitchen wouldn't be a mess.
I'm a huge fan of a charcuterie platter…I'm not sure what makes me happier than noshing on assorted meats, cheeses, some good bread, nuts, honey, and olives! And it's also the perfect item to bring to an Easter celebration (I signed up to bring an appetizer for my family's dinner, and this is my go-to)! Speaking of family, I love that Pearl olives are family-owned, and have been for 75+ years!
Since I'm focused on Weight Watcher points, I'm excited to eat Pearl olives straight out of the jar as a healthy snack! A handful of each kind will only set me back a few points, which make it a yummy snack that keeps me on track to my summer bathing suit goals.
I'm curious though…which olive is your favorite?! Are you a green or kalamata?!
(Vote by clicking on your fave pic…)
Do you have an incredible olive-themed recipe that's perfect for the spring time?! Share it with me in the comments!!! If you make this pizza dough, tag me in your posts #mirandainclt so I can see them!
I got my Pearls Specialties olives from Food Lion, but they are also on Amazon! Here's the direct link…

Also, speaking of Spring, my hubby brought these sneaks home the other day for me as a surprise! The blush pink is so cute for this season, and they couldn't be more comfy to enjoy the beautiful weather with a nice walk or bike ride!