For those who don't know, I used to own a cakery called Got What It Cakes for about ten years! We focused almost solely on cakes for all occasions, and did cupcakes, cookies, cruffle pops (our version of cake pops), rice krispie treats, brownies, etc. too! People are constantly asking me for tips and tricks when it comes all things baking/decorating, so that's also going to be a big part of this blog!
But I'm not going to make any promises as to if it'll be a weekly thing, or NEVER AGAIN. Why?!
Because food blogging is HARD, YALL.
I knew it was labor intensive, but I didn't know it was like TWO DAYS STRAIGHT of shopping for ingredients/materials/props, prepping ALL OF THE THINGS, cleaning every bit of the 'to be filmed' surface. Just so I can do the filming and picture taking of the whole process and then upload and edit said videos and pictures. Finally comes the writing of the blog portion, inserting the videos and pictures, and when you get done, you wonder if anyone will even read the damn post?!!! PHEW! I feel better just getting all of that out.
So with that said, if you like it, will you tell me you like it, because if not, a shame spiral will commence and NO ONE wants that?! 😉 Okay, complaining time is over 🙂
With my decision to close the cakery last May, this is my FIRST Valentine's Day that won't be insane. Bakeries make a HUGE part of their yearly numbers the week of Valentine's Day, so we went hard, which made it difficult for me to enjoy it on the personal side of things. I want to make a big deal out of the day for our minis this year because I finally have the time to do so, but I'm not going to totally abandon cakes either this year 😉 Since it's falling on a weekday, I'm going to get up a bit earlier, and make these panCAKES for the girls, based on a trick my MIL taught me!
Alex, my MIL, taught me this trick with chocolate cake batter, but since it's Valentine's Day, I'm using the Pillsbury Valentine's funfetti cake mix! Yep! Get it?! I used to make cakes; now I'm making panCAKES out of cake batter instead of pancake mix!!! I'm cute. 😉 And it's so much easier and quicker than making pancakes my usual way, with their seven ingredients!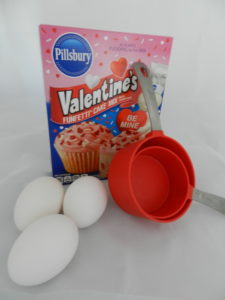 Make the box mix according to directions on it…eggs, water, and oil! This one gives you an egg white only recipe, or one with the yolks. Why do they give you both options? The reason why some vanilla cakes are bright white is because they only use the egg whites of the eggs. The reason why we have "yellow cake" is because we use the whole egg and the yolk makes it slightly yellow. Like in this pic…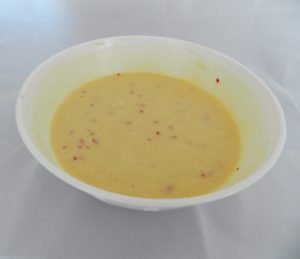 Next up, prep the griddle! Now, I've had ours for 10 years, so it's very well-loved, and used A LOT, so please forgive it's janky appearance, but it works so perfectly that I'm not getting a shiny pretty new one any time soon (unless Rival would like to send me a new one to test out another recipe?!!!) 😉 The PERFECT temp for panCAKES in my opinon?! 325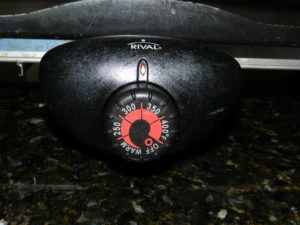 I'm going to show you two ways to get heart shaped panCAKES. One has one step and no waste; One has two steps, an extra piece of equipment, and scraps. It's up to you which one you want to do! First, the video on how to make the heart shape on your own…
The tricks:
Use pan spray
Wait til bubbles form on top
Loosen under each part before you flip
If batter gets on your spatula when you put it underneath to loosen it, it's too soon to flip
If any spills out when you flip, use the back of your spatula to push it back in and clean up those sides.
Now, if you don't want to try to make the heart shapes yourself (and let's be honest, that middle one is barely a heart), make some big, round pancakes! Because we're going to use a heart-shaped cookie cutter to cut out a perfect heart! Just make sure they're bigger than the cookie cutter!
I like the cookie cutters with the metal, not the plastic. They cut so much better, no matter what they're going through (even works with rice krispie treats)! I know someone is going to ask me "what should I do with the scraps I cut away?" YOU EAT THEM! That's your reward for being a great parent.
Now that you have all of your heart shaped panCAKES, you're good to go! Display them however you'd like, but since they are technically cakes, you KNOW I had to put them on a cake stand, right?! I've mixed the two types on the stand, so some are perfect, some aren't so much 😉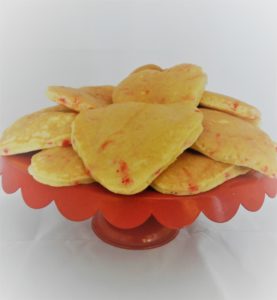 Now, since these are actually cake, we serve them warm with ice cream on top, so it starts to melt into the panCAKES!!! But just to make them EXTRA decadent, I also serve them with whipped cream, homemade, of course! But I also have nothing against Cool Whip or Reddi Whip, trust me!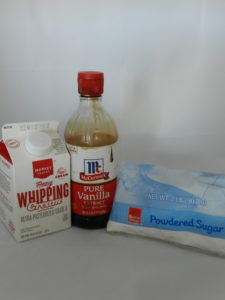 Most importantly, everything needs to be cold…the bowl, the whip attachment, and the heavy cream! My heavy cream is already in the bowl because I pour it in, and then inevitably remember the bowl and attachment need to be cold too 🙂 #isweariamaprofessional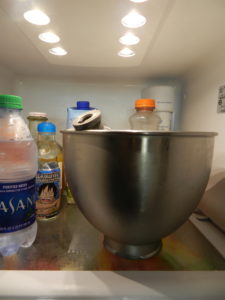 Here's the recipe:
Tricks:
Start on low, and as the cream gets thicker, increase the speed
When it gets to the soft peak stage, add your powdered sugar and vanilla
Whip it til you get stiff peaks, but before you make it into butter 🙂
I found these adorable plates at the dollar spot at Target, and thought they'd make the cutest breakfast plates for the panCAKES since they're in a heart shape too!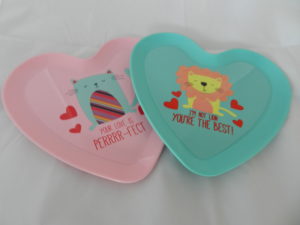 Here they are all plated! I added a few red mini M&Ms on top of the whipped cream for color, but certainly Valentine's sprinkles would be super cute too!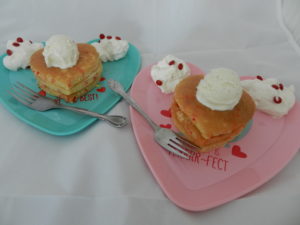 Me: "Girls, can yall be my Vanna Whites?!"
Them: "Who's that?!"
Me: "Ugh, I've failed you two after all!"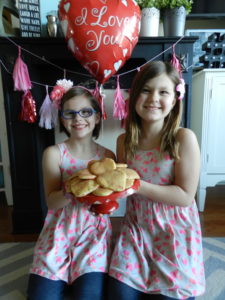 TIME TO TASTE TEST!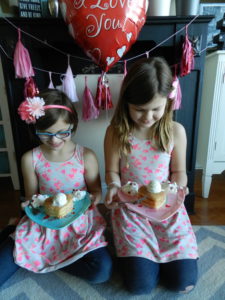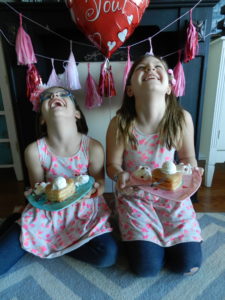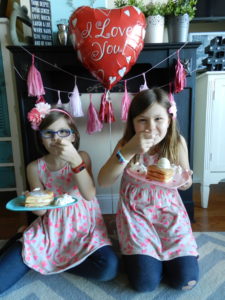 That middle picture brought to you by the word "fart" #workseverytime
Oh, and I totally forgot to put the heart-shaped strawberries that I made for the tops of the whipped cream on their plates, so I'm passing off my forgetfulness as a gluten free option, by putting them on top of a mound of the whipped cream! All you have to do is cut down on an angle to remove the green stem of the strawberry, then rotate and cut down the other side on an angle, and voila! You have heart shaped strawberries! Serve them as a healthy side to your panCAKES if you want…it makes eating cake for breakfast a little bit more acceptable!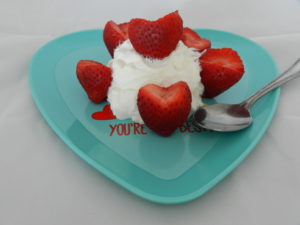 Again, you can make ANY kind of panCAKE that you want…any flavor cake mix will do! I'll share some of my favorite combos of cake mixes and their best toppings on another post!
Happy Valentine's Day!