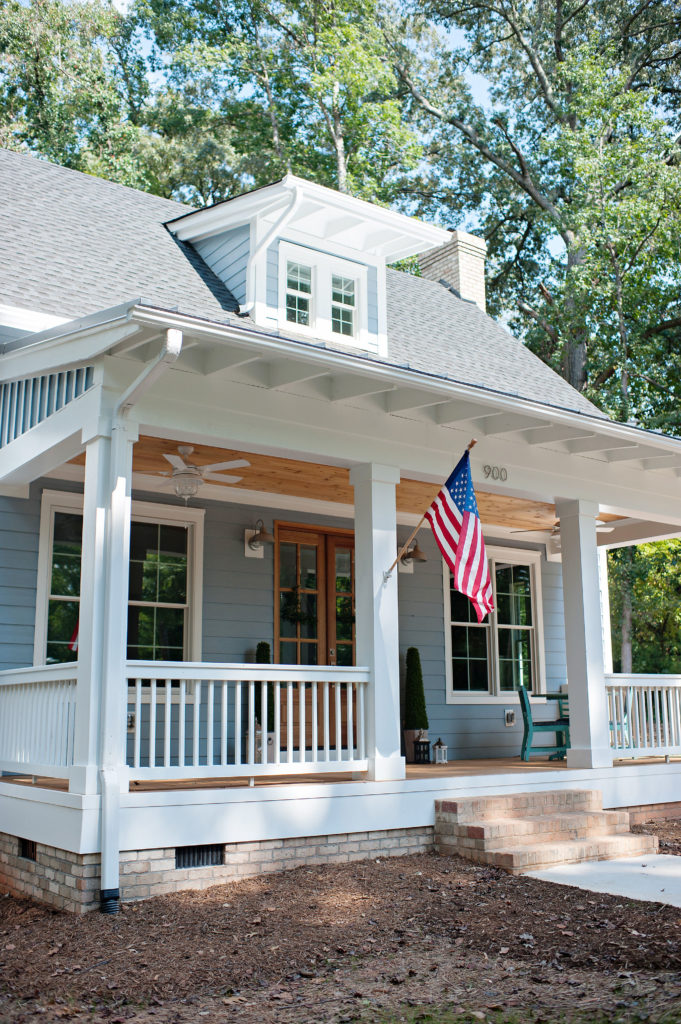 'Tis the season for having extra people stay at your house, or for you to be staying with others! I know that the holidays are chaotic, and it's hard to be a house guest in an unfamiliar space, as much as it's hard to host people and have extra bodies in your usual space!
But I think there are ways to make it a bit better for everyone involved, and that first starts with mindset…keep in mind this is very temporary, and that it's not going to be easy or perfect! The sooner you accept what will make it hard, and lean in to it, the faster you'll start laughing at what goes wrong, and celebrating what goes right!
I've watched my parents host people my whole life, so much so, that we actually started referring to our house as "Hotel Thomas." And over Thanksgiving, there were times that 15 extra people would be staying at our house for multiple nights in a row. Yes, my parents are freaking heroes, and as selfless as can be! Here are some things I've learned from them over the years, and some things I'd add to the list!
If you're the host:
Before I get to the five faves, have the basics covered…comfortable and clean sheets, a firm and soft pillow per person, and extra blankets in the bedroom. In the bathroom, have towels and washcloths, and a blow dryer available, as many will leave their's at home. Having their favorite coffee and/or alcohol choice is always a great idea! Beyond those things, here are my other ideas:
Get a headcount ahead of time, with names and ages, and if there are kiddos joining them. If there are young kids coming, ask if they need a crib/pack and play, and if they are planning on bringing one. It's super easy as the host to borrow things like this from local friends and could be quite the relief to guests to not have to lug it around an airport/find room in a car for it! Also ask how they sleep best! It could mean the difference of many hours of good sleep to someone to have a box fan in the room, not just for the breeze, but also the white noise!
Ask if any of your guests have allergies (be it food, pet, or environmental). This will help you know if the kitties need to stay out of a certain room, and to be aware of potential food cross contamination as you lead up to the days of their stay. My SIL doesn't eat gluten, so I always try to make sure I have a few gluten-free items for her to quickly grab and go! I also think it's nice to have a few food items in the pantry or fridge that you know your guests love, especially if they have little ones with them!
Have the wifi network and password written down and found easily in their room when they arrive, especially if they're arriving in the middle of the night, or after you have gone to bed. I also like to have extra chargers in their rooms, for Apple and Android products, as they may have all types of electronics that need charged, and the last thing they want to do is dig through the car for them! And a water by the bed is a nice touch, so they don't have to make noise in the kitchen looking for a cup to use!
Have an array of toiletries in a basket for them to use while they're staying with you, in case they forgot something at home. This is a great chance to set out all of the things you take from hotels, samples you've been given, and finally get use out of them! I also like to include common medicine packets in this basket (benadryl, ibuprofen, headache) so they don't have to ask!

I think it's nice to have brochures of fun places around town, or menus for restaurants in that same welcome basket! This will give them ideas on where to go and places to eat, while they're in town. Often times, these flyers will have coupons, discount codes, or group offers that a crowd can take advantage of!
Keep reading, but pin this first!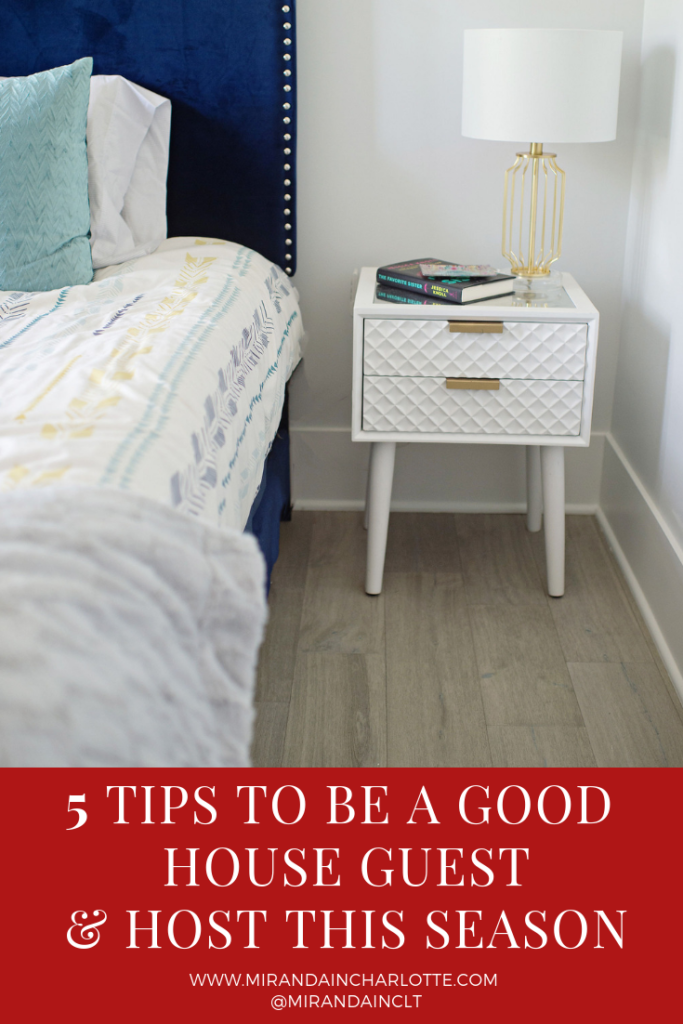 If you're the guest:
Be tidy! I would think that goes without saying, but after seeing the condition of my parents' house every time they hosted people, it definitely bears mentioning. Even if you're not the tidiest person at home, when you're somewhere else, fight the urge to throw things on the floor, make the bed after you get up, and keep your dirty clothes contained.
Be mindful of your hosts' schedules. If your hosts like to go to bed earlier than you typically do, let them! That might mean retreating to your room earlier than you'd like, but that's okay for a few nights! If your hosts like to sleep in late, just be as quiet as you can be, and do your own thing til they're up! Use the minutes of quiet to your advantage, especially during the craziness of family time/holiday insanity!

Pic by The Beautiful Mess

Bring a gift as a thank you and give it when you arrive. I've come up with some simple, but thoughtful ideas, that don't take up much room in a carry-on or in a car! Perhaps a sweet treat from Sugar Bomb Sweets or Slice Pie Company (both will ship straight to the house you're staying at)?! Local makers like Ella B Candles and CLT Find always have cool items that will say where you're from, and when your host sees it in times to come, they'll think of your memories made in their home! One of my favorite gifts to give for any reason, is a paper cut map by StudioKMO, and she can do the map of any place, so it could be your host's city!
Offer to help! If it's around the holidays, your host may be feeling overwhelmed with shopping, wrapping, cooking, baking, etc. and he or she may not want to ask for help, but definitely could use the extra hands! Offer yourself, and give them the right of refusal! Does your host have kids? Maybe you could offer to stay home with the kiddos, and they could get a date night with free and trusted help?! Cook one of the meals while you're staying there, even if it's breakfast! Here's my banana bread recipe, which is perfect ANY TIME! Or at the very least, if you all go out together one night, pay for the uber or be the DD!

Hire a cleaning crew to come the day after/a few days after you leave! Ask your hosts if they have a regular company they already use and if so, pay for the next cleaning. If they don't have a company, ask them which day would be the best for you to have someone come in and clean it! You've used your hosts' utilities, possibly their car/gas, slept in their home, eaten their food and drank their drinks, and so much more! It may seem like a bigger chunk of money for a thank you gift, but it's so kind to do, and extremely thoughtful!!!
Bonus idea: Let everyone know they're a guest, even if they only get as far as your front porch 
 I saw this floating around Facebook last year, and love the idea so so so much! Did you know that there will be hundreds of MILLIONS of packages delivered over the next month?! Treat the drivers, deliverers, postal workers (and more) well during this season of MUCH longer hours! Look at this cute bin of goodies Lisa Gwin put on her porch: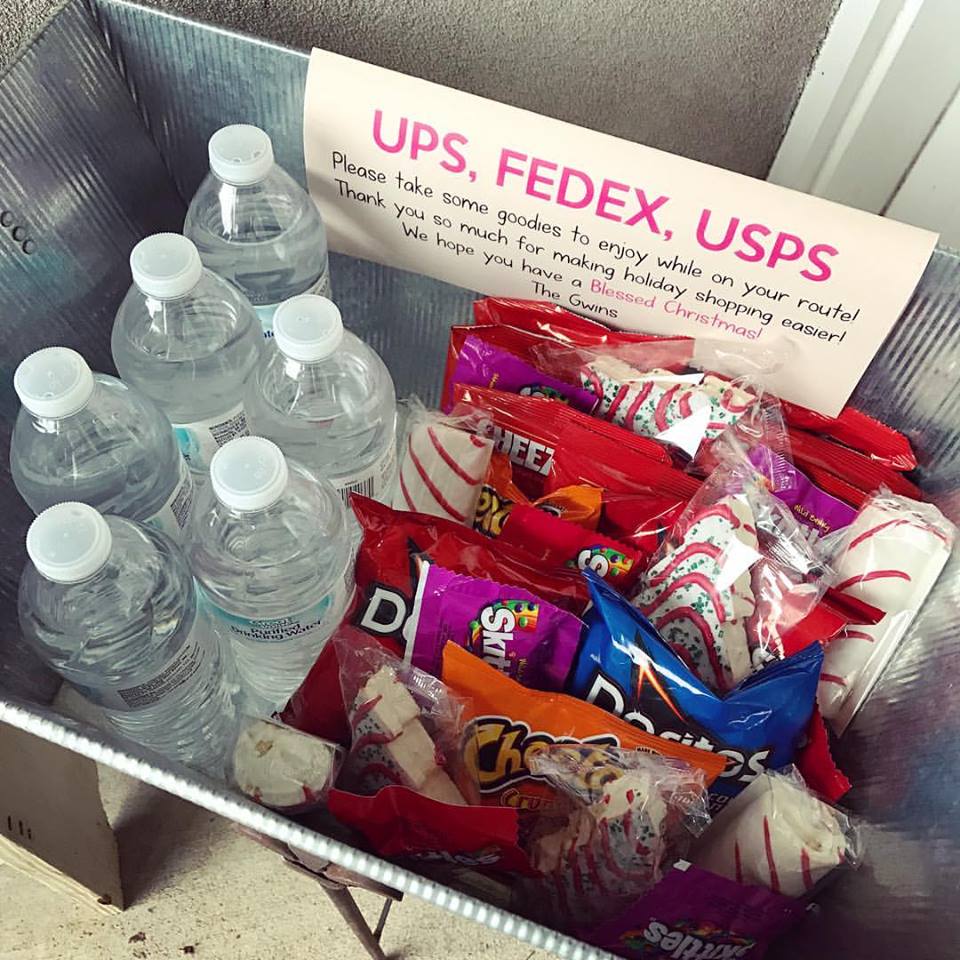 So that's it folks! My five favorite tips for being a good house guest and/or a good host!
Tell me about your upcoming holiday plans…are you hosting and/or being hosted?! What are some of your favorite tips?!