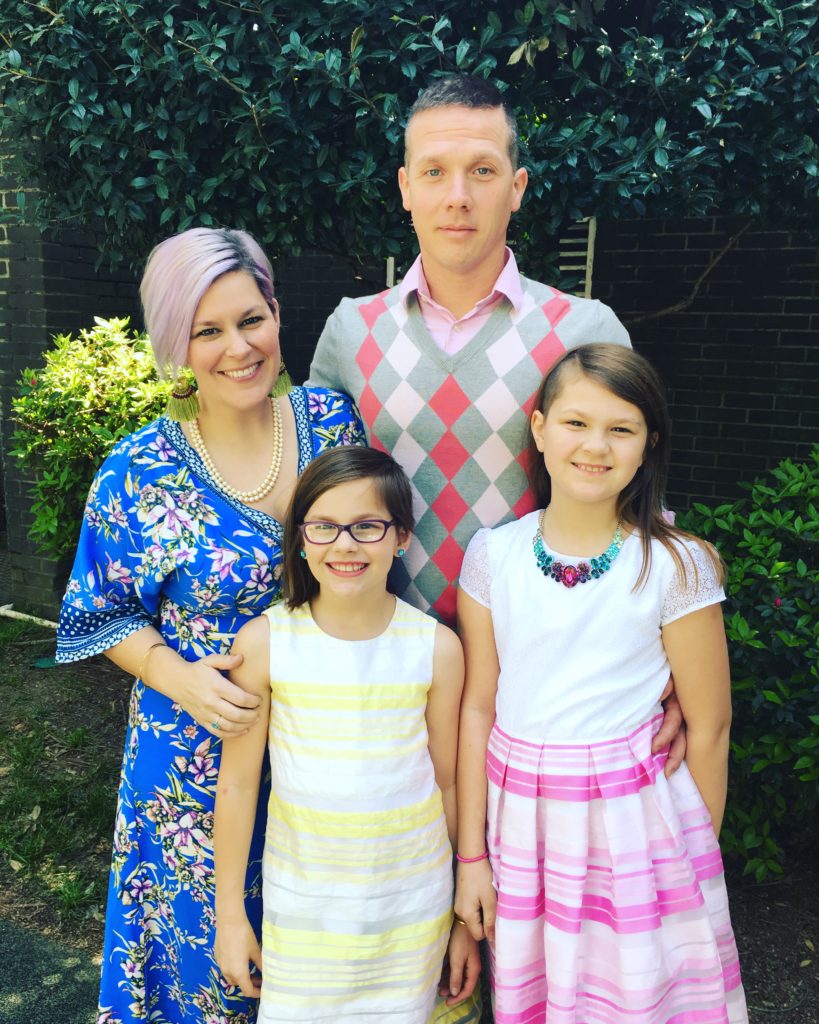 If you're like our family, you typically don't travel anywhere over spring break. It's just never been something we've done due to work commitments, financial reasons, and/or mostly because yall already KNOW how I feel about the beach (where half of my feed is). I honestly LOVE being at home with the minis for the week! No school schedules, no homework, no packing lunches, no tests…we just focus on relaxation and recharging.
BUT…
I do sometimes here the words, "I'm bored" or "what are we going to do today?!" To which I reply, "I thought you'd never ask" as I bust out the chore chart 😉 Honestly though, I do have some tried and true boredom busters that I'm going to share with you in this post! And these are good whenever…rainy days, weekends, summer time, camp, etc!
PIN IT!!!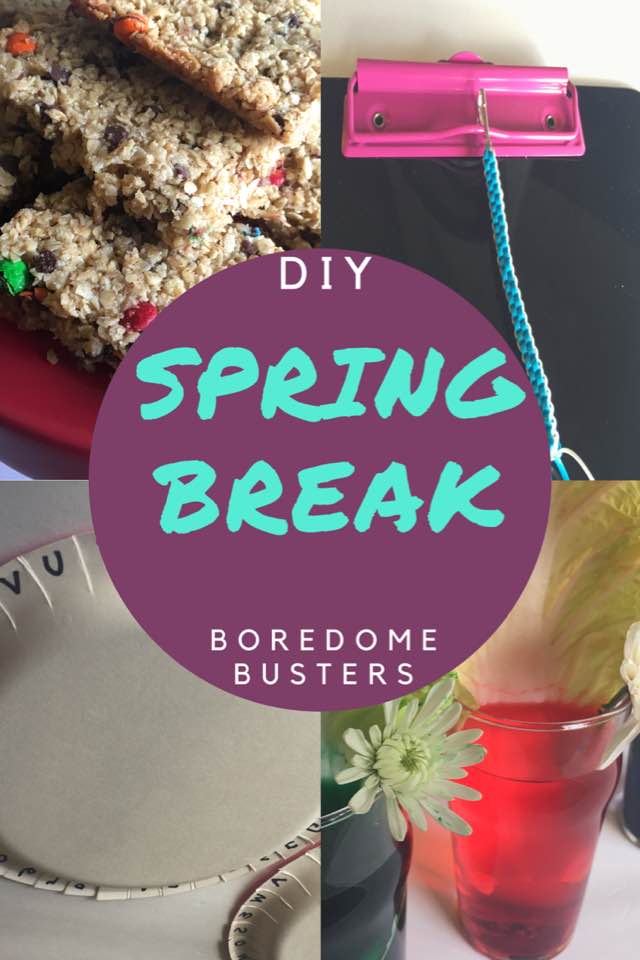 I get a ton of inspiration from Pinterest, and if you'd like to follow me, click HERE! I have a board called "craft ideas for my minis," and it's a great place to start! I put my own twist on some of the ideas, and others I took straight from the creators themselves.
Let's start with the outdoor activities!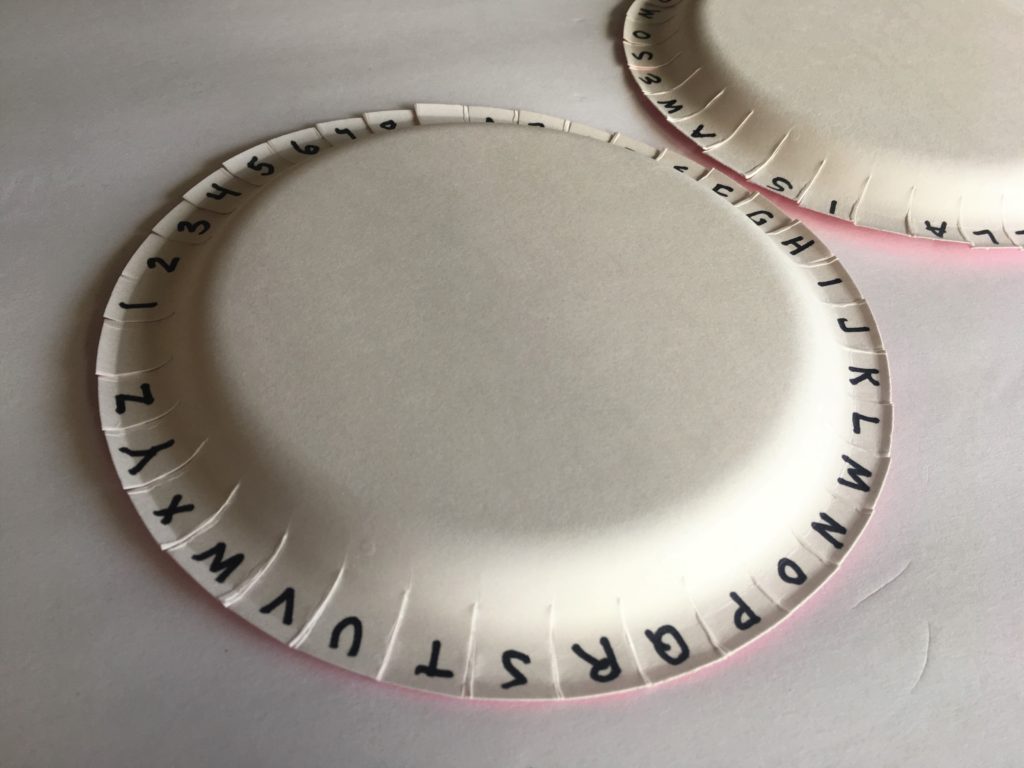 I live for a scavenger hunt, and my family is really into geocaching (which in itself is a great idea for a boredom buster), but if you don't have the app, and if you have younger kids, then this is brilliant! Take a paper plate, put the letters in the sections, and cut down the line. Head outside/to the park and find something that begins with each letter! When you find the thing, flip the letter down! It's educational, yet so fun, your kids won't even notice they're learning 😉 If you have uber competitive kids, write different phrases on them, "Isabella is awesome at finding this" "Lilly loves finding things outside" and that will help them to look for different things!
Here's another scavenger hunt, but this time has to do with colors! And this blogger even incorporates a cute snack to go with the theme! You can download the printable on her site! Read her ideas on how to incorporate the sheet for kids of all ages!
Now for the indoor stuff! My kids find science experiments to be super fun, IF they aren't graded on them 😉 Enter these fun ones…starting with one that looks like magic has something to do with it!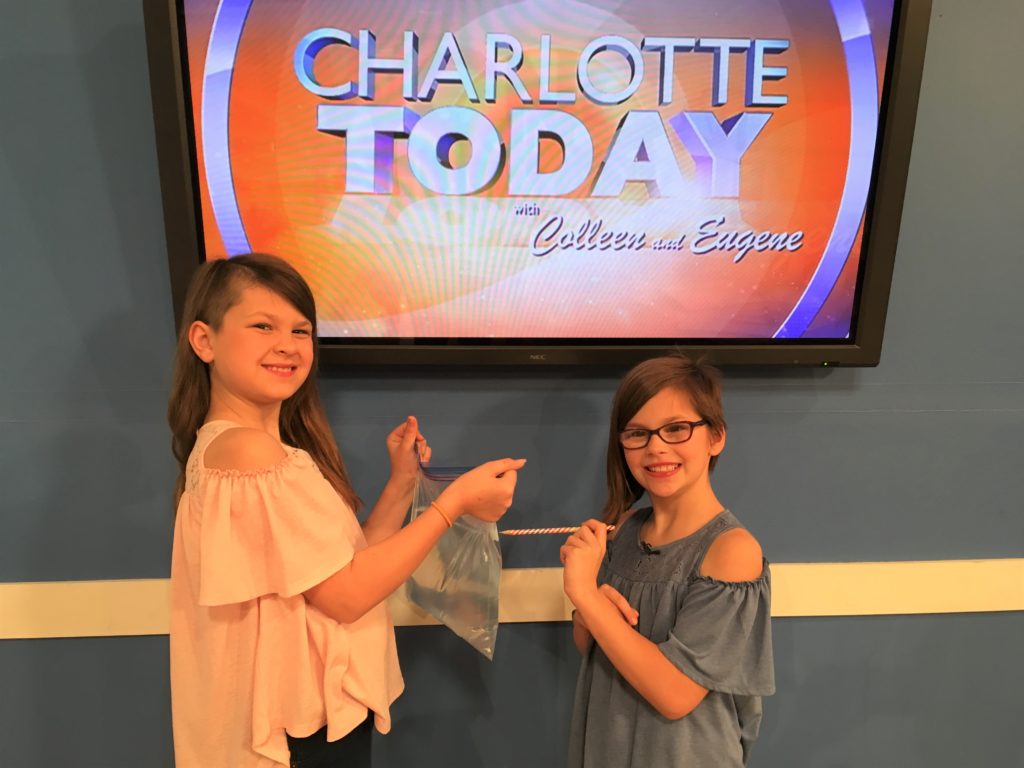 Fill up a gallon size bag with water, and stick super sharp colored pencils through the bag on one side, and have it come out the back side! Repeat this with as many pencils as you want them to (sharpening pencils helps kill time when kids are bored) 😉 Why doesn't the water leak?! Click HERE to see the scientific explanation! We showed this trick on Charlotte Today and here's the whole segment!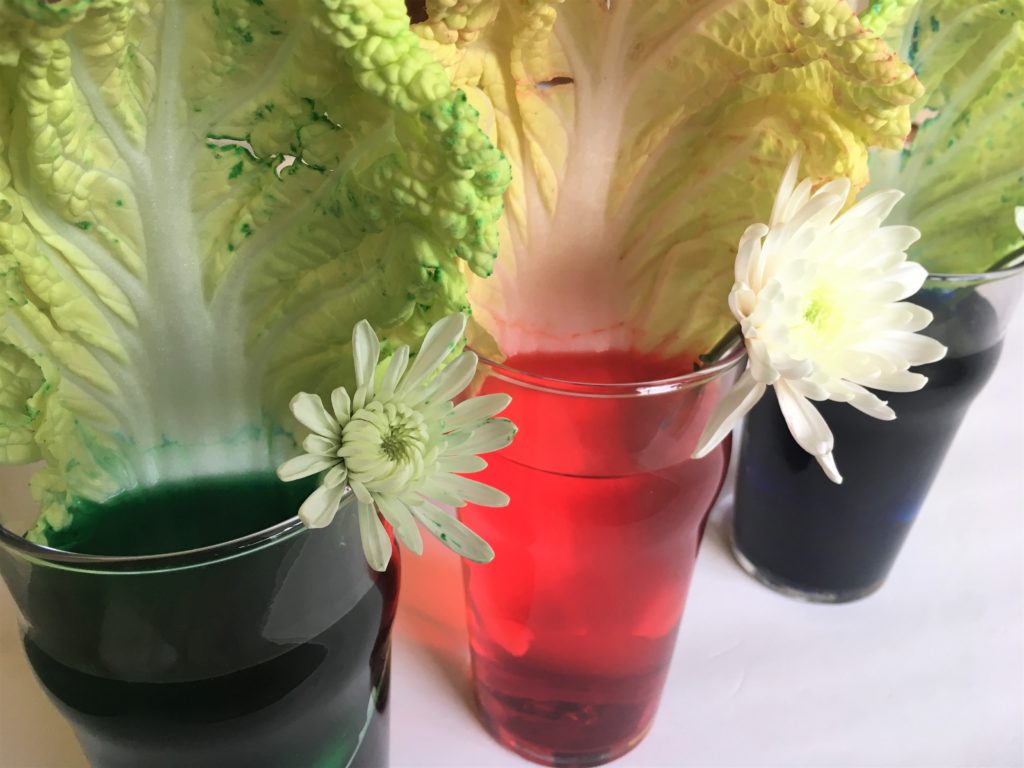 The next experiment is great for spring break because the longer the cabbage leaves and flowers sit in the water, the more dye they absorb, so it will keep your kiddos interested the whole week long! It's always cool to have a visual representation of how something works, like how plants absorb water!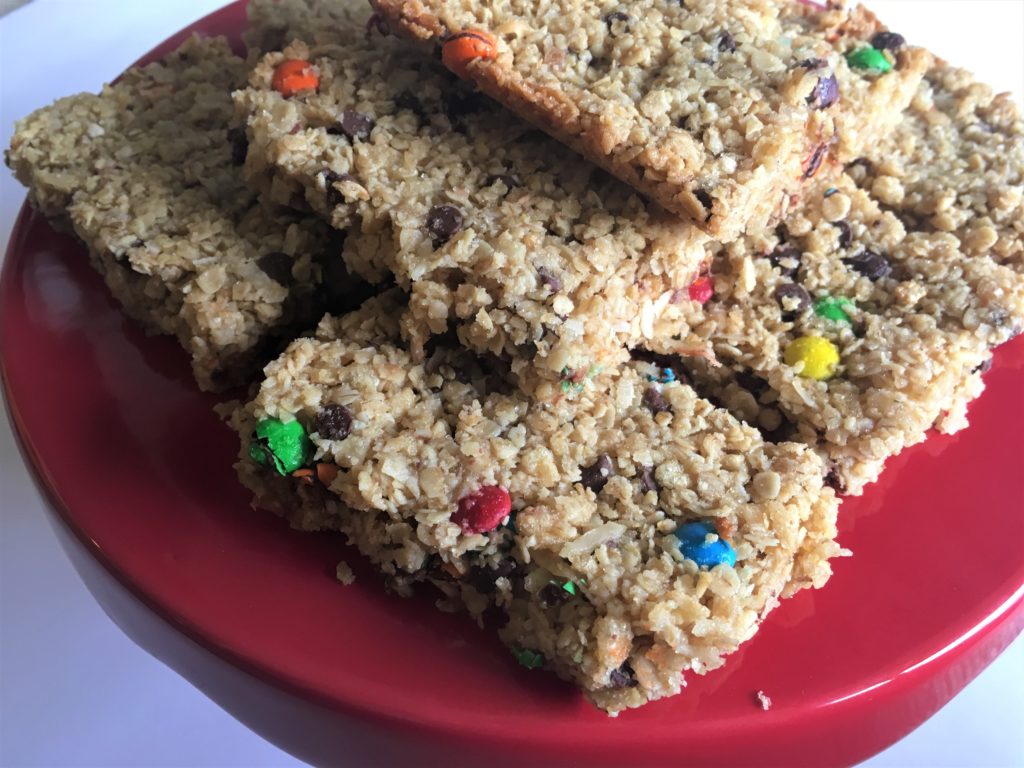 Another great boredom buster is cooking/baking, especially if your kiddos are into all things Food Network/Tasty videos, etc.! Here's a fun recipe for homemade granola bars with things you most likely have in your pantry already! My only additional tip is to make sure you pack the mixture into the pan before you bake, like put your back into it 😉 And I'd use a 9×13, and avoid a square pan altogether! This is a great snack for the week, but also for lunch prep for the following week (look at us so ahead of the game)! 😉
My girls LOVE to paint…ANYTHING and EVERYTHING. They paint on canvases a lot, but also love painting on rocks. Depending on the age, you can make this project as simple, or as elaborate as you'd like! Mine are at the point where they paint scenes on their rocks and they like to put them in public spaces for people to find. But I thought this caterpillar was super cute and would take some time for sure!
And after all of the painting is done, they can clean their brushes out! I've never found a great way to do this, until it hit me watching a 5 minute crafts video with the minis. They took a clipboard and made squiggly lines on the front of it to make a "washboard" of sorts to clean the brushes. Then they laid them flat on a paper tower to dry. But I thought to myself, 'Self, we can do better than that!'
So I took the glue gun and made the lines on the BACK of the plastic clipboard, used soap and hot water to wash the brushes, then flipped that bad boy over and clipped the paint brushes on the clip board to HANG DRY! Just prop it up in the sink, so there is no drip mess, and voila! I patted myself on the back for this one yall!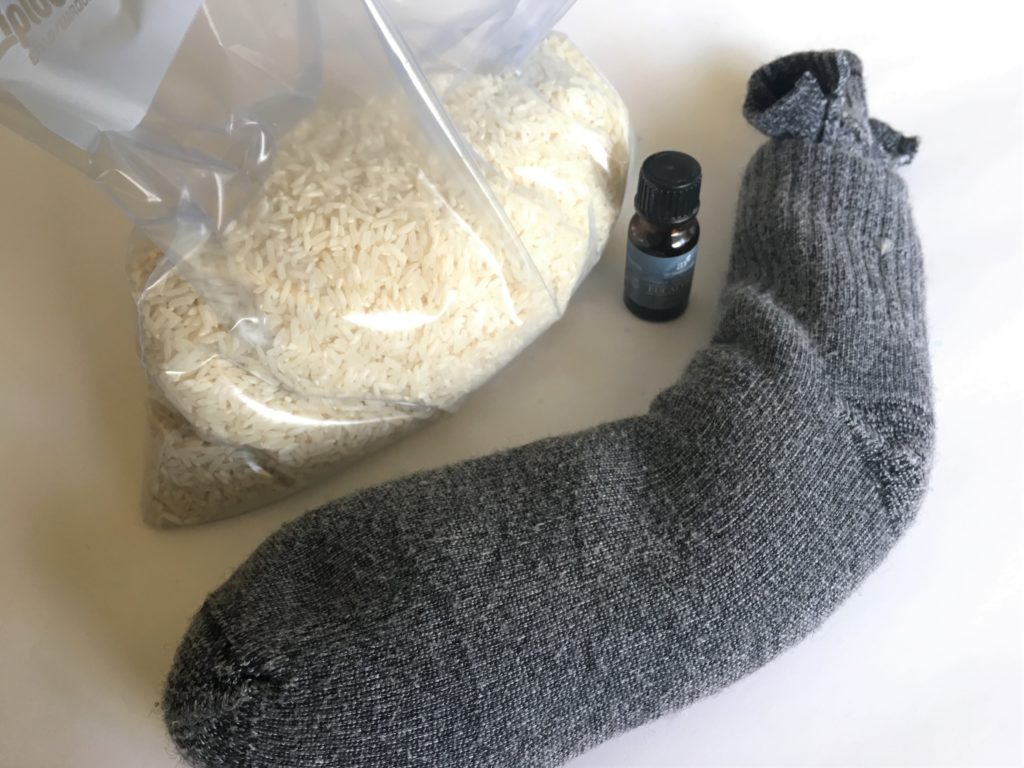 But spring break is also about relaxing and we do plenty of that! My minis saw this idea on a video, and have been wanting to make them, and I finally remembered to grab the socks! Just pour in rice, some essential oil, heat in the microwave one minute, and done! It's super cozy to have it on your neck, or even on an injury if you're nursing one!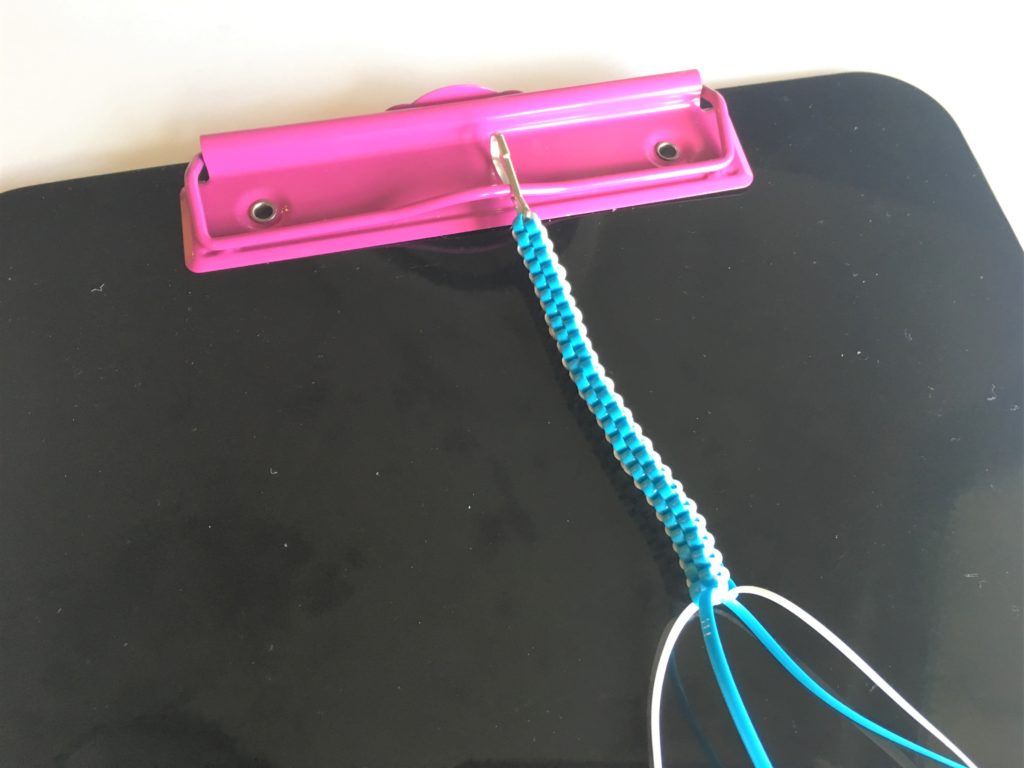 Lastly, as I was walking through Walmart today getting supplies for this post, I saw the old-school friendship bracelet-making materials…the thread and the plastic thread stuff (don't know what it's called lol)! And it dawned on me, I could teach the minis how we used to make stuff, and it would keep them busy for HOURS! Guess who was right?! Meeeeeeeeeeee! Everything comes back around, #amiright?!
Hope yall enjoyed some of these ideas, and it will help you throughout the week! I love love love my minis during this relaxed time, but I also understand that's because they're at such easy ages. I know momming, especially of littles can be tough, and some days it feels like a marathon to get to 8pm. But try some of these things and see if they help pass even an hour or two! Let me know if you do by tagging #mirandaincltSB2018…I love to see your creations, and I repost!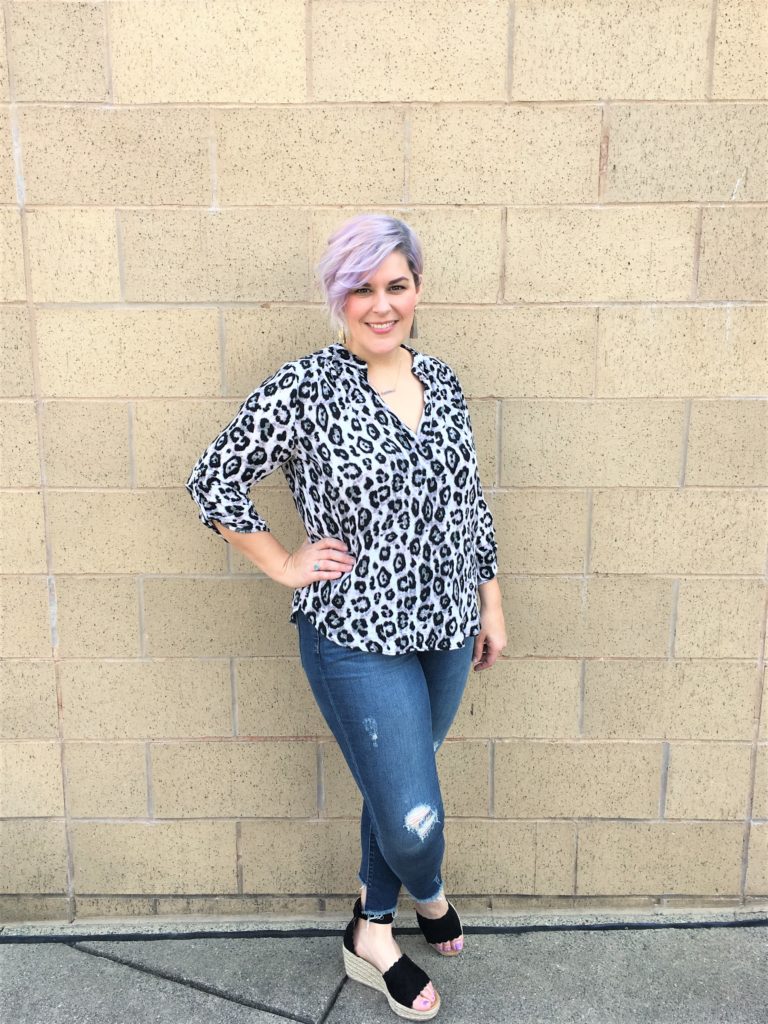 Here's what I wore on air! Head to toe Makaila James, and as always, use MIRANDA15 to get 15% off your whole order, and free shipping!!! These jeans are my new fave (if in between sizes, go down!), and I am loving my new necklace too that says FEARLESS (never hurts to have a reminder)!
Love to you and your's this spring break! xoxo
For a link to the plastic clipboards we use…