All pictures of my house were done by The Beautiful Mess Photography and I LOVE them so much! Contact them for all of your picture wants and needs!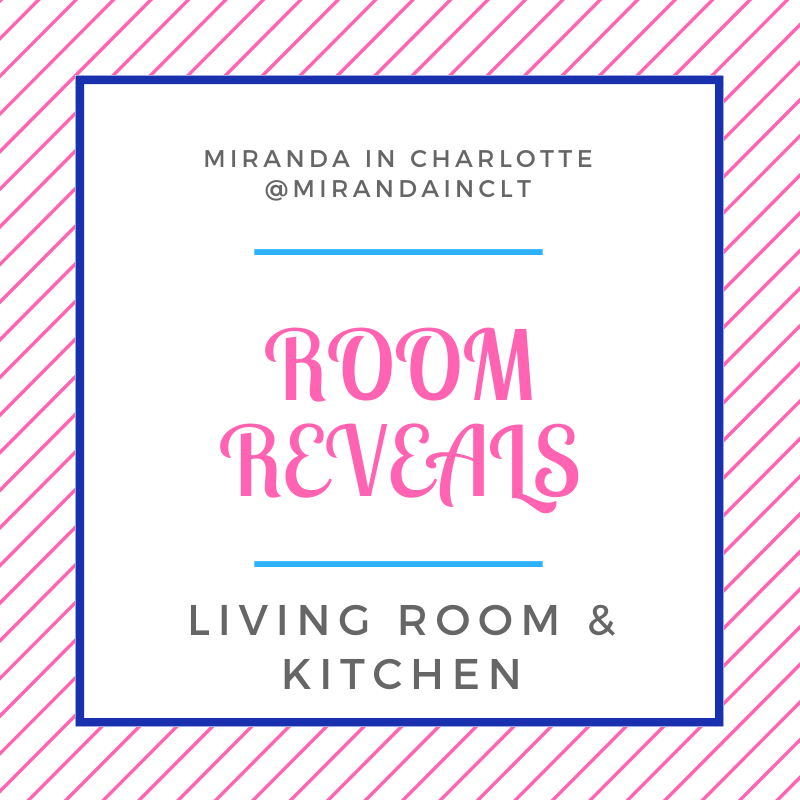 I've owed yall a room reveal for WAY TOO LONG, and I figured what better time than SPRING?!! It's a time when many deep clean their homes (not me), do a little redecorating (totally), add some fresh flowers (always), and maybe even open the windows (once we get screens on them lol)?! Yes, I thought of every. single. little. thing. in, on, and around this freaking house when we built it, but forgot screens for the windows #facepalm. And now it's one of those things that I just DON'T WANT TO PAY FOR, YA KNOW?! UGHHHHHH.
I DIGRESS.
I will get around to getting them very soon though because we absolutely love fresh air, and in North Carolina, you can get a few months of heat-free and A/C-free utility bills…IF you play your cards right! That makes my cheap heart so happy!!! But I can't risk my kitties jumping out of the windows, so the screens are a must. My whole world revolves around them now that I'm a crazy cat lady ;).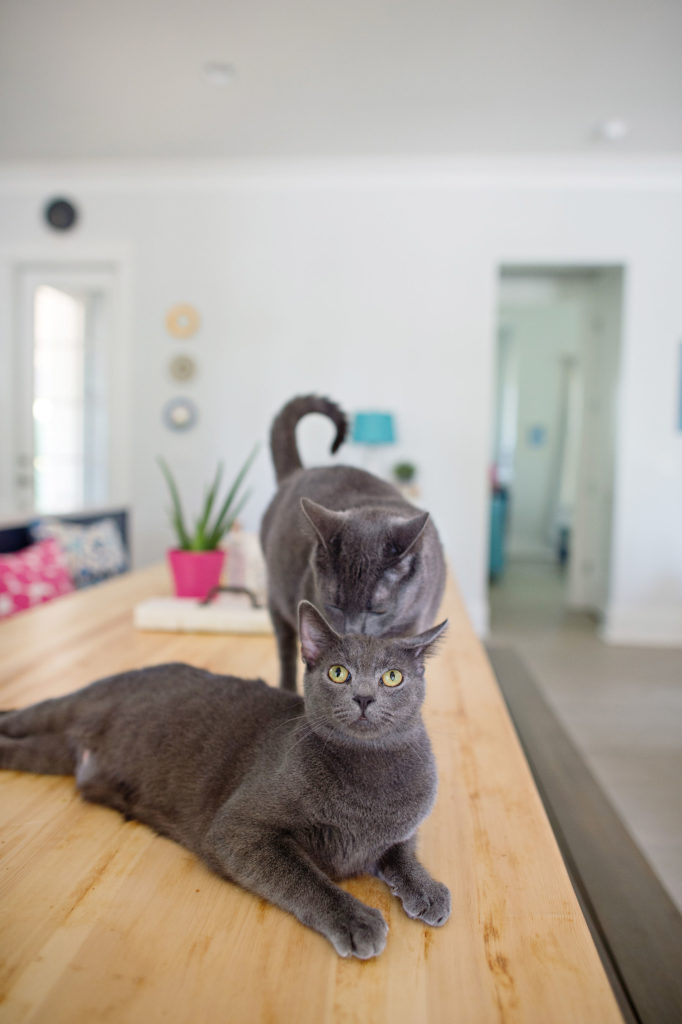 But that's not what this post is about! It's about getting my living room and kitchen ready for spring, and if you've been around for a while, you know that we built our house almost two years ago! If you're new here, first WELCOME!!! You can check out the first 'house update' blog post HERE, and that one will lead you to the others! You can also see the first room reveal post HERE, and that one will take you to another one! But then life got crazy, as it does, and I stopped revealing. But this one is a BIG one, and it's where we spend the majority of our time…the kitchen and the living room!
Oh, and I'm also sharing my favorite fresh flower arrangement hacks at the end of this post because what's better in spring than fresh flowers throughout the house, without breaking the bank?! So keep scrolling all the way to the end…it's a long one, but worth it #thatswhatshesaid 😉
We only have one TV downstairs and that's in the living room, so it's where we watch shows and movies as a family. And of course, like most families, the kitchen is the heart of our home. I cook and bake A TON (especially for my blog), and it was incredibly important for me to have an open floor plan. I didn't want to feel separate from everyone when I was preparing meals, treats, blog posts, recipes, working, etc. so the layout was vital to me. I'll explain more of that as I post the pictures below.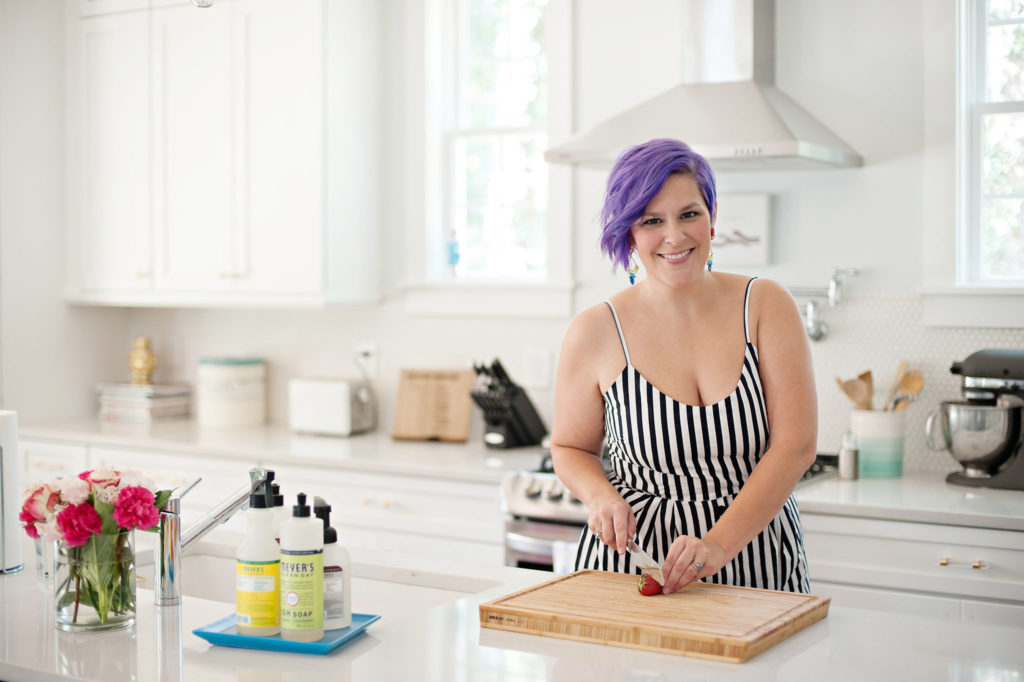 But I get this question a lot, so I'll answer it again here…we got our house plan online! Legit, on houseplans.com, which means that we didn't have full control over design, but that was okay with us, because we saved so much money this way. And I knew I could make most edits work with our contractor, if I got to them soon enough in the building process, and we did!
So without further ado, let's get to the reveal! If you have any questions about where I sourced something in specific (and I don't have it in there already), just leave me a comment, and I'll find the link for ya! And as always, I have to disclose that some of the things I've linked are from Amazon. If you happen to purchase through my affiliate link, I make a tiny commission, at NO added cost to you whatsoever!
As soon as you walk in the double front doors, you walk into the main room, with the kitchen to the left and the living room to the right (with the master bedroom straight ahead, and a small powder room, and coat closet just before it). This is obviously the biggest room of the house, and one large rectangle, so continuity was important to me in this space. I knew colors had to coordinate, so that's why I picked a palette of navy, turquoise, grey, white, hot pink, and mixed metal. In a room this big, I didn't want to have to commit to one metal, or one color, and I thought the room could handle it, as long as I went with something fairly light on the walls. The color is Sherwin Williams Nebulous White (which is an extremely light grey and it's gorgeous)!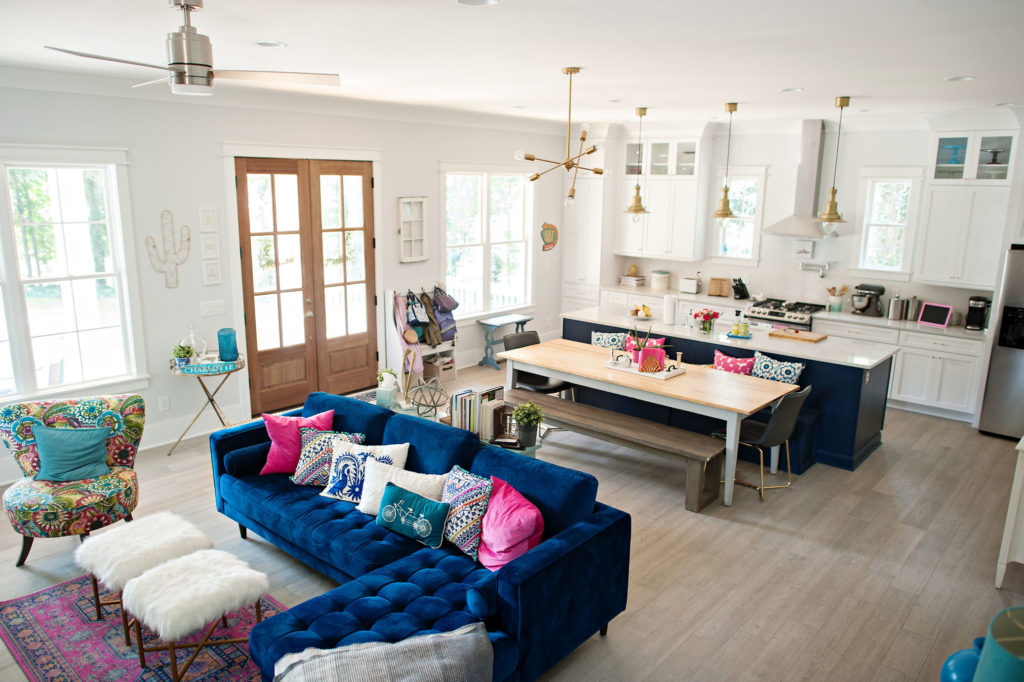 Here's my mood board I created years ago for the space. I highly recommend creating one anytime you're designing a space. It keeps you focused.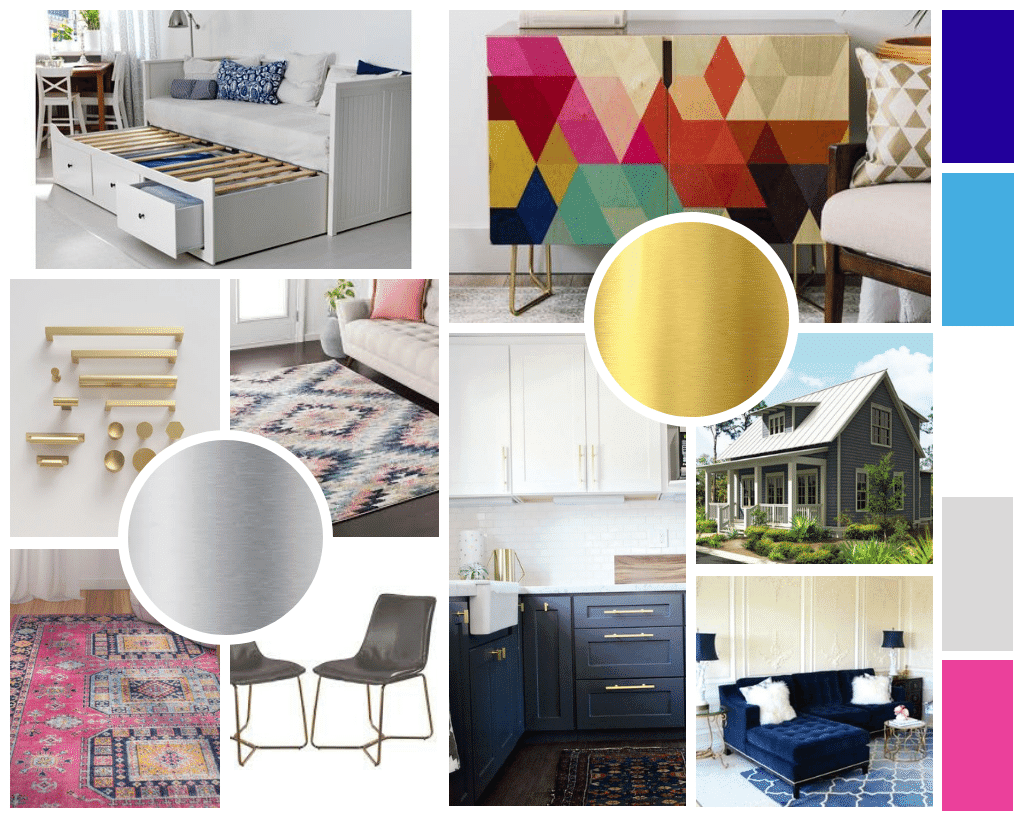 Let's start with the kitchen, the BIGGEST change I made in the kitchen, and by far, the thing I can't recommend enough, and I know it might sound controversial to some, is that I did away with the bar top on the island. So picture this. It was supposed to be like most islands where there's a raised bar top, and then stools would be where the banquette is and essentially people would be sitting on those stools facing the windows/stove. and then there would be a table in the middle of the room I guess?
That was a hard NO for me. I cannot stand a bar top/stools, where people sit in a row to eat. We had it in our condo and it drove me crazy. We were always leaning forward and backwards to see each other to try to talk, and it just isn't conversational to me. Also, you're limited to how many people can sit down by how many stools there are to sit on. And if if the bar top is facing the stove, then it's facing away from the living room, where other people are gathered?! It just didn't work for our lifestyle IMHO. So I said, "can we not keep the island all one height, and do a banquette instead, and then one long table, with a bench on the other side, with a chair on each end?!"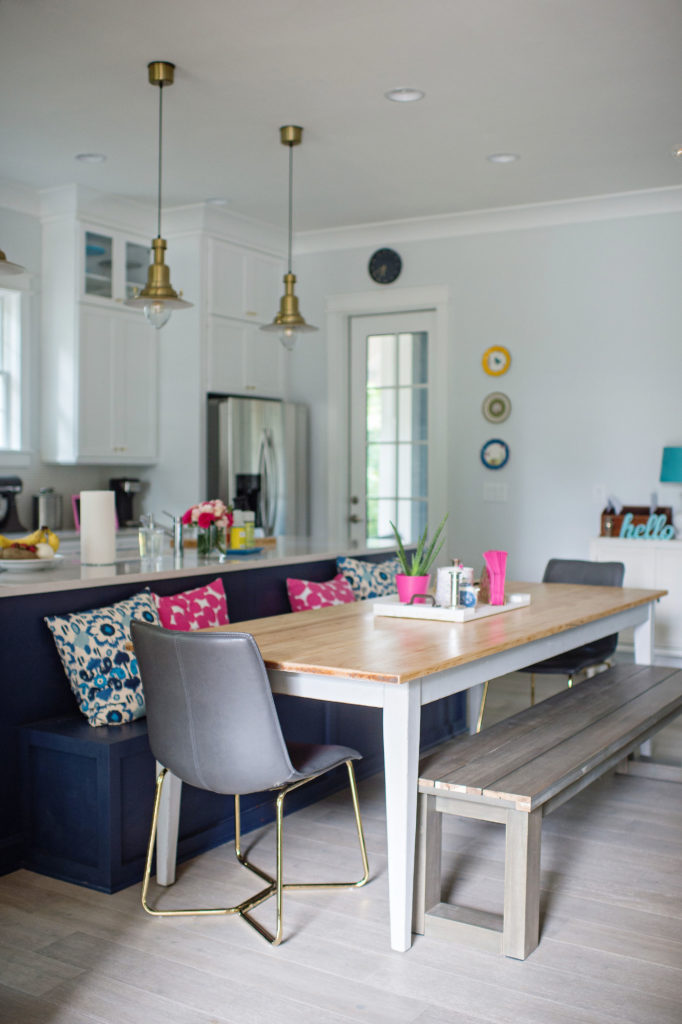 This way we can squeeze a ton of butts on the banquette AND the bench, plus two people at the heads of the table! Everyone can see the TV if they want, no one is staring at me while I'm prepping/making food, and it's so much easier to have a large group sit together! Since our family grows from two to six kiddos every other summer, this has been a lifesaver, not to mention how often I throw dinner parties for sixty of my family members 😉 Oh, and We built storage into the banquettes, so that's where we stick all of the bulky items like paper towels, the cat food, litter, toilet paper, extra blankets, etc. (see the hinge?)!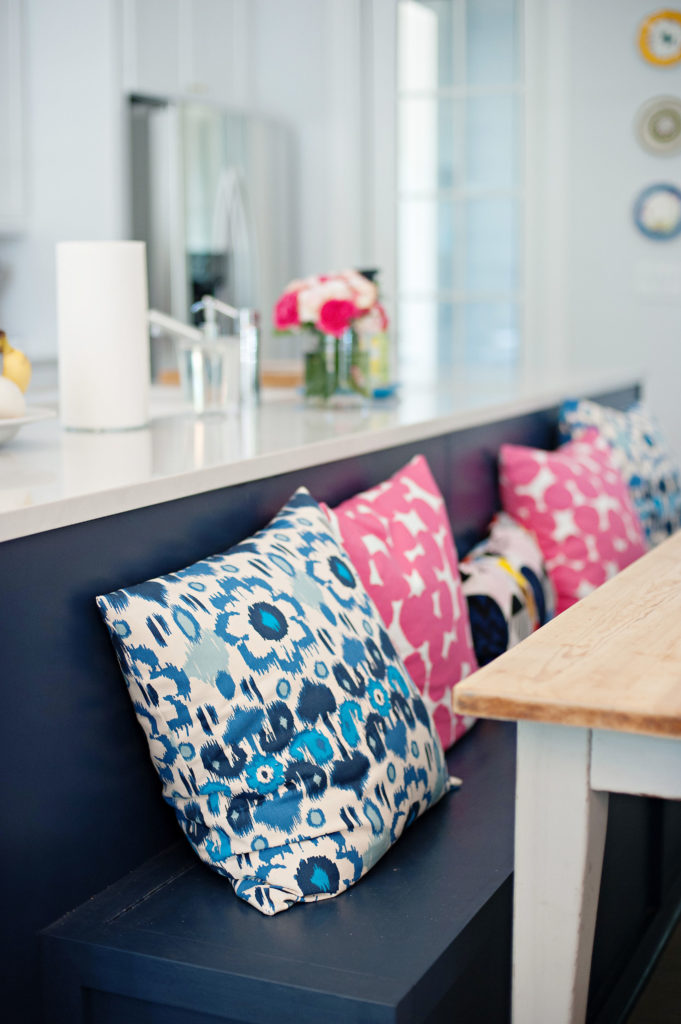 We did white cabinets with clear acrylic and gold handles and pulls, with glass along the top shelves to display my cake plates in, as a nod to my old Got What it Cakes days (for those who don't know, I used to own a cake business)!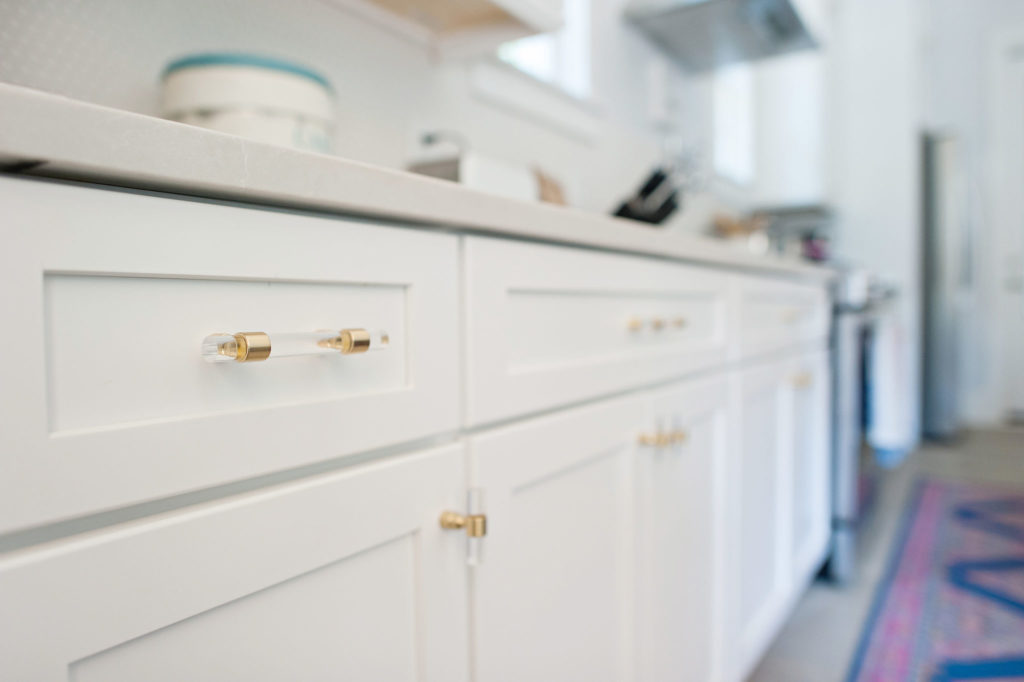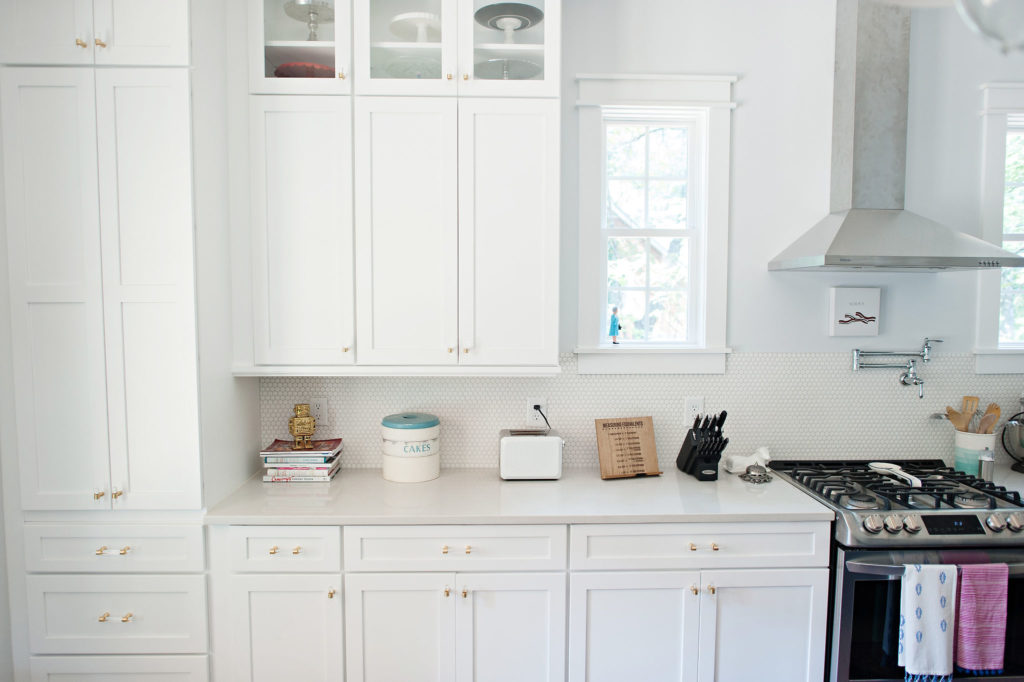 We did a very light grey quartz countertop with faint white graining in it, called desert silver (which is sturdy enough to sit on, clearly), and a white farmhouse sink. I love having a big sink without a divider in it so I can clean large dishes, pans, etc.! I intentionally didn't do a big arched faucet because I didn't want it to be a focal point, and those awesome pendant lights are from IKEA!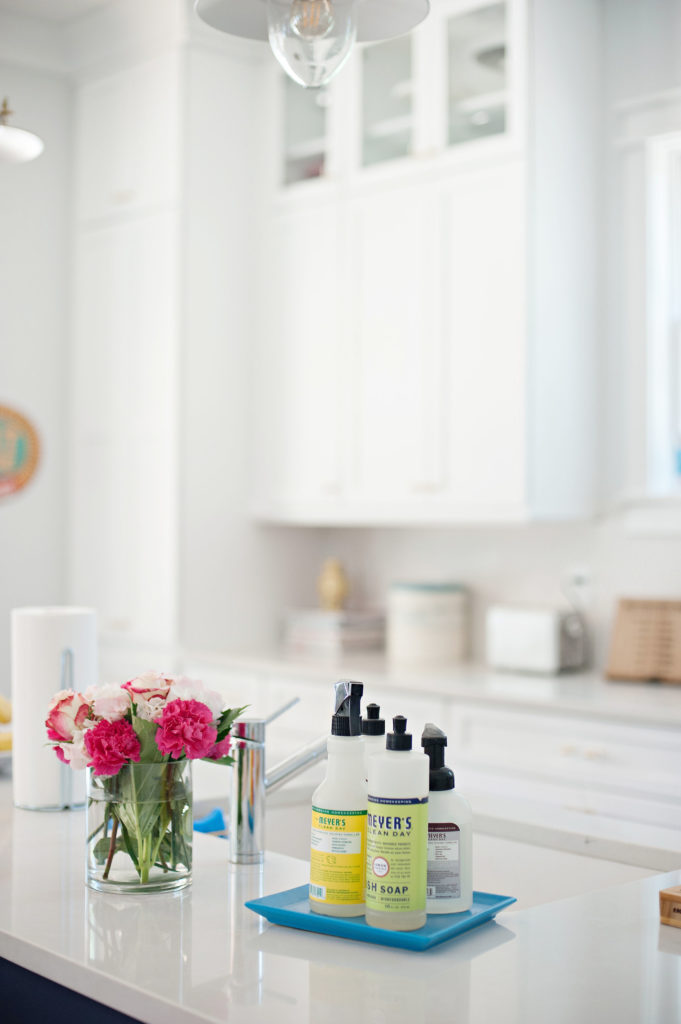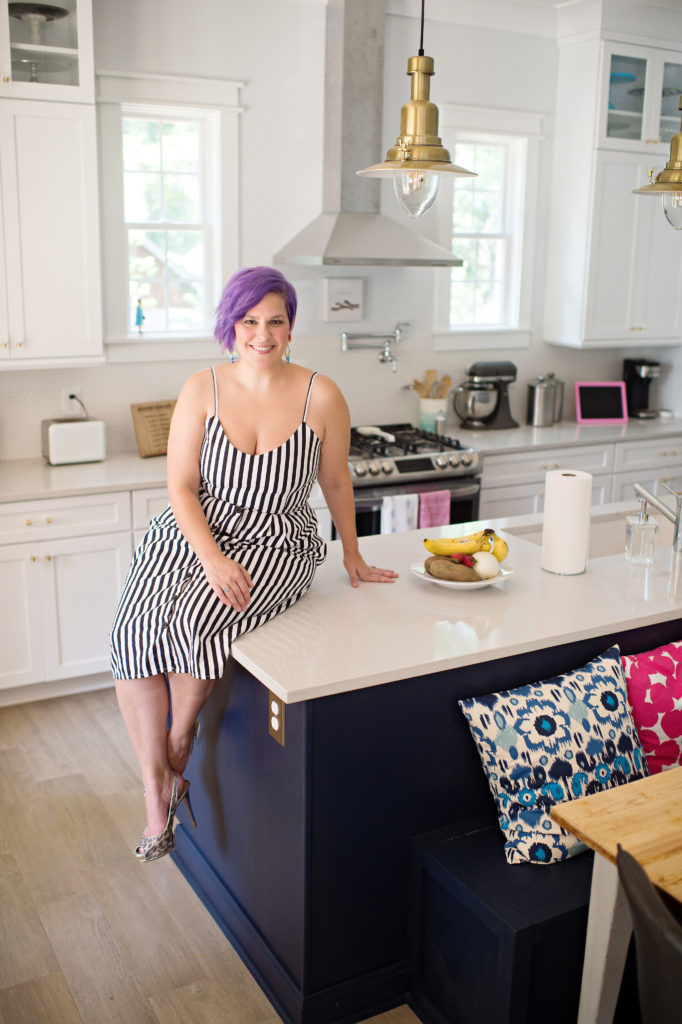 I did the microwave in the island, not a drawer or anything fancy, just a cut out that it sits in, because I didn't want it to be the first thing people saw when they walked into the house. With our layout, if the microwave was under the hood/vent that's above the stove, it would be the focal point of the wall in the kitchen, and I didn't want that. And honestly, I love it being in the island and sight unseen in our kitchen.
I think I still have PTSD from our fridge debacle, and all I can say is this. NEVER order a fridge from Best Buy. They are the most incompetent business when it comes to customer service, and they tried to deliver SIX broken fridges, often times the SAME broken fridge, just hoping I wouldn't notice. Bless their hearts. And yes, I mean that in the most condescending way possible. 😉 This one from Home Depot looks and works great though! And I love the trio of plates on the wall, adding a pop of color, from World Market (although I'll replace them with some antique china soon)!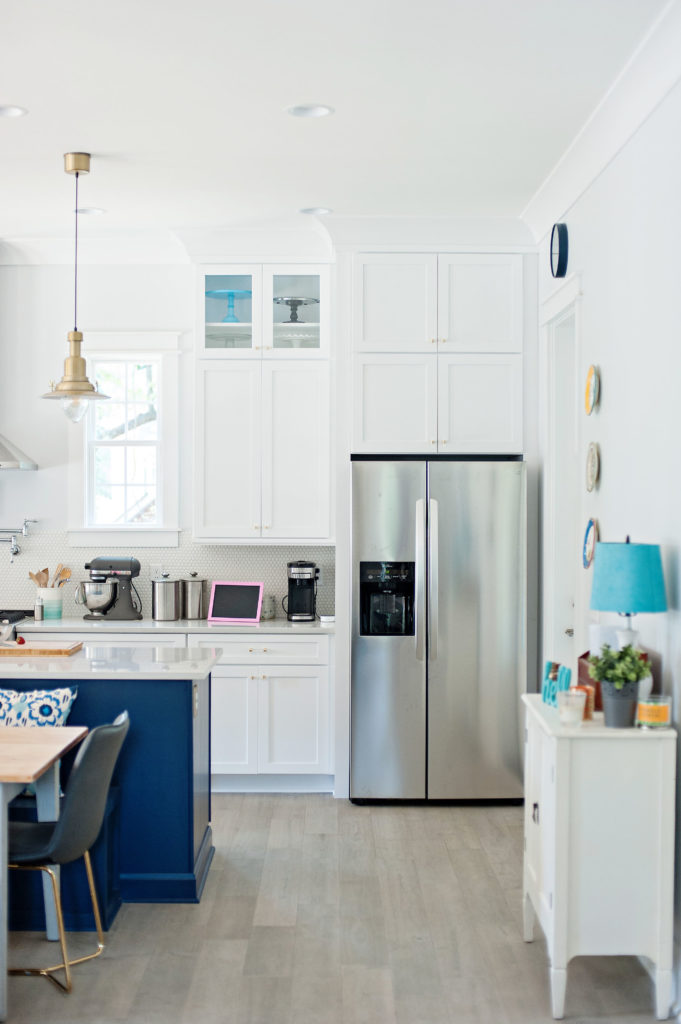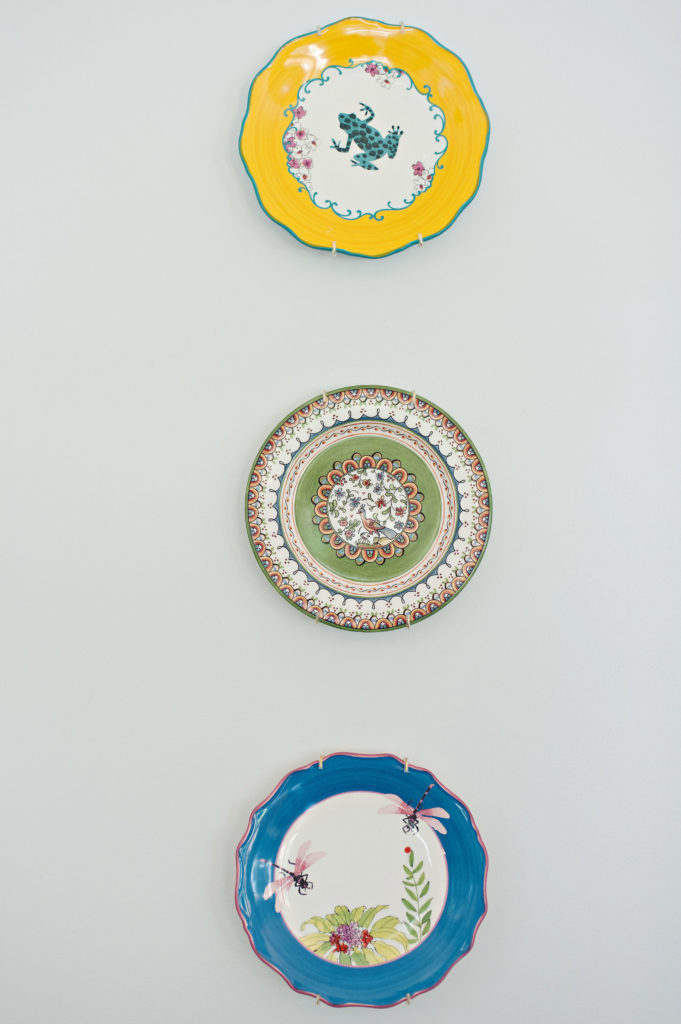 We went with a gas stove because I just prefer to cook with a gas stovetop…I feel more in control of the heat, but also because when Hurricane Hugo hit, I remember my parents being able to provide our whole neighborhood with coffee because we had a gas stove. We'd take coffee to our neighbors in our wheelbarrow, and we were basically heroes! 🙂 Such a great memory!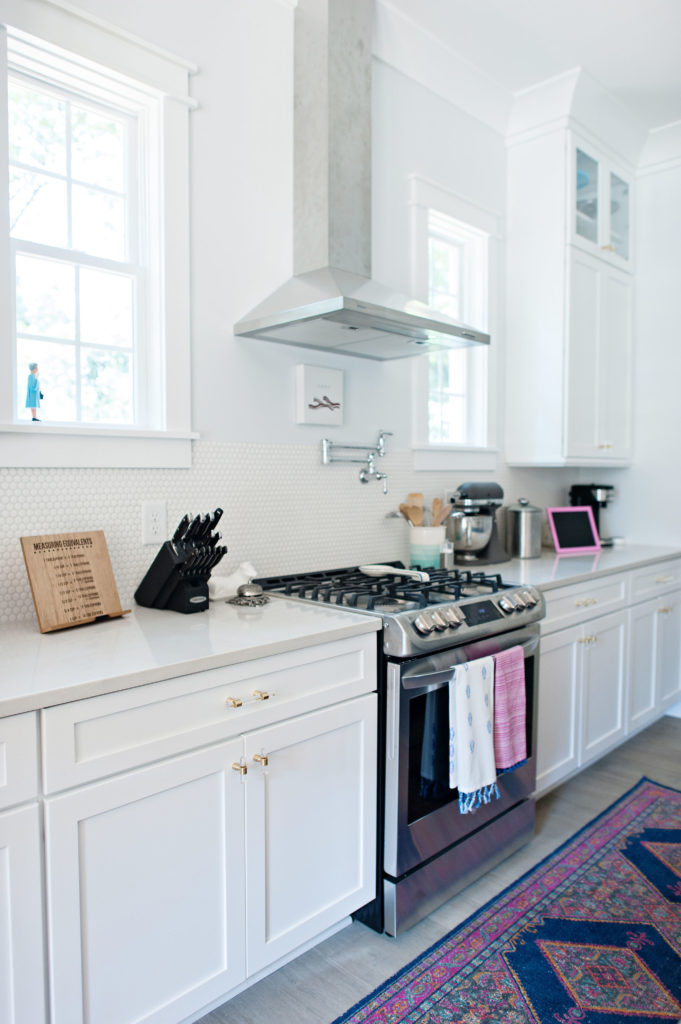 I did small white penny tile as the backsplash with a light grey grout, as I think it's timeless, and honestly everyone seemed to be doing subway tile, and I wanted to be different, but couldn't afford some of the REALLY fancy stuff I wanted. I love the look though, and am still happy with the decision!
This pot filler was a part of the plan, again that we got online, and I didn't realize it was even in there when we bought it…that's how detailed it was but you don't see everything before you buy it! Anyway, the plumbing was done when the concrete footers were getting poured I guess, so we got the damn thing, and I have used it, but is it a necessity? Ehhhhhh, the jury's still out. 😉 But the "you had me at bacon" sign is a definite MUST!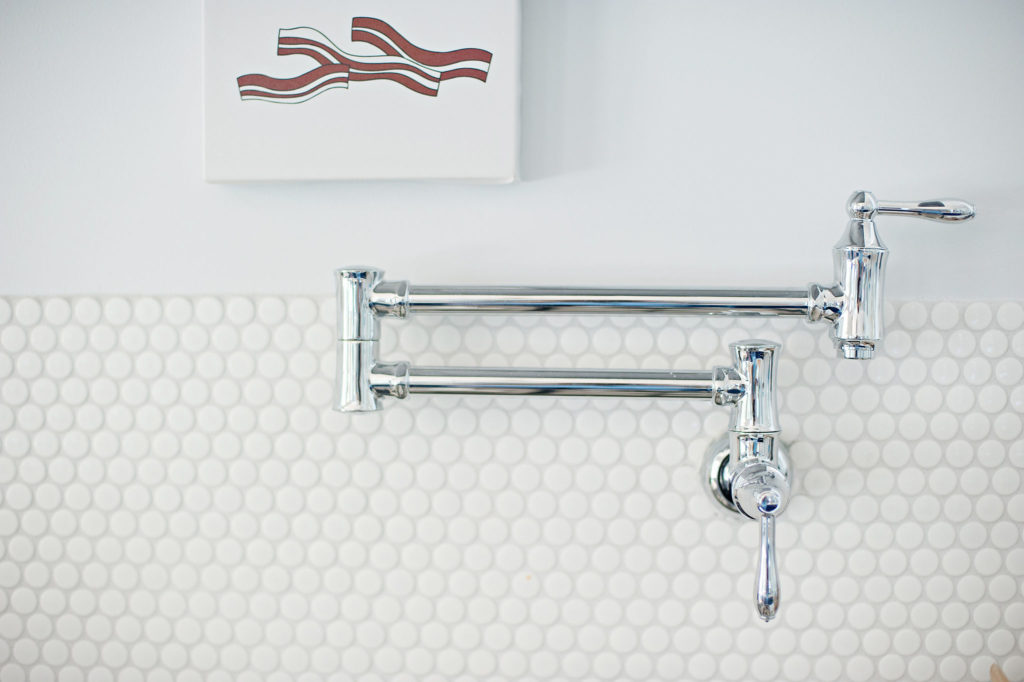 I love this rug I found for around $60 online…great pop of color for this space!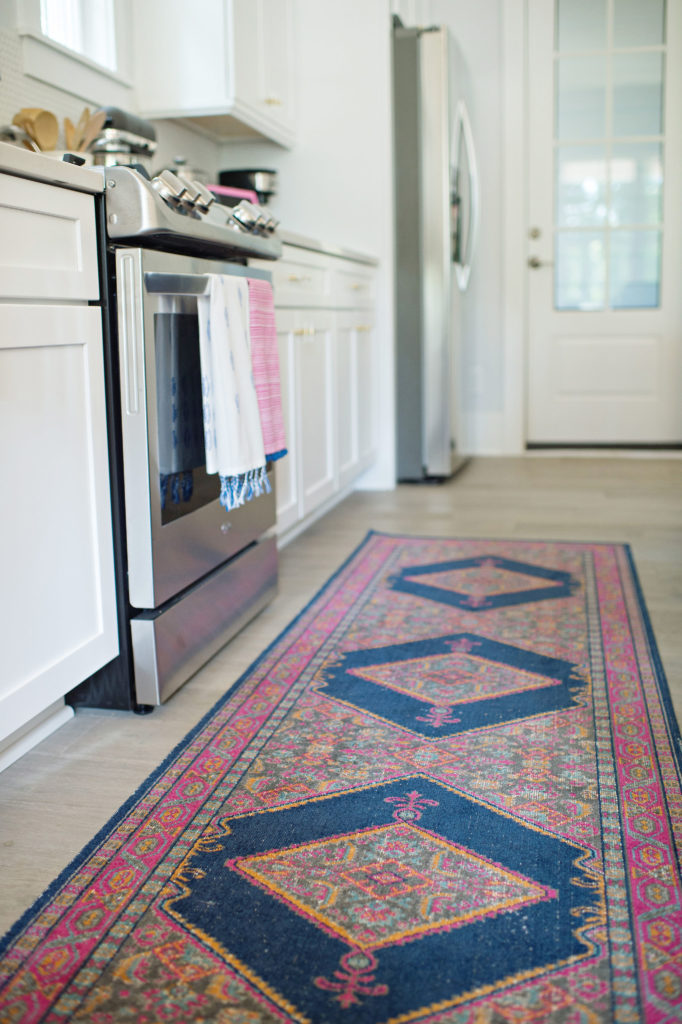 I went with Sherwin Williams Naval on the island. I knew I wanted a contrast to all of the white and light color on the walls, and navy is such a gorgeous color, so that's what we did on the island, and with the gold and acrylic hardware and grey countertop, it's just beautiful!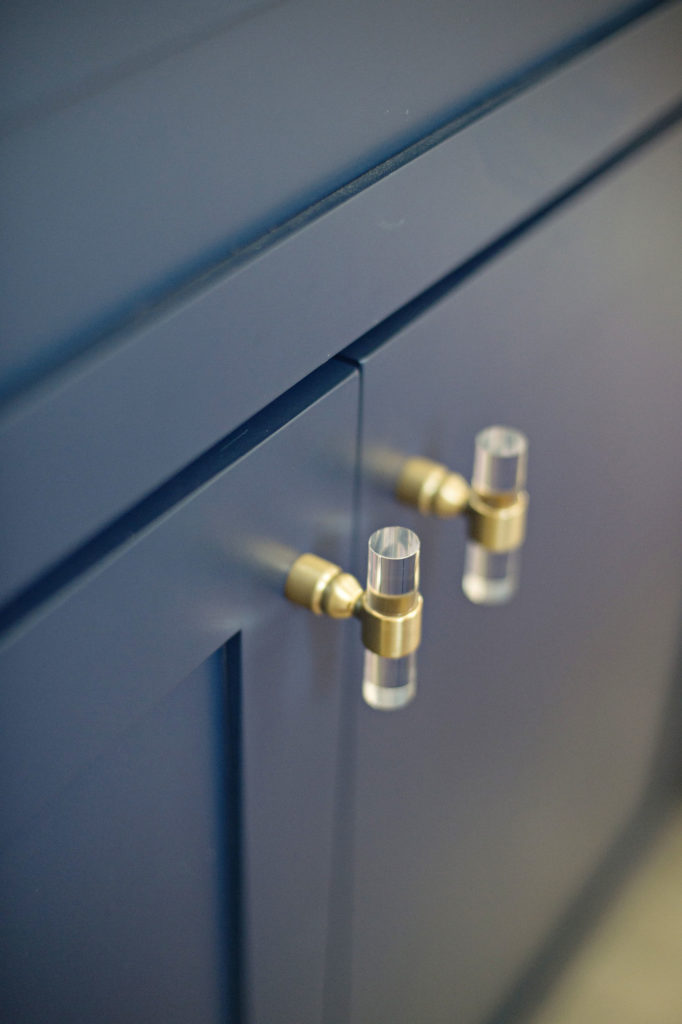 Onto the table! It took us FOREVER to find the right table! It needed to be 8 feet long to fit the length of the island, but the legs needed to be a certain style to fit the house, and when we finally found this "perfect" table at Sleepy Poet Antique Mall, it was painted hideously IMHO. It was grey with darker grey diamonds painted on top of it. So we bought it because the bones were great, and I figured I could paint it white, so I did. And it peeled right away. So I sanded it down, painted it white again, and before I could seal it, Bella put a drink on it, and that spot peeled again, and I had to start over. I know. Bless her heart. It's fine. This time, I took it as a sign, and I stripped it all the way down to the bare wood, which was GORGEOUS, and what you see today. So I sealed it! And that's the story of the table…that was grey with diamonds, then white, then white again, then wood. 🙂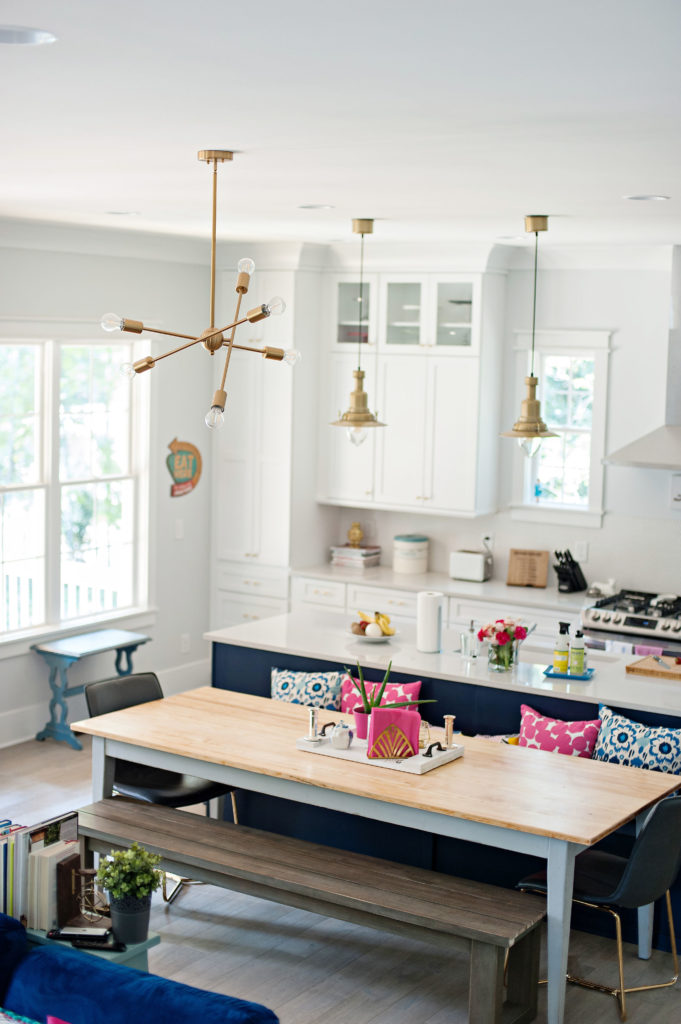 And and seen in the photo above, the gorgeous Sputnik chandelier breaks up the space, and I absolutely love it! Like many of the things in this house, I got it on Amazon!!!
As for the living room, I knew I wanted to tie in the navy from the island with a navy velvet couch, and I searched high and low for the perfect one! I wanted one with a chaise on the left side, and very specific tufting, and arms. I ended up finding the perfect one at Myers Goods Home and Decor on Monroe Road. I also got the floral chair there, and love it so much, as it adds so much fun color to the space! Please go visit them, especially after Lilly tracked tar through their store (if you follow me on IG, you remember this epic story). A lot of the stuff I found at Home Goods, World Market, Reinvented Charlotte, TJ Maxx, Marshalls, At Home, etc., and plenty of it has come from prior houses/the condo!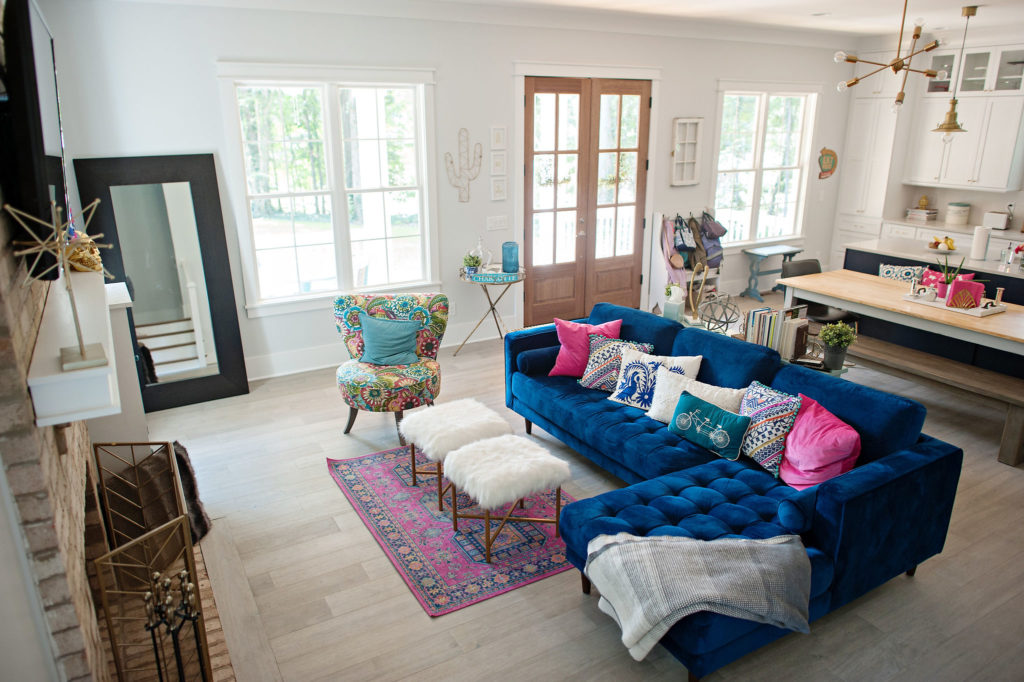 The piece behind the couch is from KiKi's Cottage in Pineville, and I love finding special furniture like this. Not only do I love the shape and color, but her shop is close to my old cakery, and it just reminds me of such a sweet time in my life #puninteded 😉 This also has one of my favorite finds in the whole project, which is the balloon dog. I love things like this.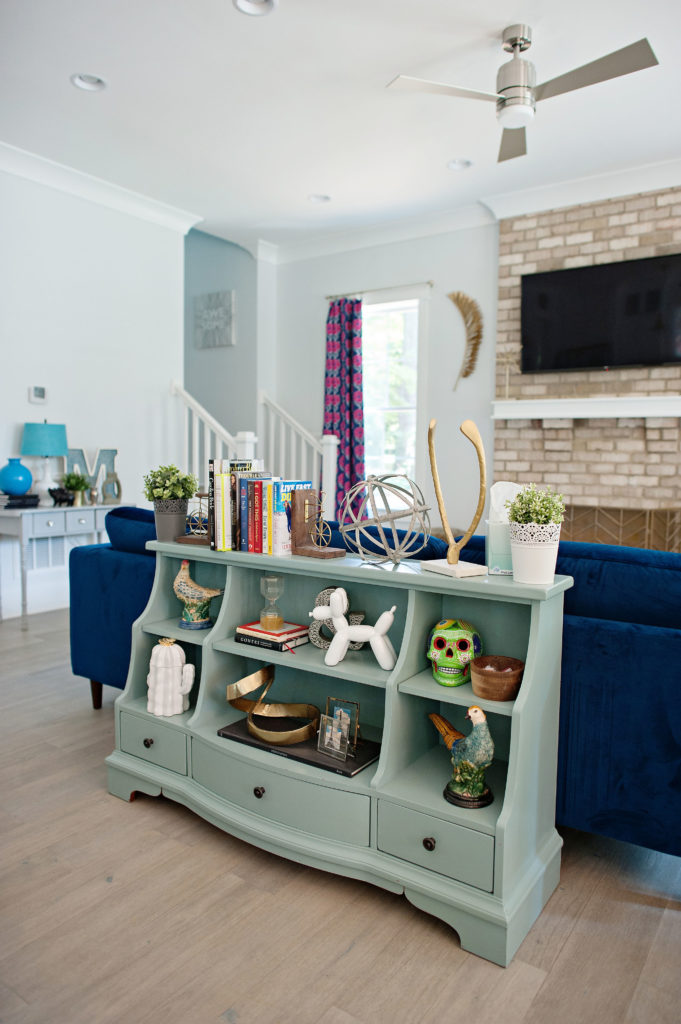 Same with a gold robot I have in the kitchen. Or a flying pig I have on a side table in the living room. And the llama blowing bubble gum in the bathroom. Add funny things throughout your house to keep things light! Homes shouldn't be serious in my opinion 🙂
I looked at fabric for the curtains forever, and knew I wanted navy and hot pink, and I wanted a print, but not geometric. Which is really hard to find, because everyone thinks you want nautical when you're looking for navy and pink. So imagine my shock when I found this at Walmart?!!! But this is why I'm always saying "DON'T SLEEP ON WALMART, YALL!!!" I can sew, and almost always make my own curtains (and pillows like I did for the banquette), but since my sewing machine was packed and we were living in a hotel at the time, one of the ladies at Joshua's work who sews did it in five minutes flat! Thank you Lily!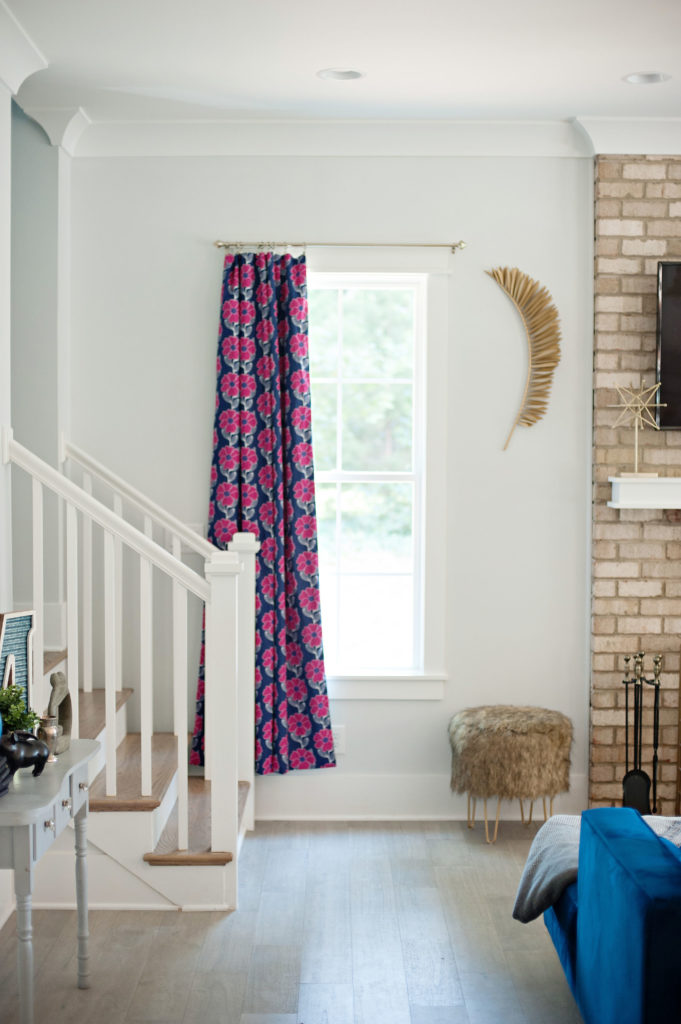 I love our fireplace and the decision to do wood-burning! It cost us a small fortune, but it's well worth it to hear the crackles of the logs. Screen and hearth set were fun to purchase, considering we had only ever had gas before that turned on and off with a switch. And the natural brick helps tie in the natural wood from the kitchen table too!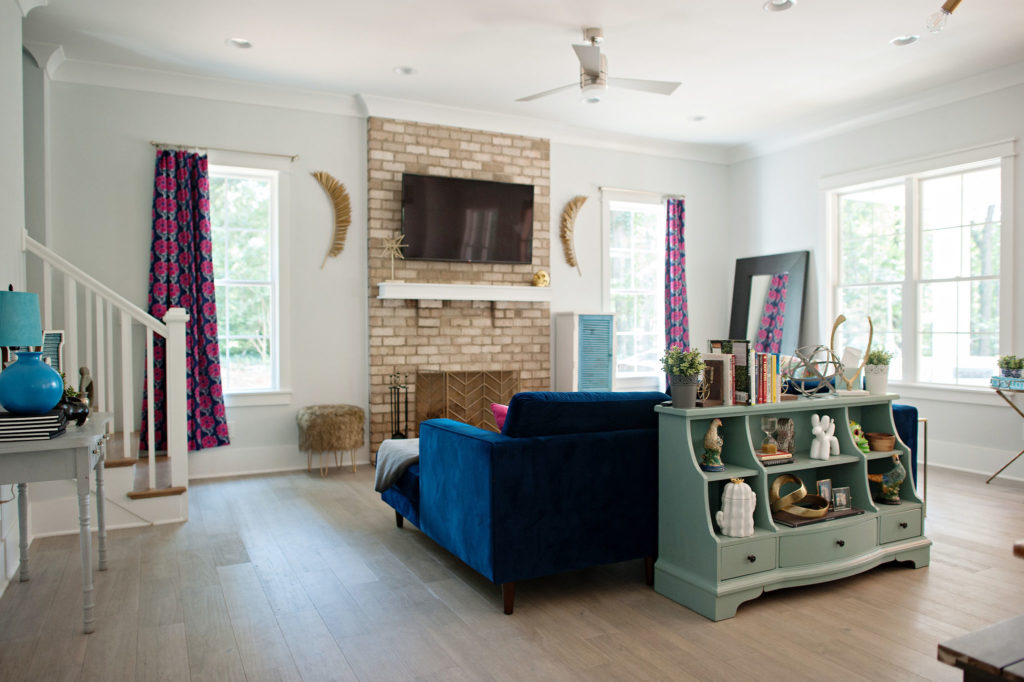 We picked light grey floors for the entire house (except where we did tile) upstairs and down, and don't have any carpet (highly recommend doing this), and just use rugs to warm up the space, and I got many of the rugs online.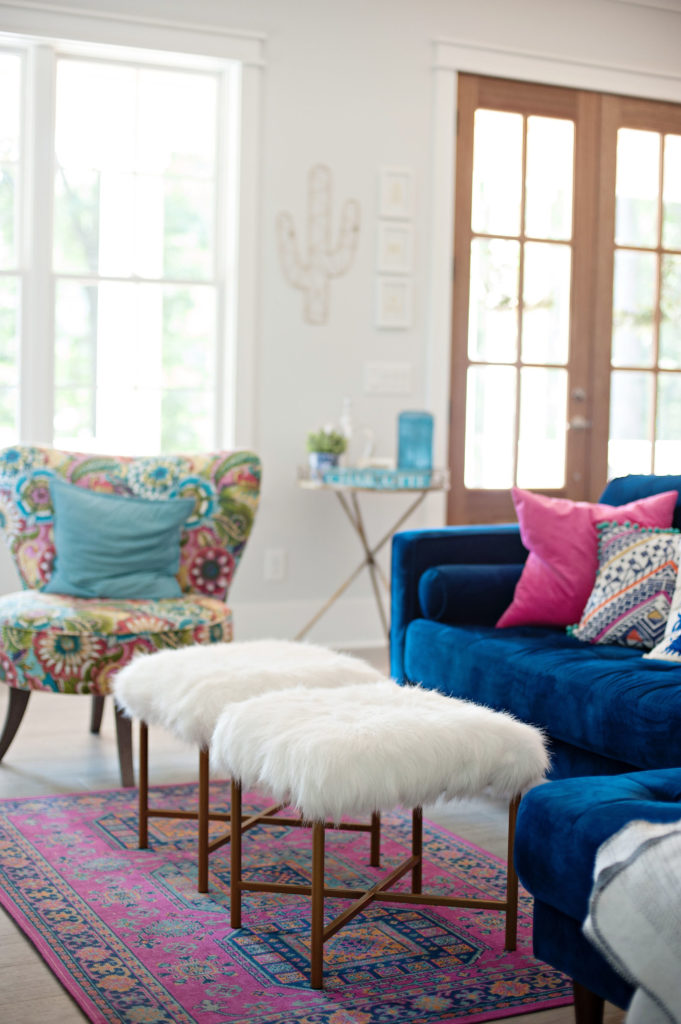 Oh, and that table over by the front door has my homage to all things Charlotte, be it the Queen our city is named after, our state of North Carolina, a crown for my love of all things royals, etc.! I also love the framed cards on the wall next to the cactus, that have the sayings on them, YOU ARE THE BESTEST AND THE MOSTEST, AWESOME MIRACLES, and HELLO MY HALLELUJAH.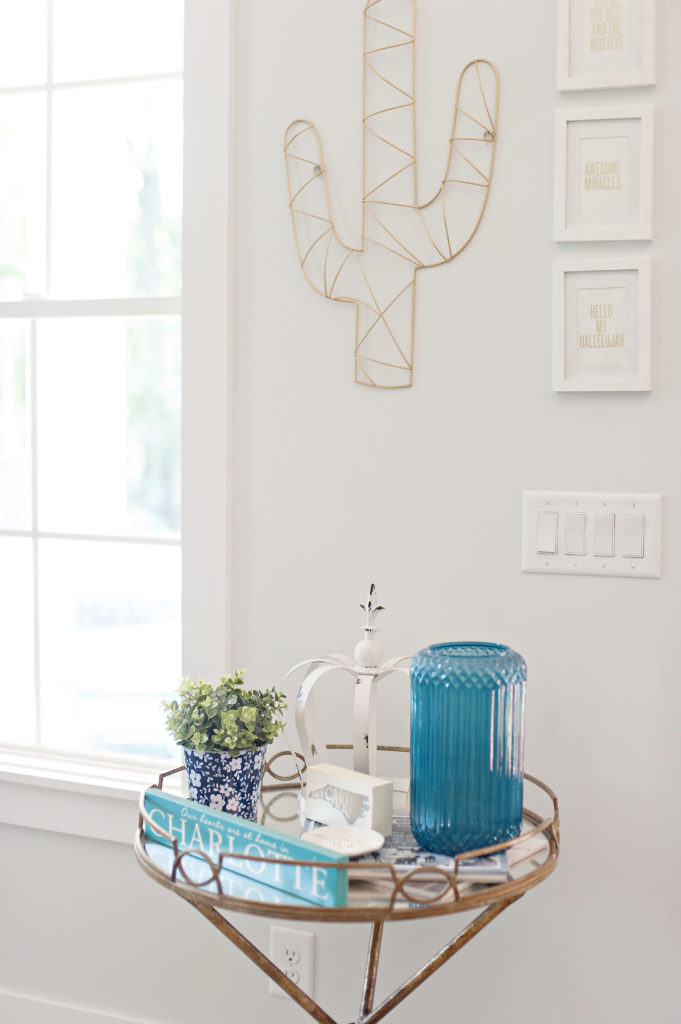 We also have ten foot ceilings downstairs and nine foot ceilings upstairs. We intentionally built a smaller house (around 1700 sq ft), so having higher ceilings doesn't make it feel tight. And we'd recommend that to those we are building as well, if you can!
Now, let's get to what makes my house feel like Spring, besides opening up the windows, and okay, maybe we will do a deep clean ;), I love fresh flowers throughout the downstairs! I rounded up some of my favorite ways to display them, and they're all budget friendly. Each of these ideas is less than $10 total; with some less than $5!
This little trough is from the Dollar Tree, and so are the brown paper and floral foam (not seen).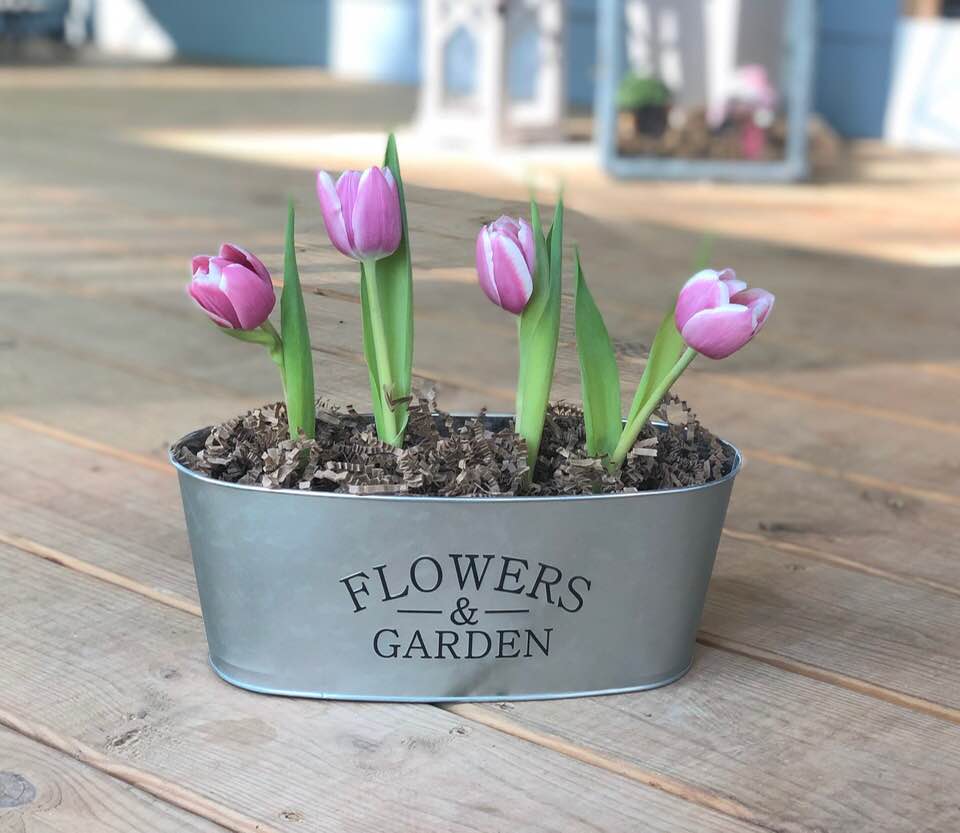 This $6 silver watering can from IKEA is filled with pink and green carnations which instantly makes them look chic!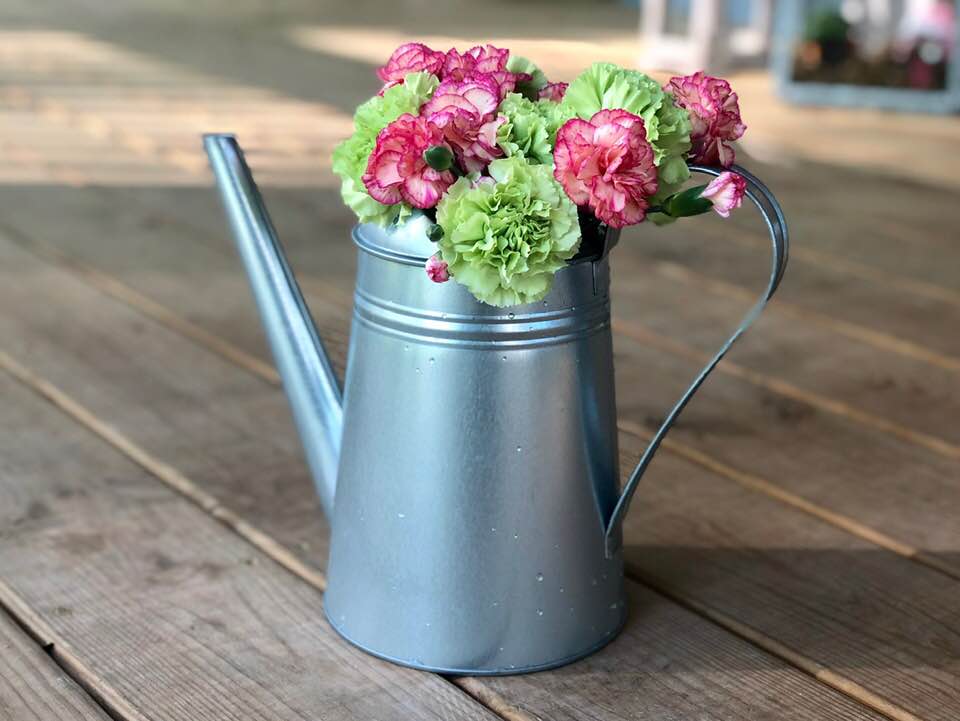 I found this sweet little $3 plastic watering can at Homegoods and stuck a hydrangea bunch in it, and called it a day!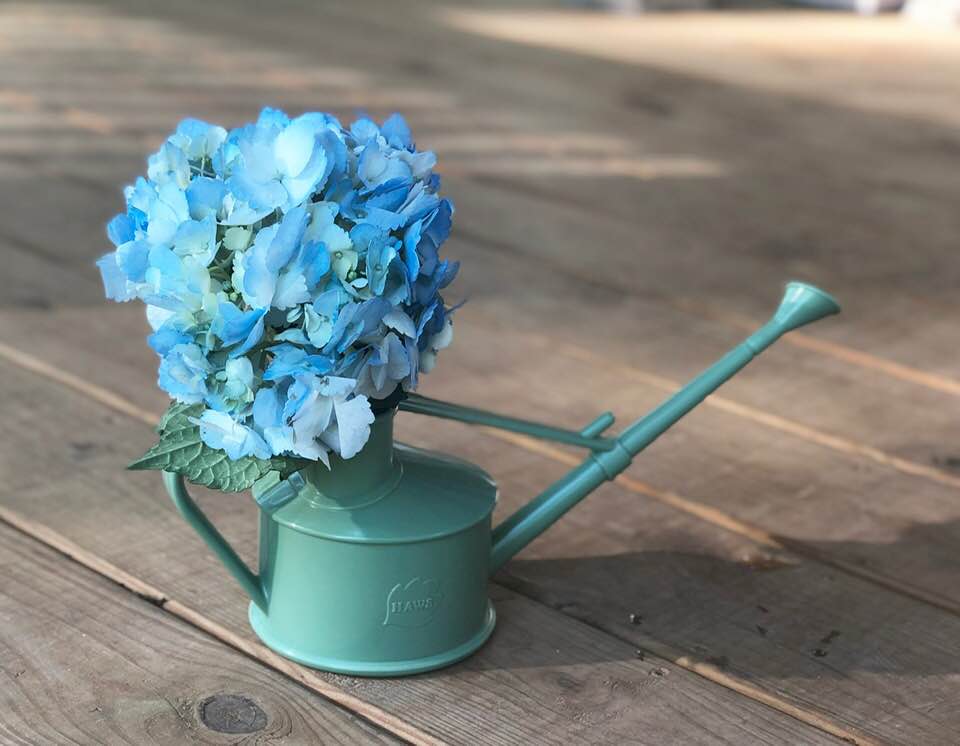 I also found this little white bucket at the Dollar Tree and ribbon at Walmart. The same hydrangea from above goes a long way!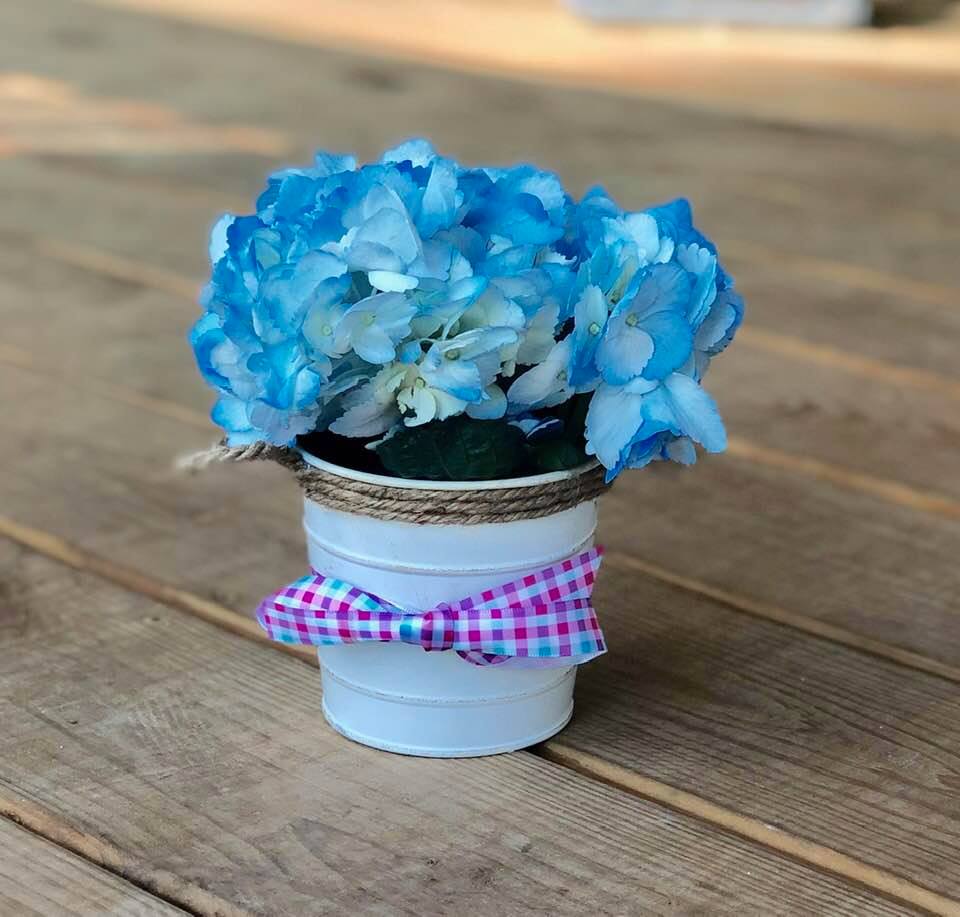 This watering can and gloves from IKEA were $2 each and then the same tulips from the trough above complete this look!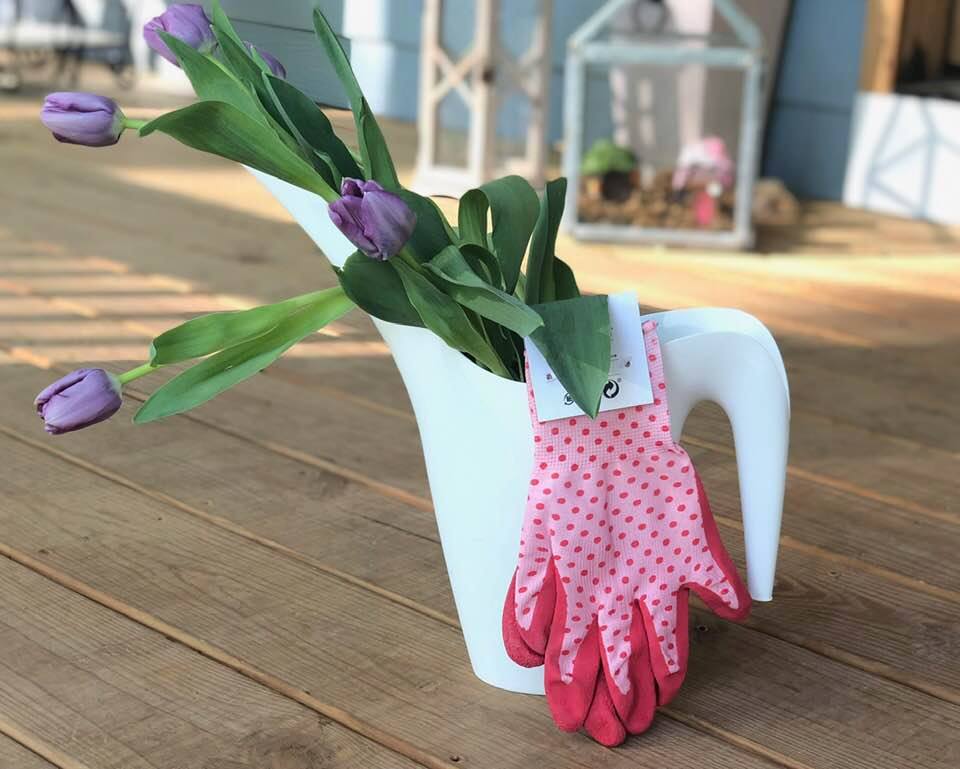 All in, for five arrangements to put throughout my home, I spent around $30 for everything, including the flowers! And it makes me feel like Spring is here, no matter what the weather may be saying outside! BUT WAIT, THERE'S MORE!!!
(Keep scrolling…)
I've also teamed up with some friends of mine to show you how they're prepping their homes for springtime and some of their amazing ideas! So click on the tabs below to get to each of their pages and see what they've cooked up!
PIN IT HERE!!