Update: I clearly wrote this two years ago, so make sure you change the "2018"s to "2020"s! 😉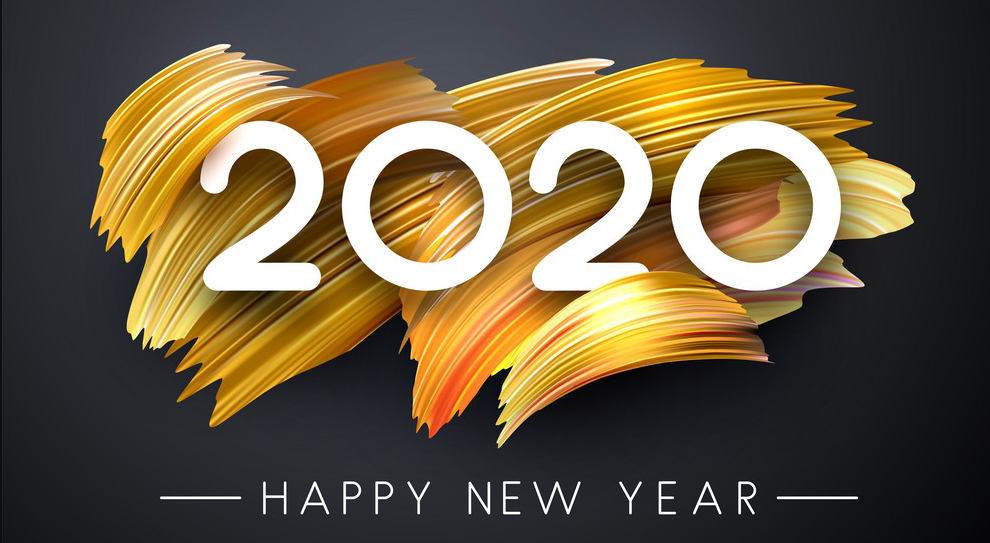 Since becoming a mom 13 years ago, New Year's Eve has changed a bit, and in the last few years, we've gone to a hotel and rang in the new year with friends!
But when our kids were younger, we always stayed home and had the best time counting down to the new year with them. And even though they always had the next day off, we never let them stay up til midnight, yet still counted down (you'll see how we worked around that below), and then Joshua and I had a few hours to ourselves before the clock struck twelve!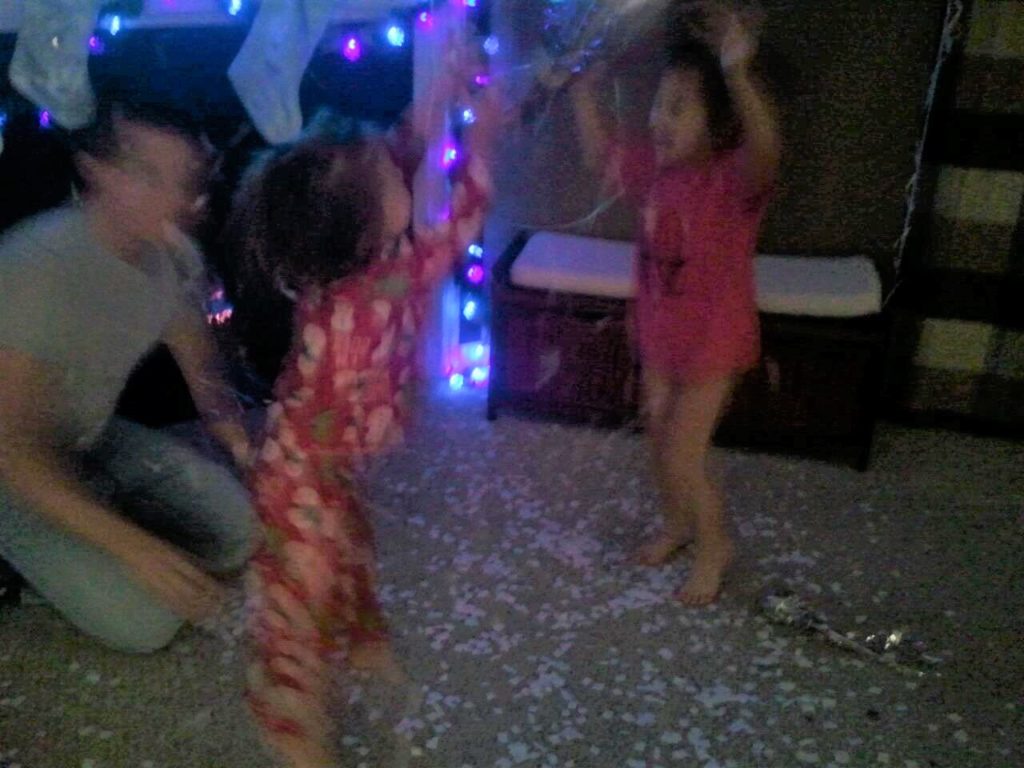 I can't believe I found a pic from 2011 of us celebrating…blurry as can be because I probably had a flip phone (and they were moving), but you get the gist 🙂
If you want to do a few fun things with your kiddos to make the day/night extra special, here are some things we've done in the past, and I suggest throwing them a 'Ring in the New Year' party! And then continuing that ring theme throughout the night with food and fun!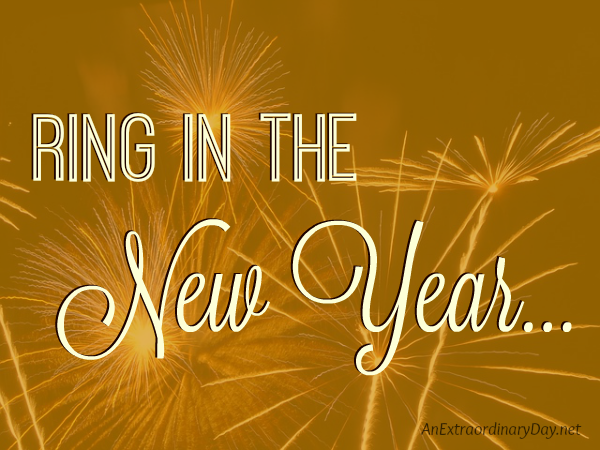 Start with buying Ring Pops, and that serves as your "invitation" of sorts. You could even tie a little note that says "Ring in the new year with me?!" Or you could be super fancy and buy a clear box, fill it with sprinkles, put a ring pop in it, and do a printable that says 'ring in the new year?' It's awesome and you can find a pic HERE, but that's more than I could ever pull off FO SHO 😉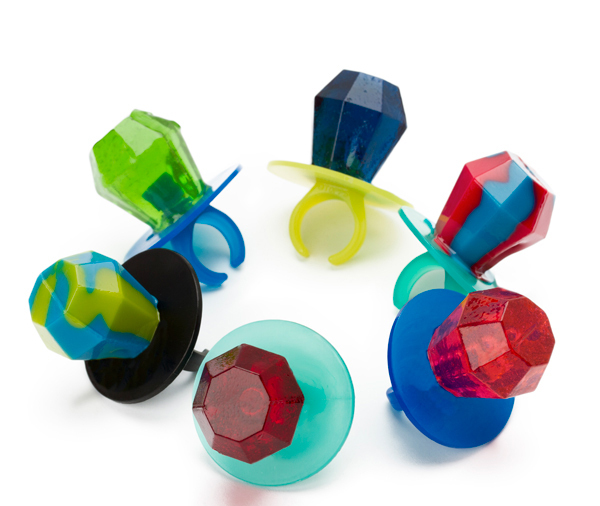 For a fun party food idea, do make-your-own pizzas! You can be as homemade as you want, making the dough, sauce, chopping toppings, etc., but I simply bought a couple of frozen cheese pizzas, and then placed some black and green olive "rings" on them. I do have a post that shows you how to make a two ingredient pizza dough that is delicious and good for you HERE! I had each mini spell out 2018 in the toppings on each pizza…2-0 for one and 1-8 for the other! You can use mini pepperonis too! And you could have some Funyuns on the side since they're also shaped like rings!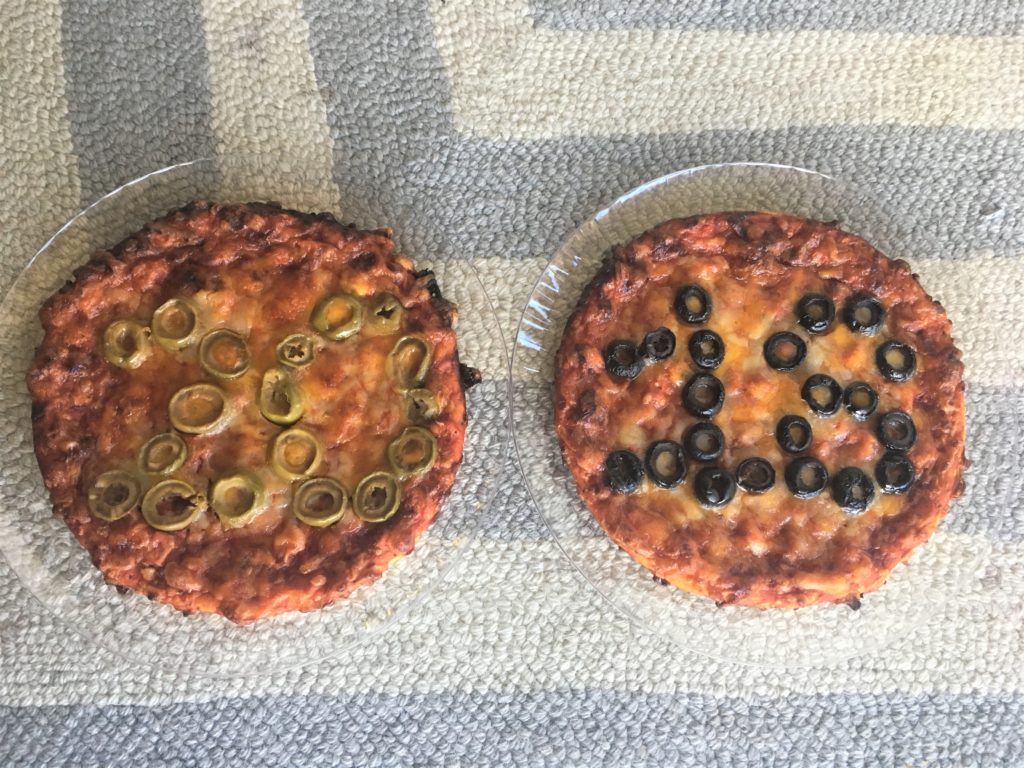 Of course we needed some desserts to sweeten the night! So I made some funfetti cupcakes (because it reminds me of confetti), iced them, and then put other ring-related/celebration toppings on them! Some examples: Wint-o-green mints, peach rings, ring pops, rainbow sprinkles, gold sprinkles!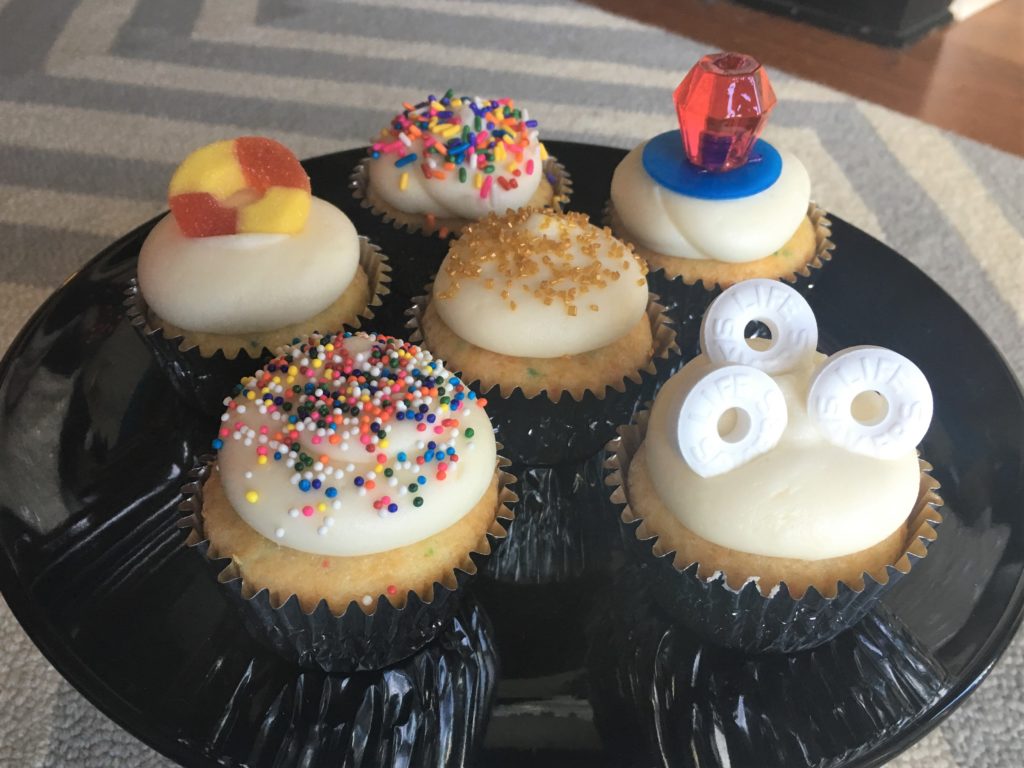 For their "toast," I would put milk in a champagne flute, and the smaller Entenmanns donuts on top (because donuts are in a ring shape). It's a fun update to milk and cookies, and I'm a sucker for donuts 🙂 In order for each kid to know which flute is his or hers, you could borrow the wine charm idea, but use rings with different decor on them. In this pic, you can see a ring I borrowed from Isabella's science kit! The best part is that most kid rings have a gap in them anyways making it easy to go around the stem of a champagne flute!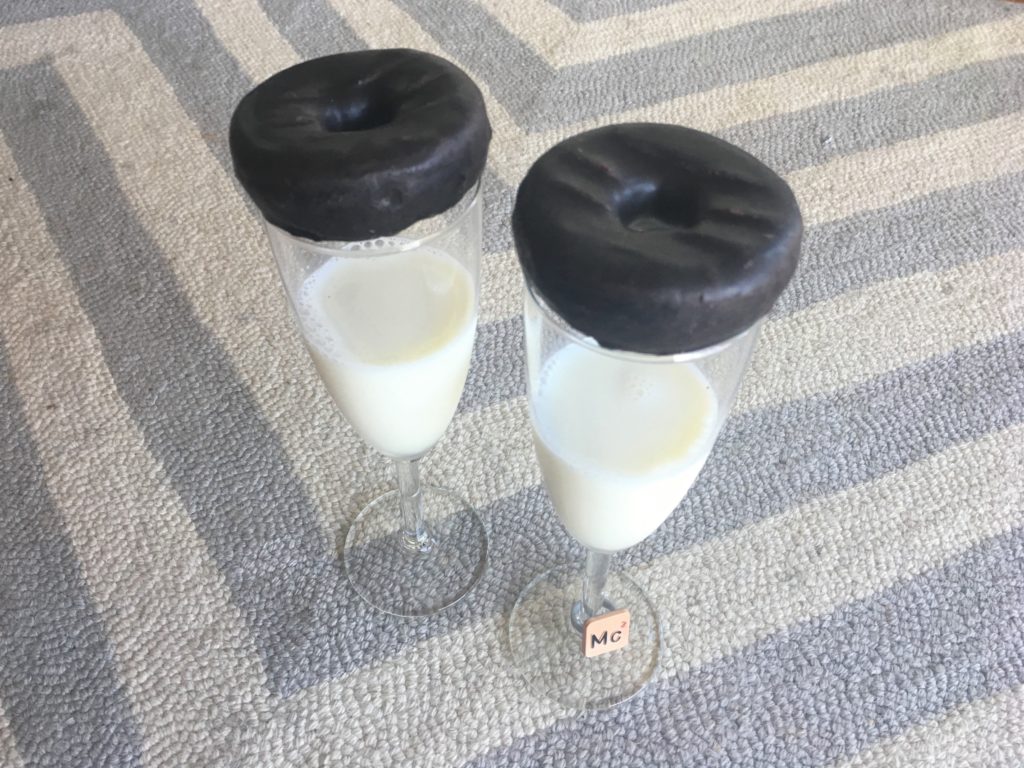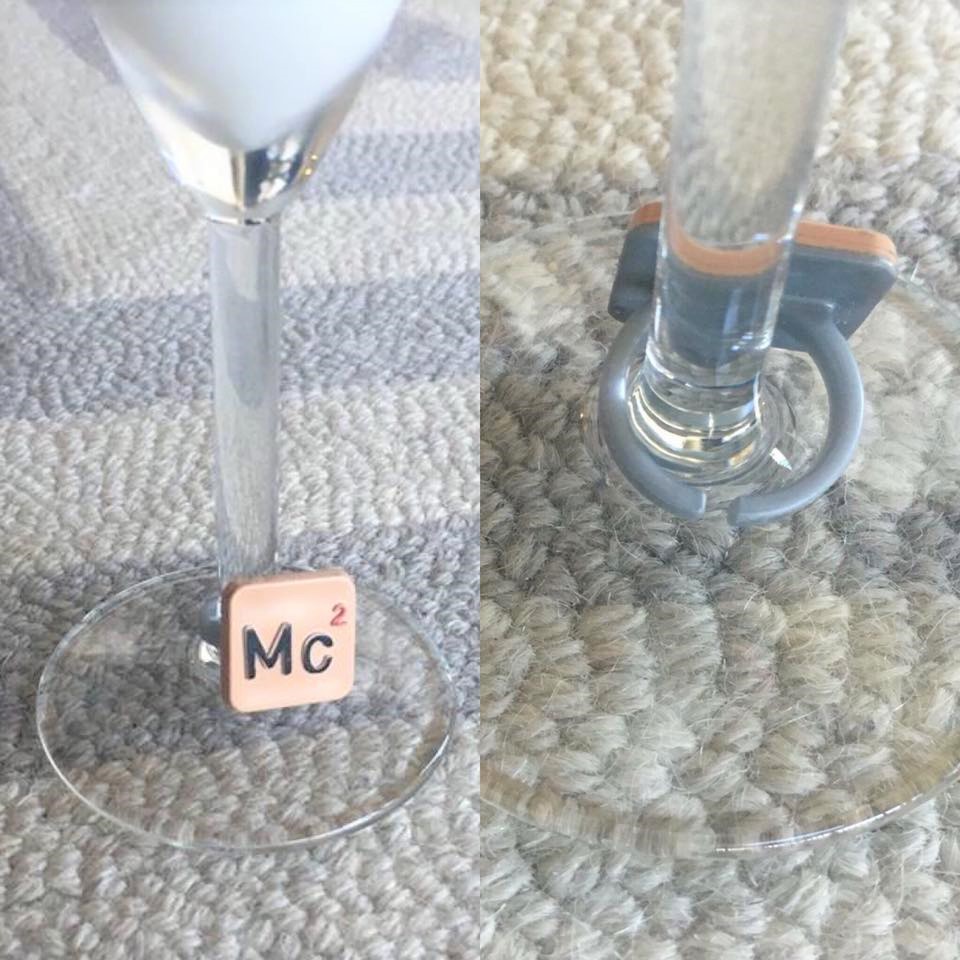 I wanted to make noise makers for the special night and of course, they had to have a ring theme as well. The best part is that you probably have everything you need already on-hand (see what I did there) 😉 Take leftover small paper or plastic plates, and put dry beans in one of the plates. Hot glue a popsicle stick to the bottom of the bean-filled plate, and then put hot glue around the outer ring of the plate and put the other plate on top!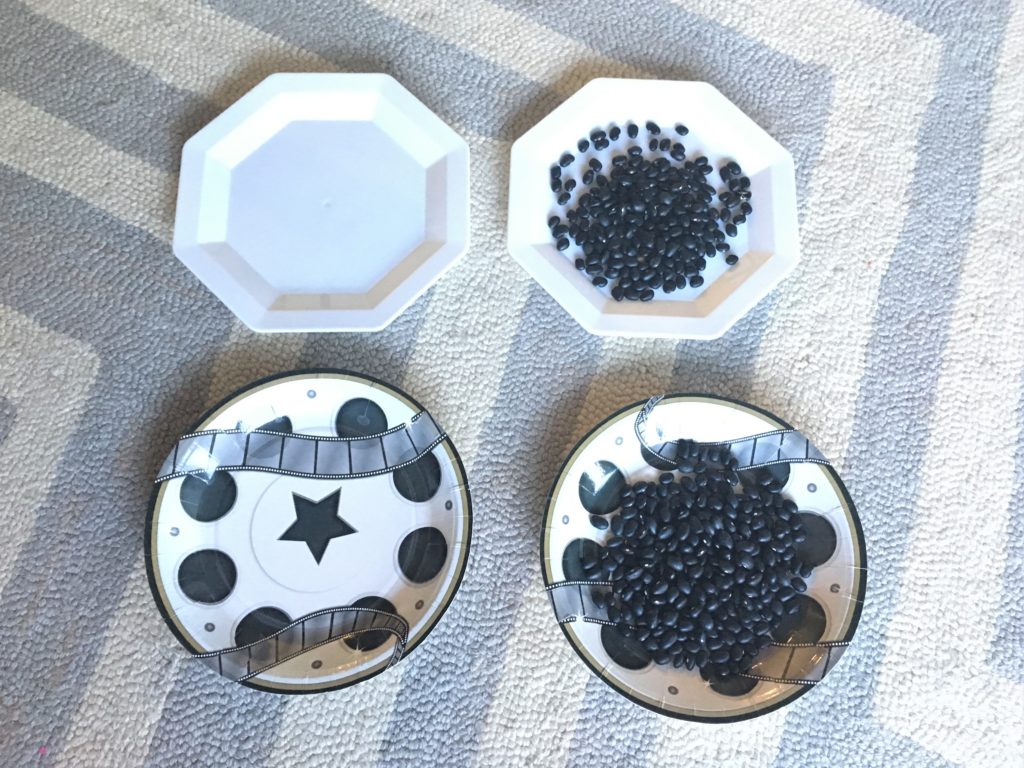 Then have your kiddos decorate their plate however they want (we used puff paint)! You can even add a pipe cleaner to the top of the plate, bent in a way that it will resemble a diamond on the top of a ring! If you recognize the movie star plates, they're from Bella's 11th birthday!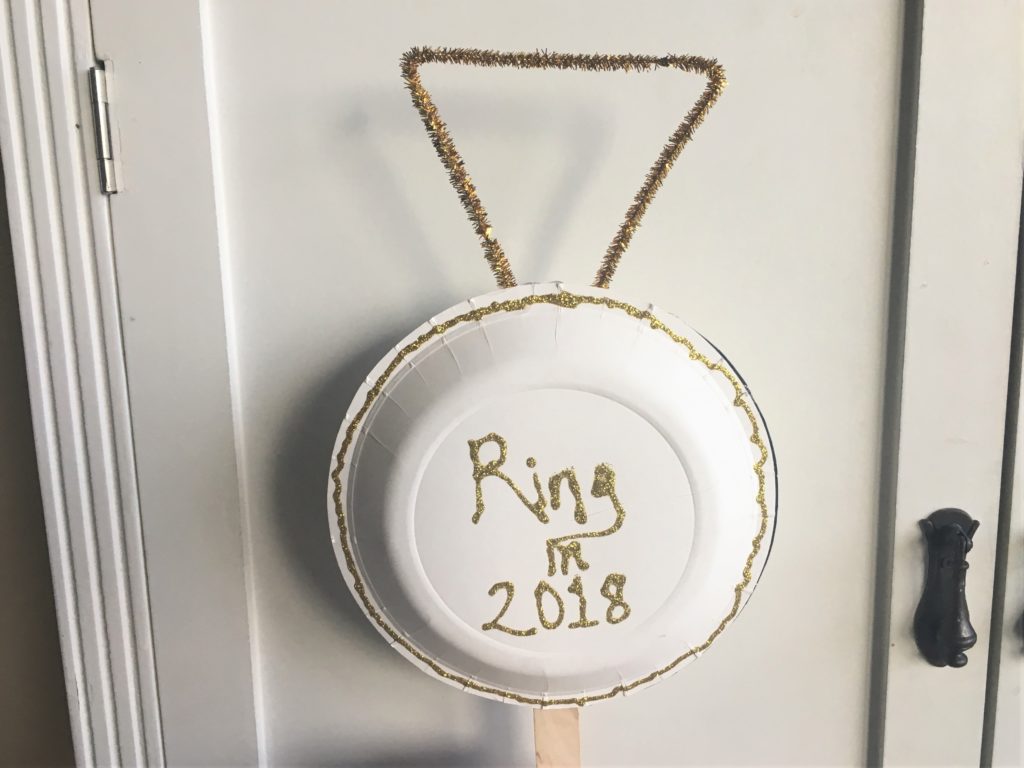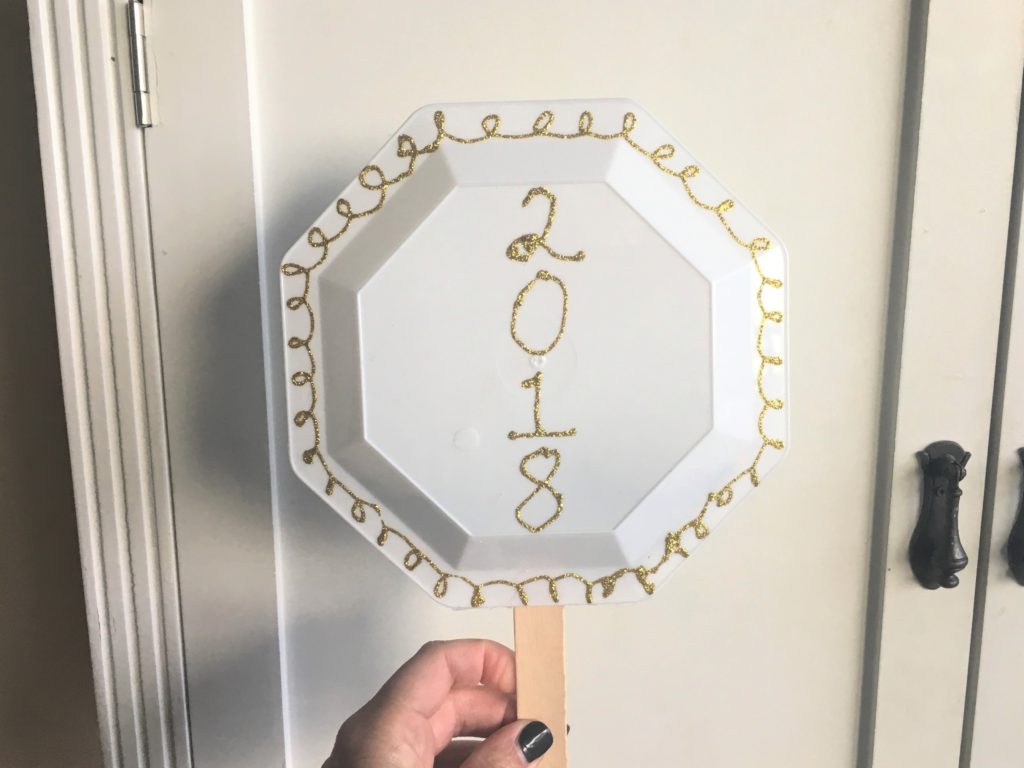 Some other cute ring-themed games to play during your party: ring toss (you can buy a cheap set just about anywhere), or ring-around-the-rosie is FREE! But one of my best hacks (that I teased at the top) is to pull up London's countdown (since they're 5 hours ahead of us) on YouTube whenever you want the kiddos to go to bed, and use it as your countdown! Our kids were in bed by 8 or 9pm using this trick for years (change the clocks in the house if need be) 😉 #protip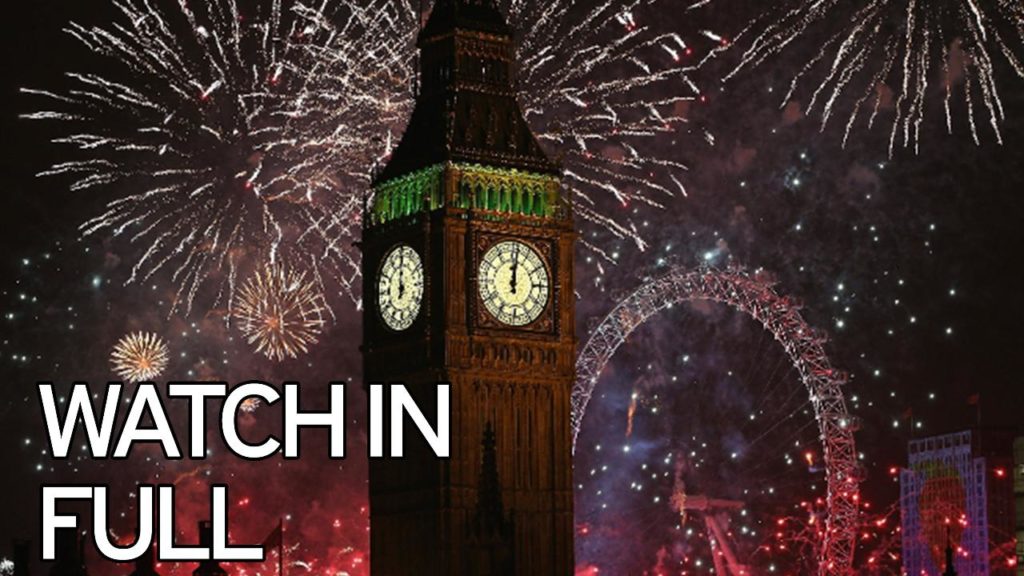 Whatever you decide to do for New Year's, have FUN and BE SAFE! There is not one single reason why anyone should drink and drive. It's not about you thinking you're "fine" to drive; it's about all of the other innocent people on the road that don't deserve to have to dodge your death bullet. Okay, PSA over (very sensitive subject for me).
Here's me on Charlotte Today talking about these ideas!!!

For things I've mentioned in this article, here ya go: