Let's keep this gift guide party rolling right along!
In case you missed it, I'm doing mine a little different than the rest I've seen floating around the Internet! That's because we do gifts a little different in our house. We have a four gift rule, and only give our kids a want, a need, a wear, and a read!
So when I created the gift guides, I did them in those specific categories. If you missed the WANT guide, click HERE! But this guide is all about the NEEDS, which personally, I find so much easier to shop for in general! I'm the kind of girl who doesn't love the excess that comes along with gift giving and receiving, but when it comes to needs, it is what it is, right?!
I feel good suggesting these things as gifts because although YES, you can certainly survive without them, they do not go to waste, are useful, keep you safe, last years, are practical, etc. That's what denotes them as a NEED in my book!
Also I have to disclose this every time 🙂 I'm an Amazon affiliate, which means that at ZERO additional cost to you, I make a small commission from what you purchase through my links, should you buy anything via my blog! It's the way that Amazon says "thank you" to me, and again, all of the pennies are appreciated! xoxoxo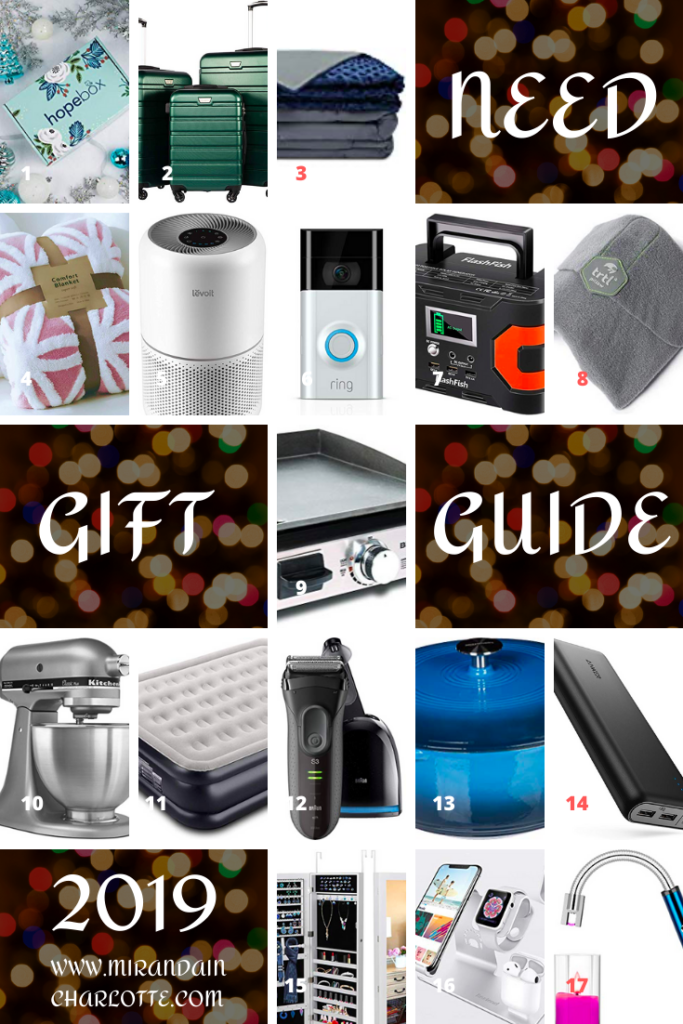 Hopebox We all need hope and encouragement, right?! Full disclosure: this company is owned by my best friends, but all the more reason why I love it! Get a box once, get it a few times, or get it monthly….up to you! The box is full of sweet little gifts that are meant to give hope to anyone who receives it, and the holiday box is up for the grabs right now, so hurry and get your order in now!
Coolife Luggage On a recent trip to NYC , I realized that I didn't own a suitcase! YUP! That's right! ! I've never been anywhere far enough away, or for long enough, that warranted a proper suitcase I guess?! So I searched for some on Amazon with great reviews, and here's what I found! Check out all of the color options, and I'd grab these TSA compliant toiletry bags too!
Weighted Blanket If you've been hearing the benefits of weighted blankets and have been thinking about trying them out, I'd do it through Amazon! You have 30 days to return it! I have heard awesome reviews about how much better adults AND children are sleeping from the benefits of the weighted blankets! More than 10K ratings and 5 stars….nearly unheard of on Amazon! (Don't forget to apply the coupon)!
Sherpa Fleece Blanket Speaking of blankets, I bought this one months ago, and use it curled up on the couch every night! It is so soft and cozy and I love the pattern on it! You MUST check out the other colors offered (the green one would make a fabulous hostess gift), and there's a coupon right now! I also think this Eddie Bauer cabin plaid sherpa throw is so damn festive!
Levoit Air Purifier If you have a person on your list with pets, allergies, smokers in their life, etc. then this purifier would be great for him or her! Or honestly, it's a must for anyone who wants to have pure air in their home!
RIng Doorbell We might be one of the last people on Earth to not have one of these yet, but we just haven't bit the bullet yet! But Joshua has it on his list! Is this the year I finally remember to get it for him? We shall see 😉
Generator So here's the deal. We got pretty lucky last year because a ton of people in our city lost power for weeks during a string of hurricanes, and we only lost it for a day or two here and there. BUT, Joshua and I discussed getting a small generator to have on hand to charge phones, computers, etc. This one fit the bill, and as I read the reviews, I saw a lot of people used it for CPAP machines when the power went out or when they went camping. Which reminded me we could use it on our camping trips too! Anyway, I think it makes a great NEED gift!
Trtl Pillow If you have a traveler, or a car sleeper, they want this neck pillow, I promise! Heather McMahan, one of my favorite people to follow on IG EVER, never stops talking about it, so it must be the best! Speaking of other things she loves, these straws #savetheturtles 🙂 I can't do the metal straws on my teeth, but the silicone are all good in the hood, and make awesome stocking stuffers!
Tabletop Grill If you have a grill master, tailgater, camper in your life, then I think they'd love this tabletop grill! Works off propane and you can get a 17, 19, or 22 inch one! My dad would love to have this…he's the chef and is always cooking at our campsites (with me right beside him)!
KitcheAid Ever since I started my cake business, I've had this kitchenaid mixer, and it has seen it all! It really is the best, and I'll praise it until the day I die. Sure you can use a hand mixer, but yall, buttercream is made easiest in this thing…it just is. Get the damn kitchenaid for the baker in your life! Love you, mean it! 🙂
OlarHike Air Mattress Hear me out! I know it's not the most glamorous gift, but you can't put a price on sleep! If there is someone in your life who is always having people crash with them, and they don't have spare beds, get them this! If your kid is away at college, they have friends sleeping over, I assure you, and they'd love this! Or they're visiting their friends at other colleges and can take this with them! If you have friends who camp, they'll love a great air mattress (I know this first-hand), or you have family who hosts you a lot, and are always scrambling for extra beds, gift them this!
Braun Electric Shaver Joshua is an electric shaver kind of guy and absolutely loves it! What he likes about this one is that one full hour of charge lasts about a week's worth of shaving, if not more! And it has a trimmer part that does the back of his neck at his hairline in between his weekly appointments (he's so high maintenance ;))
Dutch Oven Every kitchen needs this piece of cookware even if to simply cook whole chickens for chicken and dumplings. And the vibrancy of colors on these are just GORGEOUS. I've compared the reviews to the other ones 3-4 times its price and I just don't see the difference in quality to justify those higher prices AT ALL.! Get this one!
Anker Charger This portable charger is what everyone needs in their life. At fully charged, it will charge an iphone five times from 0-100% in a matter of a few hours. It has two USB ports, and thus can double its workload. It's basically my BFF 🙂
Jewelry Armoire My girl, Kelley, got this last year and talked about how much of a game changer it was for her, I decided it was going to make the need list! If it's functional, organizational, and solves a problem, I'm all about that life! Yall, get this for the lady who loves jewelry and accessories in your life!!!
Charging Dock If you know someone who needs to get all of their electronics neatly charging in one place, this is the dock! A place for the phone, the watch, the pods, etc.! Gets all of the mess out of the way, and the nightstand or countertop can look at little bit neater, maybe! 🙂 Oh, and even if that won't work due to space constraints, I did see this!!!
Electric Candle Lighter I'm sick of buying aim n flames! There I said it LOL! So when I saw Julie with table for two talk about this electric candle lighter, I snagged one! And I love it! You legit charge it, and then it lights your candles with what kind of looks like a taser! I'll never have to buy a lighter again!!! Makes a great stocking stuffer or white elephant gift too!
There ya have it folks! The most random assortment of needs you ever did see, and none of them really for kids as I look back through that list now! LOL! But as I said in my blog post yesterday….I feel like kids have no problem handing over a list of things they desire! It's the adults who are trickier anyway. So that's why I focused on the more grown-up things to begin with, and I hope it helps! If you have any questions, please ask in the comments!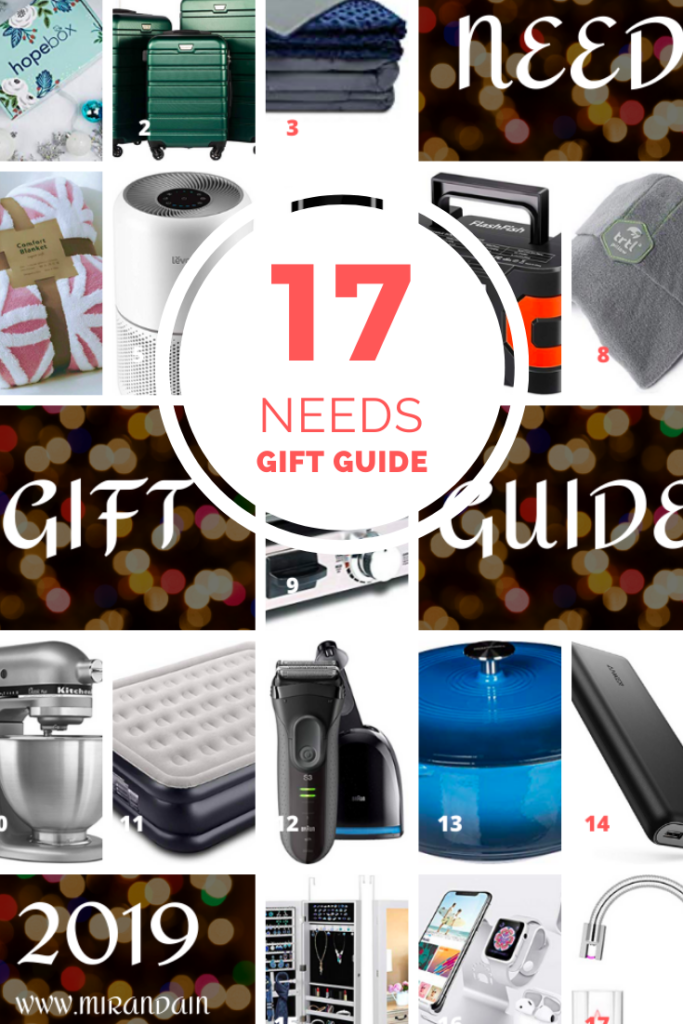 And I'd love if you shared this post, should you find it helpful at all…just hit the facebook logo below….just right down there….yep, down and to the right, I believe! Thanks so much!
Here ya go Ang!!! CLICK!