I know. I'm as shocked at the title as you are. 😉 And I promise I wanted to put an exclamation point at the end of it, but I'm not there yet (I will be…I know it)!!! Give me a hot minute 😉
But the truth is this…I never want to move out of the condo. I LOVE LOVE LOVE #condolivin.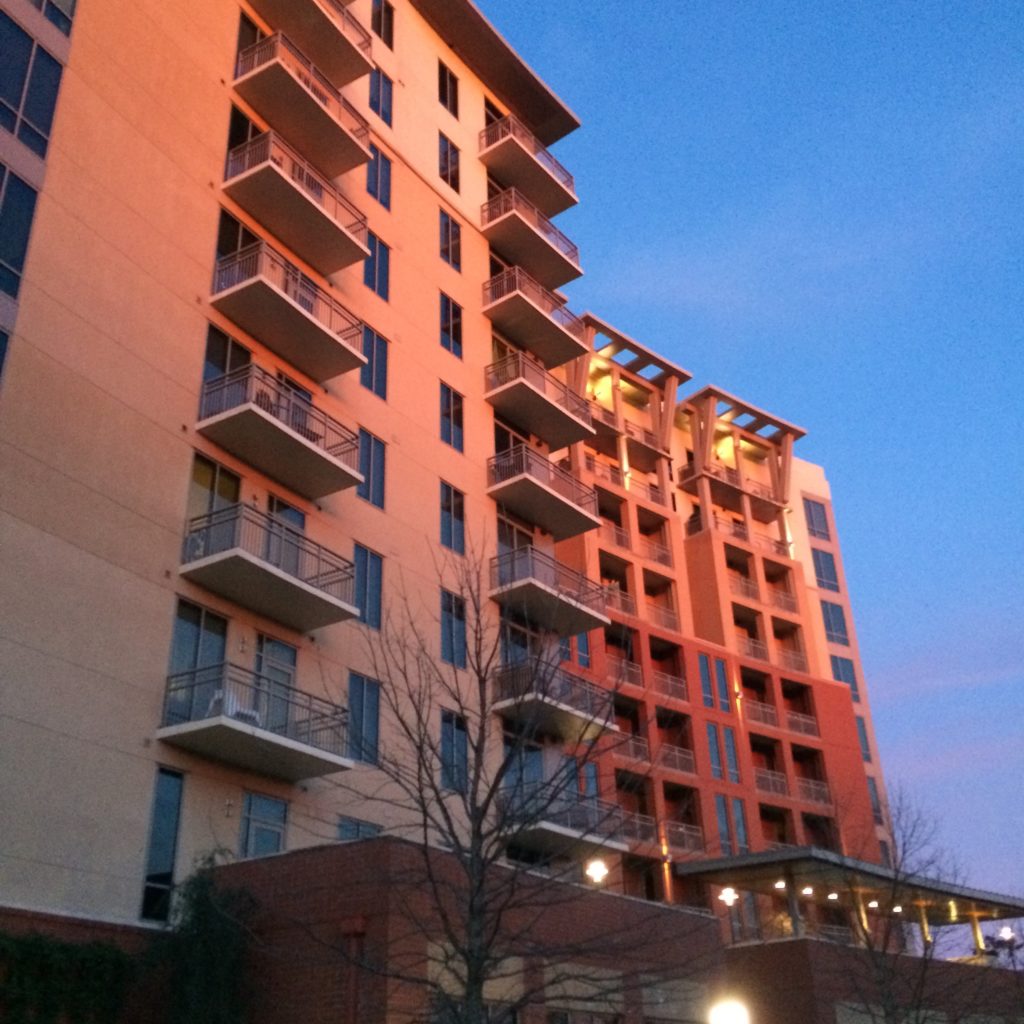 I LOVE where it is located, in this perfect mix of Dilworth and uptown. We can bike EVERYWHERE, and get to museums and sporting events and parks without ever getting in a car. I love having a concierge to schedule appointments and be there when the cable person comes, or to deliver us packages. I love having a gym (WHAT?! I used it at least 20 times in almost three years ;)) for Joshua to workout in when the weather was too crappy for him to run outside. I love having a lounge area, free of charge, to use any time it was available, to host parties in! I love having a pool and hot tub, and outdoor kitchen/grill area to hang out, and enjoy the gorgeous weather!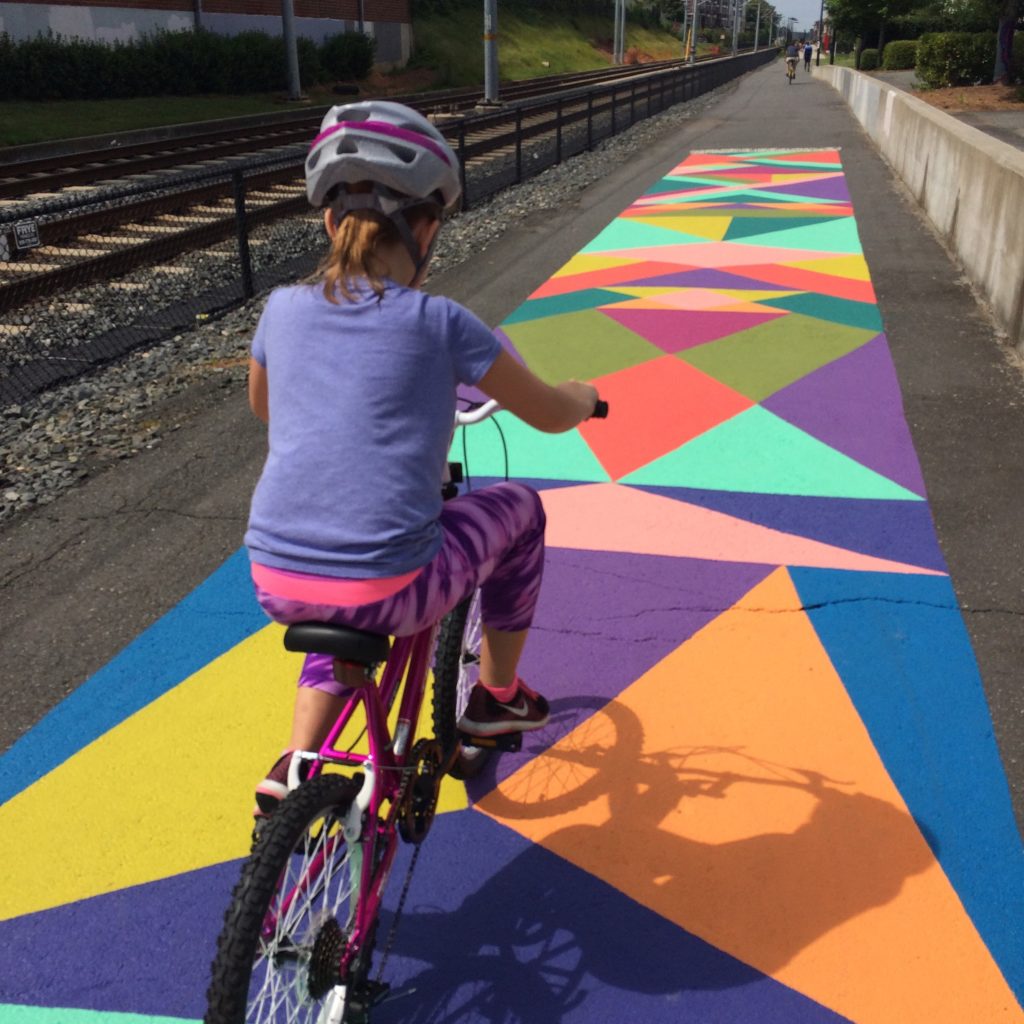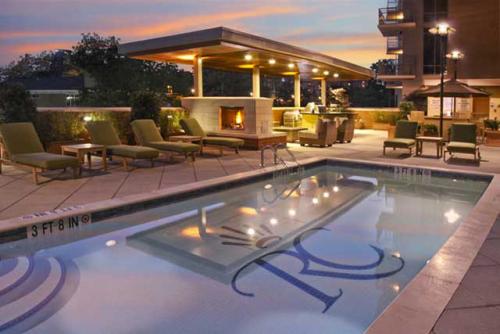 AND CAN WE TALK ABOUT THE VIEW?!!!
I love my balcony, and staring at the gorgeous Charlotte skyline. The cranes erecting new skyscrapers, offices, and places for people to live! I love the noise of the traffic, the helicopters, and even the sirens. I like how busy it always feels outside of my sliding back door. I'll miss taking #viewfrommybalcony pics, trying to avoid getting the power plant in the bottom of my pic and all 😉 I'll miss sitting on the balcony, reading a book, while listening to people drive way too fast on 277.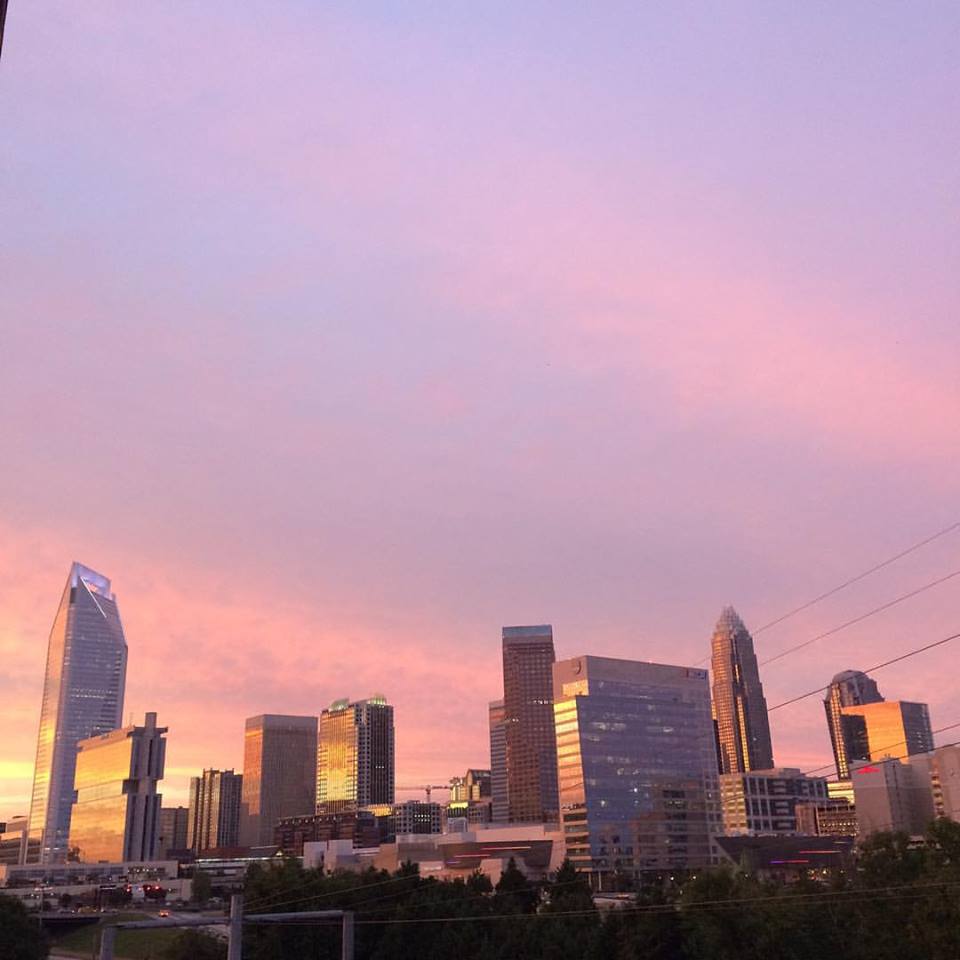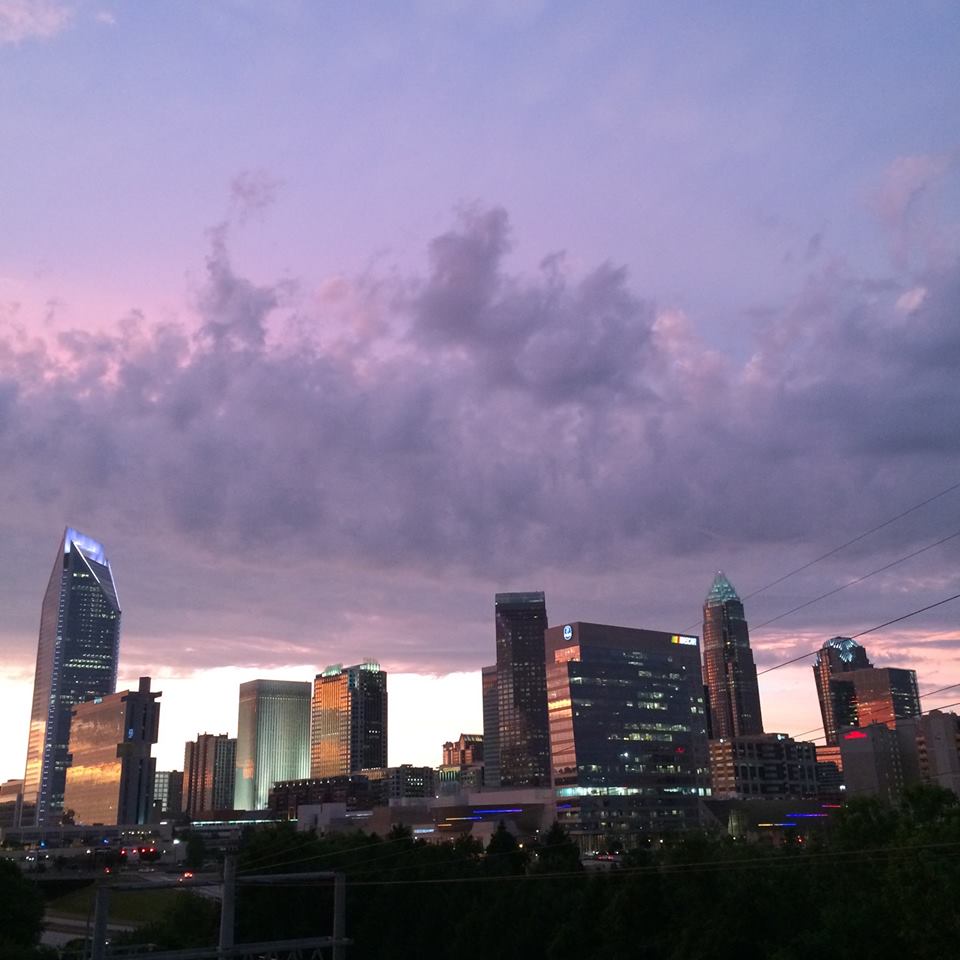 But #condolivin does have a few downsides. I'm convinced we have THE MOST SENSITIVE SMOKE DETECTOR EVER CREATED. I understand that they are needed, especially in a building where you making a bad decision can affect everyone else. But I can't sear a steak, bake a pizza, or cook bacon without it going off 12 times (sorry neighbors)! Or carrying up a week's worth of groceries took multiple trips, even though I'd try to carry it all at once. Problem is you still have to be able to scan your key fob to get into the building and onto the elevator! This is when shoulder dislocation comes into play, and a spilled gallon of milk for good measure. I've also had to wear a bra more, because if I have to run down to my car/throw out garbage in the chute/get the mail, I need to not run through the building sans bra. 🙂 And if one of us forgets something when we get to the car, it's a 10 minute round trip to get back in the building, up the elevator, into the condo, find the thing, get back on the elevator, come back outside, and get in the car. Now, try doing that with anywhere from two-five kids already buckled in car seats. BAD WORDS.
But the GOOD so far outweighed the bad. I love living in 1100 square feet, even when we were a family of seven. I LOVED IT. Small spaces are manageable, to clean/organize/live in. It really forced us to get rid of crap that was simply piling up, or was there "just in case." When a new toy or clothing item comes in, one goes out. We have never had a storage unit, and no one is keeping our "stuff." What is in the condo is what we have to our name. We have one living space (our kitchen and living room are open to each other), two bedrooms (the minis share), two bathrooms, a laundry room, and that's IT. I can plug the vacuum into an outlet in the LIVING room, and vacuum BOTH bedrooms far corner to far corner without unplugging!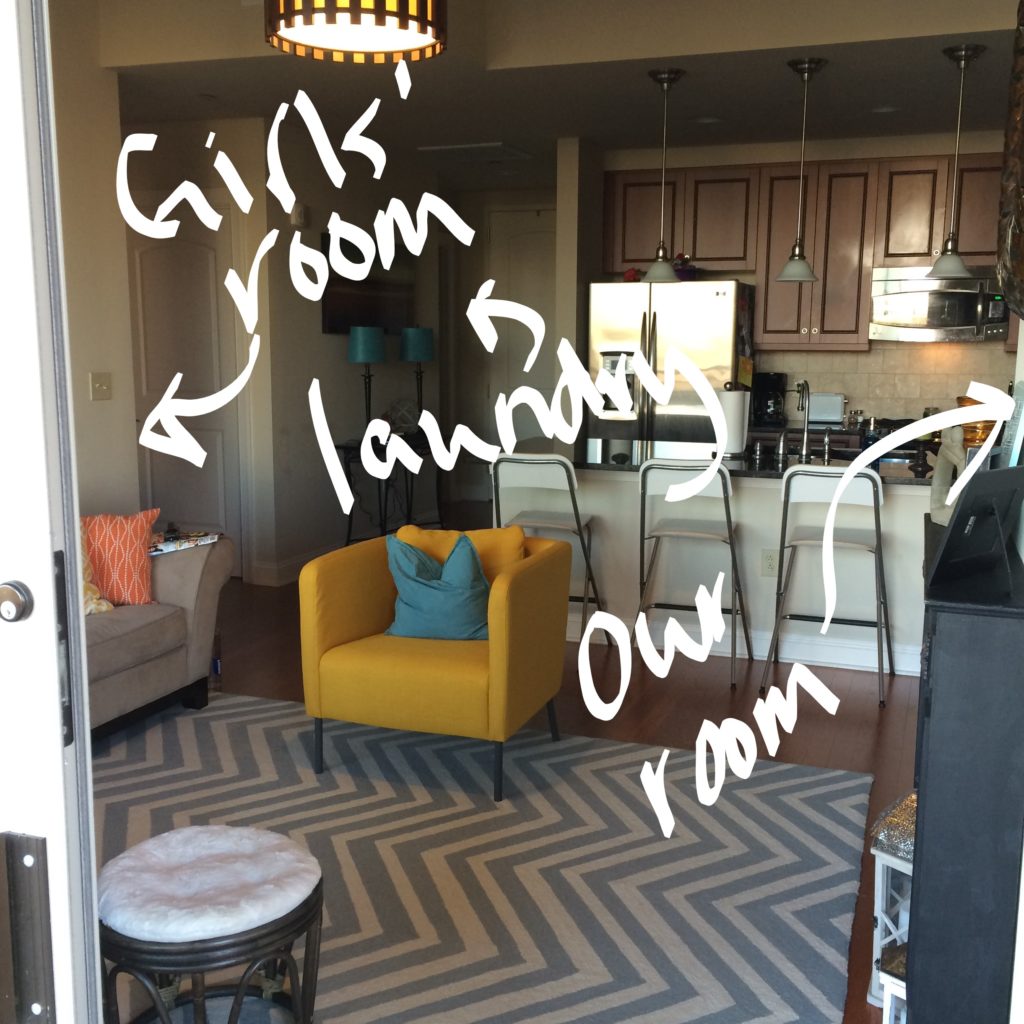 Needless to say, I LOVE condo living, and would stay for the rest of my life if I could!
So why are we leaving then?
Well, for starters, it looks like we'll have John and Joy's kids again summer of 2018, but they'll have four kiddos because baby sister was born yesterday!!! If you want to read about the last time we had their kids, head HERE and HERE! So that would make us a family of two adults and six kiddos under 11! And although I know I could fit eight in here (what's one more?!), many others thought differently than me 😉 I told them that I could do two sets of bunk beds again, and I could pull a mattress out from underneath the one set nightly, and the baby could be in the closet again, but I was vetoed. So that's what started the GREAT MILLER HOUSE HUNT OF 2017. But before I get too far into the GMHHO2017, let me explain our situation.
Our friends rent the house we own near Lake Wylie and have it until Feb 2018.
We rent the condo and are month to month right now.
Joshua would have to carry the loan for a new house by himself.
Bella goes to a magnet school, Piedmont Middle School just outside of uptown
Lilly goes to Dilworth which is very close to uptown and Piedmont
And since we already covered that I didn't want to move far from the city AT ALL, it meant we were looking within a five mile radius of uptown, and focused on 3 bedroom condos/town homes. Guess what there's not a lot of?! THOSE. Apparently only DINKS (double income no kids) and retirees/empty nesters live in them according to builders, so there weren't a lot of 3 bedroom/2 bath on the market (in our range).
So we started to look for actual houses, which also means, SHIT IS EXPENSIVE. I'm talking TEAR DOWNS go for $450K in our ideal neighborhoods. Then you still have to have the money to BUILD A WHOLE NEW HOUSE. And we didn't even want a big house…I was saying I wouldn't entertain anything bigger than 1400 sq ft, and still couldn't find anything that worked in our price range?! So WHAT WERE WE GOING TO DO YALL?!
Enter Mary and Jack…you met my parents in THIS story 🙂 Well, when I was a sophomore in high school, they bought an old, big house on Yorkmont Road (the farmer's market and the old Hive are landmarks if you're not familiar with the road). They lived in it until they got their condo uptown a few years ago, and my sister moved into the house, and still lives there! Anyways, they came to me recently and said, "not sure if you know this, but we bought the lot next to the Yorkmont house years ago." "Really?!" I replied. "Yes, we did, and we've been talking, and we think that you and Joshua could just build a house on that lot!"
Annnnnnd, the plot thickens!
Click HERE for PART 2!
But first, here's a pic of my new baby niece, Evelyn Rosetta Thomas…