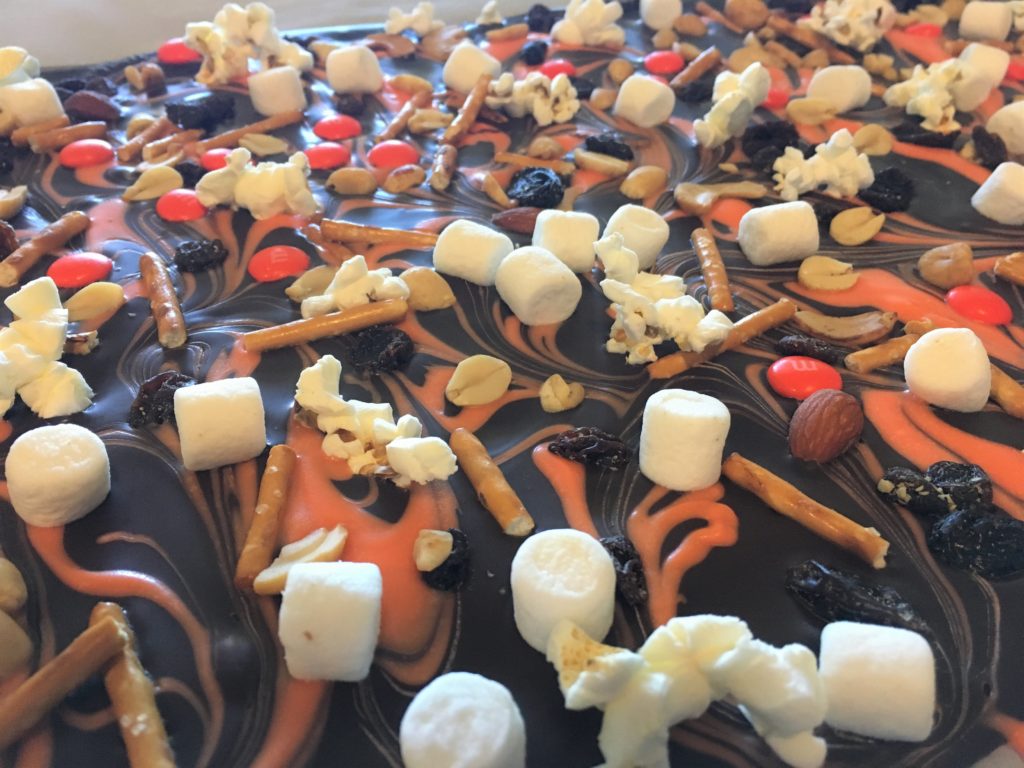 My daughter, Bella, recently went gluten free. Without getting too much into her personal body stuff, her stomach has been hurting for a long time. And with her aunt and nanna both having gluten sensitivities, I decided to eliminate it from her diet and see if there was an improvement. I knew it would probably be the first thing her pediatrician suggested too, so I figured I'd do this experiment before I paid a copay 😉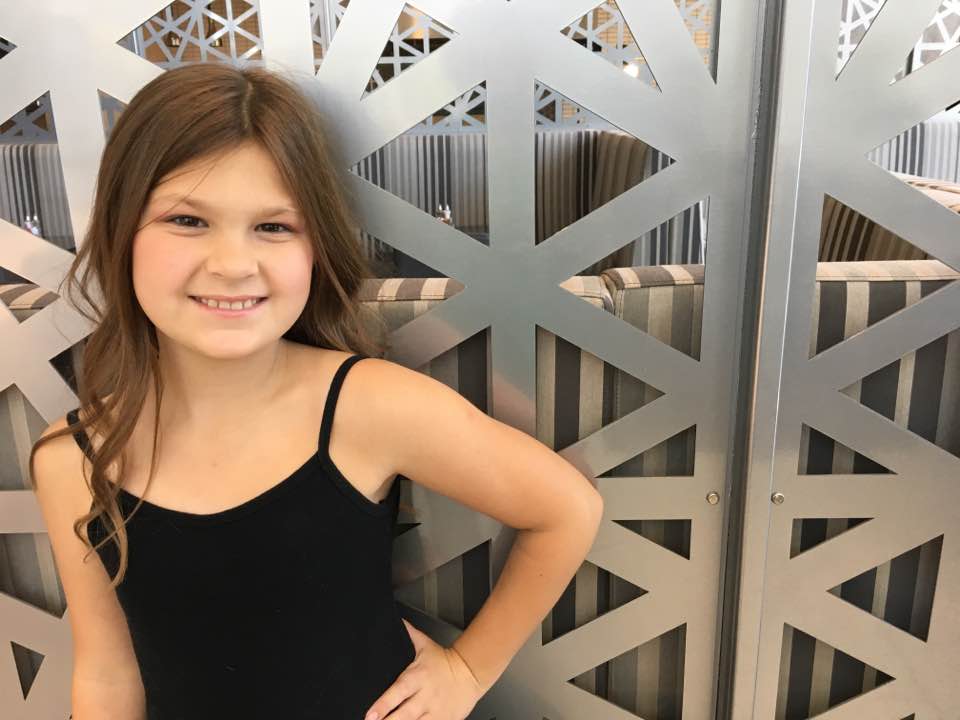 Sure enough, she is feeling MUCH BETTER! She hardly ever says her stomach hurts anymore, and sure, it could be the placebo effect, but I'm thinking this really may be helping her for reals! But since she's been gluten free for about 3-4 weeks now, she's had to give up a lot of her favorite treats. And with Halloween coming up, I wanted to make her something special…to show her she can still indulge, and yet stay on track!
ENTER GLUTEN FREE BARK!!!
I'm a fan of making bark year round, for any occasion, because it is SO FREAKING EASY, but also because if gives me a chance to use up a bunch of random stuff I might have laying around in my pantry! For this bark, I honestly had put a bunch of gluten-free candy in my grocery cart, but then I started thinking about everything I already had on hand at home (that I've been putting in her lunches), and threw this together with only having to buy the chocolate at the store!
Start with melting the chocolate; I used this kind…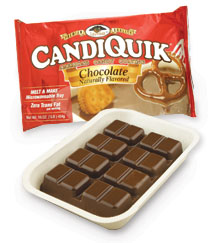 Remember our chocolate-dipped strawberries from Easter? I told yall to always save your colored chocolate, right?! That's because you can reheat it again and again! So I grabbed my orange and got it all melted (add vegetable oil if it's thicker than you'd like), and get ready to swirl!
Next, have all of your toppings ready to go! I used (always double check your packaging for gluten-free goods):
Gluten free pretzels sticks (love the ones from Aldi)
Mini marshmallows
M&Ms (orange)
Trail mix (peanuts, cashews, raisens, etc.)
Popcorn
Line your cookie sheet with parchment paper, pour the melted chocolate onto it, and spread it out in a nice even layer (edges do not need to be straight at all). Grab your orange chocolate and just drop it on the milk chocolate…no need to be perfect here either because you're going to swirl it anyways! Take a toothpick, tip of a knife, skewer, butter knife, whatever, and start making figure eights all over the chocolate until it looks pretty!
Working quickly (while it's still melted), drop the toppings all over the chocolate mixture! Once they're all on there, press the pieces that are sticking up and not touching any chocolate, to make sure they'll harden in it and stay put. Pop the cookie sheet in the fridge and let harden completely.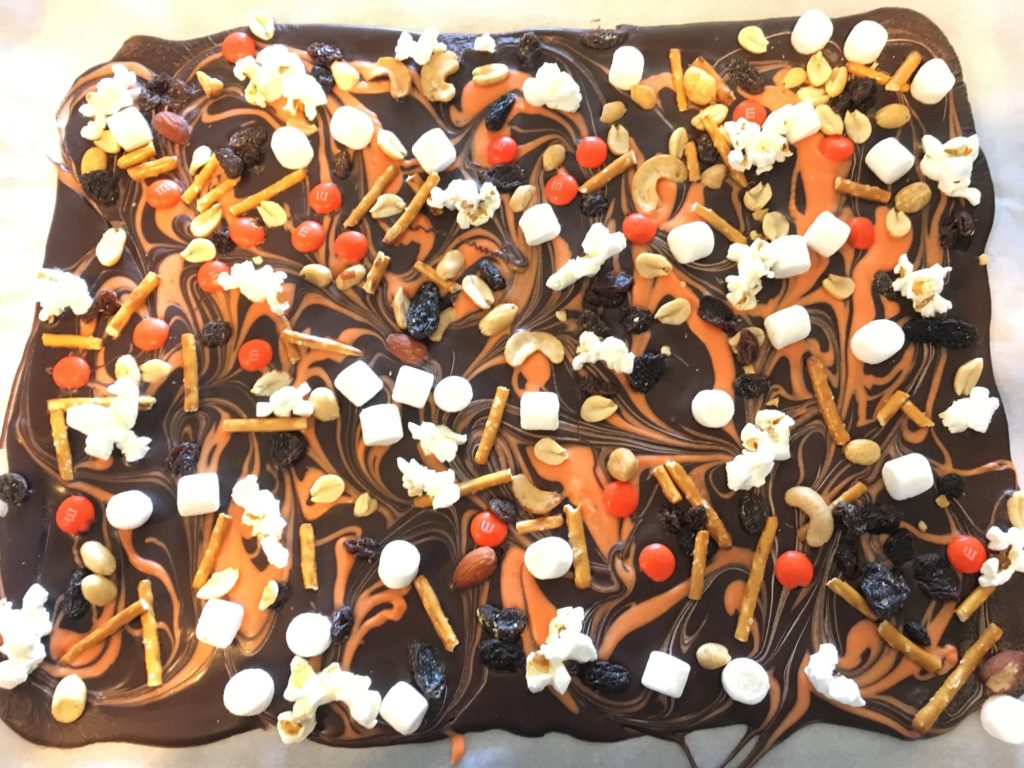 Once cooled, take it out, break it up (with your hands), and display/wrap them up however you'd like! I used clear spiderweb bags so the cute bark can still be seen through them, but use whatever you find that's cute!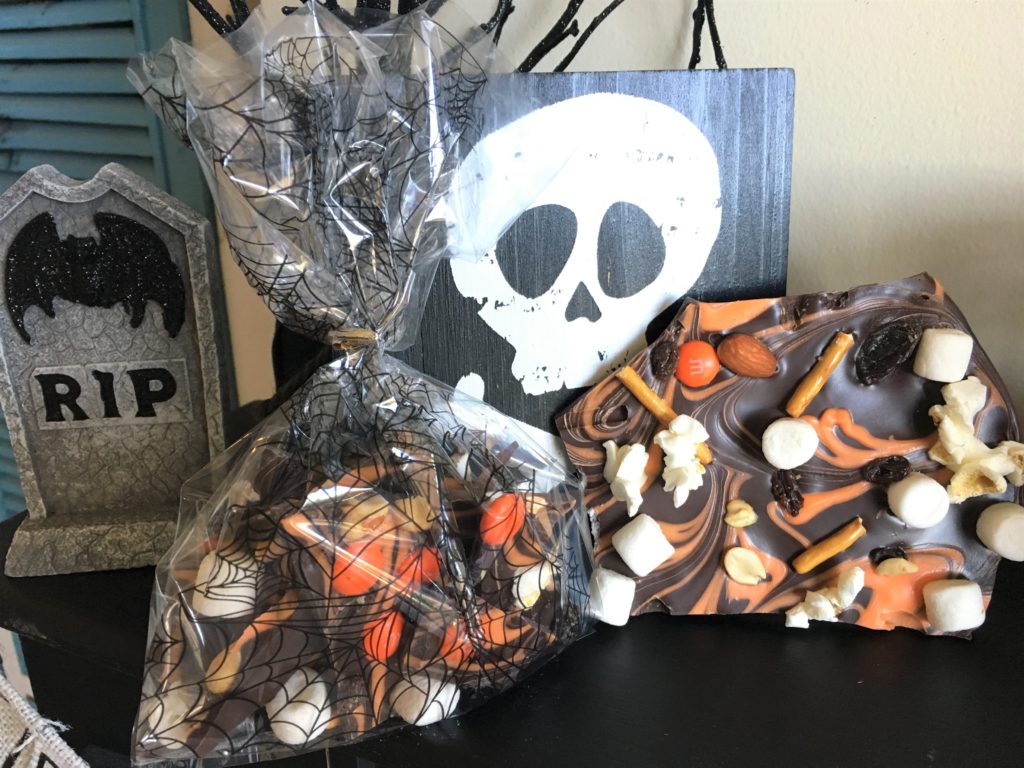 This treat is so perfect because it can be adapted to ANYTHING…any occasion, holiday, color scheme, etc. The possibilities truly are endless! These make a great hostess gift, especially with holiday season coming up. Because they can stay fresh in your fridge, you can always have some on hand, although you don't have to refrigerate them by any means! You know what I would do if I were you? I'd take some of my kids' Halloween candy and save it to make Christmas bark 🙂
And guess who loved her gluten free surprise after school today?!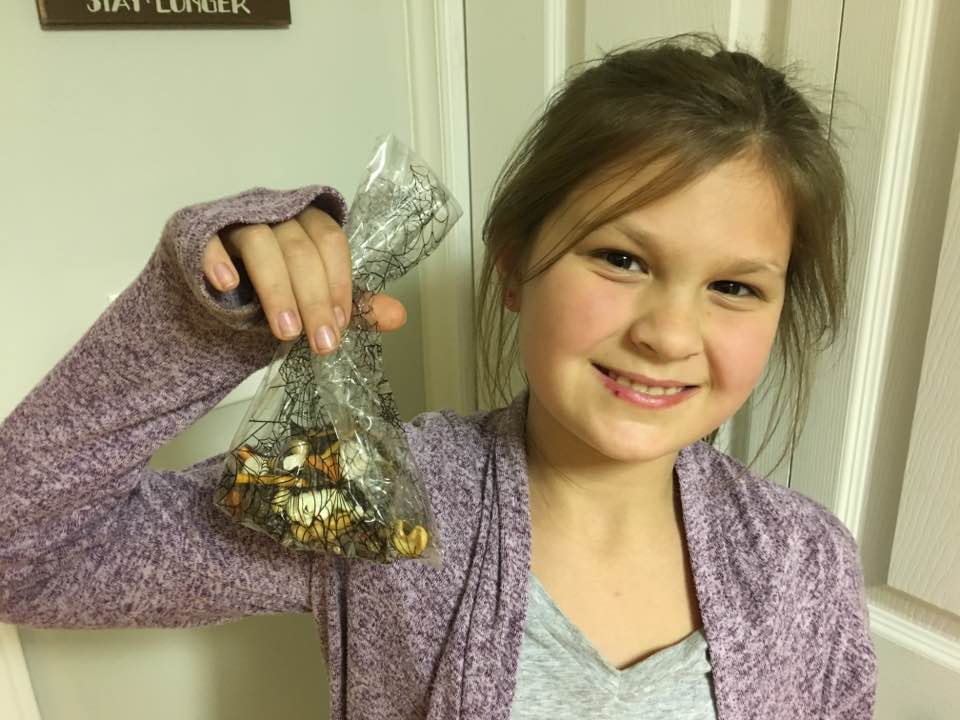 DON'T FORGET TO PIN IT!!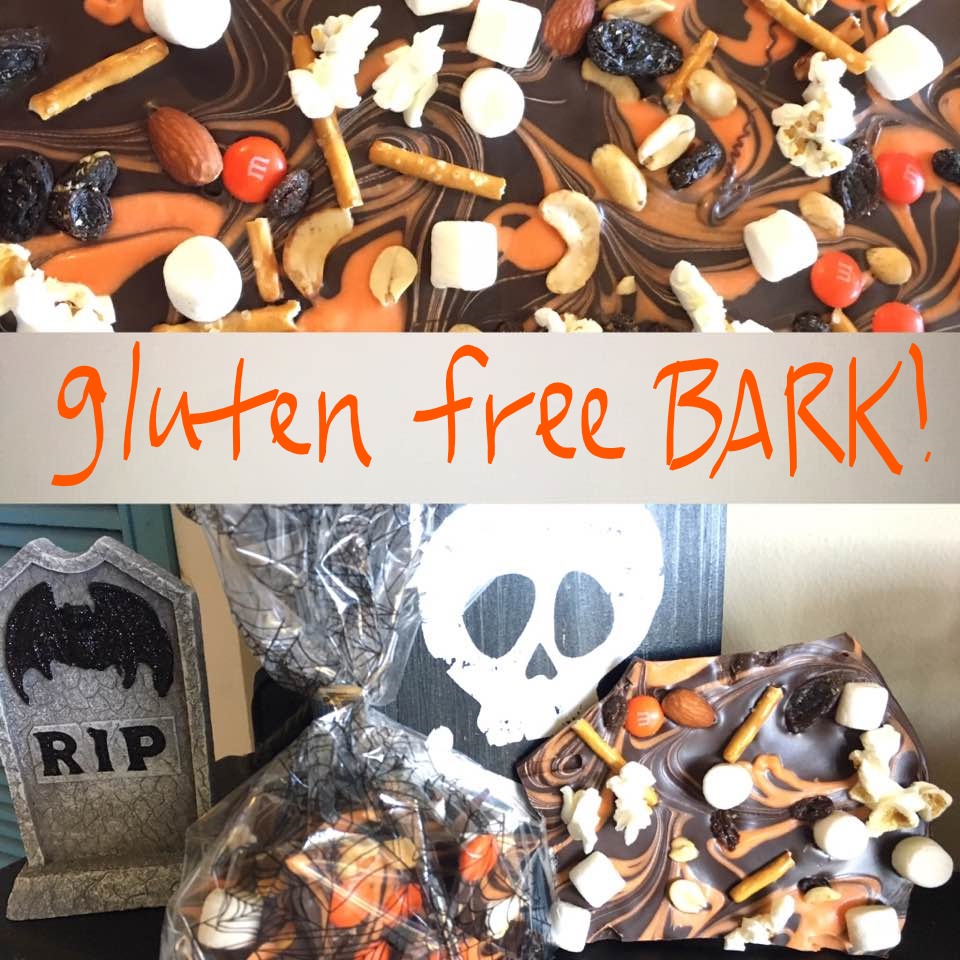 Check out my other Halloween post about how to use Babybel cheese as the perfect Halloween snack, and it's also gluten free (plus I need your vote on something over there)!
What are you going to put on your bark?!