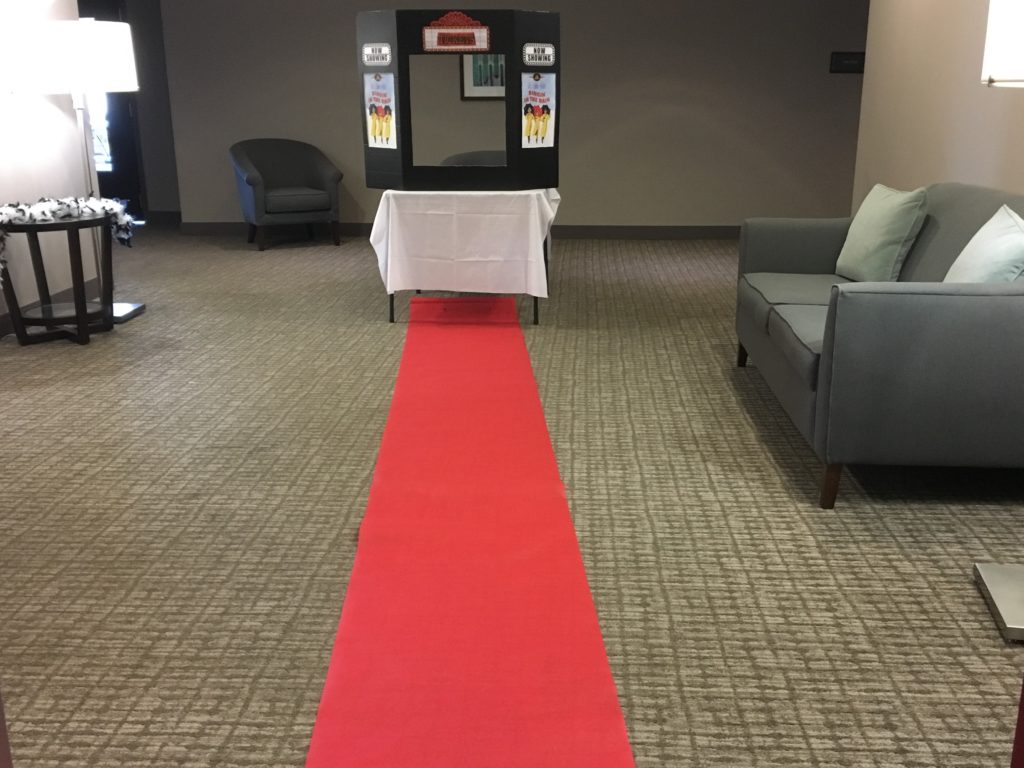 We rolled out the red carpet for our oldest, Isabella Grace, who was born on Labor Day 2006. That's right! I was in labor from 12:30am-6:11pm on all of Labor Day! It's actually a super funny story that deserves it's own blog post, so standby for that! But this one is all about our girl's 11th birthday party!!! And since it actually FELL on Labor Day this year, her biggest request was to have the party on her real day, since everyone had the day off! I was more than happy to oblige because it got me out of having to do a spend-the-night birthday party! #momwin
When we started to talk about themes, Bella told me she already knew what she wanted because she saw it in an Oriental Trading catalog…a movie star theme! It made sense because Bella has gotten into drama lately, taking the class at her new middle school, trying out for the school play, and watching old movies! I thought it fit our mini perfectly and we began to map out the plan.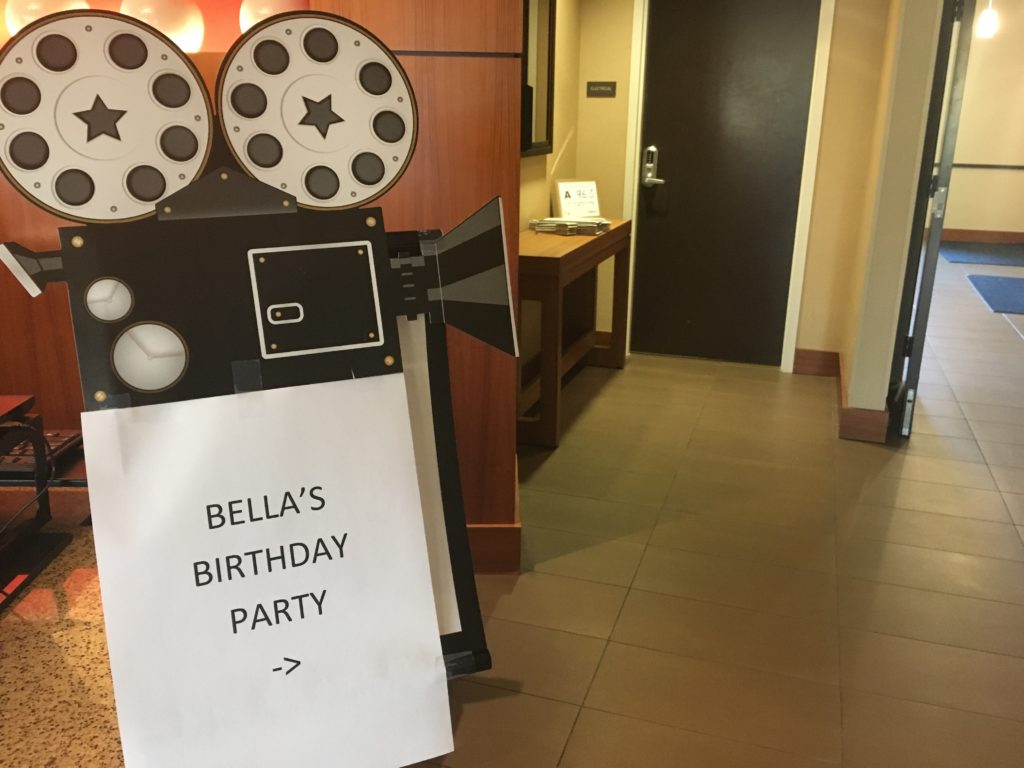 Her Oma and Opa (my parents) live in a condo, and part of their COA fees go to a lounge area that can be "rented out"…all one has to do is sign up for the rooms, and they're yours for the time frame…no cost! And this area consists of a reception area, lounge with full kitchen (and amazing views), a game room with ping pong, pool table, etc., and a movie theatre! Which obviously worked perfectly for Bella's party!
Once we nailed down a place, we used Evite for the invitation! I'm sure I could've gotten some cute invitations to mail, but Evite was fast and easy, and saved me money on stamps!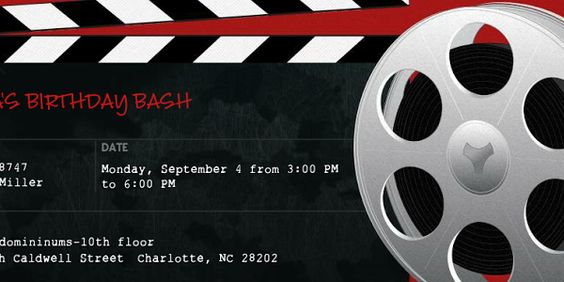 Then it was time to shop for decor and supplies! Since Bella got the idea for this from Oriental Trading, she had already fallen in love with a bunch of their stuff, so we ordered it from them! We got SO MUCH STUFF, and their prices are ON POINT yall, so my wallet was happy too! But I gotta also say this…the quality of the stuff was better than I expected! Super thick paper used on things I thought might be thin and flimsy, products were larger/longer/more durable than I thought they'd be. Overall, I was super impressed by not only the goodies, but the service as well! I'll point out some of the specific items we ordered as I post the pics below.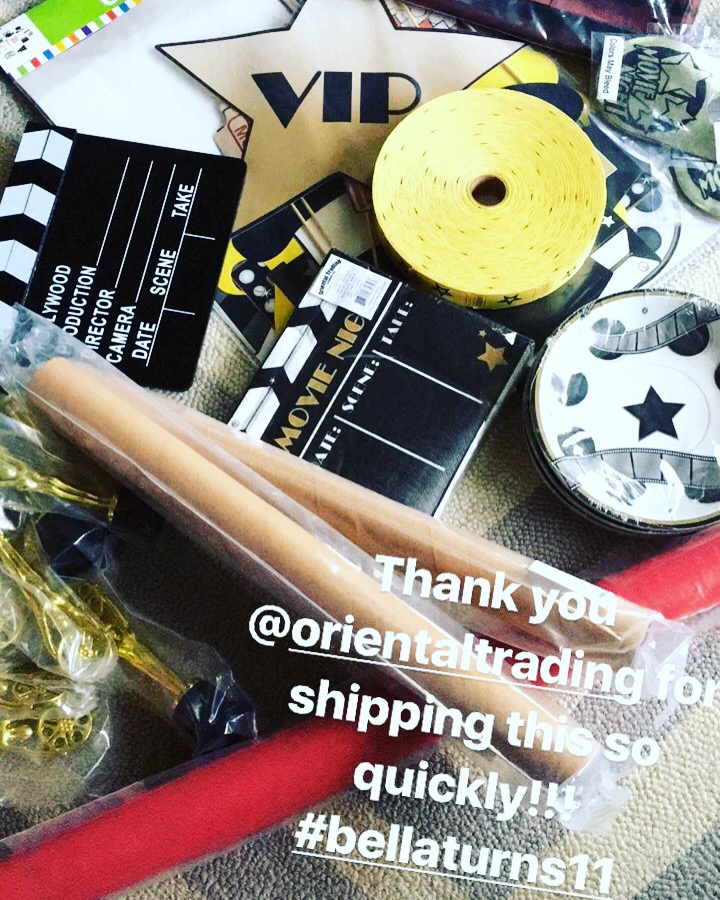 Then came THE dress. To start, Bella wanted her friends to arrive wearing their "red carpet best," which meant she would also be wearing a fancy dress! We had planned on her wearing something she already owned, but then she saw THE dress. When I was working the Southern Women's Show a few weekends ago, Bella joined me for a bit, and I let her walk up and down the aisle of booths (we were located in) to kill time. She came across a booth called Promise Clothing, and fell in love with a dress that was front and center.
She ran back to me at the Bonita Pina booth and begged me to come see THE dress. Finally I relented, and when I laid my eyes on it, I knew why she was enamored. I spoke to Lesa, the owner and designer, and asked if we could buy the dress right then and there but it wasn't Bella's size. So guess what?! She offered to make her one! But then I said, "I need it in 10 days." Bless Lesa's heart…she not only got it done, but she had it done early AND delivered it to our door! Bella felt so beautiful in this dress, and we can't thank Lesa enough! Please contact her here if you want something special for your little girl! Lesa's company will not only be showing at Charlotte's Fashion Week, but she's also been asked to participate in NYFW too!!! Bravo Lesa!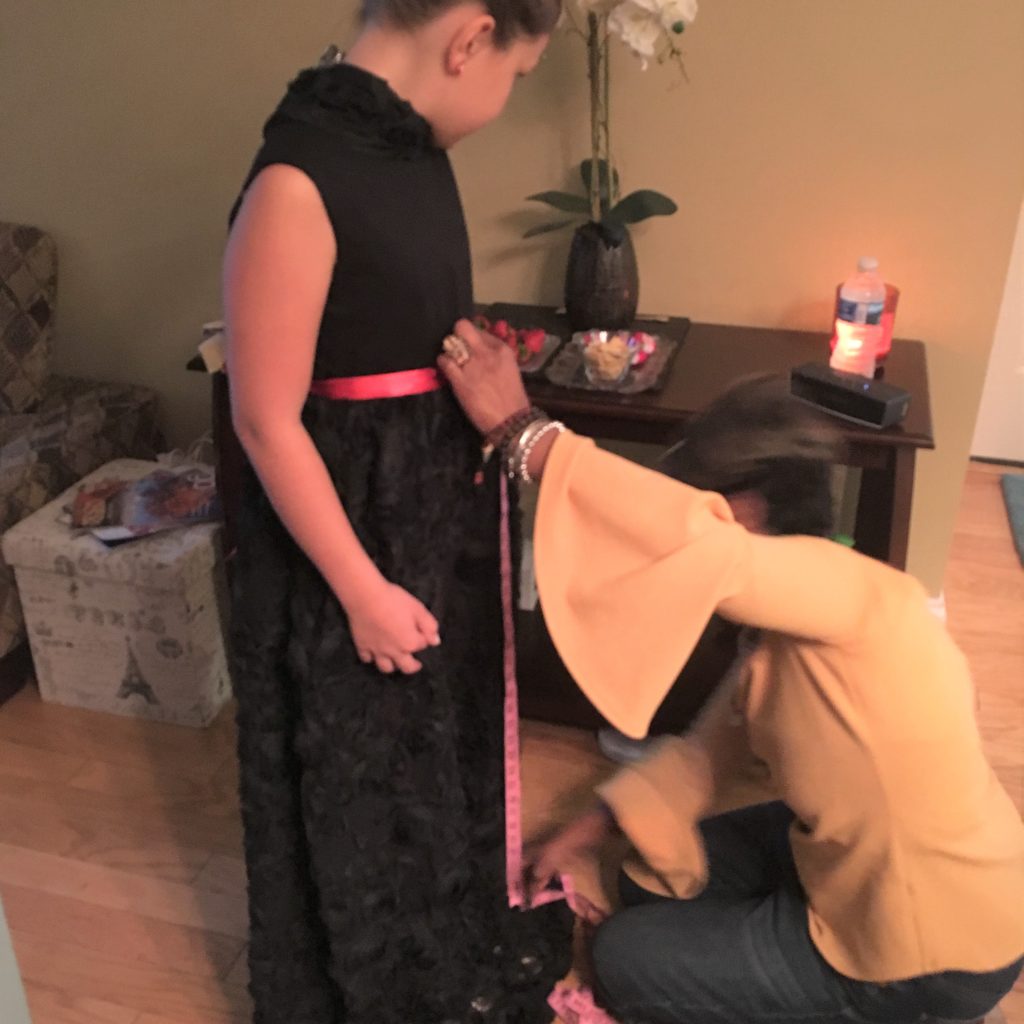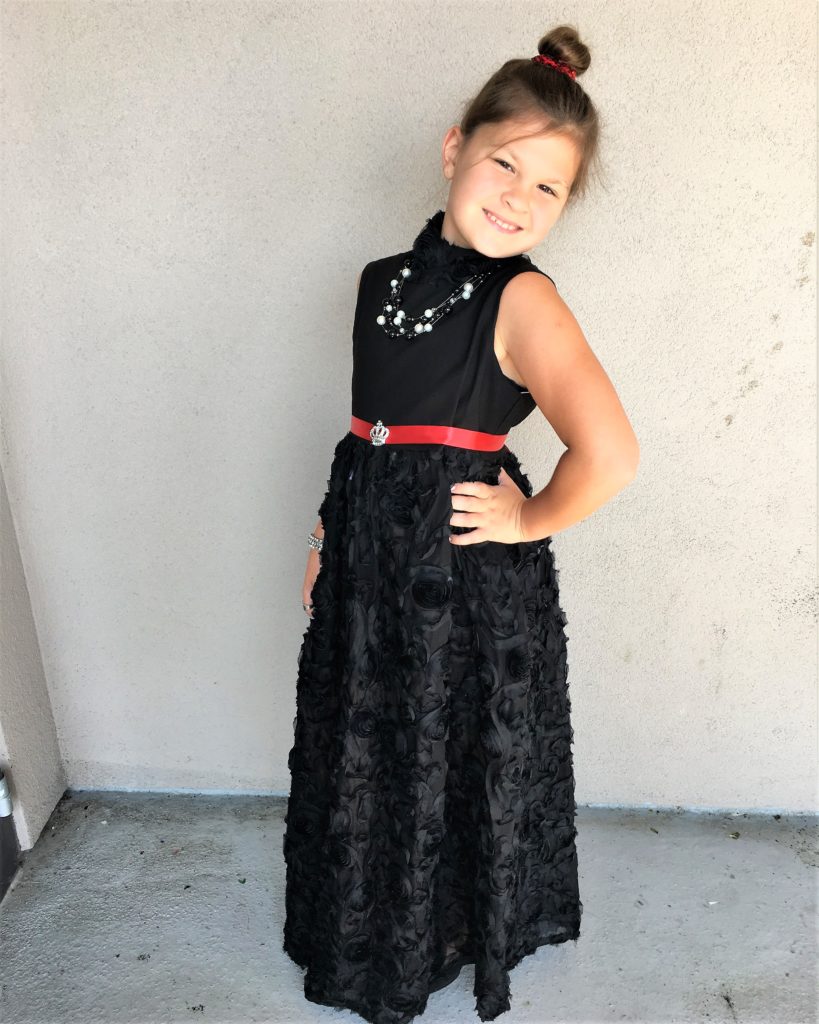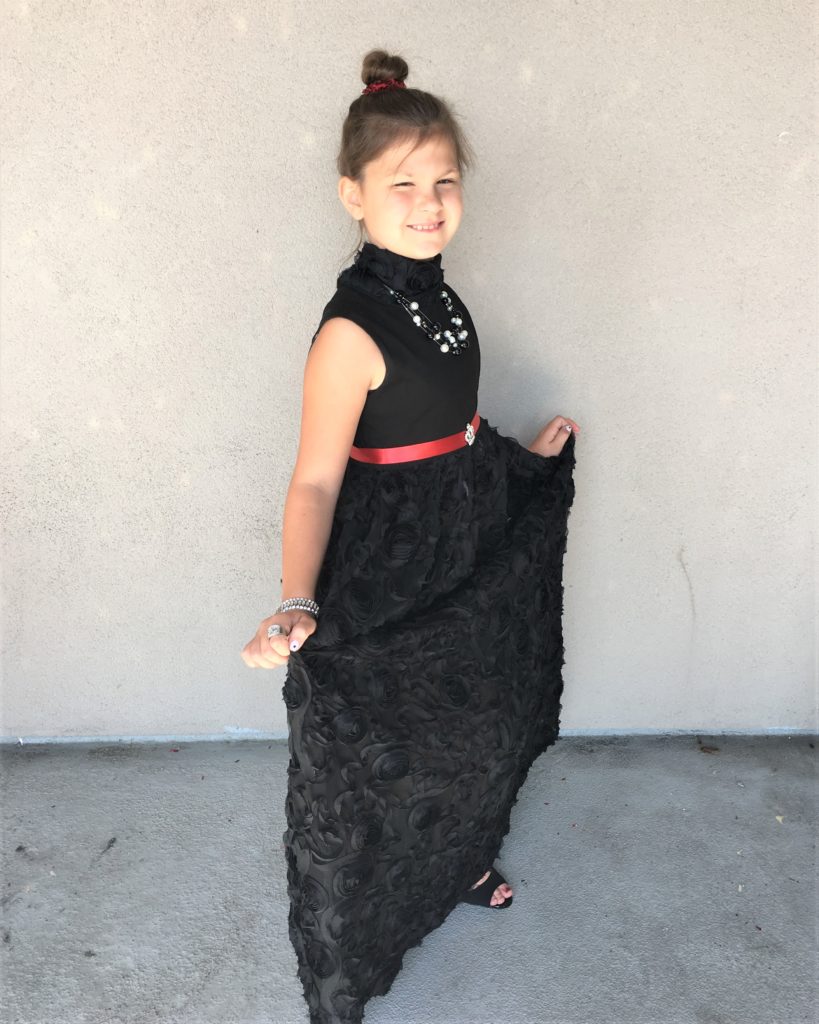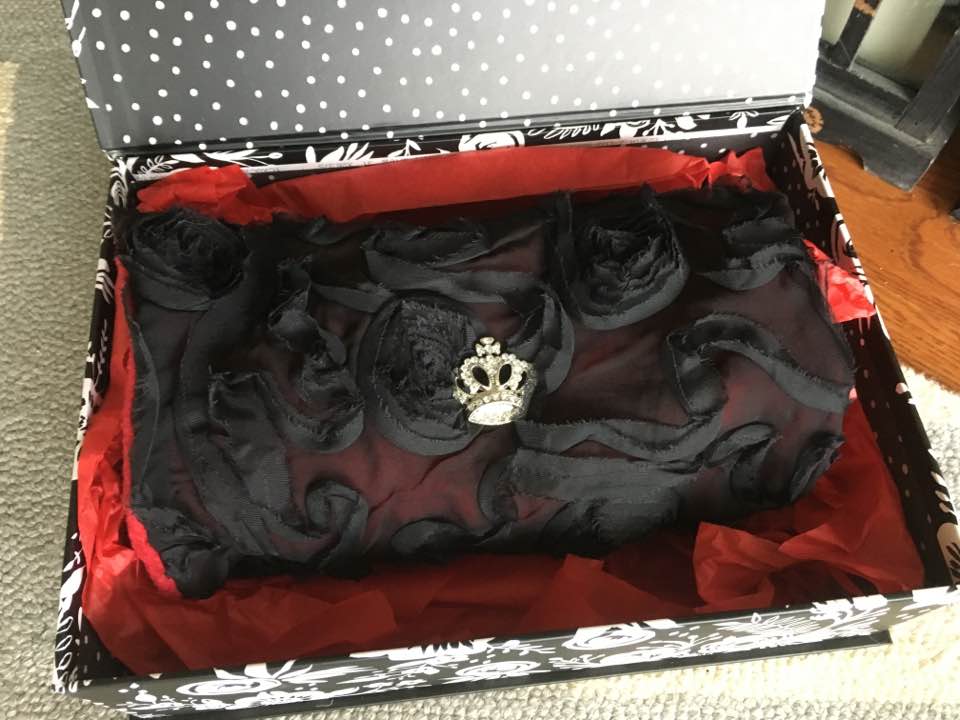 Then it came time to do some crafting for Bella's party, including a ticket booth! Bella had the awesome idea to buy a tri-fold board (like we use for the science fair) and make it the ticket booth…complete with movie posters of what the girls were going to be watching that day! It was so easy to make, and took less than $15 total!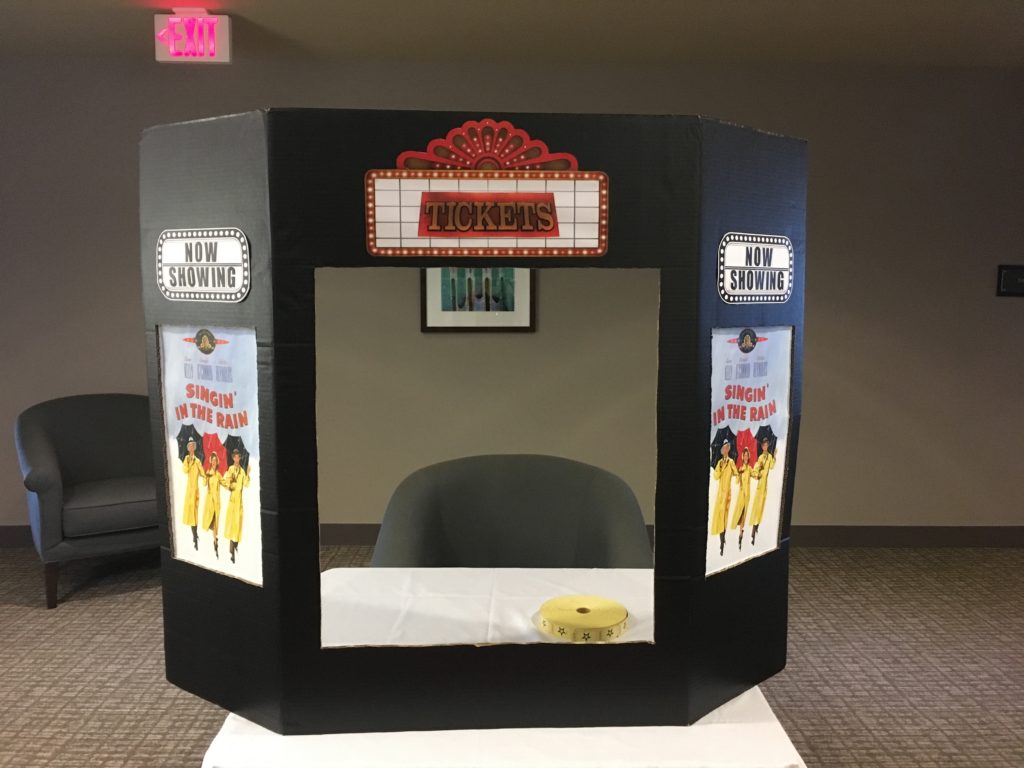 I purchased a few other odds and ends for the party from Party City, The Dollar Store and Walmart in the days leading up to it, but totally forgot about the CAKE!!! I know, I know. As a former caker, it should be the first thing on my mind, but honestly, Bella kept waffling between an ice cream cake, and a real cake! So we were down to the wire, and were in a Publix anyways grabbing some groceries, and I told her to look through their catalog. She found a graduation cake that she liked the style of, minus the pic and diploma obviously, but we could make it work! Then I saw it was $80, and thought 'I wonder if I could order the tiers separately and finish decorating/stacking it myself?' So I did just that…ordered an 8 inch red rosette tier, and a plain white 6 inch tier, and spent $35 this way 🙂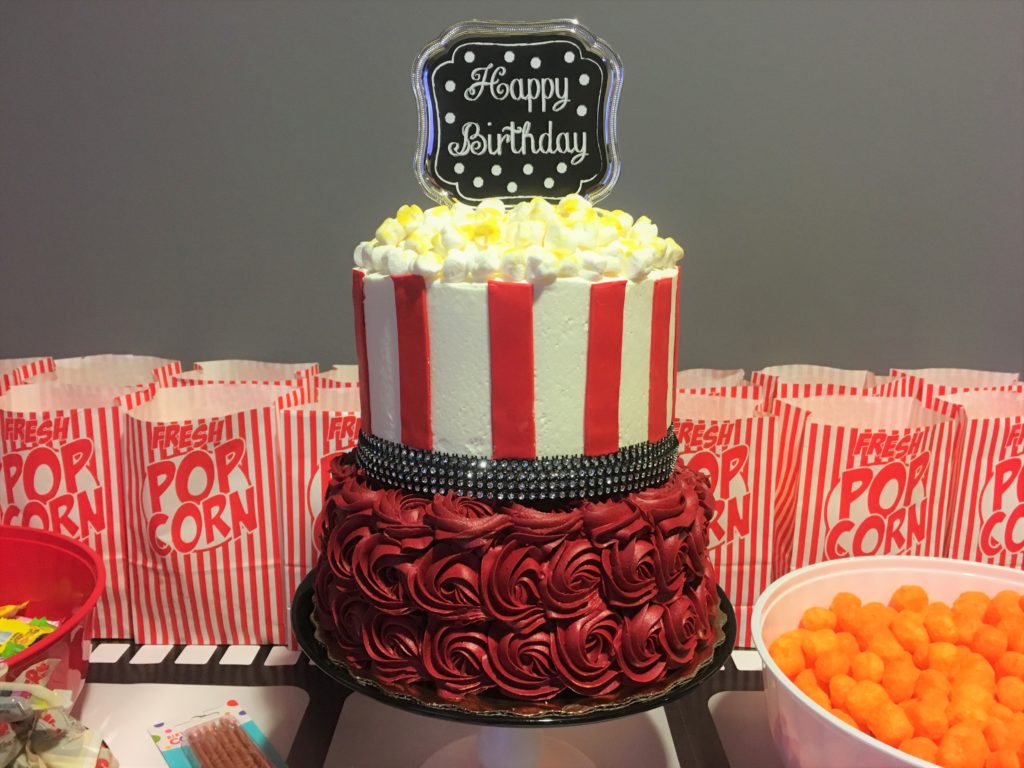 Bella and I had fun decorating the top tier together, and I highly recommend you trying this if you have the will to stack your own cake! But you must somewhat know what you're doing, and I wanted to video it so bad for yall, but simply ran out of time! The top tier was wrong when I went to pick it up the night before (#MandiesLaw) and I had to reorder, getting that tier the morning of her party and still having to decorate the dang thing!
I digress.
With everything ready to go, we headed over to the condo, unpacked everything, decorated it all, and welcomed Bella's friends on the red carpet at 3pm sharp. They got a ticket to the movie at the ticket booth, posed in front of the backdrop while paparazzi took their pics, got glasses of sparkling grape juice, and hung out. They played in the game room, while we waited on everyone to show up, and then it was time to start the show, with a clap board of course!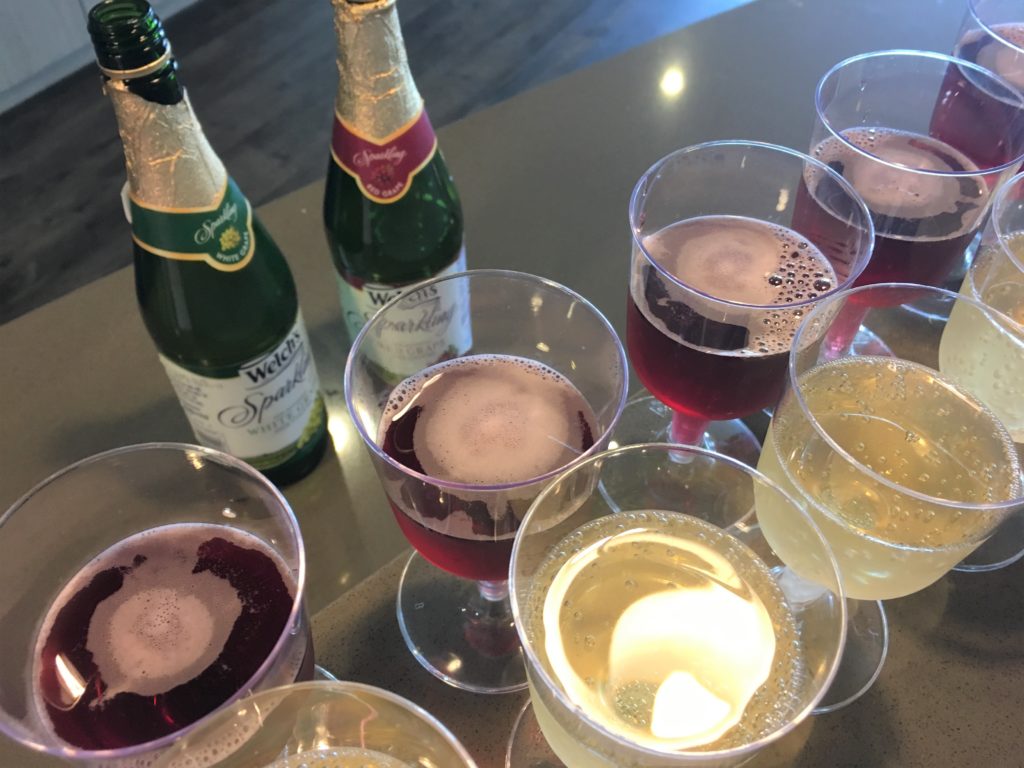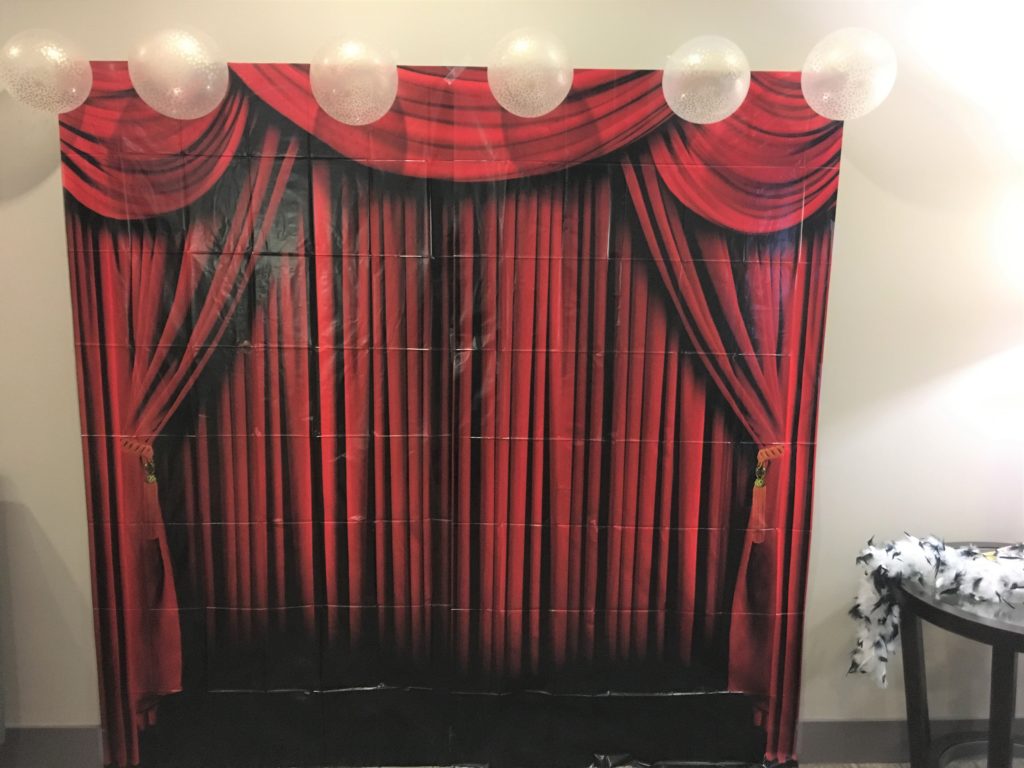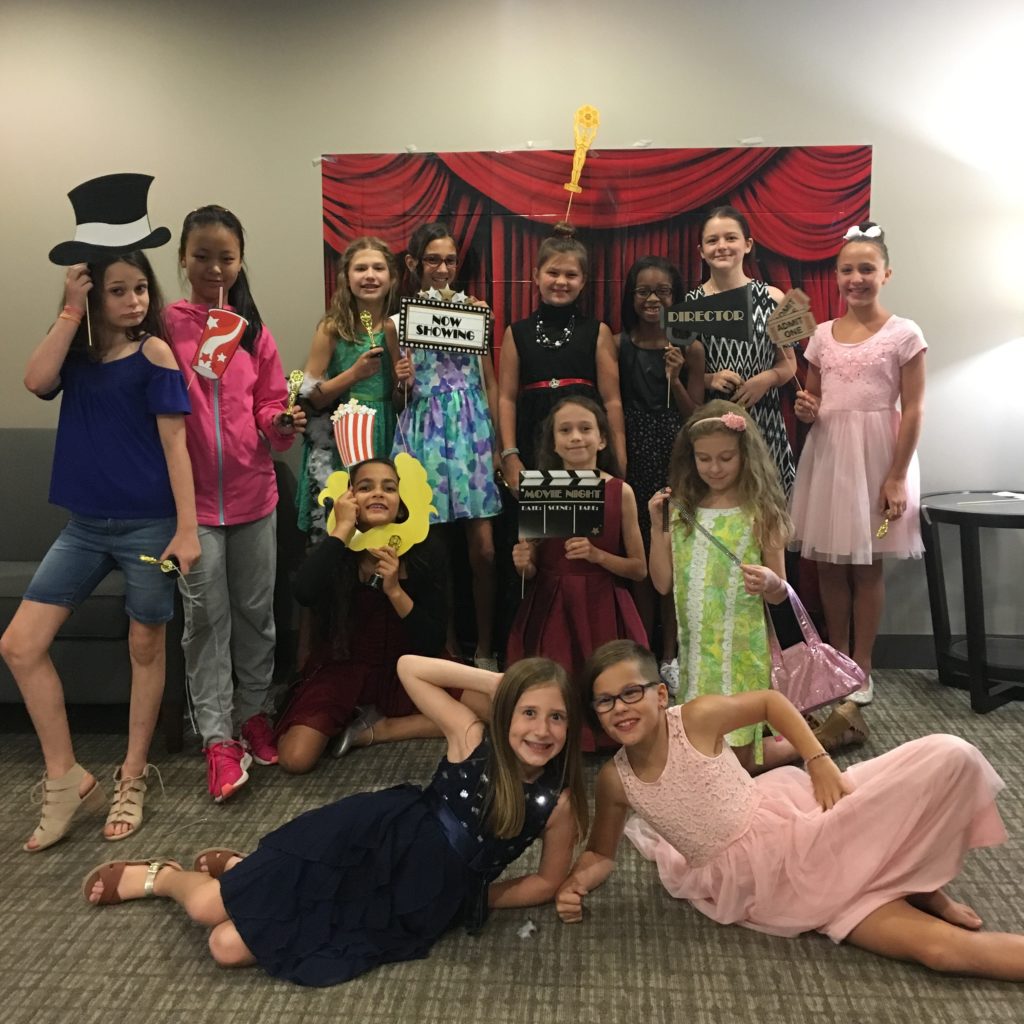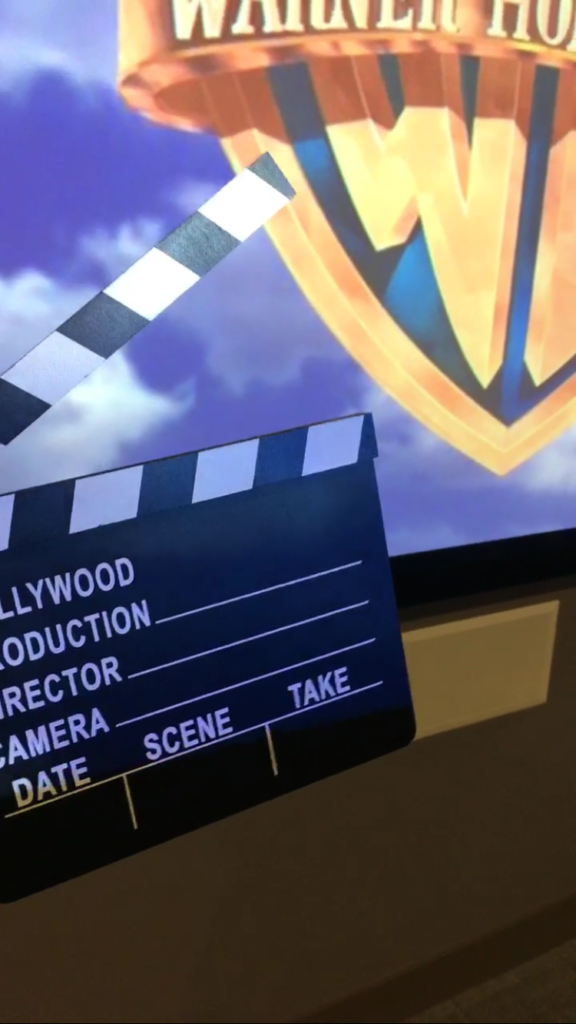 Bella chose Singin' in the Rain because it was a throw back to old Hollywood, and because she loves that movie!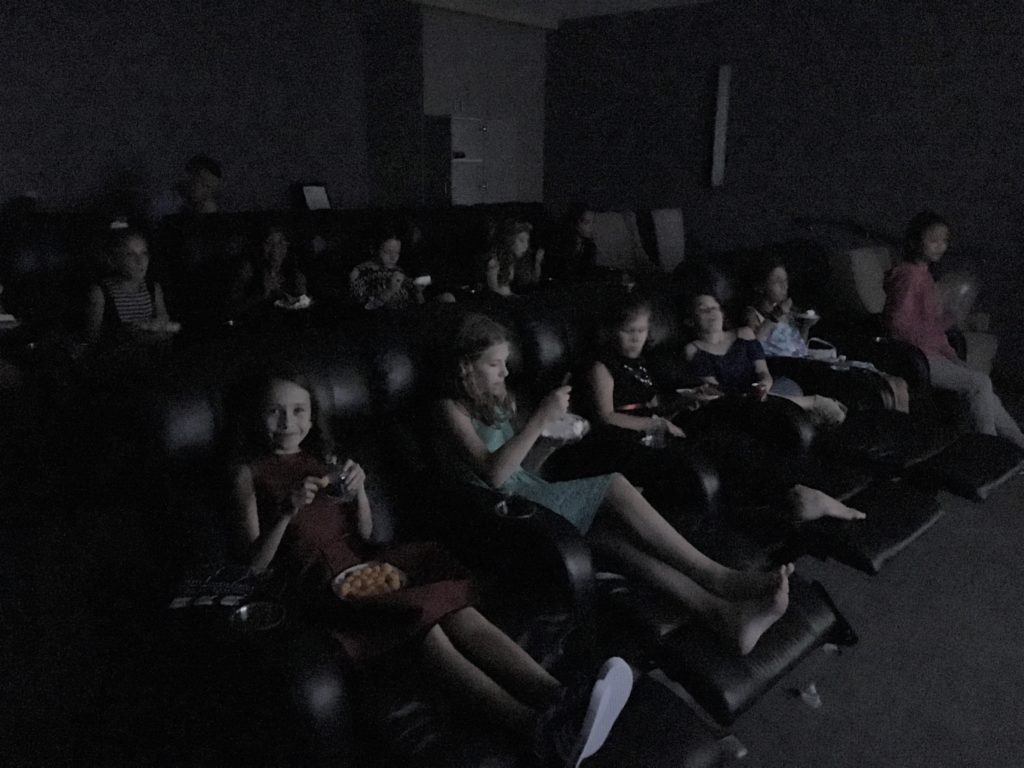 We had a "concession stand" with snacks for everyone to choose from before the movie, their own bags of popcorn, and drinks! After the movie, we had cake and opened presents. The take home gift was a movie award, and Bella presented each friend with one saying they won "The Best Friend Award," and Lilly got "The Best Sister Award."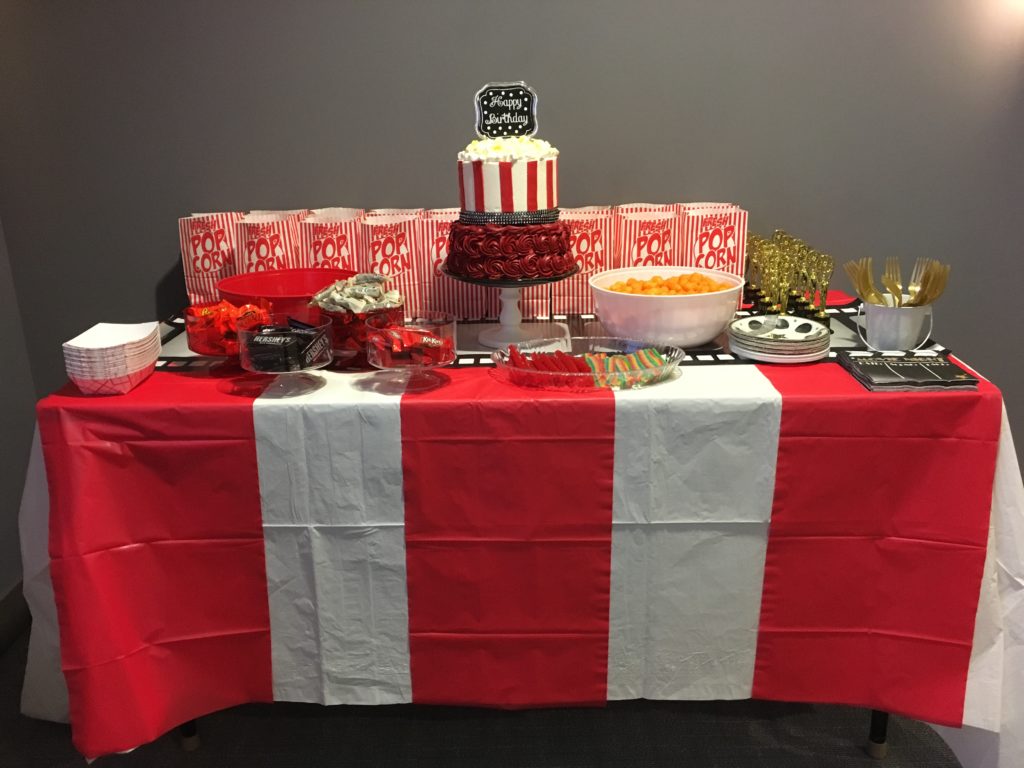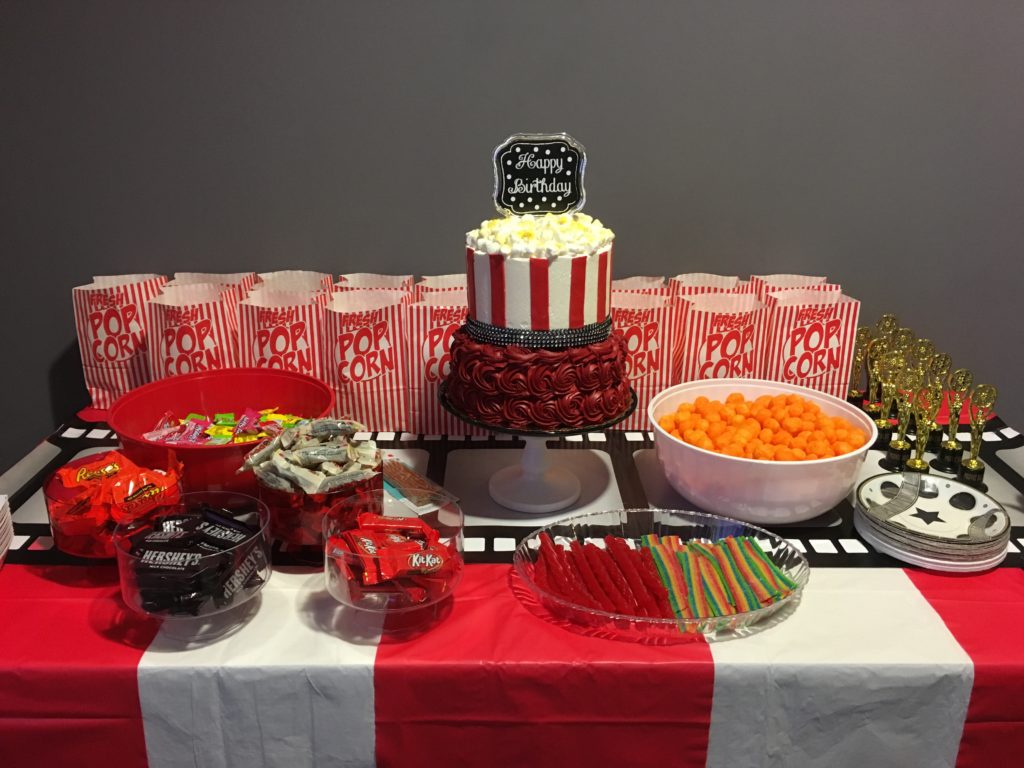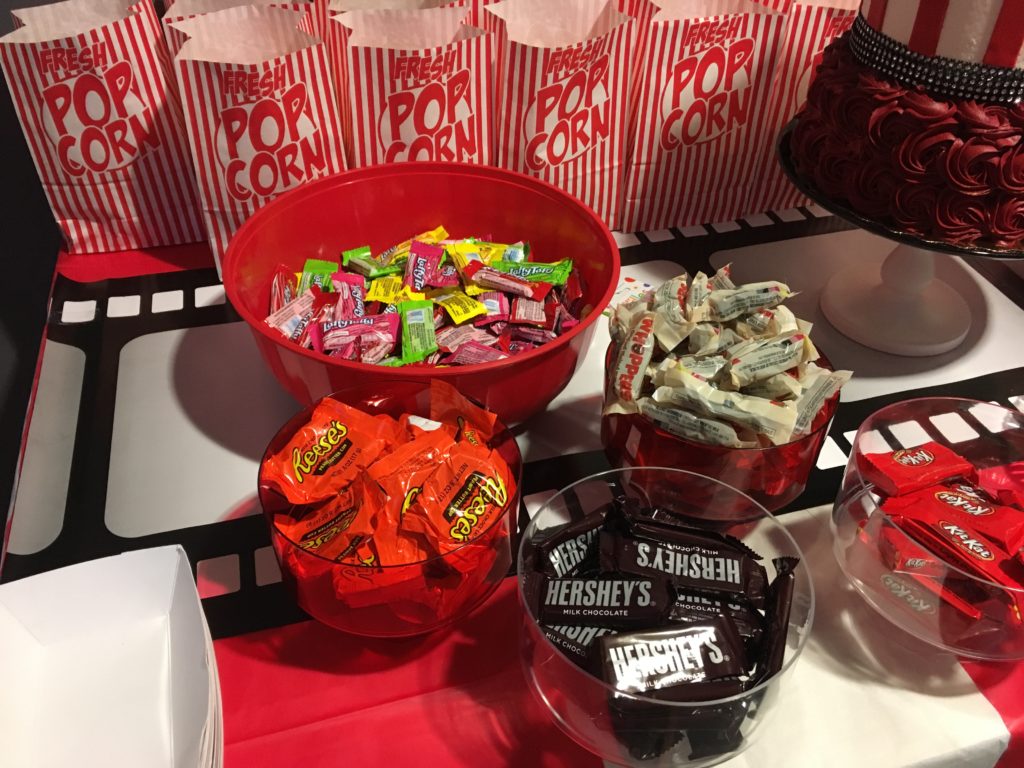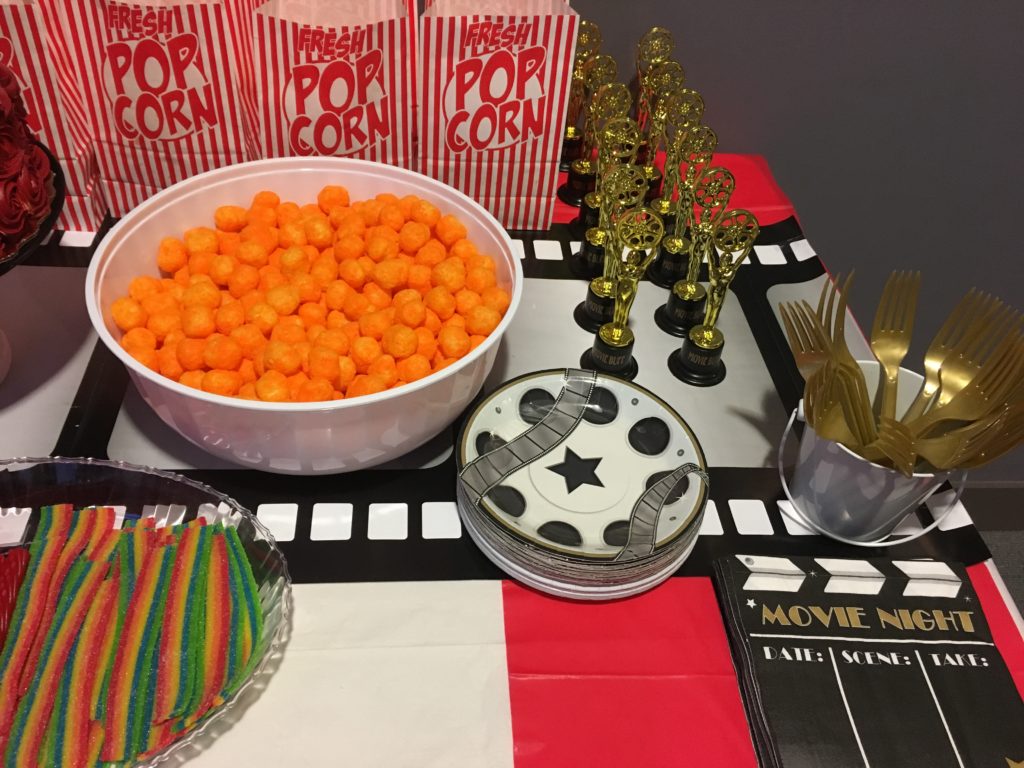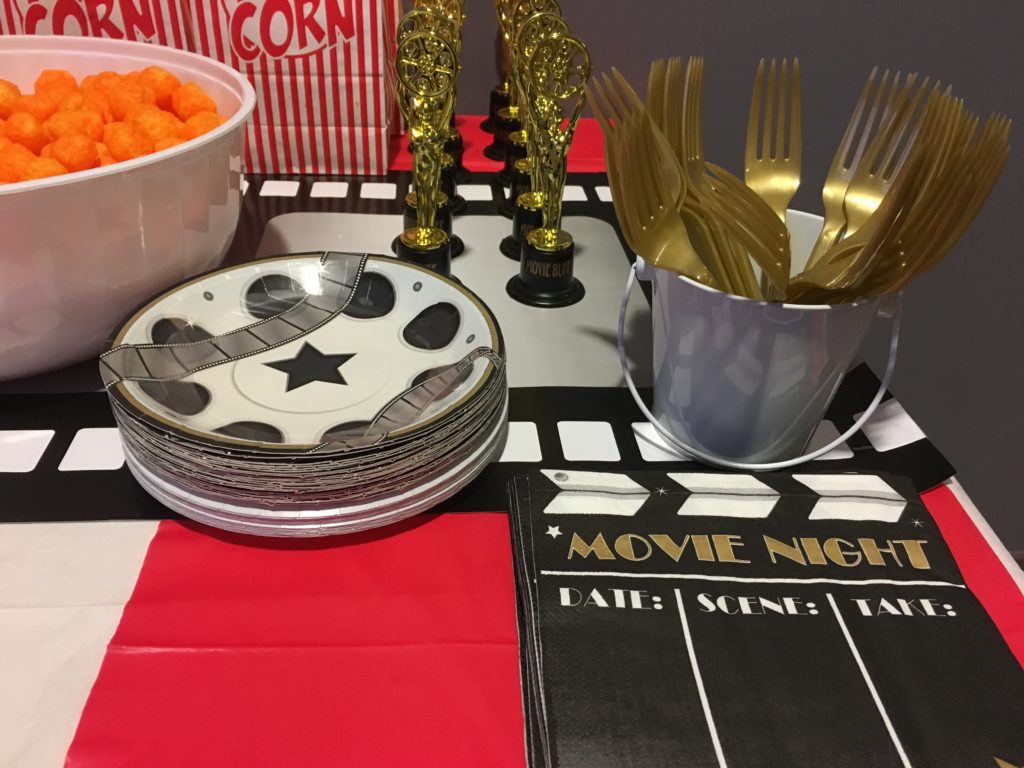 It was an amazing day, for our incredible mini, and I can't wait to see what we dream up for her twelfth!!! Although I'm not rushing the days away at all!
A few more group pics with the fun props from Oriental Trading!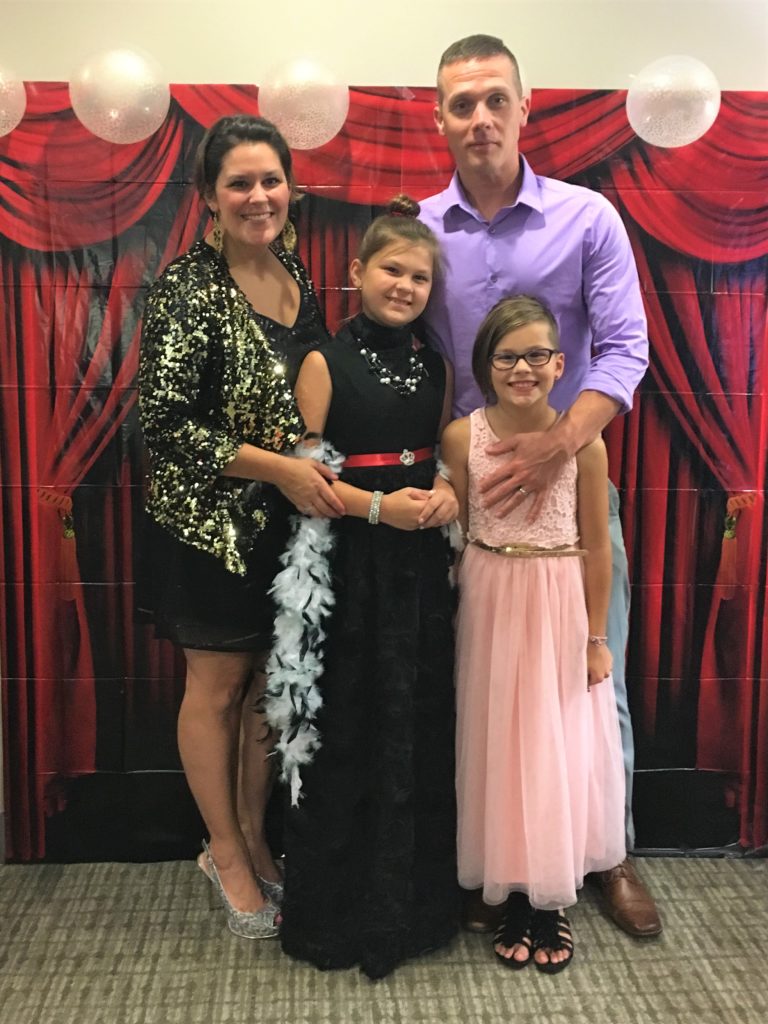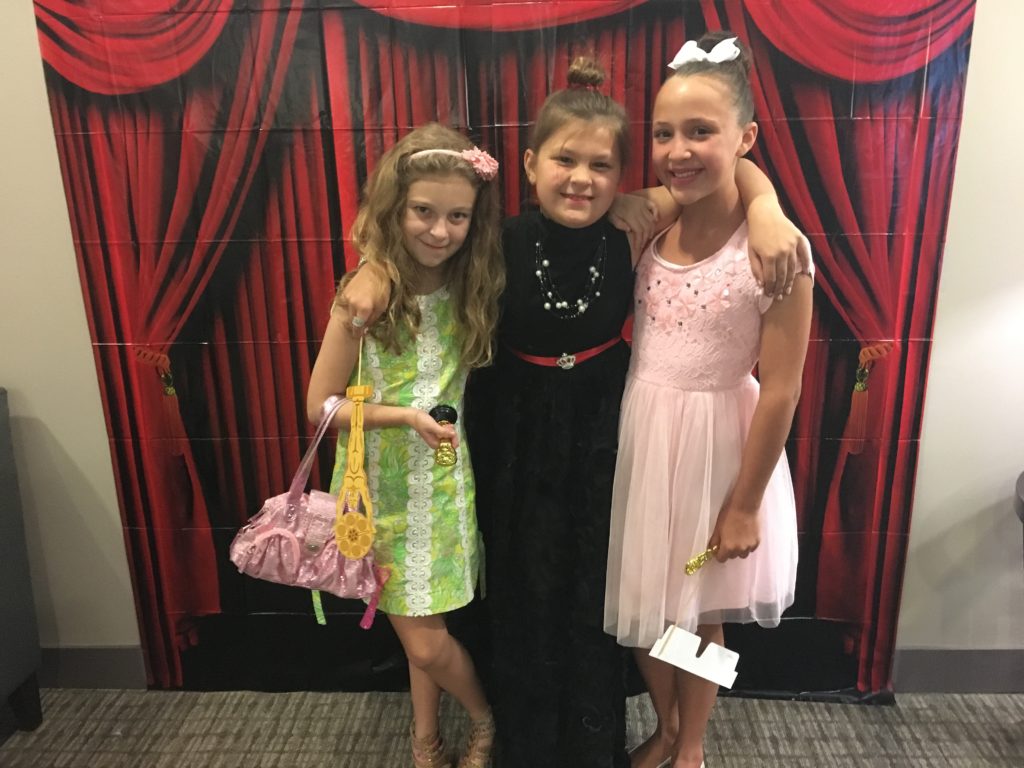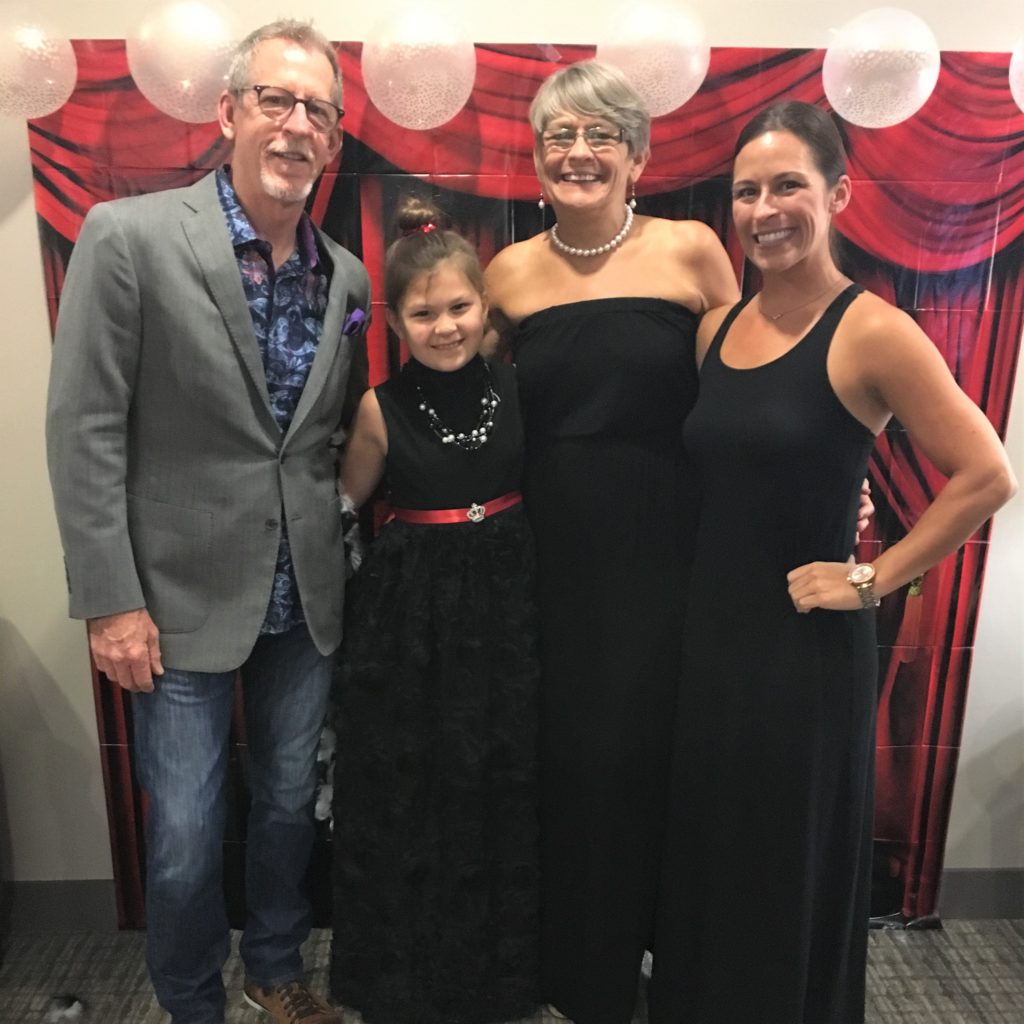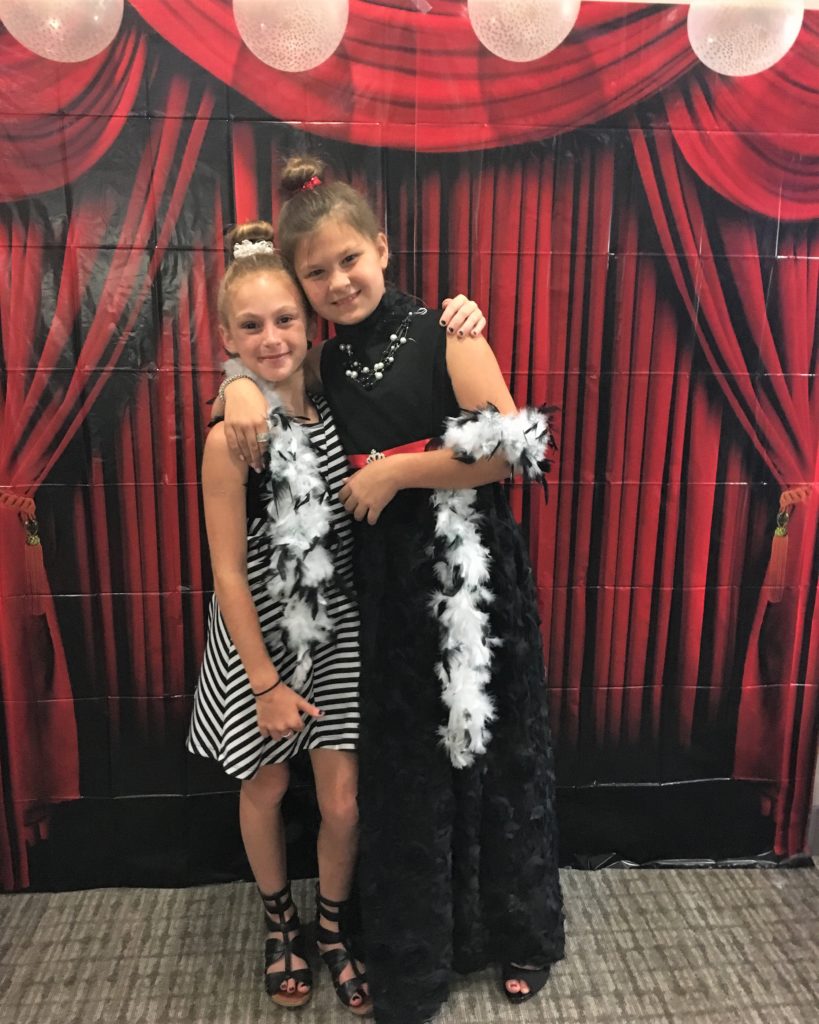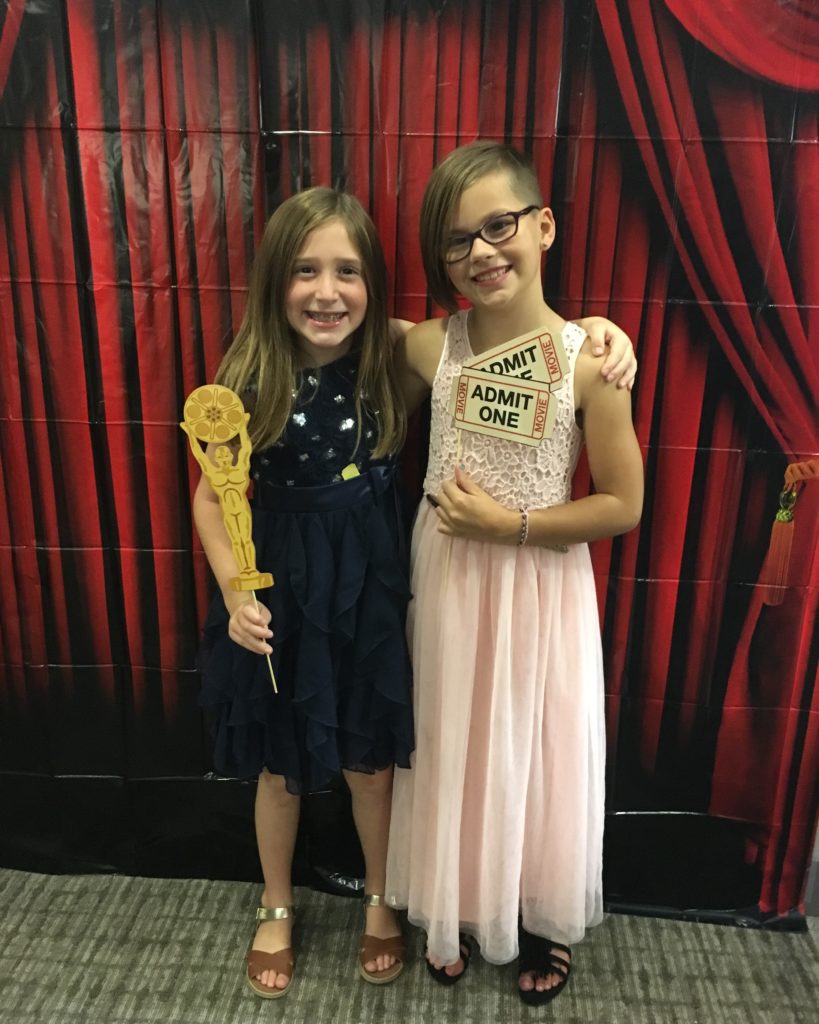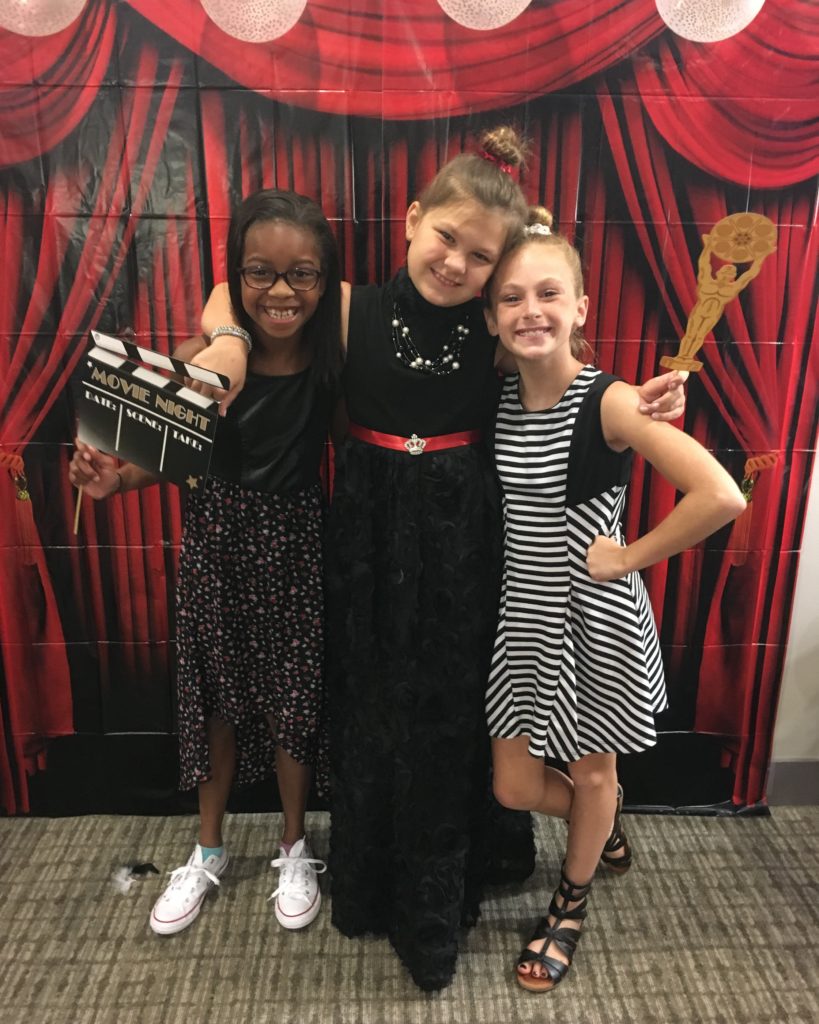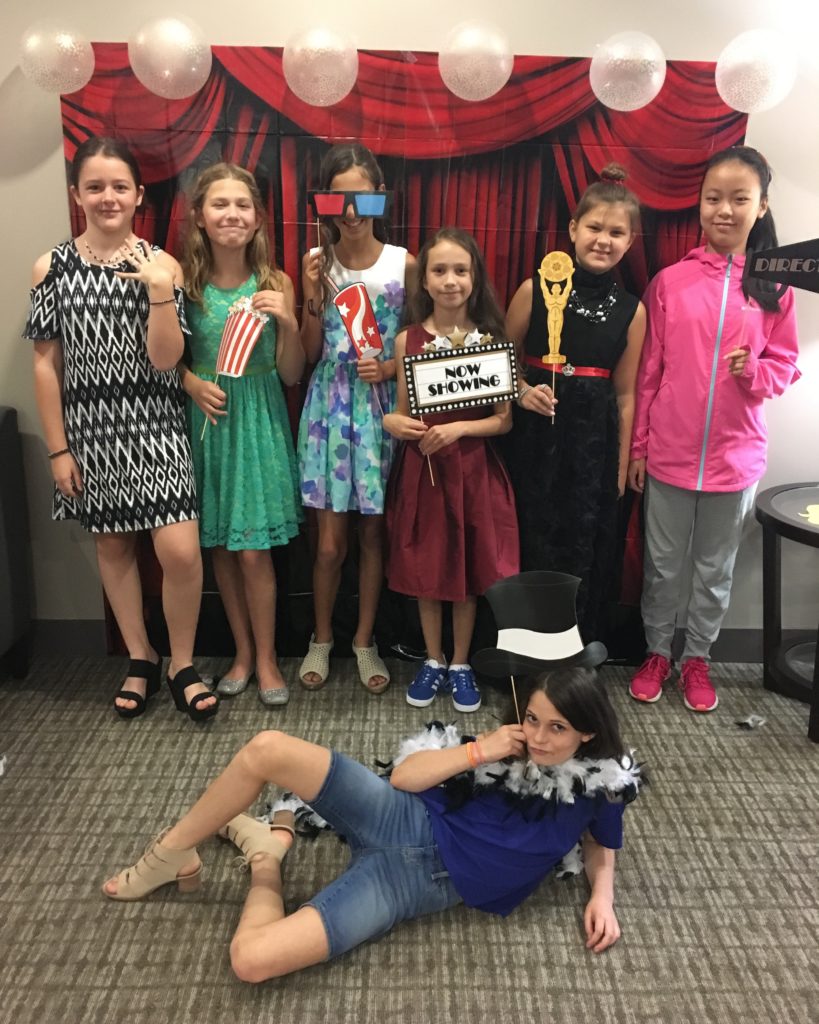 You can pin this image for quick reference!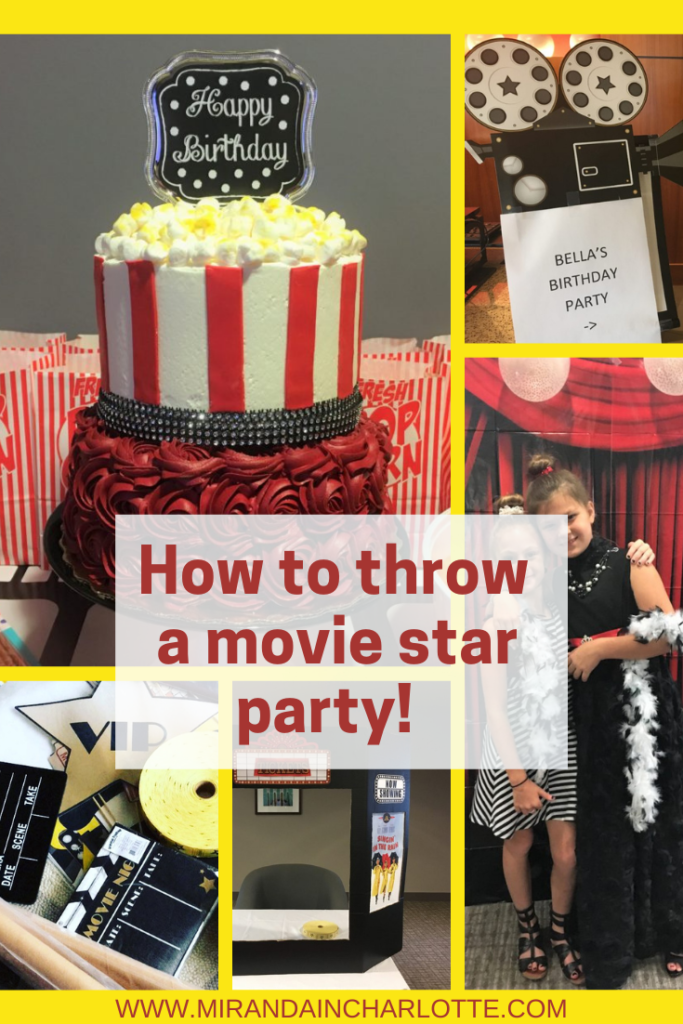 Shop some of the random things I used: