I grew up camping with my family! I've camped far more times than I've ever stayed in a hotel! My parents were fans of pitching a tent, climbing into sleeping bags, and cooking meals over a campfire. Joshua's family also grew up camping, although they were more the 'hiking til you found a good spot to lay down and sleep' types! Either way, this is what we were both used to, and have instilled a love of camping in our minis! It's a part of their lives, and they're always so excited to hear that we're going to be camping!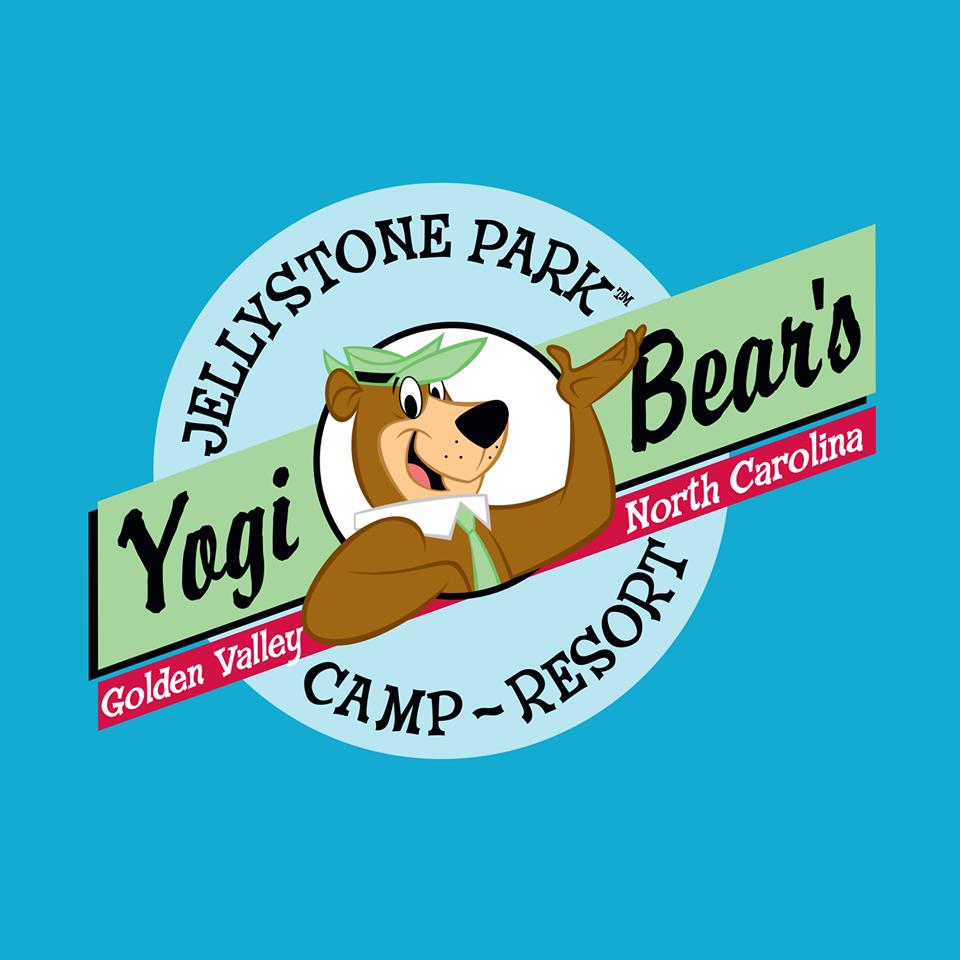 Oh, and I want to mention that most of these pictures are mine, but some I took from their website ,simply because I didn't get the shot needed to show yall, or it was too dark, etc.
So when I told them that a campground named Jellystone had asked to host our family for an upcoming weekend, they were pumped! But when I told them it was "glamping," they were even more excited! They knew what glamping was because I made a glamping-themed birthday cake for Emily Maynard back in the day! They knew it was glam+camping, and they were excited to see how much more awesome it was than our traditional tent camping!
I had also mentioned the amenities on this property, and the fact that we were going to have a golf cart! You would've thought we told our kids we were heading to Disney the way they were reacting, which was awesome! They had a few questions…
So we don't have to sleep outside?!
Nope!
We have air conditioning?
Yep!
There's a TV?!
Yep!
Is the pool/waterpark still open?
Yep!
Can I drive the golf cart?!
Absolutely not.
And a few more I can't remember now! But all valid points, and we were super excited to see it with our own eyes! A friend of mine had mentioned that she thought it was geared towards little kids, but we felt differently! We actually thought that it was great for any age because of the variety of amenities, AND the fact that our minis were only used to tent camping, so glamping was "SO COOL" (in their eyes)! And we had certainly never been a campsite with THIS much to do!
And you know what else we realized once we got there? None of us Millers have ever been to summer camp before, and this certainly felt like what we had seen in the movies, so we were PUMPED! If you'd like to watch my insta-story about the weekend, click HERE! And hear me now, I'm going to give you A LOT of information, so read through it all. If you still have questions, look at the website because it's SUPER thorough, and most likely will be the best source of info. If you still have questions, comment and I'll see if I can help!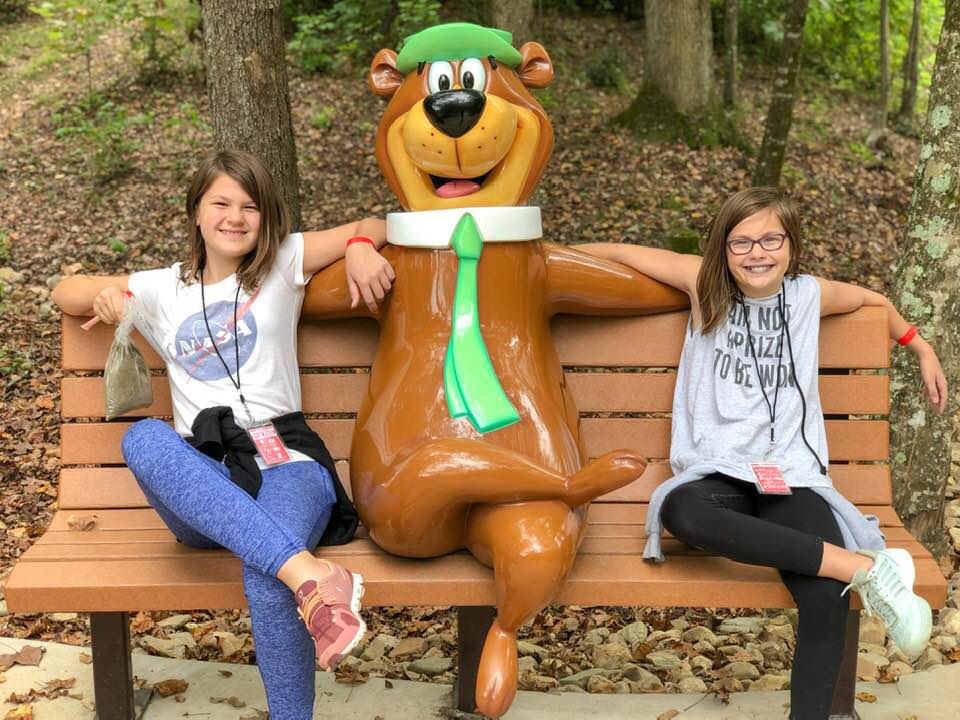 When we got there, we saw our treetop lake view glamping cabin, and loved that they were all connected with lights, and everything was decorated for fall too! We walked up the stairs to cabin 16, and as soon as we opened the door, we noticed the AIR CONDITIONING #allthepraisehands! We also noticed how tiny it was! Now listen, we love small living, and are used to it. But if you are the type who gets claustrophobic, or you need to spread out, you need the glamping tents, or the bigger cabins! But we couldn't get enough of how cute and quaint the tree-top cabin was for us! Oh, and I took advantage of the linen rental so we didn't need to bring those from home (super affordable and convenient)!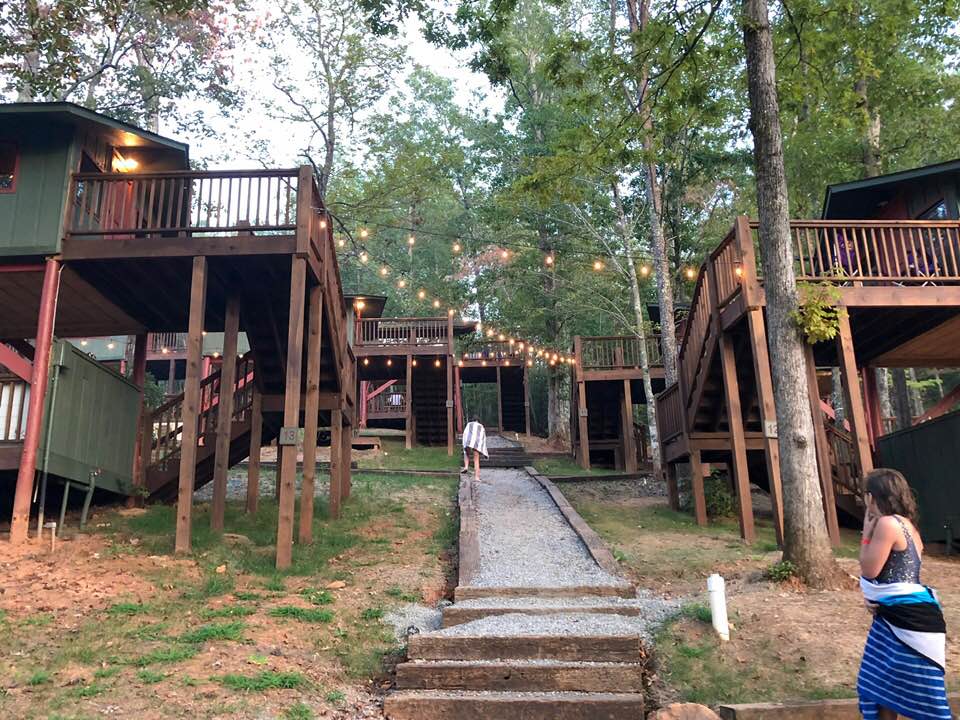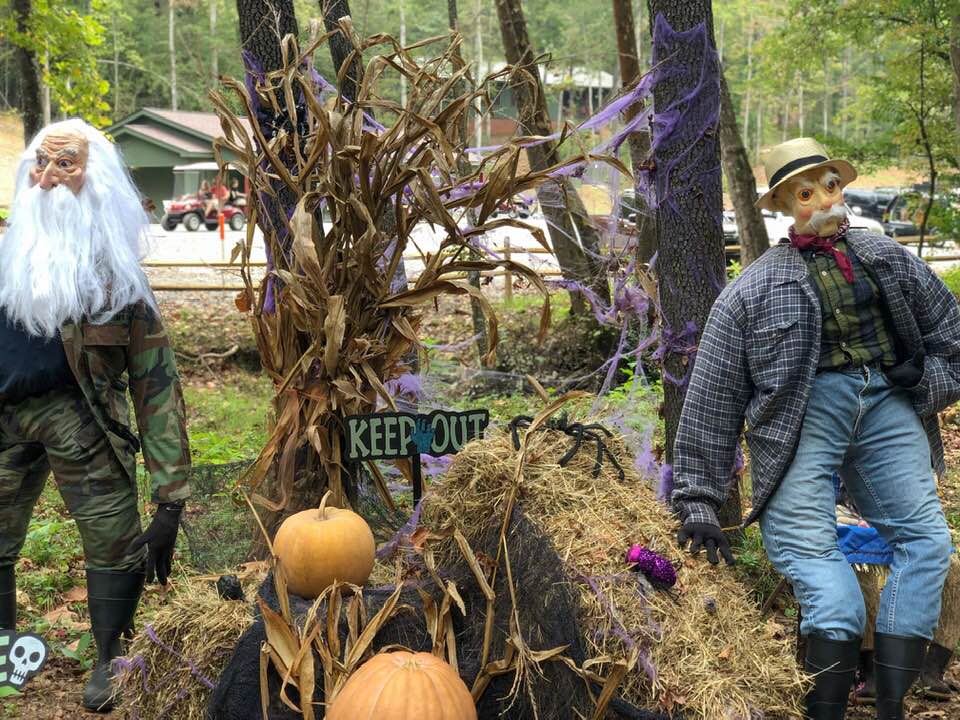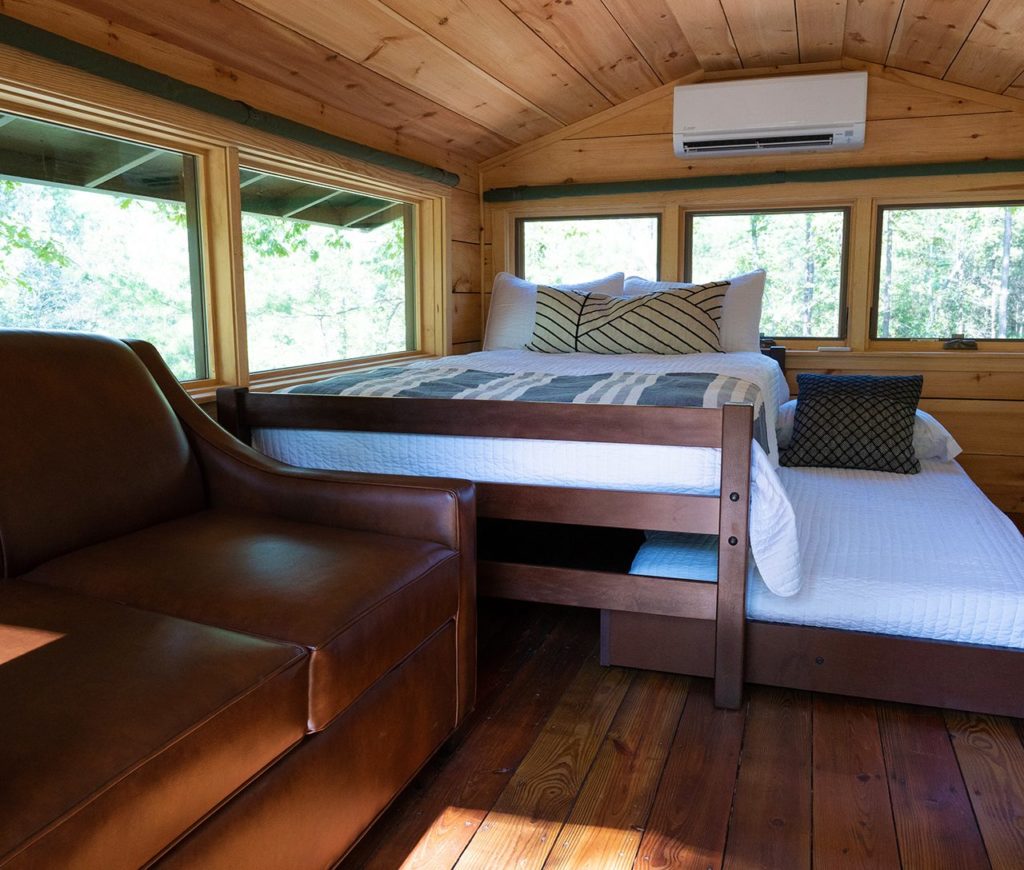 Another thing that was helpful with the set up , is that underneath the cabin, is an area that has a sink, a cooktop, and a mini fridge! This is in addition to the fire pit and picnic table located at our site! I just couldn't get over the fact that we had all of this at our finger tips, including POWER (inside and outside of the cabin)! Again, if you're a tent camper usually, you know how precious water and power are, so I was in heaven! We could charge our phones and computer, run our noise machine, etc.!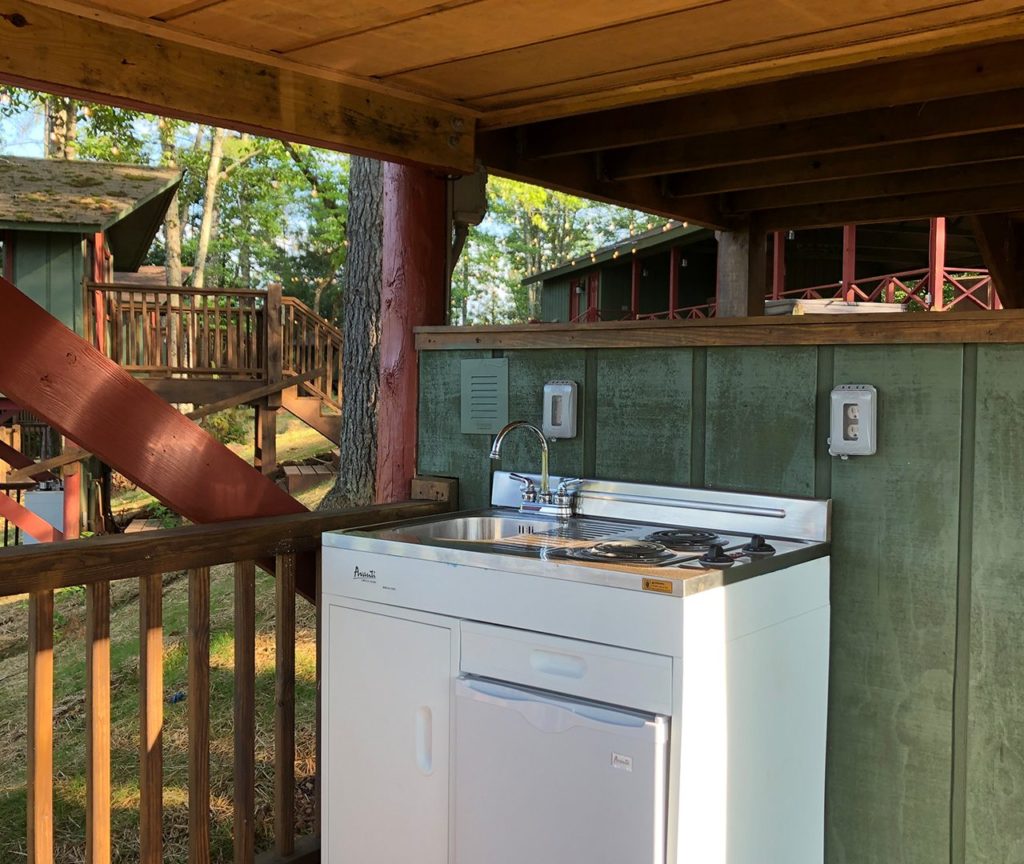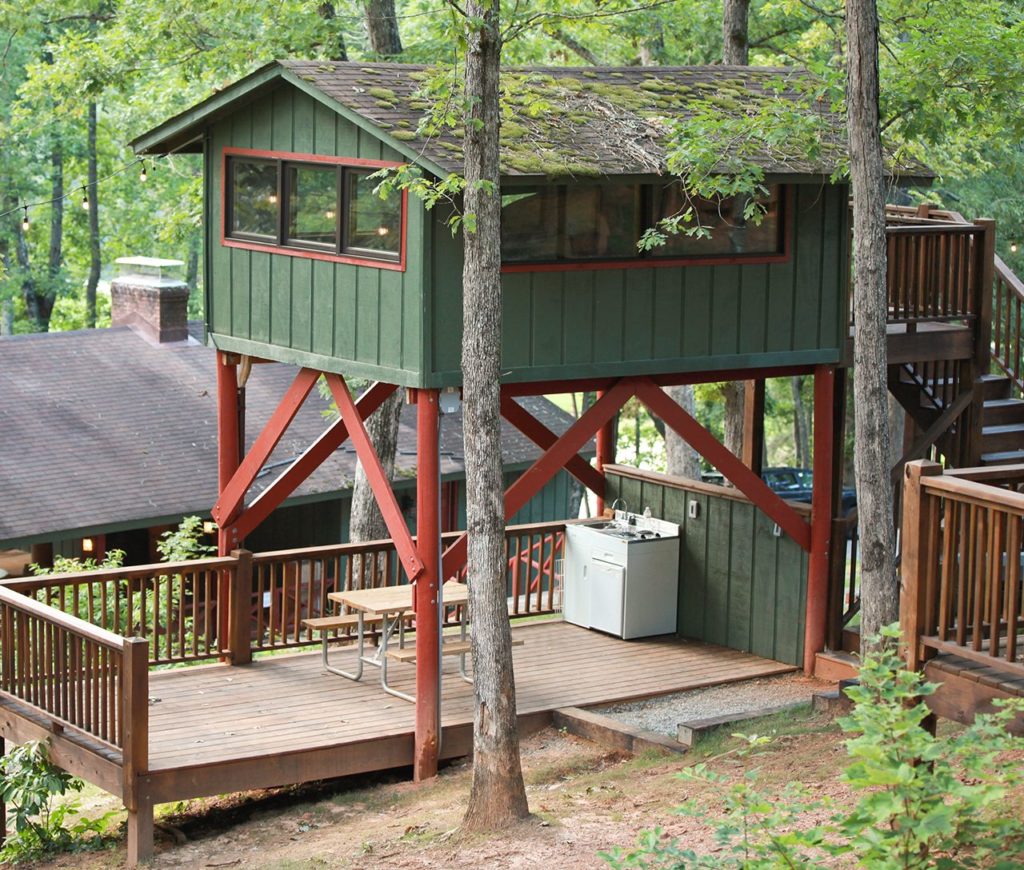 Then, the most amazing thing ever was discovered…OUR PRIVATE BATHROOM!!!! Yall, we've camped in places that don't even have bathrooms, and the woods are your bathroom! So to have our very own bathroom, with hot water, was a GAME CHANGER! We didn't have to carry toiletries back and forth, and that freed up space in the cabin too! You can't see the cabinets in this picture, but they're there and hold a lot of stuff!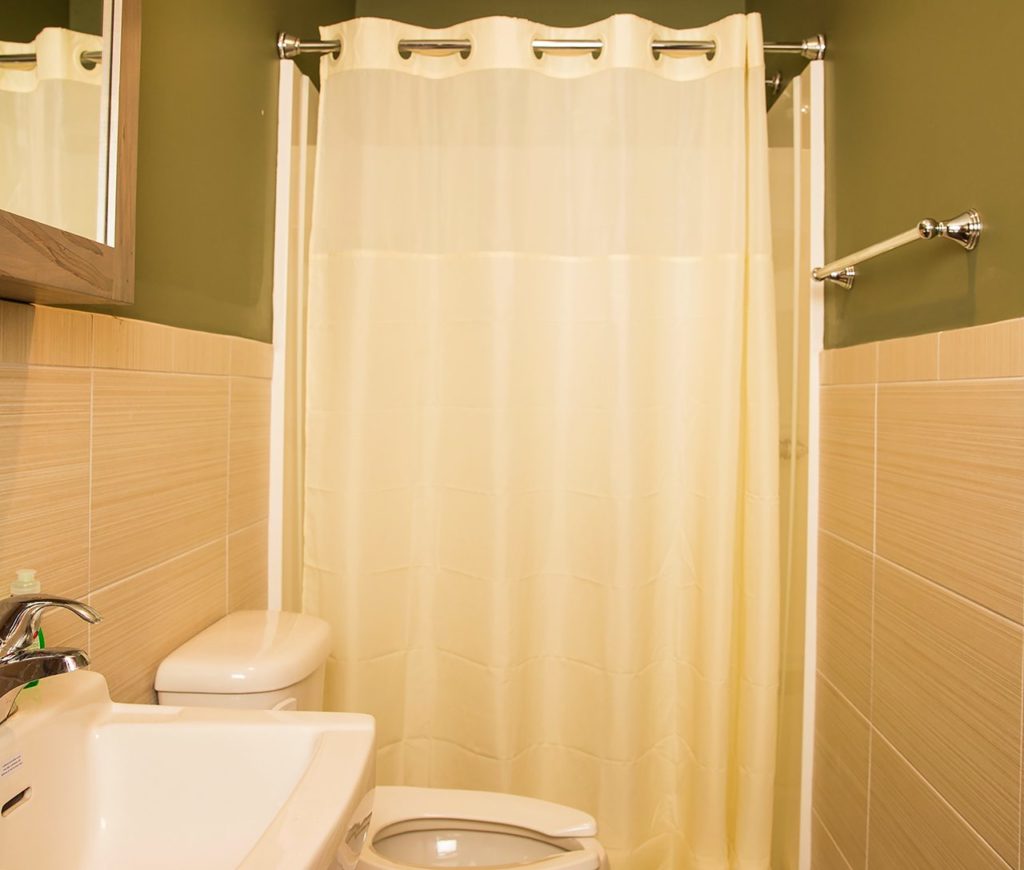 When it came time for bed, we pulled the twin trundle out from underneath the full bed, and that's what Bella slept on. Then we pulled the twin sleeper sofa open for Lilly, and Joshua and I took the bed! We even watched TV because there was one in the cabin, and it had cable (we don't even have cable at home)! We had a great night of sleep (which is MUCH harder to do when we tent camp) and I had brought breakfast foods for us to eat while there! Then we hopped on our golf cart to explore the entire campground!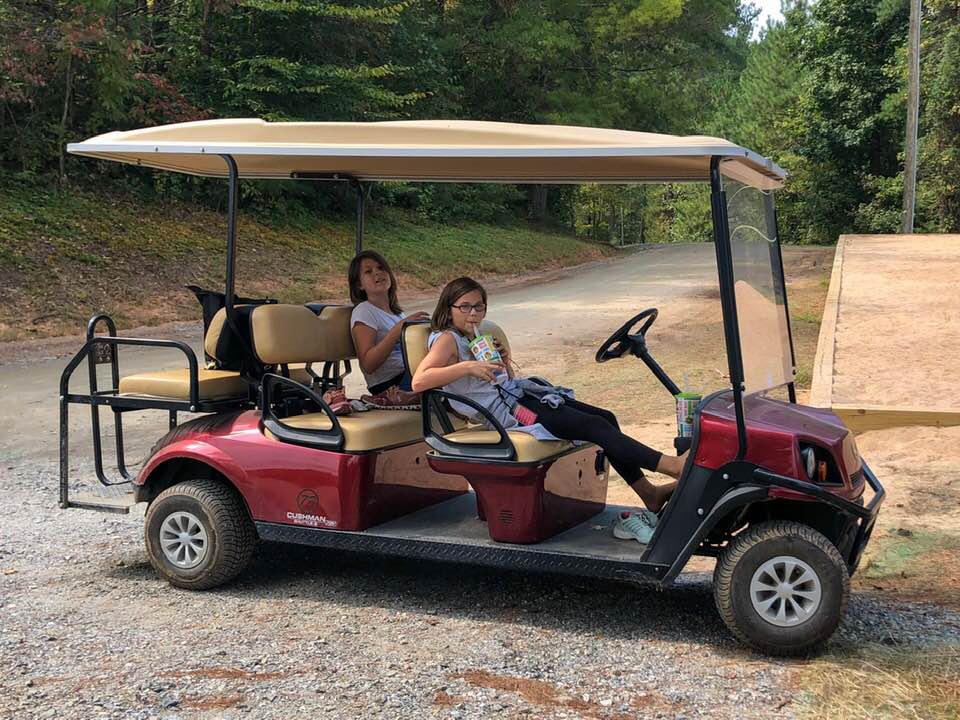 Let's talk about the need for a golf cart! This place is HUGE because they wanted to include as many amenities as possible, and thus, they highly encourage you to rent a golf cart for your stay. IT IS WELL WORTH IT. Plus, they're just plain fun, and make it so much easier to take advantage of everything the resort has to offer! We wanted to get the lay of the land, so we drove the cart everywhere…the RV section, the tree-top mountain view glamping cabins, the tent section, the larger cabins, the houses, and more!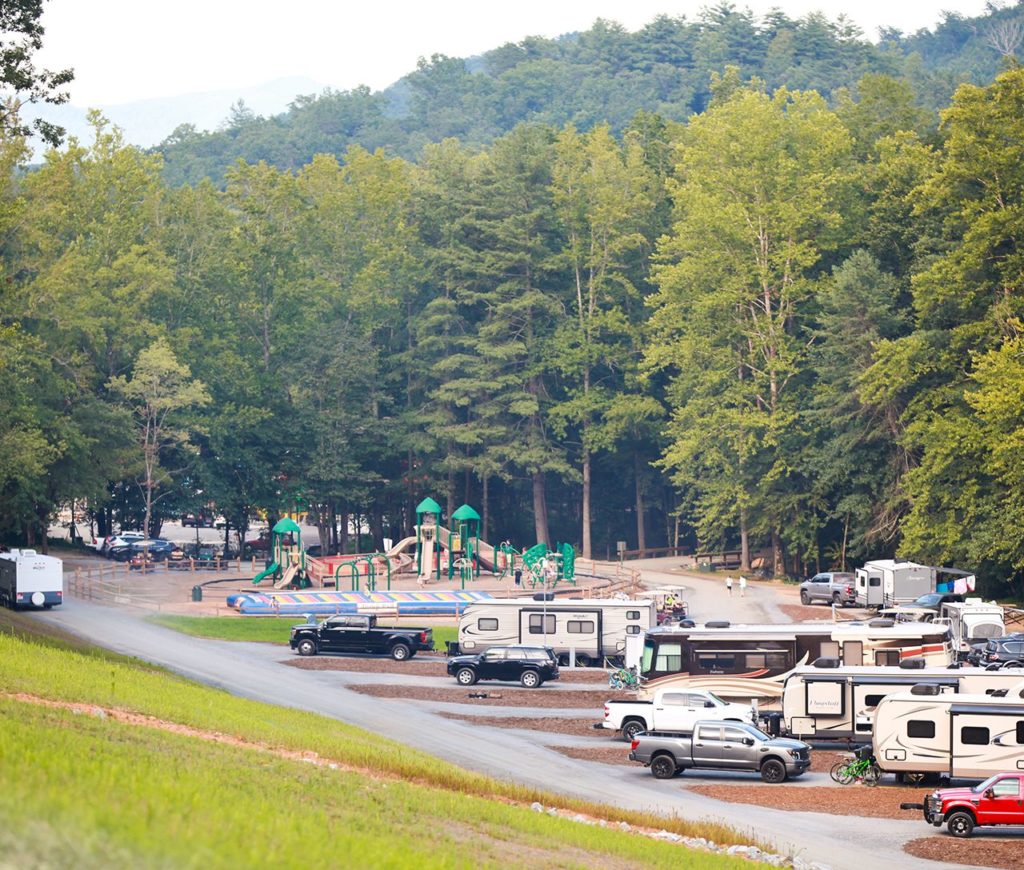 Then it was time to check out the amenities…we heard that Jellystone had a waterpark, but we really didn't know about anything else! We got the girls the Activity Passes, which enable them to get six different things, seen here, and they thought it was so great to have things marked off one by one! It was also overcast, and had rain in the forecast, so we decided to do activities that didn't have to do with the pool/waterpark!
We started with the jump pad and playground! Yall, this jump pad thing was HUGE and our minis has a ball running, jumping, flipping, chasing, etc. on it! It kept them busy until they were ready for the playground, which has a "ninja course" side to it, so they were in heaven. The minis also noticed the gaga ball pit, but were ready to move on to the next fun thing! I truly feel like Jellystone has kept the "older" kids in mind when choosing what to have as amenities or not.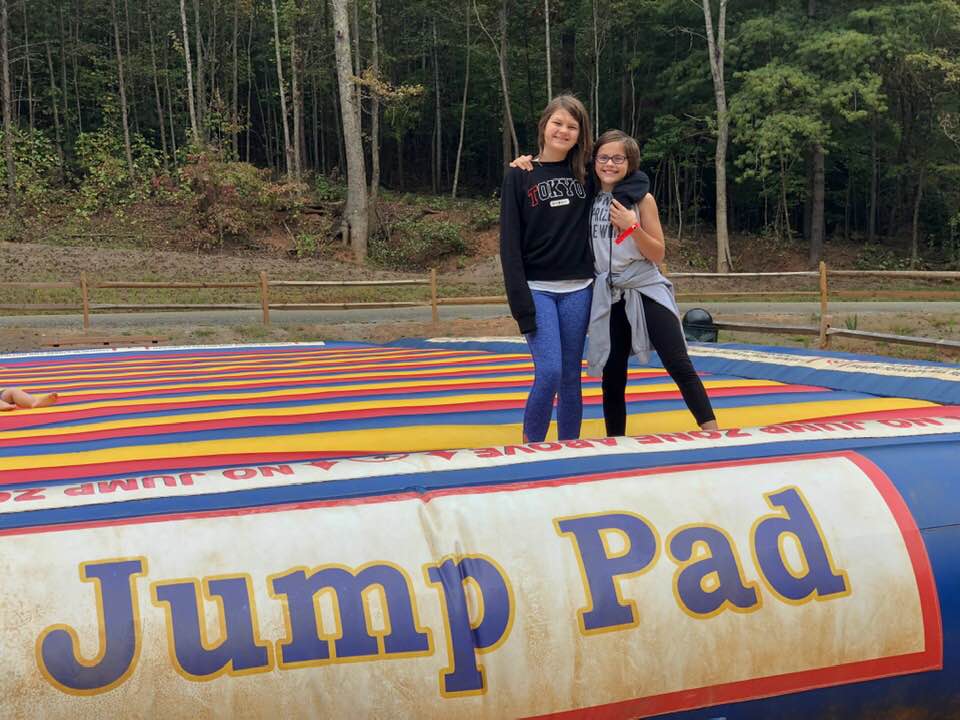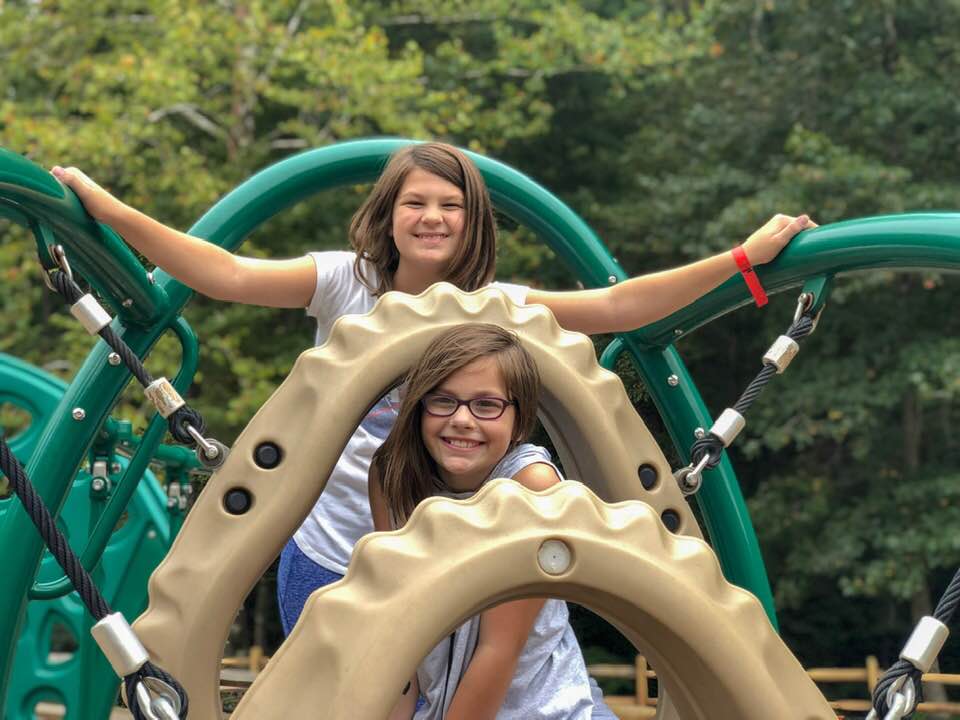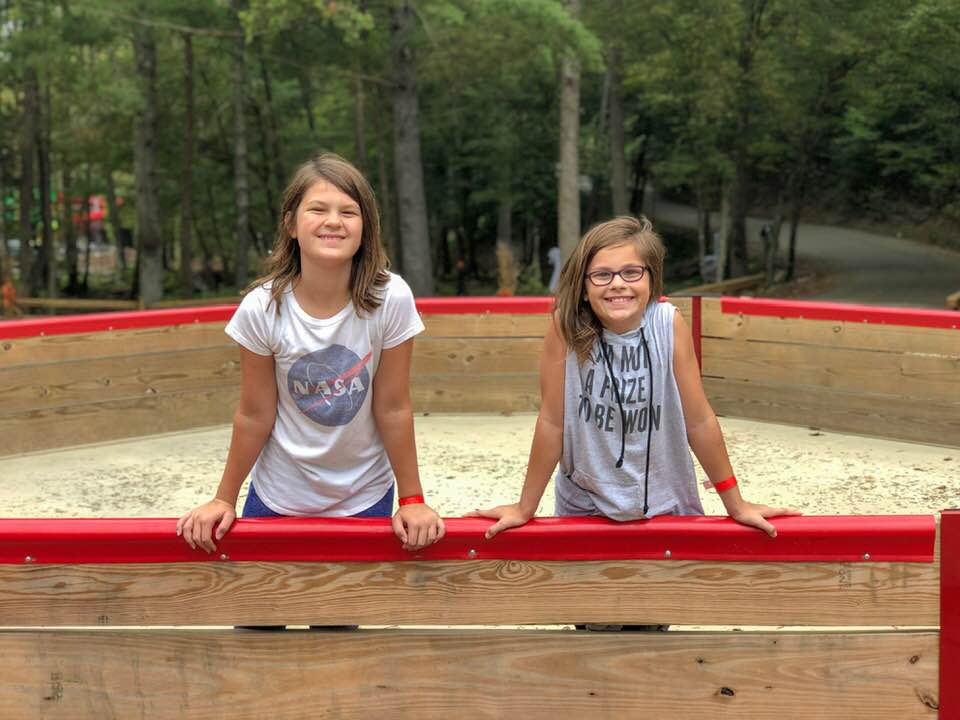 Next up was gem mining…if you have the activity pass, the bag is included, and if you don't, you can buy it! Our minis LOVE gem mining, and ask to do it every time we go to the mountains, so this was a huge coo for us! They got cards with their bags that explained what they may find, and clear bags for easy collection!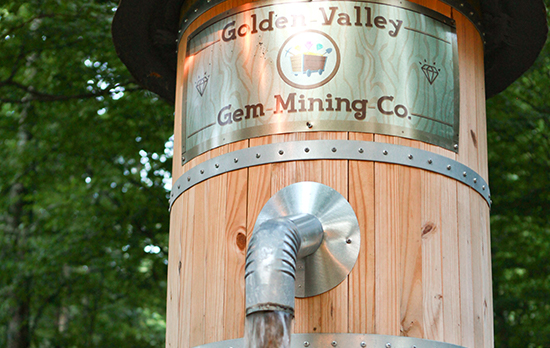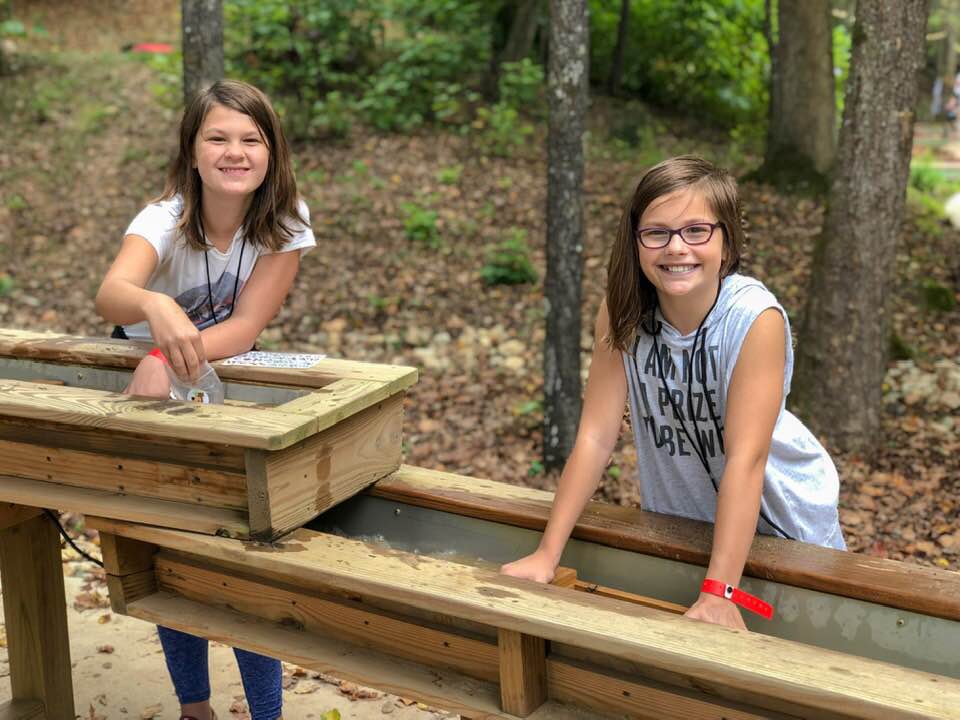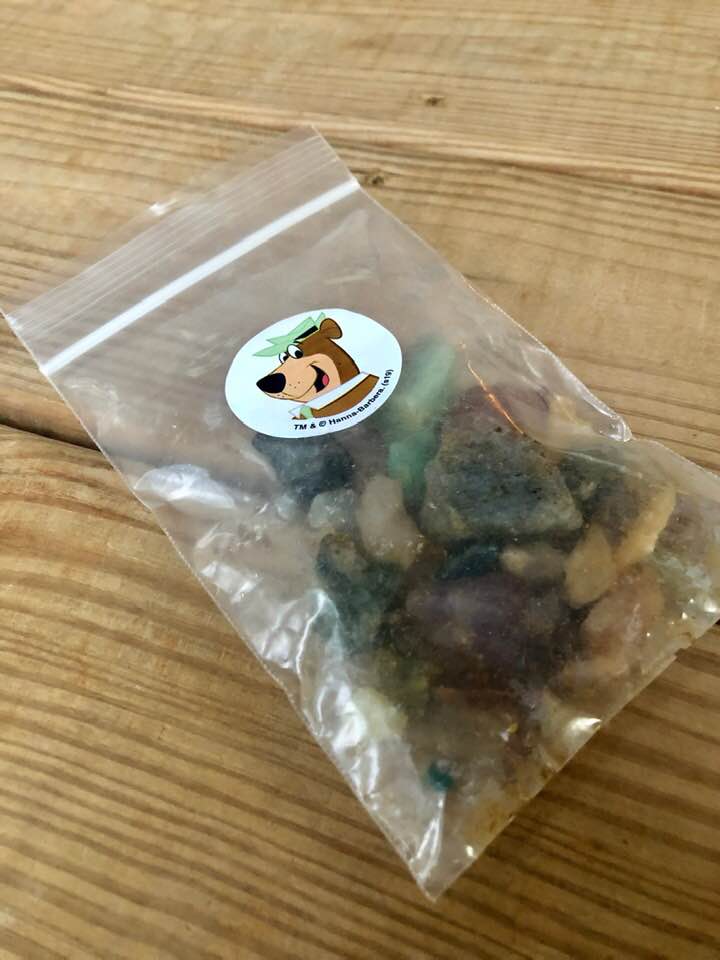 After gem mining, we did mini golf, which is another Miller family favorite! The course was beautiful and fun…not too hard; not too easy! You get unlimited rounds of mini golf just by staying on the property, so if a kid isn't feeling it, or is getting tired, leave and come back! Or do two rounds because you lost the first one to your husband, despite leading after the first nine and having the best putting game of your life 😉 I digress.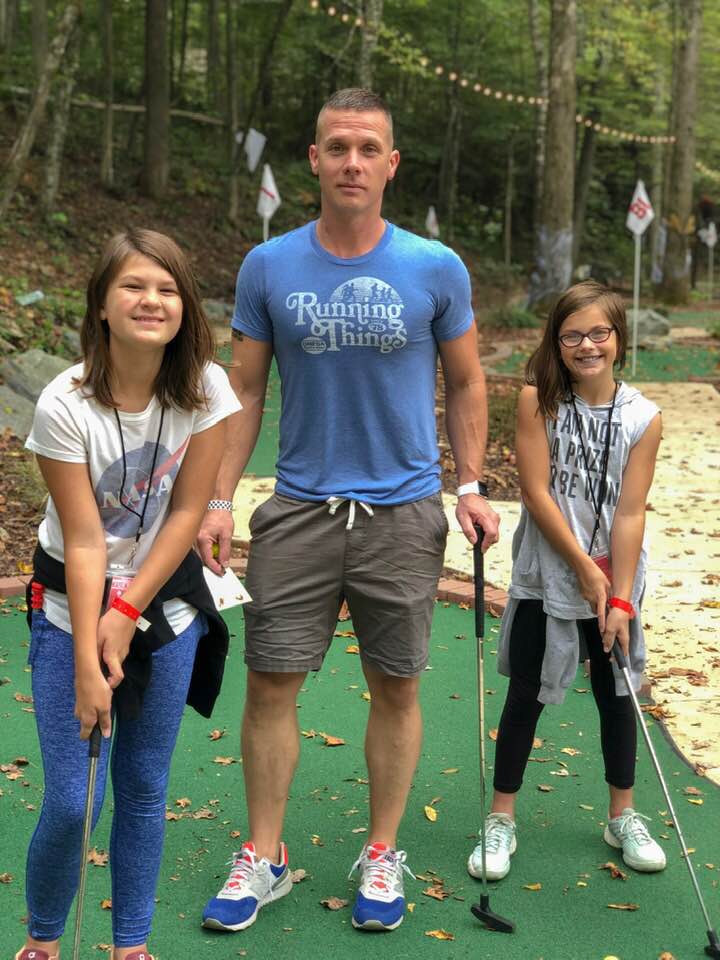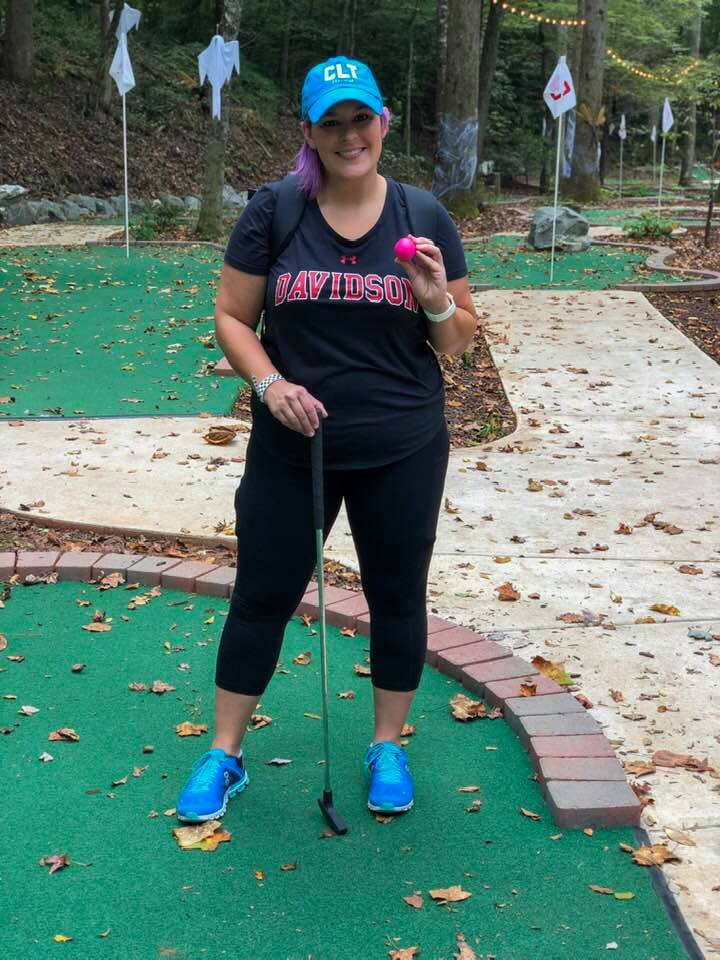 After the mini golf, we grabbed lunch at the on-site restaurant, Creekside Cafe, which has all of the family staples, from hot sandwiches to pizza cooked in a wood-fired oven! You can bring your own food…cook at your campsite/cabin/RV, but if you don't feel like it, it was awesome to have the cafe on premises! We then checked out the volleyball and basketball courts (they have pickle ball courts too), and wish we would've brought our tennis rackets (next time)!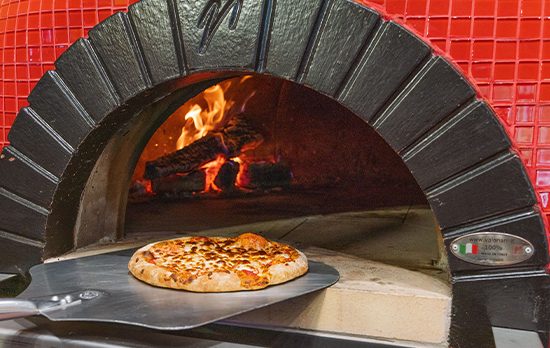 It was around this time, the sun started to come out, so we took the golf cart back to our cabin and got into our bathing suits (if you're still needing a cute suit, check out THIS POST)! It was finally time to get to the waterpark, which had two bigger slides, and the girls must've taken them 20 times. But not only the slides…my girls ran all over that place for hours, and met some littler kids, who they loved to play with! They do have cabanas to rent if you're looking for some privacy, or plenty of shade! Then they came to the big pool and we played basketball, as there were permanent hoops erected in the water! You can also swim in the lake at the Ol' Swimmin Hole if you'd rather!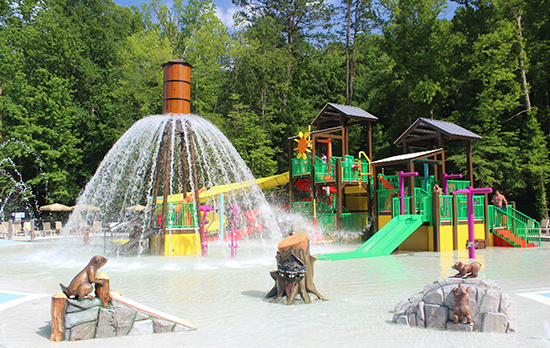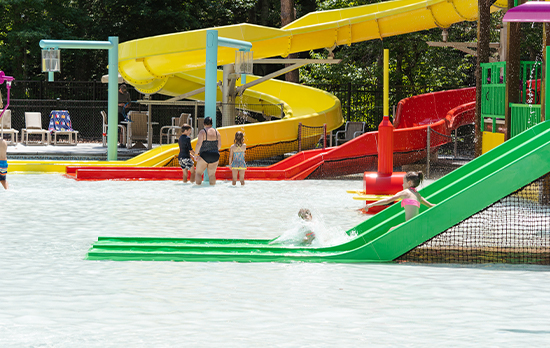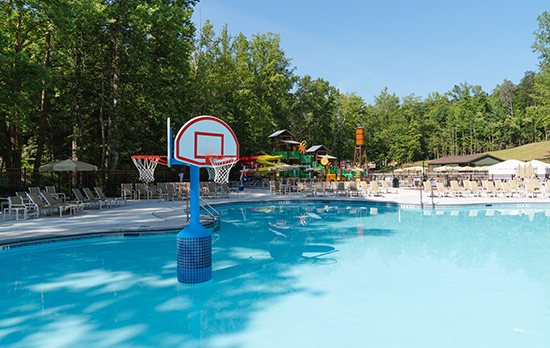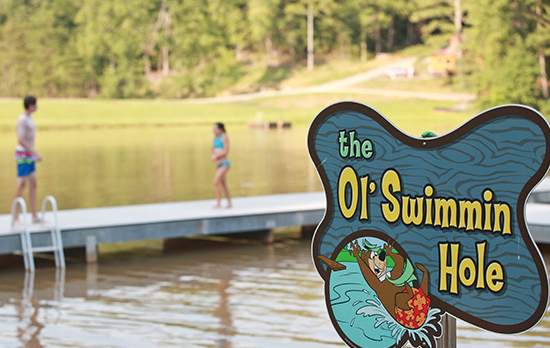 Joshua and I enjoyed one cocktail each at the Tavern, which was great because they also had a few TVs up, so people could watch football (me included)! There's a few arcade games, and signature drinks for the season…I enjoyed my Maliboo 😉 Once it was time to get back to the cabin, we jumped in the golf cart and headed that way to get dried off, eat, and change into dry clothes. We had planned on catching the outdoor movie (Hocus Pocus), but an employee tipped me off that there was going to be a haunted experience and we should be at the main pavilion around 7:30pm.
Side note: I had been told that it was definitely intended to be scary, and they were recommending 12 and older. So if your kids are NOT fans of anything scary, bloody, clowns, etc., do NOT take them on this! But there were also 2 and 4 year olds on our tractor ride who loved it…you know your kid best!
We got there in between the first and second tractor ride, and had time to kill. Luckily, there was cornhole to play and Bella and I got our mini golf redemption! Not that we gloated or anything 😉 When we got on the tractor, we were driven a few miles away to the middle of the woods, where they had the haunted experience. We were unloaded, and then taken through the haunted area. The production level was great, and the months of work that went into showed! I'm not the type to be spooked, so I giggled a lot, but the minis were utterly freaked out and may have shed a tear or twenty when a clown with a chainsaw chased after us. After it was all done, they were glad that they did it!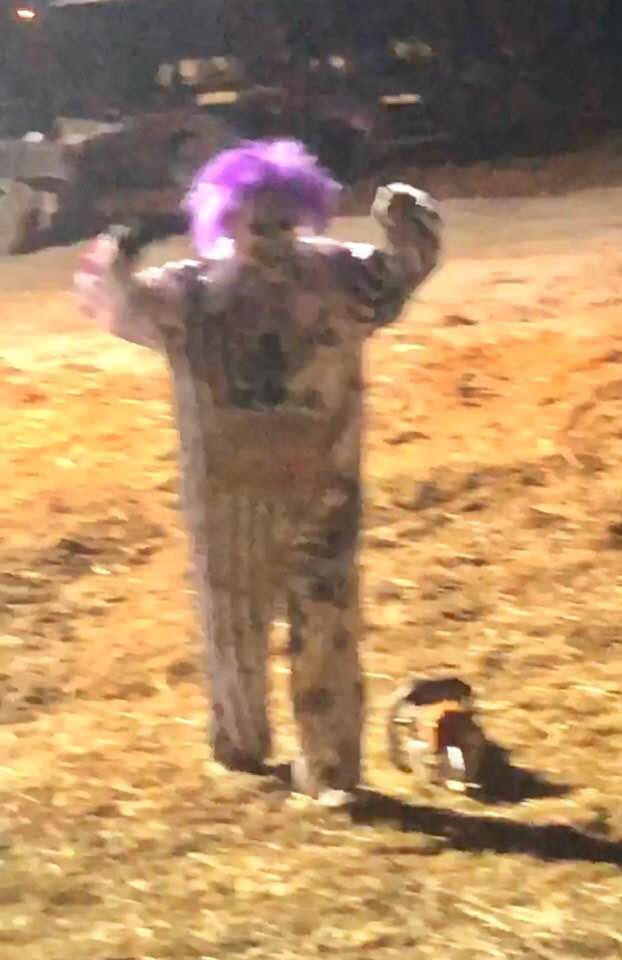 We were taken back to the pavilion afterwards, and hopped in our golf cart to head back to the cabin and go to bed! Again, can't get over the fact that we had AC and a private bathroom! We watched some Halloween Wars on Food Network and passed out!
The next morning, we decided to keep checking off the items on our activity passes, which included pedal boating! That brings me to another point…a lot of yall though it was paddle boating, but this is "pedal" because you pedal it like a bike, and boating because it's not a flat board! 🙂 If time permitted, Joshua would've loved to take a kayak out on the lake for a spin, but we had more to do!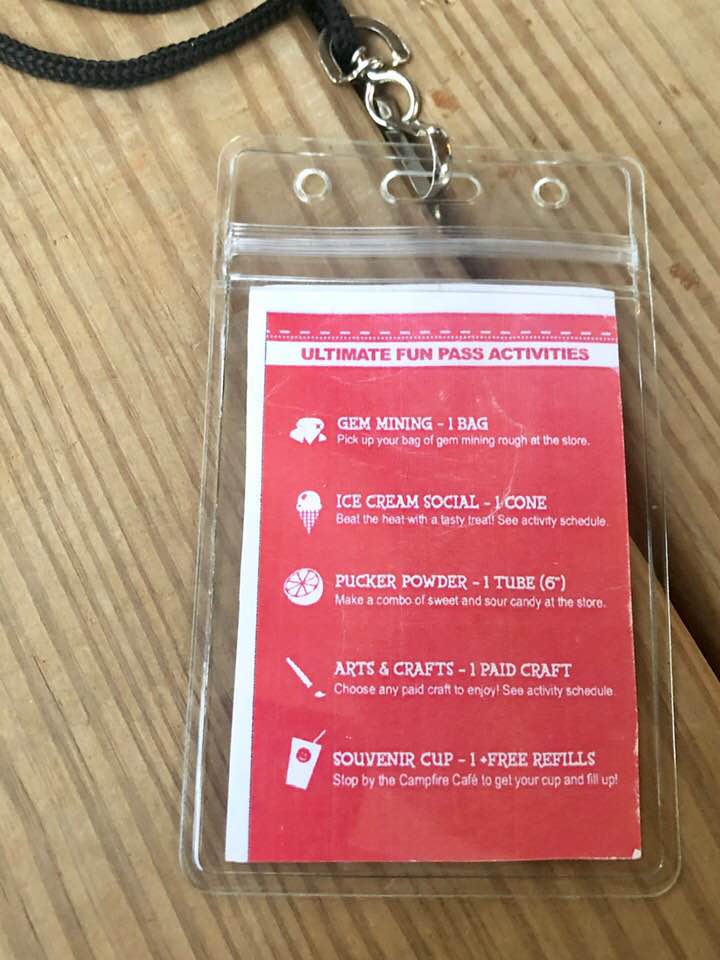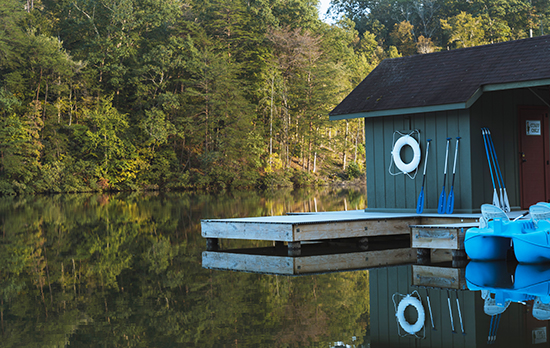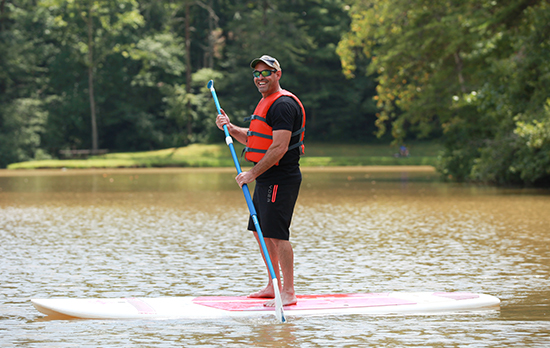 After that, we went to get some ice cream, and check out the arts and craft building! I was super impressed with what kinds of arts and crafts they had…we're not talking coloring books. But more like, tie dye t-shirts, sand art, pottery painting and so many other fun things!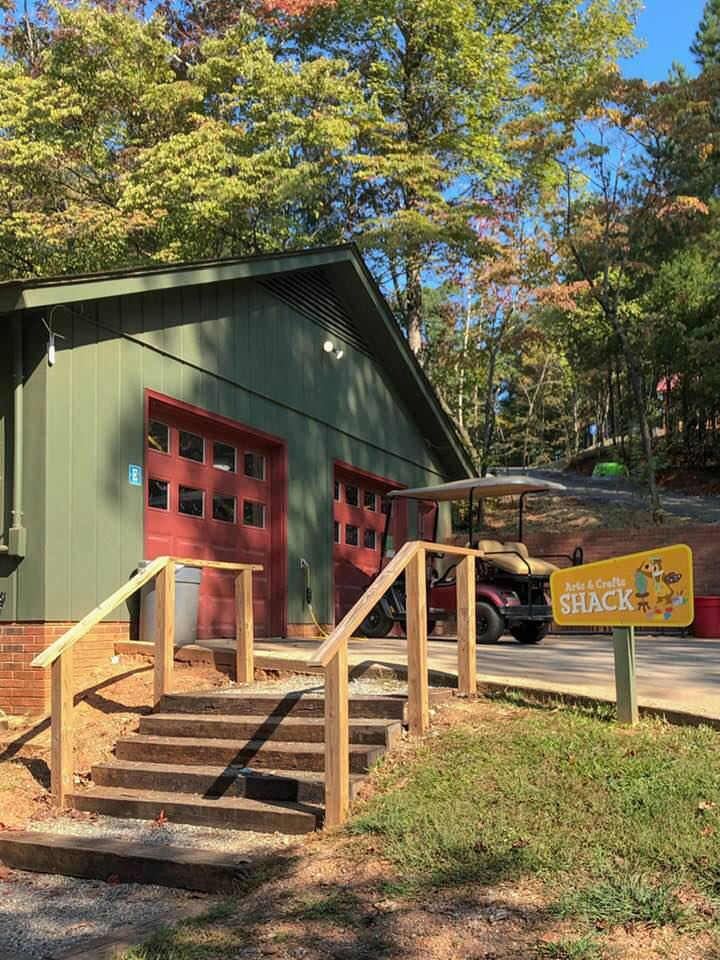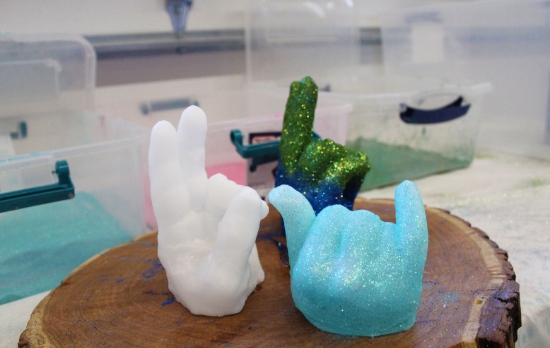 We could've stayed and taken advantage of the amenities for the whole day (after checking out), but I needed to get home to watch the Panthers play…yall know this :). But we will for sure be back, and are already planning a family reunion of sorts there, and here's one of the biggest draws to the park, IMHO. The two outdoor pavilions, located within the treetop glamping cabins area. The mountain view treetop glamping area has nine cabins in a horseshoe shape around the pavilion, and is flatter. The lake view treetop glamping area has the nine cabins close together, and the pavilion at the base of it, and more stairs.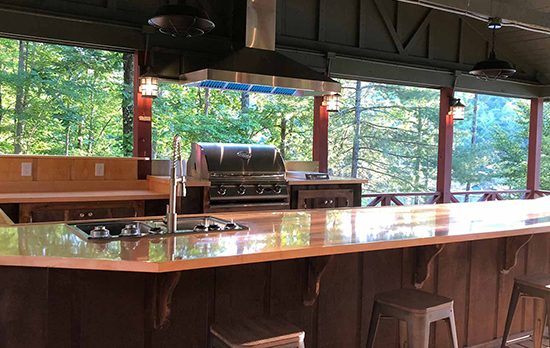 Now, it costs money to rent the pavilion (which alone, is a great idea depending on the event you're hosting there), BUT if you rent all nine cabins associated with the pavilion, you get the pavilion for FREE! The pavilion has an outdoor kitchen with a fridge, freezer, grill, burner, a pink pong/pool table, seating area, wood-burning fireplace, and a hot tub. I just think it would be SO MUCH FUN to have a friends weekend, reunion, girls trip, boys trip, girl/boy scouts, etc. there! And you still have use of the amenities too!!
Again, if glamping isn't your cup of tea, they have full blown cabins, houses, etc. on site, some sleeping up to 16! So make sure you head to the website HERE to see all of the options ("ways to stay" shows you the layout and pics of each place to stay). Yes, is it higher than you'd expect if you're used to "camping" prices, but this is different because of the amenities you get included (and it's not tent camping)!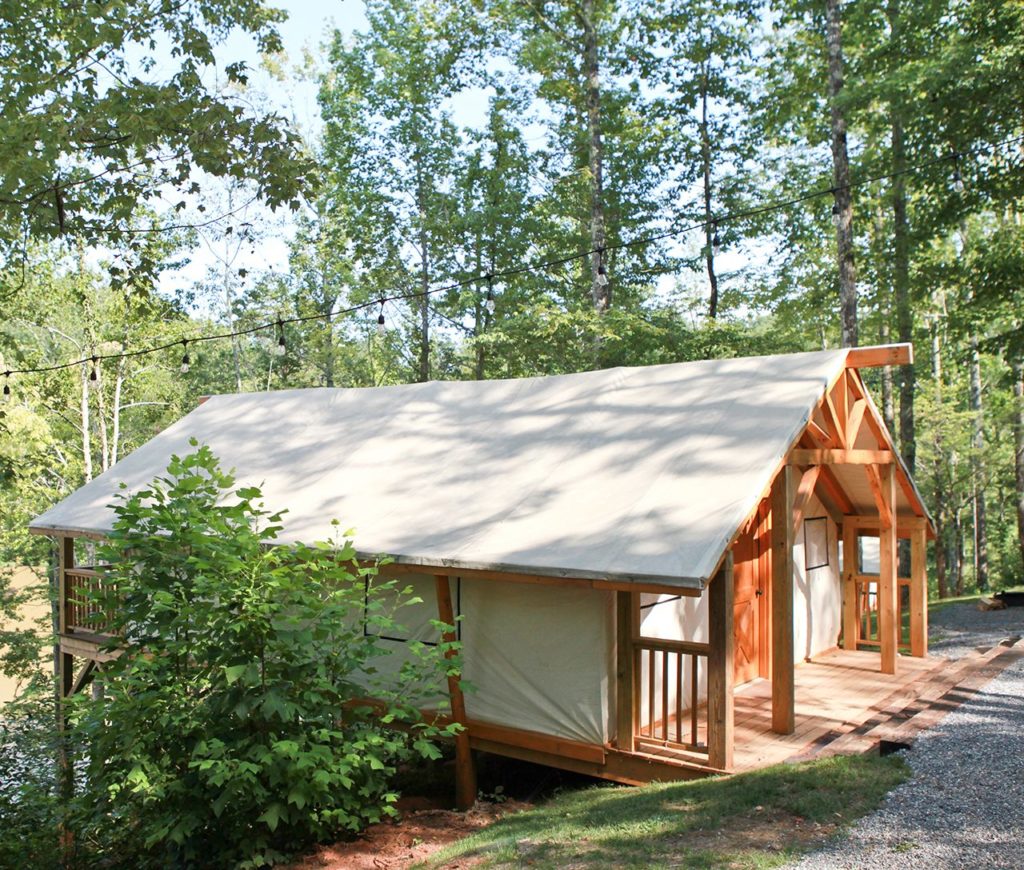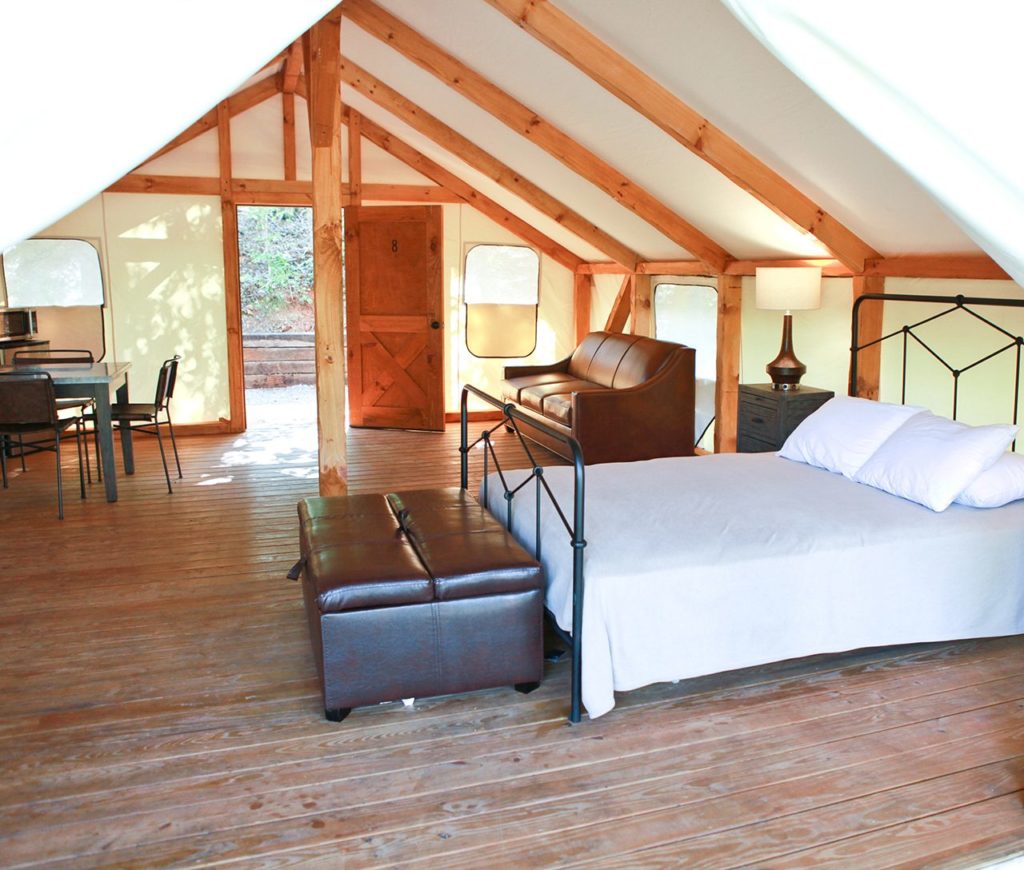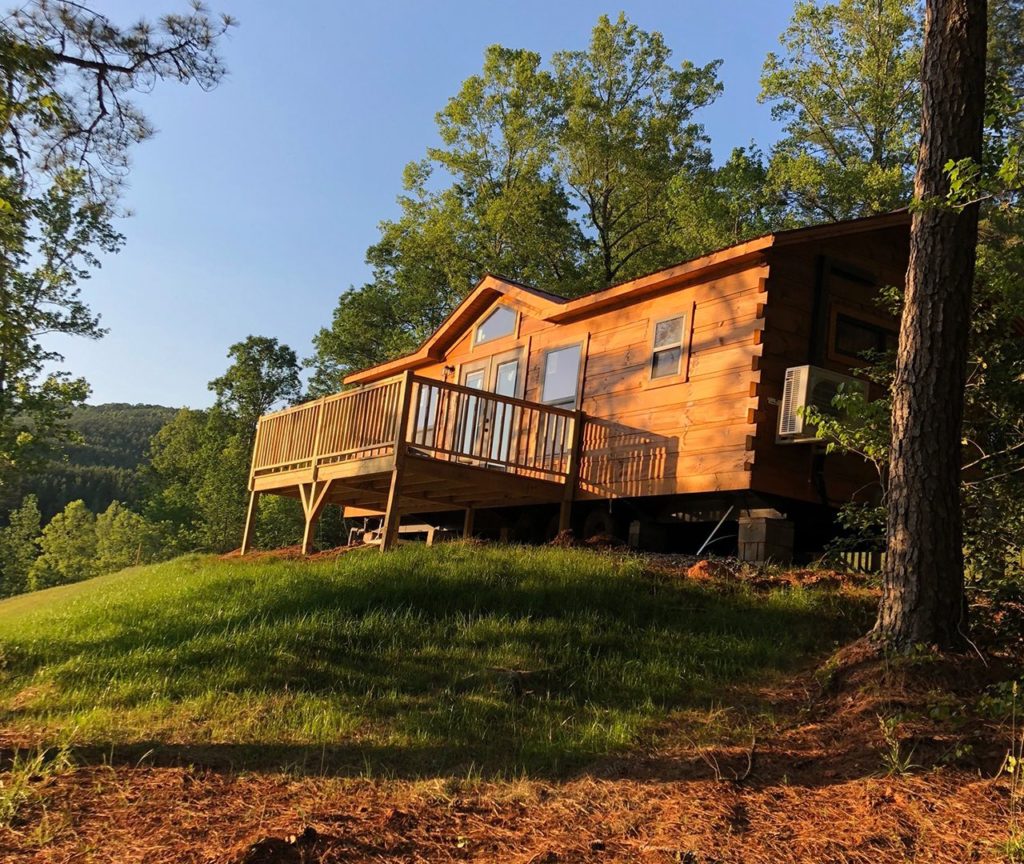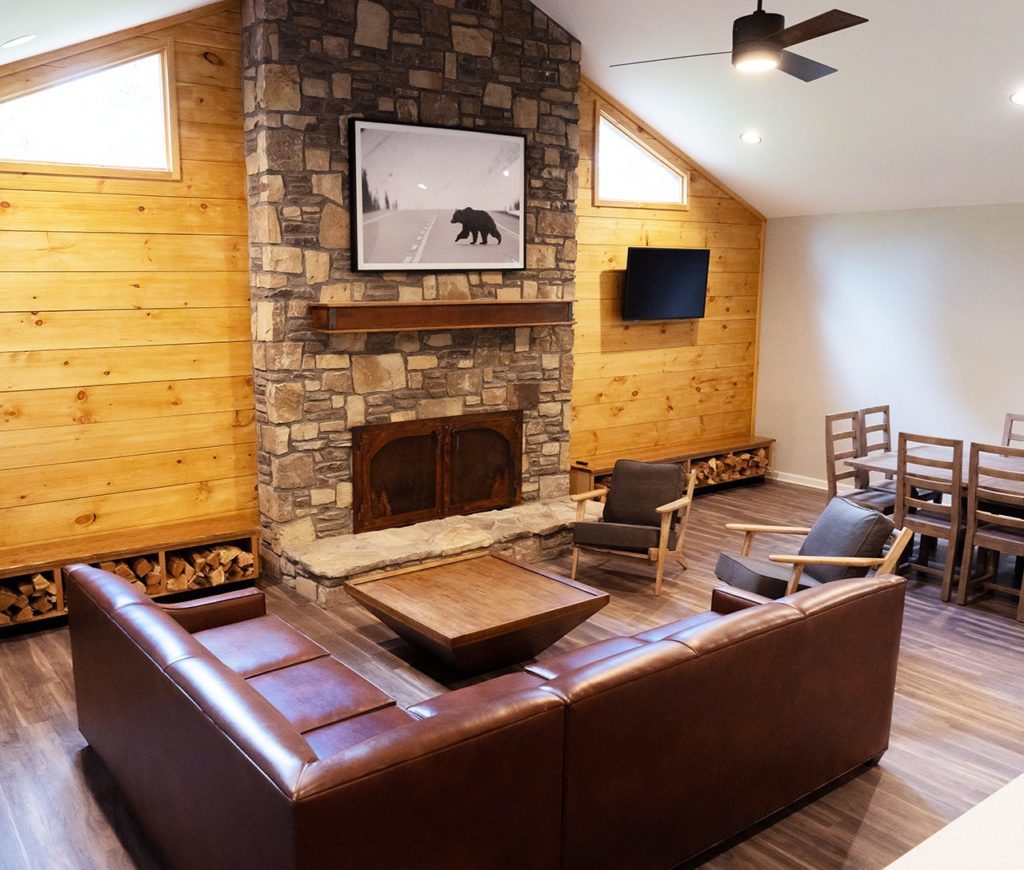 Now, for the best part…Jellystone is giving Miranda in Charlotte peeps 15% off of all cabins and campsites at their Golden Valley location until the END of 2020 by using the code…
GVMIRANDA
The fine print: New bookings only. No canceling and rebooking allowed. Must mention promo code at time of booking. May not be combined with any other offer or promotion. Not valid during Memorial Day Weekend or Labor Day Weekend.
And if you're looking to take advantage of the Halloween fun, book sooner than later, as there are three weekends left in the month to experience it all! If you're looking for the exact glamping cabin we stayed in, it was lake view treetop #16. Next time, we will do the mountain view treetop #24 or #25 just for a different view! We are also tempted to snag one of the glamping tents just to have a little more room (and so Joshua can stand up when he walks through it LOL)! Or depending on the weather, we'll do a tent camp site, and go back to no AC and sharing a bathroom 🙂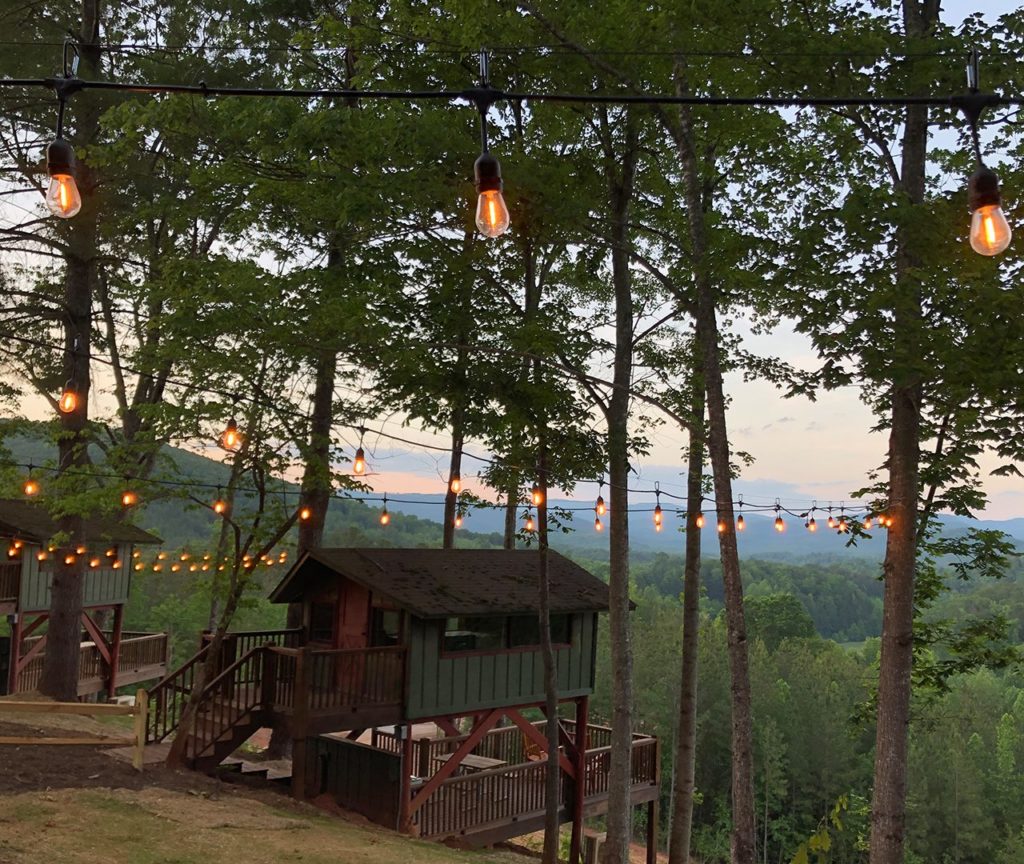 Here are some other things that make Jellystone great…24 hour laundry services, which is amazing, especially if you're staying for longer than a few days! There's a comfort station, with showers, in case you don't have a private bathroom! There's even trash pickup, which happens 8am-dusk daily, so you're not having to haul trash away at the end of your stay! And if you forget anything, the camp store probably has it, from food to bug spray, and sweatshirts to pots and pans! Oh, and there's free WiFi that actually works while on the premises!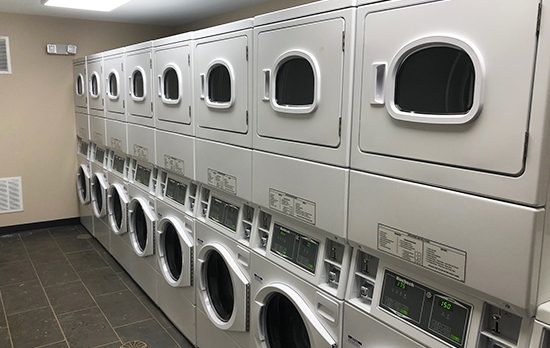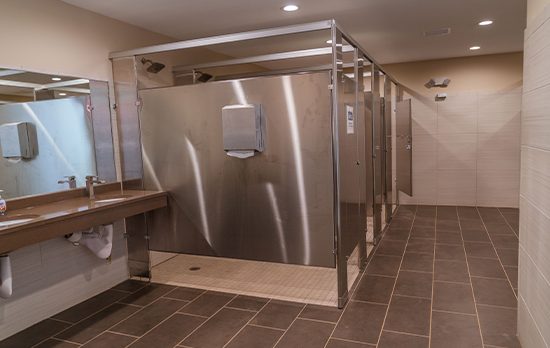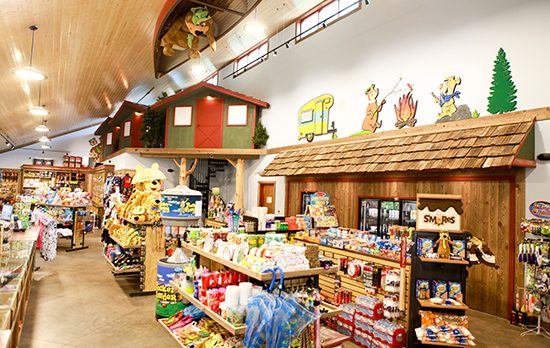 Simply put, this was a trip we'll always remember! We've tent camped forever, and it was nice to feel spoiled (funny how perspective works). So many of yall, as you watched my insta-stories, said, "I'm NOT a camper, but my kids have been begging us, and this looks like something I could do!" And you absolutely can! This would make an incredible "experience gift" for Christmas that I'm always talking about, instead of tangible gifts 😉
Please, give your kids (and yourself) that experience! I know you won't regret it! And when you do go (because I know you will), please tag me in it, so I can live vicariously through you! Don't forget to use that code when you book, GVMIRANDA!
And it would mean so much if you'd pin this image…