If you've followed me for any amount of time, you know I'm a MASSIVE sports fan, of ANY kind! And when it comes to picking a favorite, football has to be up there! I love the competition, the amazing plays, the camaraderie, the teams' legacies, the cheering and even the jeering, and a million other things! But I also love the social aspect of it, and tailgating is a part of that for me!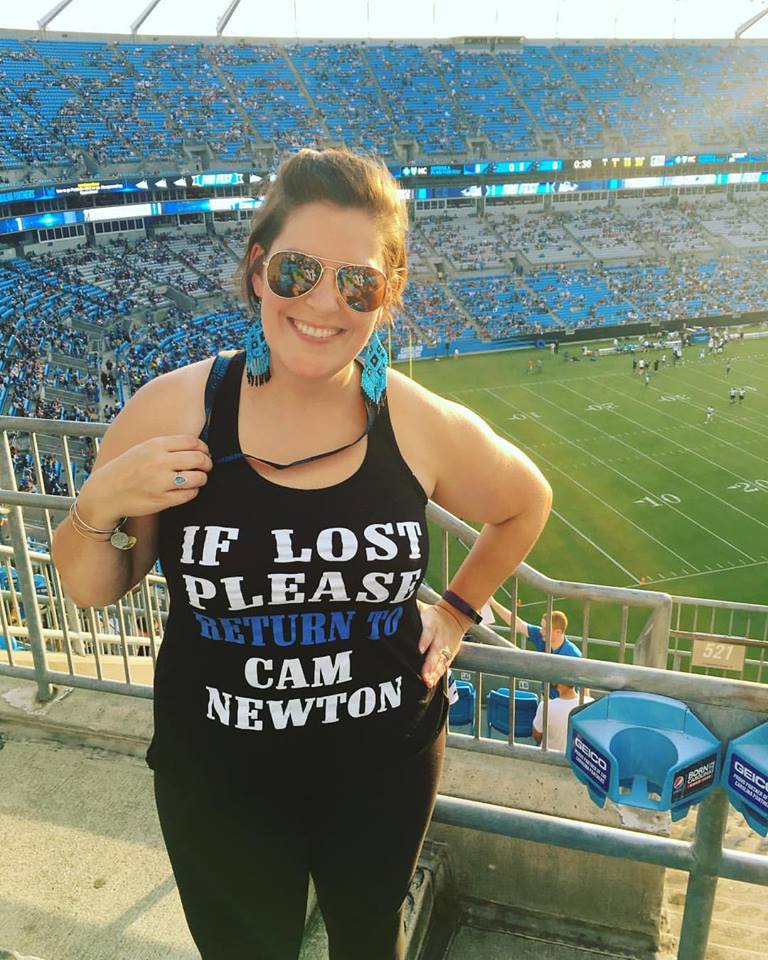 I grew up in Charlotte, and we didn't have a pro football team for the first third of my life, so we were insanely excited when we got the Carolina Panthers and had our first game in '95! My parents used to throw the best tailgates for every home game, as the rooftop to my dad's work building, overlooked the stadium! They'd set up tables full of food, have TVs broadcasting the other games, and coolers full of drinks! Their rule, as always, "if you leave hungry or thirsty, it's your own damn fault." 😉
Joshua and I even had our rehearsal dinner on that rooftop because of the awesome memories made, many of them related to those tailgates! In later years, they'd bring their RV to the parking lot, and we'd have huge tailgates on the streets. I'm not saying I'm a tailgating pro, but I've seen the best hosts IMHO, and I'm here to share some of the tips I've witnessed along the way, AND give yall some of my own ideas!
WATCH THE CLOCK
I follow the 4 hour rule…get to the tailgate 4 hours before the game starts, eat two hours before it starts, and walk to the stadium 30-45 minutes before it starts, based on the length of the walk.

KEEP THE MENU SIMPLE
I am a fan of basing the menu on what time we're tailgating…brunch for a 1pm game, lunch for a 4pm game, dinner for a prime time game, and asking people to potluck within the brunch/lunch/dinner theme. Tell your attendees "no real serving dishes" because they won't be going back to their cars and you don't want to have to return dishes afterwards!
HAVE AS MUCH TO THROW AWAY/RECYCLE AS POSSIBLE
I don't love the idea of waste, but when it comes to tailgating, it's similar to when we camp. Doing dishes is hard, so I try to use paper products/platters that I can recycle/burn. Use pop-up laundry hampers (that fold flat) with trash bags in them for waste and recycling!
MAKE FOOD THAT CAN BE EATEN EASILY
Since we're typically eating on our laps, or eating while standing when we tailgate, this is the time for finger foods…or better yet, a meal inside of a bag! A walking taco is perfect for the occasion because everything is inside of the bag of chips already!
THINK SMALL
Cooler space is of a premium, so avoid using it for condiments; this is the time to use all of those ketchup, mustard, hot sauce, etc. packets!
AVOID DAIRY
Listen, I love deviled eggs as much as the next person, but I generally try to avoid anything that needs to be chilled before eating. Plus, if it's in the direct sunlight, it spoils quicker than expected. Think chips and salsa (recipe HERE), instead of chips and queso!

HAVE FUN GAMES
Cornhole can be a PITA to bring places (or we don't have room for it), so we tend to bring our washers game instead! We typically have a football or two to throw around, bubbles for kids, and whatever else we can find!
KEEP THE GLASS AT HOME
Not only is glass heavier to carry (or roll), but it inevitably, someone will stick his tongue in your ear, and you'll turn your head so fast, you'll break your front tooth on the top of the beer bottle. Wait, that was college, but STILL AT A TAILGATE, and I'm STILL mad about it. Only exception here is a mason jar full of sangria (recipe HERE) because those things don't leak!

DRESS THE PART
It goes without saying to wear your team's colors, jerseys, cat ears, etc. to the tailgate, but don't forget to layer! Often times, the temperature between when tailgate starts, and you're sitting inside of the stadium, can vary by 20 degrees or more! I'm a fan of a long sleeve shirt, under the jersey, that I can take off and tie around my waist. And full length leggings (faves are HERE) can be rolled to be capris if it gets too hot! And always wear comfortable shoes…no one is expecting a fashion show at an NFL game! Check out Girl Tribe's game day collection try-on HERE (use MIRANDA10 for 10% off), and cute panther earrings from Clay by Mila Faye HERE (use MIRANDACLT for 15% off)!

COVER THE TABLE
I'm a sucker for a decorated, and well set up food table. But I'm all about working smarter, not harder. Traditional table cloths blow easily, and even if they have clips or elastic, they're a pain to clean. Enter the twin-sized FITTED SHEET! It stays on the table, you can find it one of your team's colors, and just throw it in the washer when you get home to clean it! I bought a plain black one (doesn't show stains), and then used a Panther's towel to decorate it (again, throw it in the washer).
SAFETY FIRST
I always bring sunscreen AND bug spray, because you never know what the elements will give you that day! And if you don't know the exact location of your seats in the stadium, you may just be sitting in the direct sun the whole time! And a first-aid kit isn't a bad idea either…has headache medicine, bandaids, burn relief, and other basics!
IT'S ELECTRIC
You'll want to have some music and/or listen to the pregame show on the radio! Don't run your battery in the car dead, and instead get a great portable bluetooth speaker ($5 off coupon right now) and play it from your phone. Also, you'll want a fully-charged phone to head into the stadium with, so don't forget this charger, as it will charge an iphone up to five times without being plugged in!
BE PREPARED TO POP A SQUAT
I know, I know. But yall, four hours + drinking beverages + being outside = pee emergency! Now, if you're smart, you'll pick a tailgating spot that has a porta potty/bathroom close by, but what if it doesn't?! Bring a roll of TP just in case, some hand sanitizer, and baby wipes. Don't ask questions…just trust me. LOL.
MAKE ROOM FOR A CANOPY
I know pop up canopies aren't the easiest things to fit in a car, but make room. If it starts to rain, you'll want the food (and your body) under it. If it's brutally hot, you'll want the shade. And you can hang stuff from it, like a paper towel roll, with a bungee cord through it. And of course, a huge Panther's flag, showing your team pride!

HAVE SOMETHING SILLY, YET FUNCTIONAL
I found this utterly ridiculous, yet awesome, inflatable football field buffet cooler on Amazon! Fill it with some bags of ice, and put all of the drinks in it, freeing up space in your cooler for food that needs to be cooked! The best part is that when not in use, it deflates and folds up very small, not taking up much space at all!
COOKING WITH GAS
I love the taste of a burger cooked over charcoal as much as the next girl, but waiting for coals to cool down, and the disposing of them after they are, is not my idea of fun. So this is when I'd suggest propane and a camping stove if you must cook something!
KNOW THE RULES
The last thing you'll need to do at the tailgate is gather what you're taking into the game. Here are the rules….you CANNOT take a bag in unless it's clear (or extremely small…smaller than your hand). This is where Policy bags come in handy, and are still fashionable AF! Check them out HERE, and make sure you get in the bag line at the stadium because they'll still need to search them! You can also bring two bottles of water, but the seal cannot be broken…they know the vodka trick, yall. 😉 Oh, and you can bring a blanket with you, so if it's chilly, you're good to go!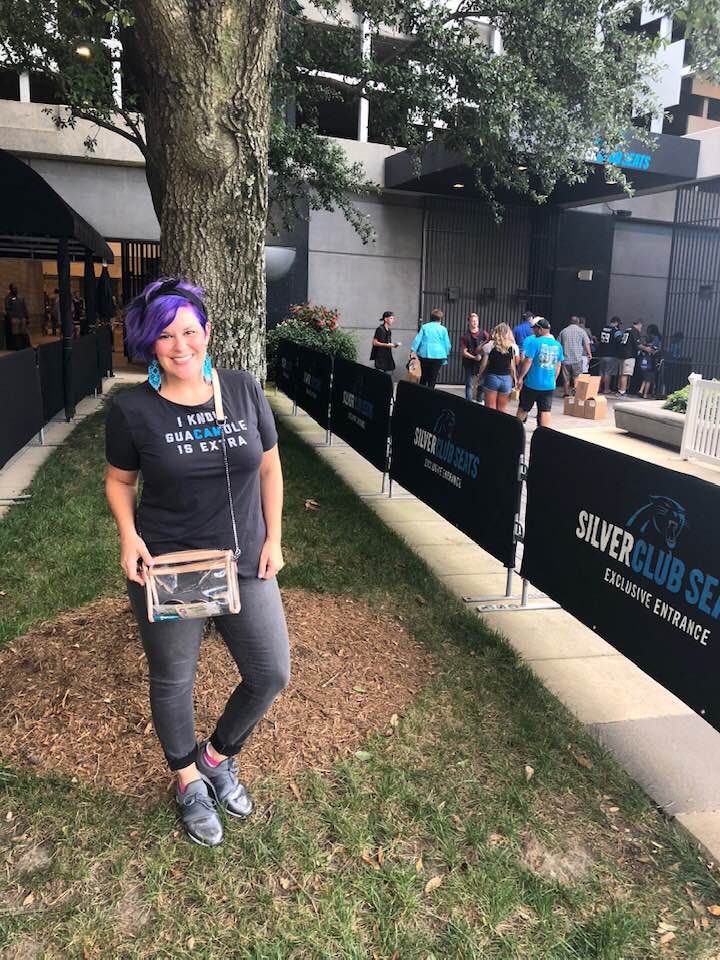 Those are my top 17 tips to throwing the ultimate tailgate! What did I miss?! Tell me in the comments, and as always
GOOOOOOOOO PANTHERSSSSSSS!!!!
If you'd like to see my segment on Charlotte Today, here it is!!!
AND PLEASE PIN THIS IMAGE!!!