When I had my cakery, I was known as an "expensive" cake decorator. I wasn't; I can assure you of that.
Because if I was, I'd probably:
Still be in business
Vacationing in Tahiti
Pay myself more than $6,000/year (no I didn't forget a zero)
Have taken a day off at some point
I digress.
Anyways, I completely DID understand that my prices for custom cakes weren't in everyone's budgets. (PS, just say that to your caker, instead of calling them expensive.) If you don't know the expenses that go into running a business, then you probably don't know if said product is expensive. The truth is either: it's not in your budget, or it's not worth the price to you. Both reasonable and truthful answers. Dangit. I digressed again. 😉
In saying that, I WANT TO HELP YOU! But we're going to start simple and small. The goal of these cakes is to show you a similar way to decorate a variety of cakes using THREE THINGS…a topper, sixlets candies, and ribbon. And everything can be bought at Walmart, for LESS THAN $20 per cake INCLUDING the cake, so it's a one stop shop! Oh, and each cake will take you LESS THAN 10 minutes to decorate…REALLY!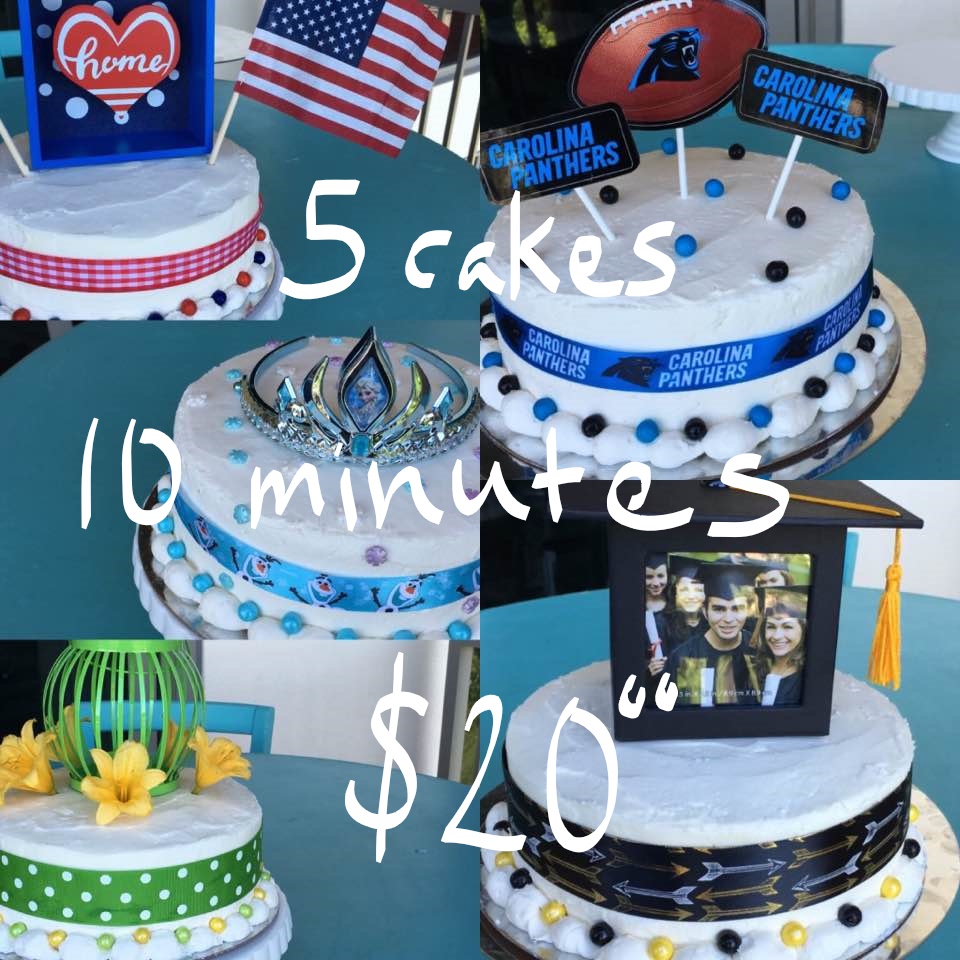 DON'T FORGET TO PIN IT!
And listen, you can bake, fill and ice a cake til your hearts content if you want! Feel free to check out THIS post I did on my carrot cake (you do whatever flavor you want)! But the basics for those three things (bake, fill, ice) can be found there to help you along the way!
However, I promised simple, so I simply ordered the cake 🙂
Yep! I asked for a 9 inch round, double layer cake (so it would be as tall as possible), covered in smooth white buttercream (knowing it wouldn't be perfectly smooth was fine with me), and a piped round/pearl border (instead of a shell border), no decorations on top or anywhere else. Keep in mind, you can order this kind of cake from any grocery store/bakery you love, but the price may be different!
Then head to your nearest Walmart and pick up three things…ribbon to go with your theme, sixlets candies, and whatever you need for your topper! For the ribbon, the width depends on the height of your cake, but I used 7/8 and 1 1/2 inch ribbons, and both worked great! You can put wax paper under the ribbon if you are concerned about ribbon touching icing (I wasn't). I bought three bags of sixlets ($4.97 each) to go on the five different cakes, and I think they're worth the investment to have every color in pastel, primary, and black. And since there are so many in each bag, you'll be able to use the bag again and again for future cakes! But obviously, you can do your cake with just one singular bag! I did the math, and it's essentially ONE PENNY per sixlet!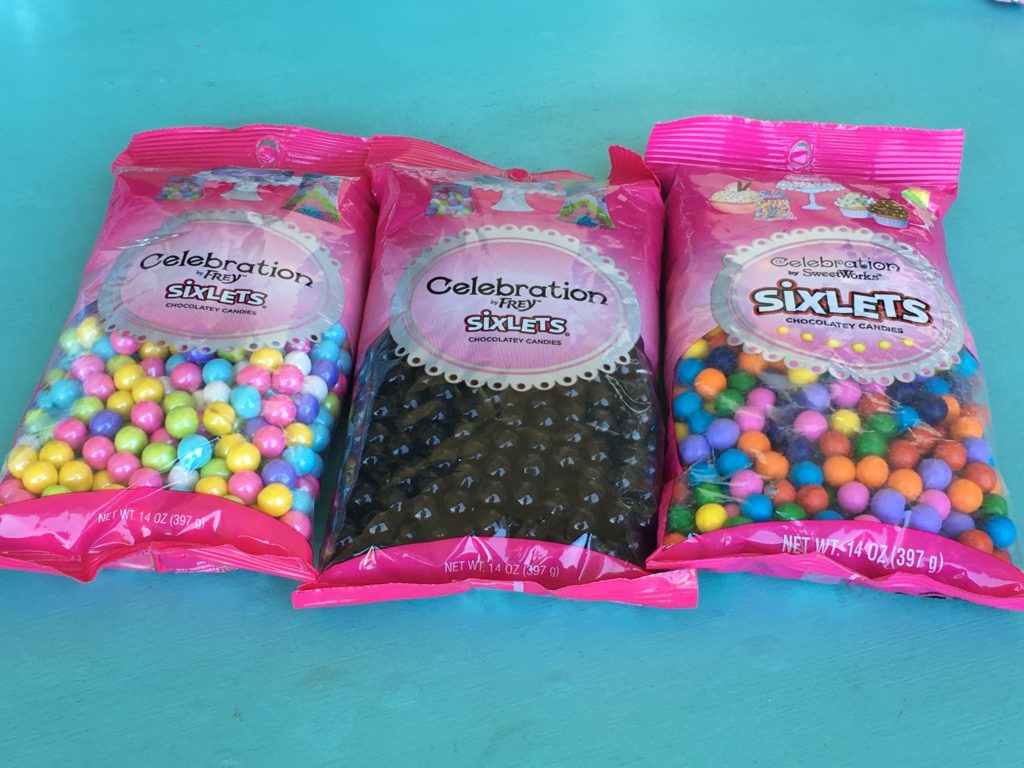 The toppers totally depend on the theme of your cake as well! Many people go to the party supply section, and there's nothing wrong with that, but I think it's cuter to look around the rest of the store to find something a bit more unique, and often times, they're less expensive! You'll see below what I decided on for the themes I chose, but I'll also give you some additional ideas as they come to me!
Basically, each cake is made the same way. Ribbon around the side, candies around the base, and the toppers on top, obvi. 😉 But each video has a cake tip or trick you may need to know about, depending on what you want to put on your cake! So check out each one…
Let's start with the Frozen cake! I KNOW your kids are obsessed with some sort of cartoon character/movie right now, and want a cake in that theme. You may run in to a little bit of push back from a custom cakery about this because technically we weren't allowed to do licensed character cakes. Why? Because copyright infringement is very real, and very costly. The reason why grocery/chain stores can do the cakes, is because they buy the rights from the company, and the company sends them decorating "packs" in the themes of what they can do. That's all good and well, except all of the cakes look the exact same because they have to. That's why I'm going to show you how to make a Frozen cake that you won't see replicated at every birthday party.
In this case, the cake was $9.99, the tiara was $4.94, sprinkles $2.47 but I used half, ribbon was $2.97 but I used 1/4 of it, and a handful of sixlets was $.25! The tiara can be a gift to the birthday girl, so that won't go to waste at all, and it even lights up 🙂 I love when a topper does double duty! Other ideas…Lightening McQueen car on top, black and white checkered ribbon around the side, and black, orange, and red sixlets; Construction toy on top with crushed oreo dirt pile, caution ribbon around the side, yellow and black sixlets; Doc McStuffins toy on top, purple ribbon around side, pastel pink and purple sixlets. The possibilities are ENDLESS!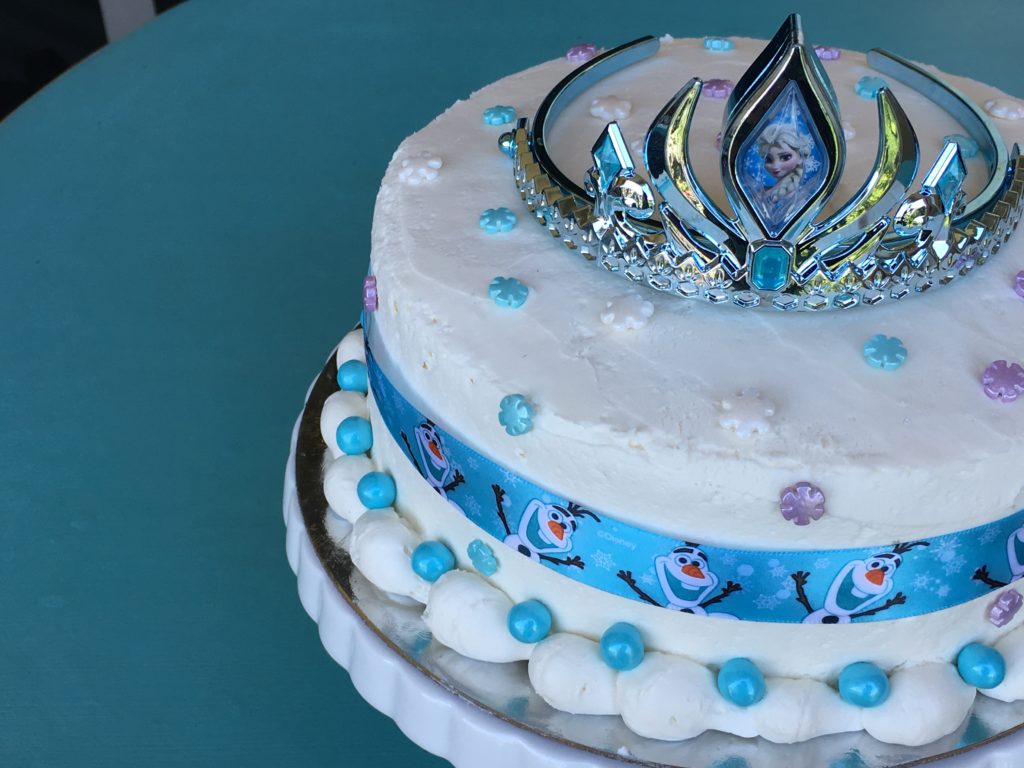 Next up is a sports-themed cake! Obviously, you're going to customize this to your favorite team/sport, but since I'm a huge Carolina Panther's fan, that's what you're going to see on my blog 😉 I found these car decals/stickers in the Panther's section of our local Walmart, and I thought they'd make the best toppers!
Watch the video to see how I made the stickers into toppers for the cake (don't peel off the backing), and how I assembled everything else…
In this case, the cake was $9.99, the stickers were $3.88, lollipop sticks were $1.99 for 50 (I used 3), ribbon was $2.97 but I used 1/4 of it, and a handful of sixlets was $.25! And the best part is the stickers can be used afterwards to go on a car, a cooler, a skateboard, journal, whatever! Again, always looking to reuse stuff. Other options: Golf ball on a tee (glue them together) on top, plaid ribbon around the side, green and blue sixlets; small plastic soccer ball on top, soccer-themed ribbon, black and green sixlets. But this is also a great time to tie in school sports/colors!
The next cake I made is great for any patriotic day (Memorial Day, 4th of July, Labor Day), a 'welcome to America' adoption/au pair/exchange student cake, or even a 'congrats on becoming an American citizen' cake (which I've totally made before)! In this video, I show you how to protect a cake from an object that's not technically "food safe." Watch to see how..
In this case, the cake was $9.99, the HOME decor was $2.98, the flags were $1.97 but used two, ribbon was $2.97 but I used 1/4 of it, and a handful of sixlets was $.25! And the HOME box has a hook to hang it on a wall after the party is over, and the flags can be reused in the yard even! Other options: Do this idea for any holiday! Tiny christmas tree on top, green and red plaid ribbon, green and red sixlets; little black hat on top, shamrock ribbon, green and black sixlets; plastic easter egg on top, pastel ribbon, pastel sixlets.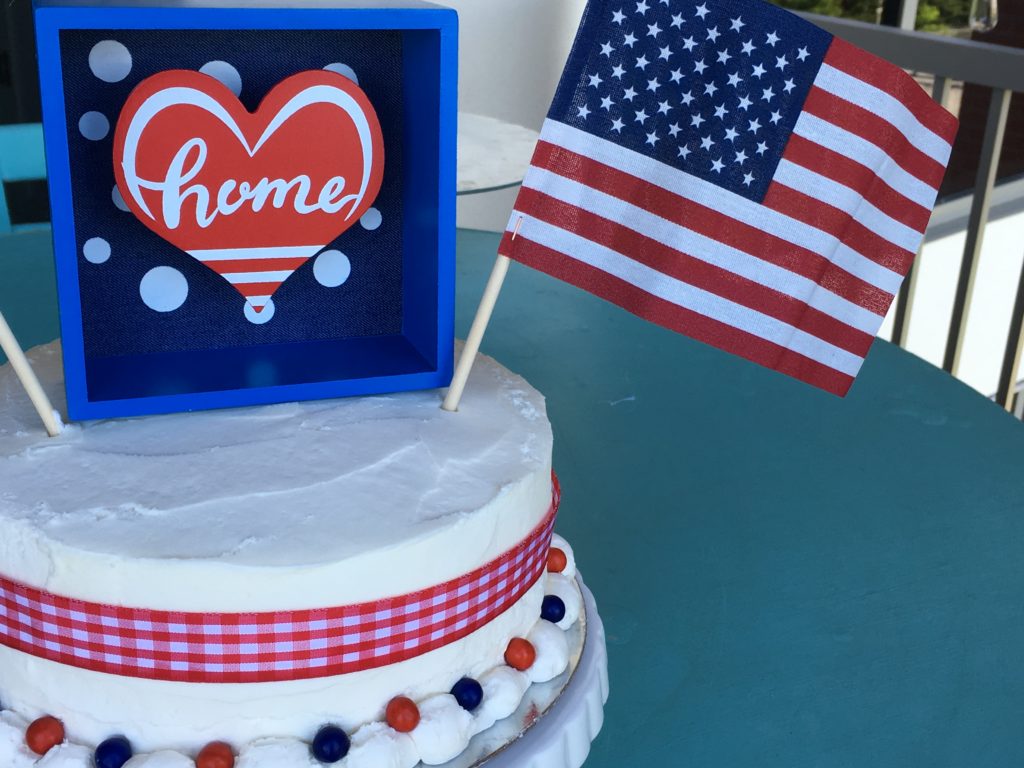 The next cake is what I prepared for my Mom's birthday! Her favorite color is green, and she LOVES to garden, tend to her flowers, etc. So in this video, I show you how to put fresh flowers in to a cake, because believe or not, they shouldn't just be stuck in to the icing! They are kept in dirty water, may have bugs on them, and grow in the ground. That's not exactly what you want to stick in to cake! Watch the video to see how to protect the cake from the stems!
In this case, the cake was $9.99, the lantern was $1.98, the flowers were cut off of a bush but you can buy them from Walmart for $4 (or get silk ones), ribbon was $2.97 but I used 1/4 of it, and a handful of sixlets was $.25! I already had the straws, but you can grab/save a few from your next drive thru! If your flowers have thick stems, look for boba tea straws or milkshake straws in the freezer/ice cream section! The lantern can be decor after the party is done, but my favorite part about it, is I used the tea light that goes inside of it as the "candle" to blow out! This cake is perfect for anyone, at anytime, for any occasion…just grab their favorite color of lantern, ribbon and flowers, and voila!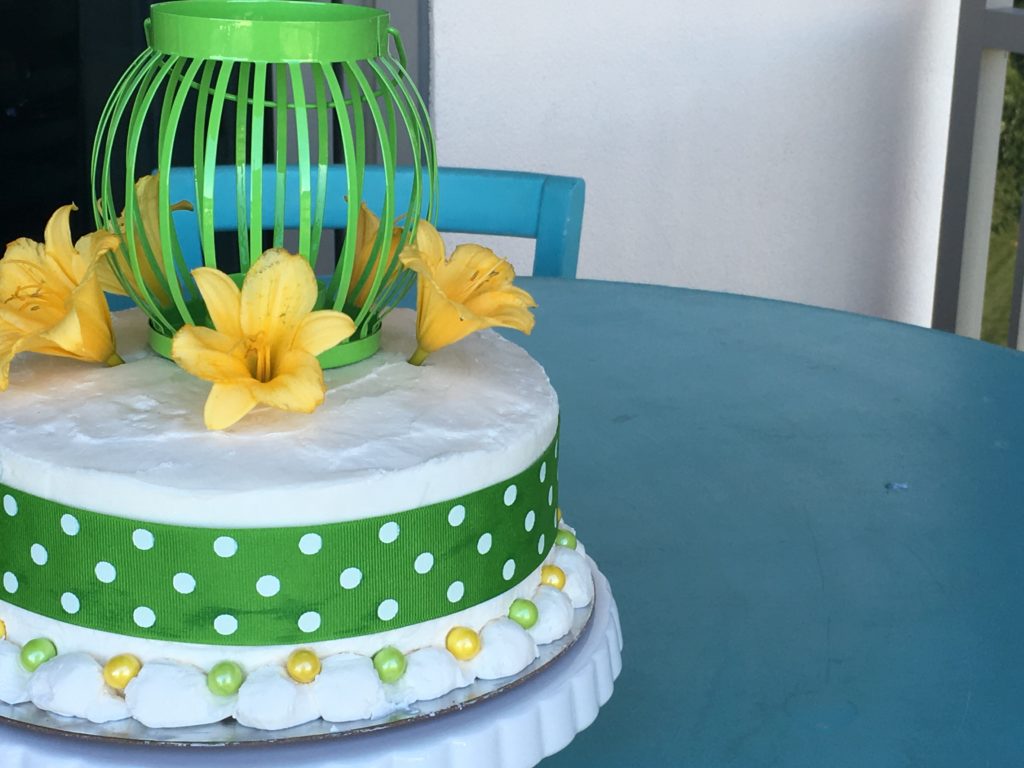 I know everyone knows someone graduating in the next few weeks, and this cake is perfect, no matter the age of your graduate! I found the photo cap cube in the graduation section of Walmart, and you can personalize it with your own pictures and quotes obviously! There aren't any new techniques to learn in this video per se, but just a re-CAP (pun intended) of the things we did in the other videos!
In this case, the cake was $9.99, the photo cube was $4.98, ribbon was $2.97 but I used 1/4 of it, and a handful of sixlets was $.25! This cube can be used again and again for future graduates…just switch out the pics! This also might be the only cake that goes over the $20 budget, because you can lift up the top part and store extra gifts inside…in this case, I put in $20! The option, I'd tell you for this cake, is to use the graduate's school colors to personalize the cake! Although I love this arrow ribbon I found, tying the school's colors together in through the ribbon and sixlets, would be super cute!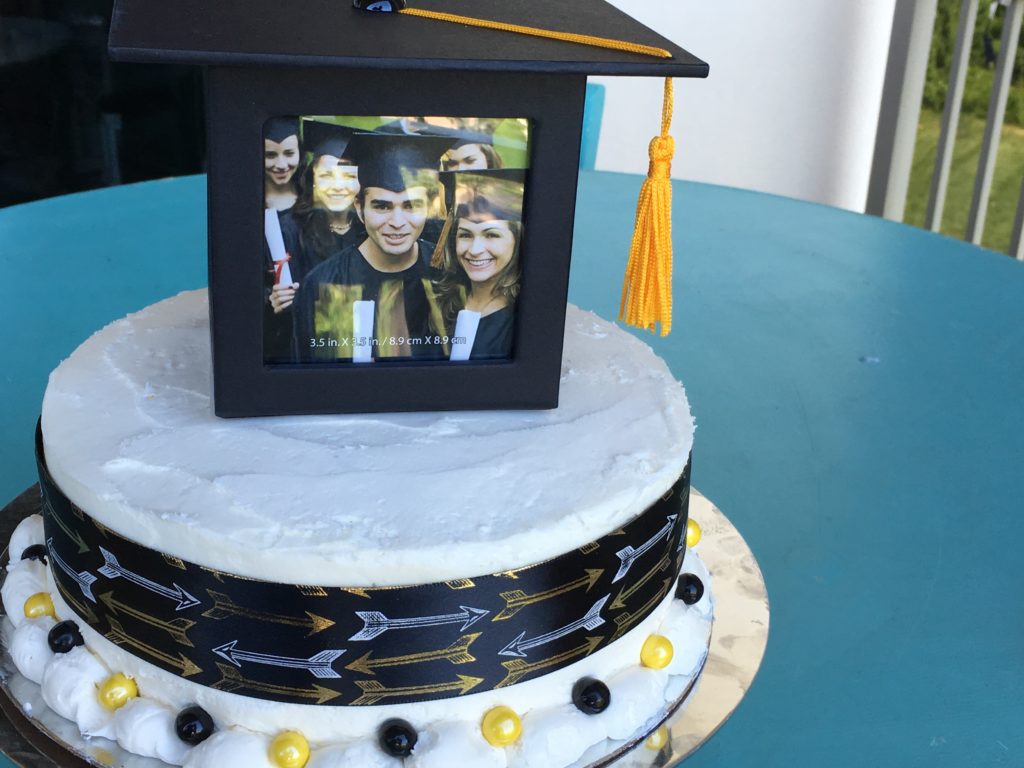 Let's talk about cake stands for a hot second! Every person should have one at the very least! I have waaaaaaaaaaaaaay too many to count, but that's because I owned a bakery. If you are looking for a cake stand that goes with everything, I would buy a plain white one. If you're looking to get two cake stands, then a white and a silver one should do the trick, no matter what kind of cake you're going to display on it! It really does make a visual difference to have the cake elevated off of the table. Walmart sells stands, at a great price, so check them out!
Shop some of the products used: