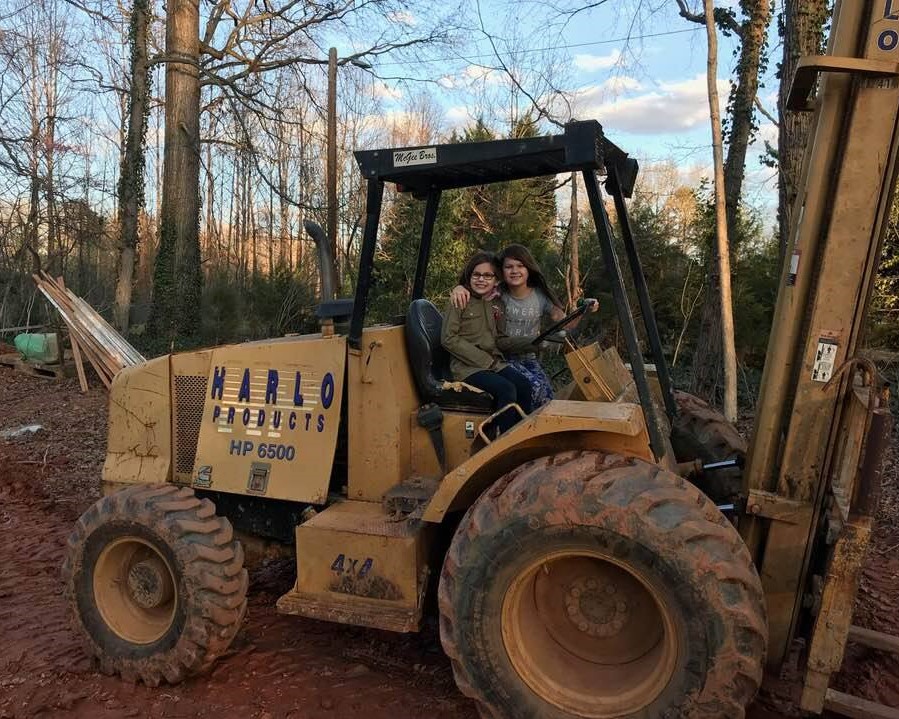 Disclosure – Any and all opinions expressed are that of Miranda in Charlotte. No compensation was received for this post. However please note that some of the links in this post are affiliate links. Meaning, at no additional cost to you, I will earn a very small commission if you click through and make a purchase using the link. 
Hi friends!!!
I'm a HORRIBLE blogger, clearly, as I last updated yall about the house building process in January before the first brick was laid, and NOW we're hoping to move in sometime in the next few weeks?!!!
So here's the deal as to why I didn't keep you in the loop more…
I actually did over on Instagram (if you follow me, you've already seen much of the process…you're my ride or dies, obvi)
I have been disappointed in a few of our vendors (cough cough Lowe's), and haven't been able to tell the real story of some of the "stuff" without putting them on blast.
I didn't want my public words to affect any of the products/delivery/installation from said vendors so I've kept mostly quiet.
I still won't put anyone/any place on blast juuuuuust yet, but know that the duration of this home building process has been smooth in many ways (we have a wonderful GC), and insanely bumpy in other ways (so much out of my control). There was one point where Joshua and I looked at each other and seriously thought we'd have to give up…on the house, not the marriage (although not gonna lie, shit got real) 😉 Lest you forget, we started with raw land…it didn't have water/power/sewer or anything else on it but trees and dirt. So we had a LONG way to go in a very short amount of time.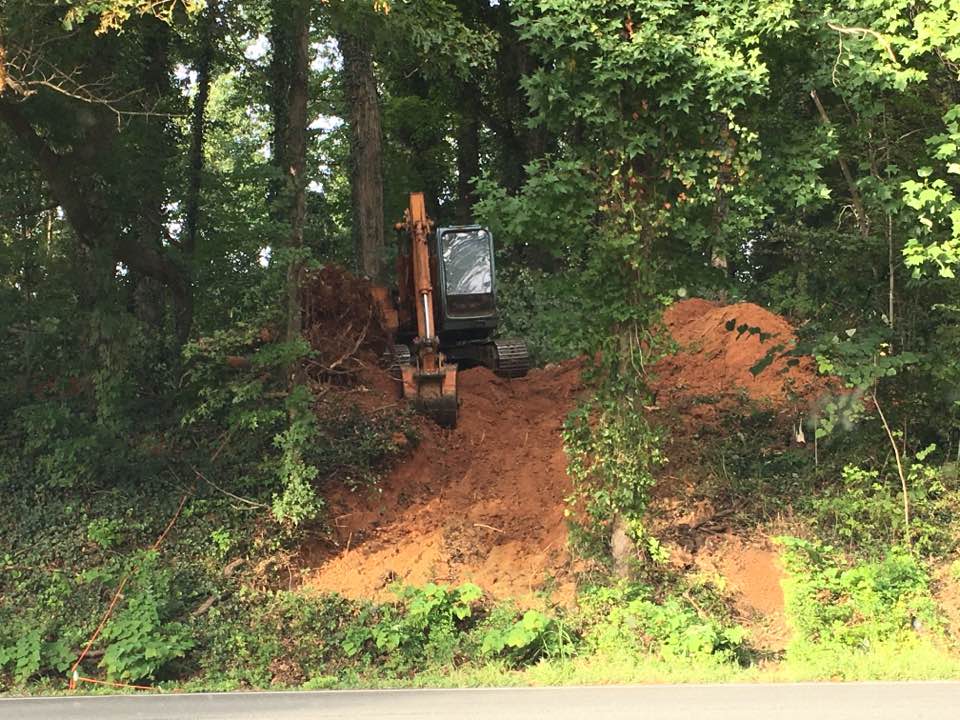 So where did I leave off? Oh yes, HERE in part 3 (go back and read parts 1, 2 too), where I explained that we started the process in August, yet still didn't have a permit come January. I finally emailed the structural engineer myself one Friday afternoon and explained our situation, why we were in such a hurry, and basically begged him to make the needed changes ASAP. I got an email back the next day, saying I'd have the plans by Monday, and I did 😉
Once we had those, we submitted the plans back to the county, got the approval, and had crews there shortly thereafter, with the official start date of February 21st I think?! Greg, our GC (and my sister's now fiance) had crews there cranking stuff out, and it was so exciting to see stuff going in the ground. I'm talking cement footers, cement, brick, the crawl space, base floor, framing, and so much more! It seemed like every time we drove by or visited something new had appeared!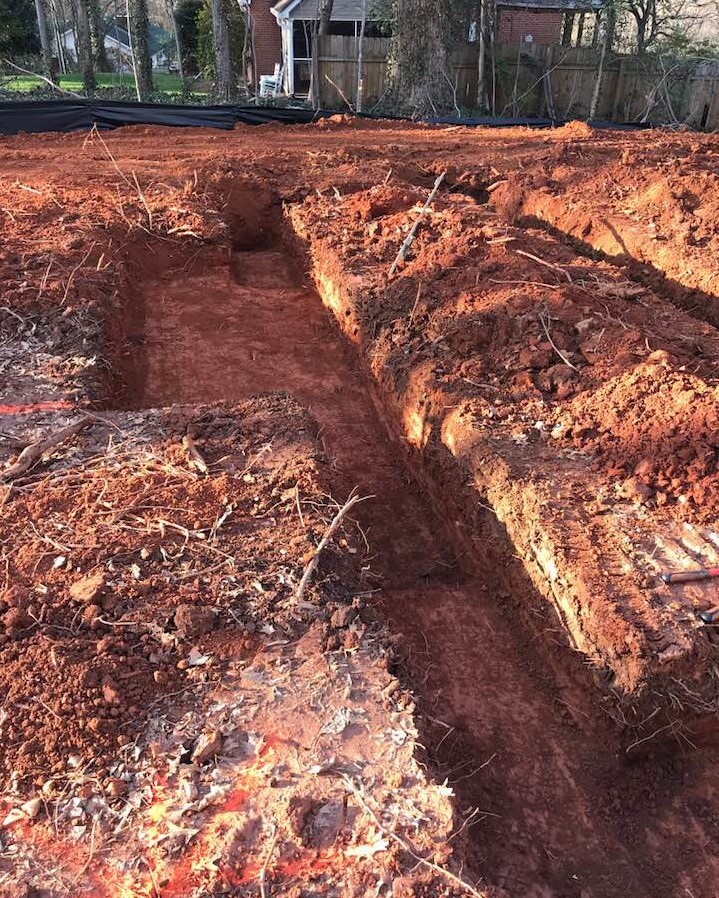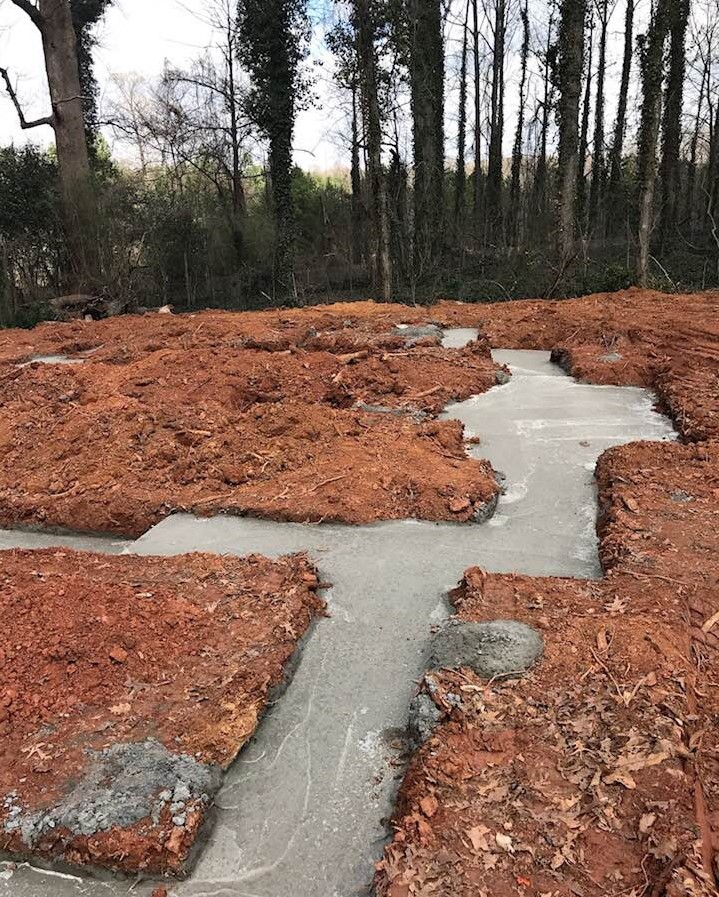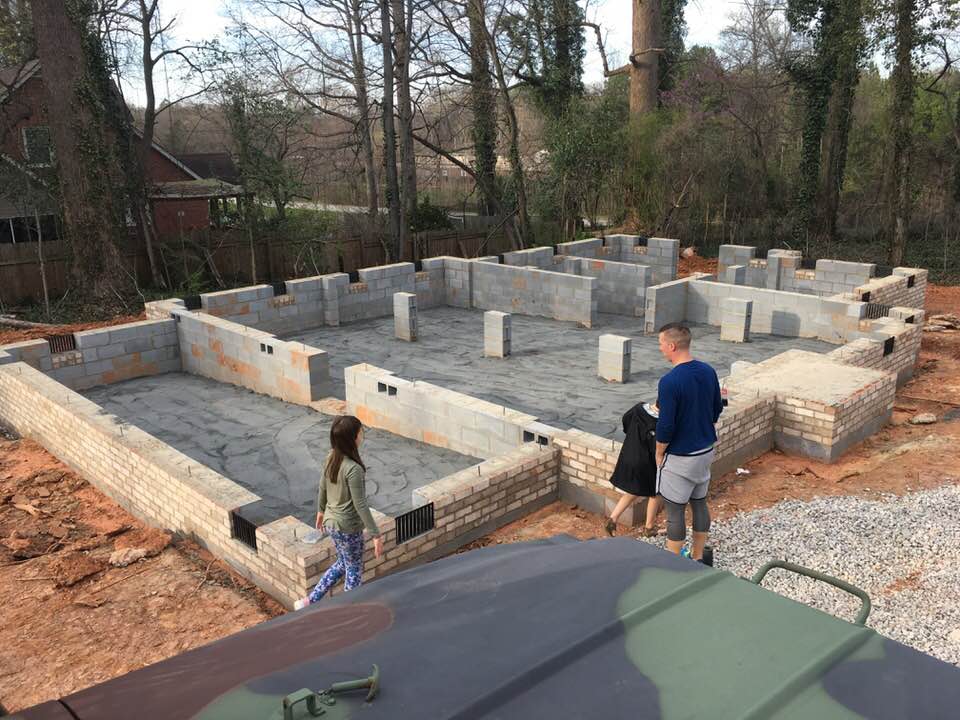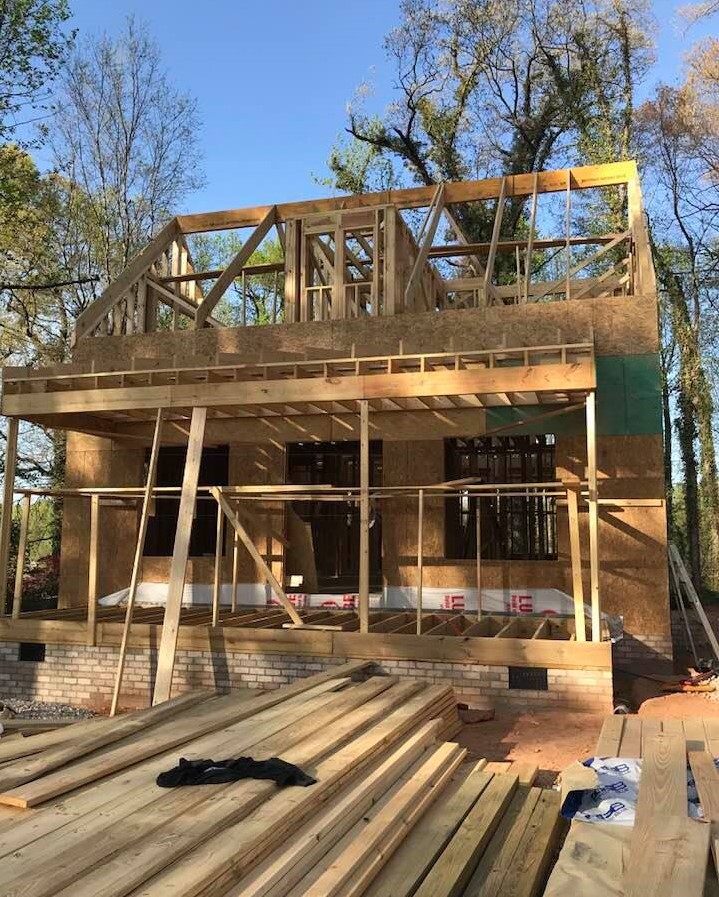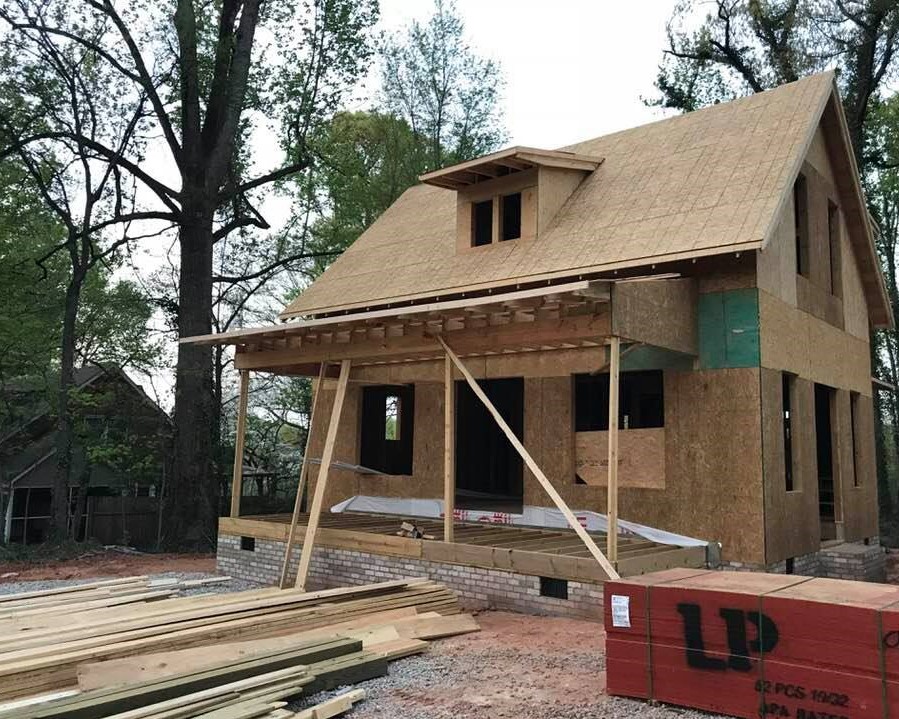 And the funniest part, for me at least, was that since we bought the plans online, we didn't know a ton about them, or the specifics. We just knew it had 3 bedrooms, 2 1/2 baths, was around 1600ish square feet, and two stories. I'm sure we knew a few other things, but certainly not that the master bath had a trough sink, or the door leading to the bedroom was a sliding barn door, or that the girls' rooms would have sloped ceilings on one side. It was fun to show up, and figure out what was "on the plans." And sure, we could've changed some things if we wanted, but for the most part, we stuck to it, and are curious/excited to see it down to the finishing touches!
After the framing, was the plumbing and electric, then insulation, roofing and windows were somewhere in the mix, and then the siding went on! It gets hard to remember what came next throughout the process, but just know there are SO MANY STEPS, SO MANY CREWS, SO MANY QUESTIONS, SO MANY CHECKS TO WRITE, SO MANY APPOINTMENTS TO MAKE, DELIVERIES TO ACCEPT, TRIPS TO IKEA AND TOO MUCH MORE. I told Joshua a few weeks ago, "I used to think that spending money on pretty things was fun. I don't anymore."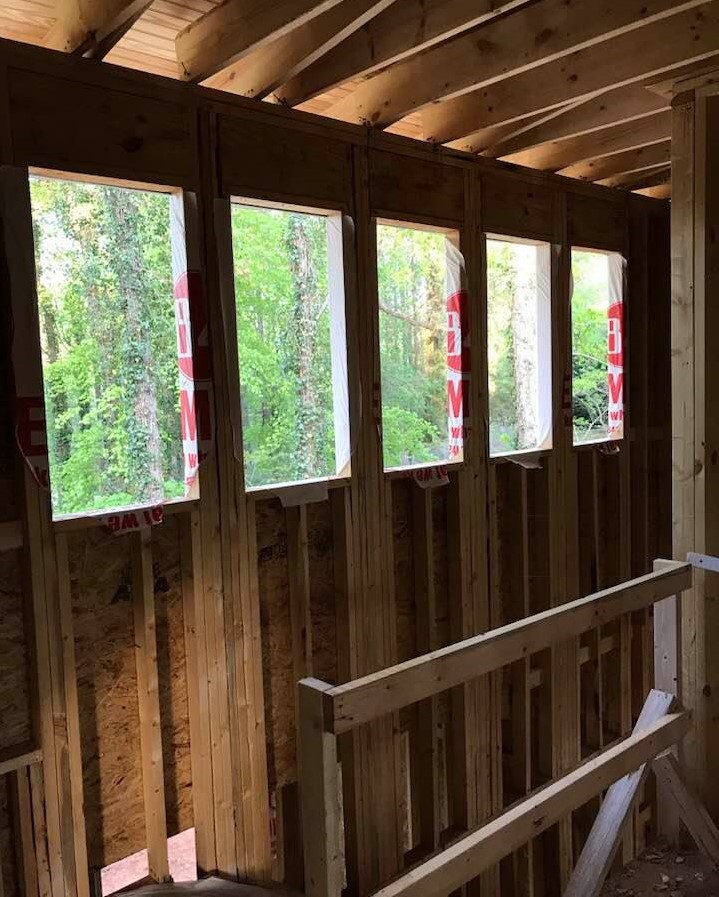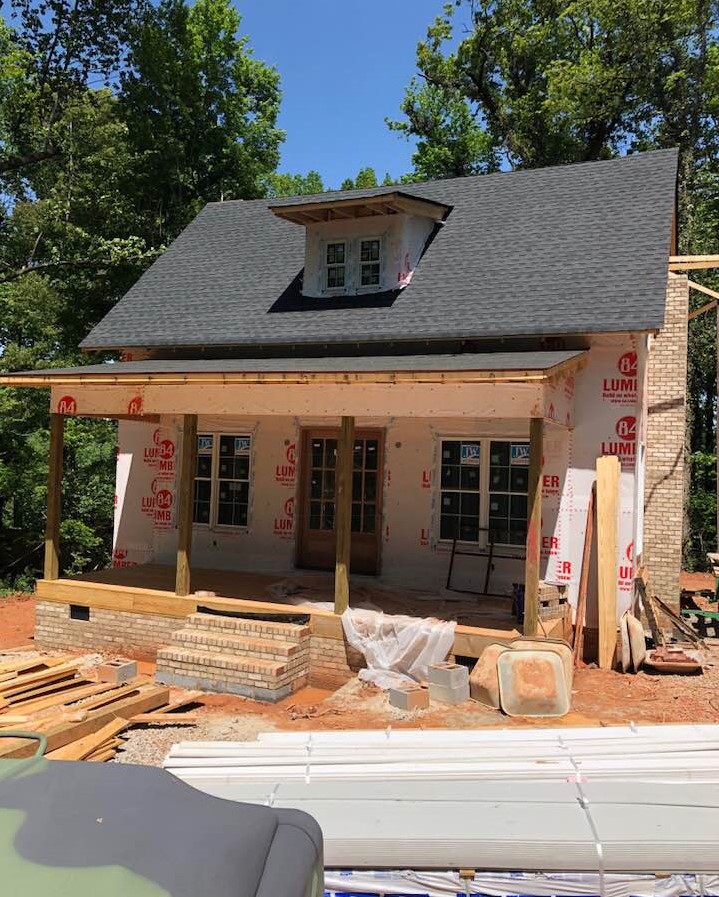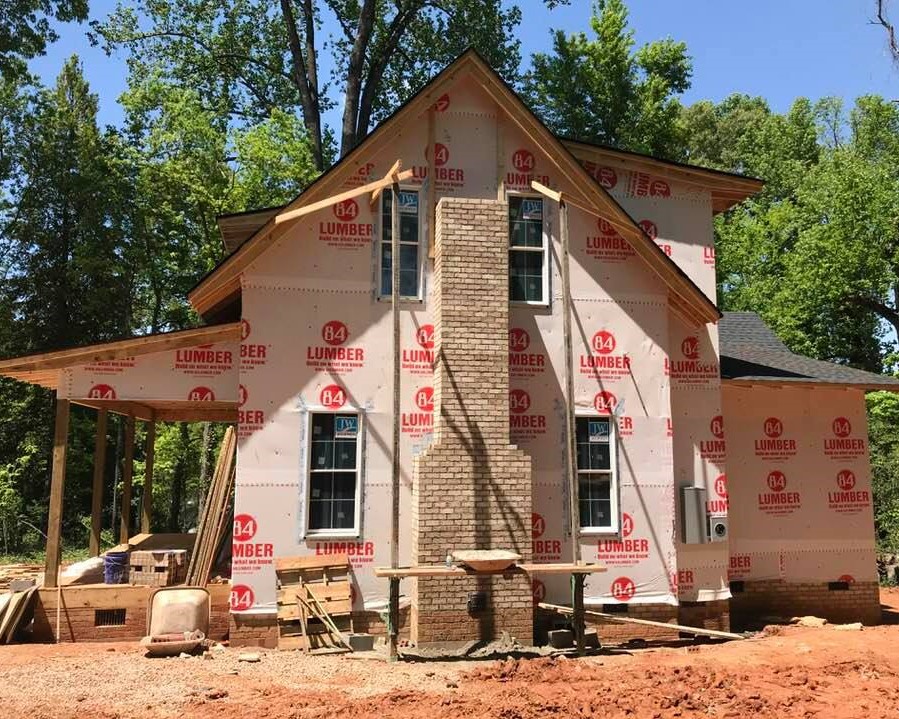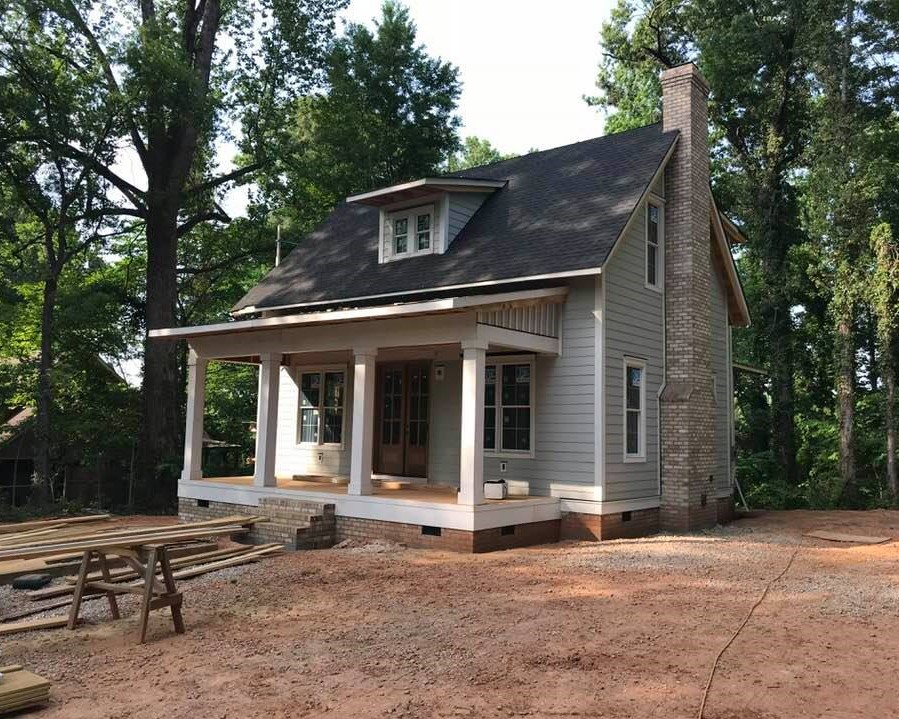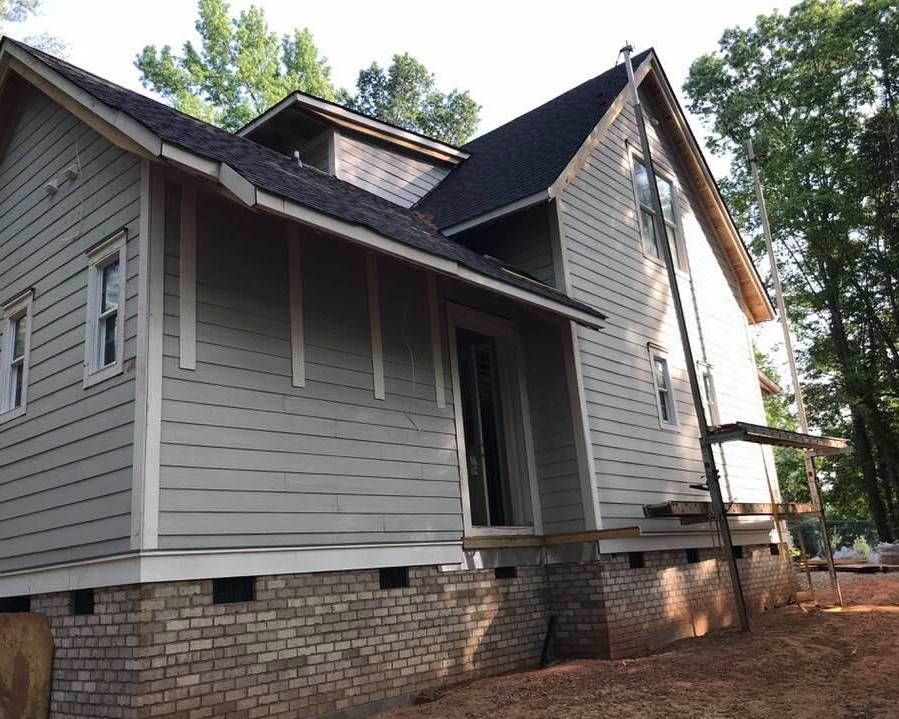 And that's not to sound ungrateful (let's all say a prayer for my first world problems ;)), but I just couldn't look at another door knob or ceiling fan or faucet, and pretend to care about it! Because there's a BIG difference between building a house from raw land and a plan versus building a house through a builder. We've done the latter and you go to a design center and you spend a couple of hours choosing from a curated list. Building from a blank plan, your curated list is the ENTIRE FREAKING INTERNET and every store that's ever been created.
I can't tell yall how long it took me to pick out the blue grey that's on the outside of our house. And the WHITE that's on the exterior and interior trim and walls. You think there are only a few whites…BWAHAHAHAHAHAHA. I think I stopped counting at 50 shades of white, and don't get me started on grey #seewhatIdidthere!!! And because I'm the one designing the whole house, many of these decisions simply had to come from me. Joshua helped a ton and I ran by nearly every single choice by him obviously, but it's my brain that knows the overall aesthetic, and thus had to make the decisions.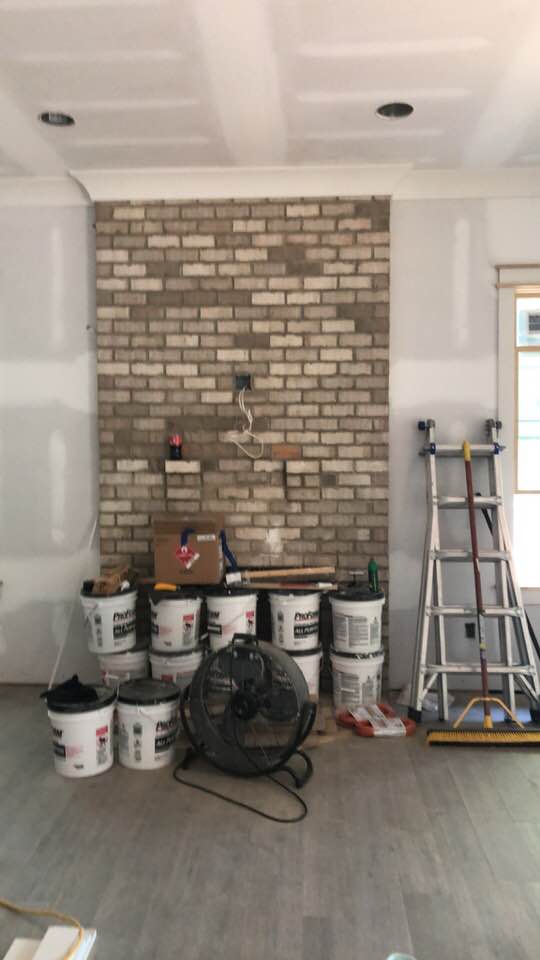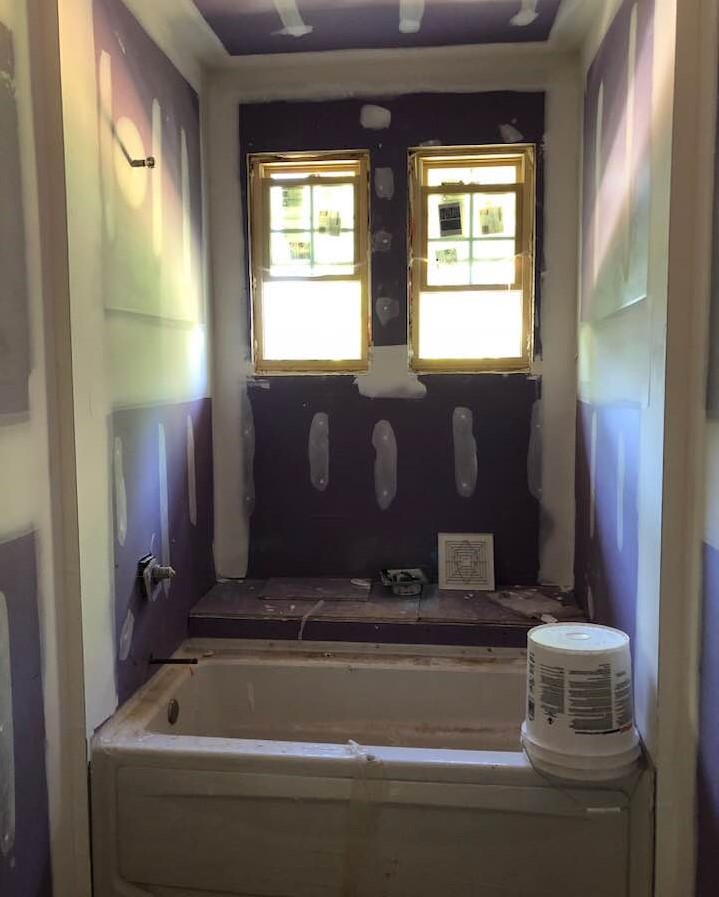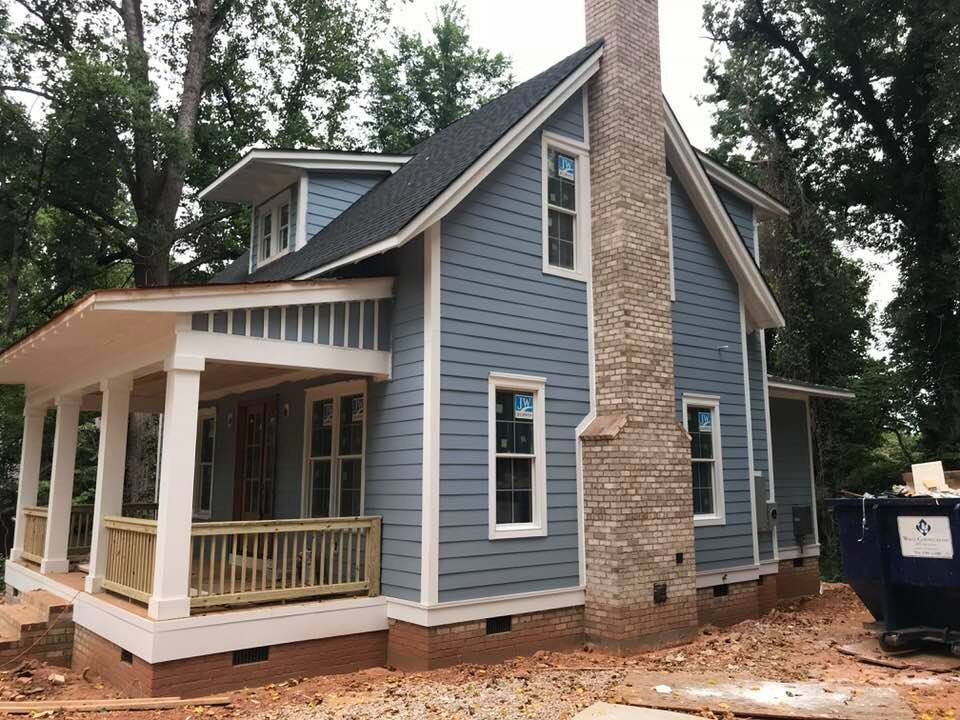 Needless to say, at this point, I'm just hoping and praying that everything somehow comes together and looks cohesive and beautiful! Because I have been purchasing all the things like a mad woman, and relying on my memory as to what I've gotten and what I haven't already. I'm just going with the idea that the house is going to have "mixed metals" because I have brushed nickel, chrome, gold, copper, and more, where some are polished and some are matte! I'm also super into finding good deals, so even though I would've loved something one way, if I found it MUCH cheaper in a different finish, then the deal won every time!
Anyways, back to the construction! After all of the "bones" were done, it was time for sheet rock, taping, mudding, flooring, tile, paint, doors, stairs, trim, crown molding, mantle, etc.! And there ares so many little steps (and more decisions) along the way that I can't list because I'm trying not to bore you! And while crews are doing their part, and my dad and Joshua and doing their parts, I'm building all of the stuff I've bought along the way. Minimal cursing happened when it came to the IKEA stuff, but overall, we've done a great job constructing as much of it ourselves to keep costs down.
Our last day at the condo is July 14th, and I want to take a minute to thank our landlord, Bart, for being the real MVP here! When we started the clearing process in August, we told him we may be out February 2018. Then with all of the issues we encountered, we told him, "probably closer to May." As that approached, we told him end of June. Then weeks ago, I asked him, "would July 14th be okay?" And each time, he responded with "no problem!" He's been so understanding, and we can't thank him enough! I can't believe it's been 3 1/2 years here and it's almost over. We have loved every bit of #condolivin and WILL BE BACK to it, I promise you that!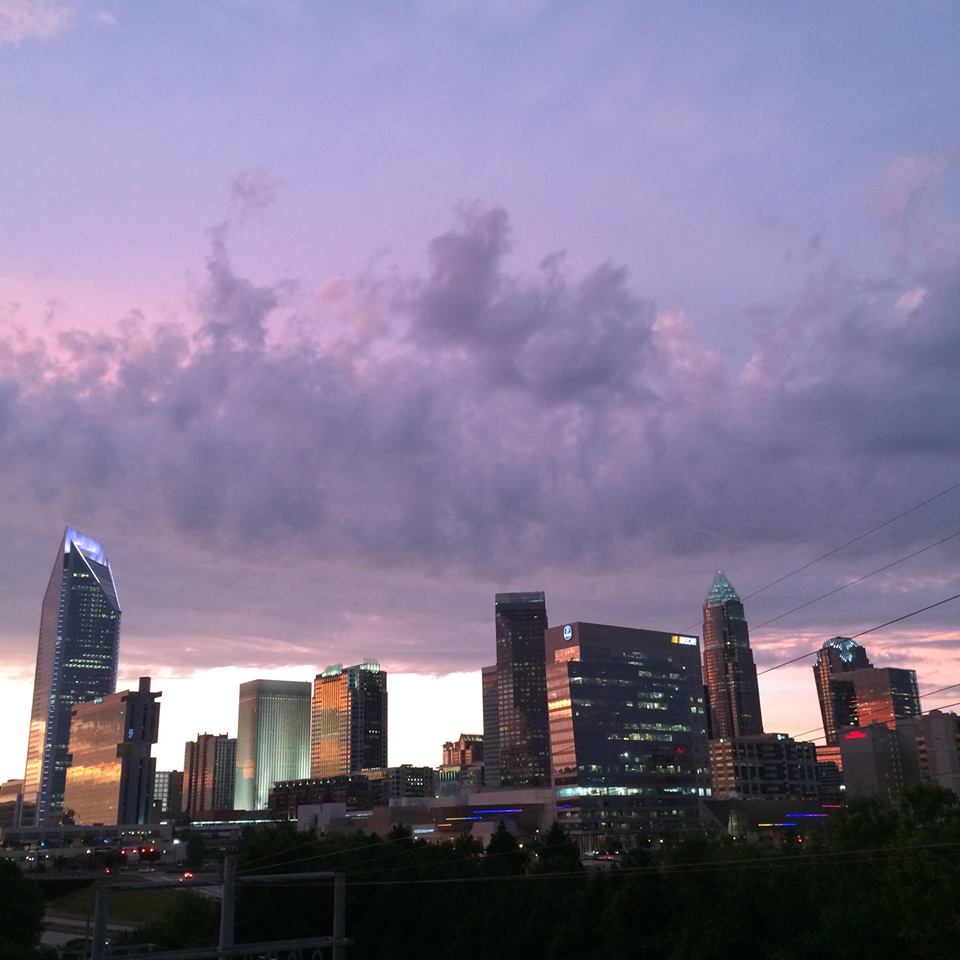 But as you all know, a big reason we we're moving to a house is because John and Joy were mutually deployed again, and we were going to have their (now) 4 kiddos for the summer! If you'd like to see what summer was like two years ago when we were preparing for #suddenlyseven, read HERE! And as much as I know that I could've made 8 of us in the condo work, it would've been intense, and we know we're going to love the house, especially as our own kids get older and bigger! I just wish the house was done by now, but it's not, and that's okay because we'll make it work like we always do!
I will get more into the biggest reason WHY it's been such a nightmare to finish in another post…let's just say this, Lowe's will never get another dime from us for as long as we live. And this had NOTHING to do with our GC or anything within his control…it was 100% Lowe's/Schuler Cabinets. More on that when it's all said and done, and I've gone as high up the ranks as I can.
So here's the update on the bonus kiddos: John got sent home from deployment earlier than expected and has been home the last few weeks (which meant my mom wasn't solo with the four kid anymore #praisehands), while Joy is still over there. Many people have asked if that means John is going to stay in NY with his kids, my mom is going to come back to Charlotte, and we won't have his kids after all. All valid questions, but complicated to answer based on his schedule when he IS on base, etc. What he's decided to do is take his 30 day block leave for the month of July and drive down with Mom and the four kids (today, actually!). This way he can go to my sister's wedding July 20th, and our family reunion July 27th!
The best way to put it is we're going to take care of the kids together, as much as possible, without all fitting under the same roof (for now). He, and his boys, will stay in my sister's house, and we will take Evelyn (the 9 month old) with us in the condo. If we can get our CO (certificate of occupancy) by July 14th, then we'll move into the new house, with the three girls, and move the three boys over then too! And John can continue to crash at Jackie's if he wants, or take our couch 🙂 If we don't get the CO, then we'll head to an extended stay for the time being. We REALLY don't want to have to do that, so all prayers up to the baby Jesus right now yall!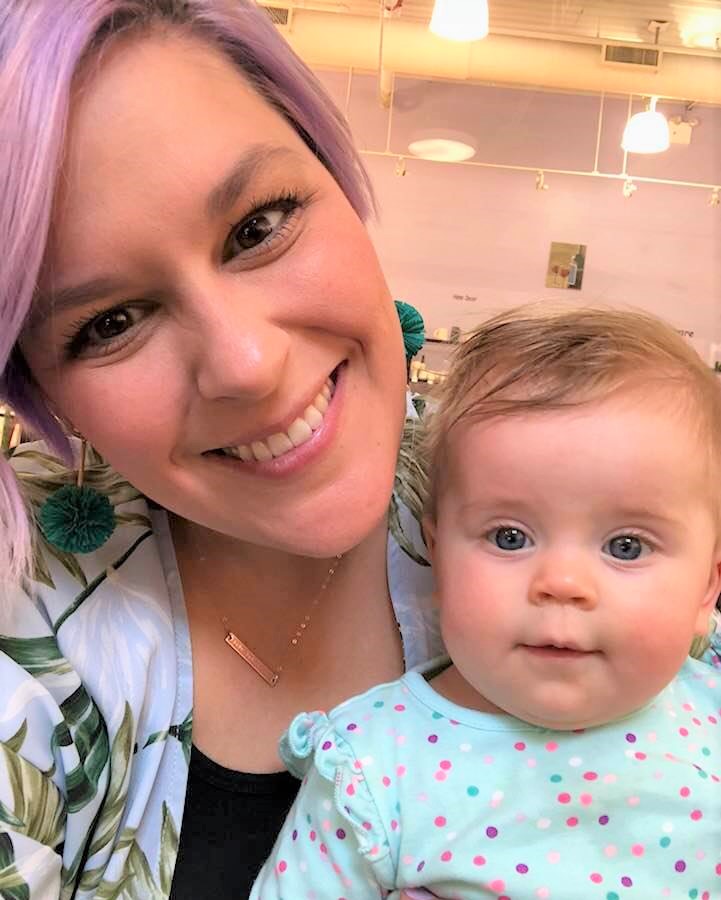 Then John will go back to NY at the end of July, and we'll have the kids for August, minus Aiden who will stay up there for camp! My mom will take them back up towards the end of the month to get ready to head back to school, and they'll all await Joy's arrival back home! Now, in saying all of this, things constantly change, especially in the military, and especially with deployments! I may come back to you in a few weeks and say, SCREW THAT WHOLE POST! We're all moving to Greece! Kidding 🙂 But what I've learned in the many years they've both been in the Army is, everything changes.
So that's it folks! Life is chaos…there's no other way to put it. We're packing the condo, while keeping it "show ready" for Bart to be able to walk people through. We're furiously working to finish up the house so we don't have to live in an extended stay with all of the kids! My sister and Greg are getting married in a few weeks so there's all of that fun stuff to plan and do before then! I've also been trying to live it up with the minis for these few weeks of summer, when it was just them and me, which included a trip to see Hamilton in Atlanta!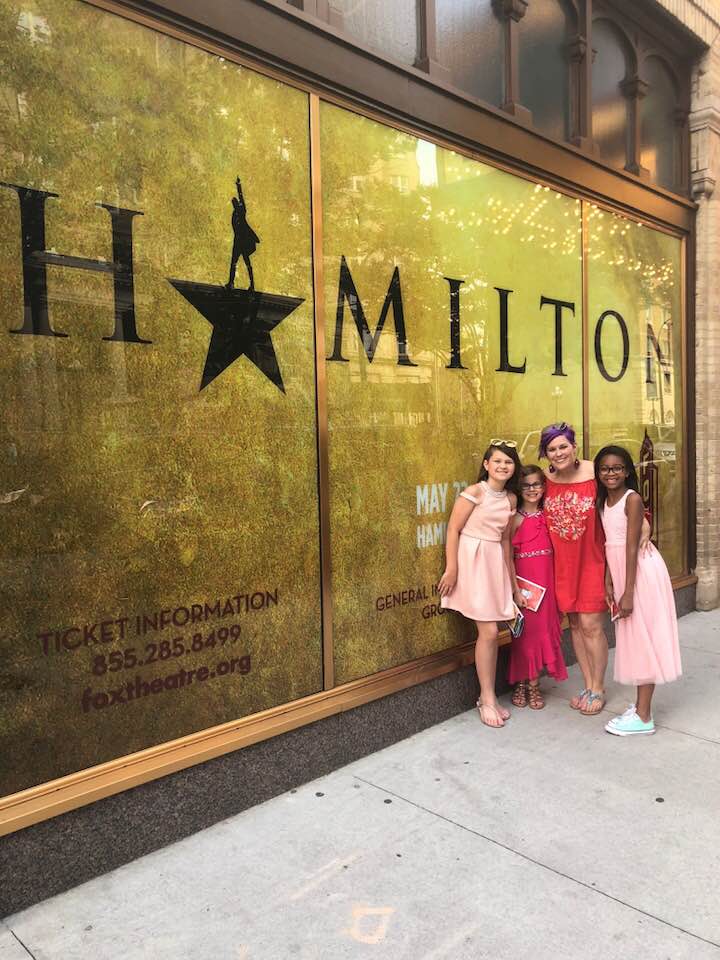 And trying to continue to blog, work on campaigns, do tv appearances, form great partnerships, network, and all that jazz! I'm not nannying, over the summer, for the family I've been with the last almost two years for obvious reasons, but I still try to see them at least once a week for what Cal is calling "family dinner night" (which is the cutest thing ever)!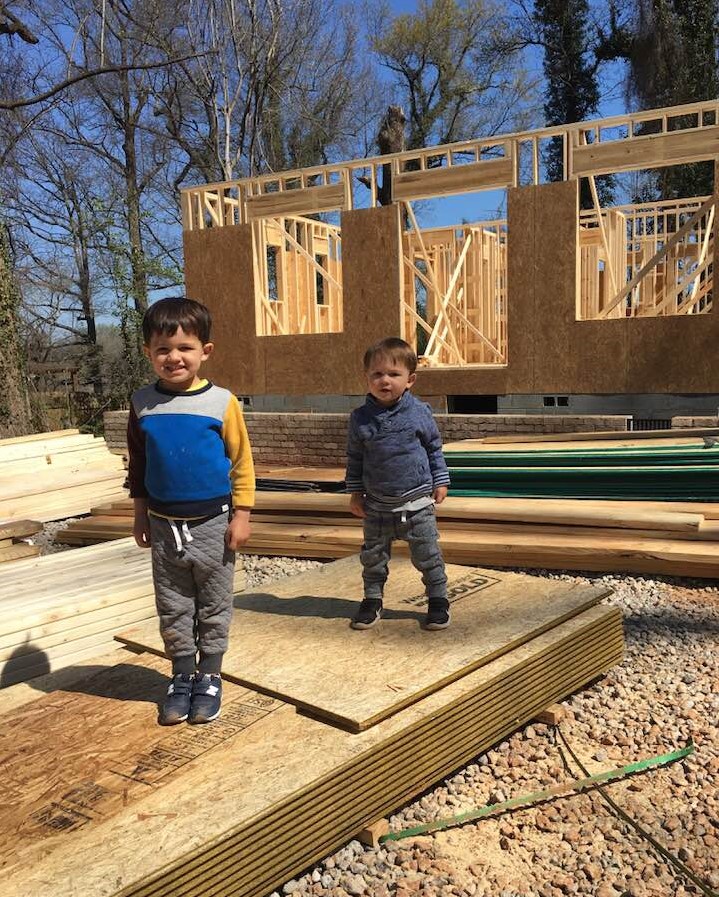 I'm trying to stay focused, stay positive, and keep the perspective through all of this! We won't be homeless, won't be hungry, and won't be short of love. We realize that our problems and stresses right now will be a thing of the past soon enough. We are lucky that these are our problems, and that if everyone put their's into a pile, we'd pull our's right back out! But I cannot WAIT for this process to be over, and to simply start enjoying the fruits of our, and many peoples' labor. Can I get an AMEN?!!!
If you'd like to see some of my design inspo, you can head to my pinterest board, and feel free to follow me! I'm so close to 1,000 followers, and would love to hit that mark by the time we move in 😉 Even if it's a pity follow, I'll take it LOL!
xoxo, M
Oh, and this is totally random, but somewhat related! I think I've finally figured out how to sleep, well, at least something that is helping me fall asleep and stay asleep. Because, I'm not gonna lie, the anxiety and stress has been so high that I've really struggled to sleep (even more than usual). I've tried everything suggested to me over the years, and nothing worked until these. I think it's the combination of melatonin AND L-Theanine! Anyways, give them a shot if you want and let me know what you think!