Every year, there seems to be the newest, clever dessert "thing" around the holidays, and this year THE THING is hot chocolate bombs! I've seen them all over social media, and I thought to myself, 'I can make those!'
I don't drink coffee, or hot tea typically, so when I want a hot drink, hot cocoa is it!
And listen, these hot chocolate bombs I'm seeing everywhere are really cute! I absolutely LOVE them!
BUT,
I understand that the average person doesn't have a sphere acrylic or silicone mold lying around, or know how to temper chocolate to 90 degrees, etc. AND it turns out that even if you DO want to use a proper mold, you can't find one! So I sought out to create my bombs with things you probably have in your kitchen already (or at the very least can be purchased at the grocery store/Walmart)!
I had some trial and error (as per usual), but I finally made it work, so yall don't have to guess as much as I did!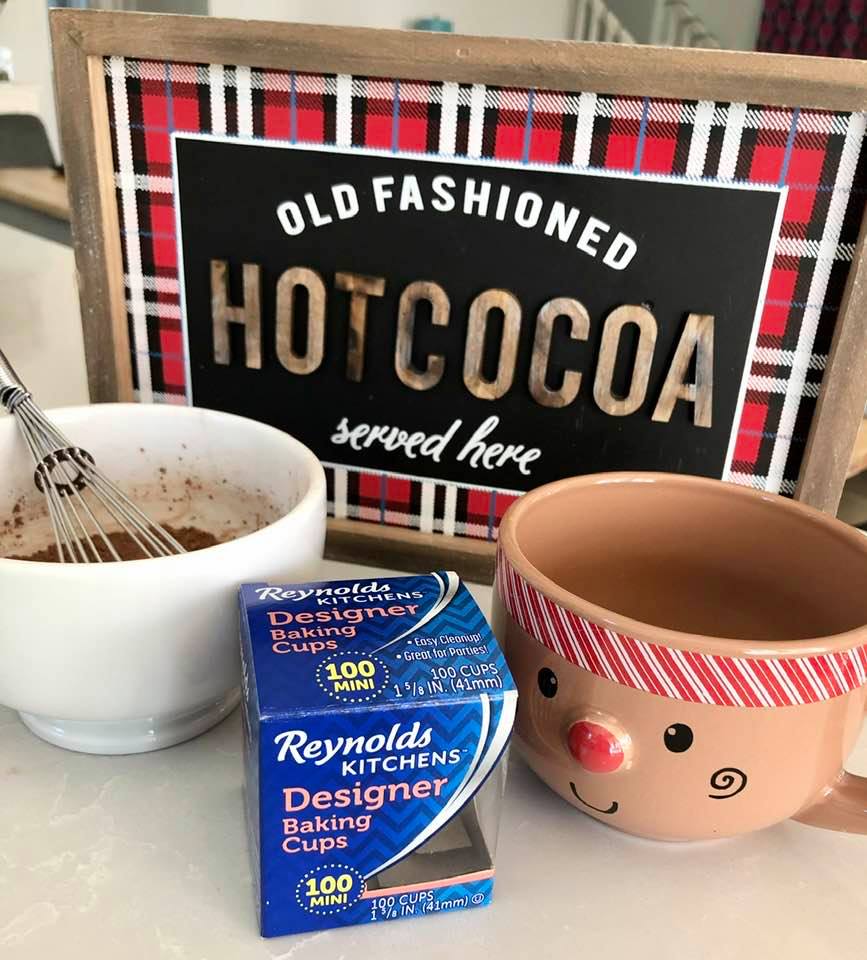 Here are the things you'll need:
Mini cupcake pan
Mini cupcake liners
Melting chocolate (I prefer Bakers dipping chocolate but CandiQuik works too)
Hershey's cocoa
Sugar
Salt
Milk
Candy canes (crushed and whole)
Mini Marshmallows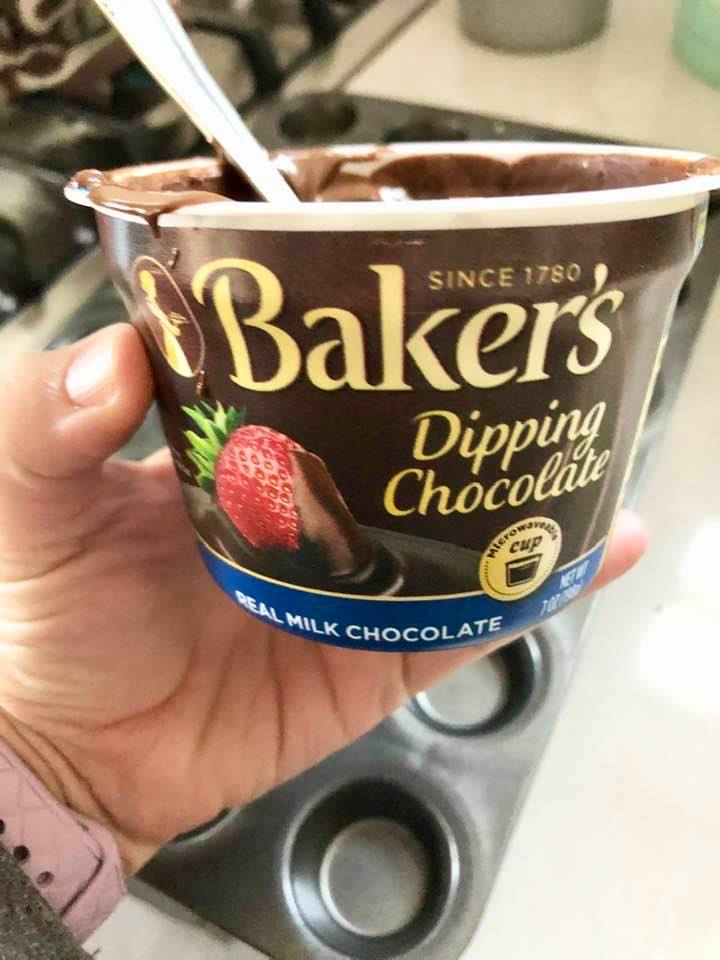 You'll want to start by melting the chocolate according to the package instructions, stirring with a spoon as you go. Once melted, take a spoonful of it, and put it into the mini cupcake liner, and swirl it around the liner, making sure to get all around the sides. This may be hard at first, but you'll get the hang of it!
Then put the chocolate-filled cups into the cupcake pan, and repeat the process for as many bombs as you want to make (you'll need two per bomb)! Then pop the tray into the fridge to harden the chocolate. I'd say give them an hour in there if you can!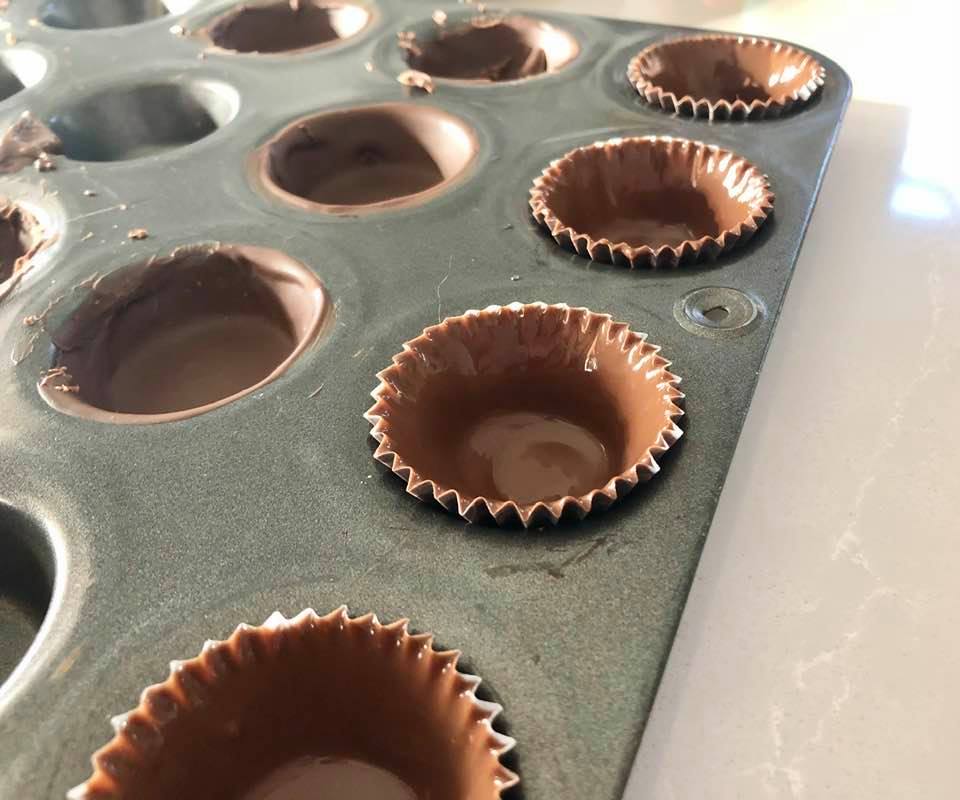 While they chill, prepare the hot chocolate mix. Of course, you could always buy the pre-made mix with the tiny marshmallows and put them in your bombs! But I opted to make my own….I was making five bombs, so I did:
2 tablespoons of cocoa, 2 tablespoons of sugar, and a dash of salt and whisked that together in a bowl.
Then I gathered my "toppings," starting with my bag of mini marshmallows. Next, I put a candy cane in a plastic bag, closed it, and crushed it with a tart tool, but use anything that does the trick!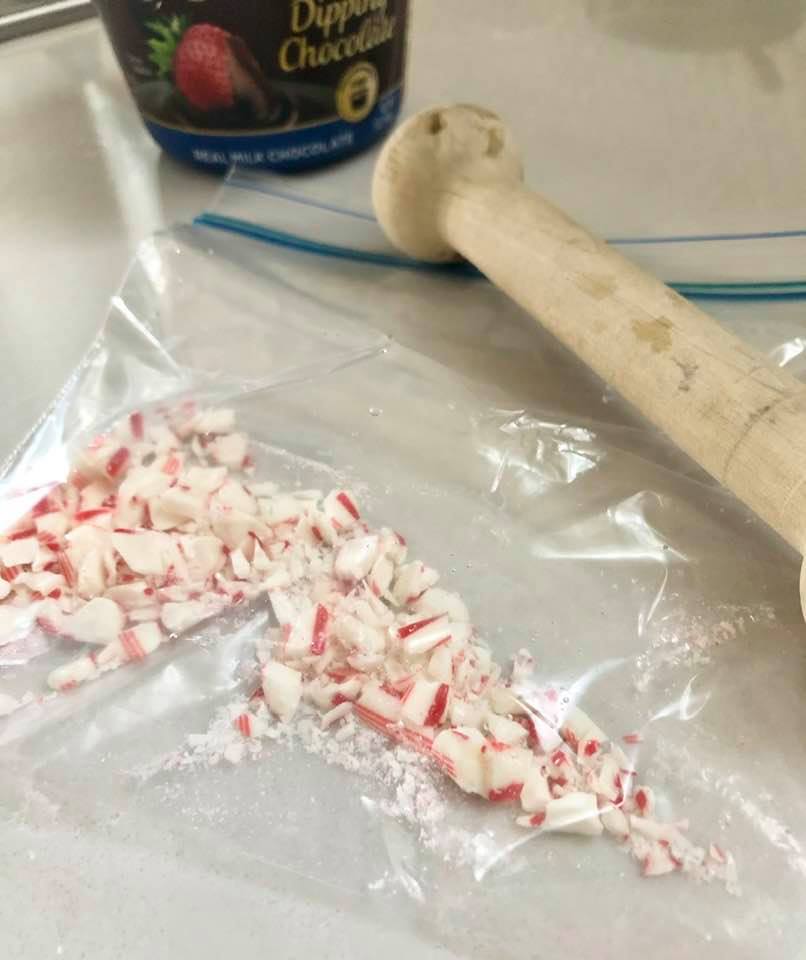 Once they're completely hard and super cold, bring them out of the fridge, and peel the liner off of the chocolate. I found the best way, was to hold the bottom of the chocolate with your pointer and thumb, like a pinch, and then peel off the sides. Then you're just left with the bottom and you can peel that off easily! Yes, they look like hollow Reese's cups 🙂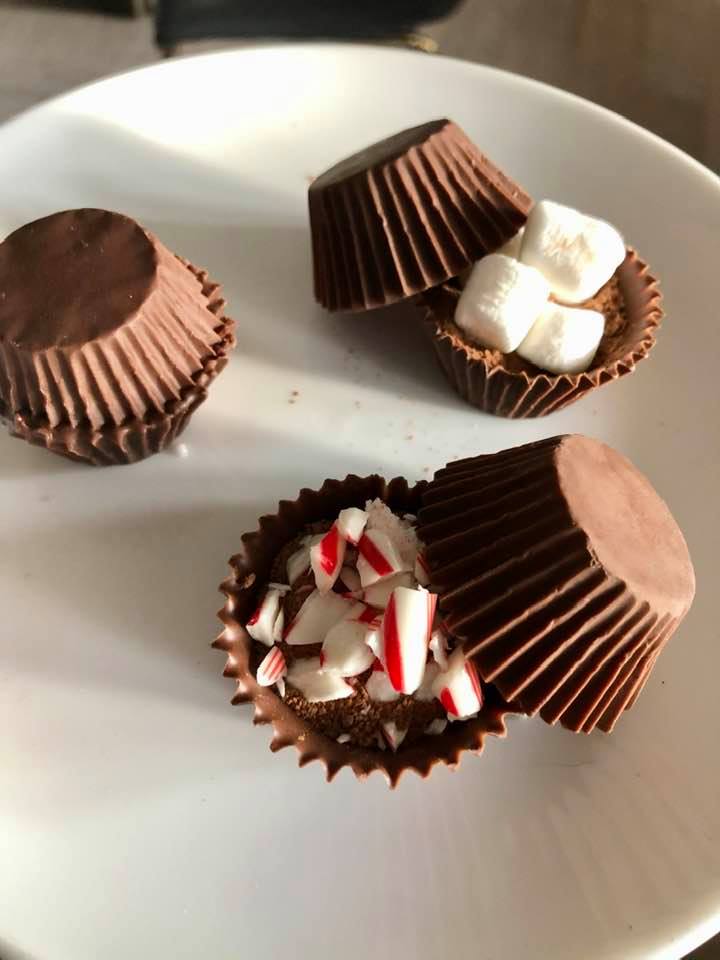 Now, you have your bomb halves, your mix, and your toppings ready to go!
To put them together, take one half and fill it with two teaspoons of your hot chocolate mixture, some crushed candy canes, and a few mini marshmallows. Then take the other half, and use a lighter for two seconds to melt the rim ever so slightly, and "glue" it to the filled bottom half!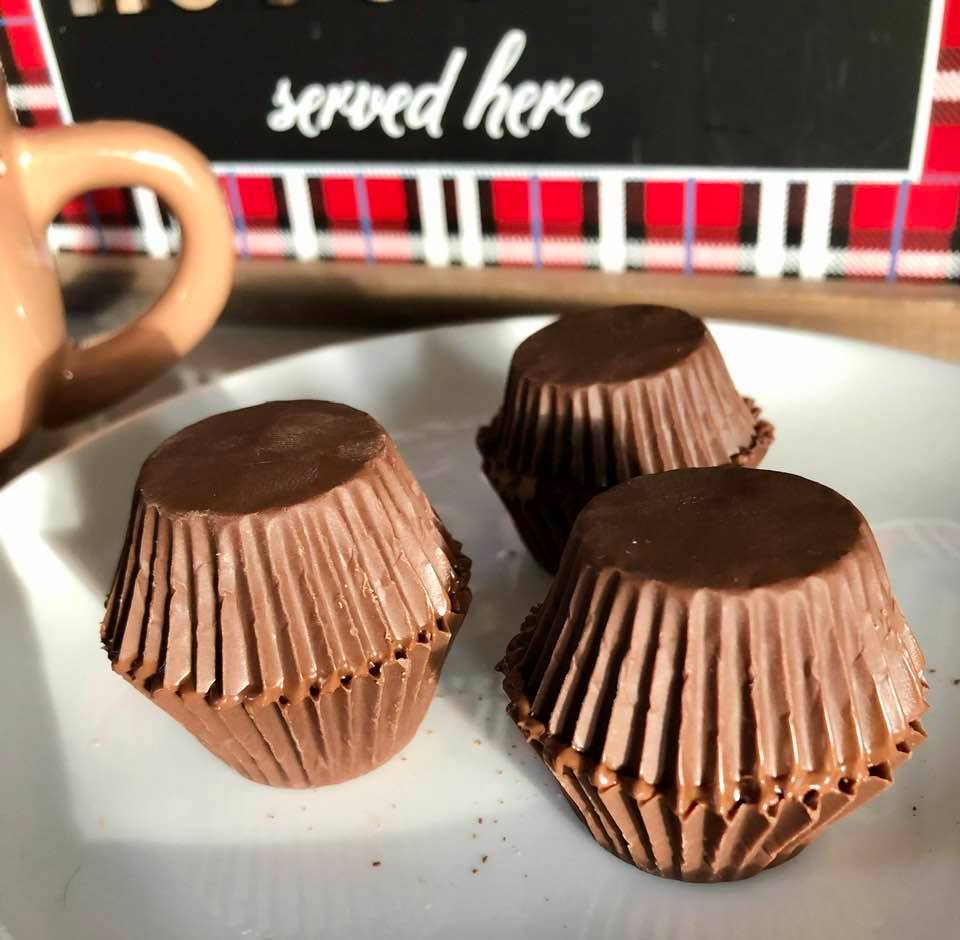 You can pop the finished bombs back in the fridge to harden once again, which should only take a few minutes. While that happens, heat your milk (I use 1-1 1/2 cups of milk per bomb) your preferred way…use a steamer, microwave, or stovetop!
Now for the fun part! Put a bomb in your mug, and VERY SLOWLY pour the hot milk over it. You'll see it start to melt a hole in the top, and all of the toppings will float to the top! Use a candy cane or pirouette to stir, and ENJOY! You MUST let your kiddos pour the milk in…even mine thought it was cool! 🙂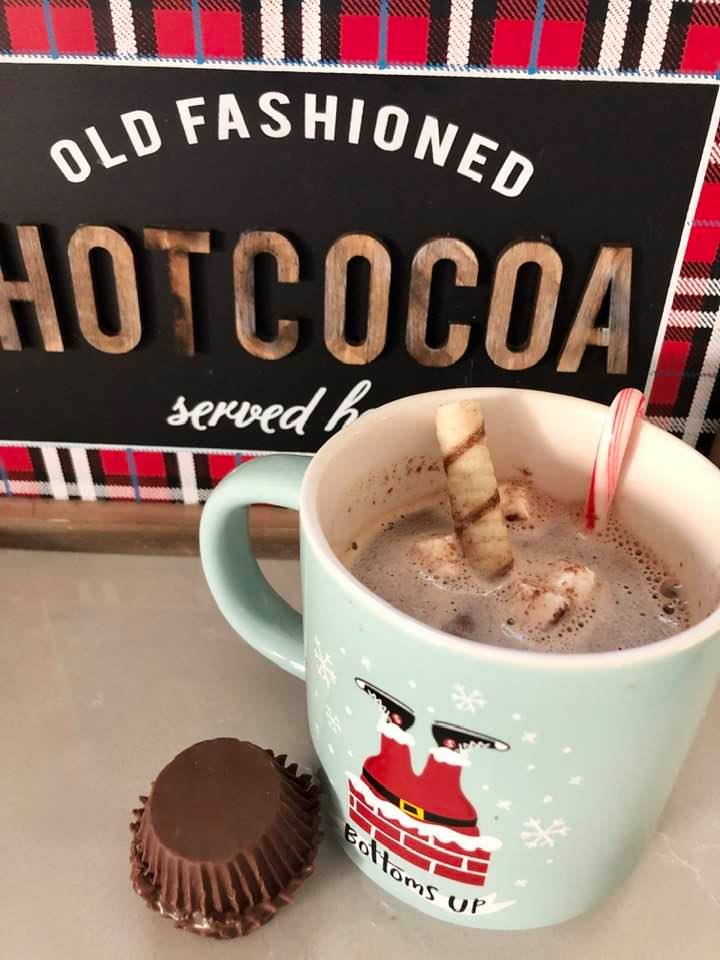 You can make as many bombs as you want, and keep them in the fridge until you're ready to use them! And of course, you can put whatever you want in them…I'm a big fan of chopped andes mints and mini chocolate chips too! These are so fun, and hopefully you have what you need to make them! If not, I've round up everything from Walmart for ya, and you can have them shipped to you, or do store pickup!
Mini cupcake pan
Mini cupcake liners
Melting chocolate (I prefer Bakers dipping chocolate but CandiQuik works too)
Hershey's cocoa
Sugar
Salt
Milk
Candy canes (crushed and whole)
Mini Marshmallows
I struggled to get my videos to upload to this post, so head to my Instagram and watch them on my stories, and in the "hot choc bomb" highlight bubble, which I'll link HERE!
I've also rounded up some cute mugs for you, or someone you love! Who doesn't need another mug?! 😉
This Grinch one is funny, and on brand for 2020…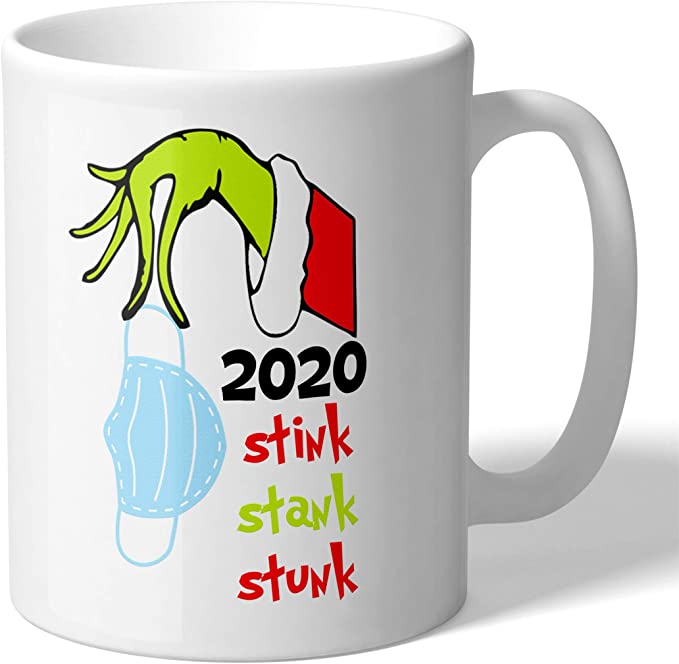 Okay, now where are my Hallmark movie lovers?!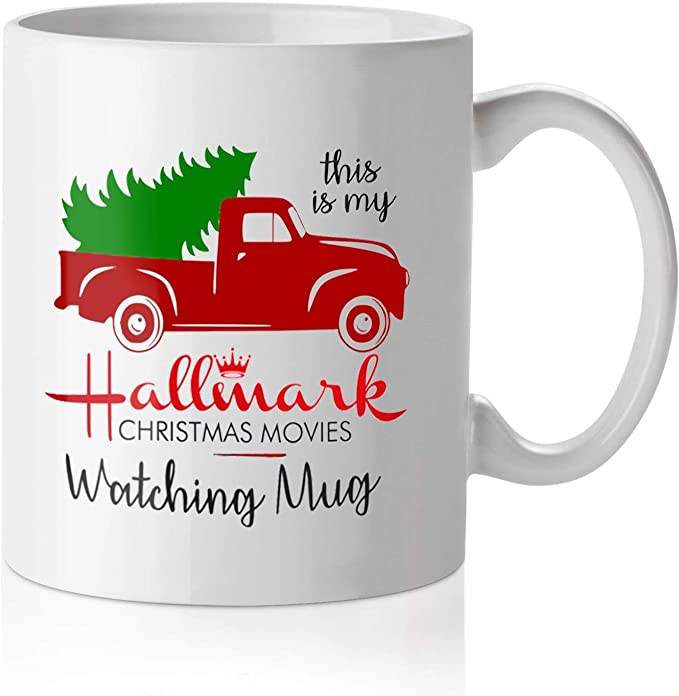 And last, but absolutely my favorite! If you're a Vacation lover like me, you need this!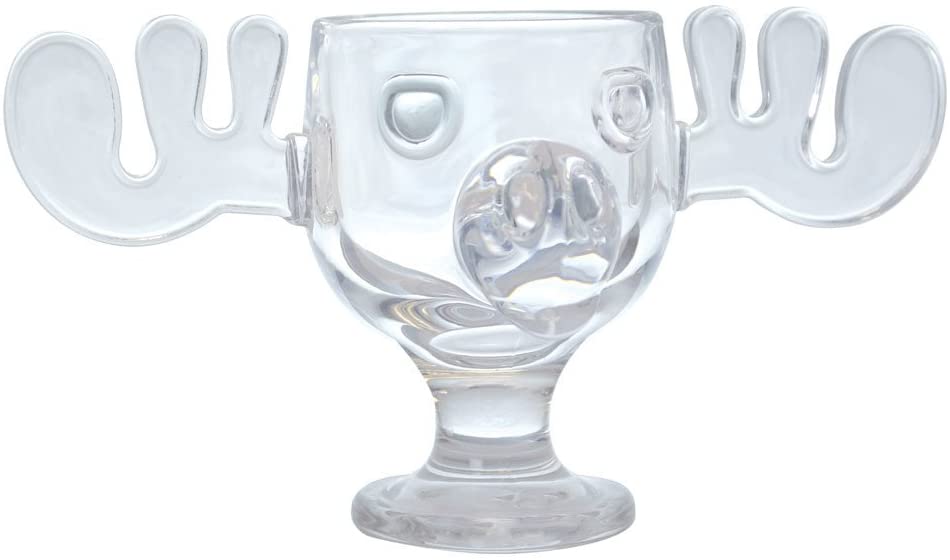 Enjoy your cup by the tree! BOTTOMS UP!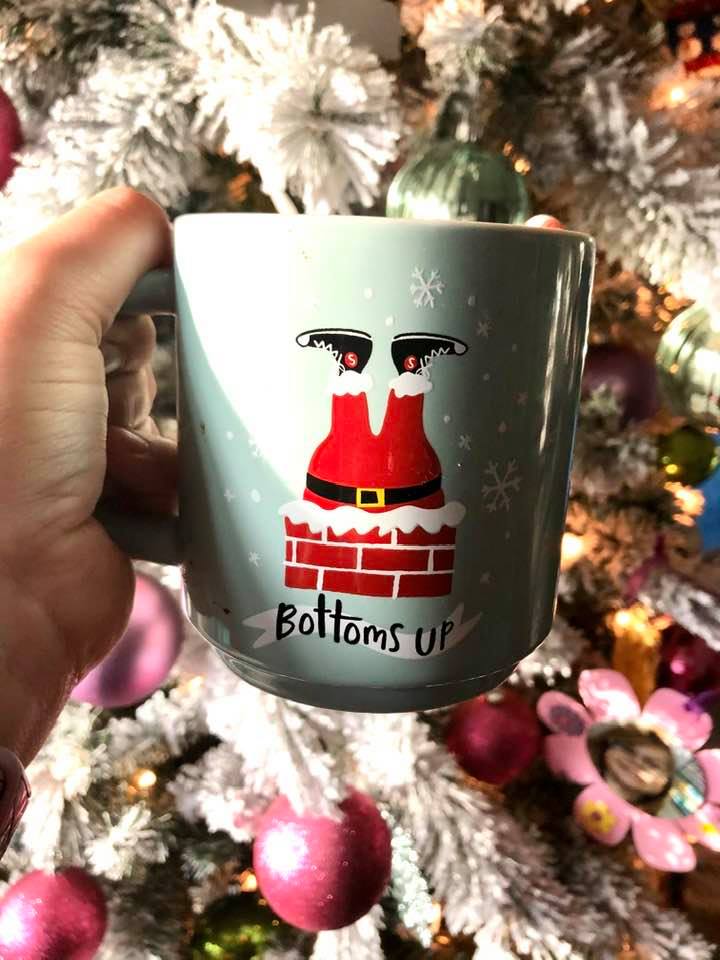 Pin this image to save for later…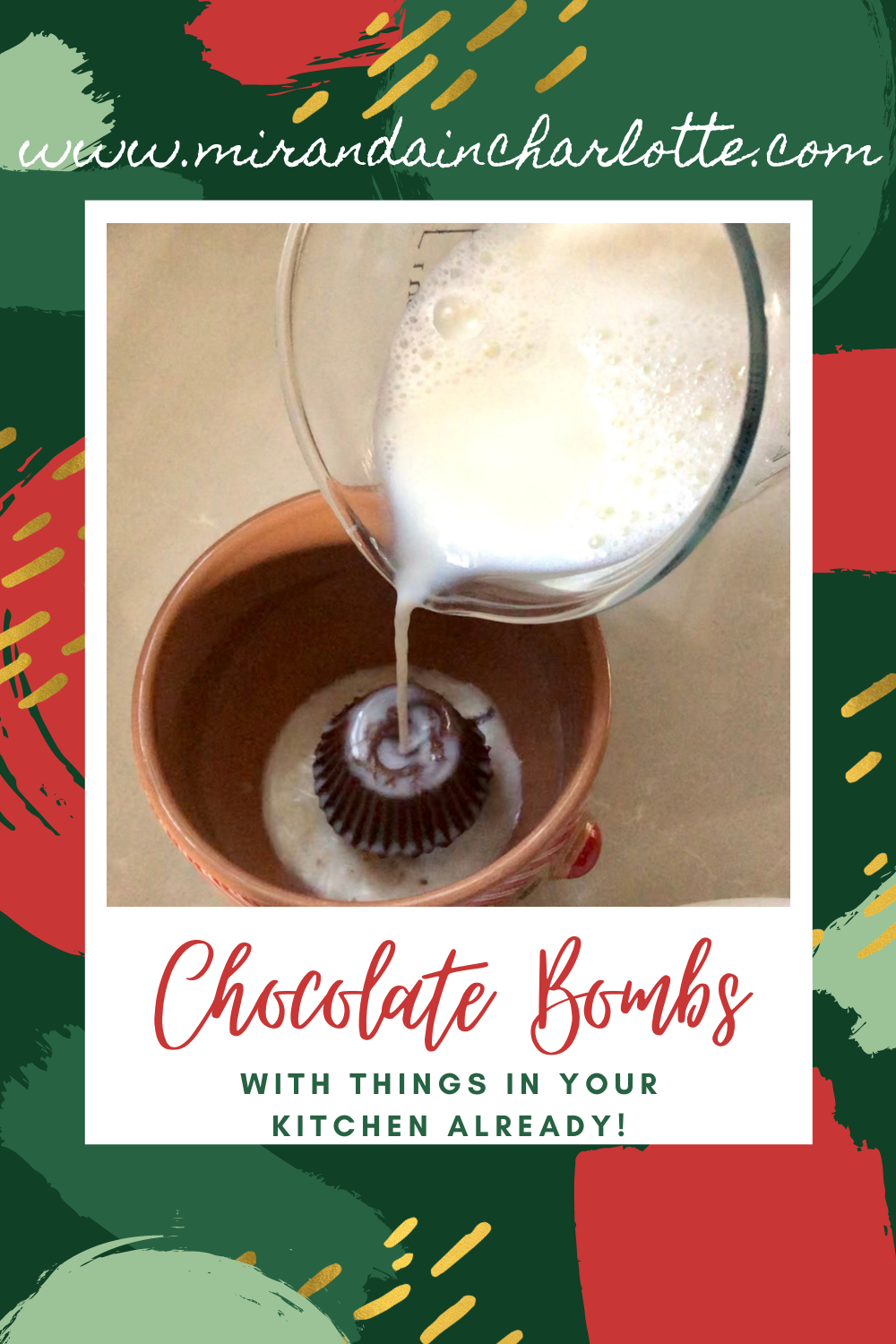 You can pin this one too…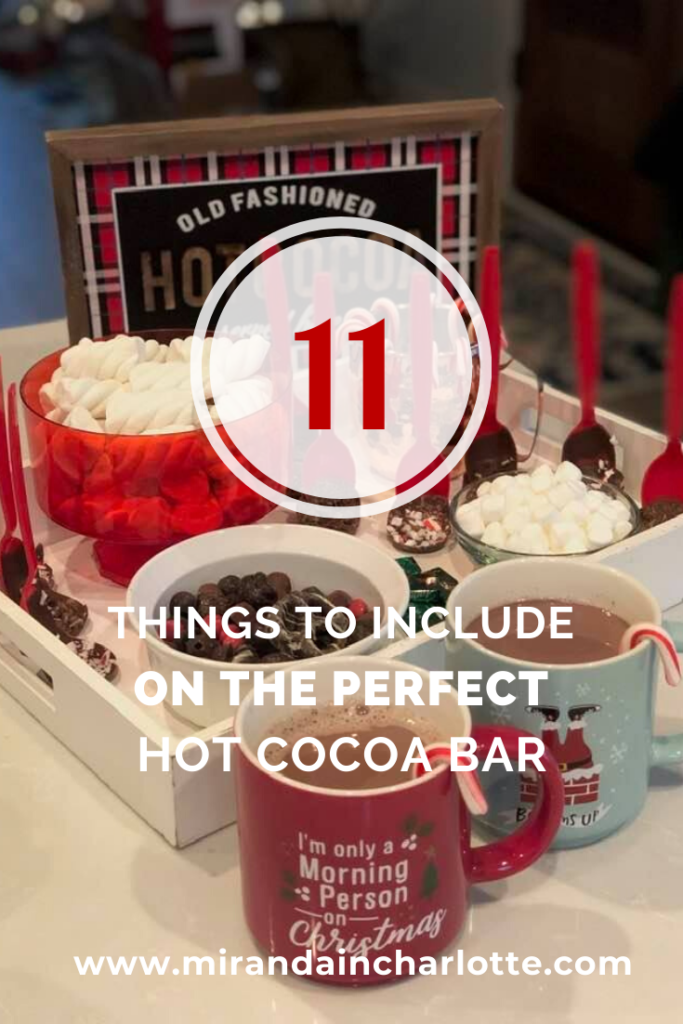 HAPPY HOLIDAYS, FRIENDS!