I love a good Halloween party as much as the next person! But y'all, it can get SO DAMN EXPENSIVE to throw one! Between the food, the booze, the decor, the entertainment, and so much more, it adds up! And you can ask the guests to help out here and there, but it still tends to get out of control no matter what. That's why I'm here; I'll share some of my favorite tricks to pulling off a great Halloween party, on the cheap!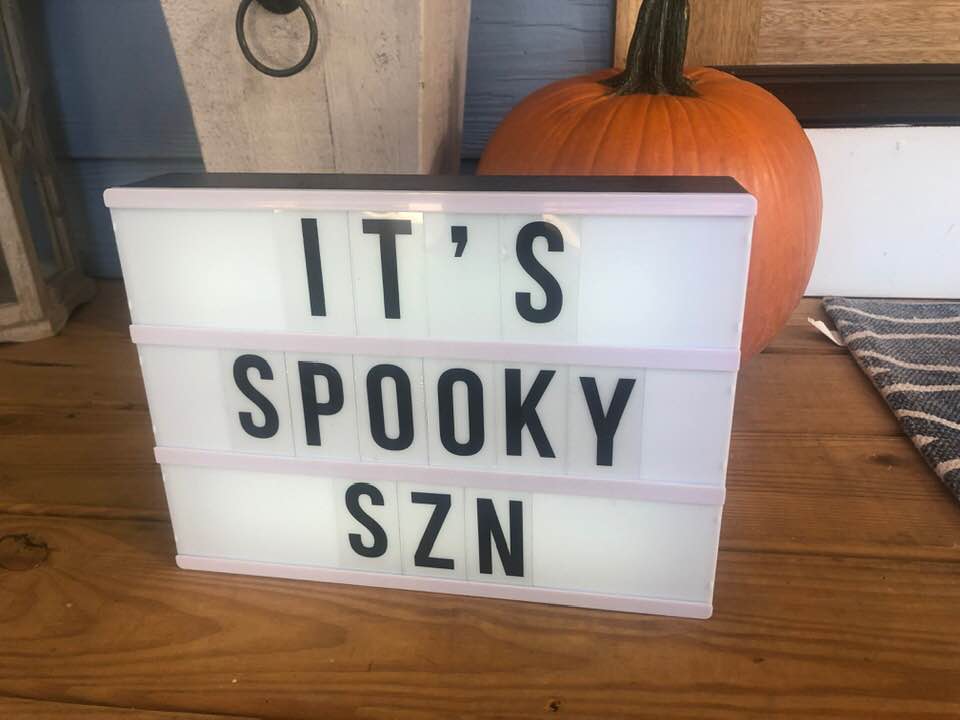 And nearly everything you'll see in this post is from the Dollar Tree, which is famous for having everything in the store for $1.
ONE DOLLAR?!!!
Those are two of my favorite words when paired together LOL! And I literally just go up and down every aisle when I'm planning a party and see what comes to me! You'd be shocked how creative you can get with ordinary objects. Example: when I saw the black plates and bowls next to each other, I thought of a spider body, and immediately went to the craft section looking for black pipe cleaners to make the legs.
PIN THIS IMAGE…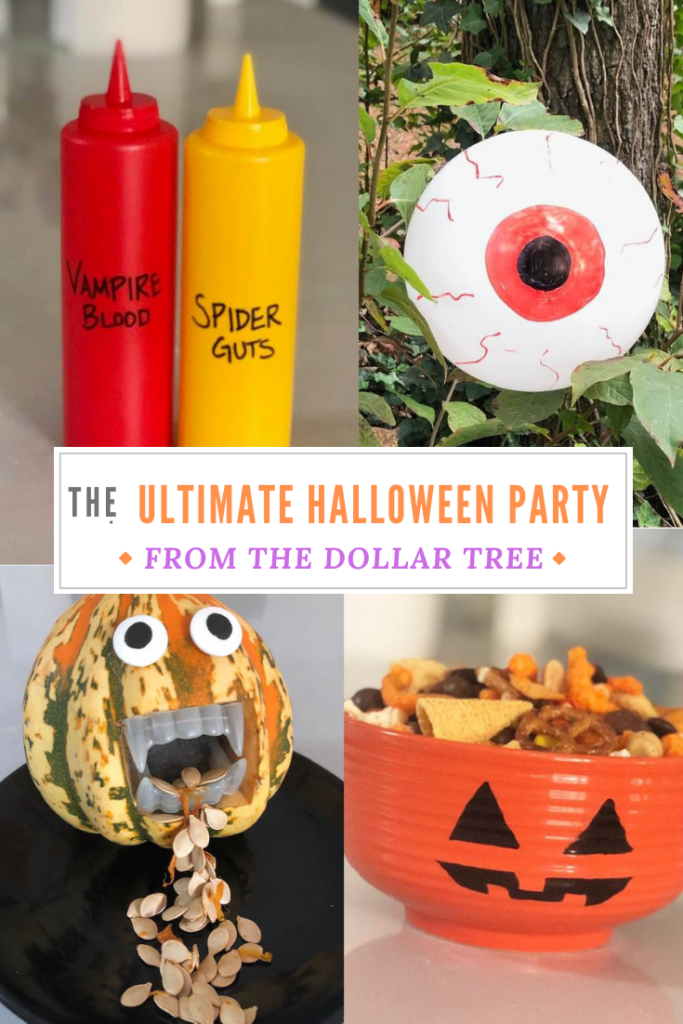 We'll be attending the Timmermans Halloween party this weekend and can't wait to bring some of these fun ideas to it! If you make or create any of the ideas, make sure you tag me @mirandainclt so I can repost!
Let's start with some food ideas…
I love a trail mix because you can customize it for any holiday! Just grab whatever candy, chips, dried fruits, popcorn, etc. you can find in the aisles that makes sense for the theme/color scheme, and combine!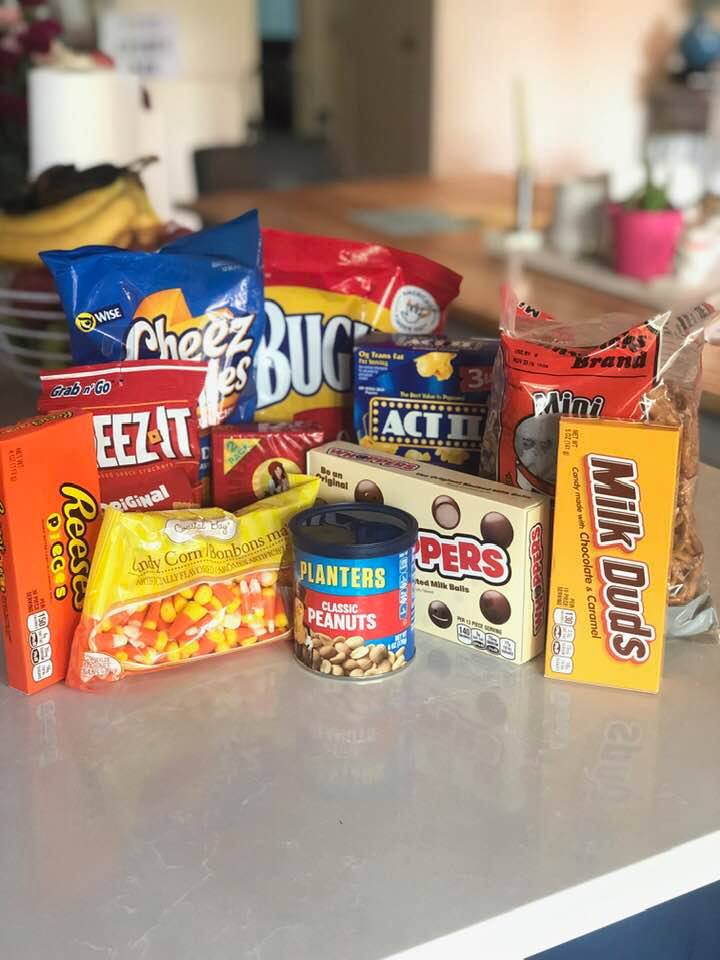 For the display: Orange bowl was found in the dish ware section, and use a black dry erase marker to draw on a jack-o-lantern face!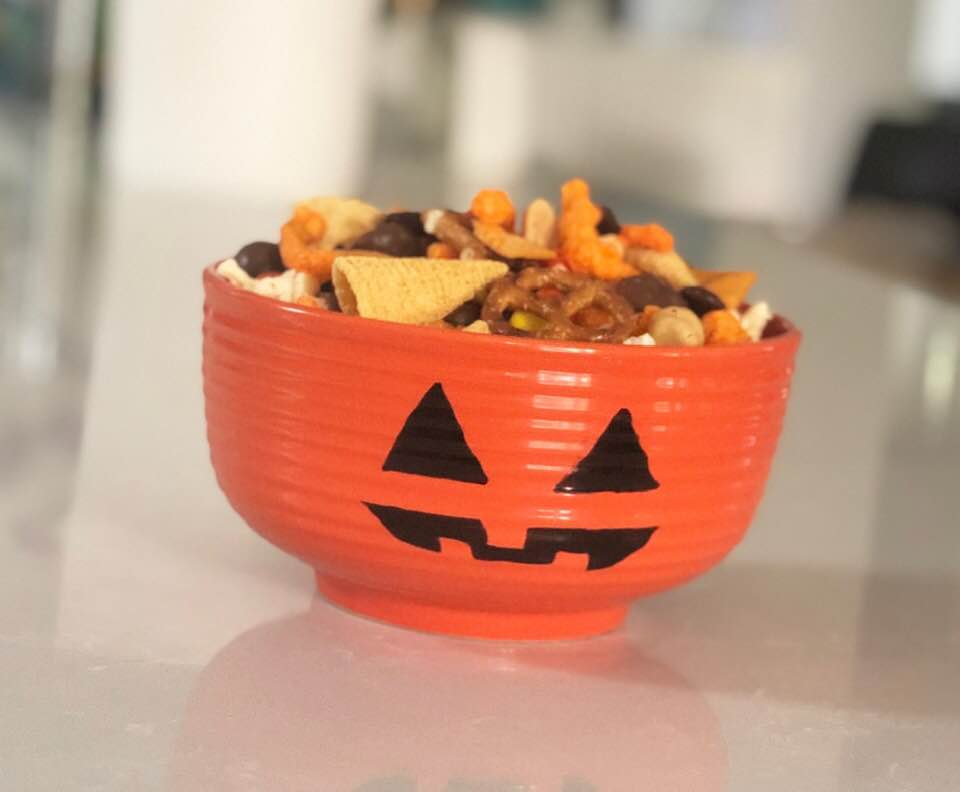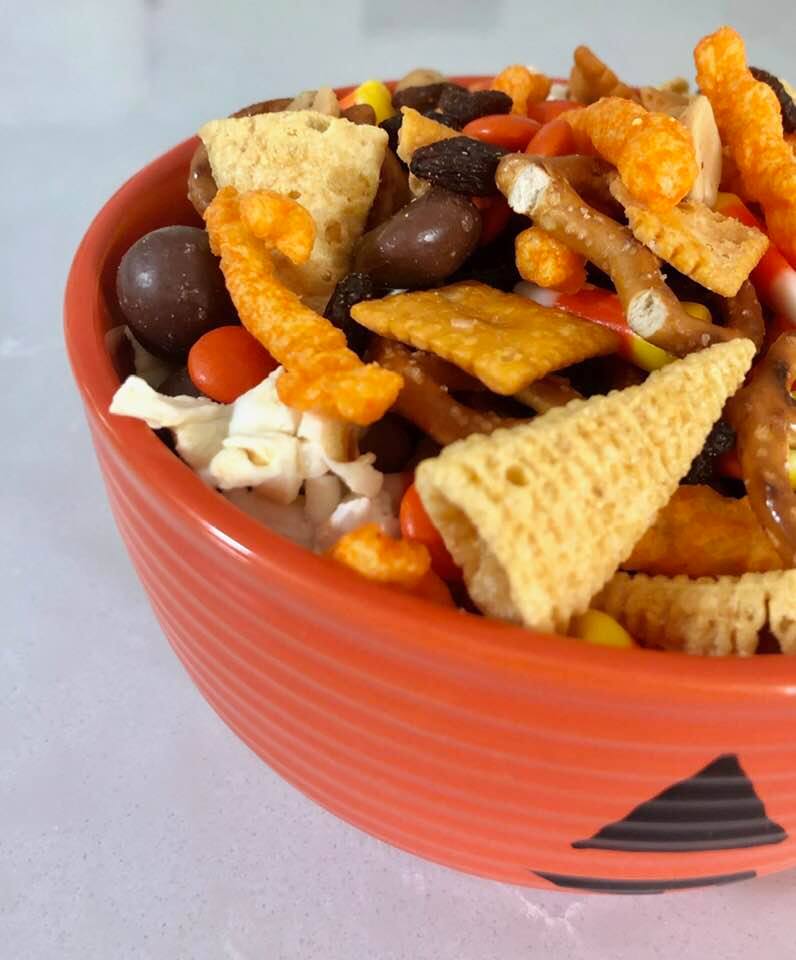 Cheese quesadillas with jack-o-lantern faces! Just use a sharp knife to cut a face in the top tortilla, and the stem in both the top and bottom tortillas. Put a little butter into a hot pan and toast the top (face) tortilla alone. Once browned, remove from the pan. Place the bottom (full) tortilla in the pan, add the cheese on the tortilla, place the top (face) tortilla on (toasted part facing up), and let the cheese melt (no need to flip). Remove and enjoy!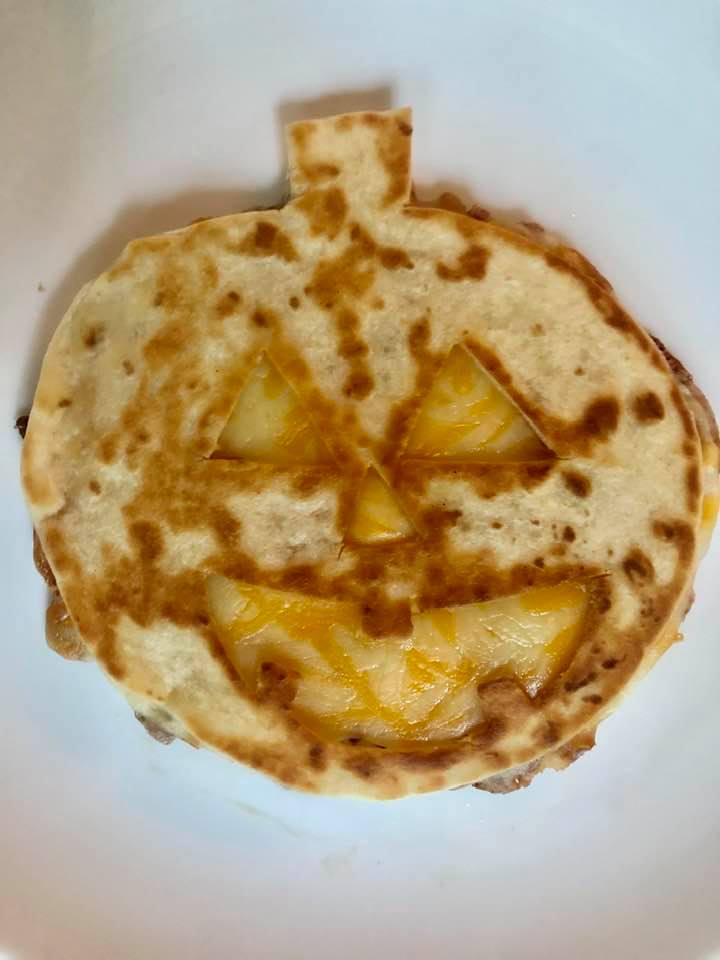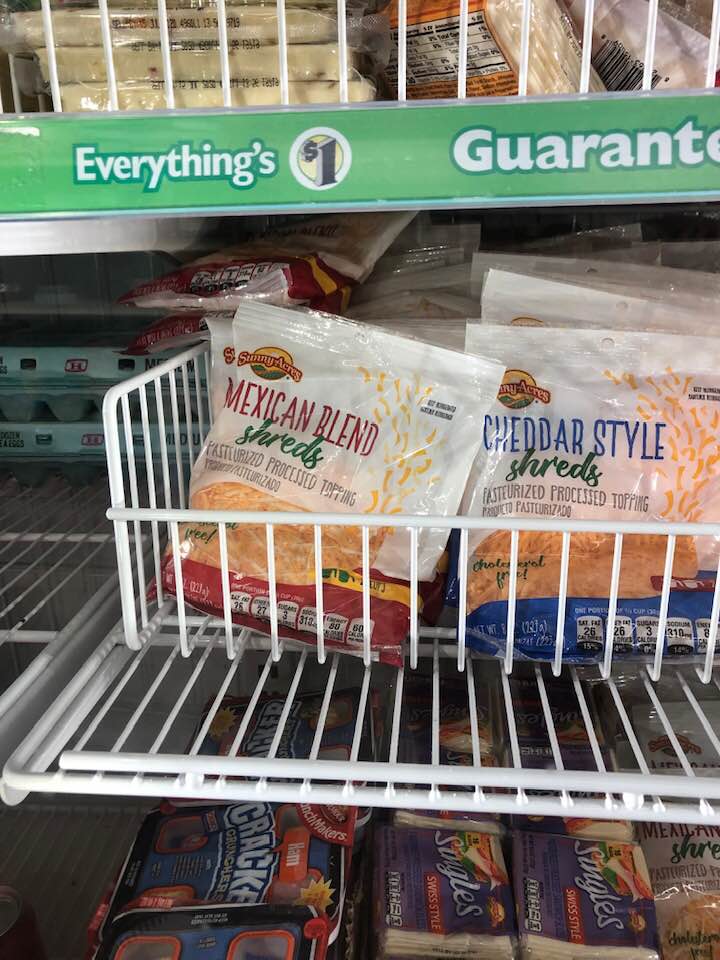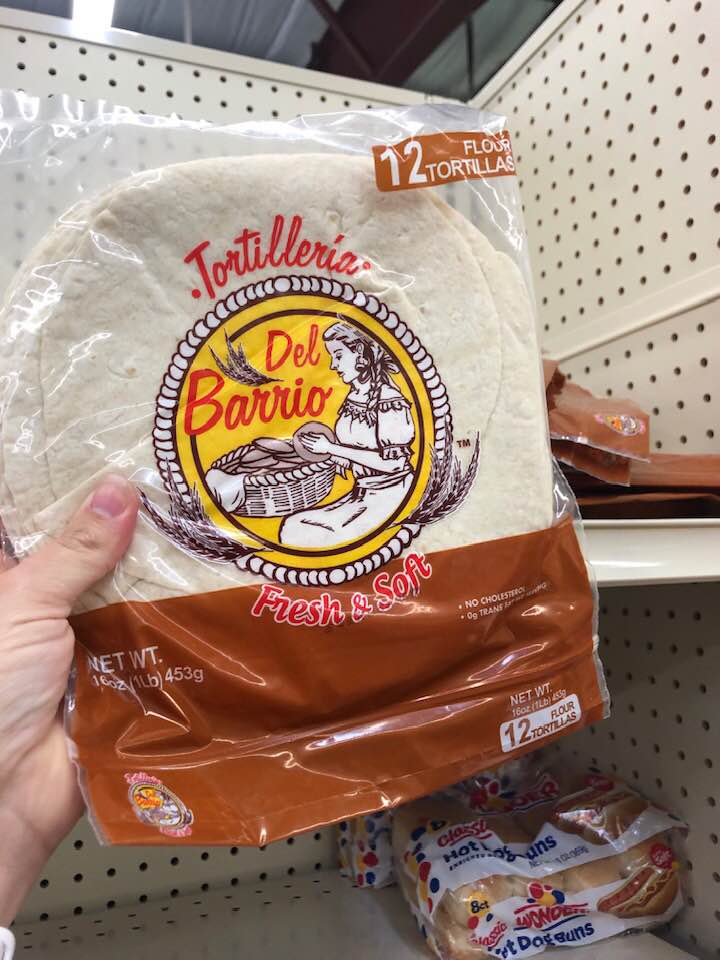 This oldie but goodie is fun for the kids because it can be a craft as well! Let the kids decorate their own fruit cup! Give them a marker and have them get creative with a jack-o-lantern face on top of a mandarin orange cup!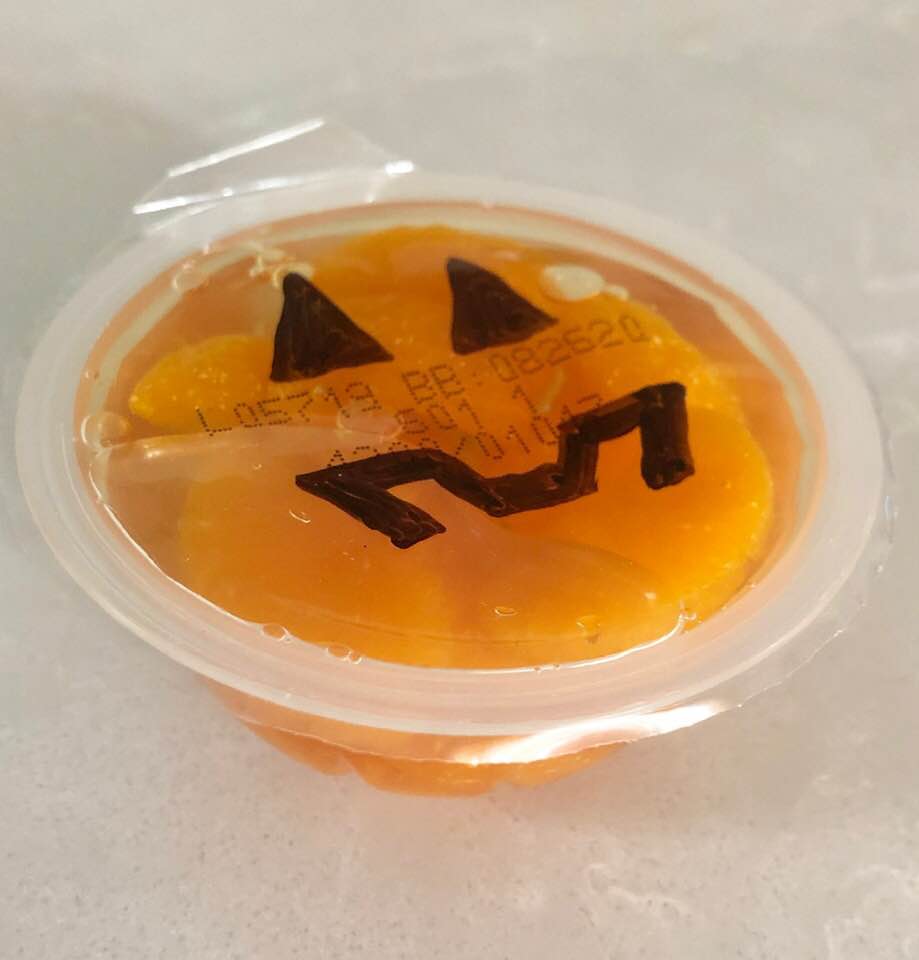 These next treats can go so many ways because Rice Krispie Treats can be mummies or monsters! I had white chocolate on me anyway from a previous craft (but you can also grab a bag at the grocery for a dollar), so I made mummies for mine. Dollar Tree sells the long bars, and you can get three mummies out of each! Just drizzle some melted white chocolate over them, and add some googly eyes, and you're good to go!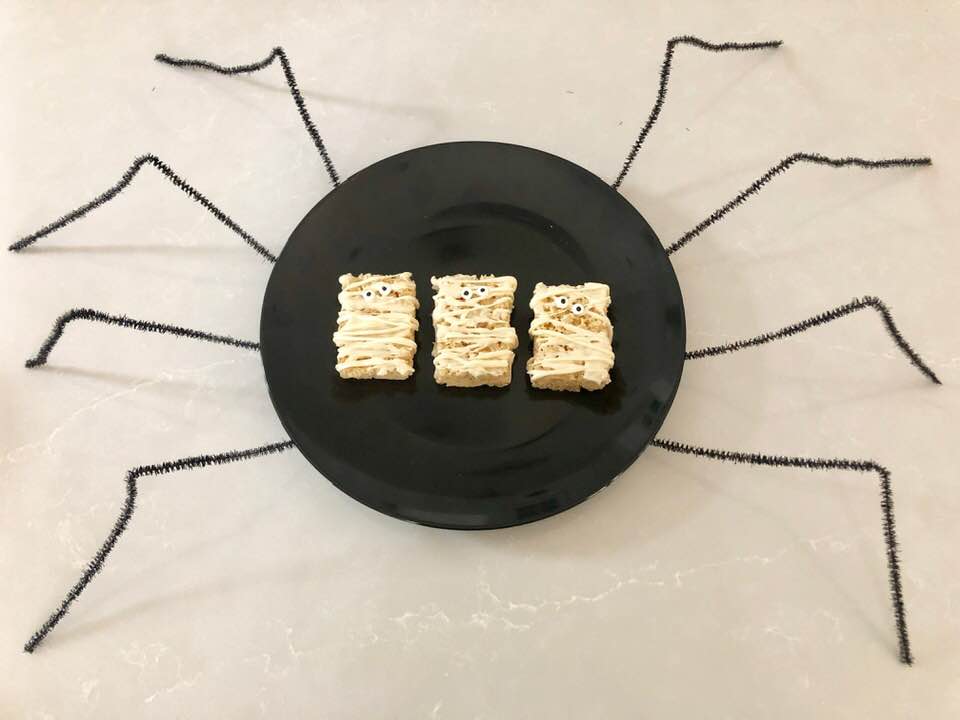 For the display: this is the black plate that made me think of spider body, so all I did was hot glue some black pipe cleaners to the bottom and bend them into shaped legs! So easy!
Of course I had to add a baked good into the 'mix' #seewhatIdidthere 🙂 And I'm thrilled to share the EASIEST pumpkin muffin recipe ever! I actually learned this one when I was on Weight Watchers years ago, and it's as yummy as it is simple, and only TWO ingredients…one can of pumpkin puree and one box of cake mix!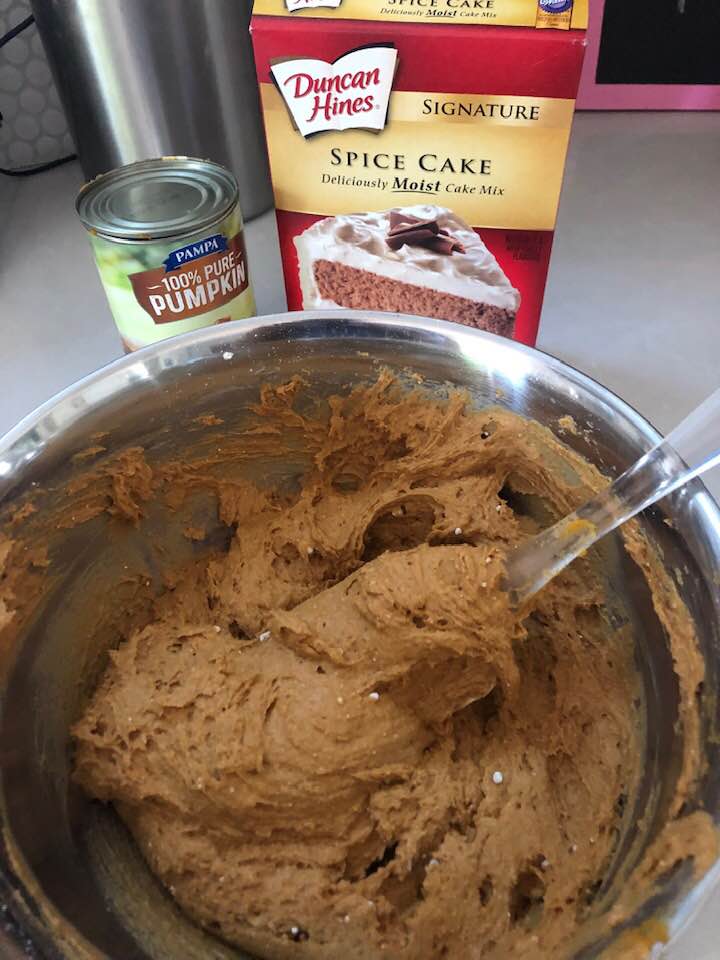 And I've seen people use vanilla cake mix (which you can get at the Dollar Tree), but I'm a sucker for using spice cake mix (from the grocery store)! Mix the two ingredients together, and then scoop into 12 muffin liners (I find the aluminum ones work best).
Bake at 350 for 25-35 minutes, until a toothpick comes up completely clean.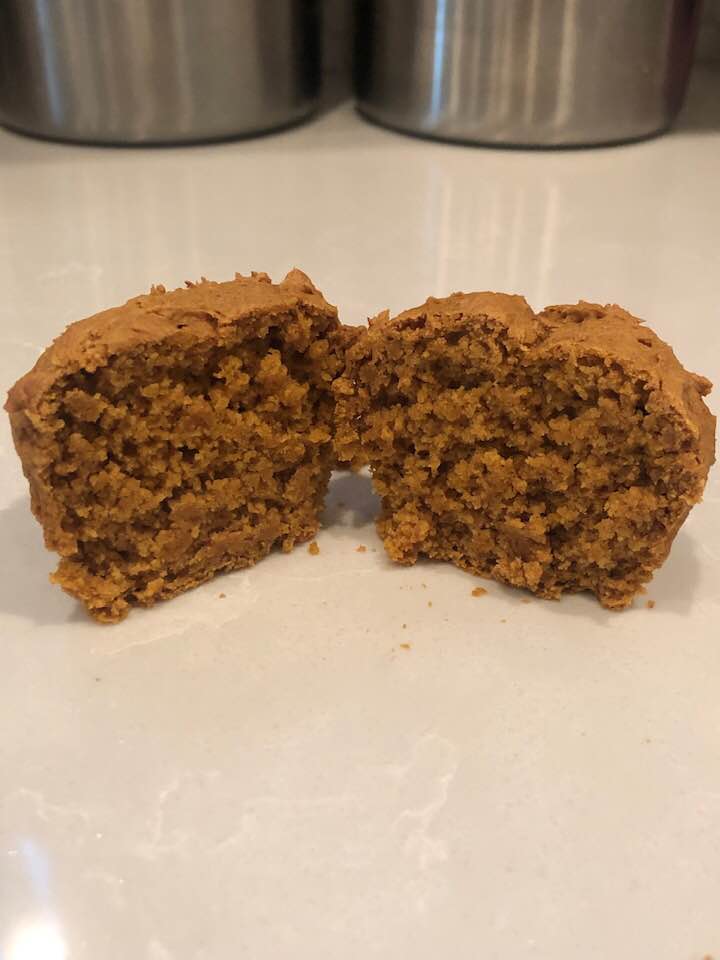 And for the display, I took that same plate with the spider legs glued on it, put a black bowl underneath it to give it height, and make it even more dramatic! You could add eyes to the bowl and make it even cuter!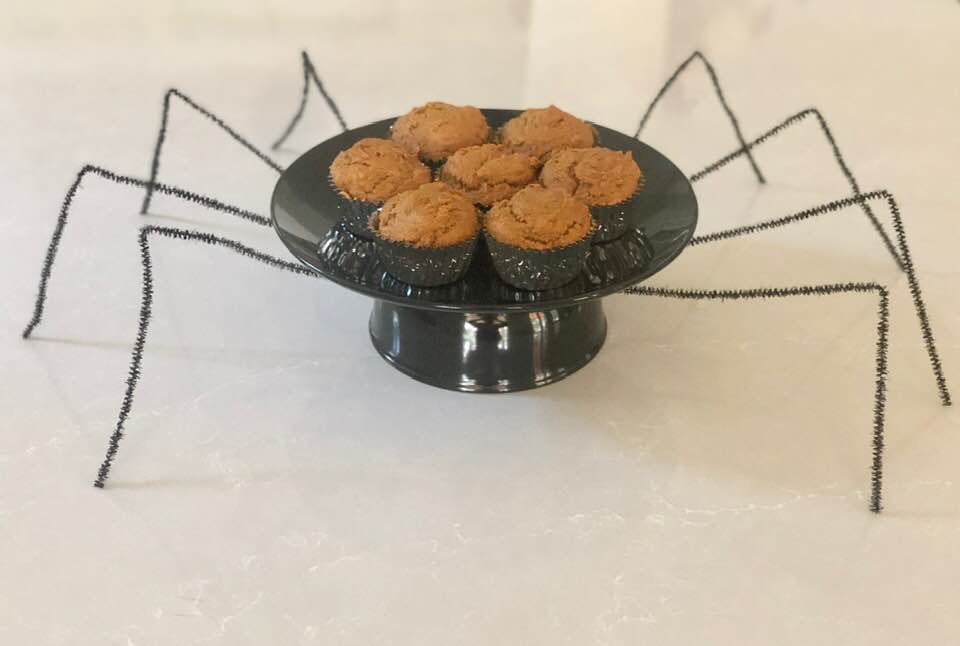 If you happen to need ketchup and mustard for anything on your menu, the Dollar Tree sells these bottles in a set of two for $1, and just write something fun on them, like this….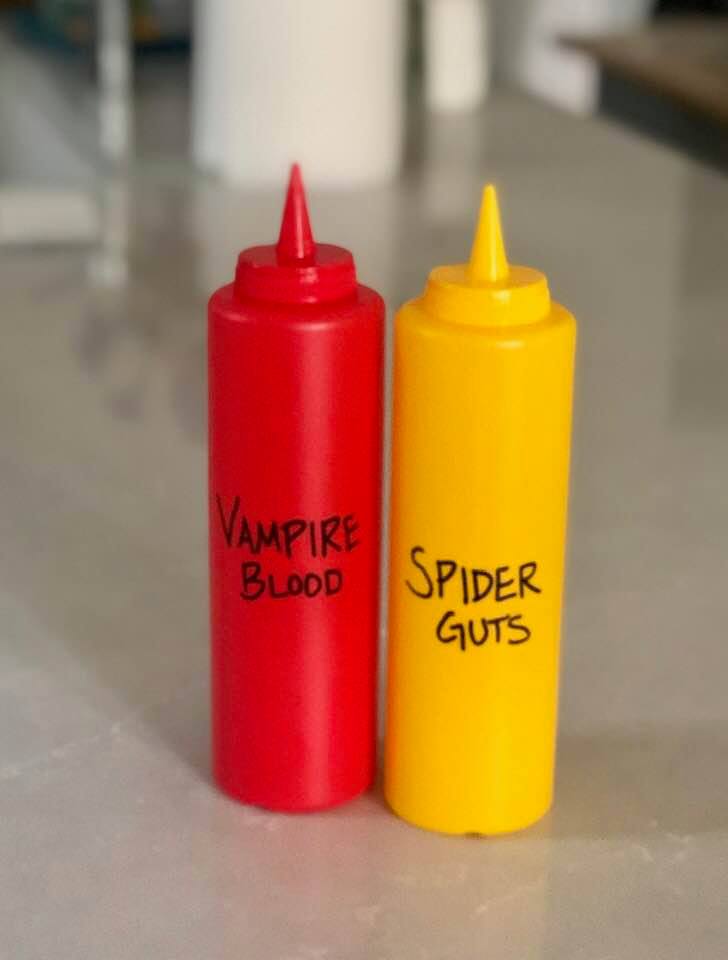 Onto the decor!
You can easily find so many things to grab pre-made at the Dollar Tree that are so cute and will make an impact as far as decorations are concerned! You can see some of them in this picture! The eyes on the post, the ghosts hanging on the fan, the spider webs, etc.!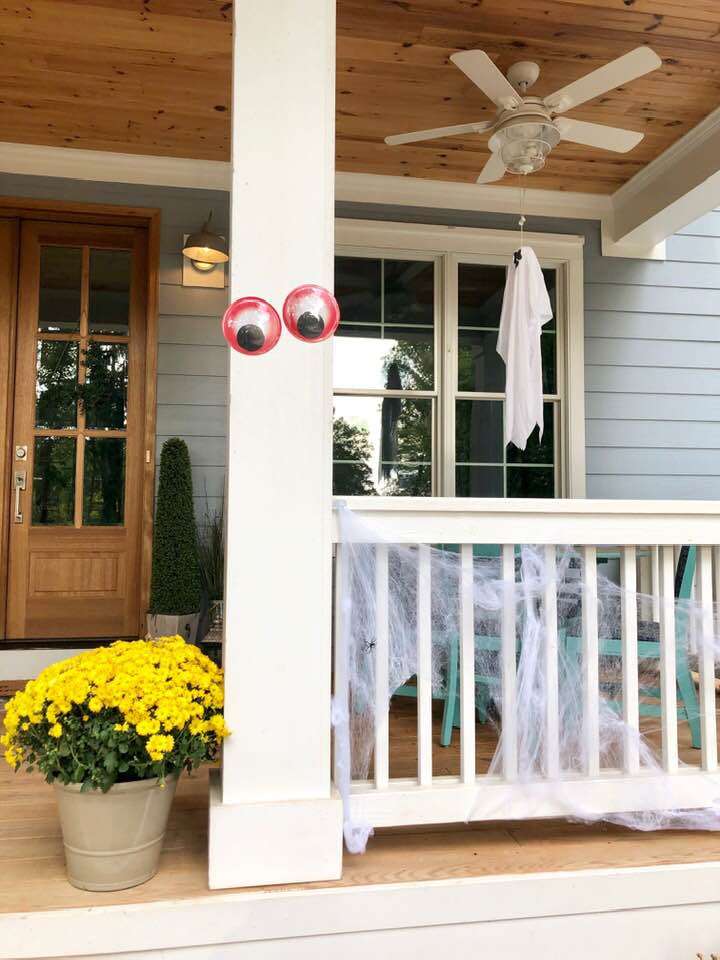 You can also get things like this to lie on a table, hang on a door, line a driveway with, wrap around a post, mailbox, etc….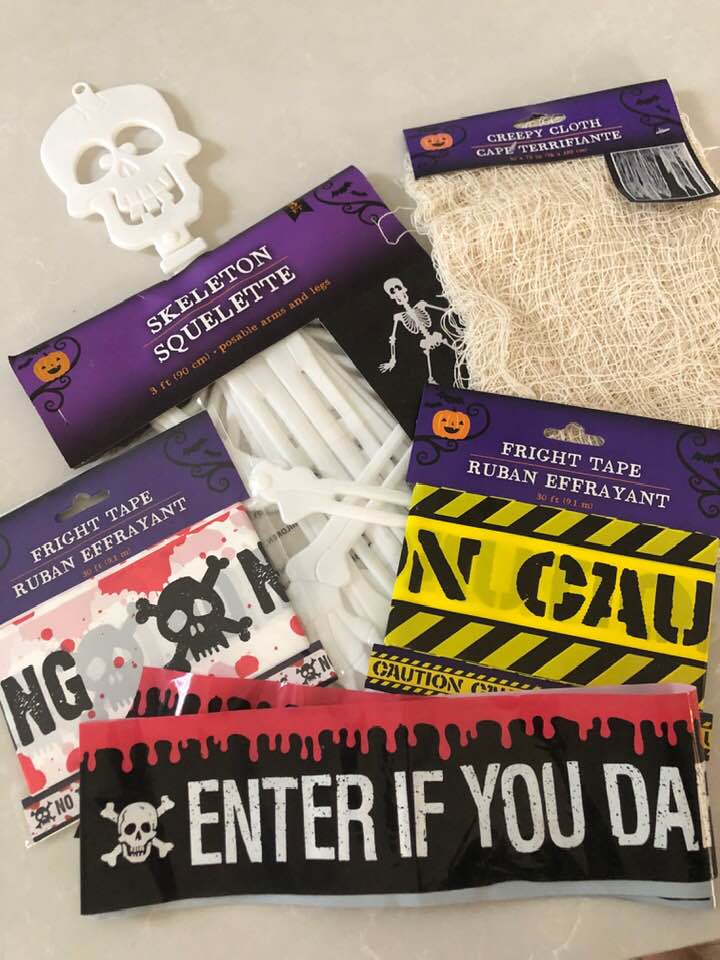 But I also like to grab things and DIY them, like balloons! I used a Sharpie to make ghost and skeleton faces on white balloons, and jack-o-lantern faces on orange balloons! Fill them with helium and have them floating around for a creepier feeling!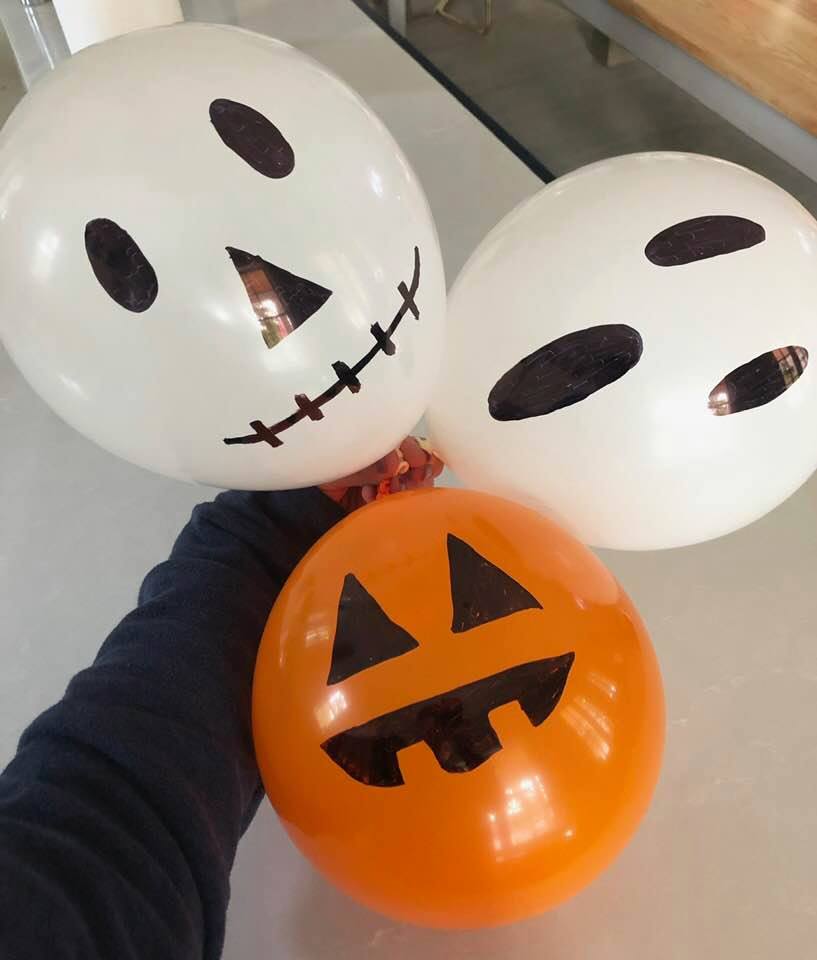 Speaking of balloons, use colored markers to draw bloodshot eyes on white balloons and stick them in bushes to greet your guests as they're walking up to your door!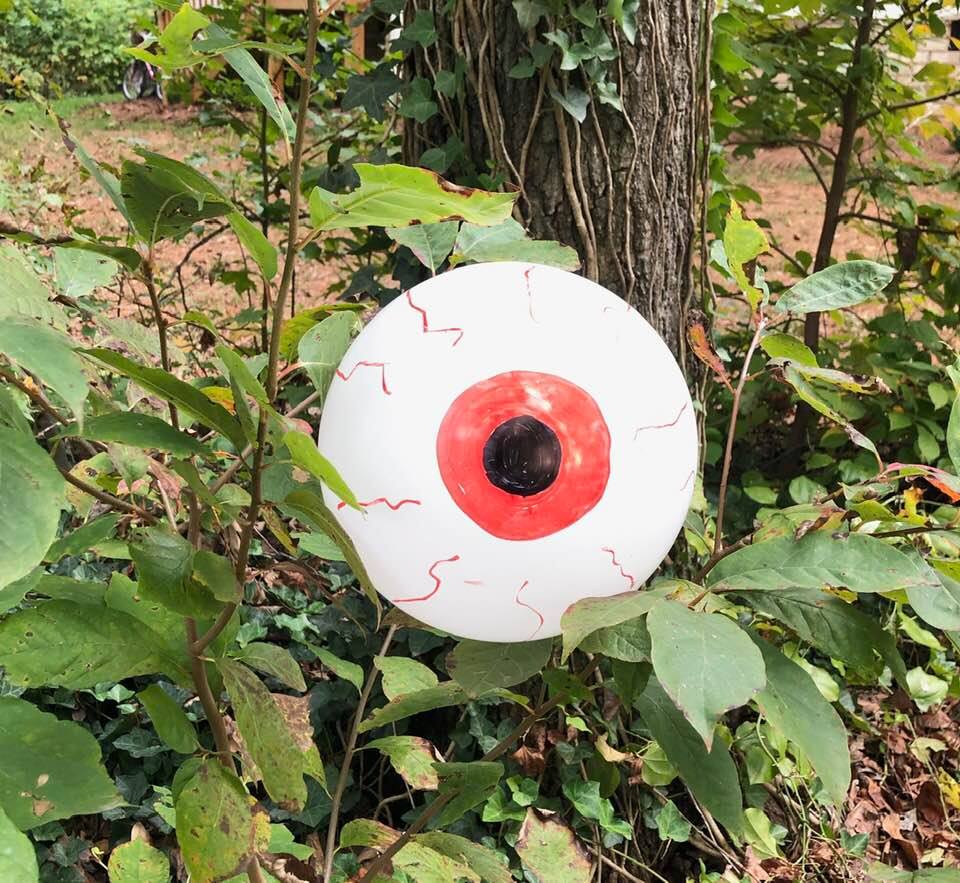 Another fun decor idea is to grab a squash (one of the the only things I didn't get from the Dollar Tree, but was $1), and cut a rectangle in it. I scooped some of the guts out, put some vampire teeth in, glued some eyes on it, and then made it look like the guts were throwing up out of the mouth! A small black plate from the Dollar Tree made for an easy display. This could be a great craft for the kids if there's supervision with the cutting!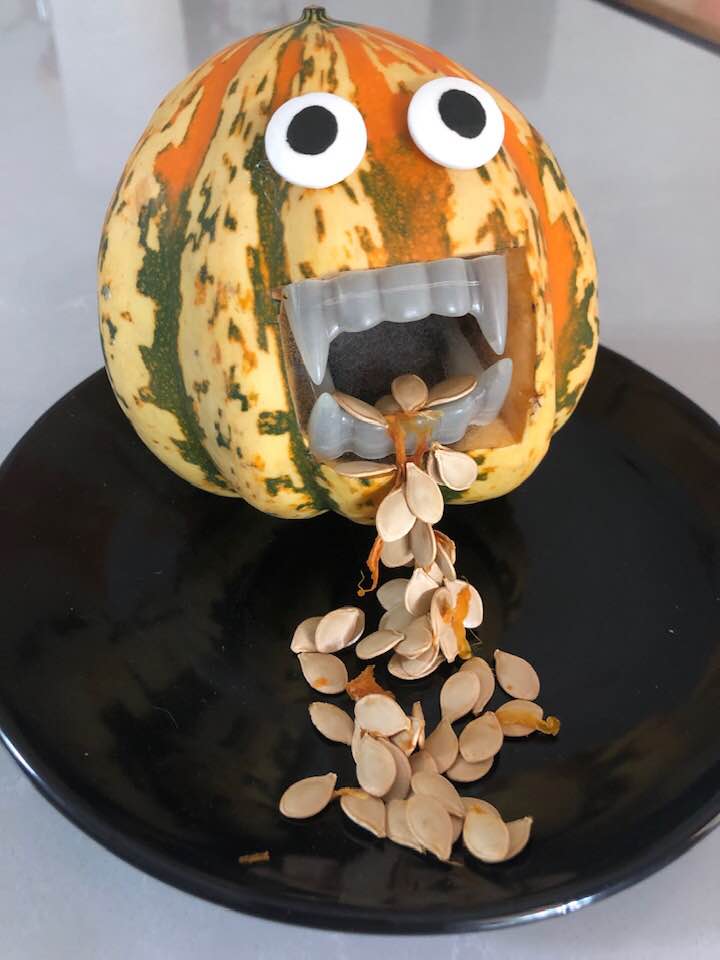 Some crafts and games!
When I saw the latex gloves, not only did I remember I needed them to help touch up my hair color, lol, but I also instantly thought of skeletons! And how fun it would be to have a craft where kiddos could use Sharpies to draw where they thought bones and veins would be on a real hand, but do it on the glove instead?! And then put them on and wear them around! I don't know about your kids, but mine are always wanting to wear them while at the pediatrician's office, so here ya go, kids!!!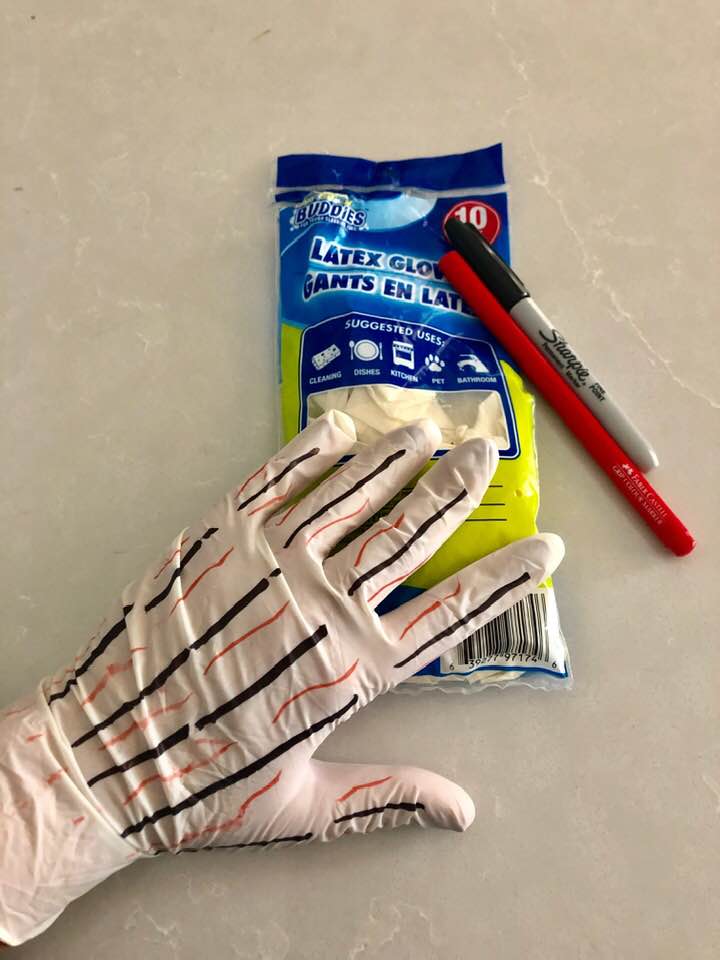 But crafts will only keep the kids' attention for so long, and that's why I have a game suggestion…'Ring around the pumpkin stem!' Sure, it doesn't have the same ring to it, but you get the gist! Take a glow-in-the-dark necklace and have kids (and adults) toss them onto the stems of pumpkins to make a fun game, especially if played in the dark!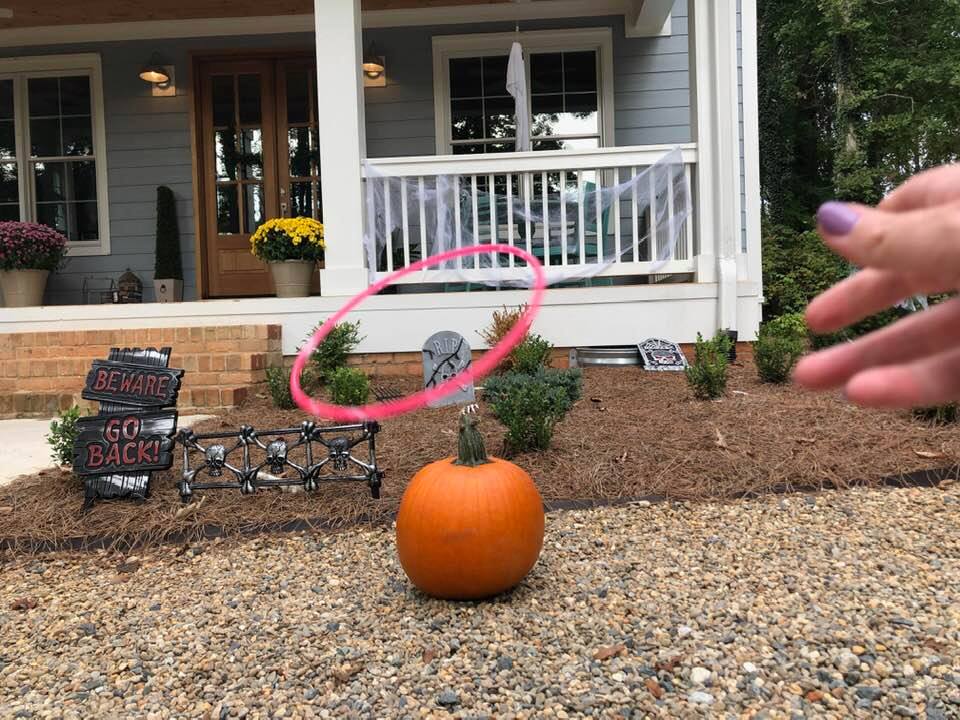 What to Wear!
The dollar tree does have some costumes ready to go, but I wasn't interested in any of them! My minis have already decided what they're going to be this year, and we're so ahead of the game because they already have their outfits! However, I did see something that caught my eye, and I wondered if it would work, so I grabbed it! Are yall ready?! It's a CHAIR COVER?!!!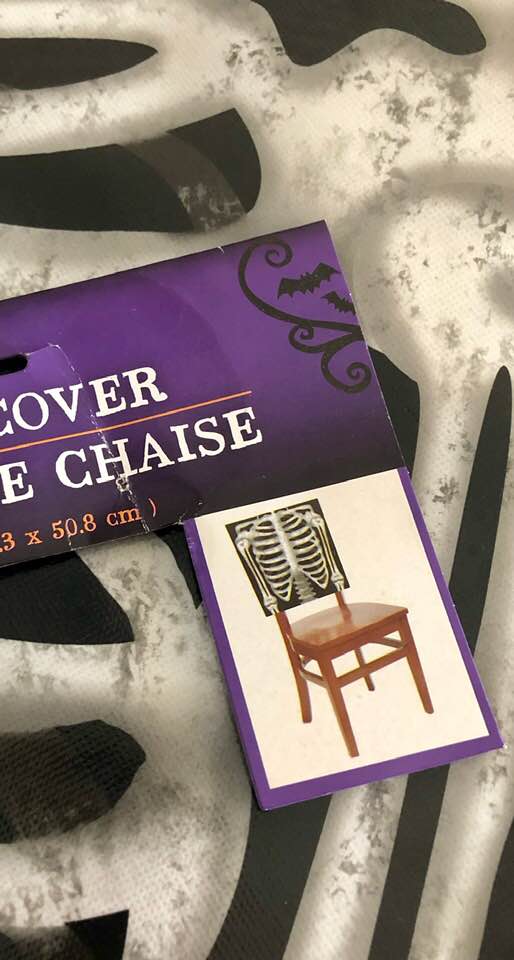 But I thought in my brain…'that would make a cute X-RAY costume by simply cutting a few holes in it!' And then I made Bella try it on, AND IT TOTALLY WORKED! So, there ya go! If you're desperate for a costume, grab a chair cover! HA!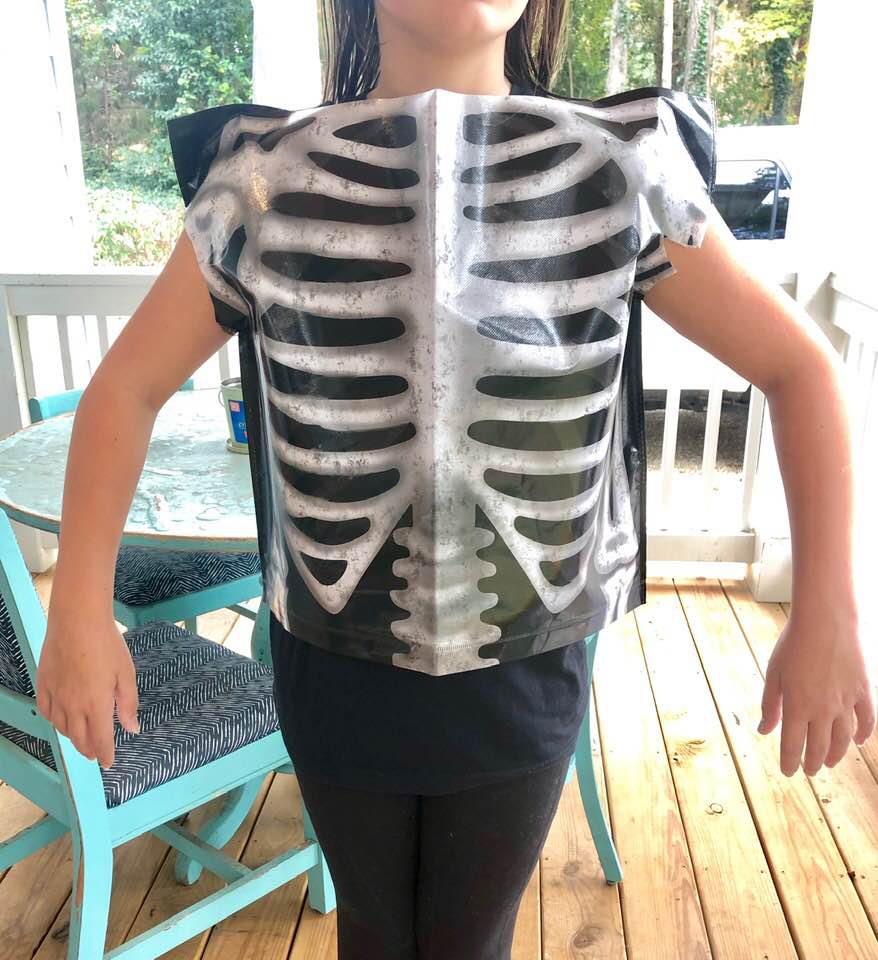 And speaking of clothes, I love a good graphic T, especially doing spooky season! Here are some Hocus Pocus-themed shirts! Just click on each one to get to the link!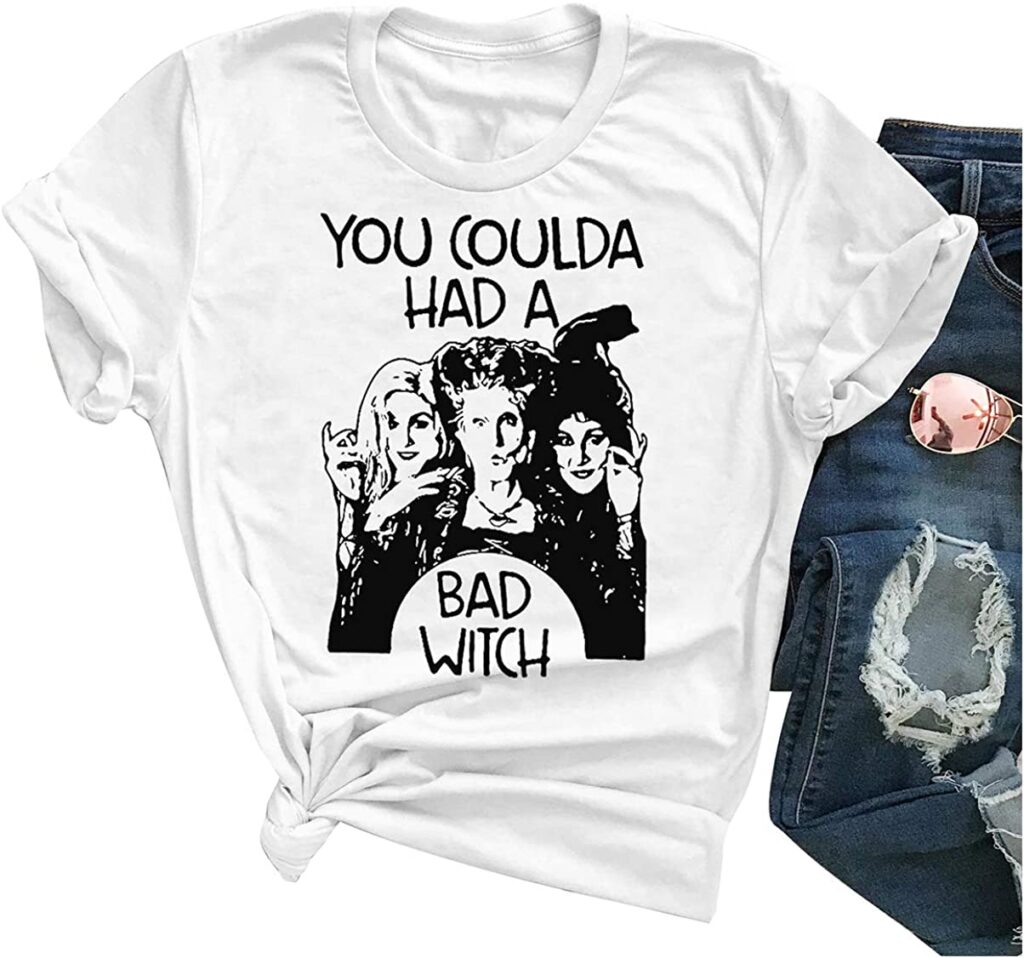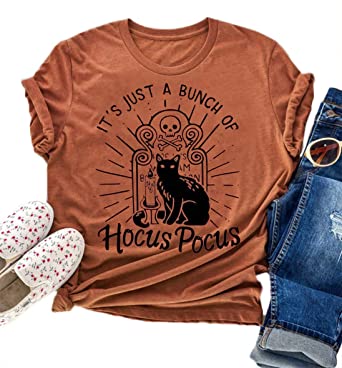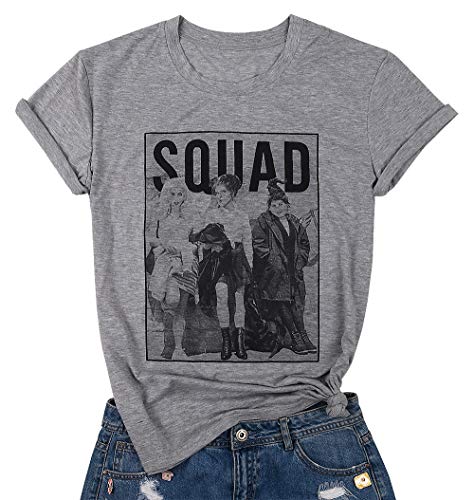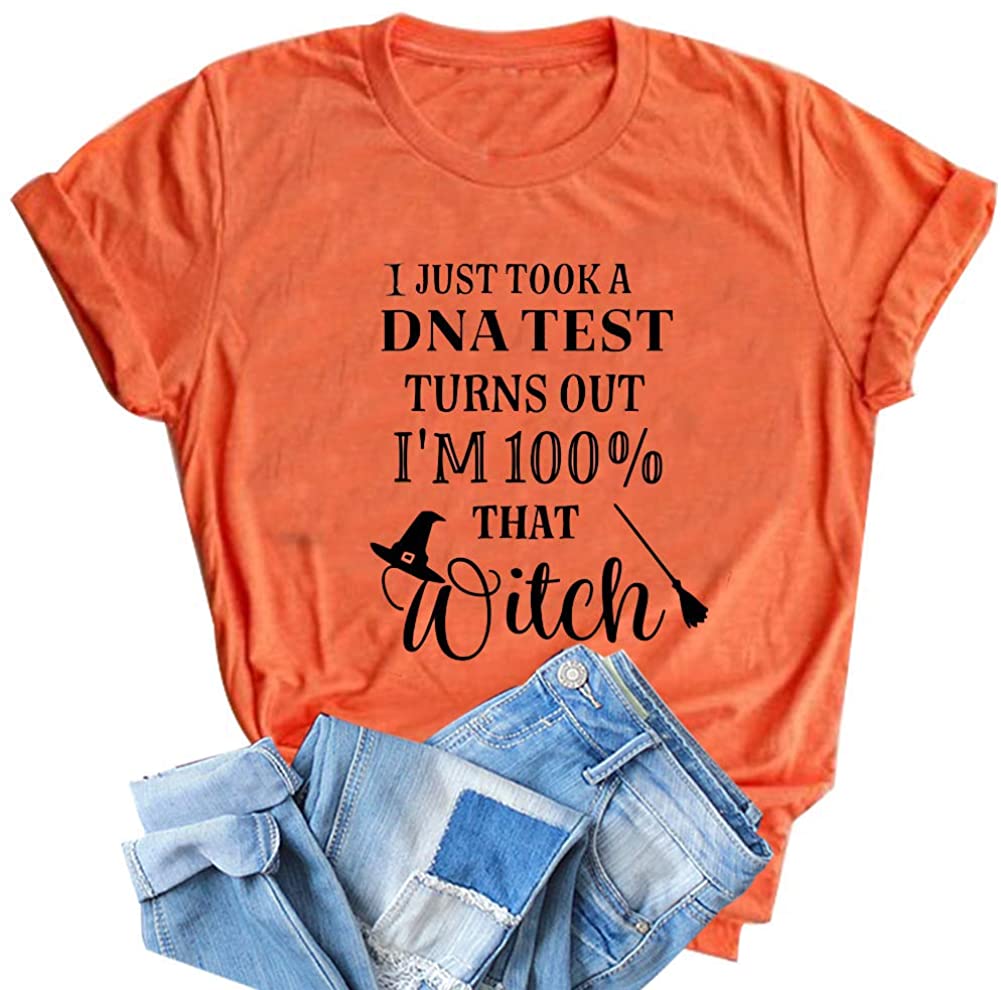 So that's it for this year's Halloween round-up, y'all! You can always see my Halloween posts from years past HERE, HERE, HERE, but the one I hope you read more than any other is this one about why no matter who comes to your door, you should give them candy! Captain Kindness is the superhero this Halloween!
Once again, Charlotte Today had me on to talk about these ideas, and here's the segment for those of you who didn't get to catch it! WATCH IT HERE…