I LOVE THE HOLIDAYS! I long for a reason to celebrate anything, and with any given holiday, there's typically the extra promise of more family time! And Halloween is no exception in our house! I decorated six weeks ago, and have been coming up with fun ideas to play up the holiday with THIS post, and THIS one too! Please go check them out 🙂
But this post is all about the actual day, from start to finish! You have to feed your family/yourself anyways, right?! So why not make each meal have a Halloween component, or theme?! I'm giving you some ideas, and I promise you they are SIMPLE, CHEAP, and EASY (otherwise know as my "happiness trifecta") 😉
Let's start with breakfast…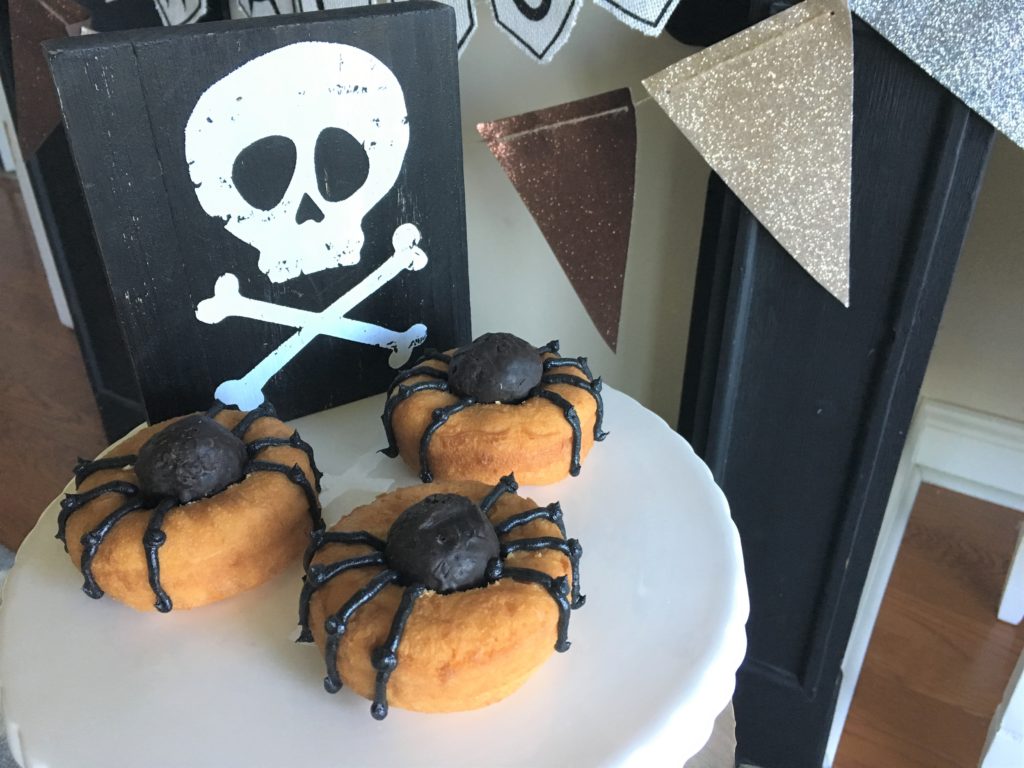 We don't always start our days with sugary donuts, but it's Halloween, so we're going all out! Take a chocolate Entenmanns pop-em (or chocolate donut hole), and place it in the center of a cake donut (glazed would work fine too). Then take a piping bag filled with black buttercream, and pipe four legs on each side coming out of the spider "body." DONE!
#protip: you may need to make the hole of the cake donut bigger, so carve out a bit with a knife to create more room!
Moving on to lunch: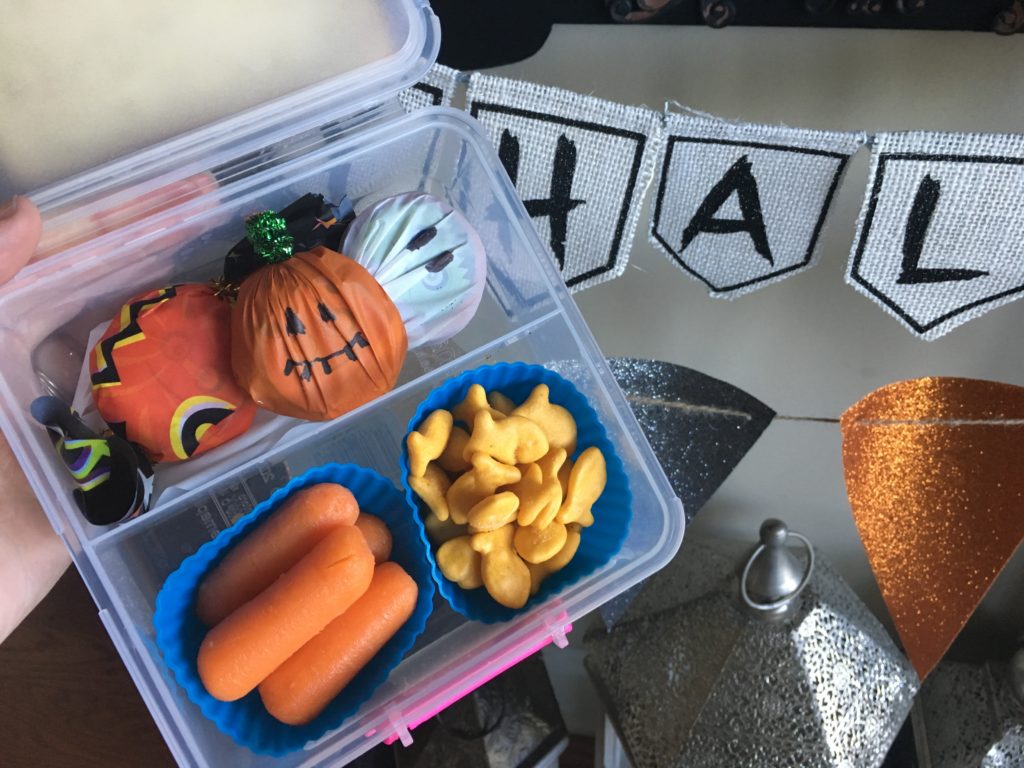 I've already showed yall how to make these cute Halloween-themed Babybel treats over HERE, but look how great they fit in the girls' lunch cubes (link will be at the bottom of post for these)!
#protip: use these silicone cupcake liners to separate the food!
On to after school snack: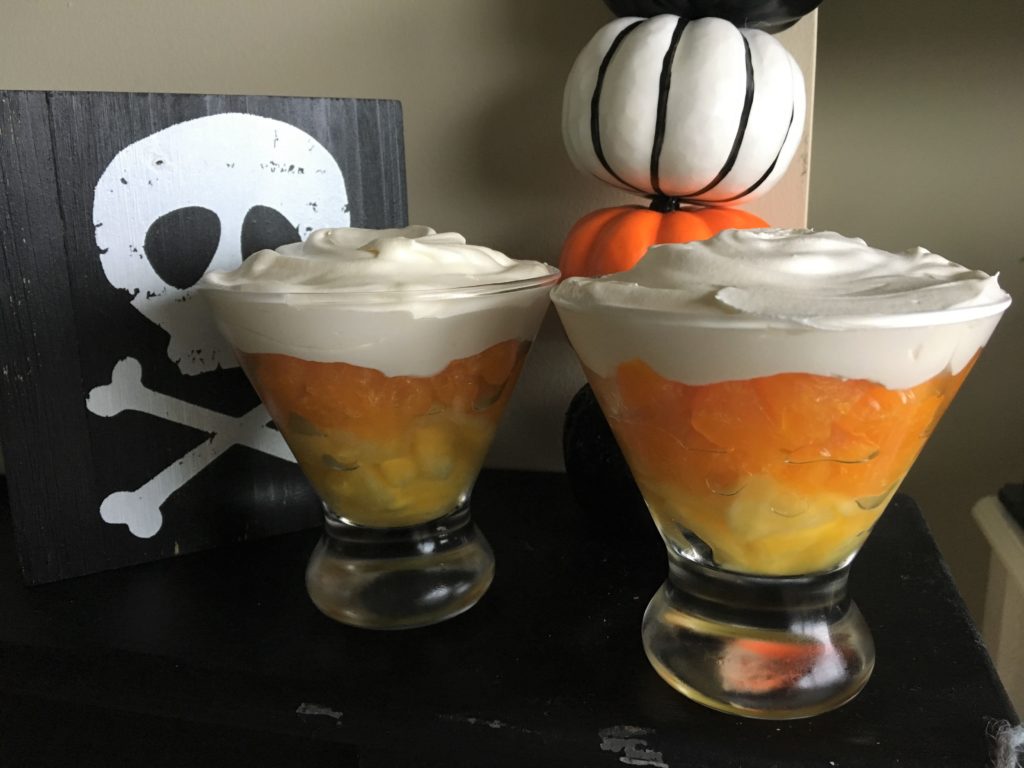 Knowing that they're going to eat more sweets than usual tonight, I'm going to give the minis fruit for their after school snack! Pineapple, mandarin oranges and whipped cream make the cutest candy corn fruit parfaits! You could even put a few candy corns on top if you want!
#protip: use a martini glass to get that perfect triangular shape (I used a low-ball because there's a less likely chance it gets knocked over than one with a stem)
What's for dinner: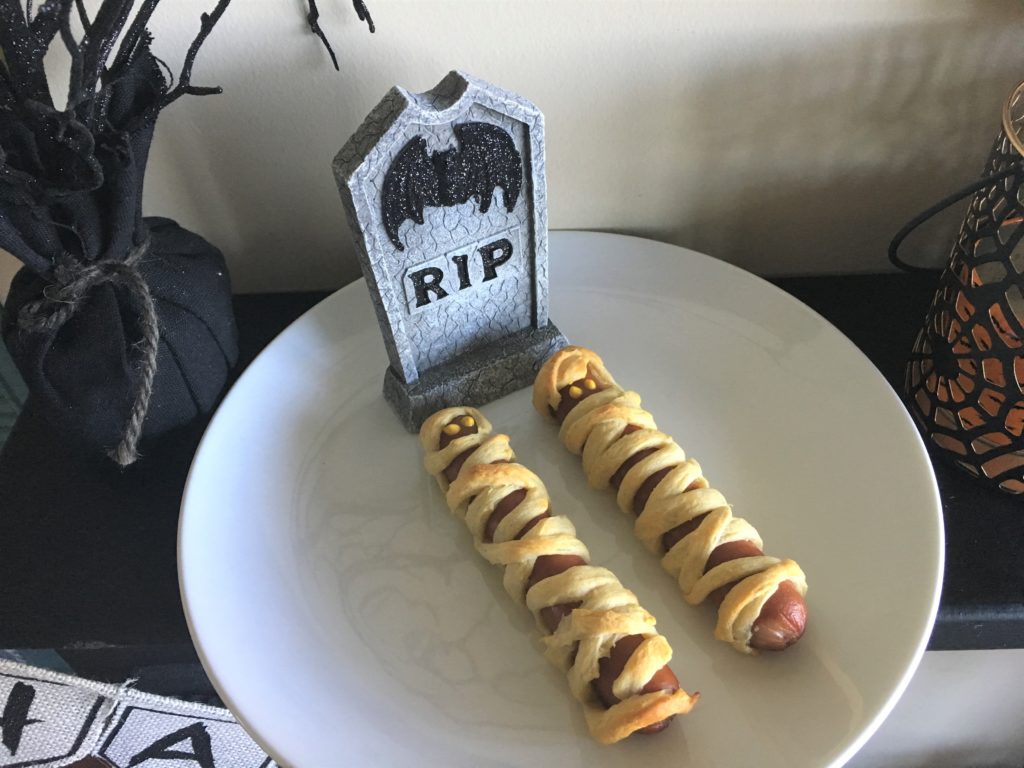 I'm not reinventing the wheel here, as you've probably all seen this one, but it's a crowd favorite so I keep making them! Hot dog mummies are not only cute, but with three ingredients, I'm sold! Take crescent rolls and cut the dough into thin strips. Wrap them around hot dogs in any design you want, leaving room for the mustard eyes! Bake according to package instructions!
#protip: you can cut into the hot dog to make legs and arms if you'd like, but I love them either way!
Room for dessert?!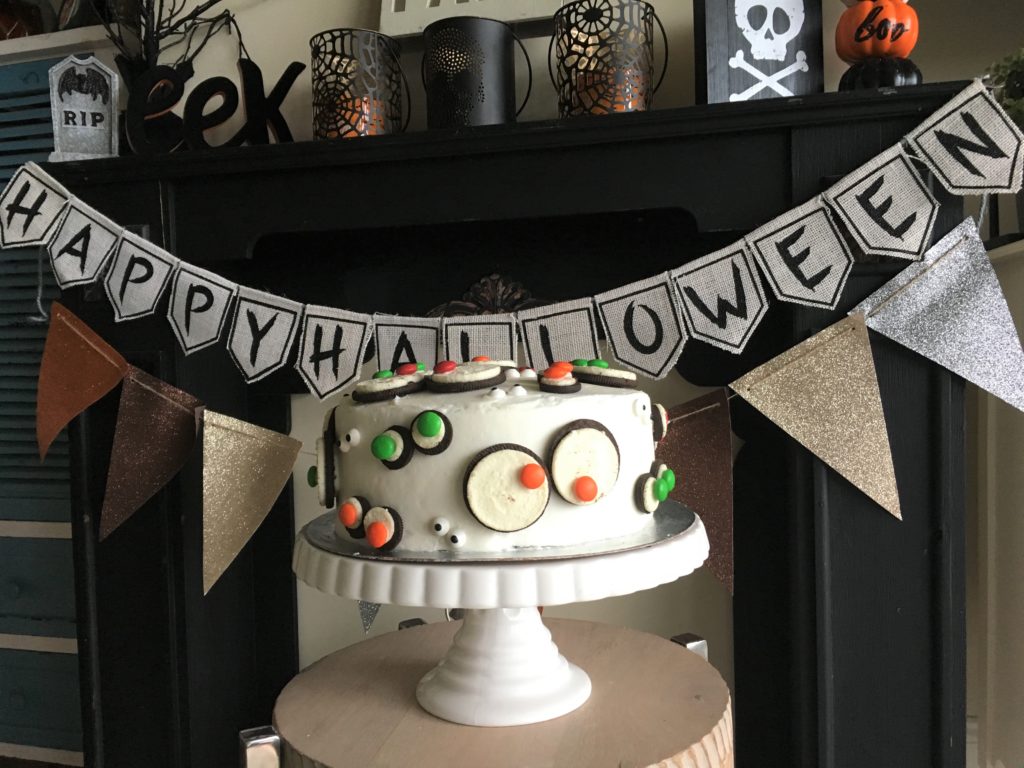 Maybe you're hosting a Halloween party? Or have a Halloween birthday? "Make" this cake! Make is in parentheses because I bought this one from the grocery store (ask for double layer, smooth base iced, no border…it's only $10), and decorated it myself with Oreos, M&Ms and Wilton eyeballs! Use buttercream to attach the Oreos on to the cake, and the candy on to the oreos. The grocery's bakery will sell you spare buttercream yall!
#protip: TWIST your oreos VERY slowly in order to keep as much cream on the one cookie as possible
If cupcakes are easier, use the same technique as the cake!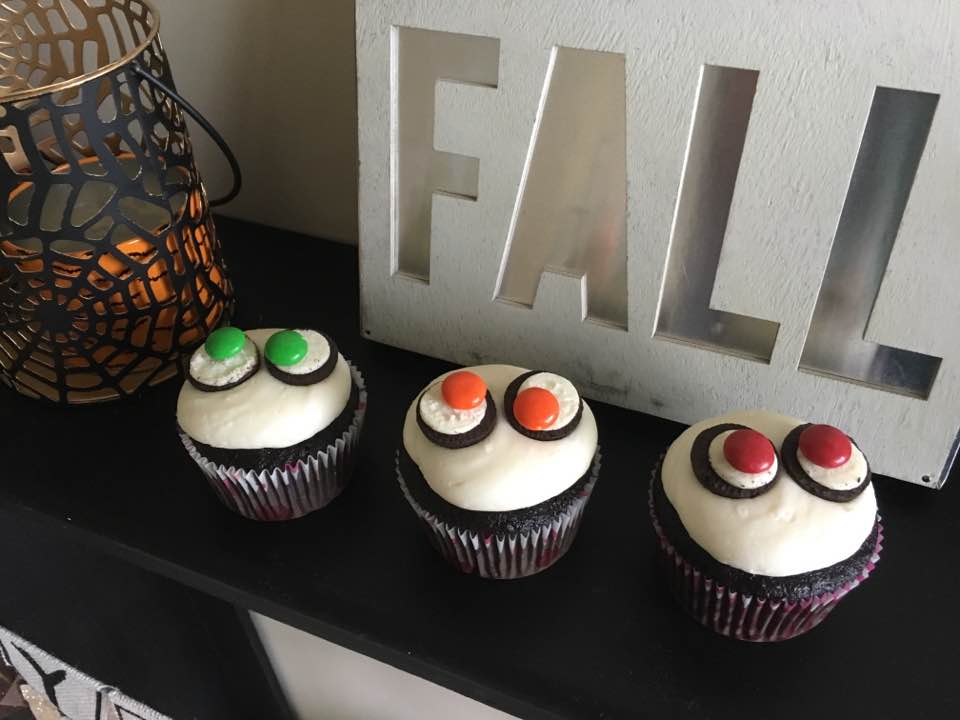 And for every special occasion, we buy the Welch's sparkling juice, and our minis absolutely love it (probably because they don't have juice on typical days)! I found these plastic goblets at the grocery store, and they make the perfect vessel to hold the vampire blood, I mean red grape juice 😉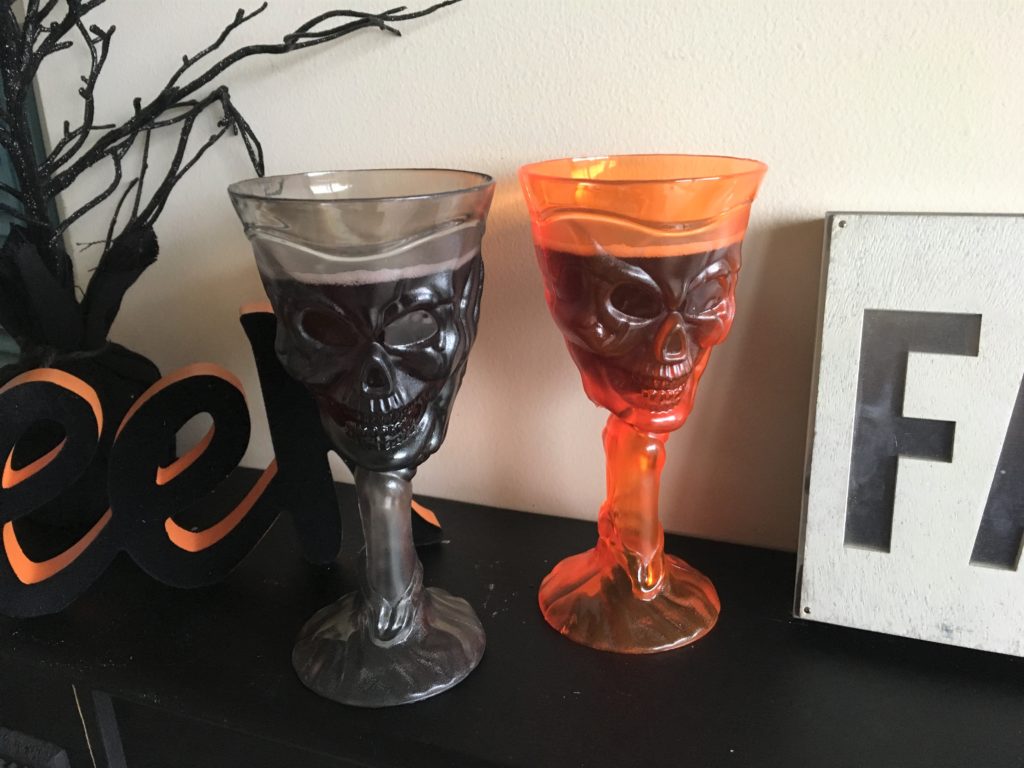 If you decide to do all, some, or even just one of these ideas, please make sure to tag me at #MirandainCLT so I can see your creations! Don't forget to check out my gluten free Halloween bark treat HERE!
Check out my segment from NBC's Charlotte Today!

Some of the things I used in this post:

Have so much fun, be safe, and HAPPY HALLOWEEN!