FOOD FOR THE FOURTH?! I've got you covered!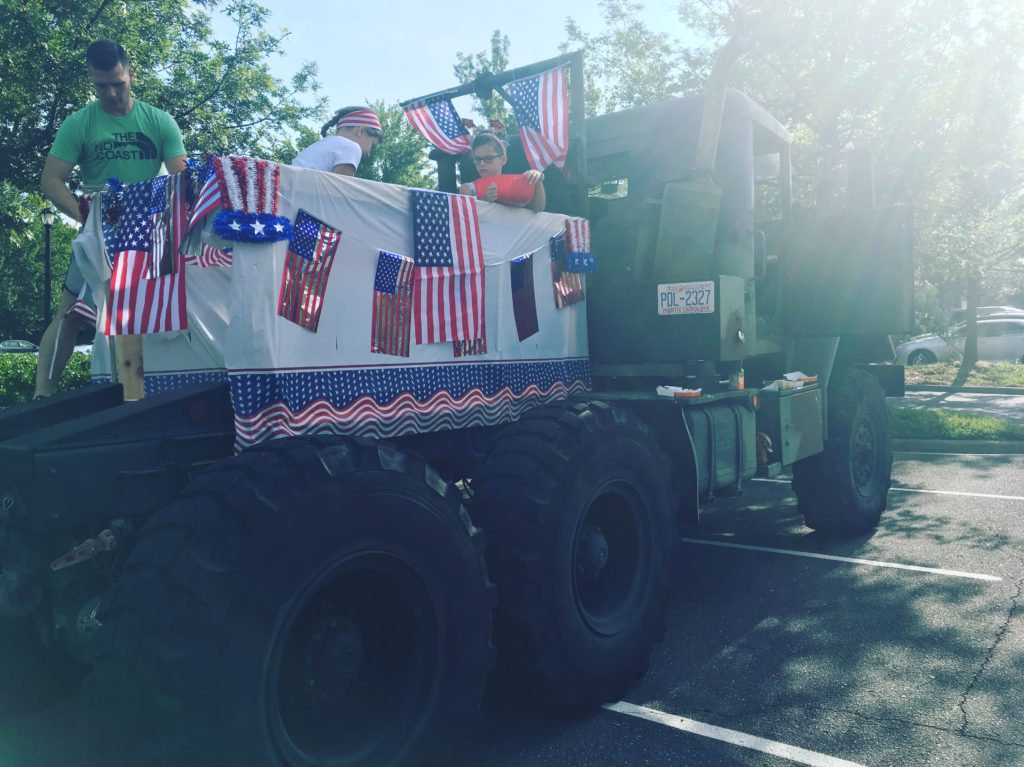 July 4th is a day full of fun for the Millers! We typically have our big Army truck in some sort of parade, and this year you can find us in the Myers Park neighborhood one! Joshua has so much fun driving it around, watching the kids freak out about a REAL LIFE truck of that size! We usually spend some part of the day with family too, at a cookout, BBQ, pool, or heck, combine the three! Here's my full-day guide to some easy AND festive fun food for the fourth (say that 3 times fast) 🙂
Breakfast: the most important meal of the day: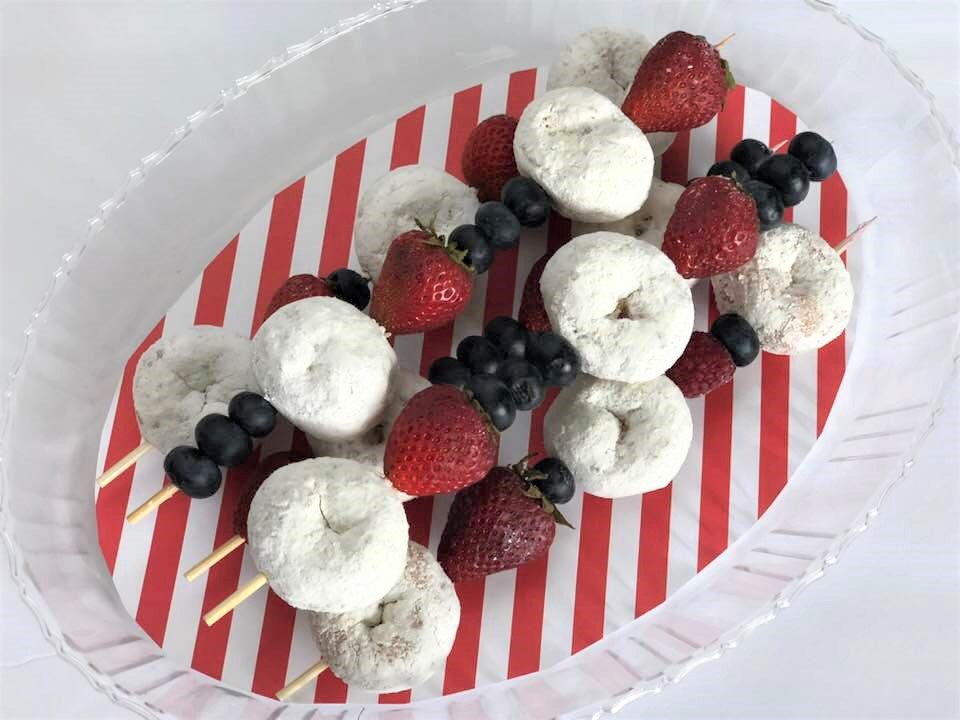 These breakfast kabobs couldn't be cuter or easier! Strawberries or raspberries make up the red, powdered donuts are our something white, and blueberries are obviously our blue 😉 Layer them however you'd like, and surprise the kiddos in the morning…or have them make them, which is so fun! I dressed up the $1 platter with scrapbook paper I had left over from Bella's movie star party! If you'd like to see some additional ideas for the kabobs, check out THIS post from Eighteen25, where they did them for desserts!
Snacks options throughout the day:
I like to make bark for every occasion because of its ease, it's super cute, easy to package up because it's "broken" already, and I can make it gluten free easily (for some of my family members)!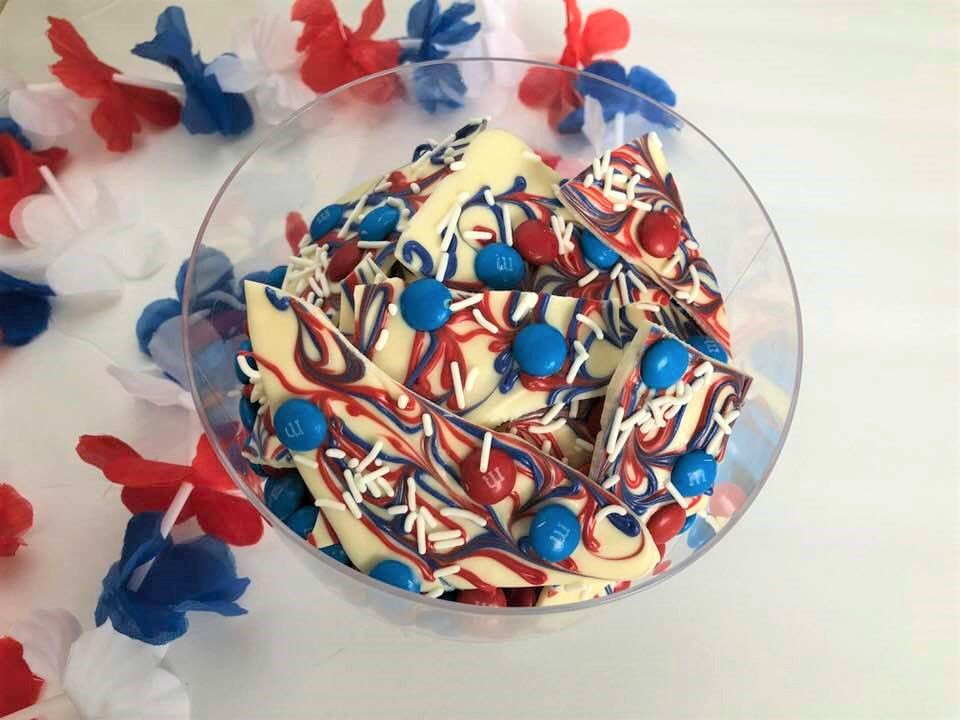 If you'd like to see my bark-making tips, check out THIS post! Basically, buy any color chocolate, any toppings, and have at it! For this, red, white and blue chocolate, red and blue M&Ms, and some white sprinkles did the festive trick!
Continuing with the snacks, chocolate-covered strawberries are always a hit!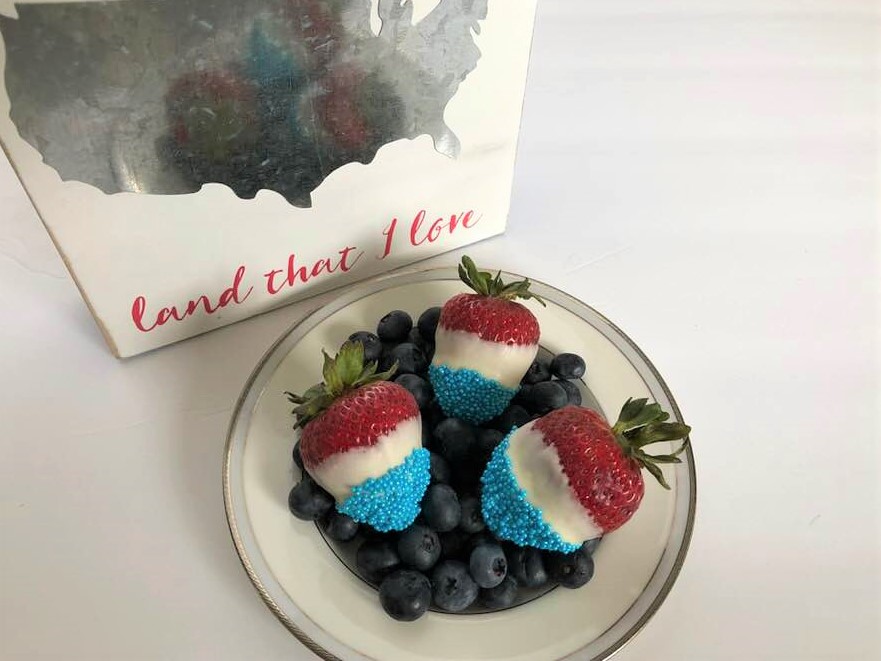 Dip them in white chocolate two thirds of the way up the berry, and then roll the bottom third in blue sprinkles or non-pareils. I served them on blueberries simply for an added pop of color, and another fruit option for the kiddos to snack on!
Last up for the snacks is chocolate-covered pretzels!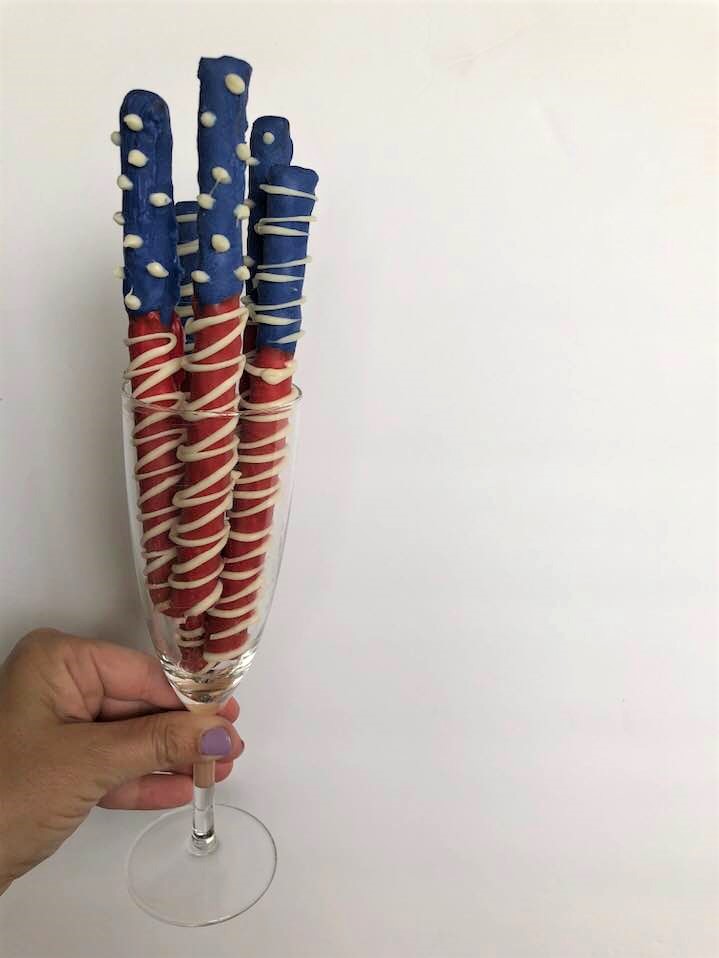 Dip one third in blue, let dry, and then do two thirds in red and let dry. Then drizzle white all over if you want, or attempt dots to look like stars! Mine aren't anywhere close to perfect, but they do the trick! #protip: use a champagne flute to hold the already melted chocolate to dip the long pretzels in, and use another to display them!
What to bring to the party:
I like to bring something that I know my minis will love when I'm invited to a get together. I feel like there's always plenty of food adults will enjoy, but not my picky eaters so much. So I tend to make something I know they'll like (and if they do, most other kids will too #praisehands)!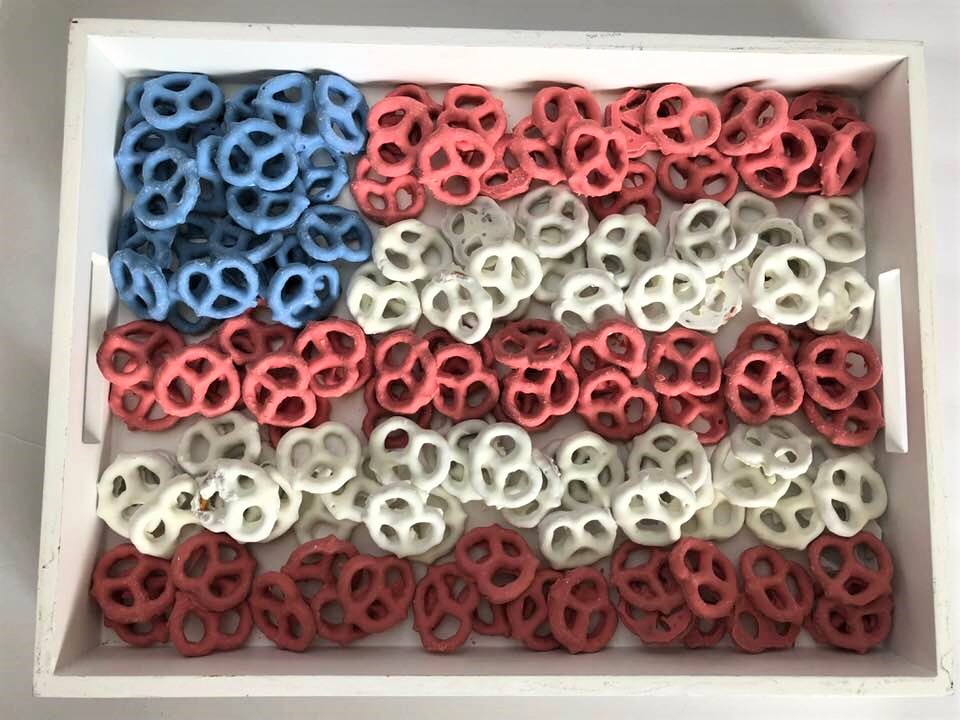 But I also love when I can make the serving "tray" something the host/hostess will be able to keep and reuse for years to come! You can see how I did this around Christmas last year with a precious plate I found for a couple of bucks. I found this white tray for $10 at At Home and knew the rectangular shape would make the perfect flag. Enter the yogurt-covered pretzels in red, white, and blue…just arrange them in stripes and a cluster of blue for the star part! Tell the hostess to keep the tray as a 'thank you' gift.
Time for the dessert round:
I have a lower calorie/fat option with this angel food cake parfait, that still hits the sweet spot!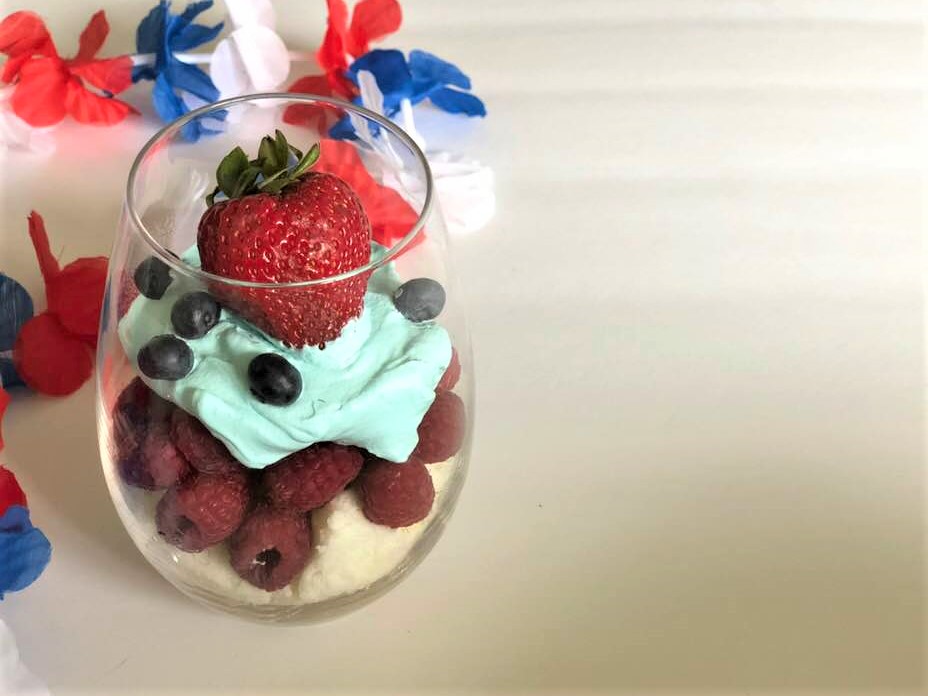 I cut off the browned parts of the angel food cake before i cut it up, and then added raspberries and blue-tinted cool whip! Super easy, and dressed it up by putting it in a stemless wine glass! You could always substitute with pound cake and strawberries!
I also wanted to do something cute for the kids, and saw mini ice cream sandwiches on sale!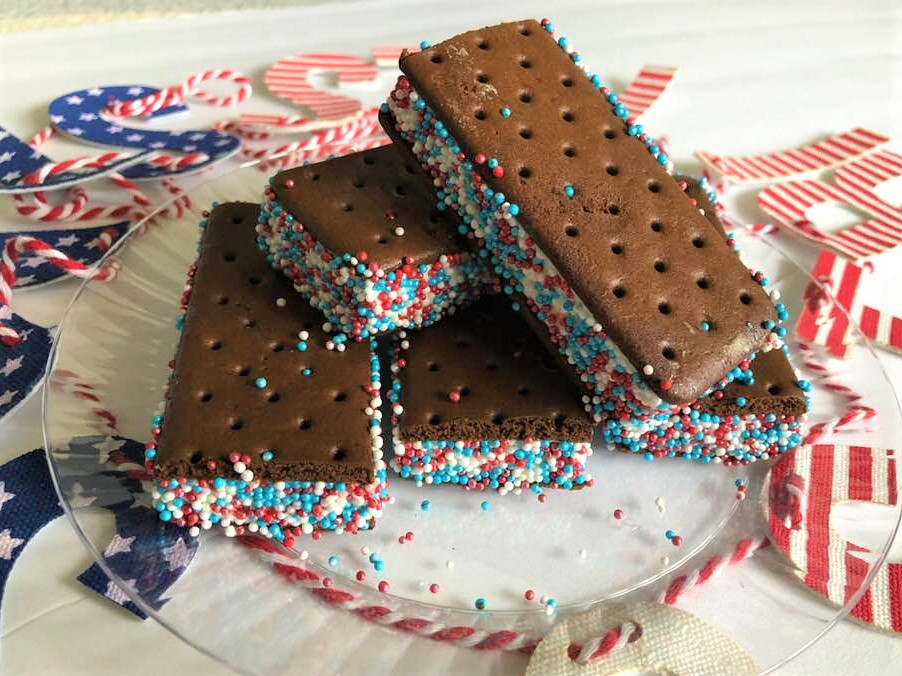 So take the ice cream sandwiches straight from the freezer and waste no time! Roll the edges in red, white and blue sprinkles or non-pareils and put them right back in the freezer til ready to eat! If some of the edges are sticking out over the ice cream, just trim them with scissors before you dip!
It's always mocktail time:
You can make this either with or without alcohol, but this drink is for everyone!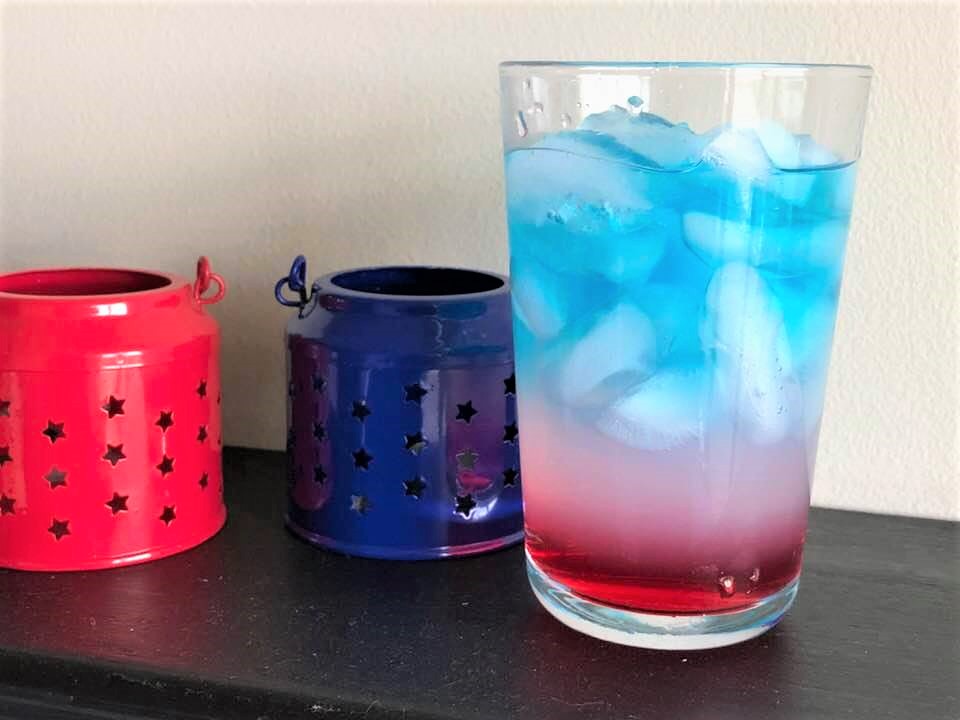 Take a clear glass and put ice in 2/3 of it. Then put Cran-apple juice (around 30g of sugar) in first. Next up is Gatorade Frost (21g of sugar) and pour that in. Top it with Gatorade2 cool blue (7g of sugar). You should have three distinct colors in the glass! The trick is to put the higher sugar content in first; that's what keeps the colors separated!
If you want to be ambitious and make a cake, I walk you through the steps to make this one, in THIS POST: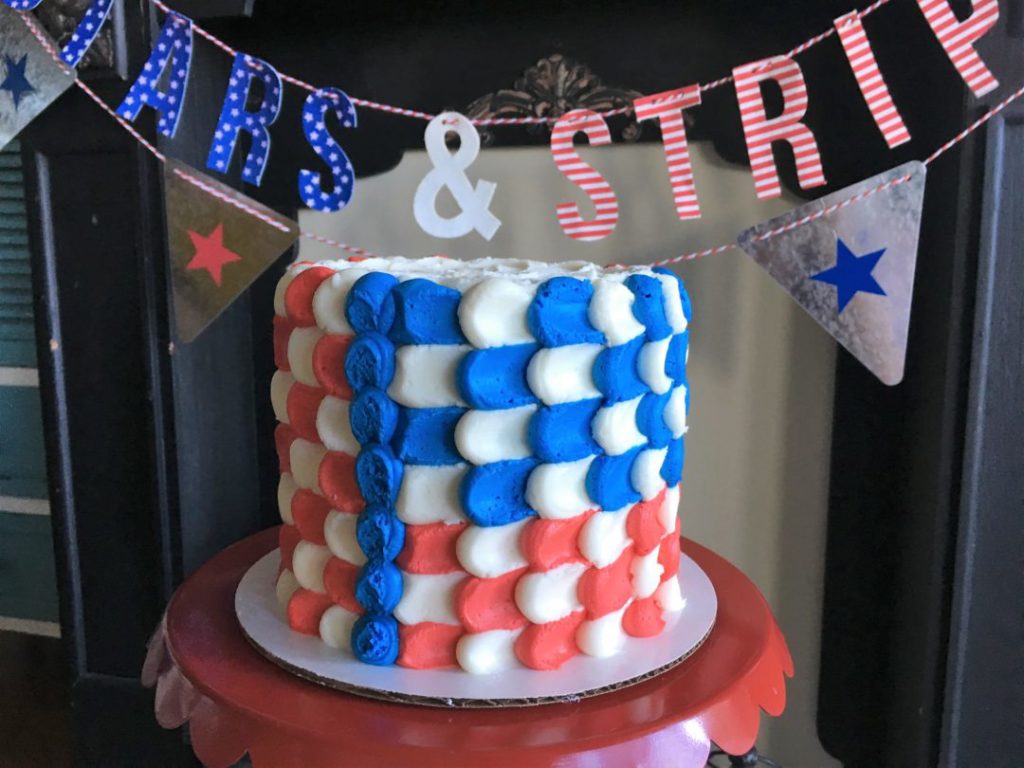 And believe it or not, the whole cake was decorated with a SPOON! Go see how I did it!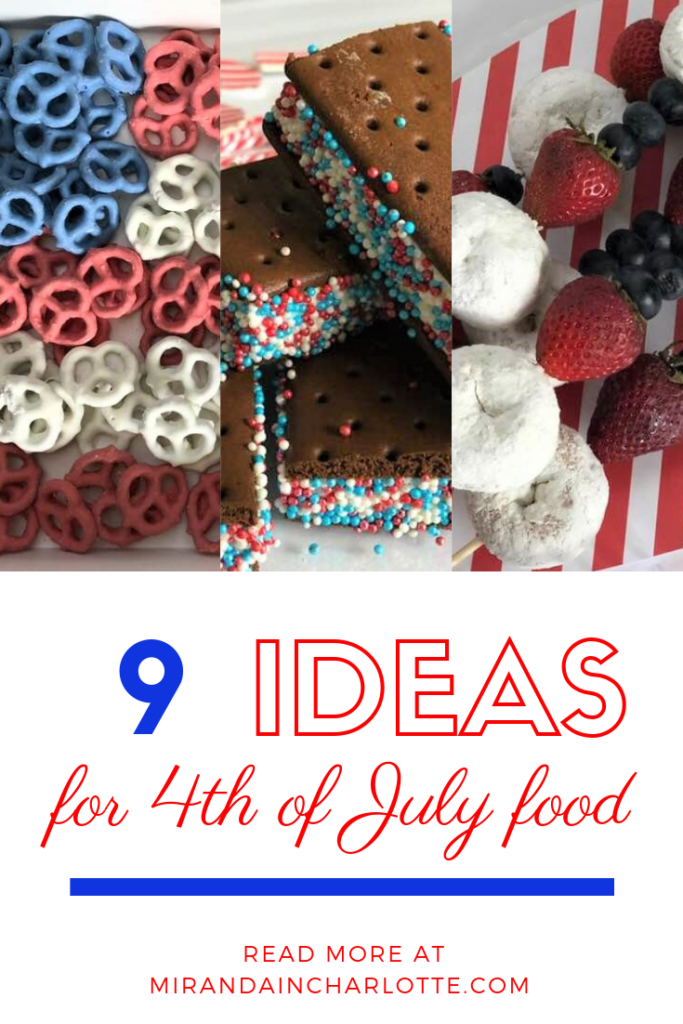 And it wouldn't be a Miranda in Charlotte post without a little PSA. Yall, I love fireworks too. I really do. But can we all agree that on the 4th we can end them at a decent hour? I don't know…10-10:30pm-ish? Because there are people and pets out there who are terrified of them. Perhaps they have sensory disorders, PTSD, anxiety, more, or all? Have some fun, and then wrap it up for the love. 1am isn't cute, I promise.
Happy 4th yall!!!
Not the exact tray I got, but I love this option, and it's a great price for a set of three, especially if you're giving them away!
I do make a very small commission when you purchase through my amazon link, at no added cost to you!