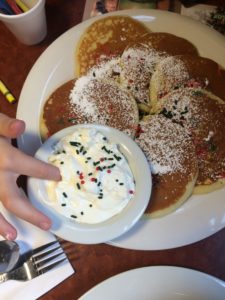 This list is comprised of some of my family's favorite places to eat around the Queen City! Some are nicer; some are casual. Each place has a special spot in our life, and we highly recommend each place, for different reasons. Many times the "reasons" are because our picky eaters delight in the "not fancy chicken nuggets" or the "this is totally kraft mac n cheese" or "they have the good crayons that don't break if you press hard, mom!" I know yall feel me on this, right?! Anyways, check out the (not sponsored BTW) list and let me know some of your faves too!
Azteca/Don Pedro Mexican Restaurant…Owned by the same people, these restaurants have the same menu, no matter the name or location! The food is always consistently good, and we love the mariachi band that comes Friday and Saturday nights (don't forget cash to tip them)!
http://www.aztecarestaurantcharlotte.com/
Original Pancake House…One of our favorite breakfast/brunch spots in Charlotte! We can also bike ride to the Midtown location, so we love it extra for that fact! I love the pumpkin pecan pancakes year round, and ask for the hash browns extra crispy (if you wanna be like me) 😉
http://www.originalpancakehousencsc.com/
Roosters…This is the stud and I's go to place for date night. But I insist on sitting at the chef's table, which is more like a bar style, because I love to watch the chefs do their thang! Shannon, one of the managers, spoils me rotten each time, and it feels like we're valued when there. The hanger steak and pan-fried corn are EVERYTHING.
https://roosterskitchen.com/locations/
Vapiano…This is a super cool Italian place uptown, that is quick because you order at the counter, and they buzz you when it's ready. I think they have the best greek salad anywhere (no red onion, tossed, no protein, extra bread, please and thank you). And the kids pizza is in a cute (and huge) shape, and can feed my two minis, easily!
http://us.vapiano.com/en/menu/charlotte/
Kabutos…There are lots of hibachi places around town, but this is our go-to place for celebrating occasions, but it has to be the one of Hwy 51! They have a great dinner special Sun-Wed, and if your kids are picky (like mine), they have chicken nuggets and white rice as a kids meal option (just ask for it even if you don't see it on the menu)!
Macs Speed Shop…our favorite BBQ place because it's so quick to get in and out, and also an easy bike ride for us to get to! I love when we can sit outside, especially if they have live music that night.
http://www.macspeedshop.com/southend/
The Capital Grille…This is the fanciest/priciest place on my list, but it's our favorite because of the "children's offerings" menu. Surprisingly, their kids menu is SUPER affordable, with the prices ranging from $5 (pasta)-$15 (for the filet). So we can have a very fancy meal with stellar service (and so can the minis) but without the kids meals breaking the bank!