If you've ever tried to sell a home, you've probably heard the words from your realtor, "that wall needs something on it!" Art is so important when it comes to staging a home, and can easily make or break the look of a room! That's why I partnered with Jenn Davis, a local artist, stager, and realtor to show you one of her favorite decorating hacks!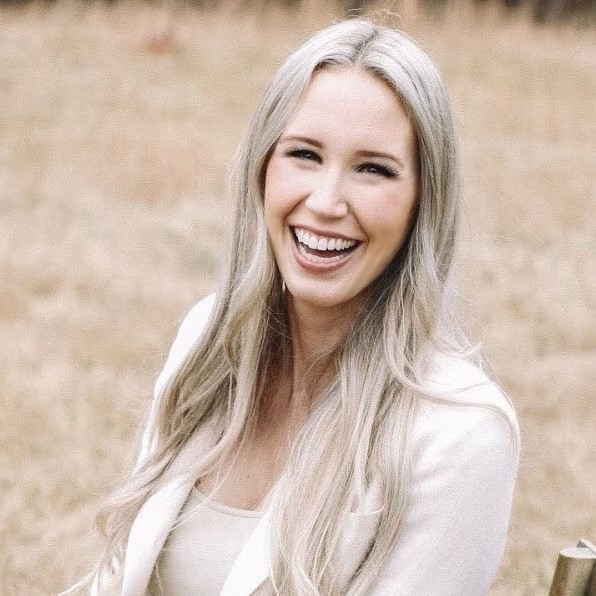 Jenn recently sold her own home, and realized that a large piece of artwork was desperately needed on a focal wall. She didn't have time to paint a piece (which she would usually do), so she got creative, and put her canvas-stretching knowledge to good use! And you'll never guess what she used on the wood frame as her art?!!!
A SHOWER CURTAIN!!!
YUP! She found a shower curtain with a huge succulent on it, and stretched it over a wood frame she made with wood from her closest hardware store (keep reading to the end to see more shower curtains we love)! Total invested in the project was less than $45!!! And Jenn was kind enough to tell me (and YOU) exactly how she did it! So we met up at a gorgeous house that's on the market by a custom builder, Grandfather Homes, and got to work! Not only did we make the art there, but they also allowed us to stage it in the house (that's for sale…see it HERE)!
Without further ado, here's how it's made!
Let's start with the materials needed:
4 pieces of wood*
1 shower curtain
Staple gun
Drill
12 screws (2 inches)
*Let's talk about the wood pieces. They're 1inx2in and come in 8 foot pieces, so you'll have them cut down to 5 ft (45 degree angles on the ends) for the sides. Then take two of the leftover 3 foot pieces and cut them in half (45 degree angles on both ends) to make the 4 corner bracket pieces! You will have two three foot pieces left to do whatever you want with! I hope this make sense! And I have asked the people who work at Home Depot (or any home improvement store) to cut them down for me, so you don't even need a saw!
And this is simply the size Jenn made because of her need, but the possibilities are endless! You can make any size you want, and/or however many panels you want! I love the idea of breaking up the shower curtain into three pieces and making a tryptic! It's completely up to you!
Now that you've assembled the materials, here are the instructions!
Step 1: Lay the pieces of wood down on the ground/floor (wherever you have a large enough space to work), placing the four sides down and then putting the inside angled corner braces where they belong. Drill the screws into the outer corners (one per corner), and then drill the screws into the corner brackets connecting them to the side pieces. Now you have your frame done!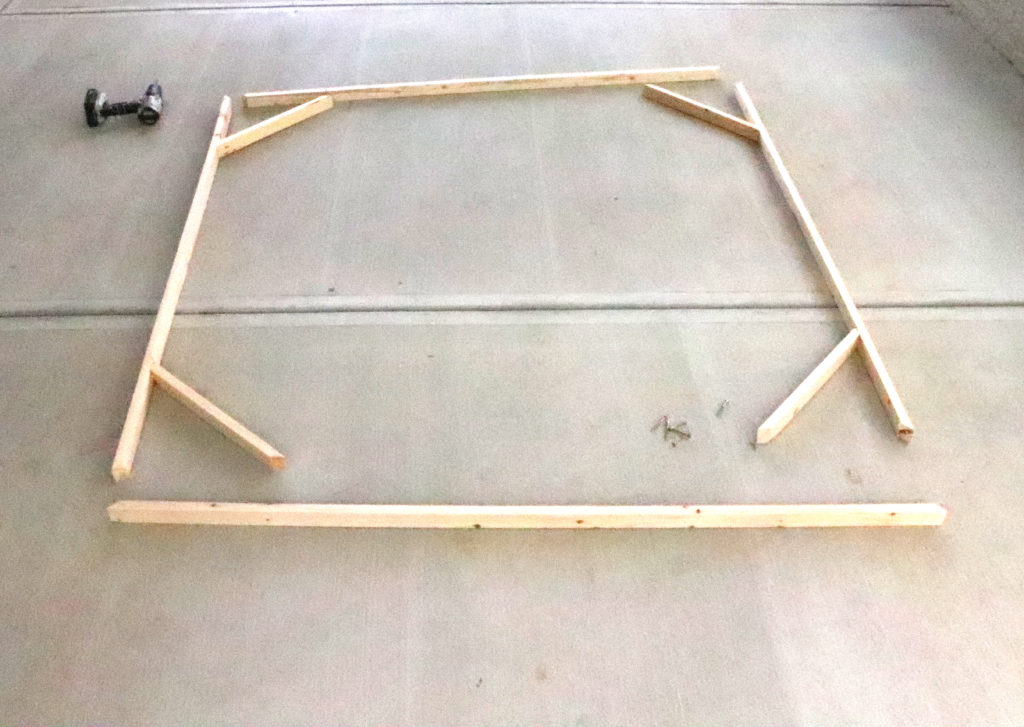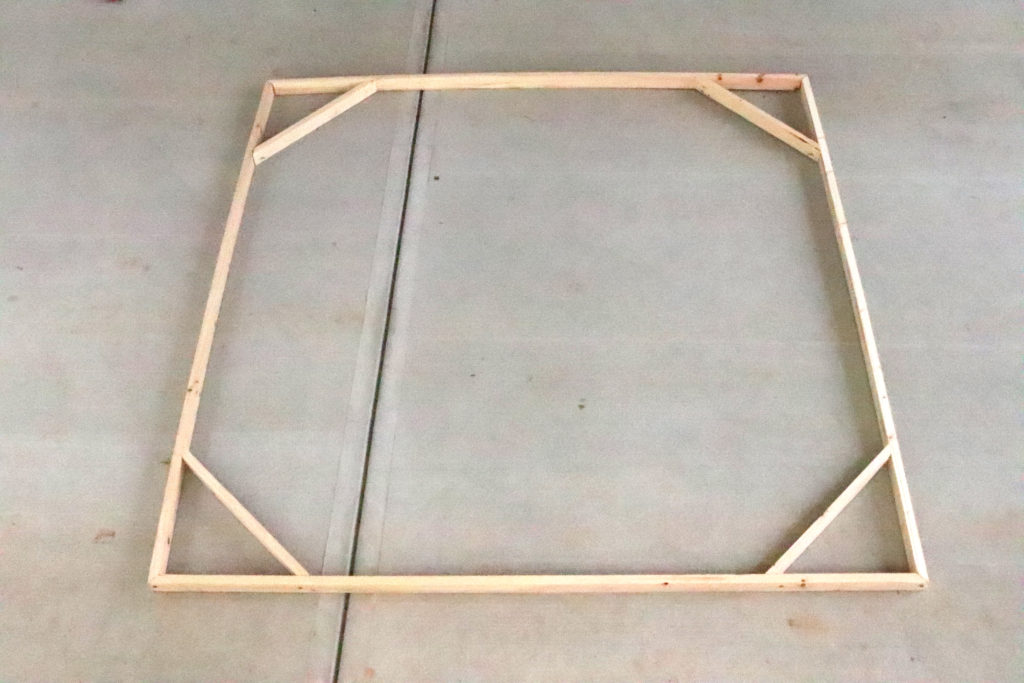 Step 2: Lay the shower curtain down, backside up, and then put the frame down on top of it. Your shower curtain may have wrinkles in it, but don't worry about it now. By the time you stretch it, it may be fine, and if it still isn't, take a steamer to it (or use your iron's steamer function).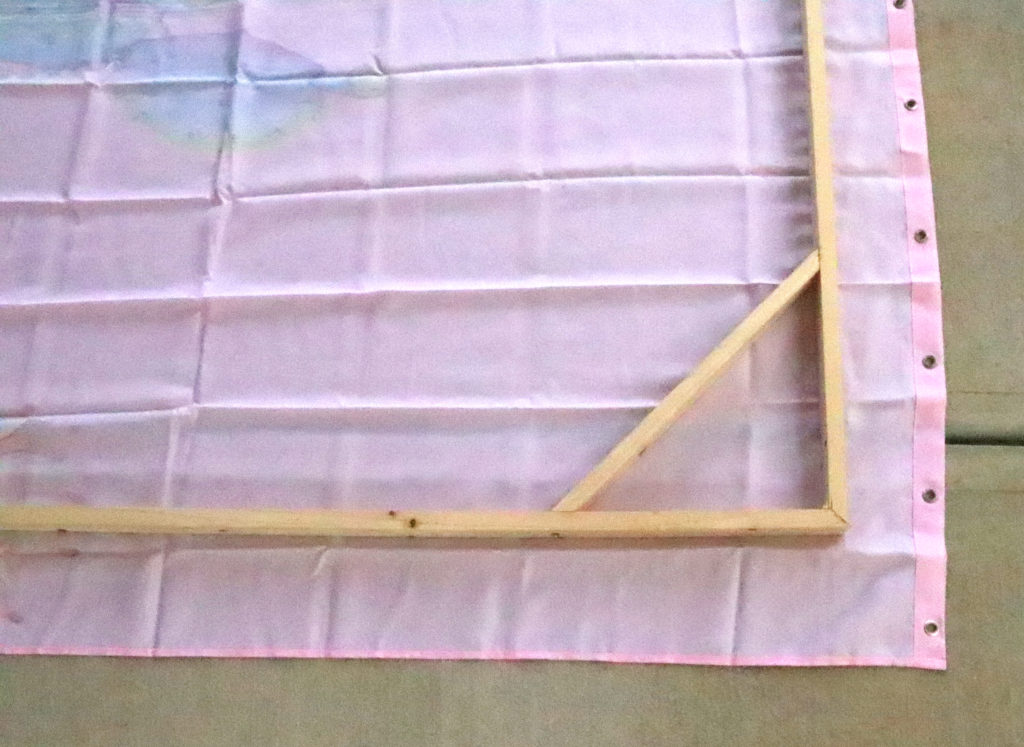 Step 3: Staple the shower curtain to the frame! This is when the order of stapling is SUPER important, and where Jenn's art background comes in handy! In order to stretch a canvas (and keep it centered), you want to do the center of one side first, then its opposite side, followed by the center of another side, and its opposite. You'll go to the corners from there, etc. This handy picture will show you the order to follow!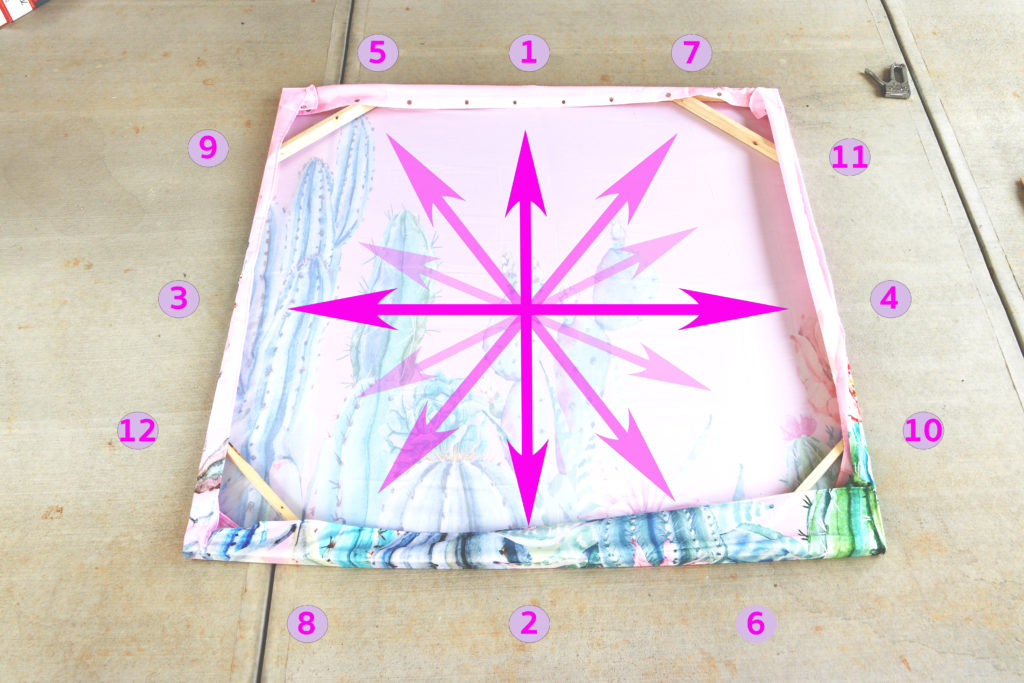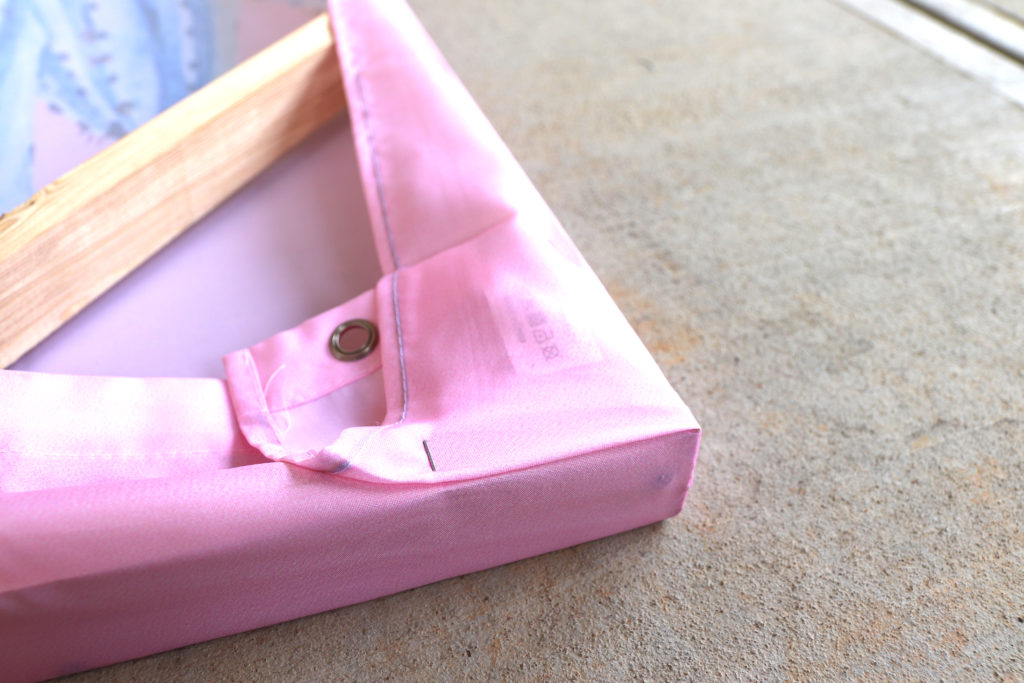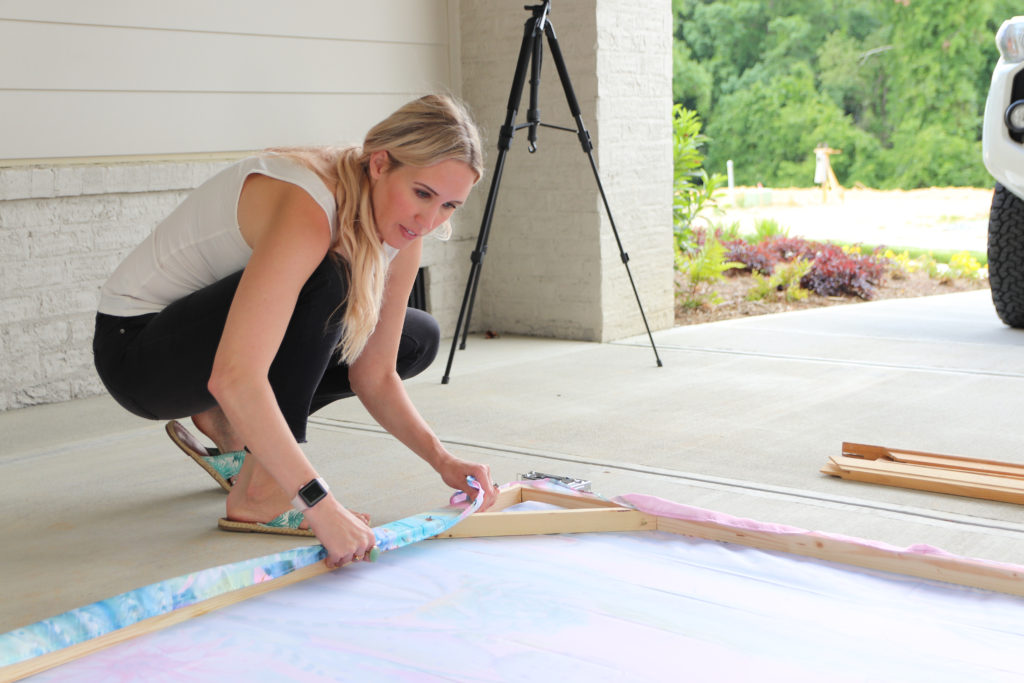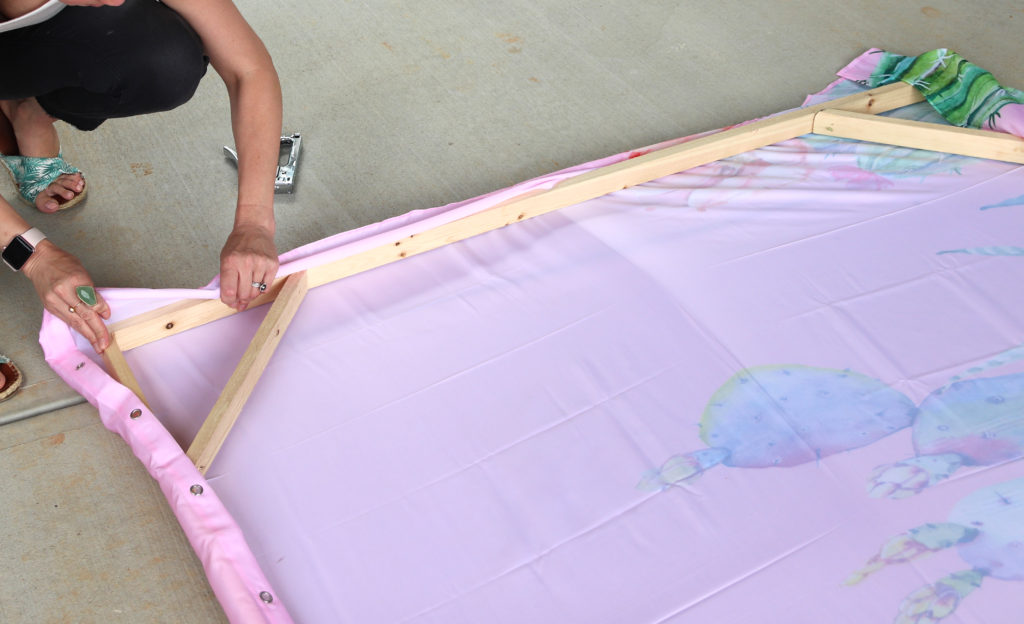 Step 4: Trim the excess fabric, if it's hanging over too much for your liking! Just use a pair of household scissors! We didn't worry about doing this because it wasn't an issue, but shower curtains are different sizes, so it's based on the one you use!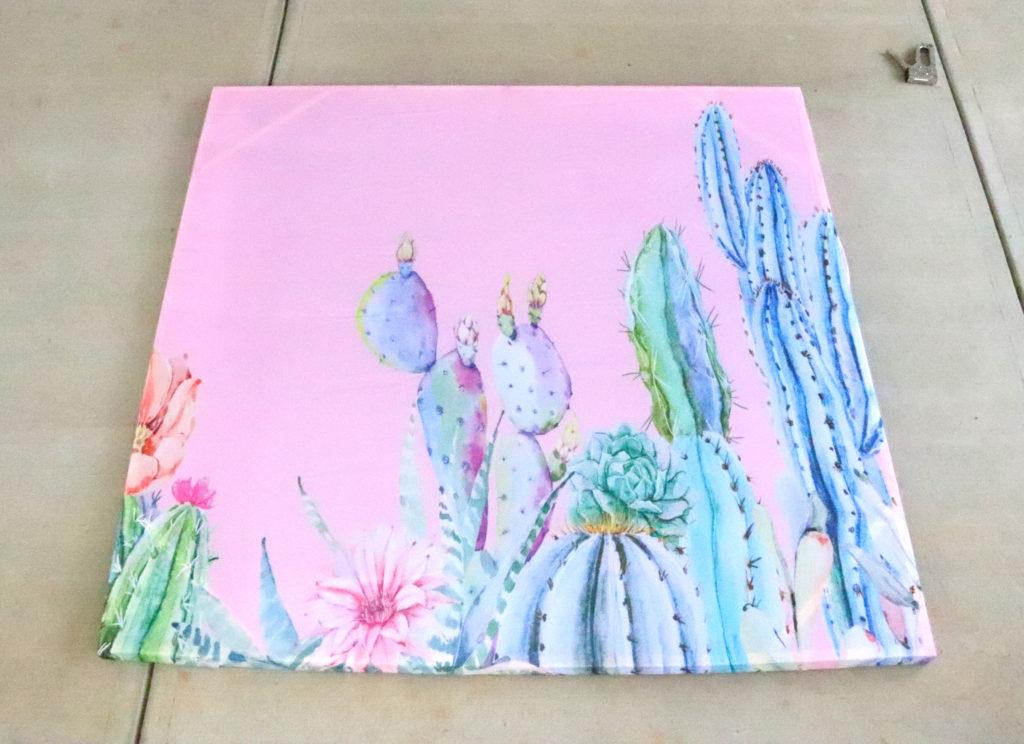 Step 5: Find the perfect spot in your home to hang the piece of art!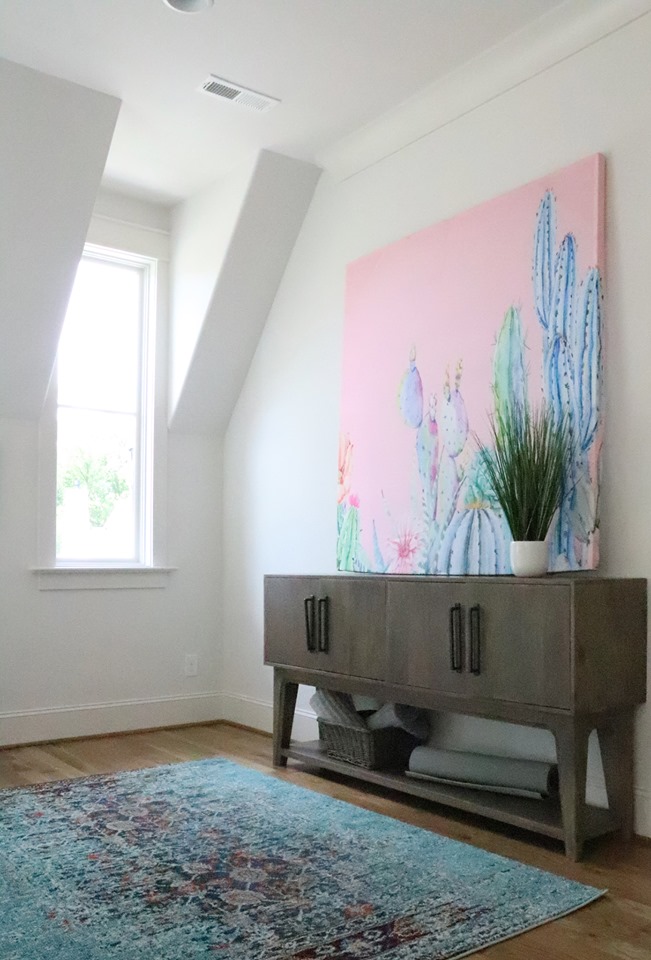 Some things to note: You can see one of the wood pieces was bowed slightly on this project…just make sure you pick pieces of wood that are as straight as possible when you head to the store! Also, you CAN find sturdier wood pieces at an art store, but the price is definitely MUCH higher than the wood we used. Here's a pic of the other kind of wood…
We ended up staging this piece in the upstairs landing of this AMAZING Grandfather Home (click here to see the info on it), where they are using this space as a yoga spot! What's more calming than a desert oasis when trying to get your zen on?! But we also think it would look great in a kid's room or a play room! The design you choose will determine which room it looks best in, obviously! So look around…which wall needs some love in your home?!!!
Like I said above, Jenn is a realtor, and she's currently working on customizing her website! In the meantime though, look through her instagram HERE, and check out her art, her listings, her gorgeous family, etc.! She's so chill, you can just slide into those DMs, and she'll get right back to you! If you're looking to buy or sell, she's your girl! And honestly, do you know what your home value is?! Let her tell you! Let her at least arm you with information so you can decide if right now is the right time! She's not only a pro in our market, but coming from an artistic background, she has the perfect eye to see what is or isn't needed to stage it/get it sold!
Jenn is currently with Charlotte Living Realty Group, and their website is HERE! You can see tons of listings, and what sets them apart from the rest. If you're not looking for help in the buying or selling a home part, but would like to see her artwork, again just head to the Instagram page HERE!
PLEASE PIN EITHER ONE OF THESE IMAGES!!!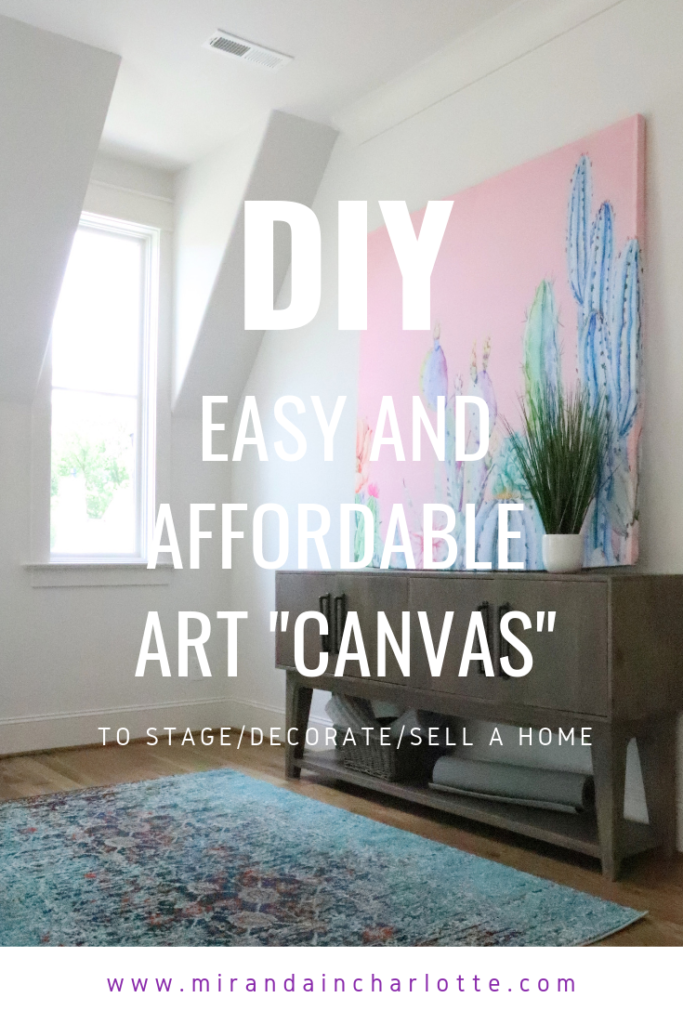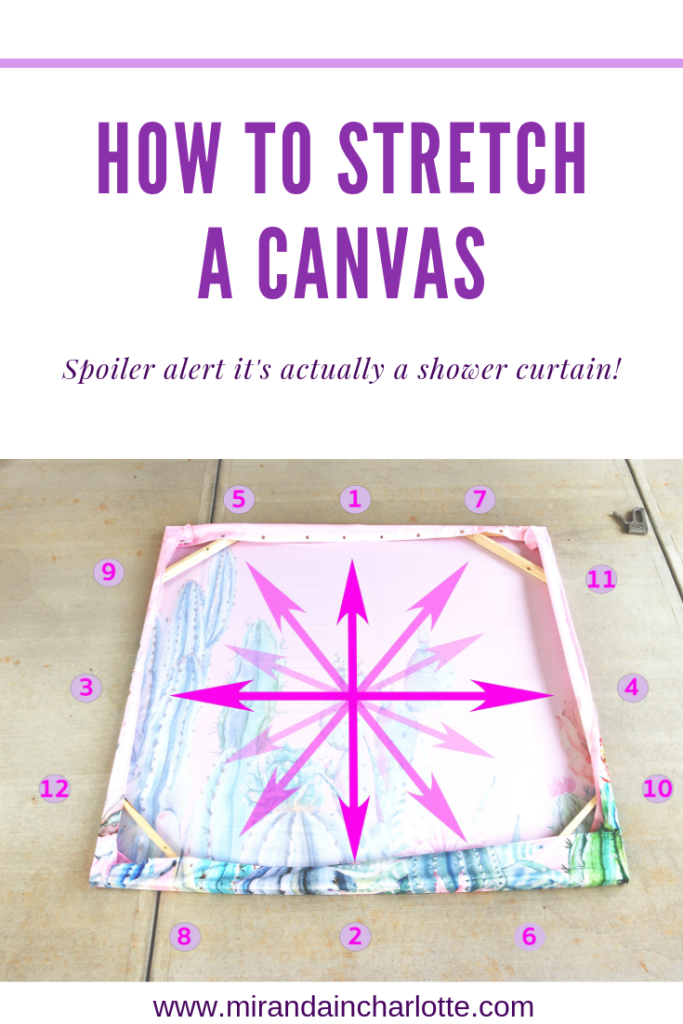 I hope you love this easy and affordable DIY art project! If you end up making one yourself, please tag us @mirandainclt @thejenndavis on IG! And go ahead and follow us both if you want to keep up with our latest happenings! If you have any questions, leave me a comment! Here are some of the materials used if you'd like to grab them on Amazon!
If you purchase anything through my amazon links, I make a small commission at no extra cost to you whatsoever! Those pennies are used to keep this blog running, and are much appreciated!
Here are more shower curtains we love! And keep in mind, your art can be any size you want, or even do multiple panels, and make it a tryptic! How gorgeous are these floral ones?! Or that ship for a kid's room/playroom, or even an office?! The possibilities are truly endless!