Yesterday, I showed you how to make THESE for an Easter breakfast or brunch idea! But if you're looking for an easy, and ADORABLE, Easter-themed cupcake treat for your table this year, look no further!!! I'm going to show you how to make a cupcake garden of sorts with chocolate-covered strawberry carrots as the decoration!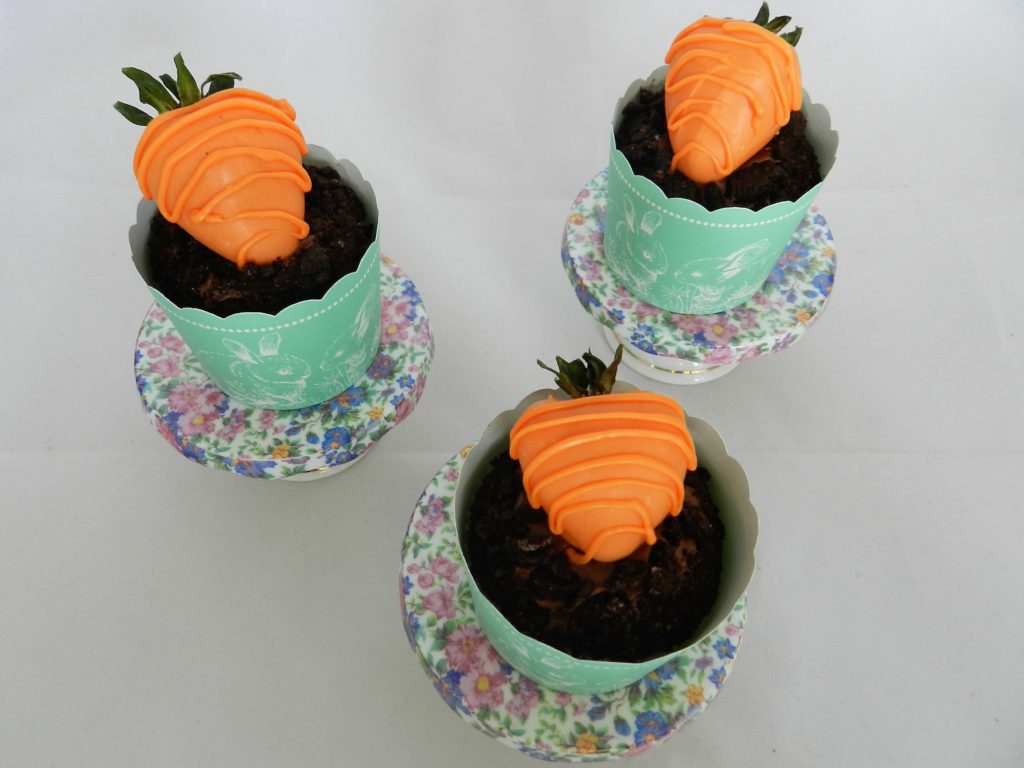 Ingredient List:
Strawberries
Chocolate cake (either from a box, or scratch…whatever you have time for)
Chocolate icing (again, from a can, or scratch…up to you)
Oreos (filling removed and crushed)
Wilton Orange melting chocolate
Piping bag or Ziploc bag
Muffin tin and cupcake liners
Let's start with the cupcakes. Honestly, you could make any flavor you wanted to for the cupcakes, but since I'm going for a "garden of dirt," I did chocolate cupcakes. You can use your favorite scratch recipe, or a box mix is FINE. Yes, I promise you it is. Same goes for the chocolate icing. Canned frosting is okay yall! Just because we made everything from scratch at the cakery, doesn't mean that I don't use boxes and cans at home when needed!
While the cupcakes are baking, you can do the strawberries! Try to find a package of smaller sized strawberries, versus the gigantic ones! Wash and completely dry them. If they are wet AT ALL, the chocolate won't stick. To make them into carrots, you'll need to melt the orange chocolate in a microwave-safe container (I use tupperware so I can put a lid on it and save the leftover chocolate). Start with 30 seconds, and keep going, stirring every 30 seconds until it's melted all the way. If for some reason, it seems too thick, add a bit of vegetable oil.
I made a video to show you how I dip/decorate my strawberries the easiest way. Check it out:
When the cupcakes have cooled completely, it's time to ice them. Once you've iced the cupcakes, you're going to roll the edges of them in crushed oreos (I remove the filling from the oreos before I throw them in the ziploc bag, and crush them). IMPORTANT NOTE: Ice a cupcake. Roll a cupcake. And continue. If you ice all of the cupcakes, and then try to roll them in the oreos, the icing may be "crusted," and the oreos won't stick. ANOTHER IMPORTANT NOTE: Leave the middle of the icing exposed so the strawberry can "stick" to it, like the pic below: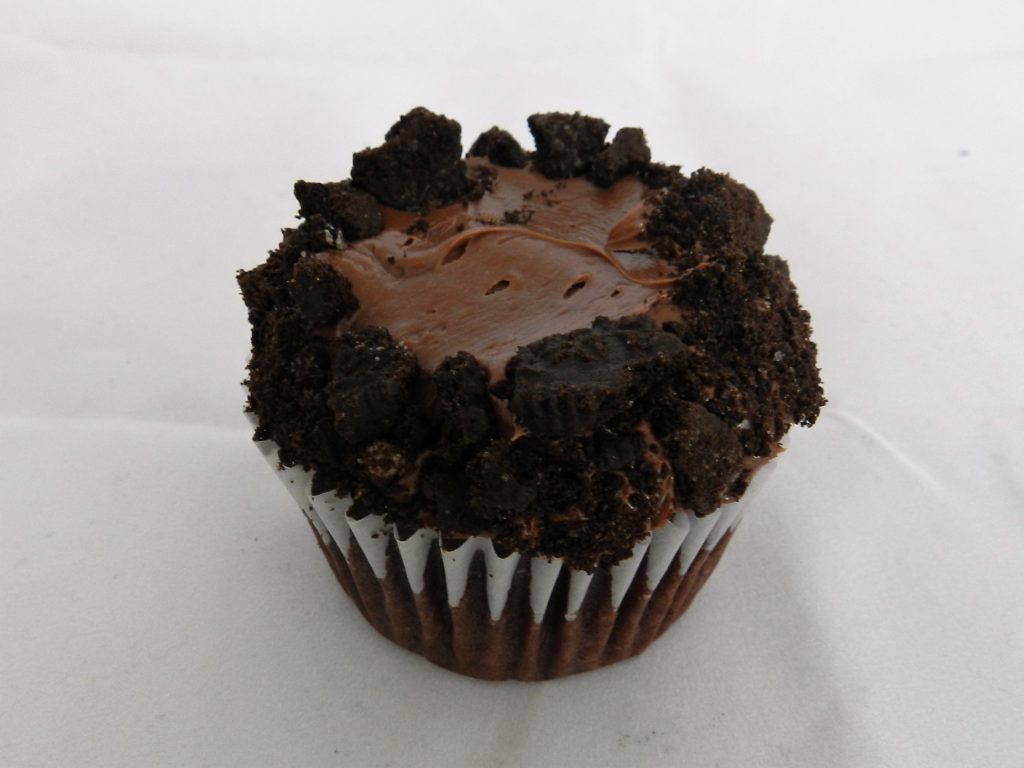 Place your "carrots" in the "dirt" and you're all done!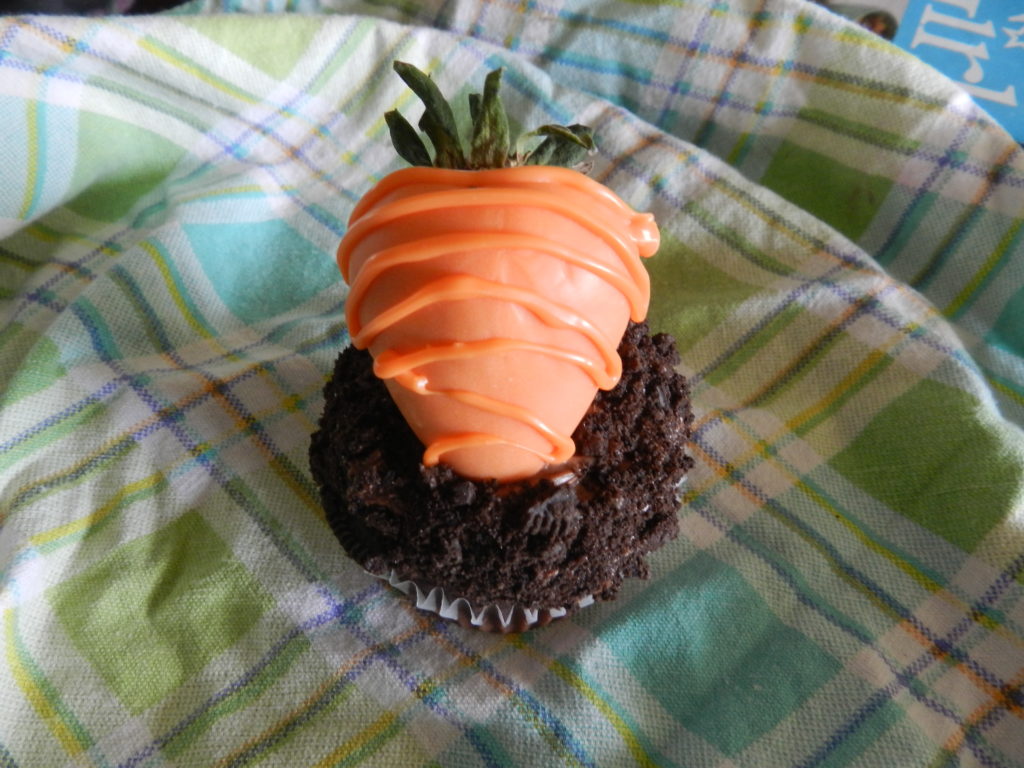 I found these gorgeous cupcake wraps at Home Goods, as well as these miniature floral cake stands. You don't have to use either of these to make the cupcakes the cutest things ever. But I'm obsessed with cake stands, so I just HAD to get them 😉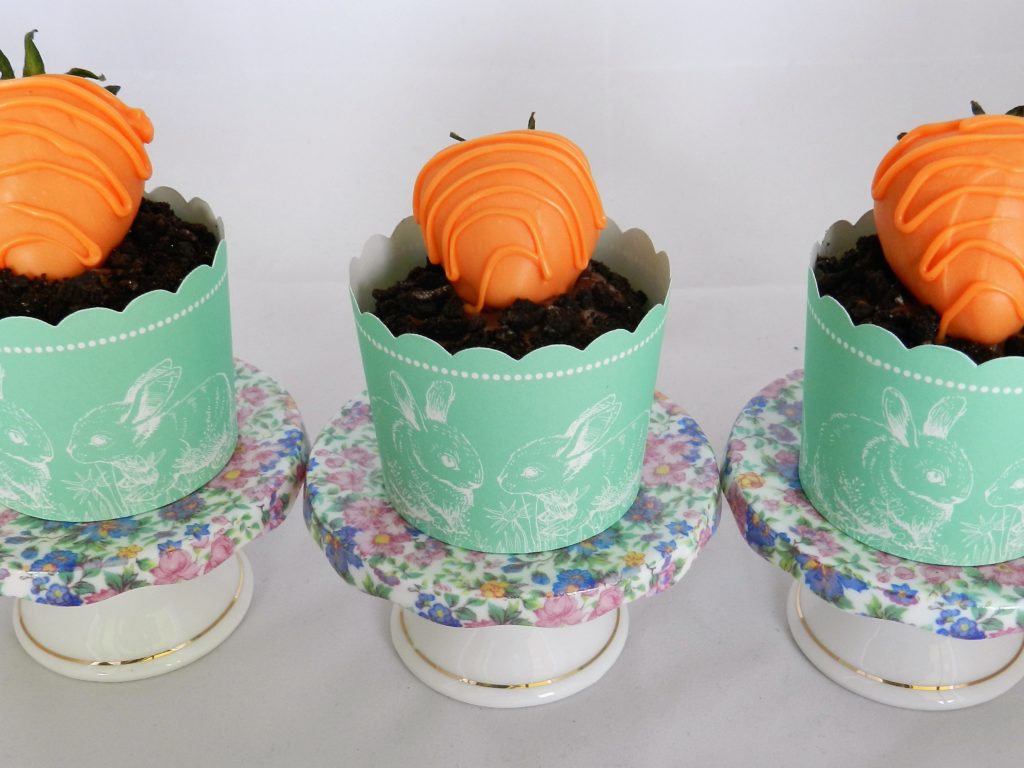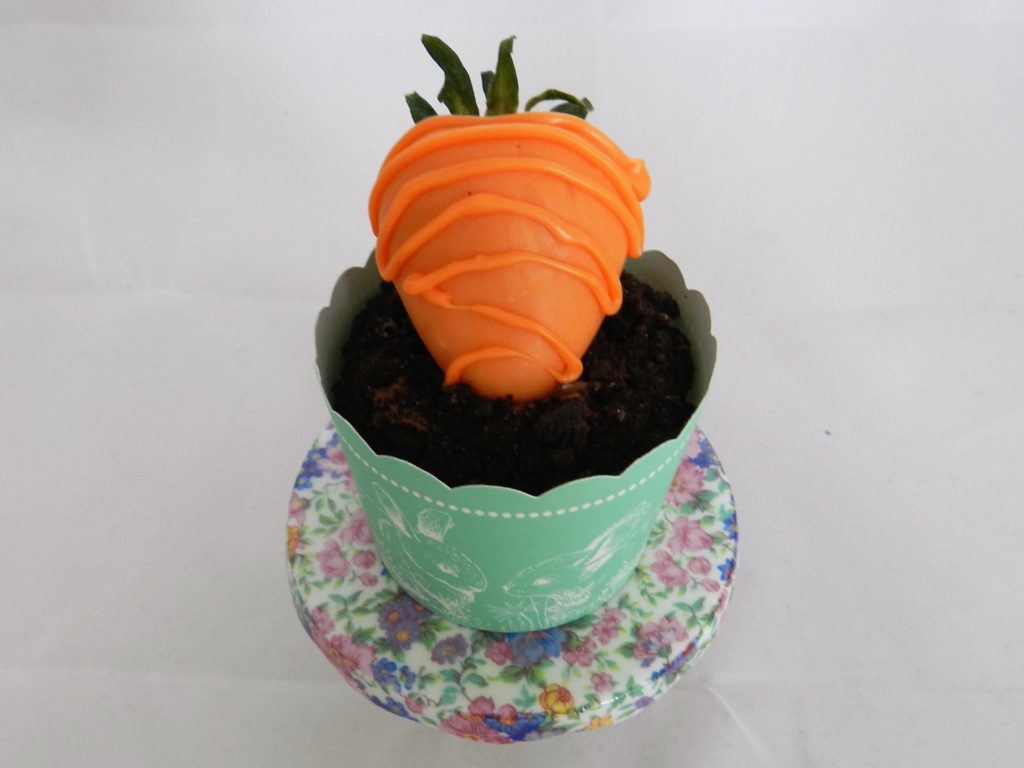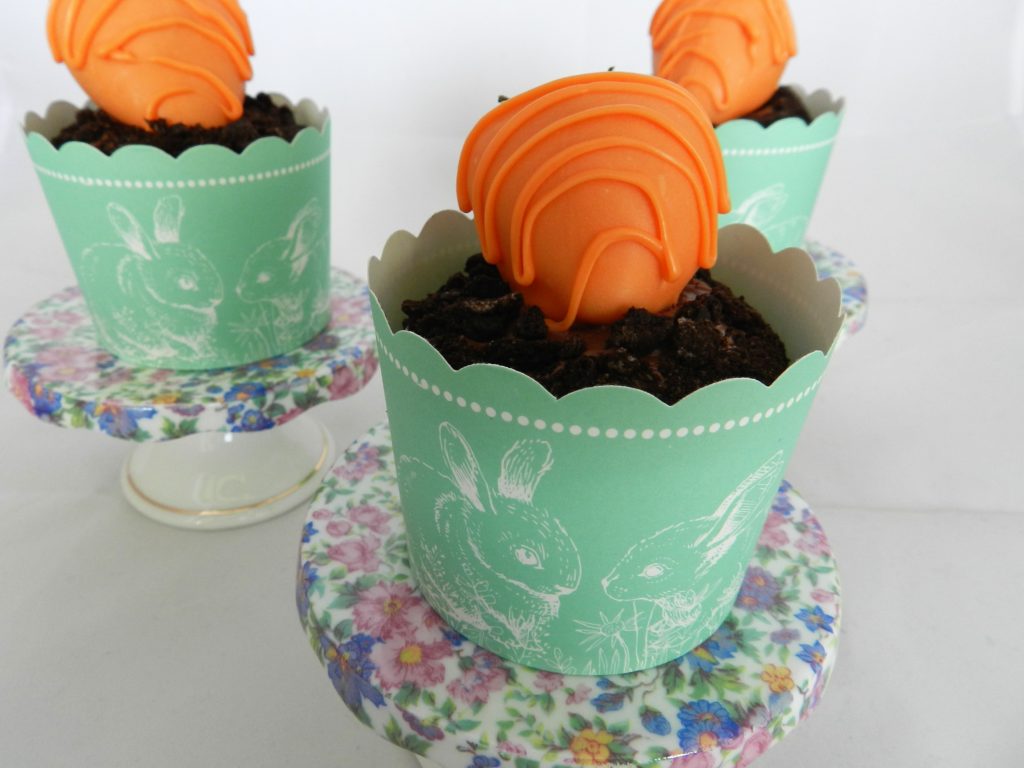 These cupcakes would be SUPER cute if you had a square or rectangular platter, lined it with a piece of turf (bought at a home improvement store) and placed the cupcakes (sans the bunny wraps) in rows to look like a garden!
If you're a fan of brownies, make a pan of them, do the chocolate icing on top, put the crushed oreos all over it, and then place the "carrots" sticking straight up, so they look like they're ready to be pulled!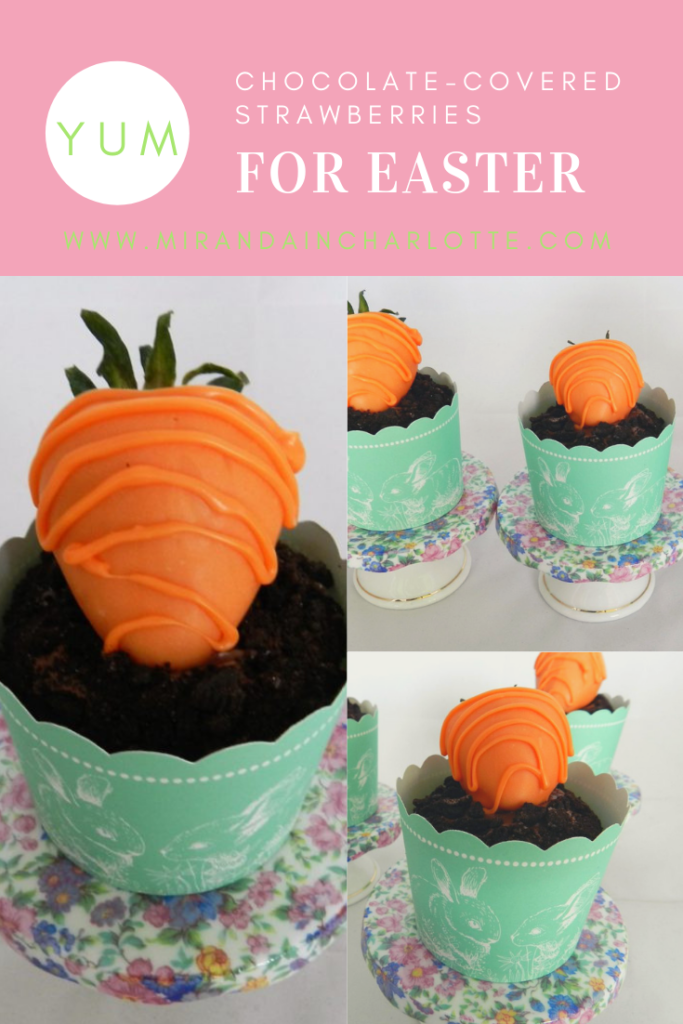 For my carrot cake recipe, including video tutorials, and all three recipes for the cake, filling and buttercream, click HERE!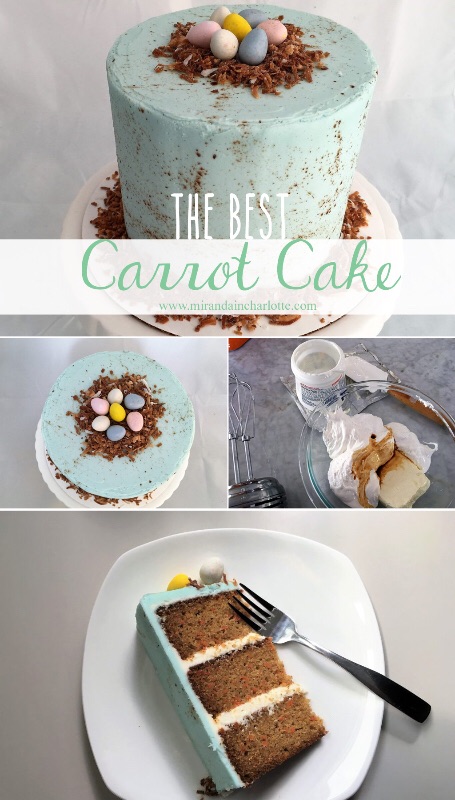 As always, tag me @mirandainclt or use the hashtag #mirandainclt if you make these!!!
Here are some of the things I used from Amazon!
At no additional cost to you, I make a very small commission if you purchase through my links (but only if you don't check out through the Amazon app). Thank you !