RED, WHITE AND SPOON?!
Why do I keep saying "spoon" over and over again?! Because I am desperately trying to show yall cake decorating techniques that are simple, and use things that you already have in your home! Enter the good 'ole plastic spoon 🙂 Yes, this entire cake was decorated using a plastic spoon! Don't believe me?! Follow along…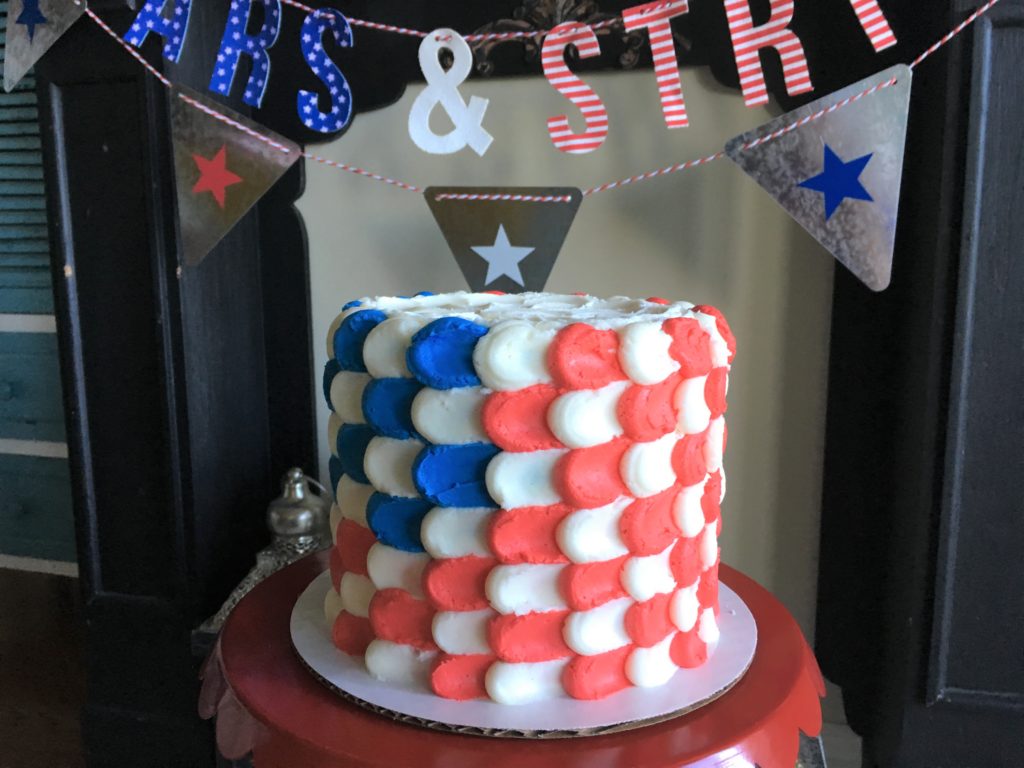 This technique isn't new, and as a matter of fact, here's a wedding cake I made (back in the day) with this technique!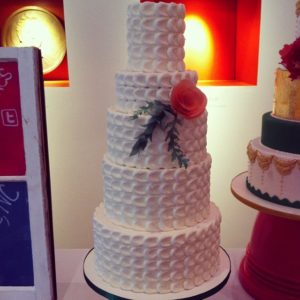 This one, although bigger, went very quickly because it was all one color, and I could pipe in a whole row, and then use the spoon technique! You'll understand what I mean in a sec!
Back to the red, white and blue cake though! To start, you'll need buttercream…white, red and blue. Now, keep in mind it takes A LOT of food dye to make a true RED buttercream, so get the gel red color, not the stuff you use to dye Easter eggs. And the red will darken as it sits, so make it a day or two in advance if you want! I used royal blue to get the blue color on the cake, and you don't need nearly as much dye as you did to make the red, but still use gel for best results!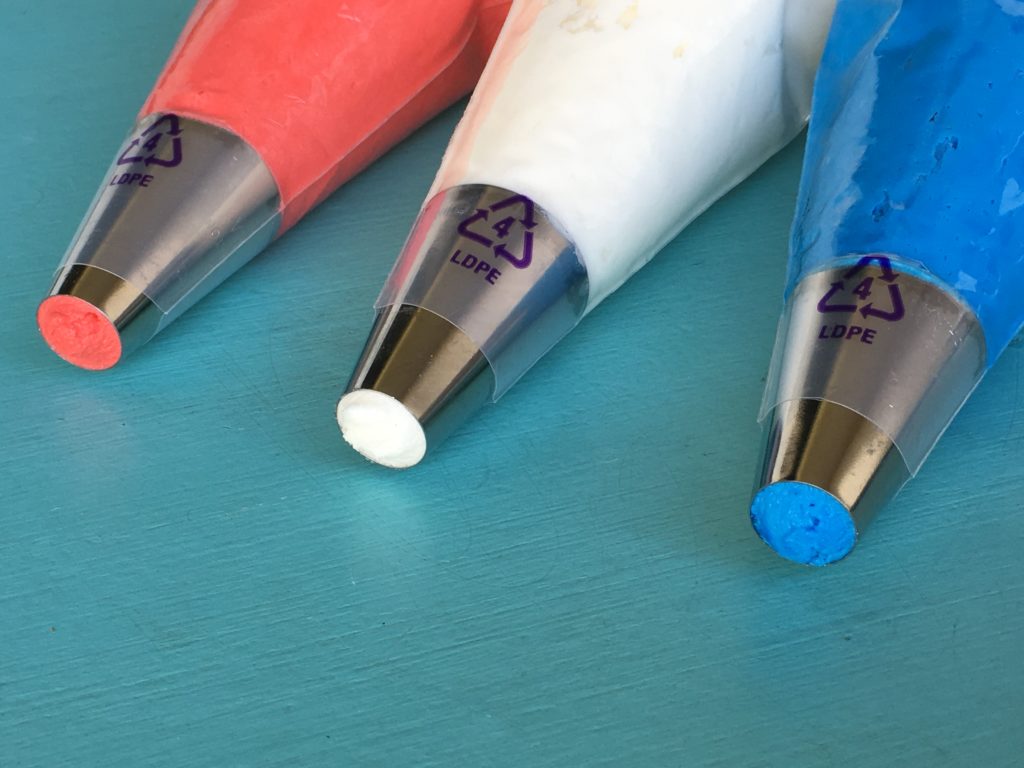 You can find my buttercream recipe in THIS post.! If you don't want to make buttercream, ask your local grocery store if you can buy a couple of pounds from them (and then tint)?! You may even find pre-tinted buttercream near the cookie cakes in your store! However, if you do want to make your own, I will link the products I used at the bottom of this post!
The piping tips I used are Wilton 1A, and you can buy them for less than $2 each at your local craft store! However, they can be hard to find/out of stock, and thus I'm including the Amazon link at the end of post!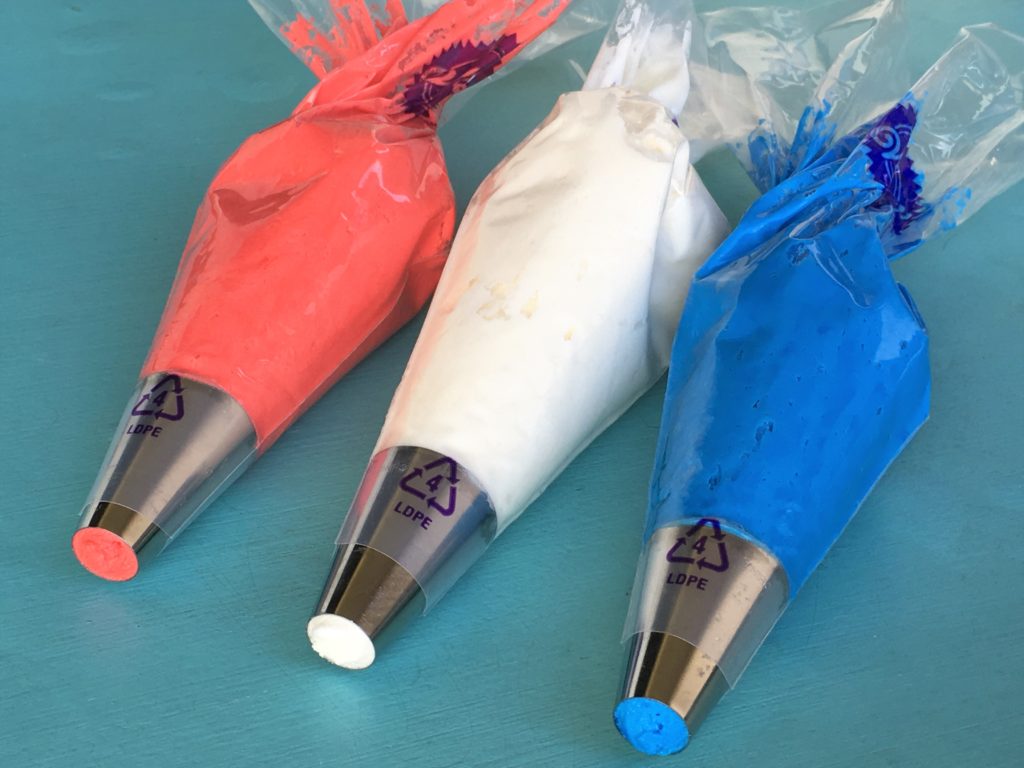 Here's a quick video to show you how to fill a piping bag!
Once you have your piping bags ready to go, all you need is your three plastic spoons, and your cake! I'd also have three wet paper towels ready to go near your cake, so you can wipe off the backs of the spoons often! You will need to wipe off the spoons each and every time to keep the icing pretty!
Pro tip:Having separate paper towels will keep the colors from bleeding!
Are you ready to see how it's done?! I used a styrofoam dummy in this video because I had ZERO time to make a cake! If you want to buy one to practice techniques on, do it (link at bottom)!
Check out the video:
If you are making your own cake…fill and stack it, crumb coat it, and put it in the fridge to harden the crumb coat layer (to see how to fill and stack, click HERE and scroll down). Pull it out whenever you're ready to decorate it, and follow the video tutorial! If you want to buy a stacked and fully-iced cake, then do that! Just call your favorite grocery store/bakery and ask for a double (or triple) layer, smooth buttercream cake, with no borders on the bottom or the top of the cake. Chill it, and then follow the video's instructions when you're ready to decorate!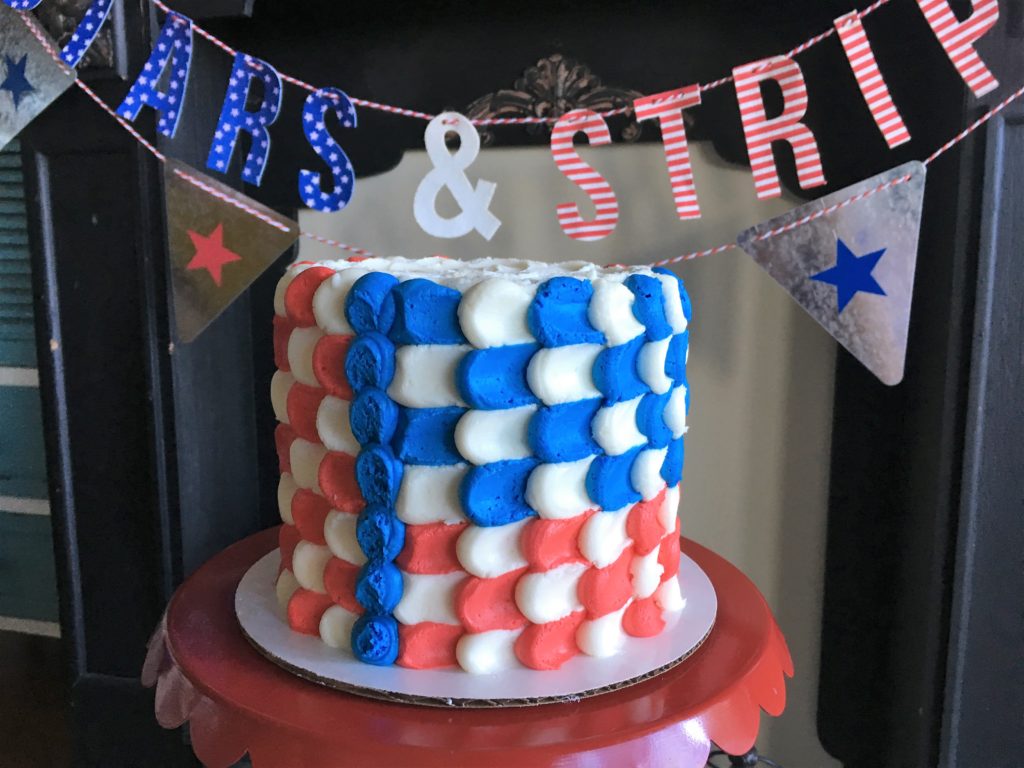 So there ya go! Every bit of decoration is done with a plastic spoon! Feel free add anything else on top of the cake that you want…but might I suggest to NOT do sparklers?! 🙂
I also wrote a post about 4th of July food options, and you can find that HERE!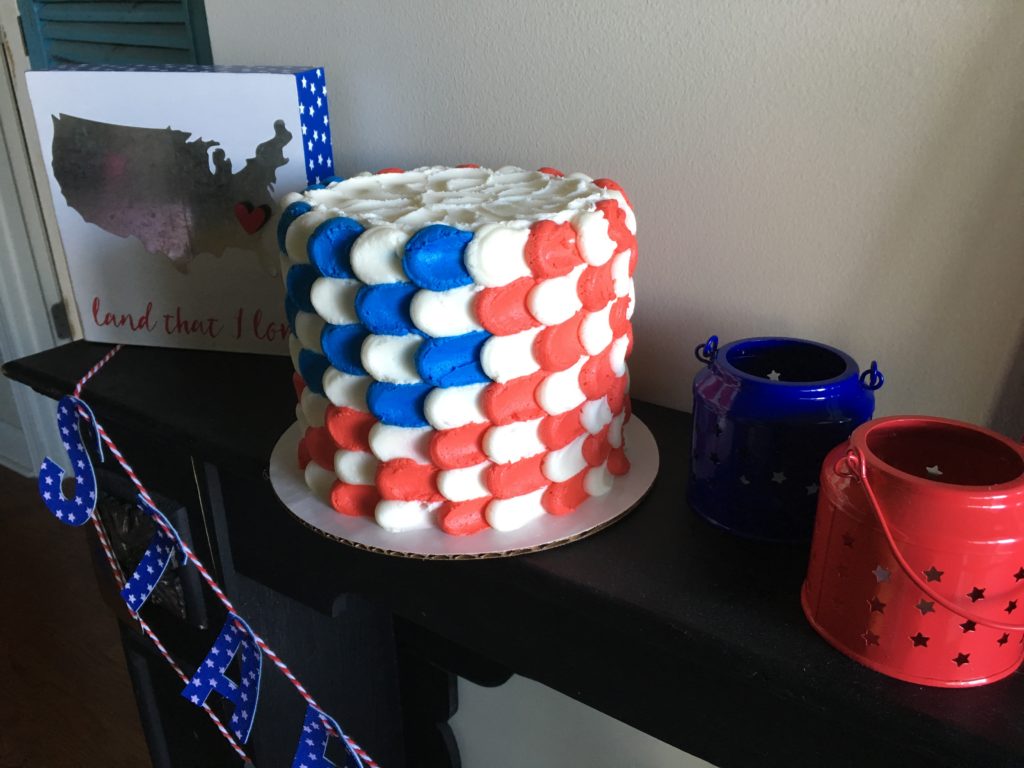 HAPPY 4TH OF JULY EVERYONE!
Don't forget to PIN THIS POST!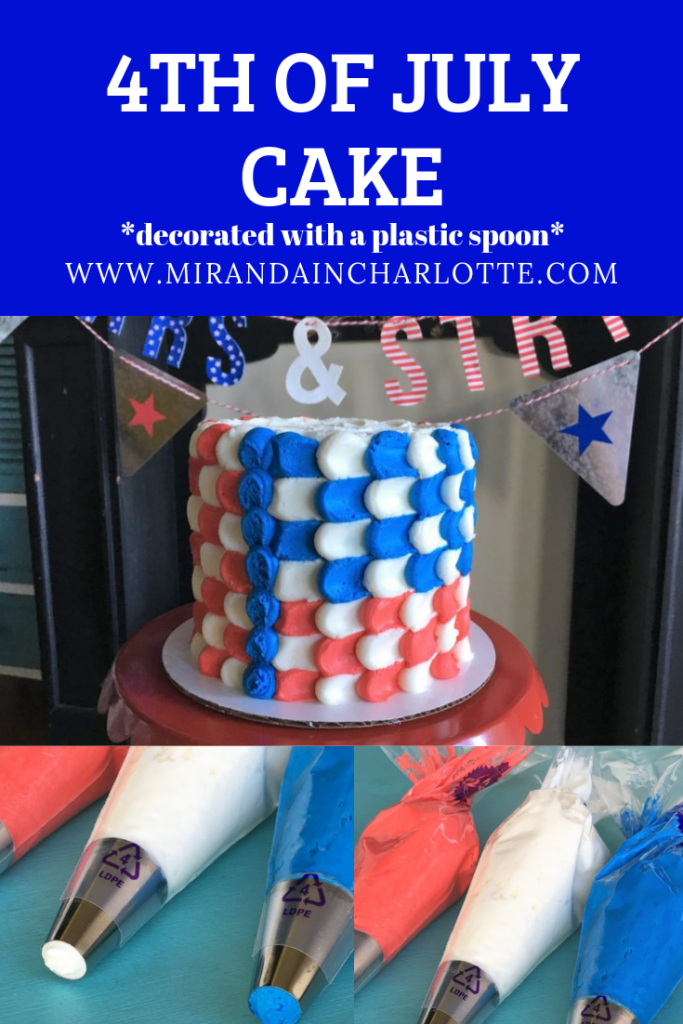 Links for products used: