Are there certain dishes that you just want to MASTER?!
A recipe that you want people to say, "Oh, she makes the BEST ___________ (fill in the blank)!!!"
Something that will be talked about long after you're long gone, handed down from generation to generation?!
Well, I think I found that in this banana bread recipe!!!
It's the perfect combination of fluffy and not greasy (because the fat is butter, not oil), with warmth from the cinnamon and crunch from the pecans! If you like Starbucks's banana bread, I think you'll love this even more! Of course, you can leave out the nuts, but I'd still add the almond extract for the nutty flavor.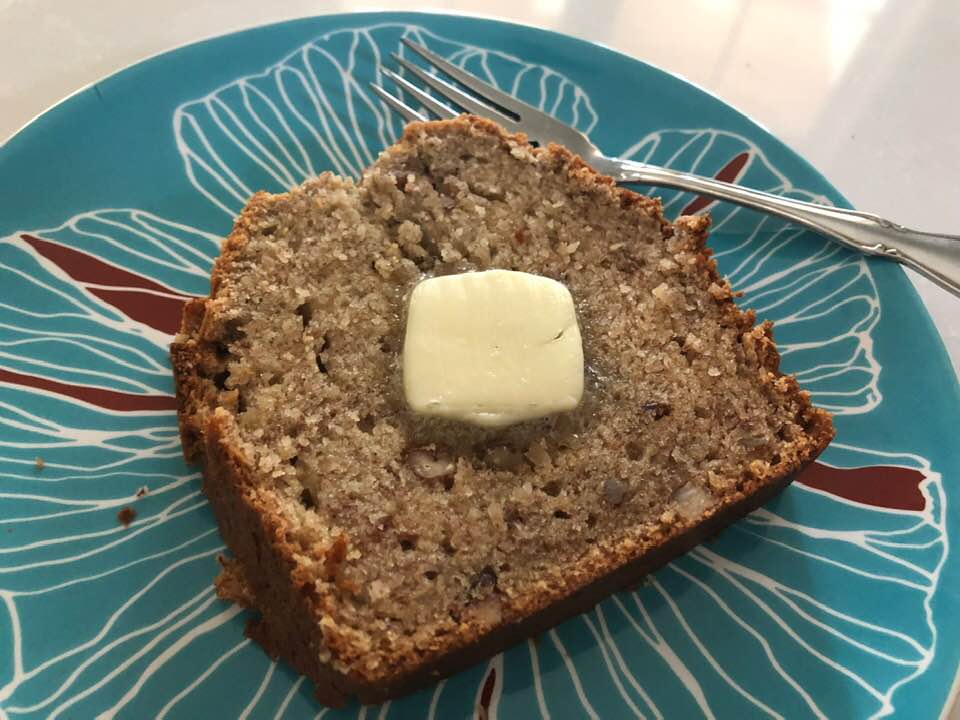 And I'm going to share it with yall because I think everyone should have a fool-proof bread recipe of some sort, and since my bananas are always on the verge of going "bad," I make this A LOT and have perfected it IMHO 😉 And may I just kindly suggest this? When trying a recipe for the very first time, try to make it as written, and don't alter it (I'm not talking about allergies, obvi)! Unless you just absolutely DESPISE nuts, but I'd suggest toasting them before you write them off, as that makes all of the difference! Also, this isn't the time for low calorie baking…just enjoy the indulgence!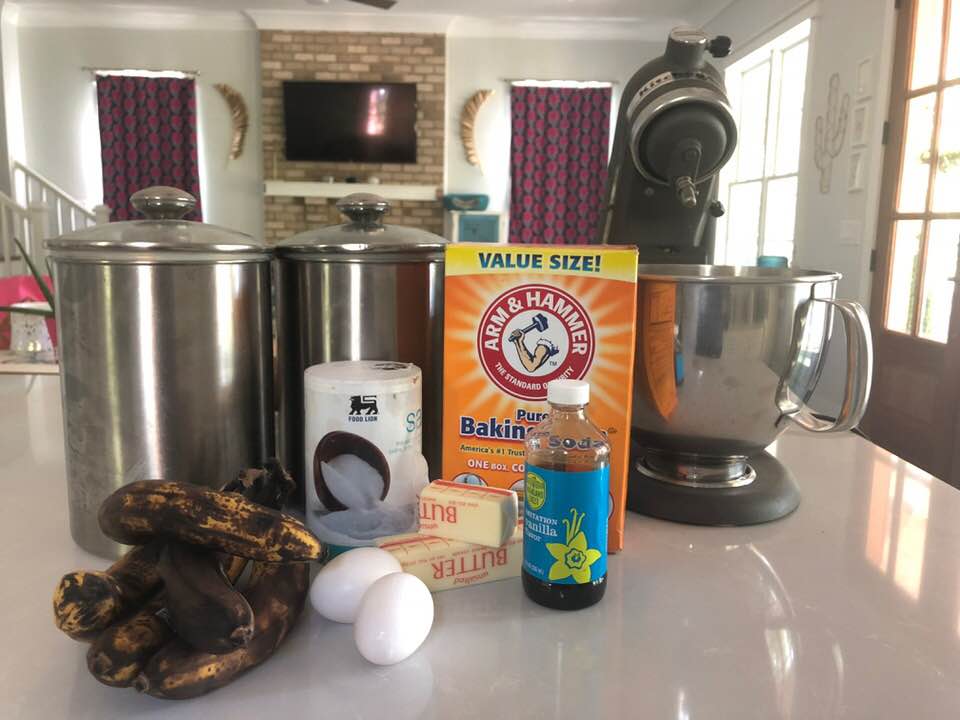 And I have so many tidbits of information in the NOTES section of the recipe (including gluten free substitutions, etc.)! If you have a question, I'd almost bet that the answer is in there! So make sure to read the recipe AND the notes, and then if you still have one, leave a comment with it, and I'll get right to it!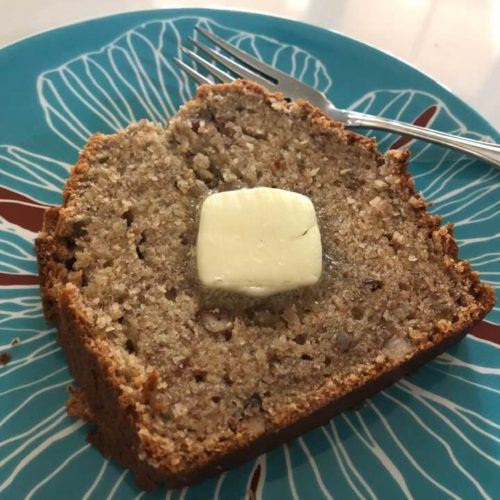 Best Banana Bread Recipe
Fluffy, but not greasy, with the added crunch of toasted pecans and warmth of cinnamon, this banana bread is simply the BEST!
Ingredients
3/4

cup

pecans

toasted and chopped

3/4

cup

unsalted butter (1 1/2 sticks)

melted and cooled

4-5

bananas

extremely ripe

1

cup

granulated white sugar

2

cups

all-purpose flour

1/2

tsp

baking soda

1/2

tsp

salt

1/2

tsp

cinnamon

2

eggs

large

1

tsp

vanilla extract

1/4

tsp

almond extract

pan spray
Instructions
Pull the 2 eggs out of the fridge to start to come to room temperature.

Preheat oven to 350. Once it's heated, put pecans on baking tray and toast them 5-10 minutes, but watch them carefully, as they can burn quickly! You definitely want some color on them, browned, but not burnt! You will smell them if they're perfect (takes around 7 minutes for me!

After you pop the pecans in the oven, melt the butter in a bowl, and let it cool. I'll sometimes even put the bowl in the fridge, because you want the butter to cool, but not harden! Cooling the butter is an important step because you don't want the eggs to scramble in it once they're added. If the butter is too hot, they will.

Using the whisk attachment on your mixer, blend on medium speed the bananas and sugar together until it forms a banana cream of sorts. Takes around five minutes. You can absolutely use a hand mixer instead of a stand mixer...just follow all of the same instructions!

While the banana cream is whipping up, combine the flour, baking soda, cinnamon and salt in a separate bowl with a whisk or fork.

Take the melted, but cool, butter and add the eggs and extracts to it, and beat it with a fork until blended. Let's touch on the almond extract quickly and the discussion of allergies. There are no real almonds in either the imitation or pure extract. It's made from apricot pits, as they emit the same flavor at a way more affordable cost. Always double check if you're concerned.

Take the butter mixture and pour it into the banana cream, making sure to get every last drop, and whisk it together on medium speed until combined (around 30 seconds). Scrape the sides and bottom of the bowl and mix again (15 seconds).

Turn the mixer to the lowest speed, and add the flour mixture into the banana cream, and mix together until combined (1 minute). Scrape the sides and bottom of the bowl and mix again (15 seconds). Mix in the toasted and chopped pecans by hand, making sure to scrape the sides and bottom of the bowl well.

Pour batter into a well-greased (I prefer a baking spray from Restaurant Depot, but Baker's Joy is a good one) loaf pan (I've linked my favorite one below). It may be very full, and that's okay! This bread doesn't rise so much that you need to be worried about overflow!

Put pan on the middle/middle top rack, and bake at 350 for at least an hour, but most likely as much as 1 1/2 hours, depending on your oven! Mine almost always takes 1 hour and 24 minutes if we're being technical lol! I rotate my pan at least once during the baking process, if not a few times! And after around 50 minutes to an hour of baking, I'll take a long skewer and poke a few holes all the way through the bread to allow for venting and even cooking!

Do NOT, and I repeat, DO NOT get impatient and remove the bread from the oven UNTIL a skewer placed in the center of the loaf, and inserted all the way down until it touches the BOTTOM of the loaf pan, comes out COMPLETELY clean. Yes, I know it "looks done" on the top. Yes, I know your husband came in and said it looks burnt. Yall, I'm going to ask you again right now, did you insert it in the middle, all the way to the bottom, and it come out completely clean, or was there still some stuff on that knife/skewer/metal straw/whatever you used? Soggy banana bread is almost as disgusting as undercooked french toast VOM!

After the bread is completely cooked, remove it from the oven, and you can let it cool all the way, or honestly, don't. Warm banana bread, with a pat of butter on top, might be one of the best things in the world to eat! You will need to let it cool at least 15 minutes so you don't burn yourself 😉
Notes
Here are some answers to FAQs:
~Bananas need to be RIPE! They need to be mostly brown on the outside for the best banana bread because they'll have the most flavor! I have heard you can roast bananas in the oven to make them ripe (look it up), but I've never tried it myself.
~If you're gluten free, I've heard Bob's Red Mill 1 for 1 gluten free flour works as a flour substitution! I don't know about any other substitutions for sugar, dairy, etc. as I've never tried them. I'm sure there are tons of recipes on Pinterest/google with specific ingredient substitutions if you want to find them! And I'm sure those bakers/recipe creators would love the support too!
~Make sure the banana bread is all the way done before you remove it from the oven, and don't worry if the bread is brown on top! It's just the sugar in the batter crystalizing and think of it like crust on regular bread...it's darker too, yall!
~Oh, and yes, sweet cream butter is the same as butter. Fun fact: butter is just cream beaten until it's hardened, hence the name "sweet cream butter." Speaking of butter, if you only have salted butter, that's fine, use it, but omit the salt in the recipe. But the reason we use unsalted butter in recipes is because then we can control how much salt we DO use in the recipe!
~Bread doesn't need to be refrigerated afterwards, but I keep mine in the loaf pan and just cover it with aluminum foil once it's completely cooled! If you cover it while it's still hot or warm, you'll just steam it, and that's not good!
~You can use frozen bananas, although I never do. If you do use them, fully thaw them, and pat any condensation off of them with a paper towel before using them, or you'll have too much liquid.
But let's discuss pans for a hot second #punintended! I think the right pan makes all of the difference in baking, and the loaf pan is no exception! I've linked my favorite one in the Baking tab of my Amazon store found HERE! There are more of my favorite kitchen finds in that store too, but if you want to bypass the store, here is the direct Amazon link!
Disclaimer: When you purchase through my affiliate link, at NO additional cost to you, I make a very small commission. Your purchases help keep me writing, sharing, and creating content for yall! Thank you!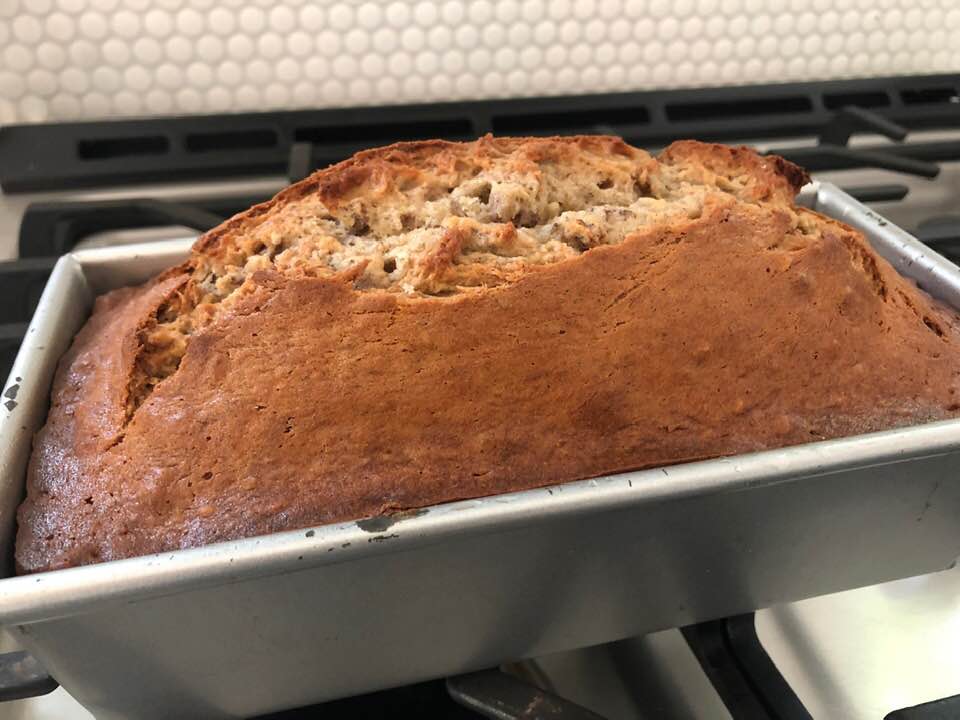 So there you have it folks! My favorite banana bread recipe of all time, and I've tried A LOT of them! And you MUST put a pat of salted butter on your slice!
If you have any questions, let me know, and I'll make sure to answer them! Also, PLEASE PIN the image below to one of your Pinterest boards! I'd be so grateful!! If you want to follow me on Pinterest, here is my page, Miranda in Charlotte!