Wow! How has this been the longest and fastest year of our lives? Last year's swimsuit try-on, we didn't know when we'd ever see the beach or a swimming pool again! Now, people are starting to venture out, vacation, and some places are opening back up! And for those who want to stay close to home, these makes great suits while lying out in your yard (first hand experience here)! 😉
I want to note that the first TEN suits are from Amazon! My favorite part of ordering from Amazon is that I can return anything for free, and without a box! So don't stress if you grab something and it doesn't work! The last three are from Aerie, but I'll get to that below! Then, I've thrown in a Walmart one or two just for good measure (and they're SUCH good suits)!
With each of these suits below, there are MANY colors and patterns within the same link! So if floral isn't your thing, make sure you tap on the link to see all of the other options! I'm talking 20-30 options in some suits! Or they'll have a slightly different neckline, way they fasten, etc.!
To shop the looks, I will have the suits' direct links in the titles above the pictures and they'll be in purple! So tap the purple title, and you'll be on the site (in a different tab) so you can always find your way back here! As always, I have to disclaim that through your purchases, I make a small affiliate commission, at no added cost to you! I use that money to purchase more bathing suits, do more try-ons, and I'm probably spending more than I'm ever making!  I'm pretty sure yall are the ones winning here LOL!
And I've also done a cover-up try-on this year! If you want to see that post, click HERE!
Here are my STATS:
5'2″
Size large 10/12/14
(depends on the brand)
Size 31 in jeans
36-38DD bra
Size 9 shoe
(has nothing to do with the try-on, but peeps are always curious)
LET'S GET STARTED!!!
CUPSHE Women's One Piece Wrap Bowknot Bathing Suit
Size: Large
Color: Blue/Black
Loves: Everything! It's so comfy, so well-made, and beautiful!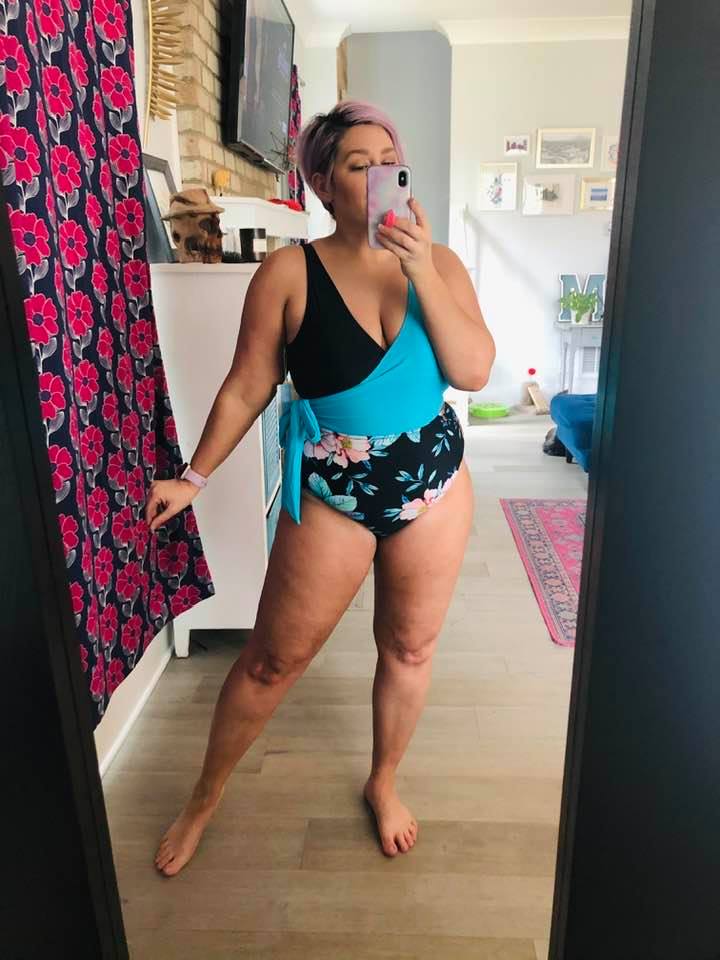 CUPSHE Women's Wrap Color Block Bowknot Bathing Suit
Size: Large
Color: Pink/White
Loves: Everything! It's so comfy, so well-made, and the color blocking is so hot right now!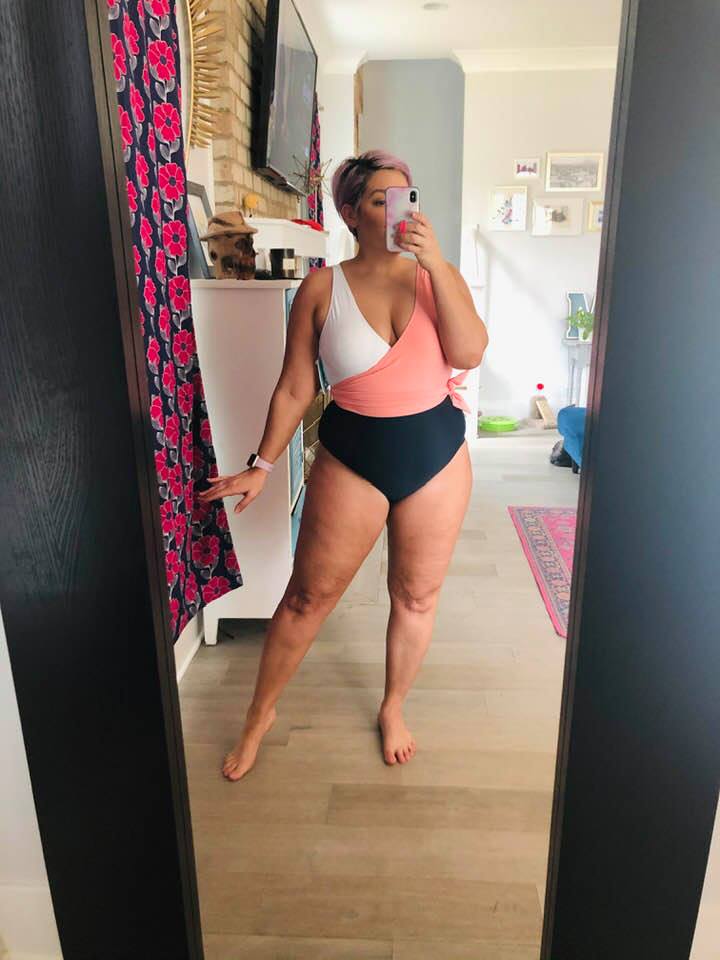 Sociala Women's Crochet Mesh One Piece Swimsuit
Size: Large
Color: #2b high waist Navy
Loves: beautiful crochet work, and the mesh cutouts wrap around the back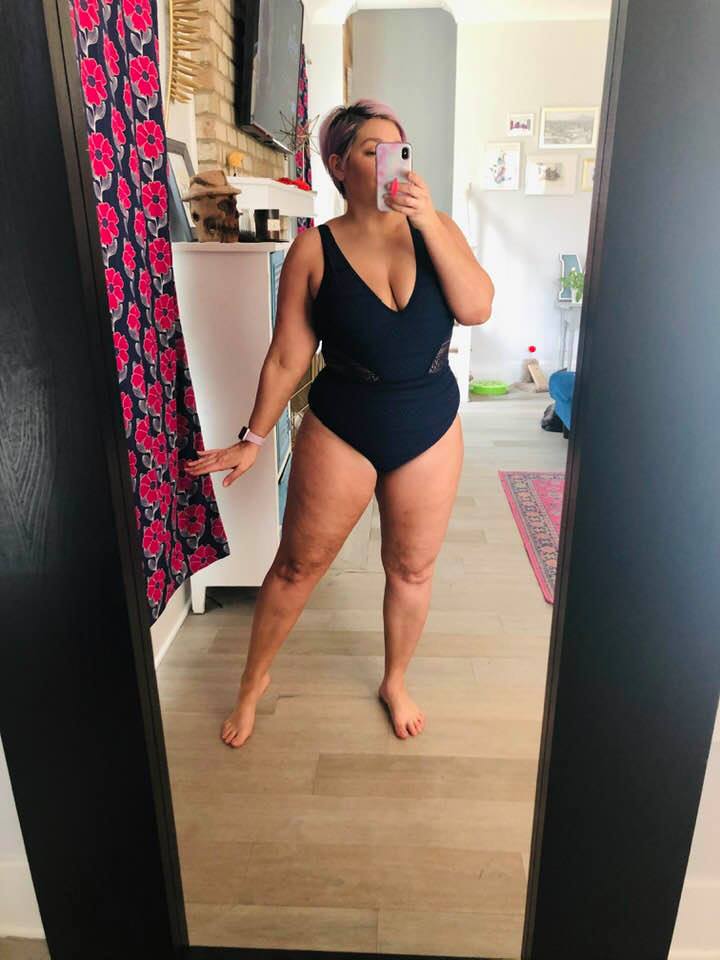 Joyaria Tummy Control One Piece V Neck Bathing Suit
Size: 12
Color: V neck-black
Loves: A great LBS (little black swimsuit)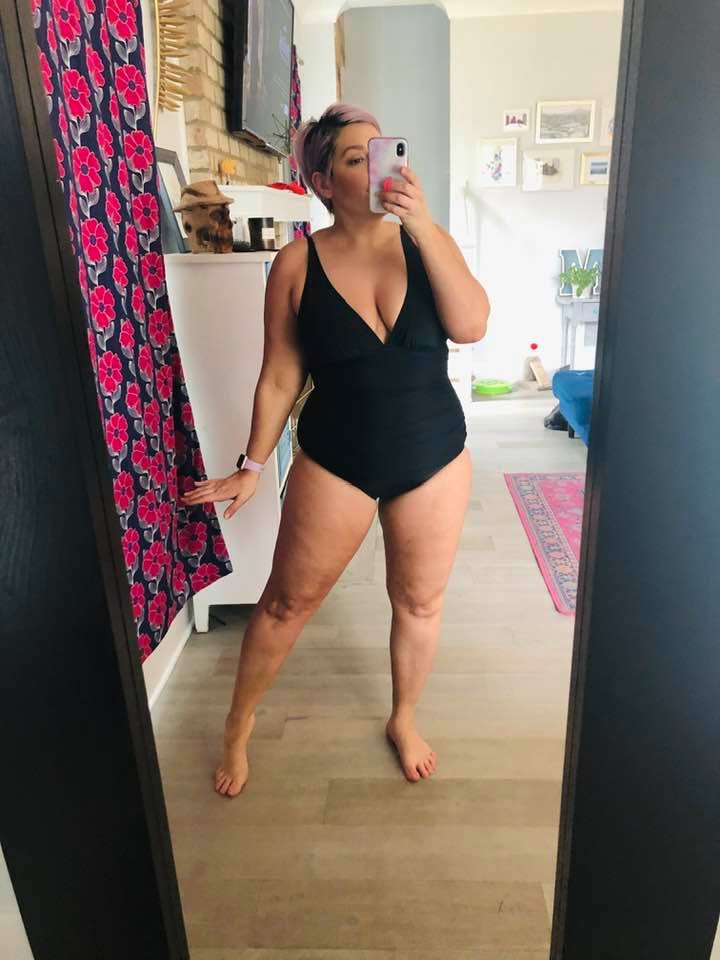 Hilor Women's Asymmetric Ruffle One Piece Swimsuit
Size: 12
Color: Navy & Red Floral
Loves: The colors are gorgeous and it really sucks ya in!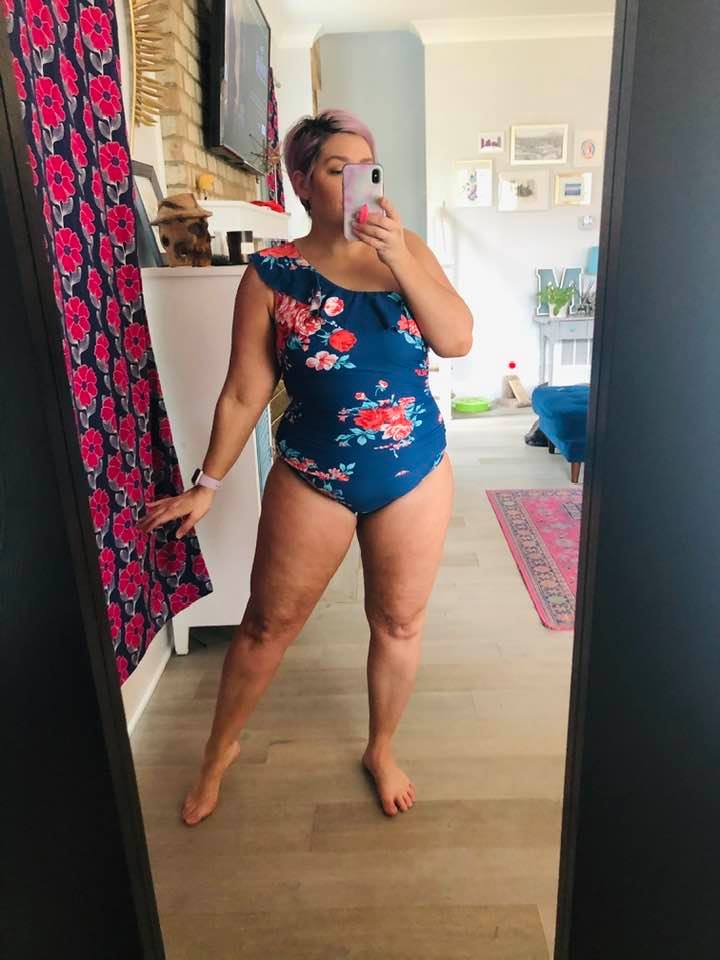 CUPSHE Women's V Neck One Piece Swimsuit Ruffled Lace Up Monokini
Size: Large
Color: Teal Floral
Loves: Everything!! The print, the fit, the ruffes!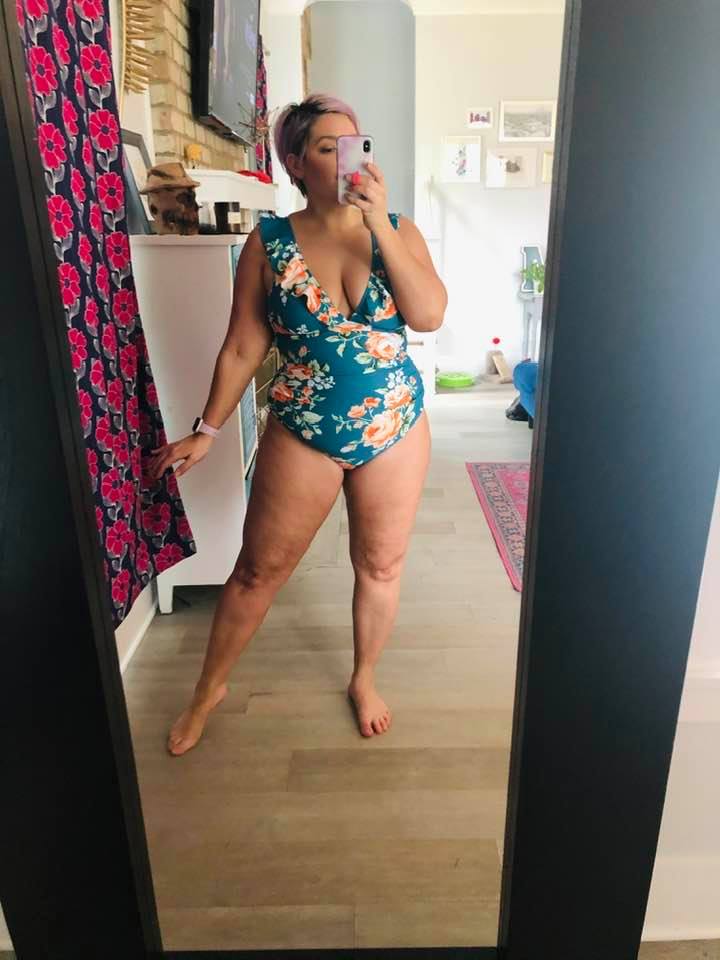 Tempt Me One Piece High Neck Plunge Mesh Ruched Swimsuit
Size: Large
Color: Blue Black-1
Loves: Super secure suit that you can run and chase kids in, but still sexy with the mesh!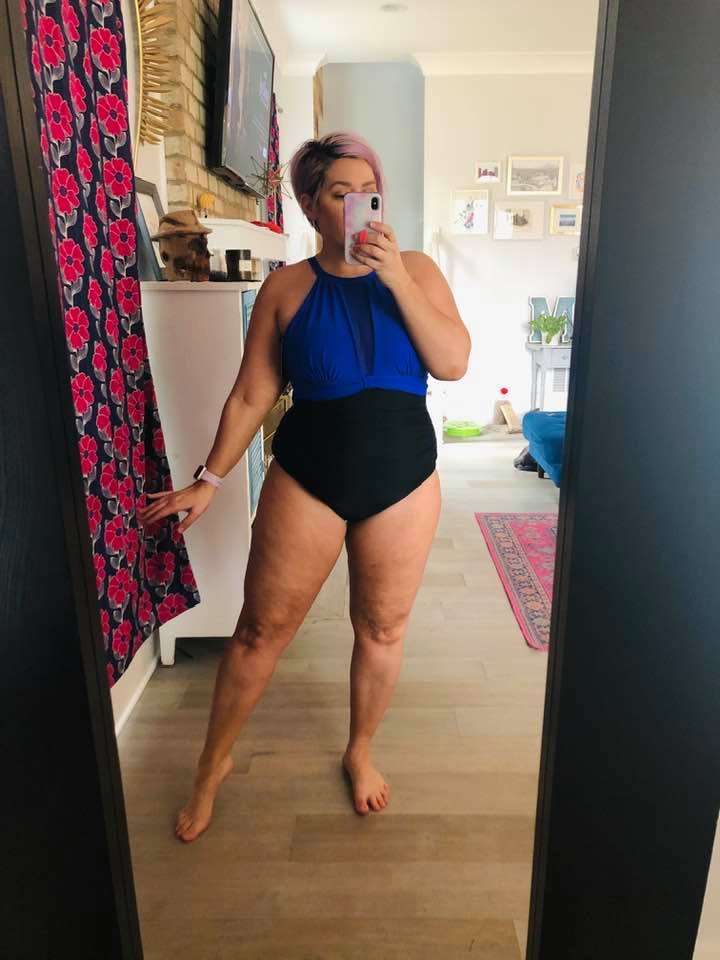 COCOSHIP Women's Plunging Neck Mesh Backless Pom Pom Tassel Swimwear
Size: 12
Color: Navy stripe
Loves: Everything! Comfortable, well-made, beautiful details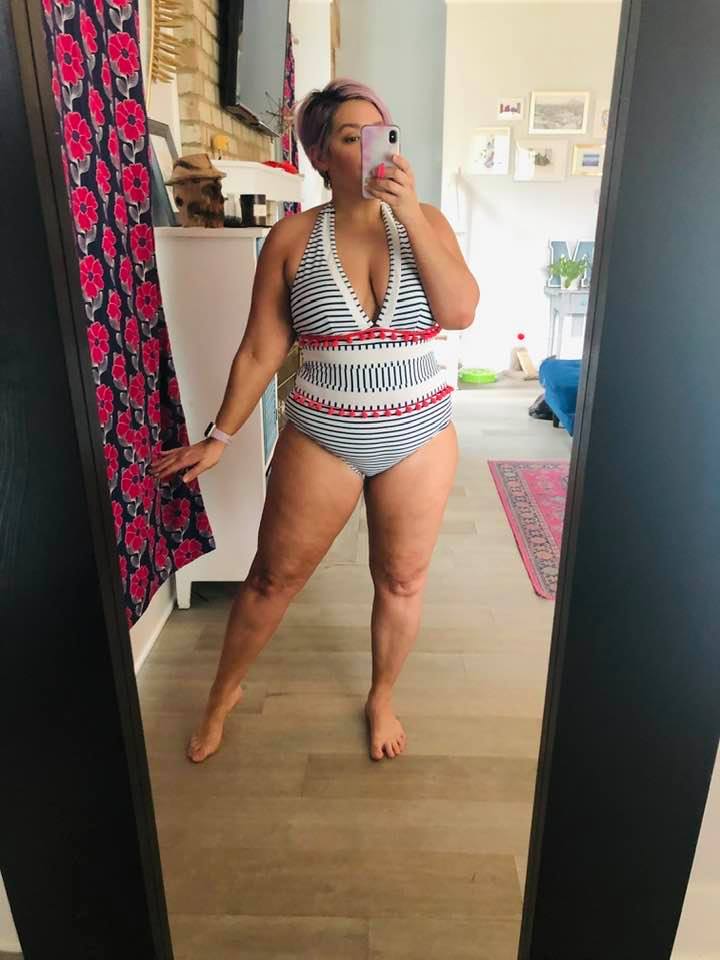 Urchics Womens Halter Plunge Bathing Suit
Size: Large
Color: Pink Print
Loves: Sooooo comfortable, tiny bit of mesh, and love the print!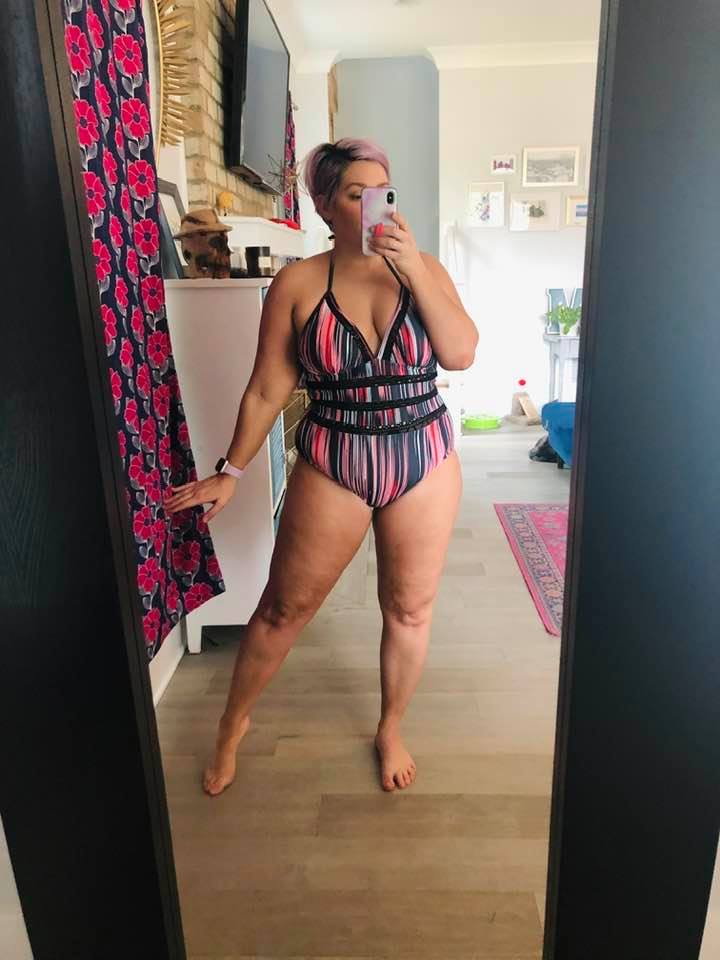 DELIMIRA Women's Vintage Padded One Piece Tummy Control Bathing Suit with Underwire
Size: 12
Color: Hunter Green
Loves: Underwire and sucks ya in!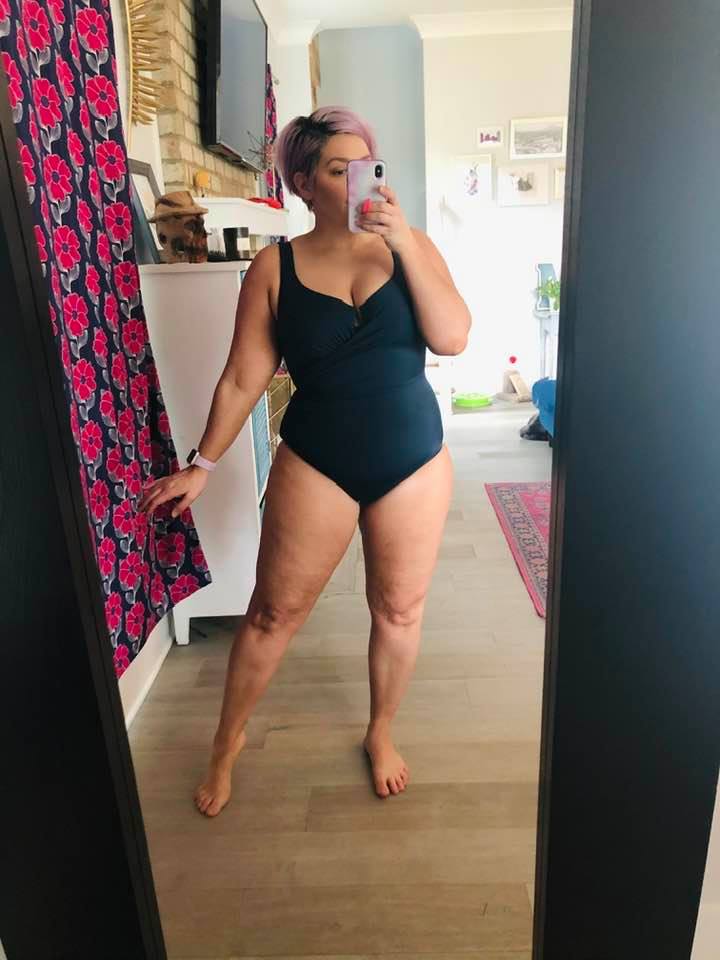 I polled yall over on IG about your favorite place to buy swimsuits, and I got an overwhelming response to try Aerie! So these next three suits are from there, and I like all of them! They come in many colors, patterns and sizes (including longs), so I'd recommend looking at the links and digging around a bit! Aerie is also known for their sales (currently, some suits are up to 40% off)! If you sign up for texts, you can get a 15% off coupon HERE!
Aerie Strappy Back One Piece Swimsuit
Size: Large
Color: Olive Fun
Loves: SOOOOOO soft and comfy and a fun tie back!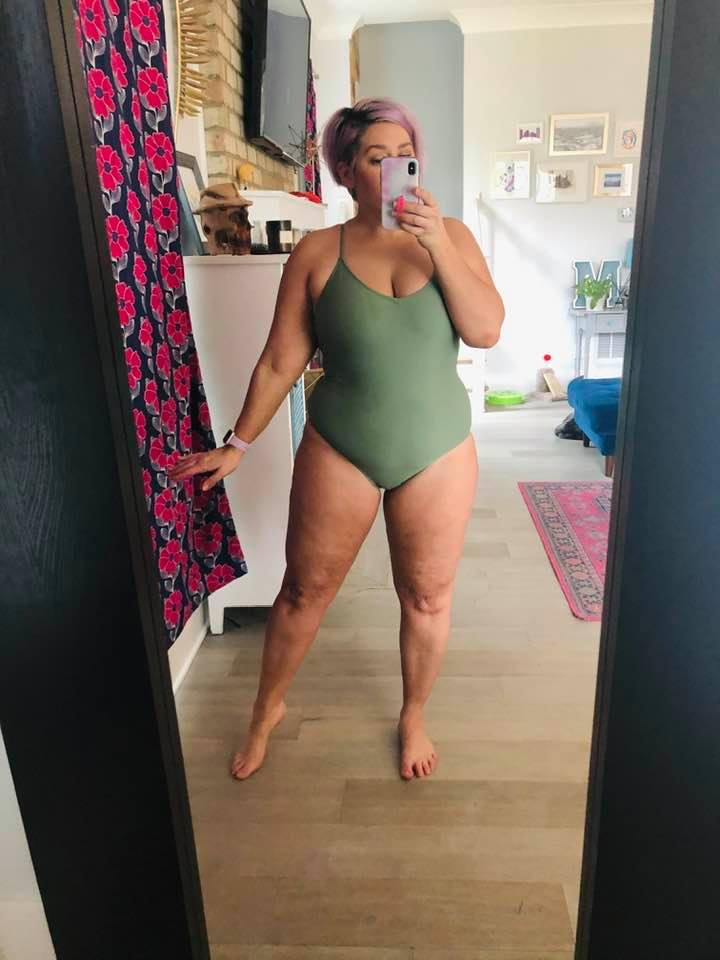 Aerie Leopard Wrap One Piece Swimsuit
Size: Large
Color: Leopard
Loves: Super fun suit with cutouts that feels sexy!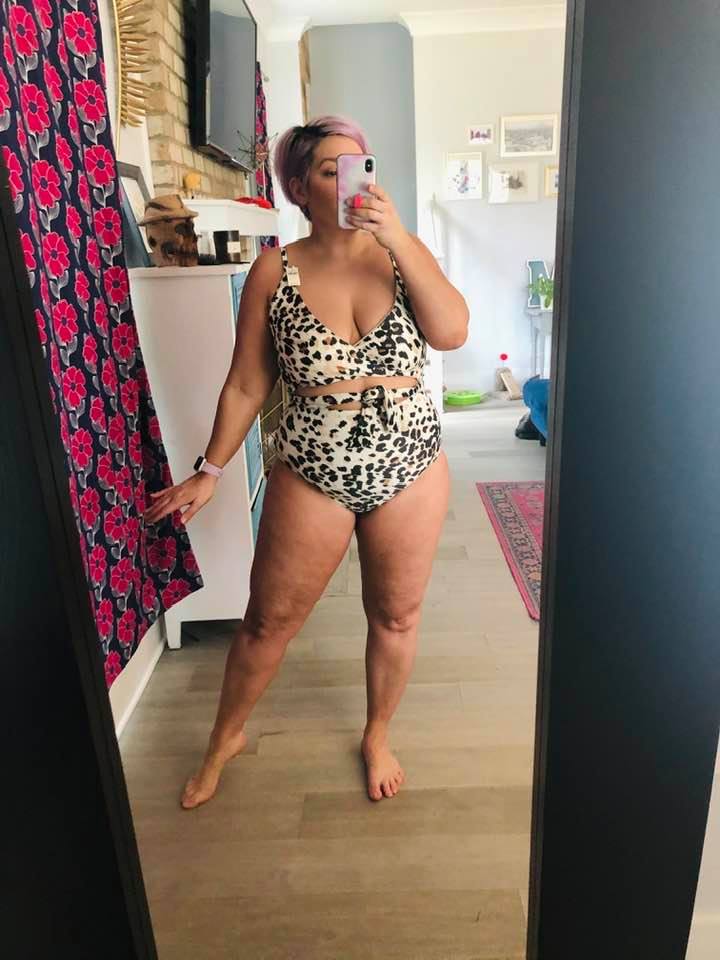 Aerie Ribbed Wrap Bandeau One Piece Swimsuit
Size: Large
Color: Black
Loves: The ribbed material and the fun cutouts! Plus, the top doesn't fall down even if you jump a lot (straps do come with it)!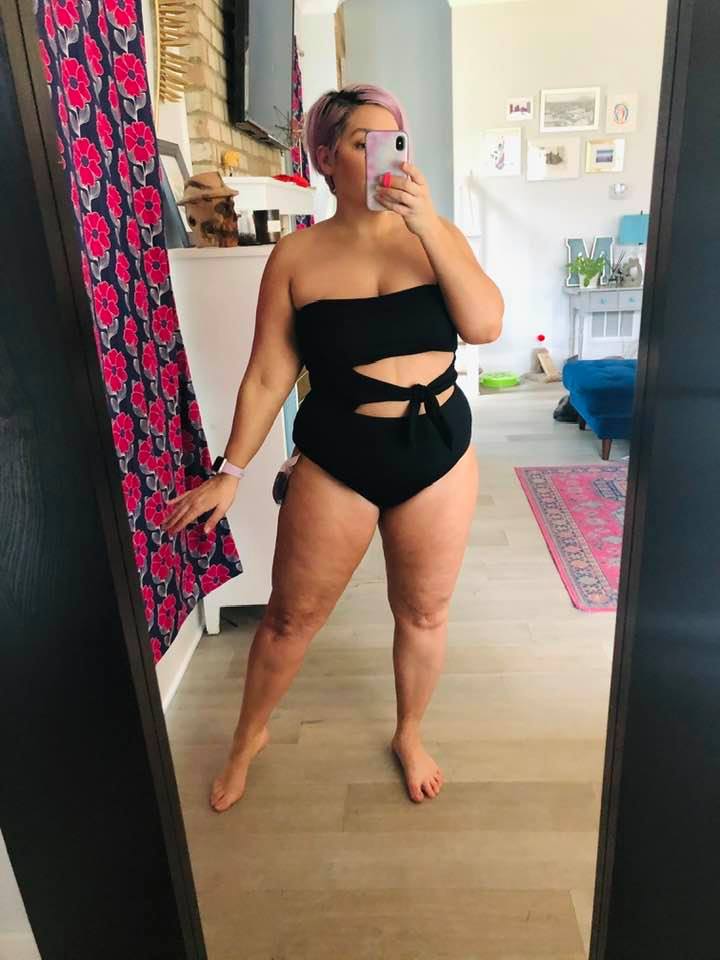 I love my black Walmart suit I got last year, and it's a STAPLE in my swimsuit repertoire, so I'm a HUGE believer in Walmart suits, including this one from this year!
Time and Tru Women's Candy Stripe One Piece Swimsuit
Size: Large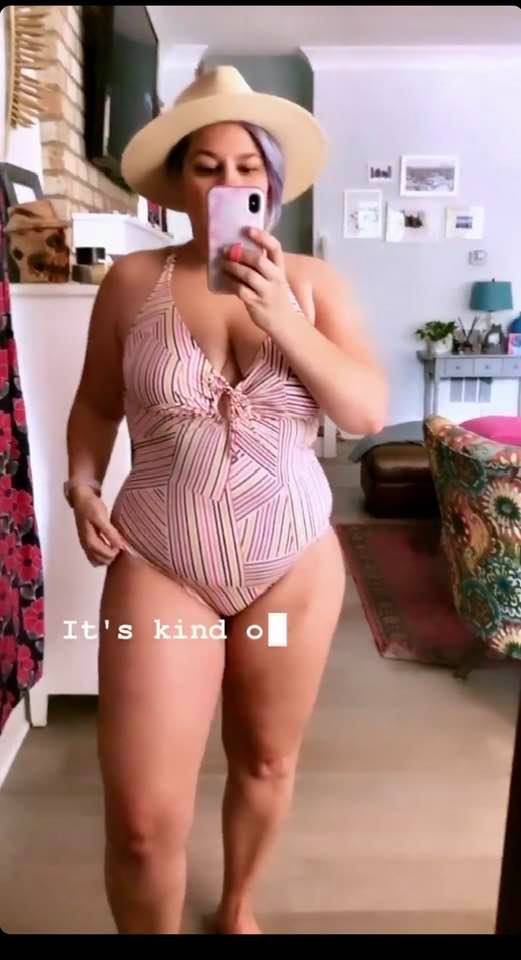 NOW, one of my awesome peeps said "I've found an Aerie dupe for the leopard print suit, and it's a third of the price!" So you know I had to get it and test it out, and she was right!!! I present this dupe in all its glory and check out the other colors too, yall!

Upopby Women's Wrap Criss Cross High Waisted Bathing Suit
Size: Large
Color: Black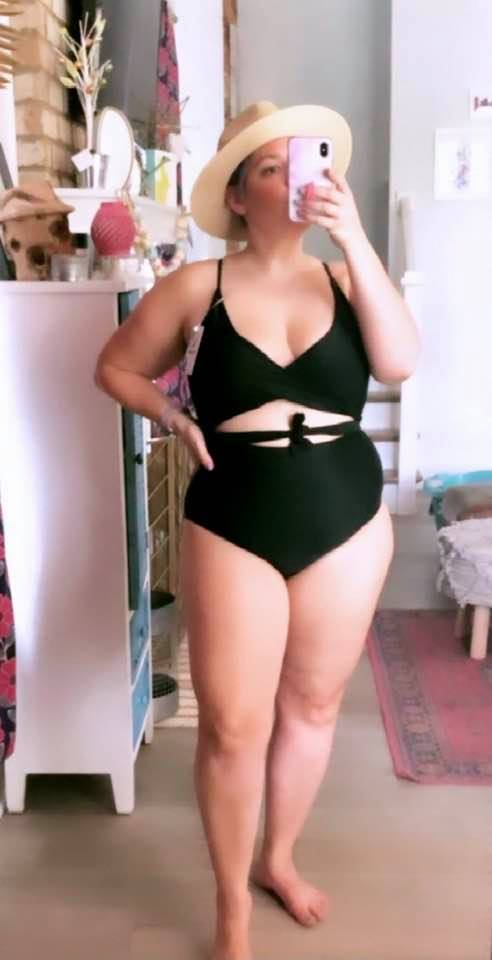 That's it for the suits in picture form! If you want to see them on my body in video and full 360 action, go to my Instagram, and they're currently on my stories! I've also made a highlight bubble "Swimsuits '21" that you can watch at anytime! My email subscribers get the blog post FIRST! Then once they have the chance to see the suits and how they look on me here, I do the try-on and share the blog post publicly. This is why it's awesome to be on the email list, which you can sign up for HERE, and get everything first (gift guides, posts, sales, etc.)!
I've also updated my last two year's bathing suit try-on posts, and you can check them out as well! Swimsuit '19 is HERE, and Swimsuit '20 is HERE! They have amazing suits in them, and all links are current! I reach for these suits ALL OF THE TIME! Don't forget to look at my cover-ups post from this year HERE!
LAST THING!!! If you found this helpful at all, would you pin this post to your Pinterest?! Pinning the graphic below is the best thing! I appreciate yall so much, as always! Tell me your favorite suit in the comments below!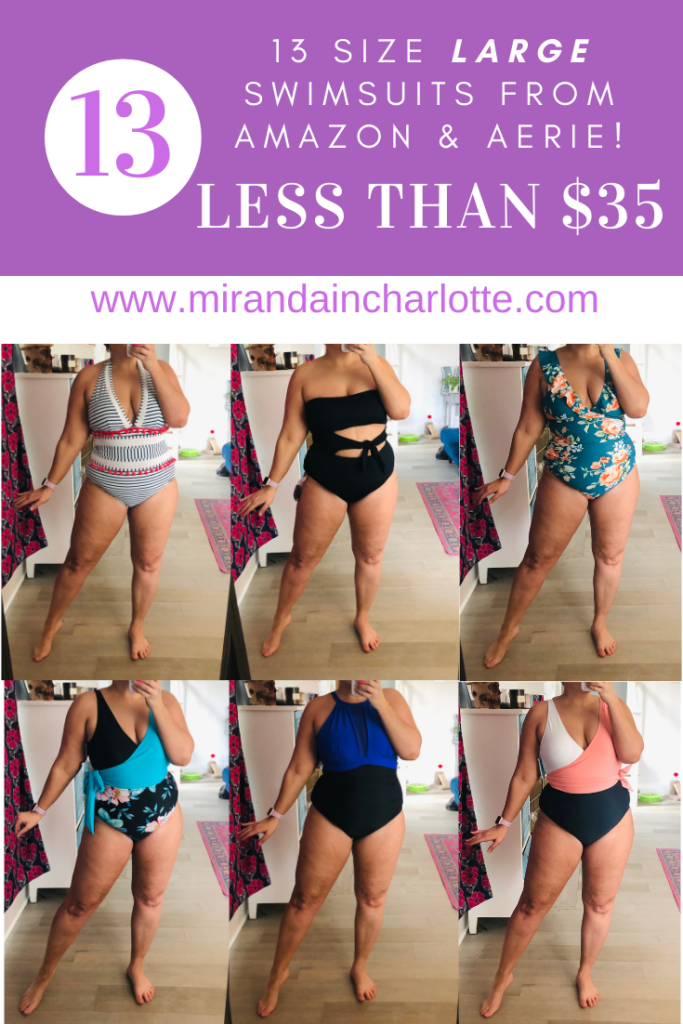 You can always share this post too, by tapping the little F (for Facebook) down below!