It's been a year since the last bathing suit try-on, even though the last few weeks have felt like their own year in itself. I just want to mention that obviously we are in unprecedented times right now, and we're all living through a pandemic. None of us know when we'll leave our houses again, travel, go to the beach, or maybe even swim in a pool?
BUT, the sun WILL rise, I WILL put my chair in my yard, I WILL put my towel on it, and I WILL enjoy some Vitamin D (especially since I'm majorly deficient in it). And I will do all of that in a new bathing suit that I snagged because, darnit, we earned it after this shizz show of a Spring.
And honestly, we will get to go places again, and it will be fine. It's fine. Everything's fine. 😉
But just know that I understand these times are beyond hard…financially, emotionally, physically, and every other way possible. I'm only doing this try-on because I had already ordered and received all of the suits, and because people have been asking me to still do it. And I'm nothing if I'm not a giver 😉 Plus, none of them are more than $30, so I tried to stay as affordable as possible!
Here are my STATS:
5'2″
Size large 10/12/14
(depends on the brand)
Size 30/31 in jeans
38D bra
Size 9 shoe
(has nothing to do with the try-on, but peeps are always curious)
To shop the looks, I will have the suits' direct links in the titles above the pictures, but not also in the pictures this time. That way if you want to see the pic bigger/zoomed in, etc., it won't take you to Amazon accidentally! So tap the purple title, and you'll be in Amazon (in a different tab) so you can always find your way back here!
As always, I have to disclaim that through your purchases, I make a small affiliate commission, at no added cost to you! I use that money to purchase more bathing suits, do more try-ons, and I'm probably spending more than I'm ever making! 😉 I'm pretty sure yall are the ones winning here LOL!
SHALL WE GET STARTED?!
Urchics Womens Halter Plunge Bathing Suit
Size: Large
Color: Red Print

Loves: The suit is insanely flattering and comfortable on the body. It's also a much better quality than I was anticipating based on the website pics! You MUST go check out the other colors and patterns in this one!
Hilor Crossover Swimsuit
Size: Large/10-12
Color: Rose Red (it's hot pink in person)

Loves: The color (and all of the colors) is so vibrant, and the mesh details are so popular right now! It's comfortable and considering it looks like a leotard, I'd workout in it FO SHO! 😉
Summer Mae Off Shoulder Tummy Control Swimwear
Size: Large
Color: green lemon

Loves: I adore this pattern, even though I didn't think I would! It does suck you in, almost to the point where I'd say if you are in between sizes go up. Also, I'm not sure if I just talk too much with my hands (I do lol), but this felt constricting to me on the shoulders because of that! HA! However, Bella has a similar suit and LOVES it! I think I just need to go up a size and that would fix the issues!
T1FE 1SFE Ruched Tummy Control Swimwear
Size: Large
Color: Red 1

Loves: I'm convinced this one will look good on everyone! Love the black on the side, helping to create an hourglass shape, the ruched print in the middle. The criss cross at the bust, adjustable thicker straps, etc.! All the right things happening here, except that it's already sold out 🙁 BUT, click on the link, and snag one of the other ones…possibly a solid color one that is going for around $15 right now?!
Blooming Jelly Striped Ruffle V Neck Bathing Suit
Size: Large

Loves: I'm sure this one will be so cute on so many of yall, but it's a no for me dawg. Honestly, there wasn't any forgiveness in the stitching in the waist when I had to pull it up over my hips, and I was praying to the Lort DIsick to not have this whole damn suit unravel. What I'm saying is, size up if you have hips/a decent sized butt! Oh, and it looks light blue, but it's more like a seersucker/thin royal-navy blue and white stripe pattern, in a swimsuit material, not cloth! And the ruffles are precious!
Zexxxy Plunge Deep V Neck Halter Swimsuit
Size: Large
Color: leopard

Loves: EVERYTHING. This is similar to the style and cut of the red and blue suit I wore all last year! But this time I found it in leopard! You can do the neck two ways (like a necklace or a halter), and it's super flattering with the ruching! And they have TONS of other patterns and colors!
Upopby Vintage Push up Tummy Control Bathing Suit
Size: 12
Color: pink floral

Loves: This if for my peeps who asked for a more modest suit last time! I found this higher, square cut suit, that shows no cleavage (at least on me), and sits lower on the hip, for a more vintage feel. Good coverage on the booty and thicker straps too makes for a great suit and the print is so pretty! Check out all of the other options too!
COCOSHIP Striped Mesh Backless Pom Pom Tassel Swimwear
Size: 12
Color: Palm leaf

Loves: let's just say, the second we're allowed out of the house again, I'm wearing this in public, maybe to dinner? IDK. 🙂 I love it that much! It all started with seeing a different color combo in this link that reminded me of a Revolve two piece that was all the rage last year, but now in a one piece! Then I saw this pattern and loved it, but I wrestled with a few of the color choices…go check them all out!
That's it for the suits in picture form! If you want to see them on my body in video and full 360 action, go to my Instagram, and it should be the first highlight bubble as of right now…I look like I'm topless because I am lol…
Swimsuits '20
And I mentioned Bella and Lilly needing suits recently, and ordering them on Amazon, so I thought I'd show yall them too! We love them both! Click HERE for Bella's (she got the XS Black Floral) and HERE for Lilly's (she got the 12 Floral Navy)! It's so hard to find a suit for Bella right now because she's 13, 5'3″ and in between girls and womens sizing. And even with the straps as tight as they could go, they were still falling off, so I took one of the straps off, and took the remaining one and made it into a halter! Worked like a charm! #protip 😉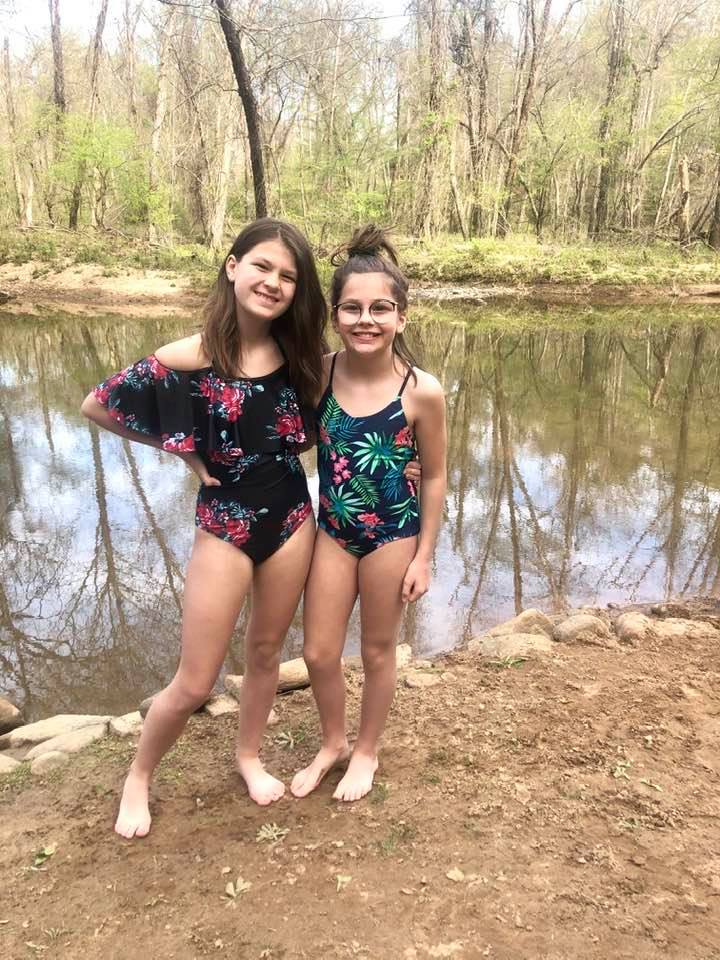 Also, if you'd pin this image to one of your boards on Pinterest, that would be AMAZING…